Vegan Unicorn Frappuccino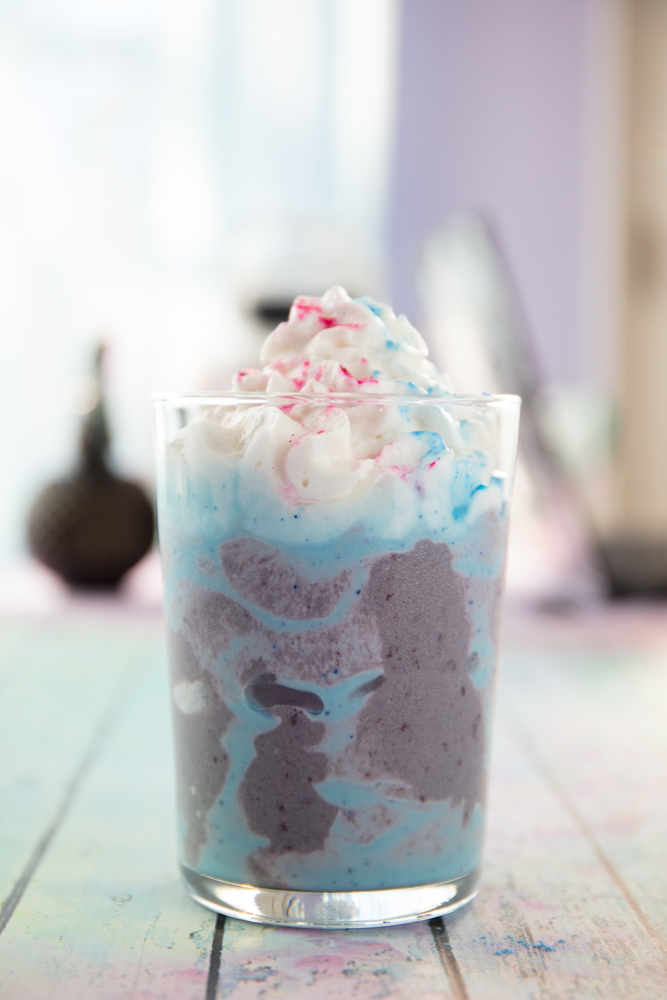 ♫ Listening to: Smart by Girl in a Coma ♫
When my coworker told me that Starbucks was making a unicorn frappuccino, I immediately (well, after chatting WHAT?!!) googled the terms "vegan" and "starbucks unicorn frappuccino" in hopes that my soulmate, ahem I mean another unicorn-loving vegan, would have posted the answer to my question somewhere on the internet (with a bow on it). Unfortunately, this wasn't the case, but since Starbucks posts their ingredients online, I sadly (or maybe not so sadly after hearing reviews from muggles who have actually tried it) discovered that it is NOT vegan. My FOMO has been skyrocketing the past 2 days since hearing about it, so I was forced to make my own so I could get on with my life. Although I haven't tasted the one at starbucks, I'm going to assume that mine is better. And if it isn't, at least it's healthier. Oh, and if you don't believe in drinking frappuccinos that don't contain caffeine, you might prefer this other frappuccino recipe. This recipe makes 2 vegan unicorn frappuccinos.
Vegan Unicorn Frappuccino Blue & Pink Fairy Dust Ingredients
Vegan Unicorn Frappuccino Blue & Pink Fairy Dust Directions
Combine the first 2 ingredients (powdered sugar and pink food coloring).
Combine the last 3 ingredients (citric acid, powdered sugar, and blue food coloring). Use a mortar and pestle if it's not mixing well by just stirring.
Vegan Unicorn Frappuccino Blue Drizzle Ingredients
¼ cup organic powdered sugar*
¼ cup vegan creamer (almond, soy, or coconut)
2 tablespoons melted coconut oil
1 tablespoon melted cacao butter
blue vegan food coloring
¼ teaspoon citric acid
Vegan Unicorn frappuccino Blue Drizzle Directions
Blend together all of the ingredients using an immersion blender, following the directions on the food coloring package: ¼ cup powdered sugar, ¼ cup vegan creamer, 2 tablespoons melted coconut oil, 1 tablespoon cacao butter , blue Color Kitchen natural food coloring (or other blue vegan food coloring), and ¼ teaspoon citric acid
Transfer the blue drizzle to a squeeze bottle if you have one.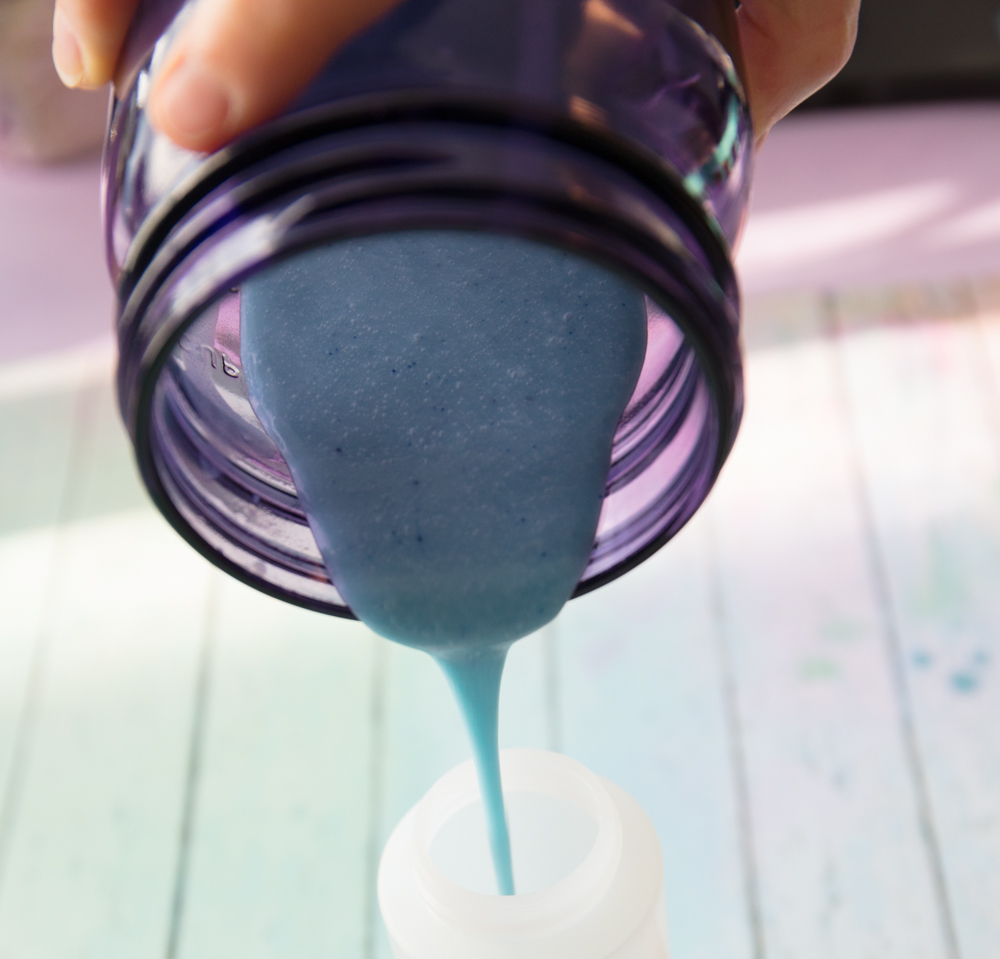 Chill until thick enough that when you drizzle into the glass, it sticks to the sides (~ 5 minutes)
Vegan Unicorn Frappuccino Ingredients
2 cups ice
¼ cup vegan creamer (almond, soy, or coconut is fine, but I used the califia vanilla creamer)
1 cup non-dairy milk
1 medium frozen banana (peel and break into 4-5 pieces before freezing)
½ cup frozen cherries (or sub frozen passion fruit, pomegranate, or raspberries)
¼ cup organic or raw sugar (not coconut sugar because it will darken the colors)*
⅛ teaspoon xantham gum
vegan whipped cream
Vegan Unicorn Frappuccino Directions
Blend the frappuccino ingredients until everything is smooth and creamy. This will require stopping the blender and stirring everything multiple times in between.
Drizzle the blue sauce into 2 glasses in any pattern you like. If you don't have a squeeze bottle, you can slowly pour it it from any container or spoon it.
Spoon the blended frappuccino into the 2 glasses.
Garnish with whipped cream. My whipped cream recipe is here.
Sprinkle with pink and blue fairy dust.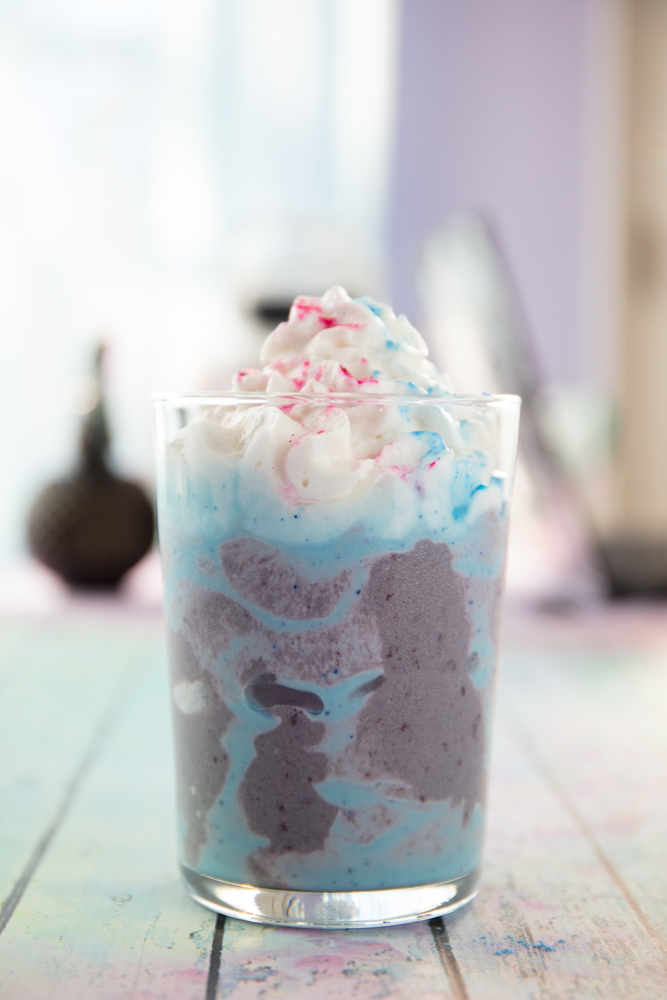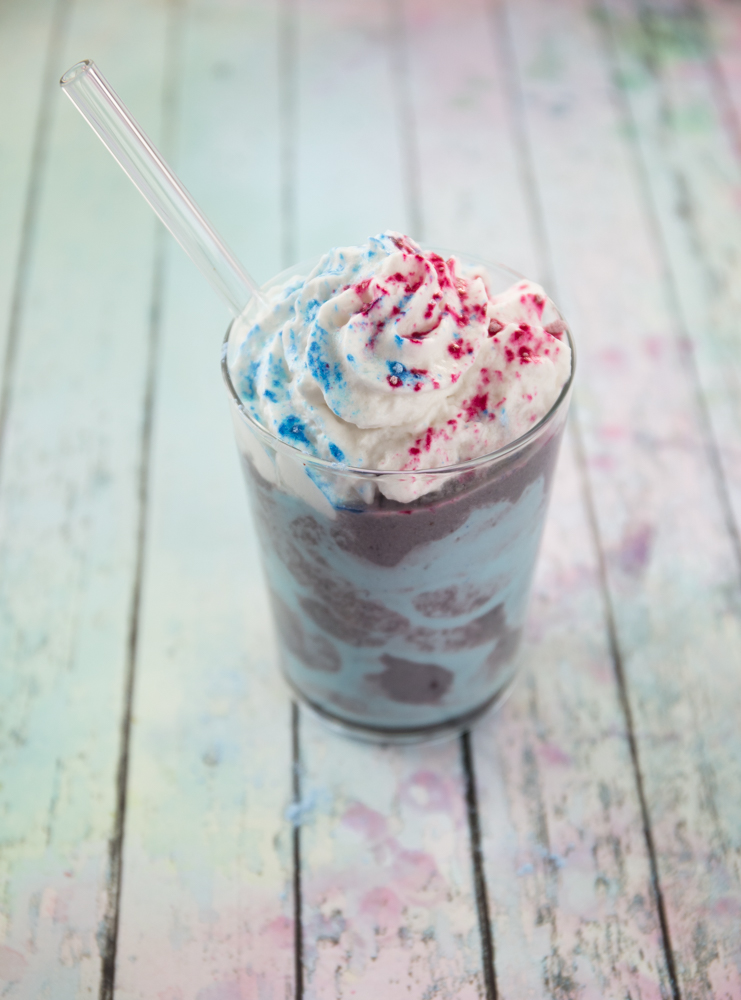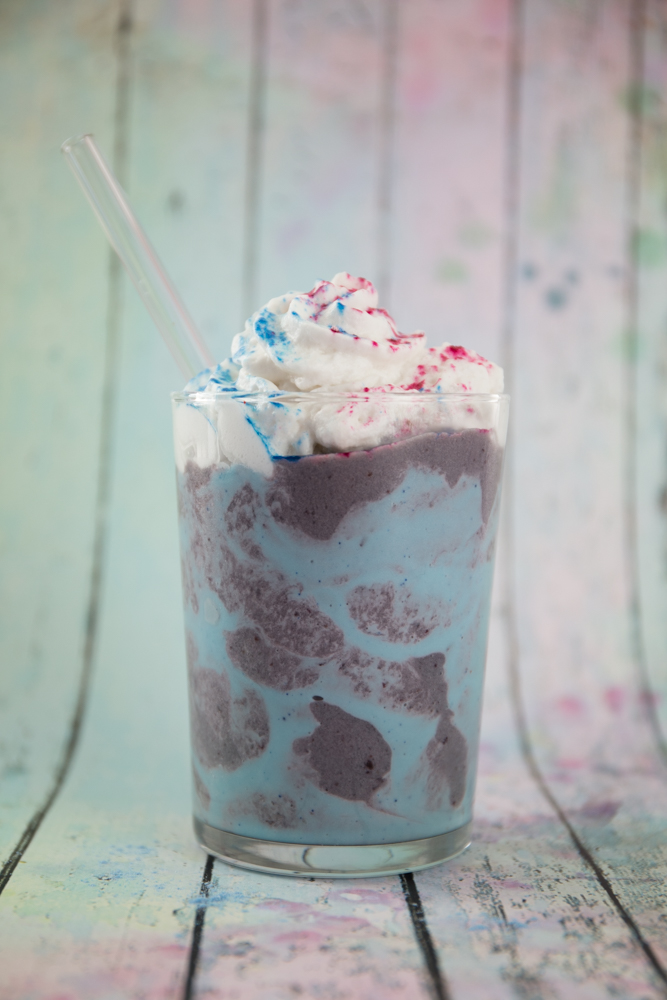 ☆☆☆☆☆☆☆☆☆☆
If you are a fellow unicorn-loving vegan, let's hang out! Also, you might like these unicorn cookies and this unicorn gingerbread carousel.
* I use mostly organic ingredients when I cook, but I realize that not everyone has the disposable income to purchase all organic ingredients. Therefore, I only specify organic on the ingredients that really matter - when buying the organic version is the only way to ensure that the item is vegan.