Chocolate and Caramel Ombré Cake
published on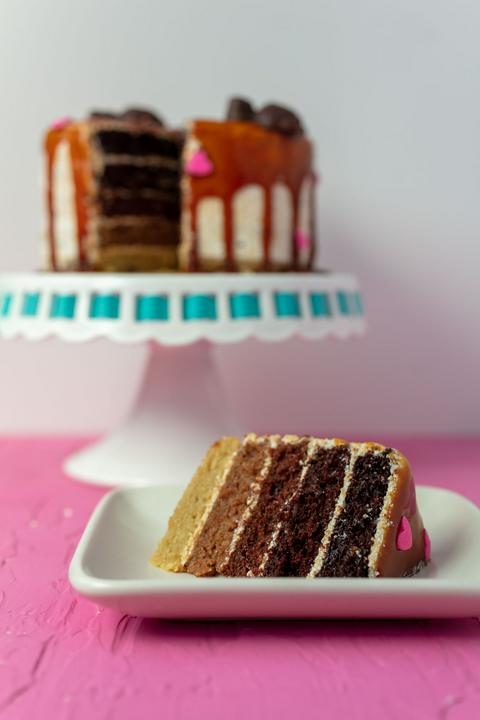 ♫ Listening to: Potions by Day Wave ♫
I'd like to preface this recipe by saying if math and numbers give you a headache, then this is not the recipe for you. Maybe instead, this chocolate mint cake or this chocolate peanut butter cake would be a better fit. However, if you're ready for a math challenge, then please read on.
If you're still here, then you're my people. You like a kitchen challenge and can handle a little math. Your optimism will be rewarded with the most beautiful and delicious cake everrrrr. I am so serious. This could easily be the best cake I have ever made. I just had the last slice of this cake last night and it was just as moist as it was when I made it over a week ago! The lucky birthday recipient of this cake will never forget it, trust me! Check out the shortcuts and substitutions offered below if you're on a time crunch or just prefer to spend your time doing other things with your free time besides making caramel. You can also use different silicone molds for the chocolate covered caramels if you don't like hello kitty (but honestly, if you don't like hello kitty, how did you even find my website? haha).
If you have any questions about this recipe, don't hesitate to message me on IG (I'm @vegandollhouse everywhere on the internet) or email me (but I don't check email as often as instagram).
This recipe makes 1 mini heart-shaped vegan chocolate ombré cake with caramel frosting, caramel drizzle, and chocolate caramel candies. It can serve 6-12 people, depending how large or small you cut the slices.
Vegan Caramel Ingredients
1 cup organic or raw sugar*

¼ cup vegan butter or margarine (I use the organic whipped earth balance)*

¼ cup canned coconut milk (not reduced fat)
Vegan Caramel Directions
This caramel took me about 30 min to make.
Dollhouse Shortcut
You can make the caramel up to 2 days ahead of time and just leave it on the counter in a jar. You can also just buy vegan caramel sauce if you want to skip making it altogether.
Melt the cup of sugar over medium heat in a small/medium sized pot, stirring occasionally with a silicone spatula or a whisk. If you see your sugar start to make little sugar crystal rocks, don't worry. They'll eventually melt if you're patient (or even if you're not patient). Just put on a good playlist to help pass the time. I recommend this one. This process can be sped up a little bit by melting only half of the sugar and then adding the other half and waiting for the rest to melt.
Turn off the stove.
Whisk in the ¼ cup of vegan butter or margarine, a spoonful at a time, as soon as the sugar is melted. It's going to complain a little (in the way of bubbling and sizzling), but if you have kids, dogs, or a partner, you should be good at ignoring this. Keep whisking as quickly as you can until it's all combined.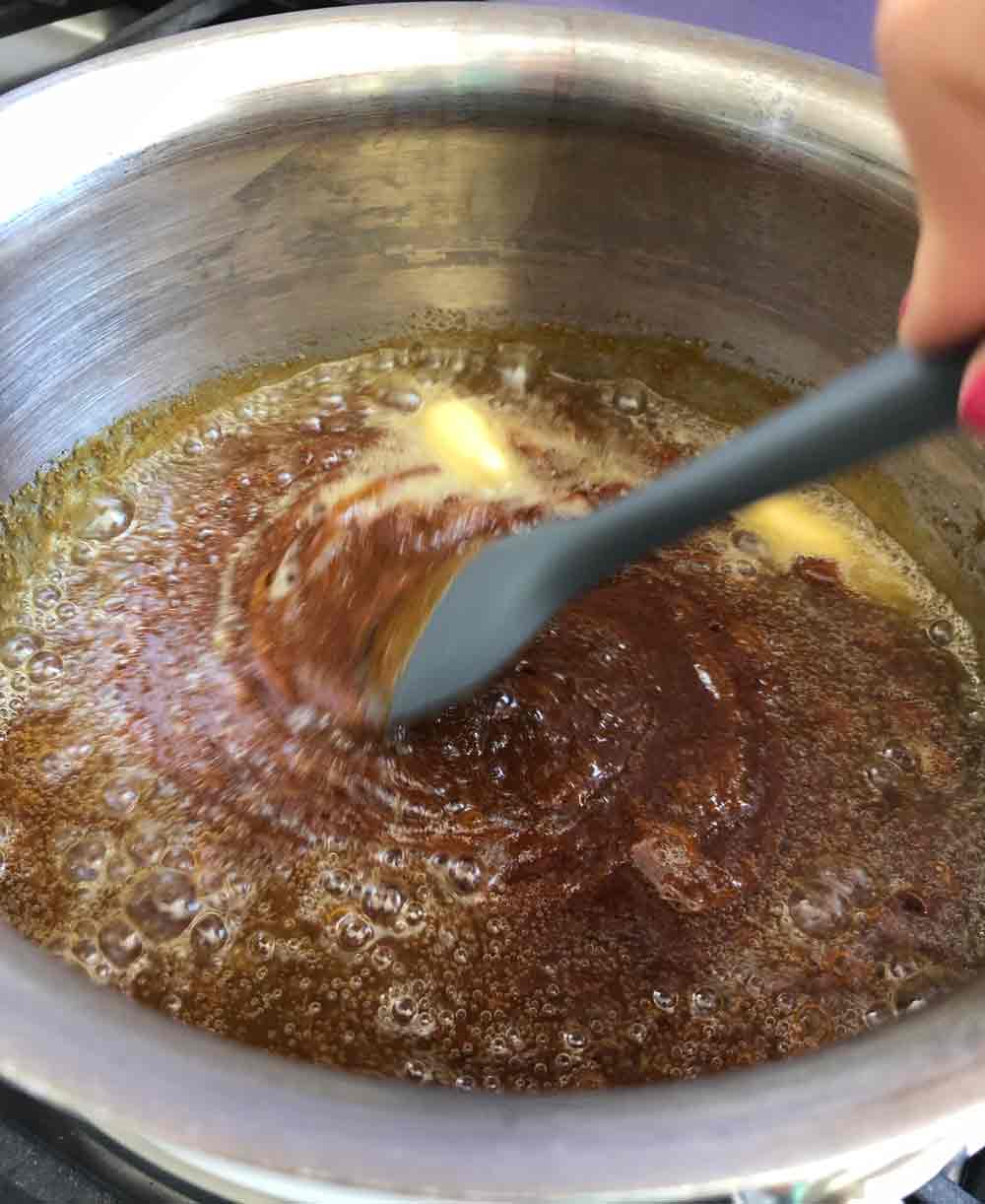 Drizzle the ¼ cup of coconut milk, as slowly as possible, into the pot while you're whisking. Again, it's going to make a big fuss, but ignore it until it chills the f out.
Cool for 10-15 minutes and then pour it into a mason jar to cool the rest of the way to room temperature. It will thicken as it cools. You can store this caramel sauce on the counter for a few days, but if you intend to keep it longer, it will have to go into the fridge. (It should stay good for a month or 2 in the fridge, but it will solidify and need to be reheated before using it. To reheat, just place your glass jar into a saucepan of water on low-medium heat until it becomes a drizzly consistency again…or use a microwave).
Vegan Chocolate Ombré Cake Ingredients
¾ - 1 cup (120g) all-purpose flour

¾ cup (150g) organic, vegan, or raw sugar*

¾ teaspoon (5g) baking soda

¾ teaspoon (4g) baking powder

a pinch of salt

¼ cup (60ml) oil

⅓ cup (90g) yogurt*

½ cup (120ml) nondairy milk*

1 teaspoon apple cider vinegar (or sub white vinegar)

1 teaspoon vanilla extract

¼ cup (60ml) hot coffee (or sub hot water if you can't have caffeine)

2 ½ tablespoons cocoa powder

a little over 3 additional tablespoons of flour
Vegan Chocolate Ombré Cake Directions
prep time: 30-45 min, because it's faster if you have a kitchen scale | bake time: 10 min
Dollhouse Shortcut
Make the cakes up to a week ahead of time and once they've completely cooled, wrap each individually in cling wrap and freeze them.
Preheat the oven to 350°F (175°C).
Oil each of the 6" heart cake pans with whatever oil you're using in your cake recipe (I usually use sunflower or safflower oil because they're both made for high heat).
Whisk the first five ingredients together in a mixing bowl: ¾-1 cup (120g) flour, ¾ cup (150g) sugar, ¾ teaspoon (5g) baking soda, ¾ teaspoon (4g) baking powder, and a pinch of pink sea salt (or any kind of salt).
Measure or weigh the dry ingredients and divide evenly into 5 bowls (I just used my normal bowls that I use for cereal, soup, or whatever).
Add additional flour and cocoa powder to the bowls in the following way:
Bowl 1: 1 tablespoon flour
Bowl 2: 2 ¾ teaspoons flour + ¼ teaspoon cocoa powder
Bowl 3: 2 ¼ teaspoons flour + ¾ teaspoon cocoa powder
Bowl 4: 1 ½ teaspoons flour + 1 ½ teaspoons cocoa powder
Bowl 5: 1 tablespoon cocoa powder
Mix the wet ingredients together: ¼ cup (60ml) oil, ⅓ cup (90g) vegan yogurt, ½ cup (120ml) nondairy milk, at room temperature, if possible (I used organic soymilk because the whole foods brand is super cheap), 1 teaspoon apple cider vinegar, 1 teaspoon vanilla extract, and ¼ cup (60ml) hot coffee.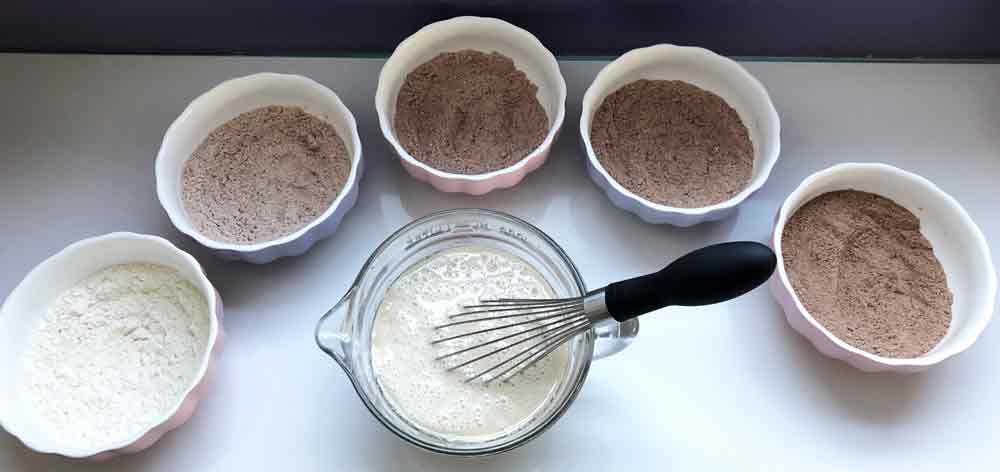 Ensure that the oven is fully heated to 350º and that your cake pans are oiled before starting the next step.
Divide the wet ingredients evenly into each of the 5 bowls of dry ingredients.
Whisk until you can no longer see dry spots.
Transfer the batter immediately to the cake pans, using a silicone spatula to scrape every last bit out of each one.

Bake for 10-11 minutes. The cakes are done when a toothpick inserted in the center comes out clean.
Remove the cakes from the oven and set on a cooling rack (or just on your stove if you don't have cooling racks).

Cool completely in the pan for about 30 minutes (minimum).
Remove cooled cakes from pans using a silicone spatula if they're being stubborn.
Wrap each cake in cling wrap and leave in the freezer while you make the candies and the frosting.
Cocoa Powder
$16.99 from Amazon
6" Heart Cake Pans
order from Amazon
Silicone Spatula
$7.99 from Amazon
Chocolate Caramel Hello Kitty Candies Ingredients
¼ cup vegan chocolate chips

caramel
Chocolate Caramel Hello Kitty Candies Directions
prep time: 15 min
Dollhouse Shortcut
These candies can be made the same day you make the caramel, if you're doing some of the steps ahead of time.
Melt ¼ cup vegan chocolate chips in one of 3 ways: using a double boiler, resting a metal bowl that fits snuggly inside a small saucepan with water, or using the microwave in 20-second increments, stirring in between (you should only need 40 seconds max).
Follow the directions for my hello kitty peanut butter cups, but instead of making the peanut butter filling, use the caramel you made as the filling.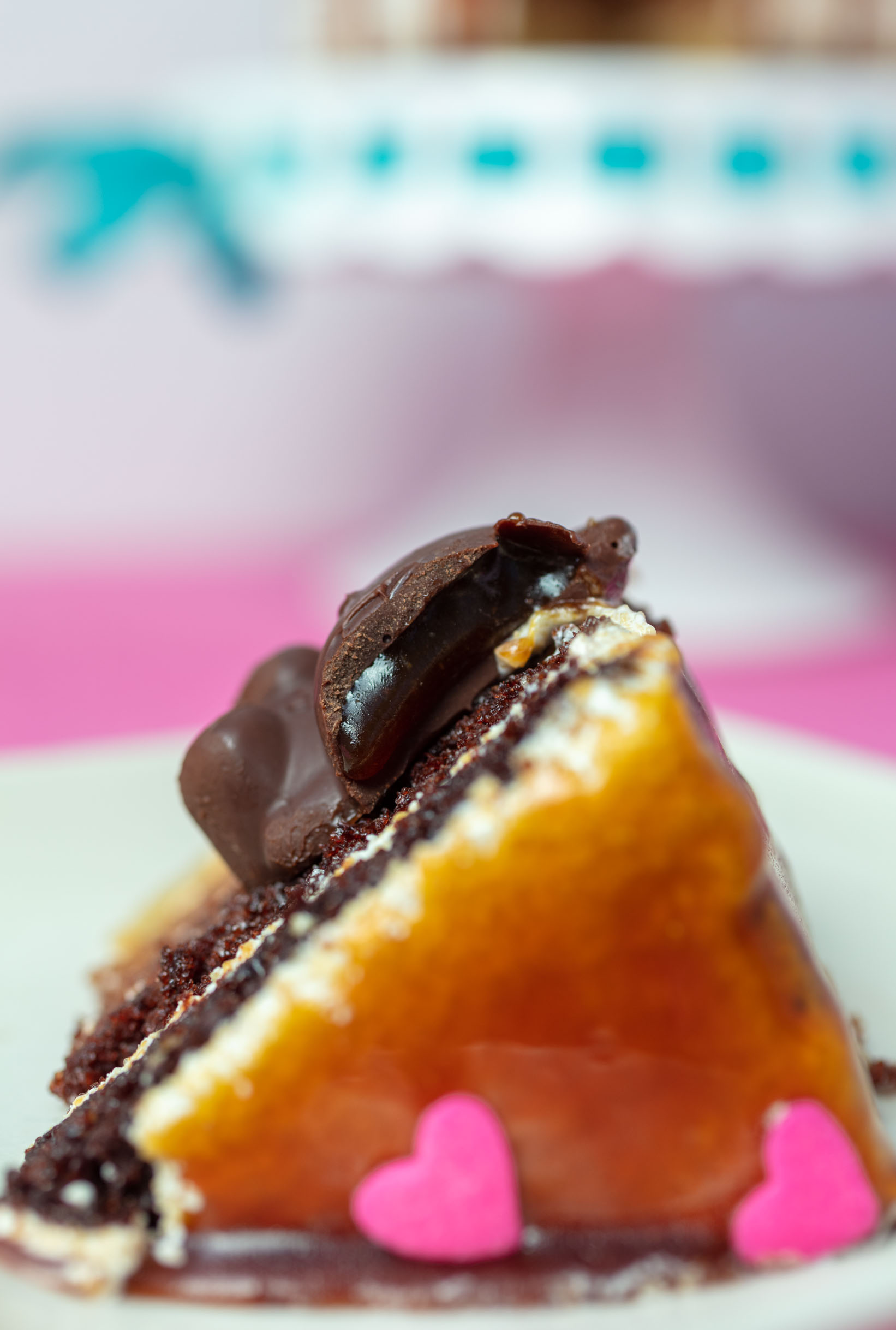 Vegan Caramel Sauce
$13.87 from Amazon
Hello Kitty Silicone Mold
$19.99 from Amazon
Vegan Chocolate Chips
$14.35 from Amazon
Vegan Caramel Buttercream Frosting Ingredients
¼ cup organic whipped earth balance (or other vegan butter)*

¼ cup organic palm shortening*

1 teaspoon vanilla extract

1 ¼ cups organic powdered sugar*

3 tablespoons caramel sauce
Vegan Caramel Buttercream Frosting Directions
cake assembling and decorating time: 3 and a half hours
Dollhouse Shortcut
After you assemble this cake, you can store it in the freezer for 1-2 days until it needs to be delivered to the birthday recipient. But don't make the mistake I did where the cake sat in a hot car for an hour, because the caramel will start dripping off the cake as it melts.
Whisk 1 teaspoon vanilla, ¼ cup earth balance, and ¼ cup spectrum sustainable organic palm shortening until it's light and fluffy, using a stand mixer or a handheld electric mixer with the whisk attachment.
Add 3 tablespoons caramel sauce and keep mixing until combined.
Sift in 1 ¼ cups of powdered sugar, half at a time, mixing thoroughly between additions.
Remove the 5 chocolate ombré heart cakes from the freezer and unwrap them.
Layer the cakes one by one, either from darkest to lightest or from lightest to darkest, depending on your preference.
Spread caramel buttercream frosting in a thin layer on the bottom heart before placing the second heart on top.
Repeat this until all 5 cake layers are stacked on top of each other.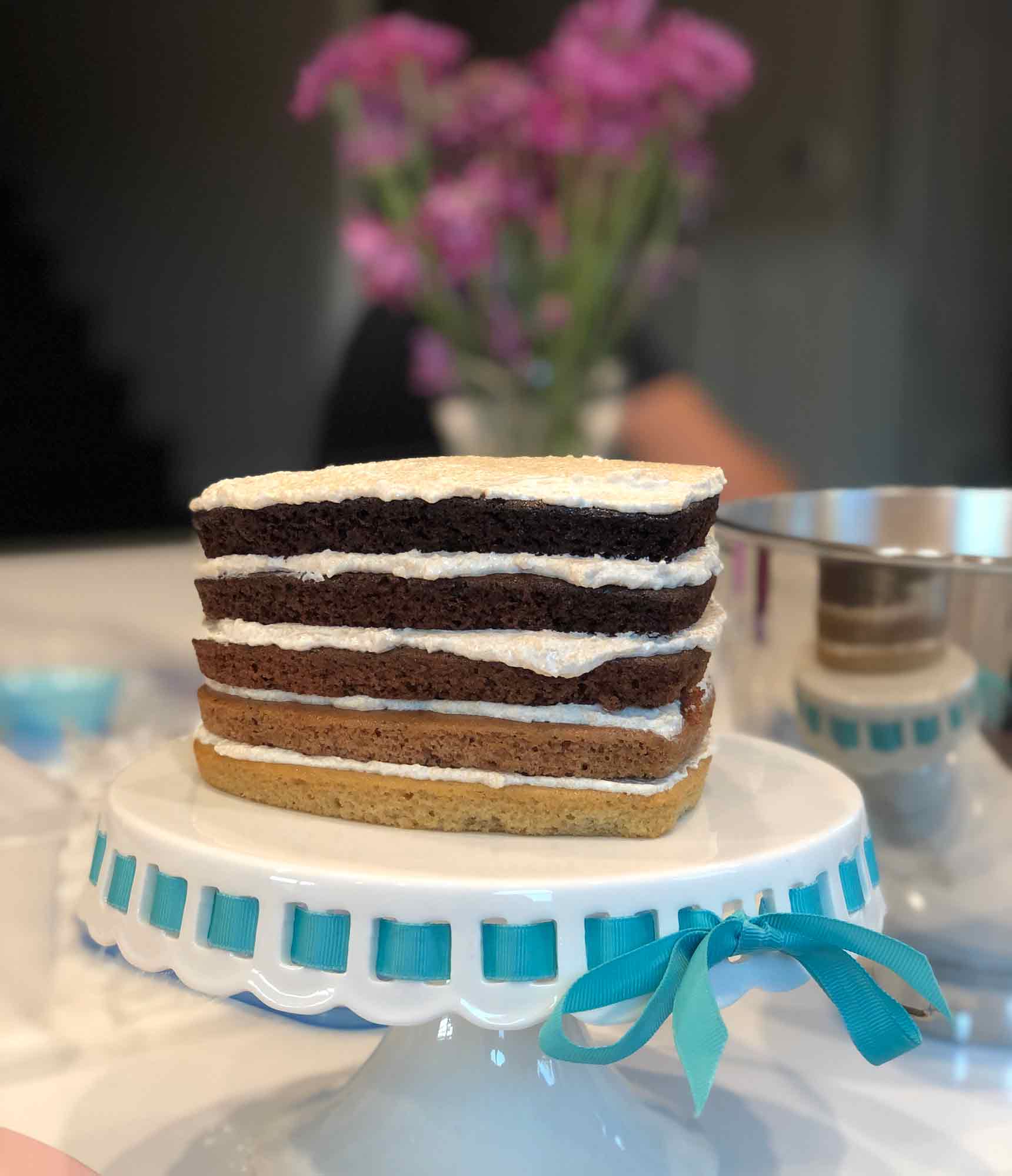 Cover the entire cake in caramel buttercream frosting.
Freeze the entire cake until the frosting becomes firm to the touch.
Drizzle caramel all over the top and use the back of a spoon or an offset spatula to spread it to the edges so it starts to drip down the sides.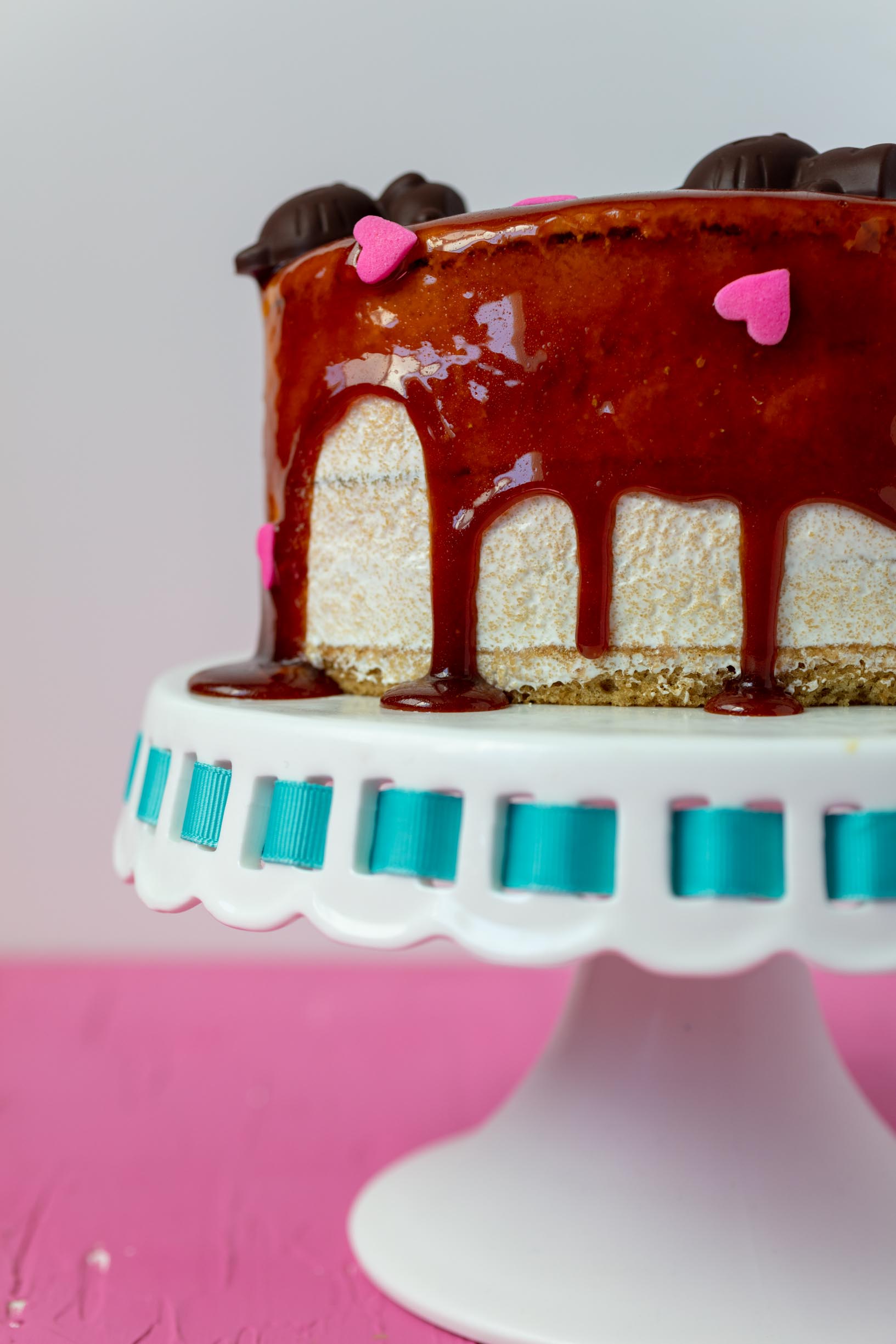 Decorate with the hello kitty caramel chocolates and (optional) vegan sprinkles.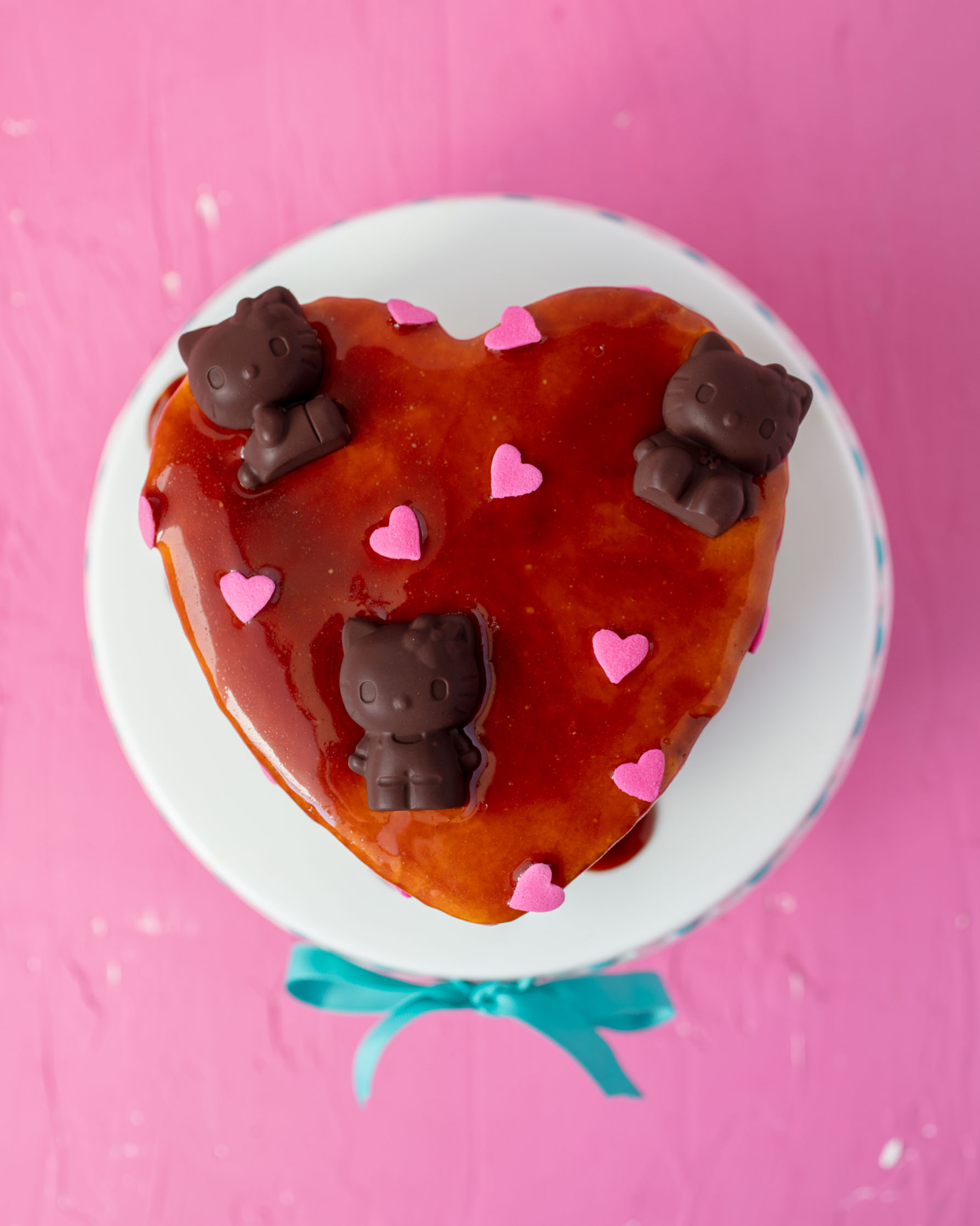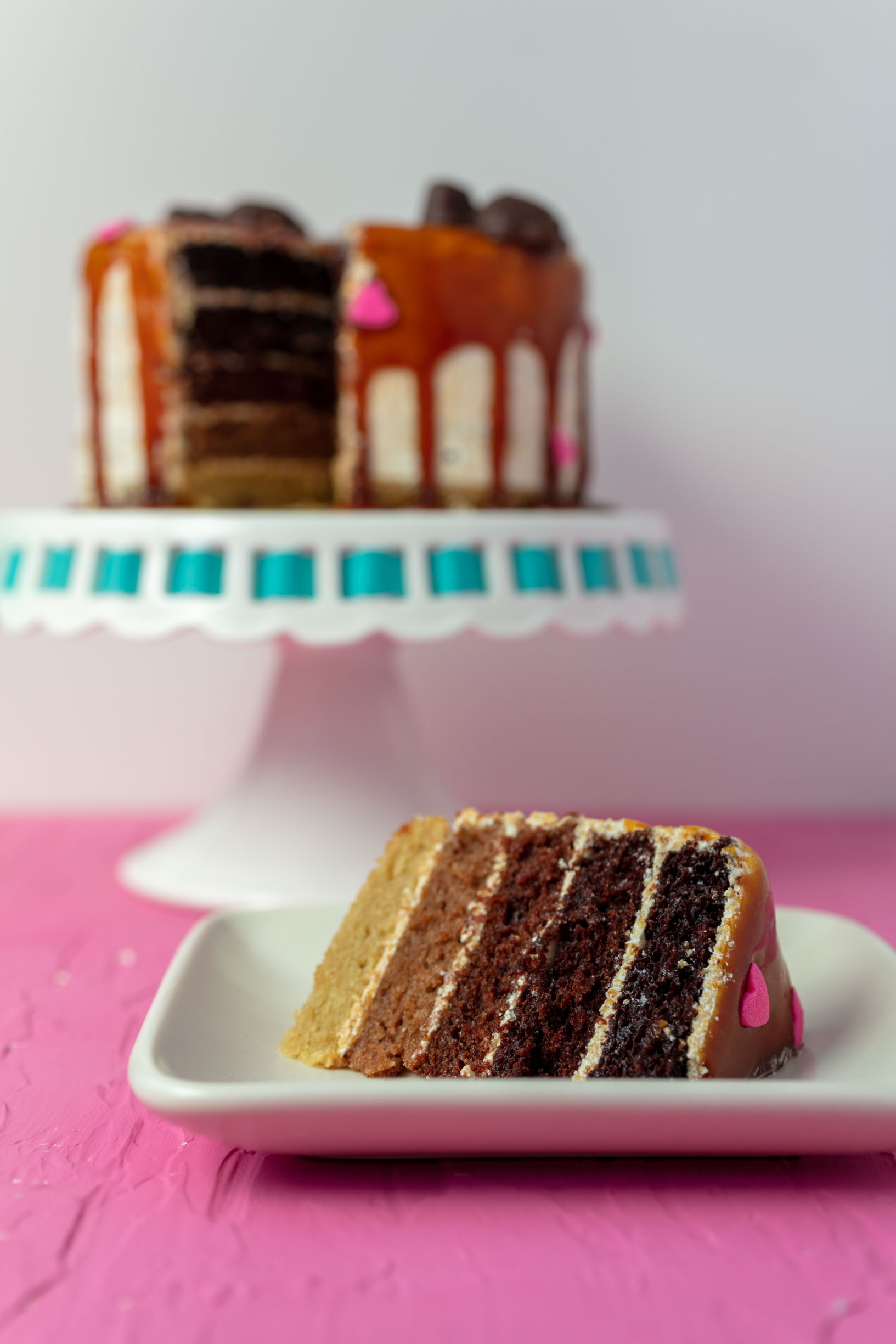 ☆☆☆☆☆☆☆☆☆☆
* I use mostly organic ingredients when I cook, but I realize that not everyone has the disposable income to purchase all organic ingredients. Therefore, I only specify organic on the ingredients that really matter - when buying the organic version is the only way to ensure that the item is vegan.
☆☆☆☆☆☆☆☆☆☆