Vegan Peanut Butter Cups
published on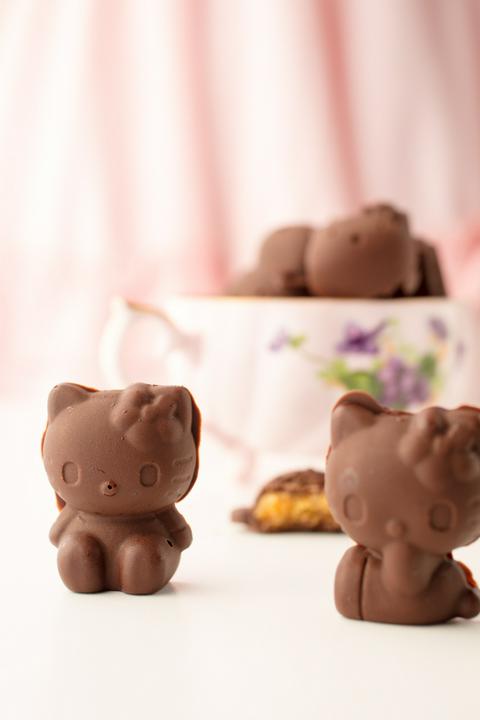 These vegan hello kitty homemade peanut butter cups are tastier, cuter, and healthier than traditional reeses peanut butter cups. If you're not into hello kitty (no judgement, but HOW and WHYYYYY) and you want these to look more like traditional reeses cups, use those silicone molds that look like cupcake liners.
This recipe makes 24 chocolate hello kitty peanut butter cups.
Table of Contents
(click the links below to skip to the section you're looking for)
♫ Listening to ♫
No Love for the Wild by HAERTS
(jump to the substitutions section to see ingredient details and suggestions for substitutions)
1 ¼ cup (210g) vegan chocolate chips

½ cup (127g) peanut butter

¼ cup (44g) vegan butter or margarine (see [Substitutions](#subs) section below)*

2 tablespoons (30g) of nondairy milk or creamer

1 cup (120g) organic powdered sugar*

¼ cup (24g) peanut butter powder
Vegan Chocolate Peanut Butter Hello Kitty Cups Directions
Dollhouse Shortcut
Melt chocolate chips in the microwave to save time. Melt at 30 second intervals, stirring in between until completely melted.
Mix ¼ cup (44g) vegan butter or margarine and ½ cup (127g) peanut butter using a stand mixer or a handheld electric mixer until it's creamy. I prefer using a creamy peanut butter over a crunchy peanut butter, but this is a personal choice.
Sift in 1 cup (120g) powdered sugar, ⅓ cup at a time, adding 2 tablespoons (30g) plant-based milk when it gets too thick and mixing after each addition.
Sift in ¼ cup (24g) peanut butter powder and mix again. Scrape the sides of the bowl. Mix again.
Shape 24 pieces of the peanut butter mixture using your hands. You want the shapes to fit inside your silicone molds, so use those as your guide when choosing how large to make them. You can do this step now, or you can do it later after
Melt ⅔ of the vegan chocolate chips in a double boiler. If you don't have a double boiler, you can use a metal bowl that fits snuggly inside a small saucepan.
Add the remaining vegan chocolate chips only when the first batch is completely melted. Stir until the new chocolate is completely melted and smooth.
Remove the melted vegan chocolate chips from heat.
Spoon the melted chocolate into the bottoms of your hello kitty silicone mold . If you don't already have a hello kitty silicone mold , you can click on my amazon affiliate link to buy it, and it supports my blogging. Otherwise, you can use whatever molds you have handy.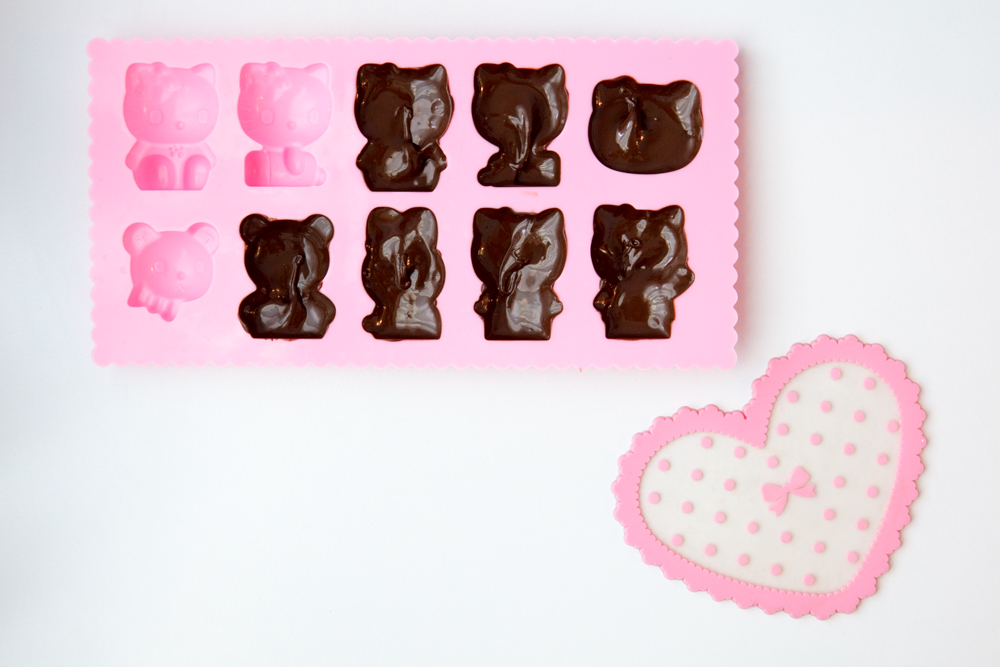 Place a peanut butter ball into each of the hello kitty silicone mold cubbies, leaving space on top for additional chocolate.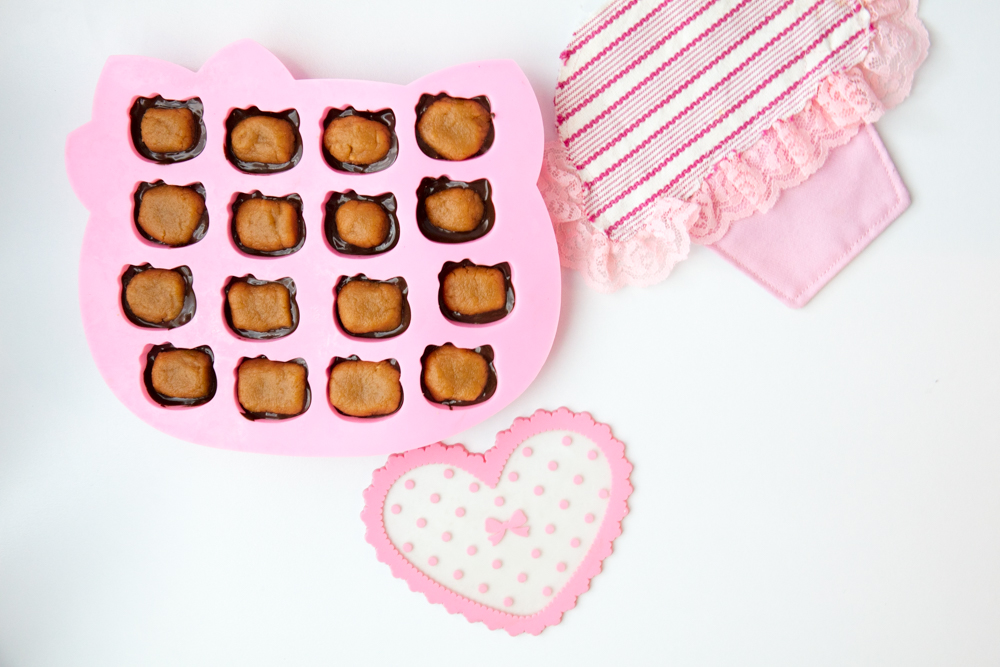 Top the peanut butter cups with additional melted vegan chocolate chips until the hello kitty silicone mold is filled. If at any point the chocolate starts to thicken, return it to the stove momentarily to melt again. If you have any remaining chocolate or the filling from the peanut butter layer, you can just put them in any silicone molds or ice cube trays and leave them in the freezer until you need a yummy treat.
Leave the peanut butter cups out overnight for the chocolate to harden, or if it's hot in your house, or you're in a hurry, place them in the refrigerator or freezer to solidify more quickly.
Pop out each peanut butter cup gently by folding back the rest of the silicone mold. Silicone molds are super flexible, so it makes this step super easy.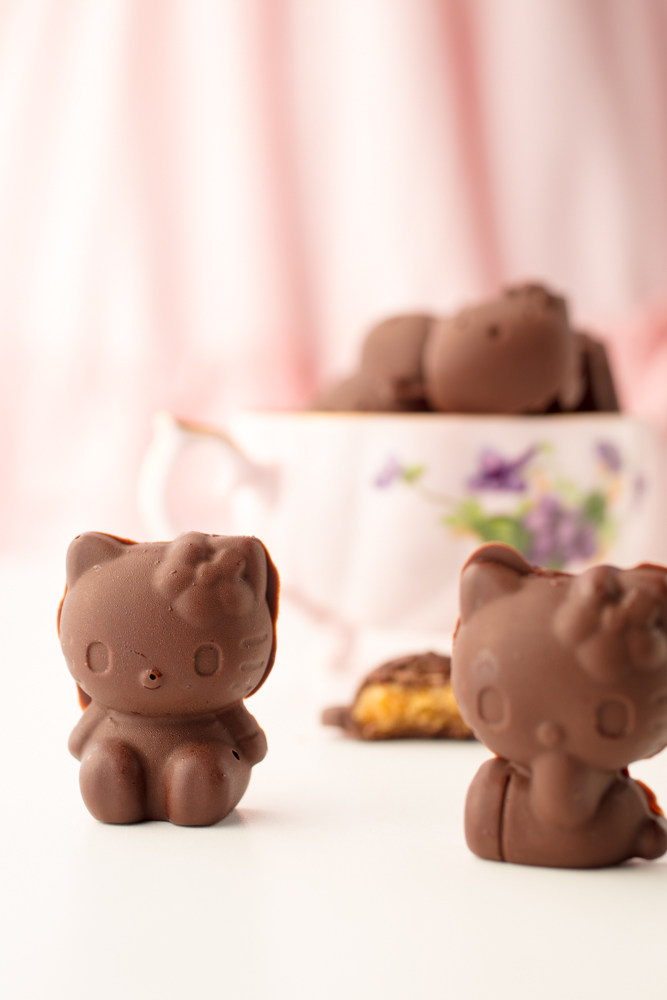 Store the chocolate peanut butter hello kitties in the fridge or freezer for up to four months. These are great for easter, halloween, or a last minute birthday gift for someone. You can also use heart-shaped molds and make them for valentine's day.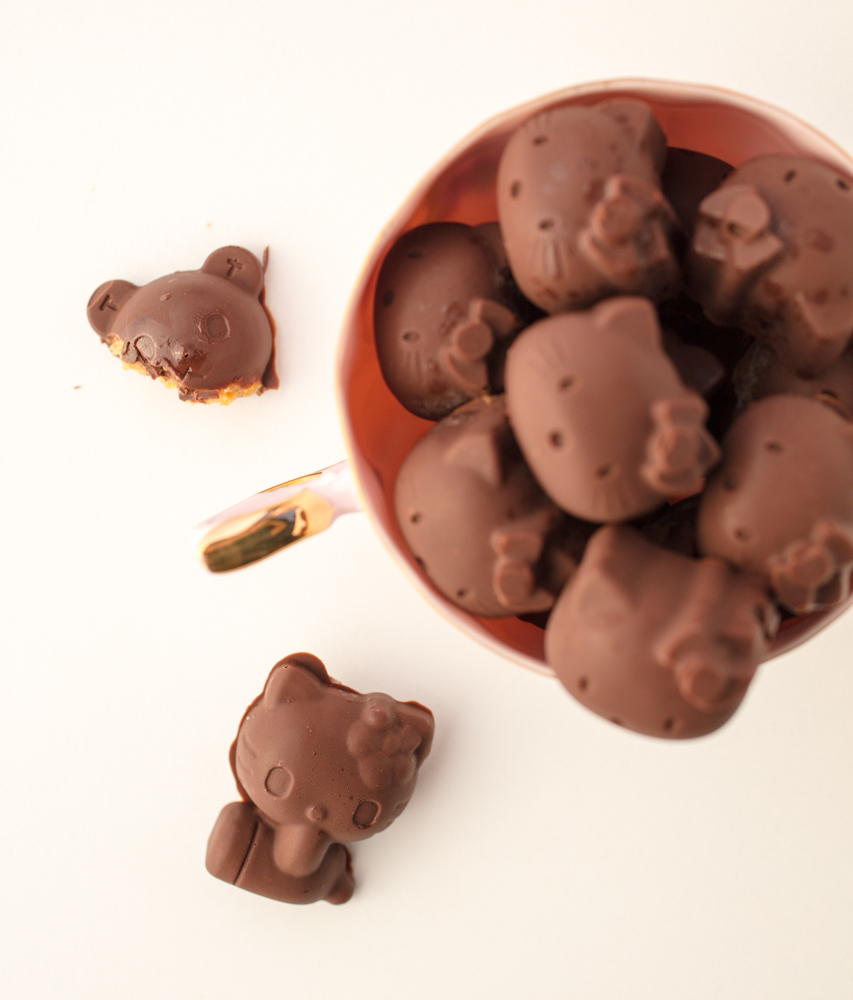 Peanut Butter: You can substitute any nut butter for the roasted peanut butter in the peanut butter filling part of this recipe. I've used almond butter, cashew butter, and macadamia nut butter. If you don't have any nut butter in the house, but you do have peanuts, use this mazapan recipe for the filling in these (just make sure you use organic powdered sugar to ensure that they're vegan).
Vegan Butter: If you aren't sure what kind of vegan butter or margarine to use in your peanut butter cups, my favorite is the organic whipped Earth Balance, but if you avoid soy, you can buy the soy-free Earth Balance. You can also sub coconut oil for the vegan butter if you want.
Powdered Sugar: If you don't have powdered sugar, you can put vegan sugar in the blender and pulse it until it's almost as fine as powdered sugar. Just make sure your sugar is vegan. Sucanat, coconut sugar, raw sugar, organic sugar, or demurara are all usually safe bets. If you're not sure if your sugar is vegan, you can contact the company and ask, but basically, just avoid conventional white sugar or granulated sugar, and you should be ok.
Chocolate Chips: If you don't care for the flavor of dark chocolate, Pascha makes vegan milk chocolate chips that you buy. Like the vegan chocolate chips I use in this peanut butter cup recipe, Pascha's vegan milk chocolate chips are fair trade and organic (making them guilt free in my book). If you don't have vegan chocolate chips but you do have vegan chocolate bars, you can replace the vegan chocolate chips in this recipe with vegan chocolate bars. You'll probably want to chop each chocolate bar into chocolate chip sized pieces with a knife first so that they melt easier/faster.
Peanut Butter Powder: If you don't have peanut butter powder and you don't want to buy any, you can omit it from this peanut butter cups recipe. The peanut butter flavor will be less robust, but they will still be delicious. Just reduce the amount of nondairy milk or creamer from 2 tablespoons (30g) to 1 tablespoon (15g).
Nondairy Milk: Any variety of nondairy milk or nondairy creamer work for this recipe. However, if you want it to remain gluten-free, avoid milks that contain gluten, like barley milk. I've used almond milk, soymilk, and almond creamer, and all came out great.
If you're looking for a healthy peanut butter cup recipe that uses dark chocolate and a sugar free filling made with natural peanut butter and maple syrup, check out Melissa's homemade peanut butter cup recipe.
These vegan peanut butter cups are good by themselves, in ice cream, or on top of oatmeal.
If you're looking for other quick chocolates you can make, check out these peanut butter chocolate pretzels, these chocolate covered pretzels, and these vegan butterfingers.
If you like peanut butter and chocolate together, check out my vegan chocolate peanut butter cupcakes, my gluten-free vegan chocolate peanut butter cupcakes, my peanut butter chocolate pretzels, and my peanut butter chocolate cake.
☆☆☆☆☆☆☆☆☆☆
* I use mostly organic ingredients when I cook. I realize that not everyone has the disposable income to buy only organic ingredients. So, I only specify organic on the ingredients that matter: when buying the organic (or non-GMO) version is the only way to ensure that an item is vegan.
This post links to items I used when I made this recipe. If you click on the purple Buy Now button on a product page, you will go to a website (like Amazon) where you can buy the same product I used. Sometimes, the store you purchase from (Amazon, Etsy, etc.) will pay me for referring you. This costs you nothing extra, and I would never recommend a product that I don't use. These affiliate programs help me buy the ingredients to create these recipes for you. Read more about this in my privacy policy.
☆☆☆☆☆☆☆☆☆☆