Vegan Chocolate Peanut Butter Tacocat Cake
published on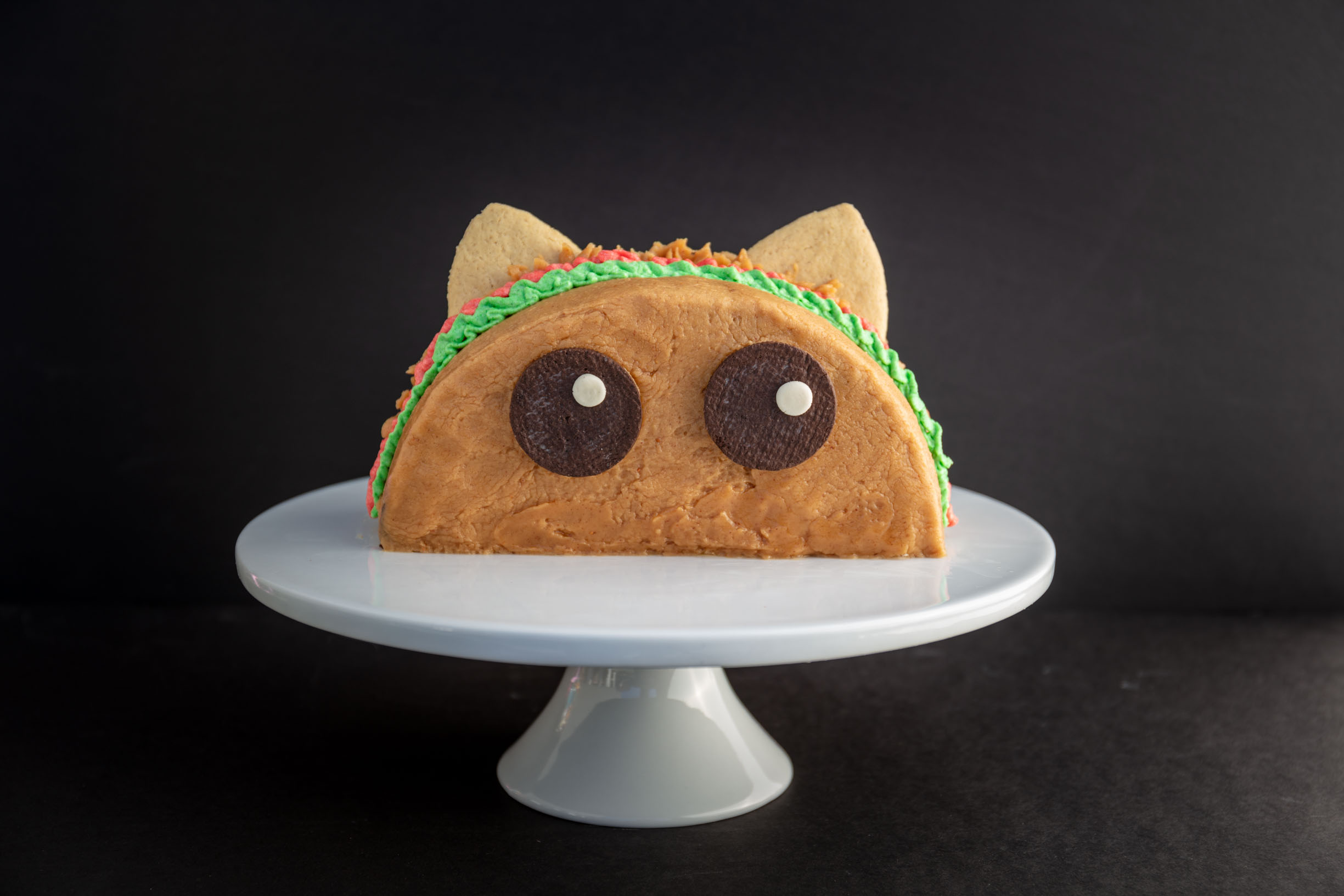 ♫ Listening to: F.U. #8 by Tacocat ♫
The recipe for this chocolate peanut butter vegan cake is a modification of my ET's favorite cupcakes that won a cupcake contest in Oakland a lot of years ago. It's a favorite amongst many of my (vegan and muggle) friends who eat my treats regularly.
The idea for this cake came from an instagram collaboration that is board game themed. I chose exploding kittens, knowing full well that it's a card game and not a board game, but I was assured by the collab hostesses that it counts. We got exploding kittens when it was on kickstarter so we got the special edition version that meows when you open the box. Sometimes, I just open the box to see Macchiato's reaction. I'm such a mean mommy.
I then narrowed it down to my 6 favorite cards from the game and I let instagram and twitter vote for which one I should make. Tacocat ended up the winner!
This cake serves around 12 people.
Vegan Chocolate Cake Ingredients
1 ¼ cups unbleached white flour
⅓ cup cocoa powder
¾ teaspoon baking soda
½ teaspoon baking powder
1 cup nondairy milk (I used 365 brand organic soymilk)
½ tablespoon apple cider vinegar (or substitute white vinegar)
⅓ cup sunflower or safflower oil
¾ cups organic sugar*
½ tablespoon vanilla extract
Vegan Chocolate Cake Directions
Dollhouse Shortcut
To save time, you can bake the cake the night before you decorate it.
Coat one of your 8" round cake pans with sunflower or safflower oil.
Cut a piece of parchment paper for the bottom of the cake pan by setting the pan on the parchment paper and tracing it and then cutting it out. I make so many cakes that I made a template out of cardstock (fine, it was actually an old donut box because I reuse everything) that I store with my cake pans for making the process of tracing onto parchment paper quicker and easier.
Stick the parchment paper on the bottom of the cake pan.
Oil the top of the parchment paper too. This may seem like overkill, but if you've ever broken a cake trying to get it out of the pan, then you'll understand why taking all precautionary measures is of the utmost importance.
Preheat the oven to 350°.
Combine vinegar and nondairy milk and let sit.
Sift the dry ingredients together (flour, baking powder, baking soda, and cocoa powder ) in a medium bowl and whisk. I use the back of a spoon to force all the little lumps down through the sifter.
Mix the oil, sugar, and vanilla extract into the nondairy milk mixture using a stand mixer or a handheld electric mixer. (You can also do this by hand, but I don't like to because I'm lazy, haha.)
Pour only half of the dry ingredients into the wet ingredients and mix until there's no visible powder. Add the rest of the dry ingredients and mix again until there's no visible powder.
Scrape the sides and bottom of the bowl with a silicone spatula to ensure you incorporated all of the powder into the batter. Mix again.
Pour the batter into the cake pan.
Bake for 35 minutes, until when you insert a toothpick into the center, it comes out clean. Cool completely before assembling.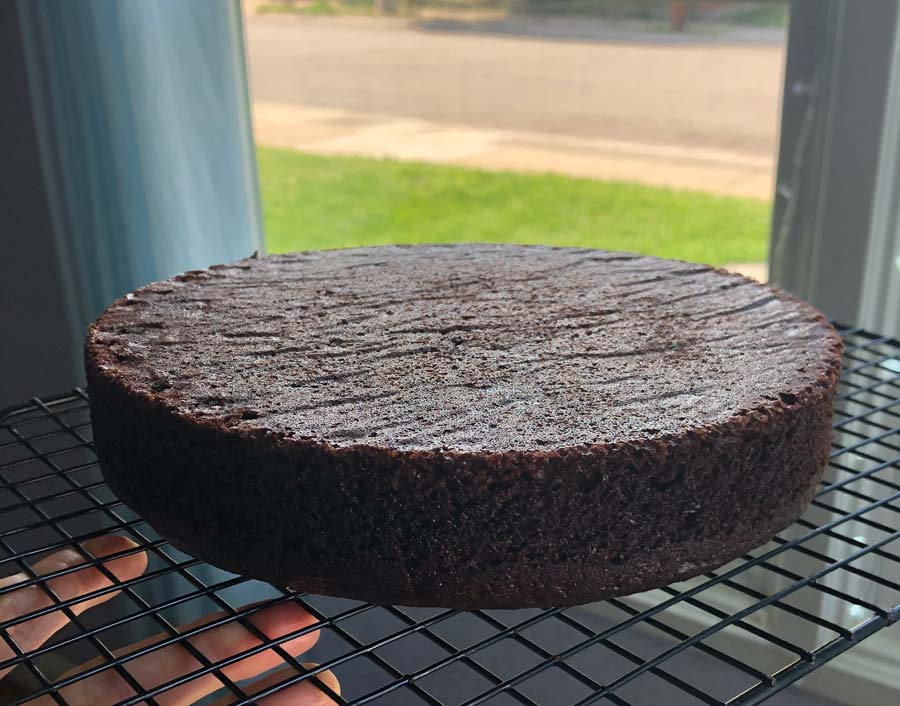 Vegan Peanut Butter Filling / Frosting Ingredients
½ cup vegan butter or margarine (I like the organic whipped earth balance)*
½ cup peanut butter
2-4 tablespoons of nondairy milk (I used milkadamia because it's what I had on hand)
½ tablespoon vanilla extract
2 cups organic powdered sugar*
Vegan Peanut Butter Filling / Frosting Directions
Whisk the vegan butter, peanut butter, and vanilla using a stand mixer or a handheld electric mixer.
Sift in a cup of the powdered sugar, adding a tablespoon of plant-based milk when it gets too thick. If it's still too thick, add another tablespoon of nondairy milk.
Sift in the second cup of powdered sugar, and add 1-2 tablespoons of plant-based milk when it gets too thick. You want it to be creamy and shiny.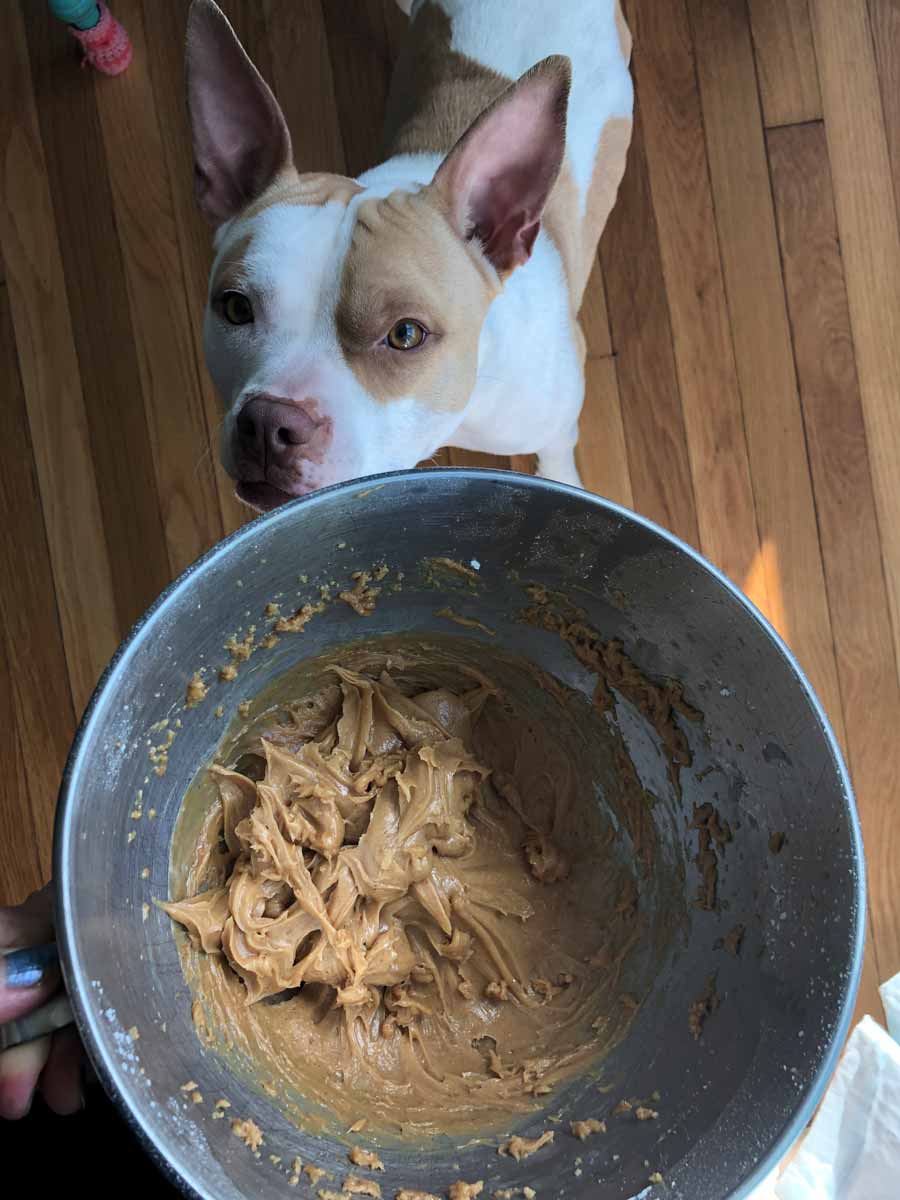 Transfer to a piping bag fitted with a tip of your choosing.
Cut your chocolate cake in half, once it's completely cooled.
Set the halves on their newly cut edges next to eachother on a cake plate or cake stand (in a taco shell shape).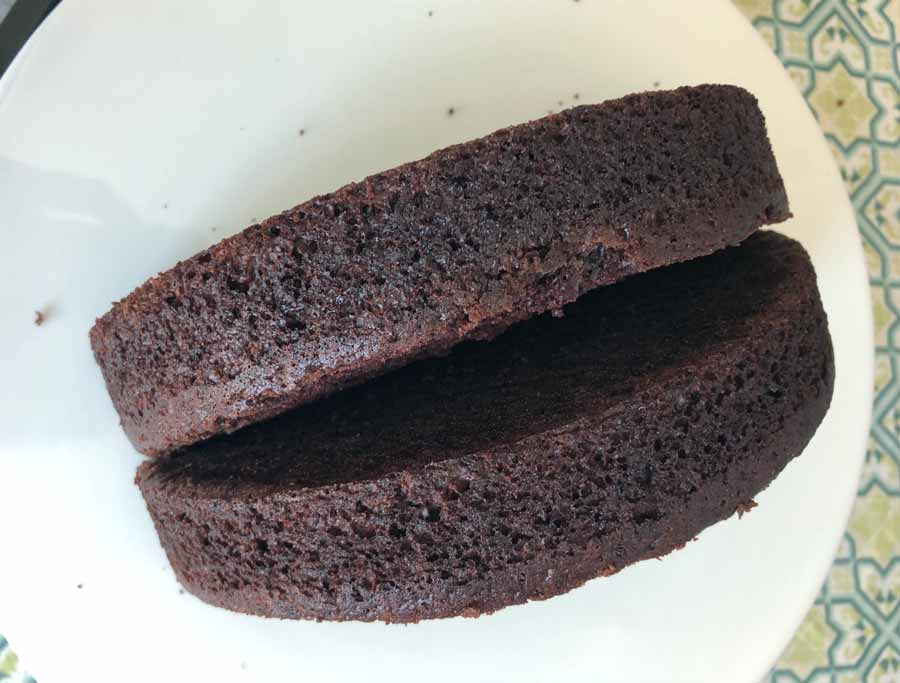 Pipe a little frosting on the bottom of the cakes to act as glue to hold them in place when you set them back down.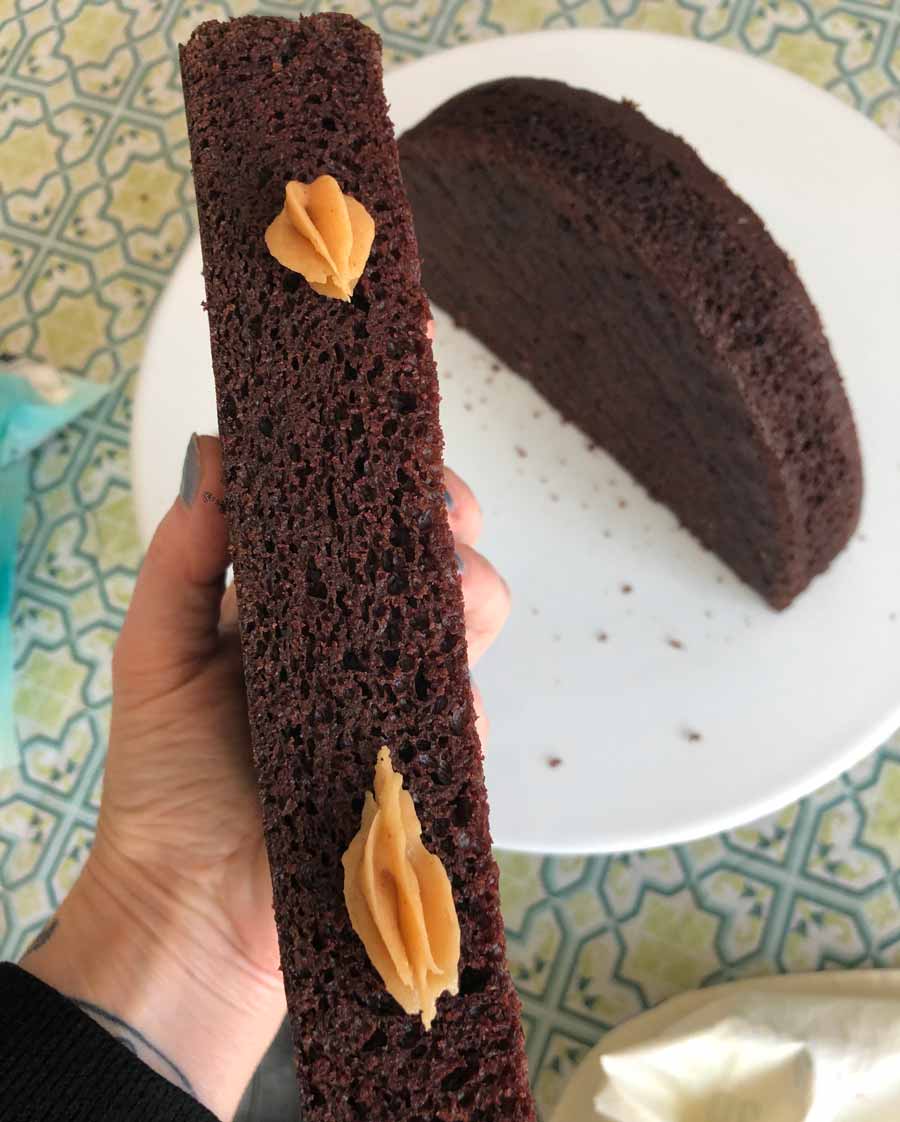 Pipe peanut butter filling in between the 2 cake halves so that it looks like you're filling a taco shell.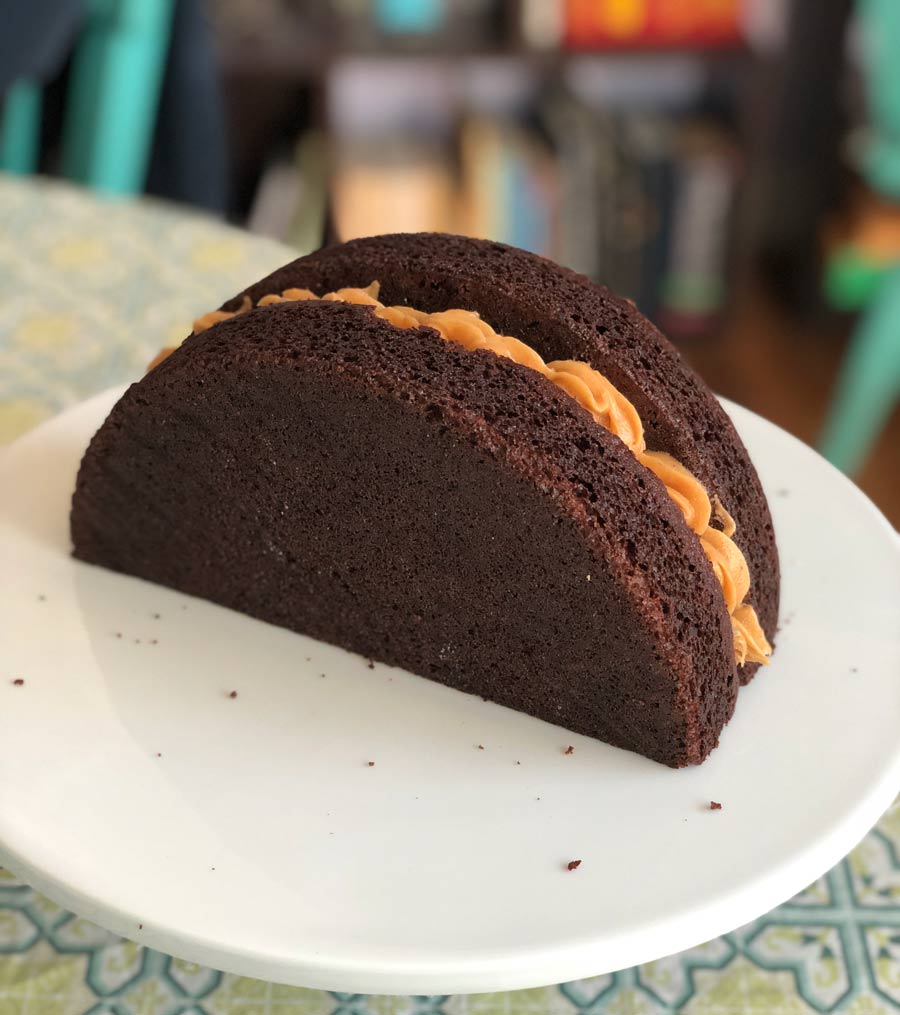 Pipe the peanut butter frosting around the outside the cake taco and smooth it out with a knife or spatula.
Stick some ears onto the top if you're making tacocat. I shaped cookie dough into 2 ear shapes and baked it into ear cookies.
Stick some eyes on the front if you're making tacocat. I used Newman O's which are like healthier oreos.
Optional: pipe some green and red frosting to make it look like lettuce and salsa.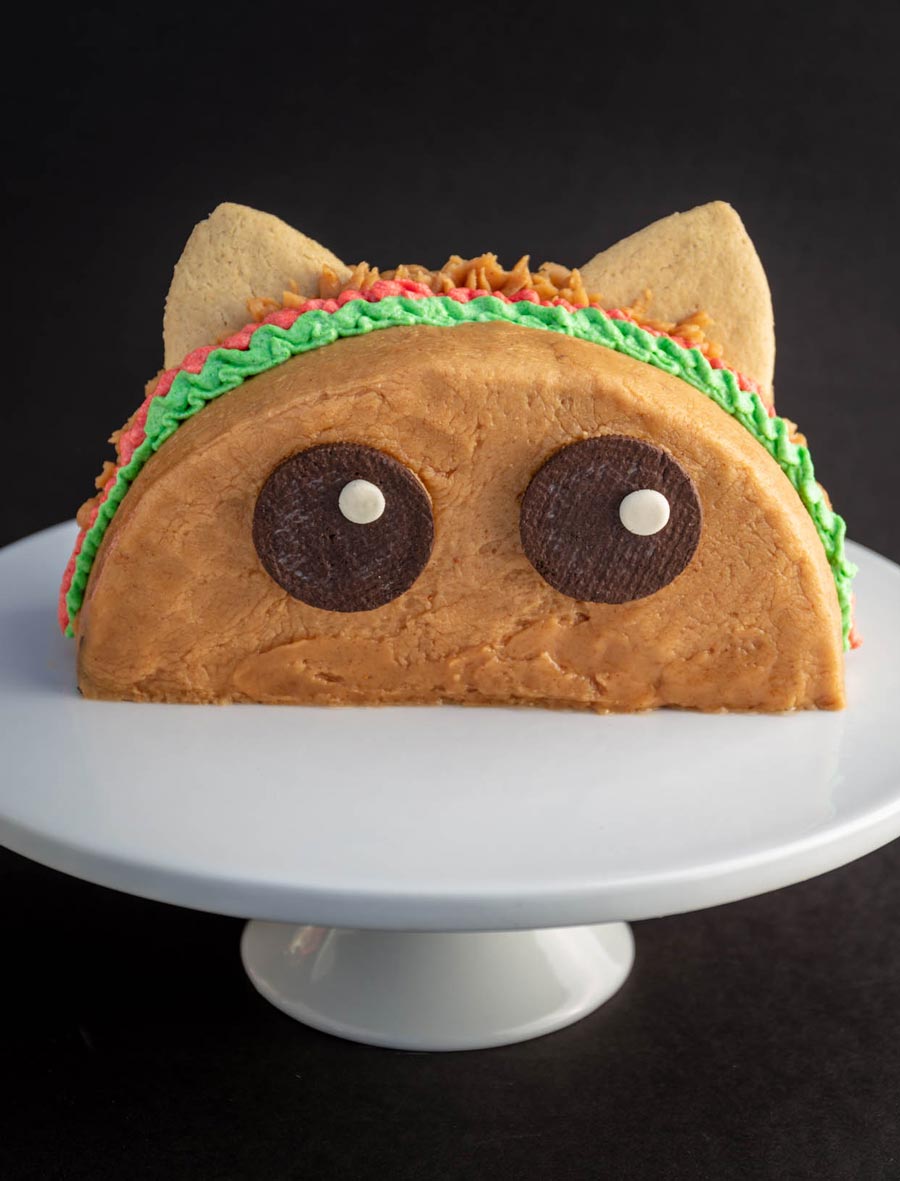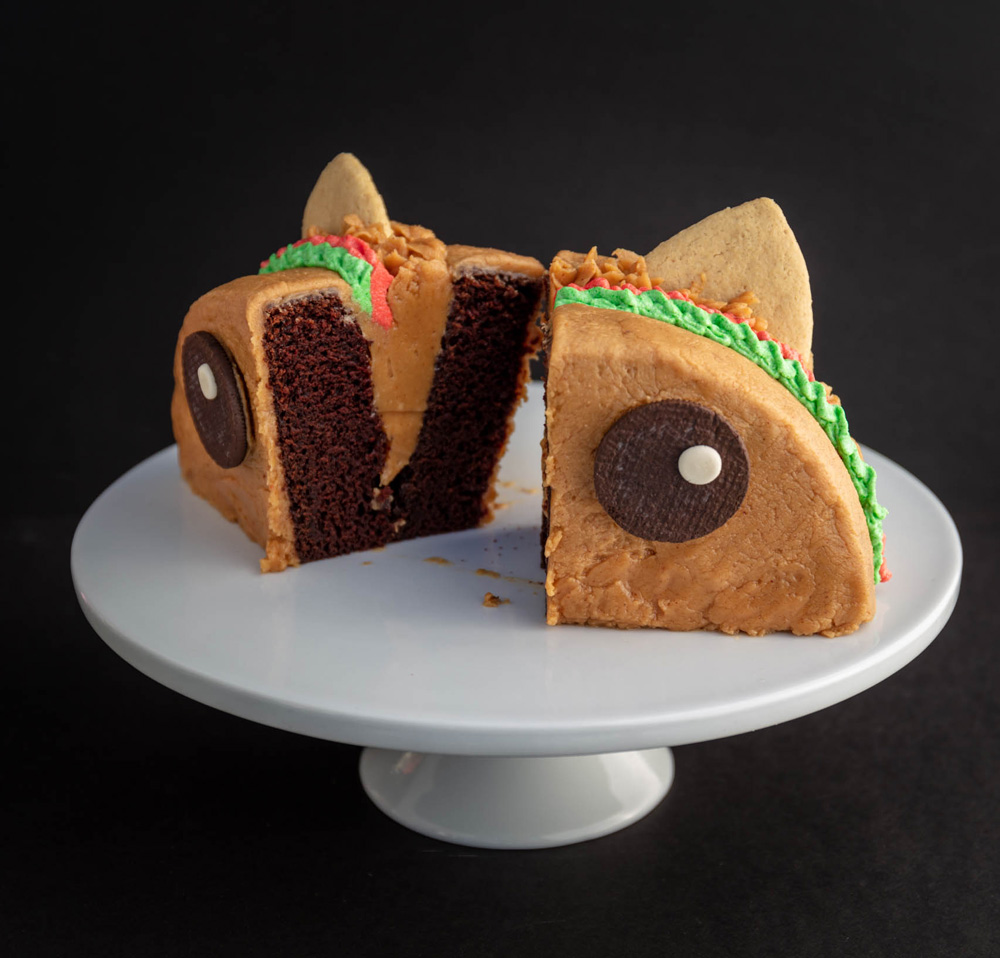 If you like peanut butter and chocolate together, check out my vegan chocolate peanut butter cups, my vegan chocolate peanut butter cupcakes, my gluten-free vegan chocolate peanut butter cupcakes, and my peanut butter chocolate pretzels.
☆☆☆☆☆☆☆☆☆☆
* I use mostly organic ingredients when I cook, but I realize that not everyone has the disposable income to purchase all organic ingredients. Therefore, I only specify organic on the ingredients that really matter - when buying the organic version is the only way to ensure that the item is vegan.