Pink Bagels
published on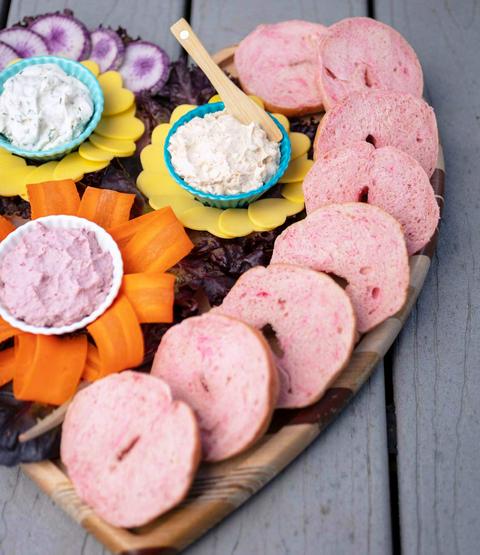 ♫ Listening to: Girl's Night Out by The Knife ♫
Before my office was mostly remote, I brought bagels into work every Valentine's Day. Sometimes I made them (sort of) heart-shaped, and sometimes I made them pink. I'm pretty sure I did it 4 years in a row (from 2014-2018), and then I went years without making bagels even once after I started working from home. Bagels are a perfect thing to make for muggles since they're already normally vegan, but muggles sometimes think that vegans only eat carrots and hummus.
After seeing how light my rainbow bagels came out when I use natural colored dye, I decided to use wilton rose gel color this time. I know it's made from chemicals, but since you only need a few drops for a dozen bagels, I think it's okay. However, if you're more strict than I am, then just skip the coloring and make bagel colored bagels. I've done that tons of times, and they still have the ability to wow people. I just think people really love bagels. My friend and bagel enthusiast, Skott, moved to the bay area from Boston. He complained that "we have no good bagels here." When I made my bagels for him, he said they were perfect!
If you're making these for a brunch with friends, I recommend making a bagel board. This idea comes from the cookbook called Vegan Boards writen by Kate Kasbee, a blogger over at well vegan. For my bagel board, I paired my bagels with some of my favorite toppings: 3 kinds of vegan cream cheese, purple lettuce, daikon radish, carrot ribbons, and violife cheese (I used a heart-shaped cookie cutter to cut hearts out of the mature cheddar cheese slices).
This recipe makes approximately 12 bagels (depending on the size you make them), and it take about 3 hours from start to finish.
Vegan Pink Bagel Ingredients
Dollhouse Shortcut
If you're using bread flour instead of all-purpose flour, substitute more bread flour in place of the wheat gluten.
1 ¾ cups (400ml) filtered water heated to 105º F

1 tablespoon yeast

2 tablespoons raw, organic, or vegan sugar*

5 ⅓ - 5 ½ cups (735g) unbleached flour

¼ cup (30g) vital wheat gluten

1 tablespoon sea salt

3-6 drops of pink vegan food coloring
Vegan Pink Bagel Directions
time to prep dough for rise: 35m | wait time: 1h | time to prep bagels for boiling: 10m | boiling time: 8m | baking time: 18m
Add 1 tablespoon yeast and 2 tablespoons sugar to ½ cup (110ml) of the warm water. Set aside for 5 minutes.
Add 1 tablespoon pink sea salt and 1 cup (135g) of flour to the liquid and mix to incorporate.
Add the remaining 4 ⅓ - 4 ½ cups (600g) flour, ¼ cup (30g) wheat gluten, and the other 1 ¼ cup (290ml) of warm water, mixed with 6 drops of wilton rose gel color food coloring.
Mix the dough using a stand mixer fitted with the dough hook on low speed (or use your hands if you don't have a stand mixer).
Knead the dough for 10-15 minutes. If it gets too sticky, add additional flour, 1 tablespoon at a time. I didn't have to do this, but if your brand of flour is different from mine, you may need to. My stand mixer started to sound like it was about to die after about 8 minutes, so I removed the dough and kneaded it by hand for another 6 minutes. (I can't have my kitchenaid die on me. I'm too lazy to live life without it.)
Transfer the dough to a large oiled bowl and cover with a kitchen towel. Let rise for 1 hour. If your house is colder than 80º, you may need to turn your oven on and set the bowl on the stove. I often set the bowl on top of my clothes dryer while it's running. (While you wait for it to rise, you can start working on preparing your bagel toppings.)
Press the dough down after an hour, and let it start to rise again while you get your pot of water ready.
Boil a large pot of water. I like to add the following optional ingredients to my water to help the outsides of the bagels turn brown and shiny: 1-2 teaspoons of baking soda, 1-2 teaspoons of sugar, and 1-2 teaspoons of salt. My rainbow bagels didn't have anything added to the water if you want to compare the difference. While the water comes to a boil, form your bagels.
Form a ball with some of the dough (if you want to weigh it to make all the bagels the same size, aim for 100 grams of dough per bagel).
Poke a hole in the center of the bagel, using your fingers, and try to make it bigger than you think it should be because it closes up later (you can see that most of my bagels barely have a hole once they're done).
Set the bagel-shaped dough on a baking sheet covered with parchment paper or a silicone rolling mat (I've used both and they work equally well).
Repeat with the remaining dough. This process usually takes me about 10-15 minutes, but if you're exceptionally fast at forming bagels, you may want to let them rise for an additional 5 minutes before you start boiling them.
Heat your oven to 400-425º F, depending on how hot your oven runs.
Place as many bagels as can comfortably fit into the pot without overlapping. You can also just do one at a time if you're worried about them touching.
Boil the bagels for 1 minute on each side. A slotted spoon works the best for this, but before I found my cheap one at grocery outlet, I used to use tongs to flip them.
Place the boiled bagels back onto the baking sheet covered with parchment paper or a silicone rolling mat to wait patiently for the oven to heat up. If you're one of those people who likes toppings, now is the time to dip your bagels into seeds or everything but the bagel seasoning before they go into the oven.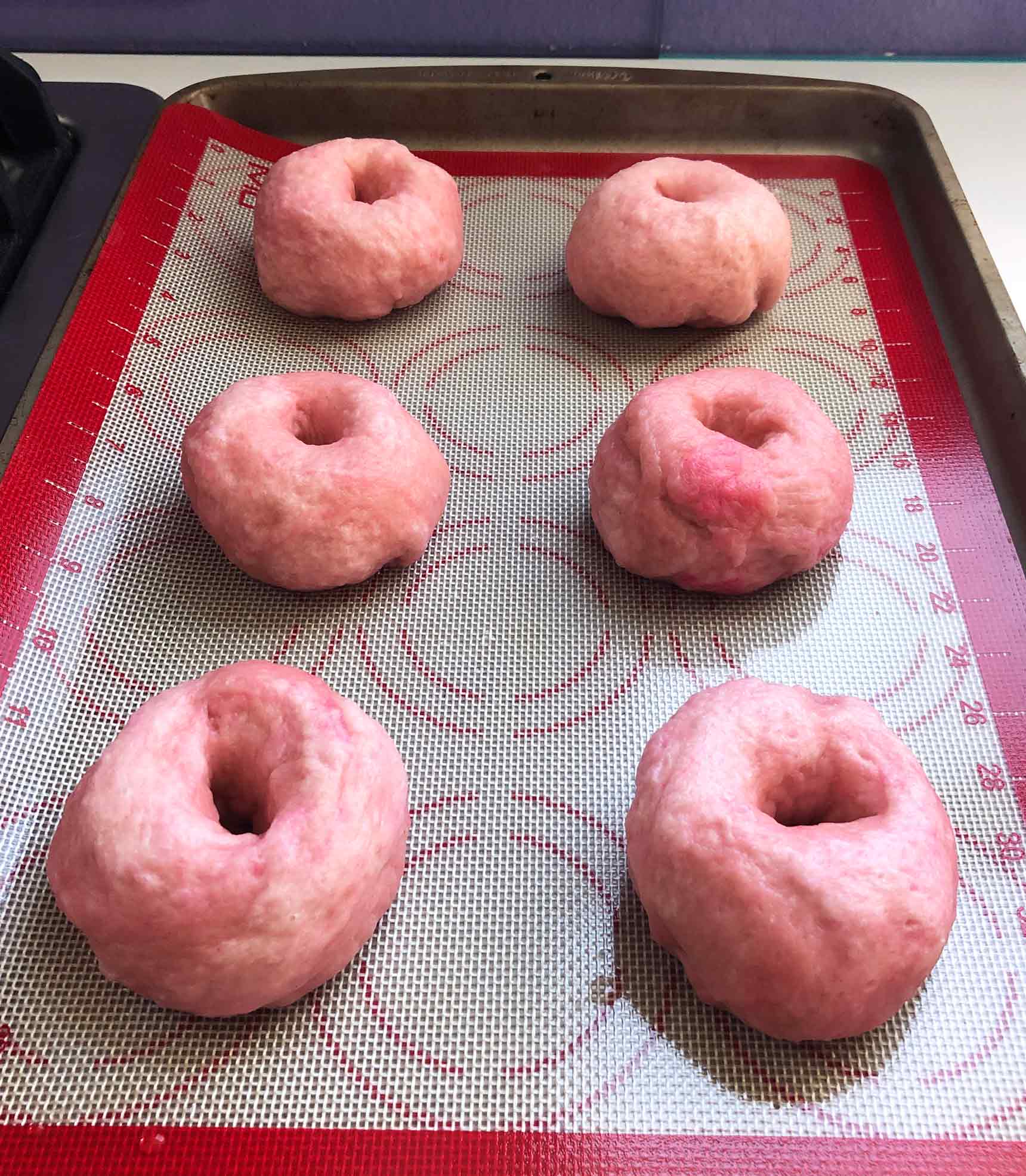 Bake the boiled bagels on the mid-lower rack on the oven for 15-20 minutes at 400-425º, until they start to turn brown on the tops. My oven runs hot so I baked mine at 400º F for 18 min.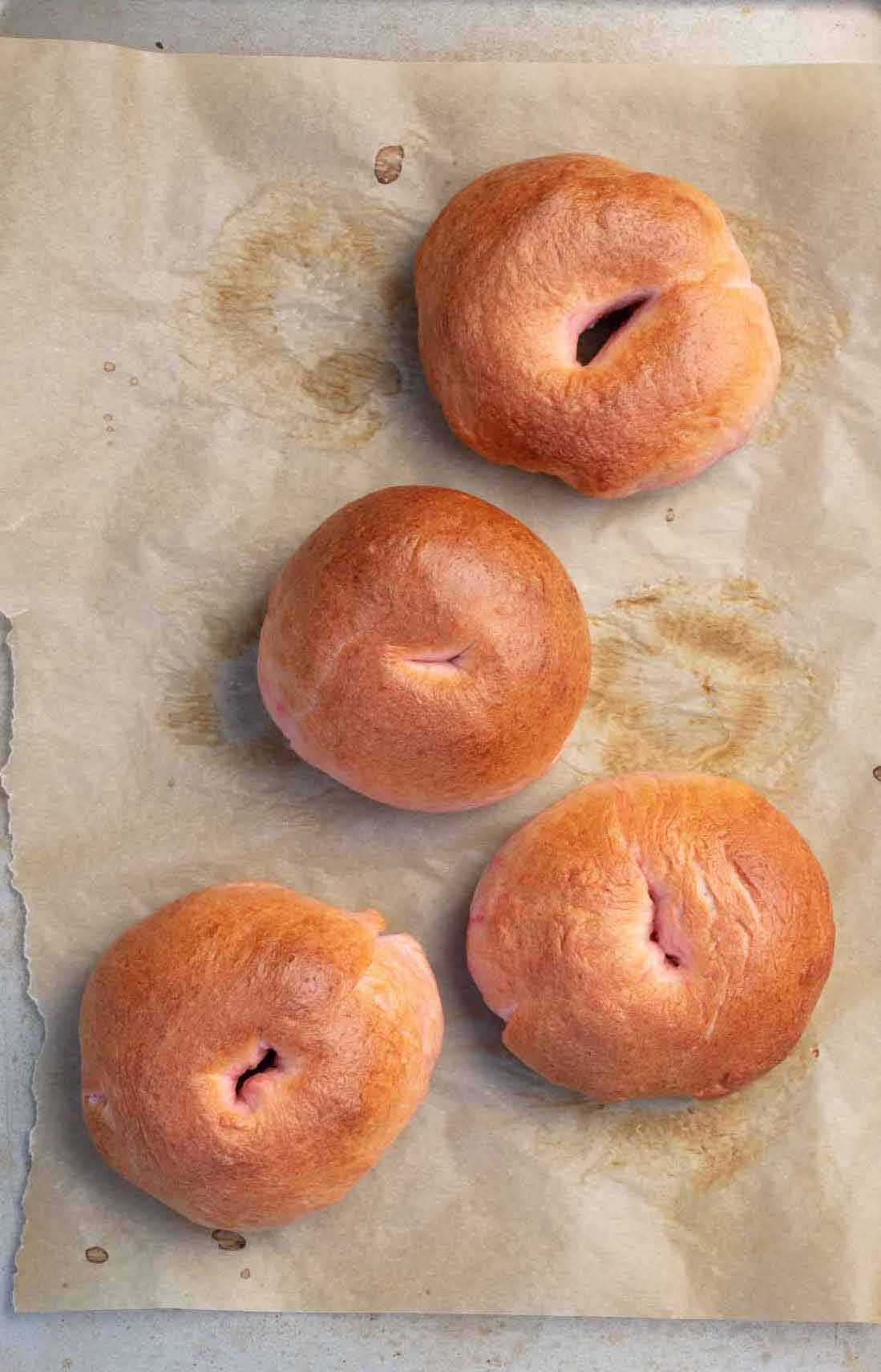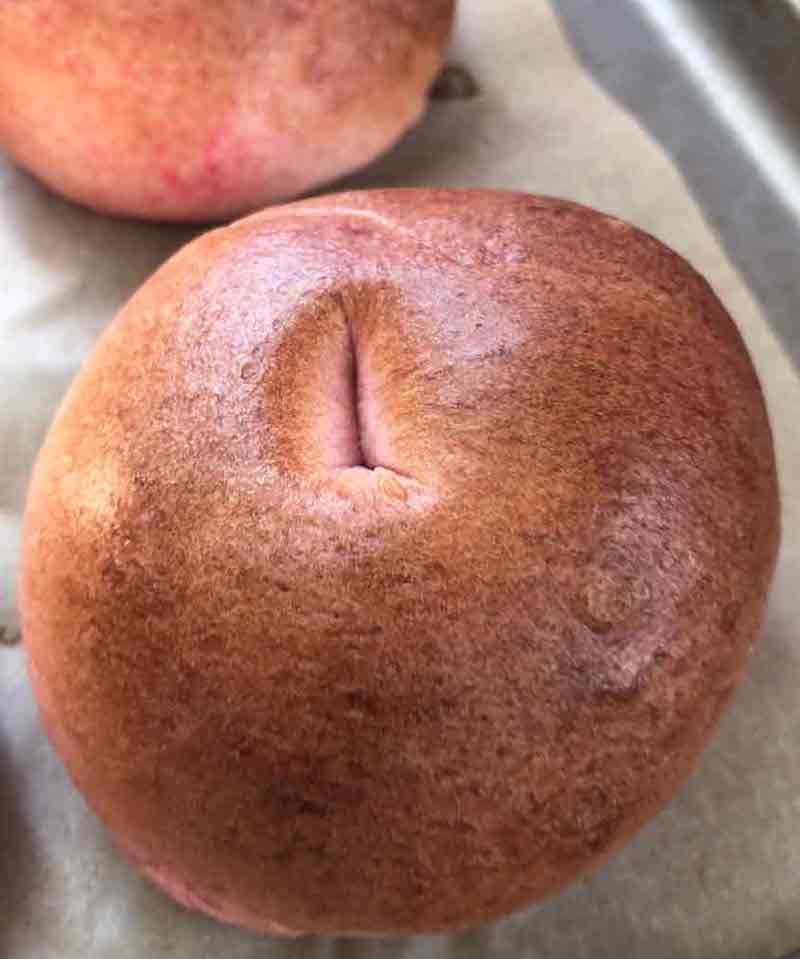 Serve with kite hill or other vegan cream cheese.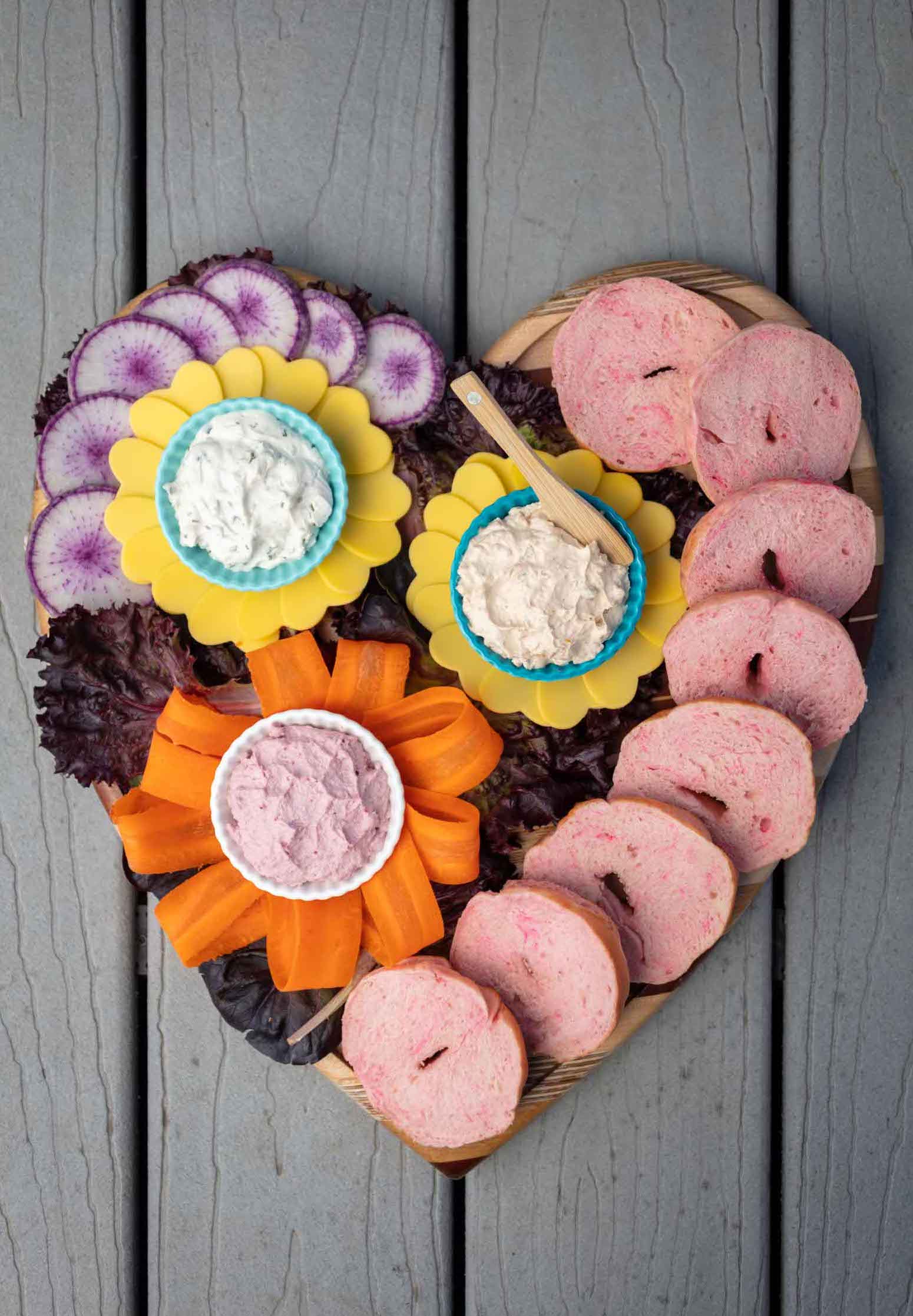 Here's a video of how I made them.
What To serve With Bagels
Do you have other pink food recipes?
If you like pink food, you might also like my pink peppermint hot chocolate and my pink heart shaped ravioli.
☆☆☆☆☆☆☆☆☆☆
I use mostly organic ingredients when I cook. I realize that not everyone has the disposable income to buy only organic ingredients. So, I only specify organic on the ingredients that matter: when buying the organic (or non-GMO) version is the only way to ensure that an item is vegan.
This post links to items I used when I made this recipe. If you click on the purple Buy Now button on a product page, you will go to a website (like Amazon) where you can buy the same product I used. Sometimes, the store you purchase from (Amazon, Etsy, etc.) will pay me for referring you. This costs you nothing extra, and I would never recommend a product that I don't use. These affiliate programs help me buy the ingredients to create these recipes for you. Read more about this in my privacy policy.
☆☆☆☆☆☆☆☆☆☆