Mini Vegan Coconut Key Lime Pies
published on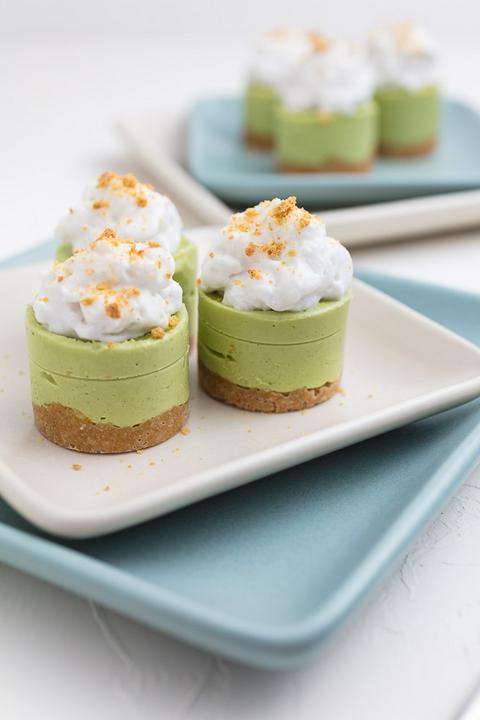 ♫ Listening to: Boys (That I Dated in High School) by The Prettiots ♫
I was on my way home from the dog park when I saw a box on the curb that said free limes. I, OF COURSE, jumped out of my car because FREE FOOD. But when I looked in the box, it looked like they were lemons in there. But they smelled like limes. Were they wearing lemon costumes for Christmas? (Yes, Christmas costumes are a thing–see the proof here) As it turns out, when limes are ripe, they're yellow! All the green limes are unripe! Mind blown.
If you like no-bake recipes, check out my mini pumpkin cheesecakes. If you like tropical desserts, check out my hummingbird cake.
This recipe makes 12 mini coconut key lime pies that are healthier than your traditional key lime pie, naturally colored, easy to make, no-bake, and ready in 45 minutes.
Mini Vegan Coconut Key Lime Pie Ingredients
Dollhouse Shortcut
If you don't have creamed coconut, you can substitute coconut butter mixed with coconut oil.
5 graham crackers (the ones made by nabisco that come in the red box are vegan)
⅓ cup organic whipped earth balance, melted (or other vegan butter)*
½ cup lime juice
½ package of melted creamed coconut
1 cup organic raw cashews that you boiled for 5 minutes and rinsed
½ cup date syrup (or sub agave or sugar)
handful of spinach leaves
Mini Vegan Coconut Key Lime Pie Directions
Prep time: 18 minutes; Chill time: 30 minutes
Process the graham crackers in a food processor fitted with the S blade. Check to make sure they're all crumbs before going to the next step.
Drizzle the melted vegan butter or margarine into the top hole while the food processor is running.
Divide evenly amongst your 12 silicone molds. I use these tall silicone molds , but you can use silicone cupcake molds too.
Press into the molds using something hard and flat on the bottom, like a shot glass or the opposite end of a pestle.
Chill the graham cracker crusts in the freezer.
Blend the cup of organic raw cashews that have been boiled and rinsed, ½ cup of lime juice, ½ cup of sweetener, ½ a package of melted creamed coconut, and handful of spinach on high for a minute. If there are still chunks of cashews, blend again until it's smooth.
Divide evenly amongst your 12 silicone molds, until you've used up all the blended mixture.
Chill in the freezer for 30 minutes, pop out of the molds, top with whipped cream, and serve.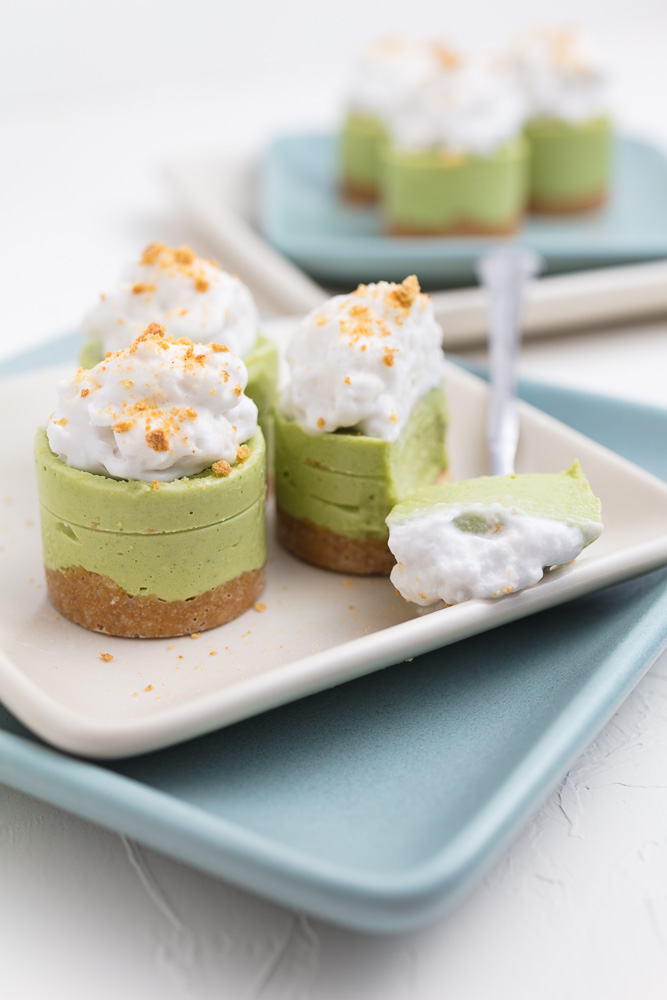 ☆☆☆☆☆☆☆☆☆☆
* I use mostly organic ingredients when I cook, but I realize that not everyone has the disposable income to purchase all organic ingredients. Therefore, I only specify organic on the ingredients that really matter - when buying the organic version is the only way to ensure that the item is vegan.