Mini Pumpkin Cheesecake
published on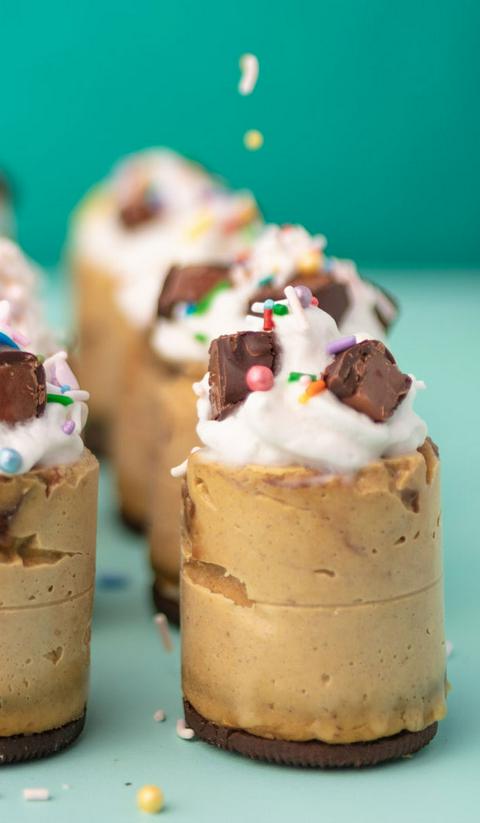 ♫ Listening to: Living in Oblivion by Anything Box ♫
These no-bake mini pumpkin cheesecakes with dreamy candy bar pieces are a collaboration with Amy's Kitchen. Not all of their candy bars are vegan, but the Sunny, Dreamy, and Minty are, and they're organic too. These mini pumpkin cheesecakes are rich enough to mimic the actual texture of cheesecake, and they're an easy no-bake dessert! I you like no-bake desserts, check out my mini key lime pies.
Give yourself a break from the stress of the holidays and make these in advance. They stay good in the freezer for up to a month! They're a fun addition to autumn and winter festivities, such as Thanksgiving, Christmas, and New Years Eve. But you don't need an occasion. I have some in my freezer right now, and I defrost one each night after dinner to have for dessert. They're fun to eat, you don't need to dirty any dishes, and they're guilt free, because they're packed with vitamin A and protein (as if I ever feel guilty eating dessert). If you like pumpkin desserts, check out my pumpkin cake wands and my pumpkin pie.
This recipe makes 12 mini pumpkin cheesecakes.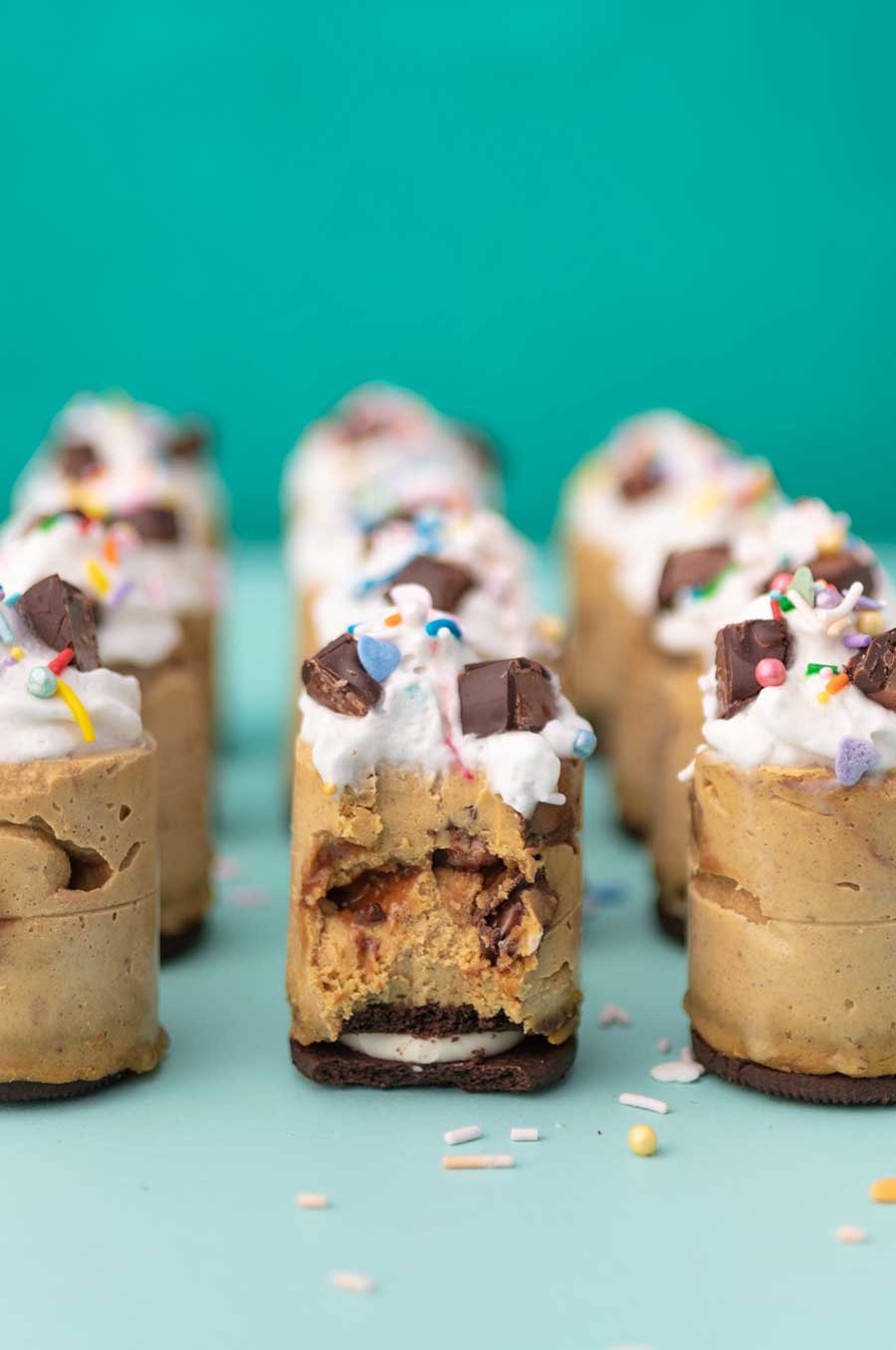 Dreamy Pumpkin Cheesecake Ingredients
Dollhouse Shortcut
If you don't have pumpkin pie spice, just substitute the following spices: 2 teaspoons cinnamon, ½ teaspoon ginger, ½ teaspoon nutmeg, and ¼ teaspoon cloves.
2 cups cashews (soaked for 8 hours and rinsed)

1 cup melted coconut butter

1 ½ teaspoons vanilla extract

½ cup sucanat (or sub organic sugar*)

⅔ cup canned pumpkin

1 tablespoon pumpkin pie spice

4 Amy's Dreamy Candy Bars, cut into small pieces

12 chocolate sandwich cookies (I use Newman O's because they're organic, but if you avoid gluten, buy gluten-free sandwich cookies)*
Dreamy Pumpkin Cheesecake Directions
prep time: 30 min; freeze time: 8 hours; thaw time: 40 min
Dollhouse Shortcut
If you forget to soak your cashews, you can boil them for a few minutes instead.
Melt the cup of coconut butter, using a double boiler or just by setting the jar into a small pot of water heating over medium on the stove.
Cut 4 Amy's Dreamy candy bars into small pieces if you haven't already.
Blend the organic raw cashews that you soaked and rinsed, the melted cup of coconut butter, the teaspoon and a half of vanilla extract, the half cup of sucanat or organic sugar, the two-thirds cup of canned pumpkin, and the tablespoon of pumpkin pie spice in the blender until smooth. This step requires patience because you need to blend for 20 seconds and stop the blending to scrape down the sides with a silicone spatula and repeat. I would do this as many times as you can until you get too impatient to continue. I would recommend 5 times at the minimum.
Mix in half of the candy bar pieces. I mix in the pieces that are smaller and save the larger ones for the top.
Pour or spoon the filling into the tall silicone molds leaving 1 centimeter of room on top for your cookies. Once all the molds are filled, you can press a cookie on top of each one.
Freeze for a minimum of 3 hours, but preferably overnight.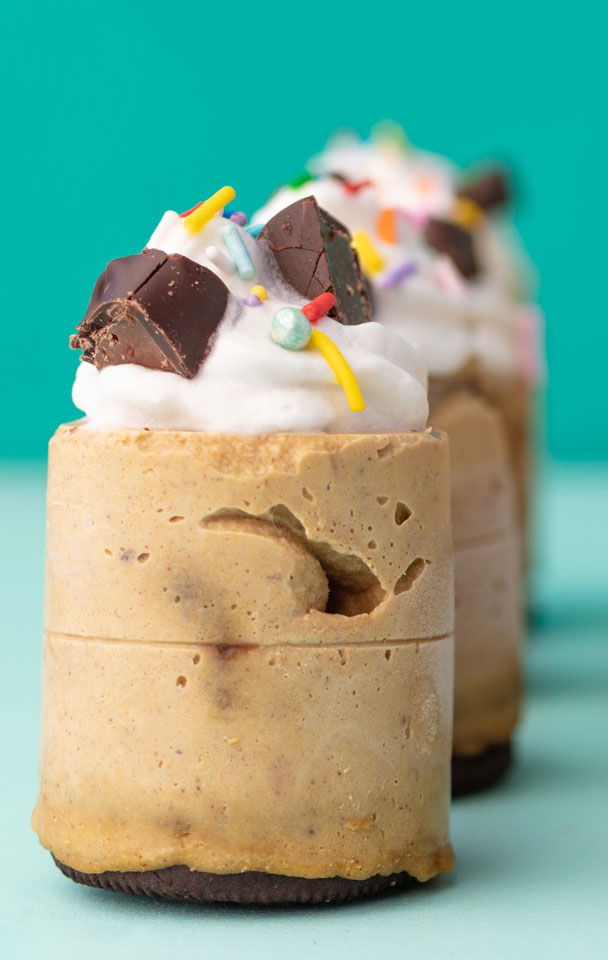 Pop them all out of the molds once they're frozen solid.
Thaw the cheesecakes for 40 minutes at room temperature or for 2 hours in the fridge before serving. If you need a larger time window because you're taking these to a party and you're not sure when people with want to eat dessert, don't worry. You can keep them in the fridge for many hours and they won't loose their perfect cheesecake consistency.
Top with whipped cream, candy bar pieces, and sprinkles before serving.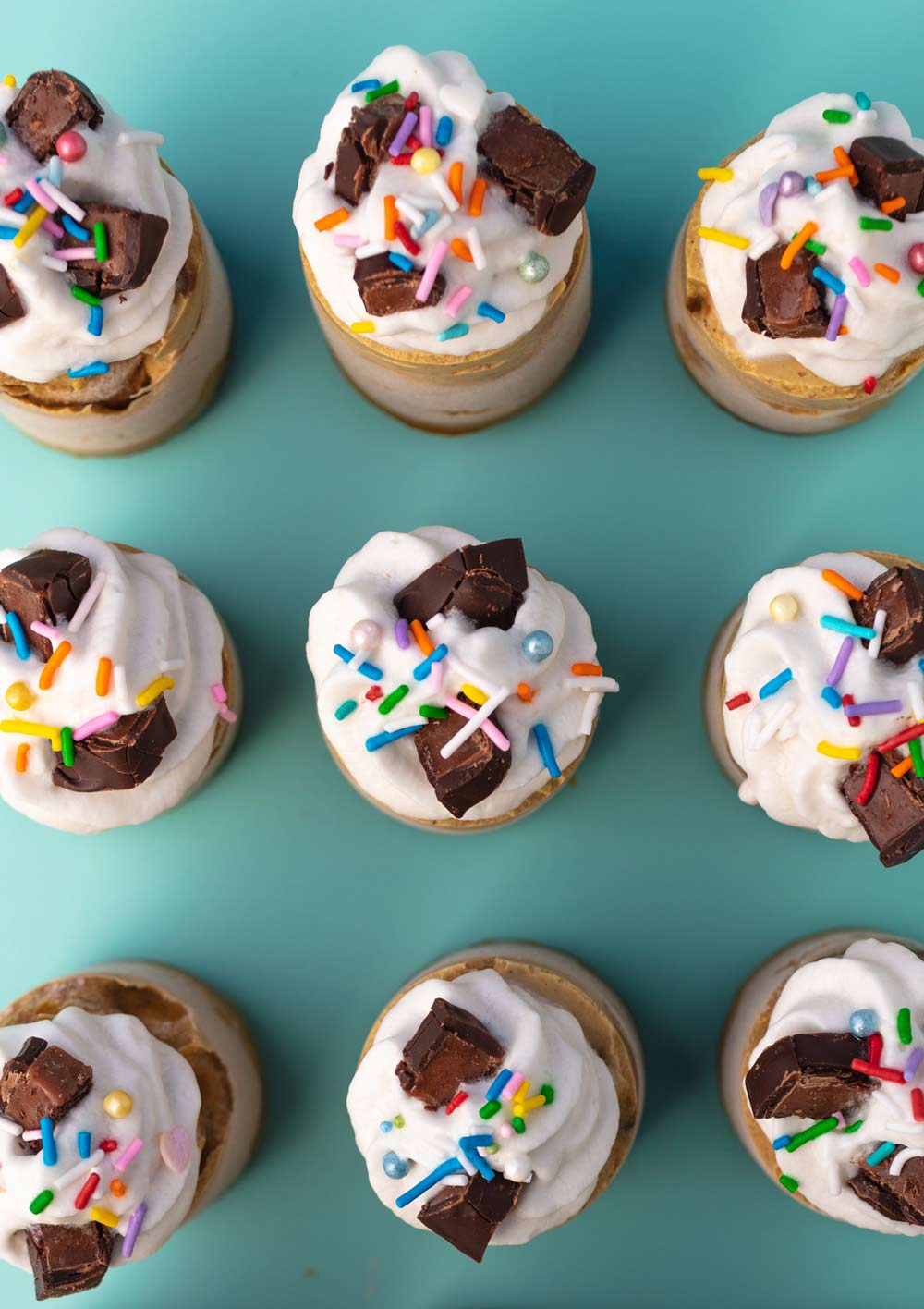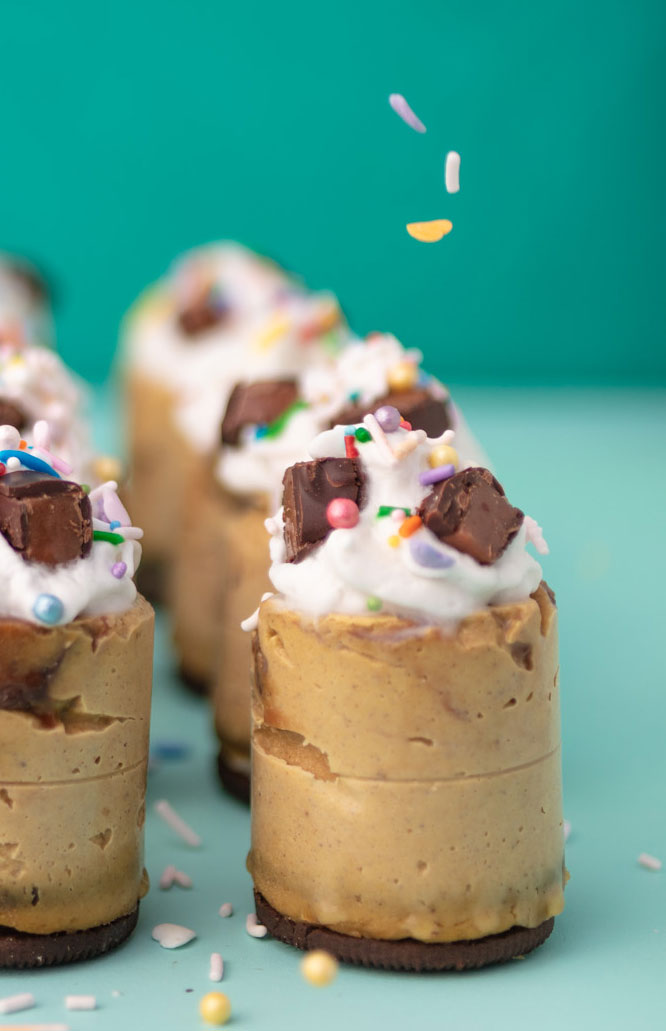 Here's a video of me making them (sorry there's no music, but youtube keeps being a dick about the music, even though I chose the music from THEIR LIST).
☆☆☆☆☆☆☆☆☆☆
* I use mostly organic ingredients when I cook, but I realize that not everyone has the disposable income to purchase all organic ingredients. Therefore, I only specify organic on the ingredients that really matter - when buying the organic version is the only way to ensure that the item is vegan.
This post was made possible thanks to the support of Amy's Kitchen. All content and opinions are unbiased and entirely my own. For more recipes using Amy's products, sign up for their newsletter. To get (very infrequent, sorry haha) updates from Vegan Dollhouse, sign up for my newsletter.