Vegan Peppermint Bark
published on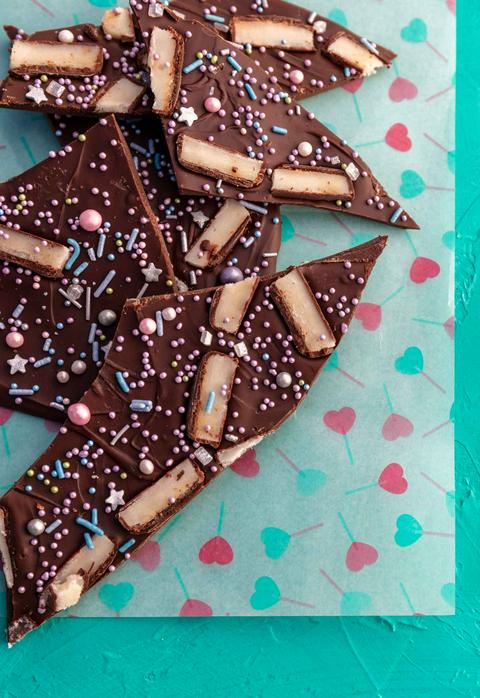 ♫ Listening to: Airbrushed by Anamanaguchi ♫
I live stream almost every week with my friend Kimmy. Each week, we make something new in the kitchen while chatting with viewers. Last year, around the holidays, Kimmy made peppermint bark using chocolate and candy canes. It was so easy that this year, I'm making some too! Instead of candy canes, I used Amy's Organic Minty Candy Bars.
If you like organic Amy's Minty candy bars and the combination of chocolate and mint, you might also like the cookie pops I made last year with Amy's Minty candy bars . You can also use this chocolate peppermint bark as a decoration on a mint chocolate cake — the possibilities are endless.
This recipe makes 1 tray of vegan chocolate peppermint bark (around 36 pieces, depending on what size you break them into).
Chocolate Peppermint Bark Ingredients
24 ounces (4 cups) of organic vegan chocolate chips

4 Amy's Organic Minty Candy Bars

1 cup of assorted vegan sprinkles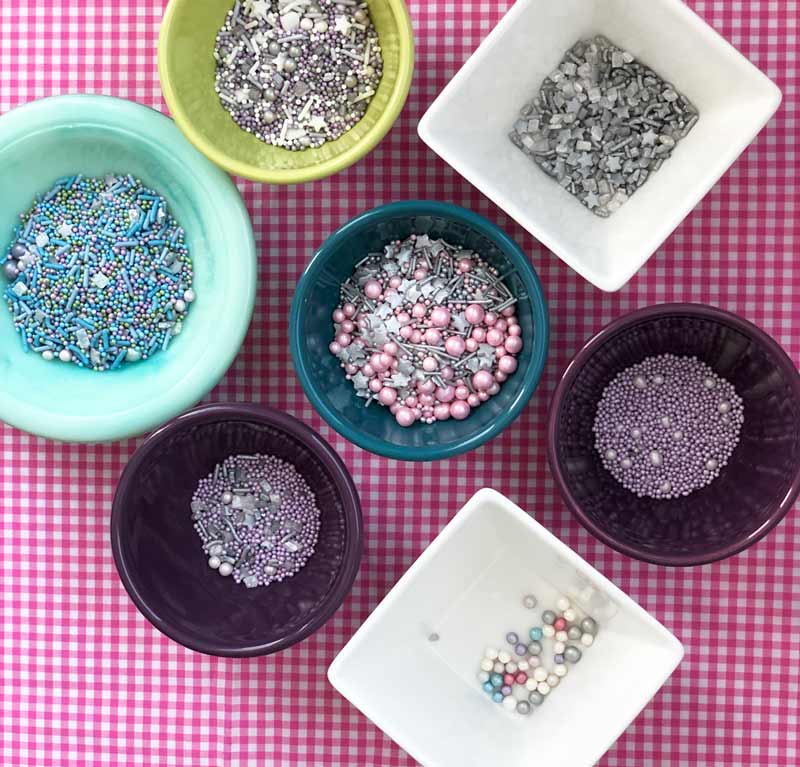 Chocolate Peppermint Bark Directions
Dollhouse Shortcut
Save time by melting the chocolate in the microwave at 30 second intervals, stirring in between (skip tempering).
prep time: 30 minutes
Slice the 4 Amy's Minty candy bars into thin rectangles. Set aside.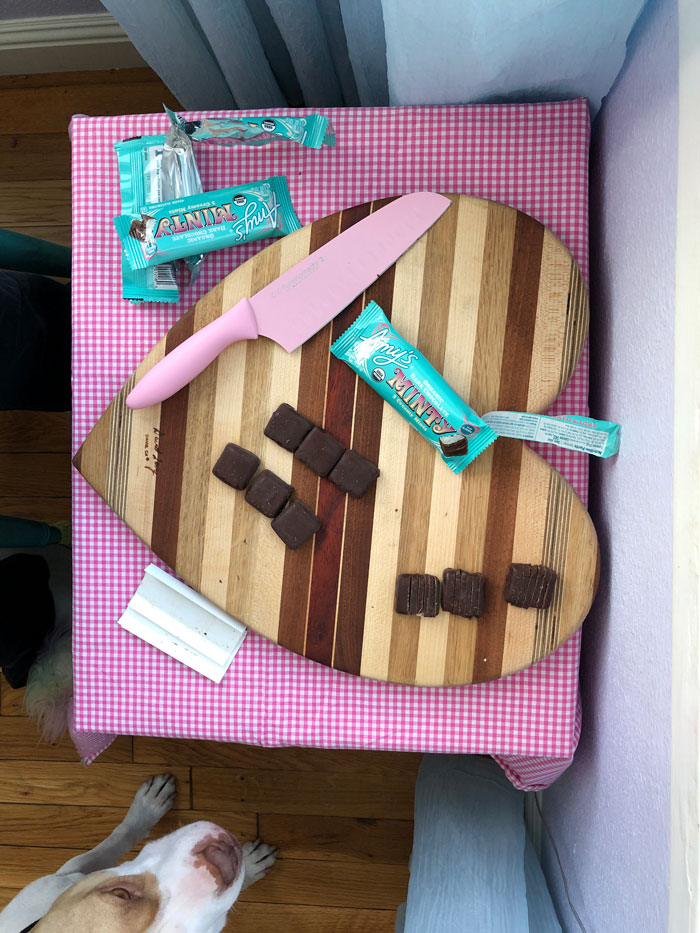 Temper the vegan chocolate chips by pouring two-thirds of the vegan chocolate chips into the top of a double boiler (or into a dry metal bowl resting over a pot of boiling water).
Heat over medium-low heat on the stove until the chocolate is 120º. If you don't have a thermometer, just heat it until the chocolate is melted and hot to the touch. Remove from heat.
Add the remaining one-third of vegan chocolate chips to the hot melted chocolate, and stir it in until it melts.
Pour the melted chocolate onto a baking sheet lined with parchment paper or a silicone mat.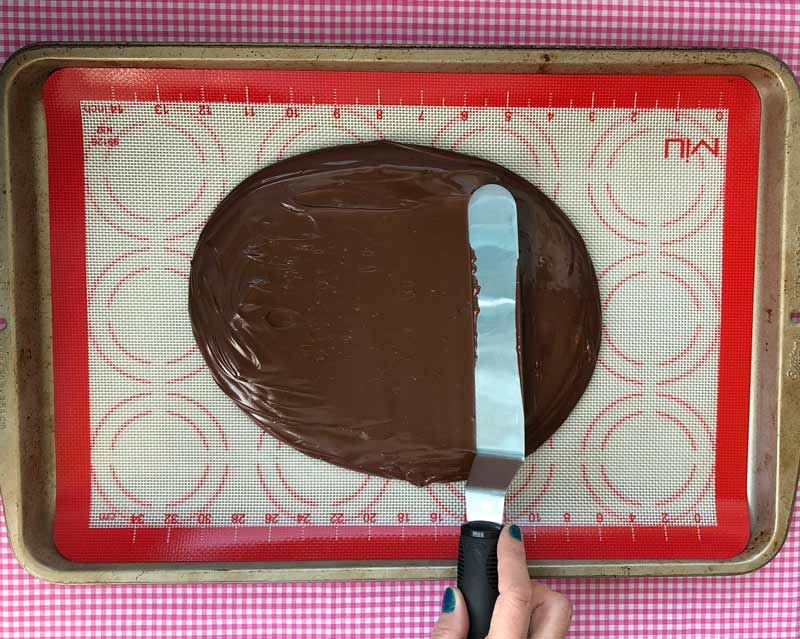 Smooth the chocolate using an offset spatula making it as smooth and even as possible.
Place the pieces of Amy's Minty candy bars on top of the chocolate, pressing them gently into it (so they don't fall off later). You can do this in any design you prefer.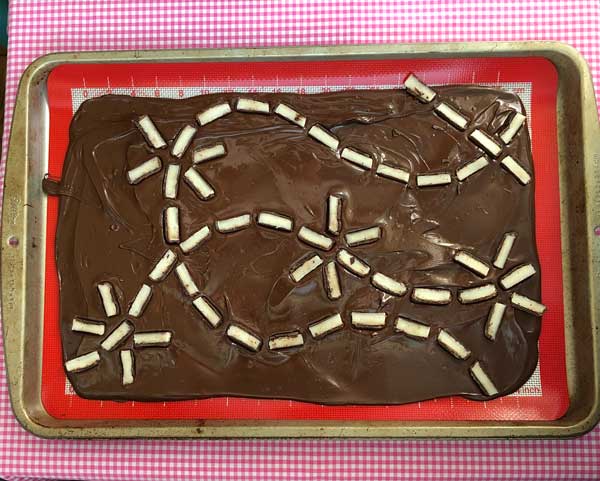 Sprinkle your assorted vegan sprinkles all over the chocolate. I used 3 assorted sprinkle mixes from Baking Time Club: Mermaid's Tail, Magical Stardust, and Cosmic Blush.
Chill the entire baking sheet in the fridge for a few hours or overnight (or if you're in a hurry, for an hour in the freezer).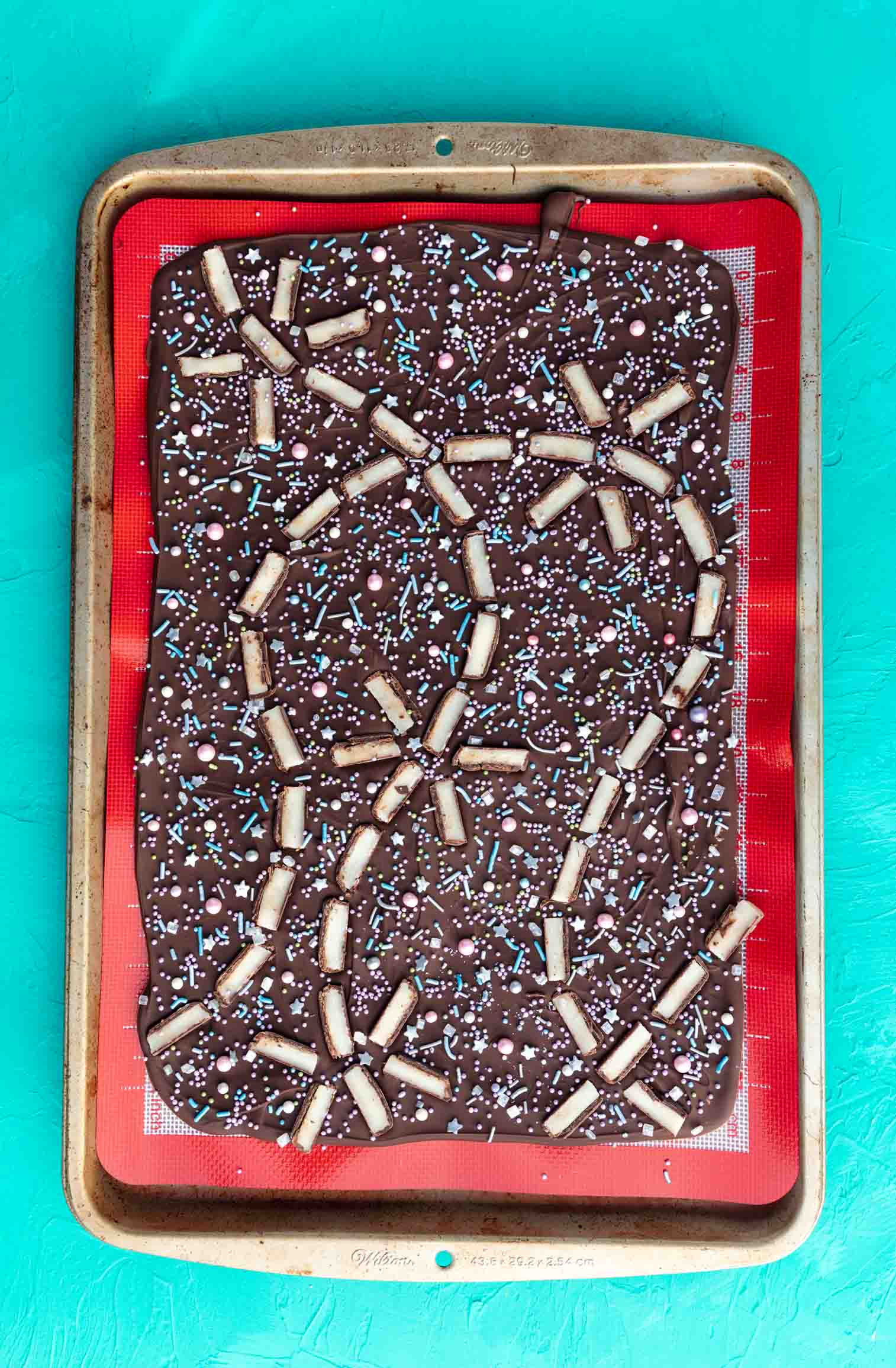 Snap the well-chilled bark into shards and give them to people as gifts, bring them to a cookie exchange, or use them to decorate a cake. Store them in a cool place until you're ready to use them or gift them.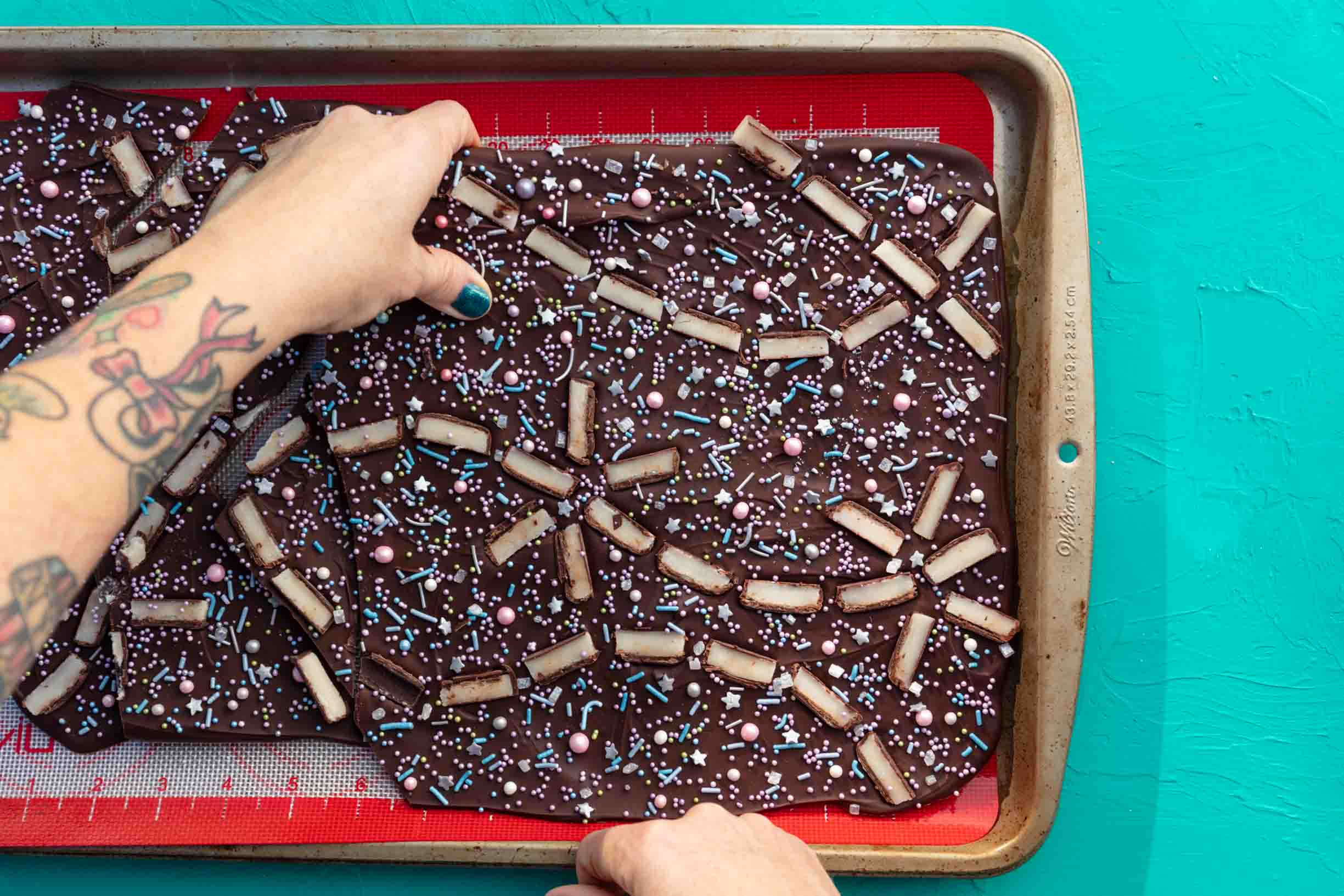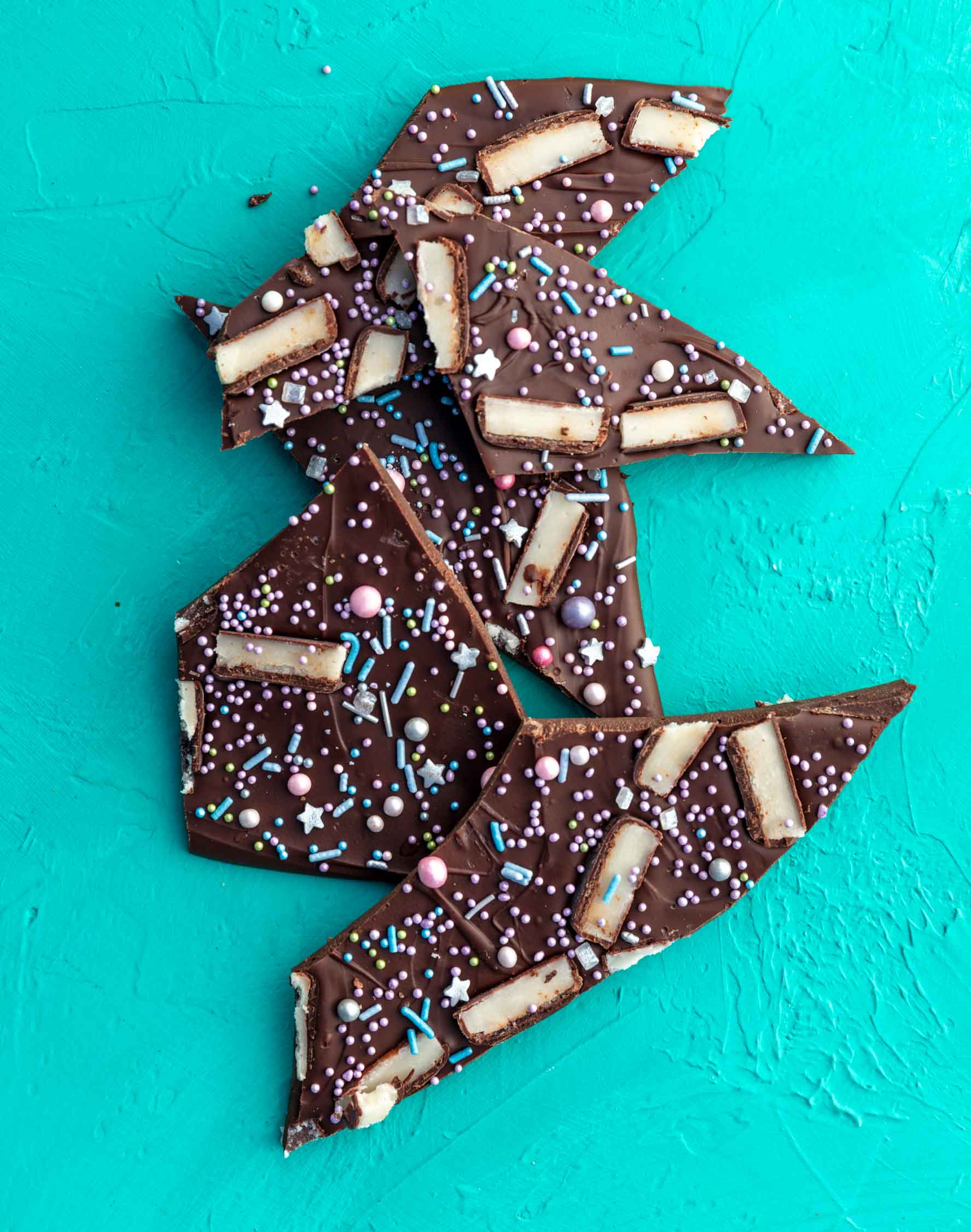 Here's a video of me making this vegan chocolate peppermint bark.
☆☆☆☆☆☆☆☆☆☆
This post was made possible thanks to the support of Amy's Kitchen. All content and opinions are unbiased and entirely my own. For more recipes using Amy's products, sign up for their newsletter. To get (very infrequent, sorry haha) updates from Vegan Dollhouse, sign up for my newsletter.