Vegan Bruschetta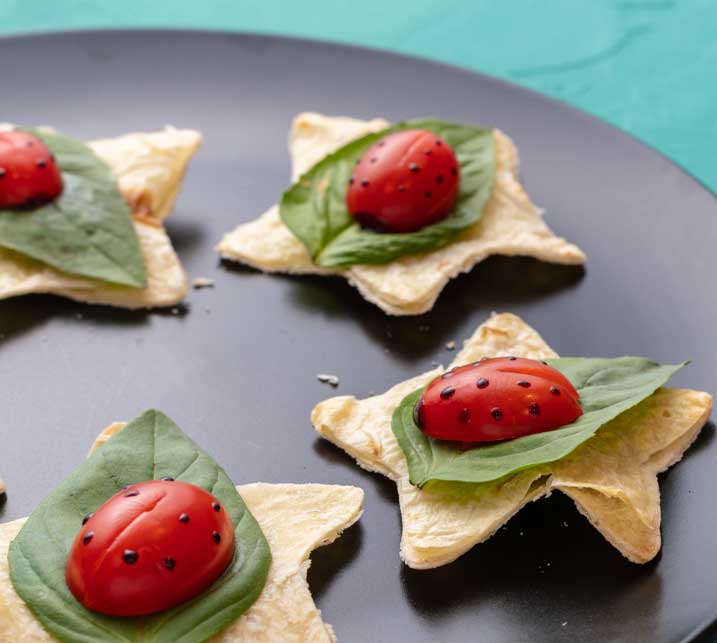 ♫ Listening to: Decorate the Spine by Knapsack ♫
I made these for a spring tea party in April 2019. This was the same spring tea party where my squirrel brownies made their first appearance. That was also the same tea party when Josipa made my chocolate orange cake recipe but made it cuter than mine! (It was a foxy fox!) If your friends don't throw multiple tea parties each year, these would also be a cute snack for kids or a perfect appetizer for basically any occasion where people might want something cute to post on instagram.
I can't take credit for this idea since I first saw them on pinterest, but my version is vegan, and those definitely were not. The only unusual ingredient in these was the tamarind I used to decorate the ladybugs. If you don't already have tamarind and you don't shop at rainbow grocery (that's our local vegetarian co-op that has tamarind in bulk), you should check your local Indian supermarket.
This recipe makes 12 ladybug bruschettas. Double the recipe to make more.
Ladybug Bruschetta Ingredients
Dollhouse Shortcut
If you don't care about having star-shaped crackers, you can make these with bread or any store-bought vegan crackers.
1 bulb garlic
olive oil
2 flour tortillas
1 bunch fresh basil
6 organic grape tomatoes*
½ teaspoon tamarind (or substitute balsamic reduction)
Ladybug Bruschetta Directions
Dollhouse Shortcut
Save time by skipping the roasting of the garlic and just substitute roasted garlic hummus instead. Sabra makes a good organic one.
Cut the pointed ends off a bulb of garlic. If there are any cloves that are still enclosed in their wrappers, just snip the ends off those individual cloves to make sure all cloves are partially exposed.
Set the bulb in an oven safe dish with a lid (the lid can also be another oven safe dish on top).
Drizzle the bulb with olive oil.
Cover and bake at 400º for 30-40 minutes.
Cut shapes from 2 flour tortillas, as close together as possible. I used a star cookie cutter for mine and managed to get 6 from each tortilla.
Place the tortilla shapes on a parchment paper covered baking sheet.
Bake at 400º for 10 minutes. I usually bake these while the garlic is roasting to save time.
Wash and dry the basil leaves and the tomatoes.
Slice the tomatoes in half lengthwise. Then slice a small slit in their backs to make it look like wings.
Remove the garlic from the oven and let it cool long enough to be able to touch it.
Squeeze the garlic out of the bulb and into a dish by squeezing the end that you didn't snip the ends off of. (Optional: mix in some salt.)
Spread roasted garlic onto one of the tortilla chips.
Press a basil leaf onto the roasted garlic.
Set a half a grape tomato on top of the basil leaf.
Draw on the ladybug tomatoes by dipping a toothpick into tamarind and then gently decorating the tomato half. I've also had an IG friend tell me that she had success using balsamic reduction in lieu of tamarind.
Serve at your next spring picnic, brunch, or other gathering.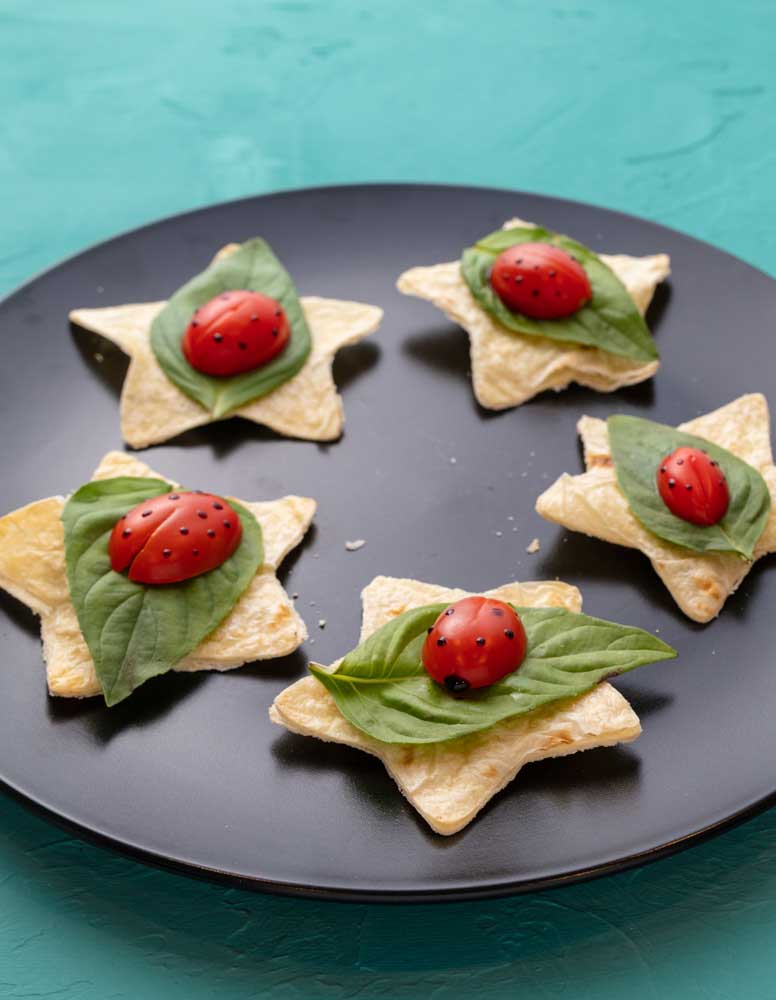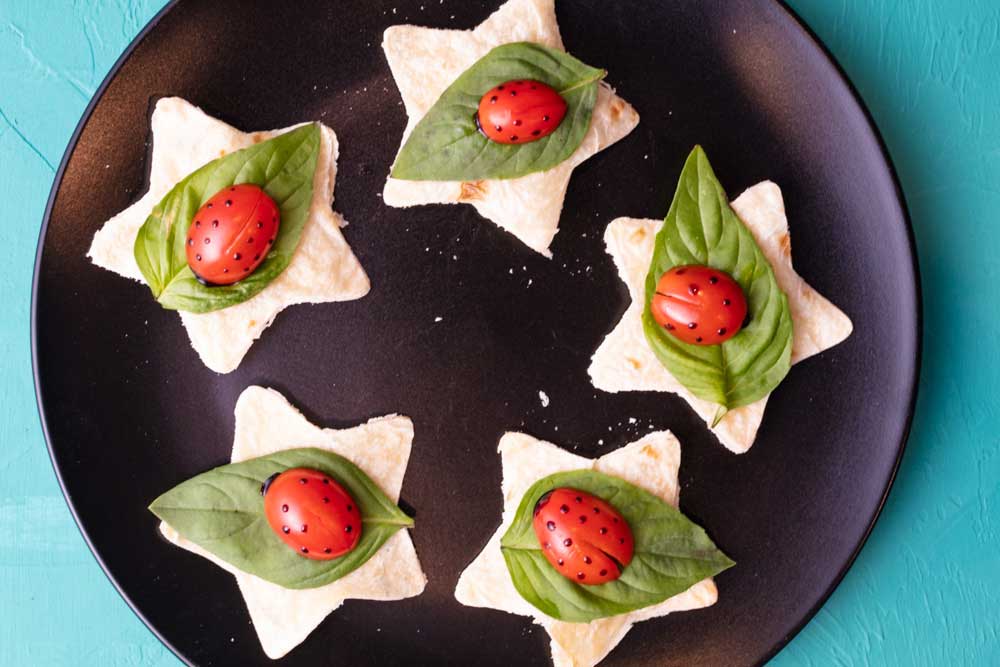 ☆☆☆☆☆☆☆☆☆☆
* I use mostly organic ingredients when I cook, but I realize that not everyone has the disposable income to purchase all organic ingredients. Therefore, I only specify organic on the ingredients that really matter - when buying the organic version is the only way to ensure that the item is vegan.
☆☆☆☆☆☆☆☆☆☆