Vegan Apple Tart Roses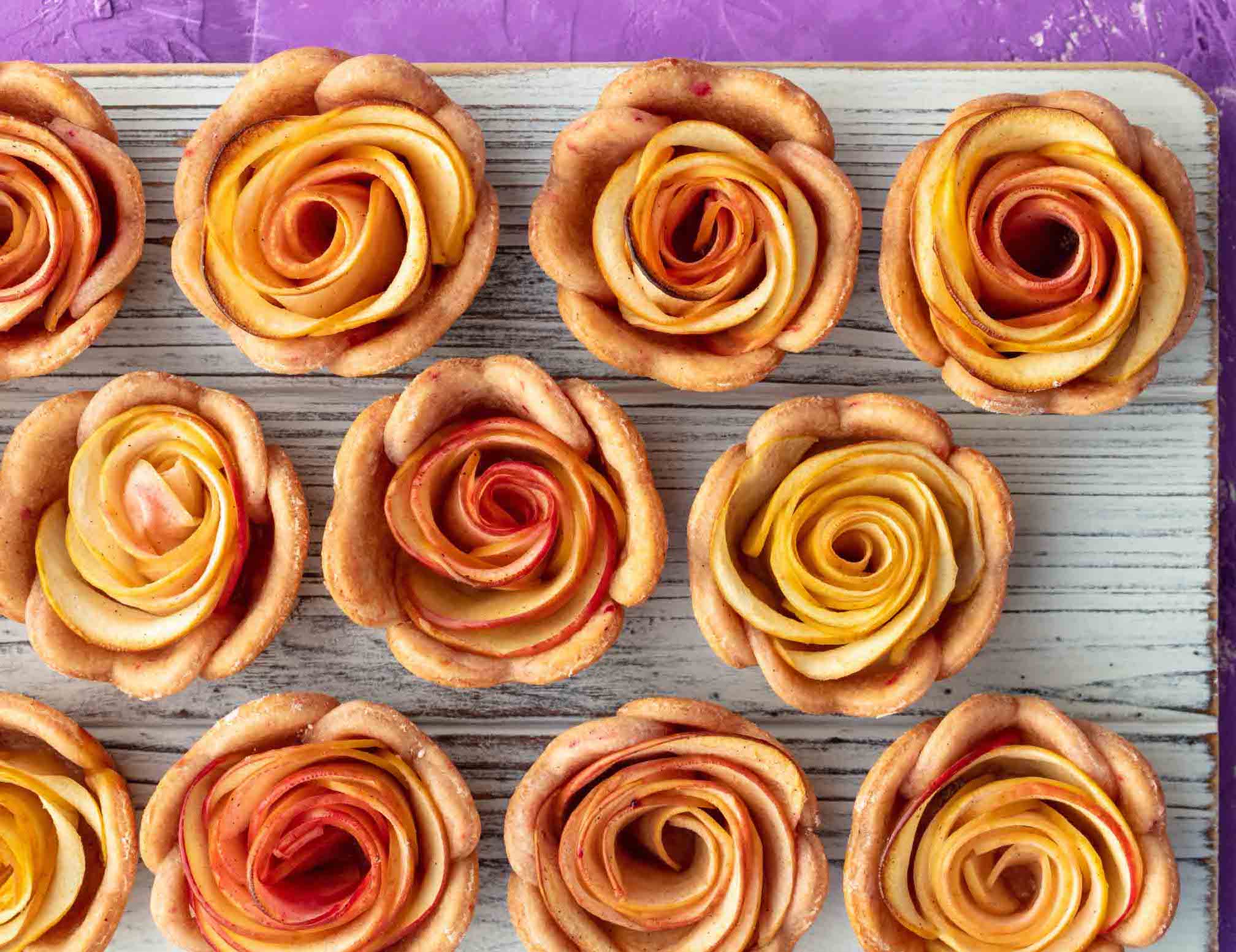 ♫ Listening to: Disconnected by Shy Child ♫
These vegan apple tartlets are like mini apple pies dressed up as roses. Baked in a cupcake/muffin pan, these are the perfect little serving size for picnics, potlucks, or brunch in bed (hinnnnt, is anyone I live with reading this? Knowing my dog, she's like yeah, I'll pretend to bring you brunch in bed but I'll show up empty-handed licking my face).
These are low in sugar, so they're perfect for parents or anyone else who likes low-sugar desserts. I made these for mother's day last year to bring to my maternal humans. They loved them! The apple variety doesn't really matter, but my favorites are pink lady and mutsu apples. If you like apple pie, you might also like my apple hand pies.
This recipe makes 12 mini vegan apple tarts that look like roses.
Vegan Apple Tart Crust Ingredients
2 cups all-purpose flour
⅔ cup vegan butter (I like the organic whipped earth balance, but they also have a soy-free one if you avoid soy) or spectrum palm shortening (or a combination of both)*
¼ teaspoon salt
2 tablespoons powdered sugar
5 tablespoons ice water
organic coconut oil or organic vegan butter or margarine (for coating the pan)
Vegan Apple Tart Crust Directions
prep time: 40 minutes
Dollhouse Shortcut
Make the shortcrust pastry dough up to 3 days ahead of time, wrap well, and chill it in the fridge.
Coat the inside of 12 cubbies of a cupcake pan with vegan butter or coconut oil. (If you don't have either of these, you can use any vegetable or olive oil.)
Sift flour over the entire cupcake pan.
Process 2 cups all-purpose flour, ⅔ cup vegan butter and/or spectrum sustainable organic palm shortening , ¼ teaspoon salt, and 2 tablespoons powdered sugar using a food processor fitted with the S blade.
(Optional) Mix pink vegan food coloring into 5 tablespoons of ice water. I used pink pitaya, and the color faded when I baked them, so if you want pink crust, you may want to avoid the all-natural food colorings.
Drizzle in 5 tablespoons of ice water while the food processor is still running. The pastry dough should start to come together into a dough ball.
Wrap half of the pastry dough in cling wrap and chill until you're ready to use it.
Roll the other half of the pastry dough as thinly as possible (between ⅛ and ¼ inch thick) on a rolling mat if you have one, because it makes it easier to transfer the dough later.
Cut out as many heart shapes as you can using a heart-shaped cookie cutter and leaving as little space as possible between each cut out. I used the third size from the smallest in this heart-shaped cookie cutter set.
Layer 4 pastry dough hearts in a circle around the perimeter of each cubby of the cupcake pan.
Press on the bottom of each cupcake cubby crust to seal the dough hearts at the bottom. If you still see gaps, fill them in with the pastry dough scraps you have leftover from cutting out the hearts.
Chill the cupcake pan in the refrigerator while you roll the rest of the pastry dough and repeat the same steps, until all of your tart cubbies have a pie crust.
Chill the cupcake pan filled with tart crusts in the refrigerator again while you prepare the apples.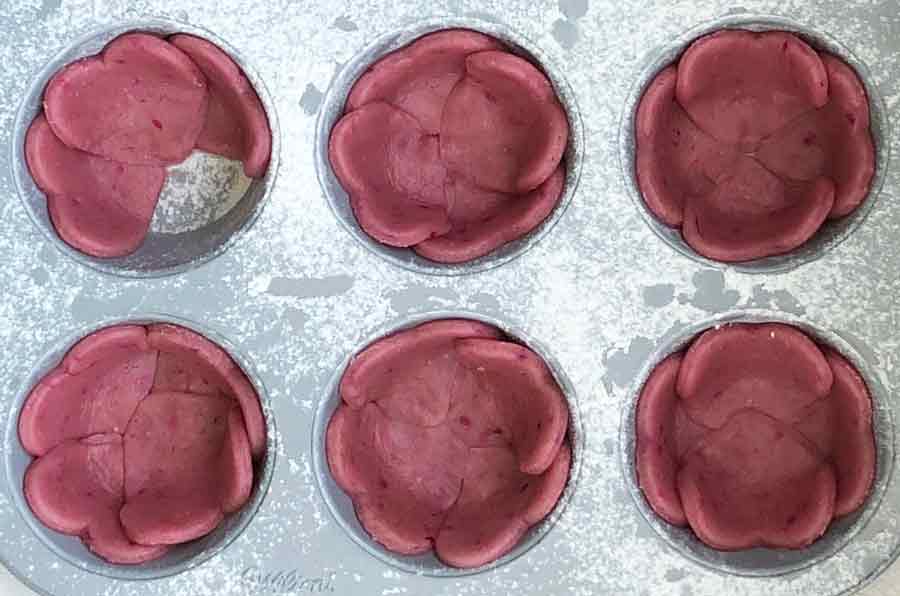 Vegan Apple Tart Filling Ingredients
3-5 apples depending on their size (I used 3)
2 tablespoons lemon juice (I used the juice from half a lemon)
1 tablespoon organic or vegan sugar*
pink vegan food coloring (optional)
Vegan Apple Tart Filling Directions
prep time: 35 min | bake time: 25-30 min
Dollhouse Shortcut
You can skip making simple syrup to save time and just spread the lemon juice and sprinkle the sugar.
Juice a half a lemon (or use 2 tablespoons of bottled lemon juice).
Heat the lemon juice on low heat on the stove, while whisking in a tablespoon of sugar.
Remove from heat once the sugar is dissolved.
Optional: add pink vegan food coloring to half the lemon juice. Again, I used pink pitaya, which I DO NOT recommend, as it fades when you bake your mini apple pies.
Slice the apples in half, and remove all the cores.
Slice the apples as thinly as possible (but not so thin that they break). I used a mandoline that I'm pretty sure my parents bought in the 70s, but it still works so i'll continue using it until it doesn't. For my size apple, half an apple made 2 roses.
Lay the sliced apple out on the rolling mat and paint the slices with the lemon juice mixture. I painted half of mine pink and half them uncolored so I could experiment with different colored designs, but I made the mistake of using pink pitaya powder instead of food coloring, and it all faded away when I baked them. So sad.
Arrange around 12 apple slices lengthwise in a straight line, with each apple slice overlapping the one before. Make as many rows as you can fit, experimenting with different designs if you're using half pink.
Remove the cupcake pan from the fridge and set it near your apple rolling area.
Roll each rose starting at the end closest to you.
Transfer each rolled apple rose to one of the crust-lined cubbies in the cupcake pan.
Preheat the oven to 350°.
Repeat with the remaining apples until all the cubbies are filled.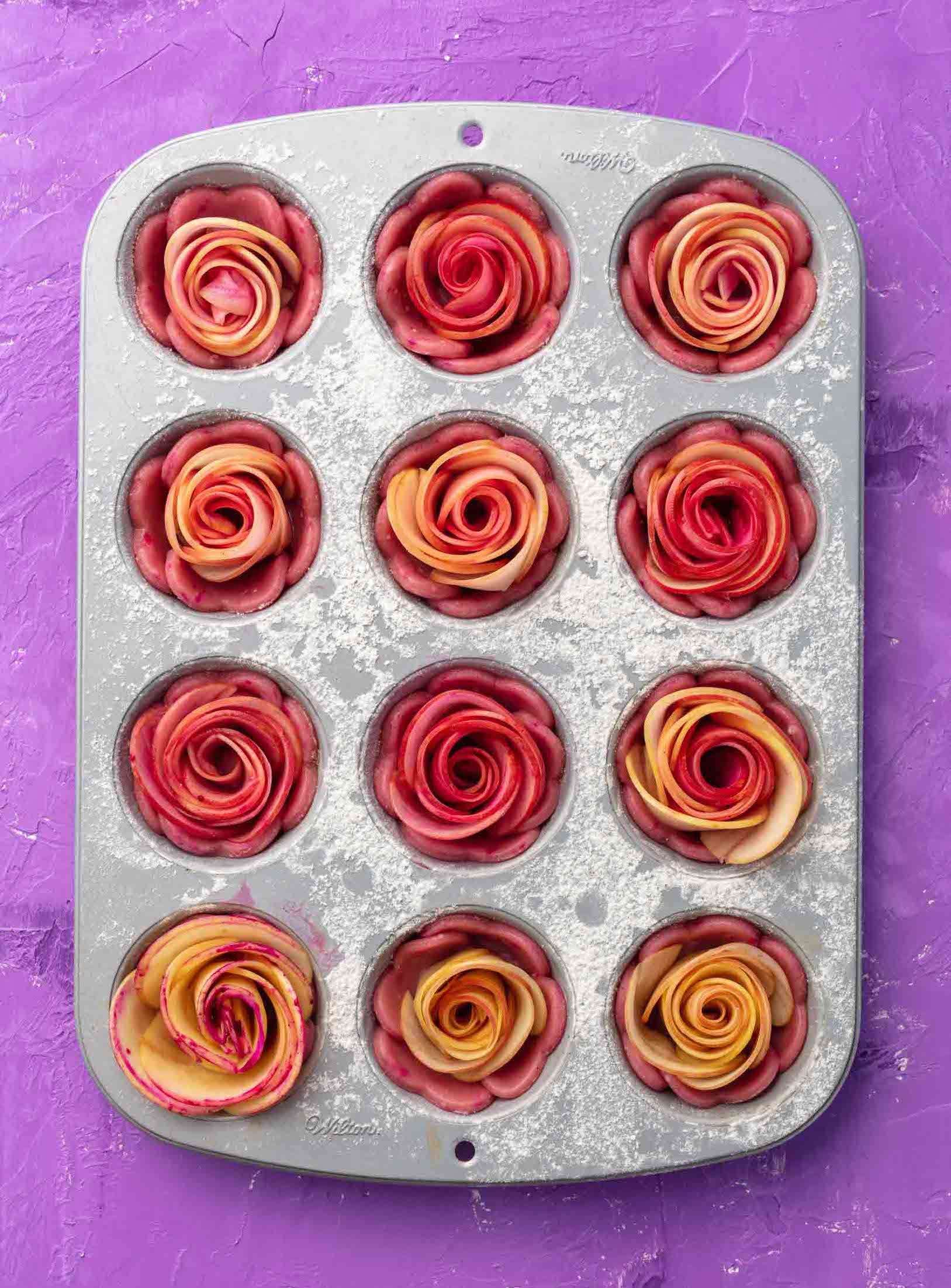 Bake for 25-30 minutes.
Remove from the oven and let them cool in the pan for an hour before you remove them from the pan. You might need to shimmy a silicone spatula between the crust and the pan to loosen the stubborn ones, but for the most part, they should easily pop right out.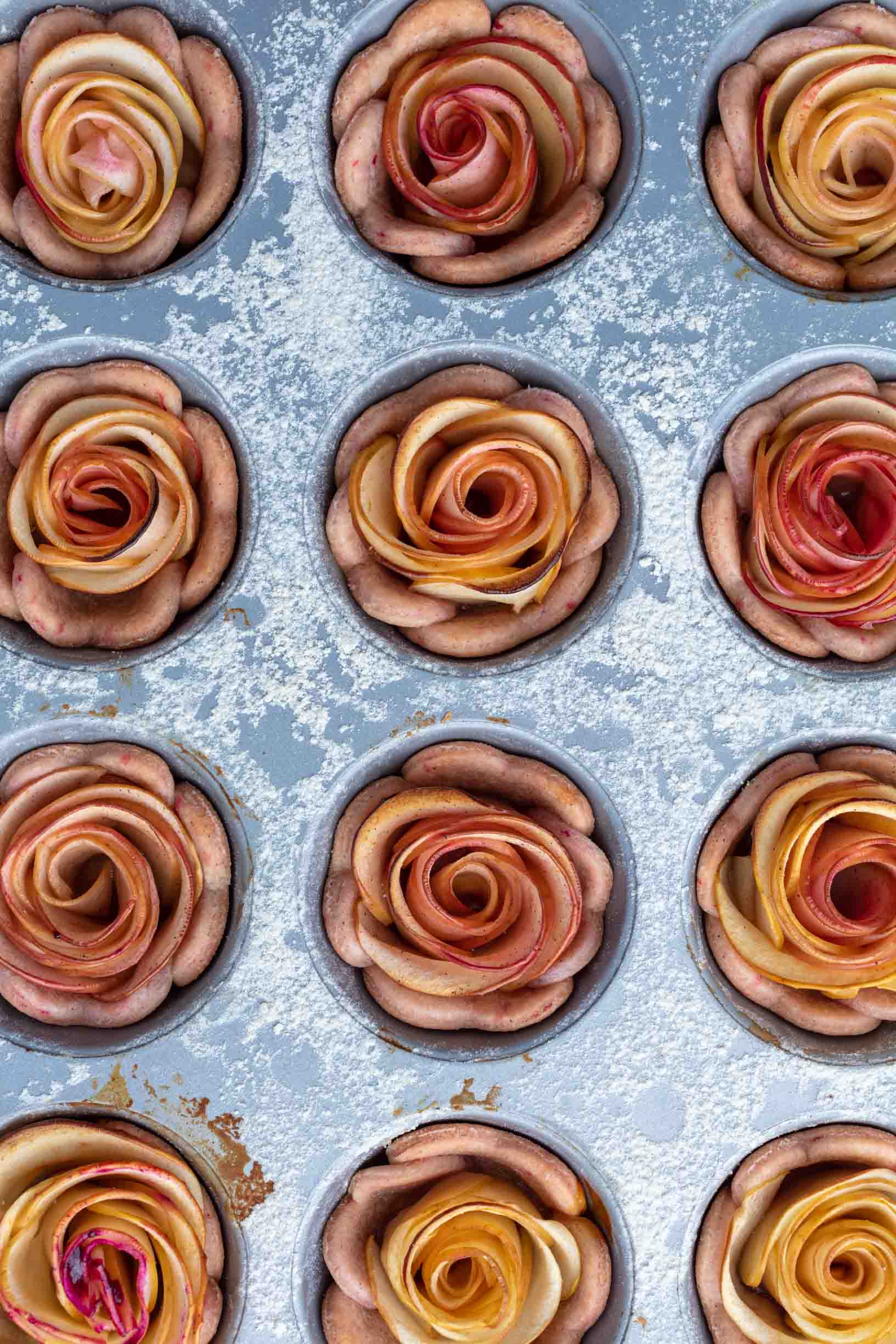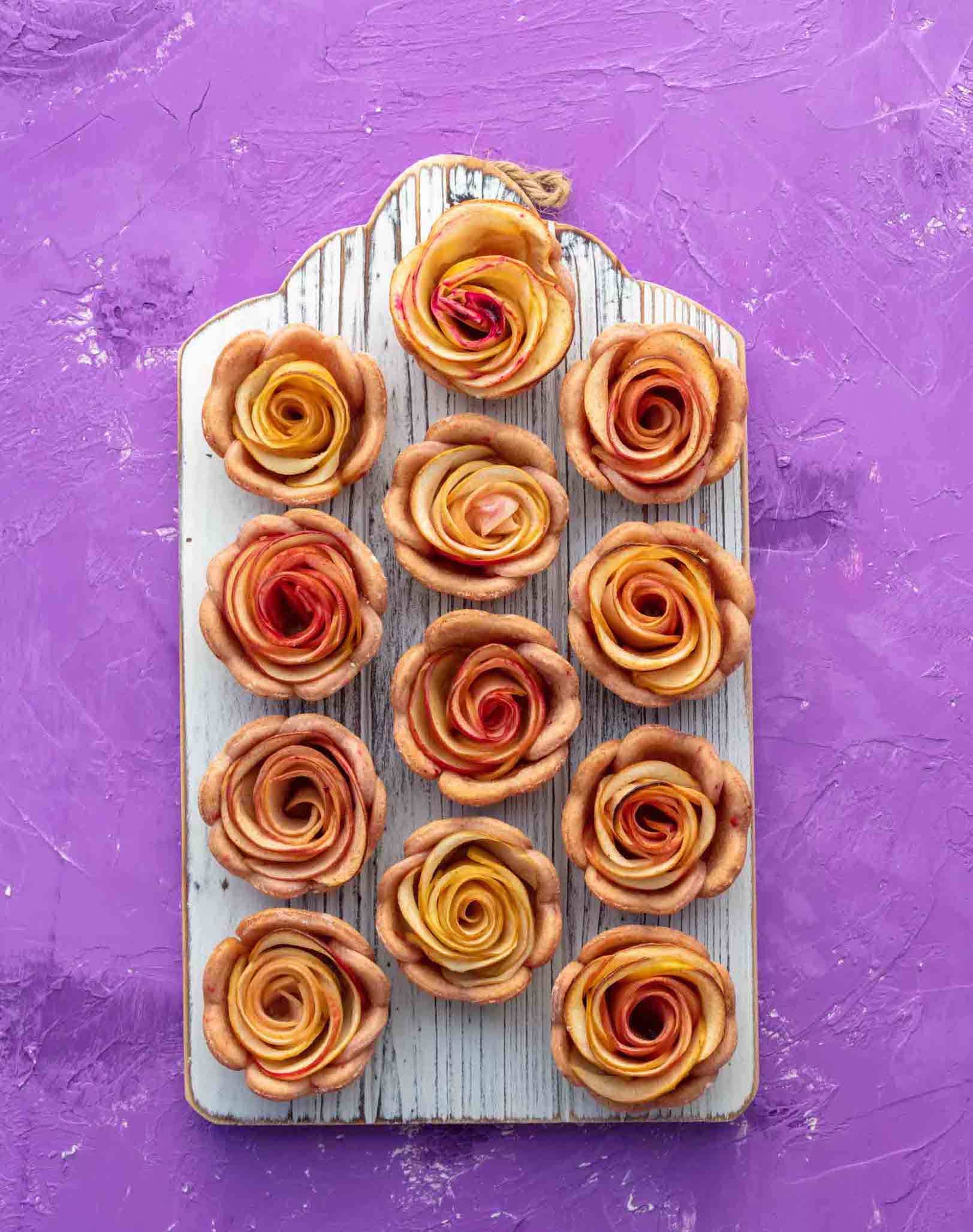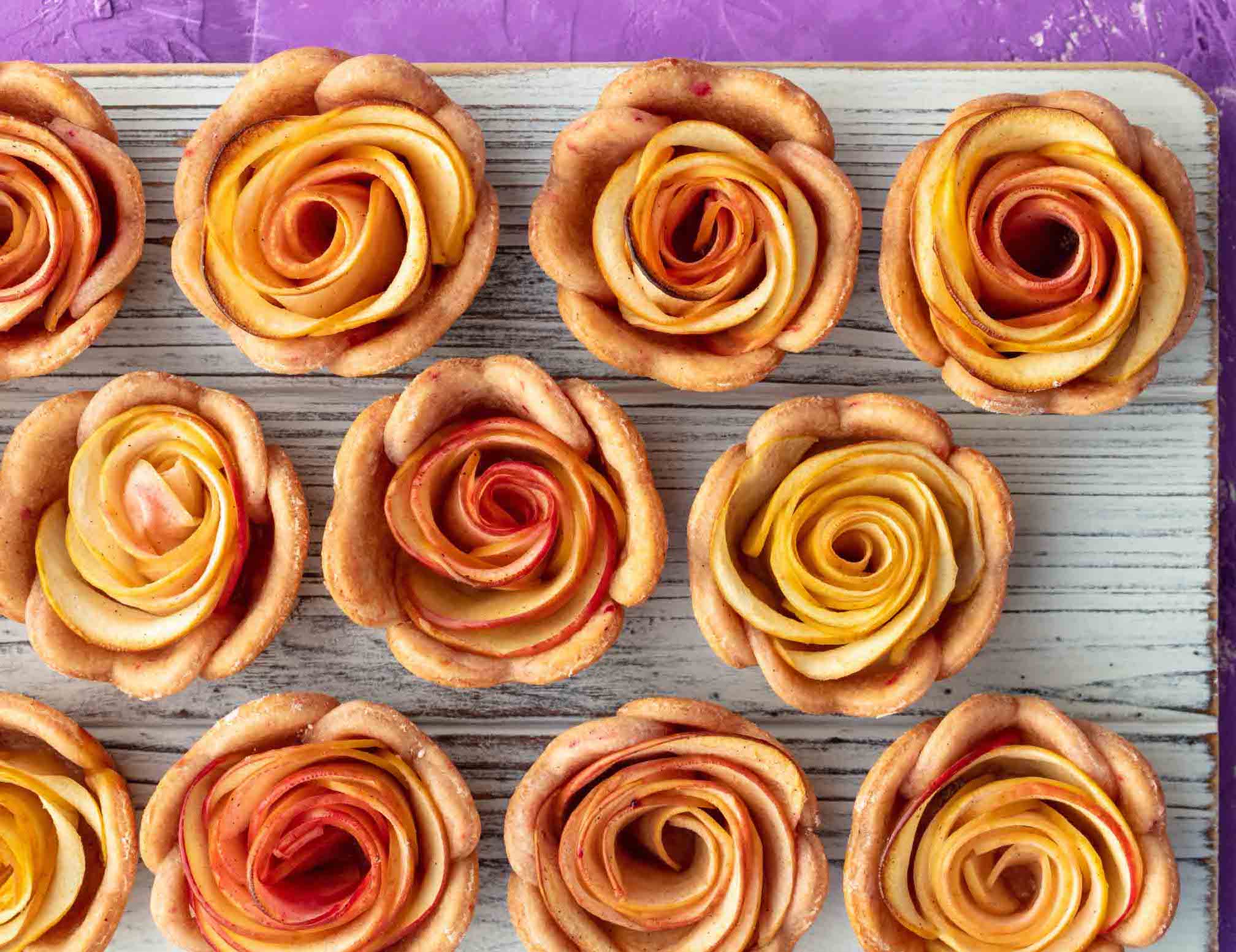 Vegan Apple Tart Video
Here's a video of how I made them.
Frequently Asked Questions
What kind of apples should I use for apple tartlets?
You can use any variety of apple you have on hand for this vegan apple tart recipe, however, I used pink lady apples because they have a tartness to counter balance the sweetness that's added by the hint of sugar in this recipe. If you're going apple shopping special for this recipe, and your store or farmer's market doesn't have Pink Lady apples, try Mutzu or Granny Smith. That being said, you can even use the worst apples imaginable in this recipe, like golden delicious apples, and the tarts will still turn out great.
Can I use coconut oil instead of vegan butter or palm shortening?
Yes, you can, but if it's warm in your house where you keep your coconut oil, and it's a liquid instead of a solid, you may want to chill it a bit to return it to its solid state. That will make it easier to work with and more similar to the consistency of vegan butter.
How long will these vegan apple tarts stay good?
If you store them in an air-tight container in the fridge, they should stay good for up to a week. If you want them to last longer than a week, transfer the storage container to the freezer, but use them within a few months.
This recipe doesn't use up enough apples. Do you have other apple recipes?
I sure do! Try my dried apples and my apple hand pies.
Can I use maple syrup in place of the sugar on the apples?
You can certainly use maple syrup instead of sugar on the apples.
Can I use wheat flour in place of the white flour in this tart recipe?
Sure! If you want these to be an even healthier apple tart, swap some or all of the flour in this recipe with whole wheat or whole wheat pastry flour using a 1:1 ratio.
You can even use a gluten-free oat flour if you want to convert this recipe to be gluten-free.
What kind of sugar should I use?
For the sugar you use in the apple filling portion of this recipe, you can use any number of sugars, as long as they're vegan: brown sugar, sucanat, coconut sugar, raw sugar, organic sugar, or demurara. If you're not sure if your sugar is vegan, you can contact the company and ask, but basically, just avoid conventional white sugar or granulated sugar, and you should be ok.
☆☆☆☆☆☆☆☆☆☆
* I use mostly organic ingredients when I cook, but I realize that not everyone has the disposable income to purchase all organic ingredients. Therefore, I only specify organic on the ingredients that really matter - when buying the organic version is the only way to ensure that the item is vegan.