Easy Squirrel Brownies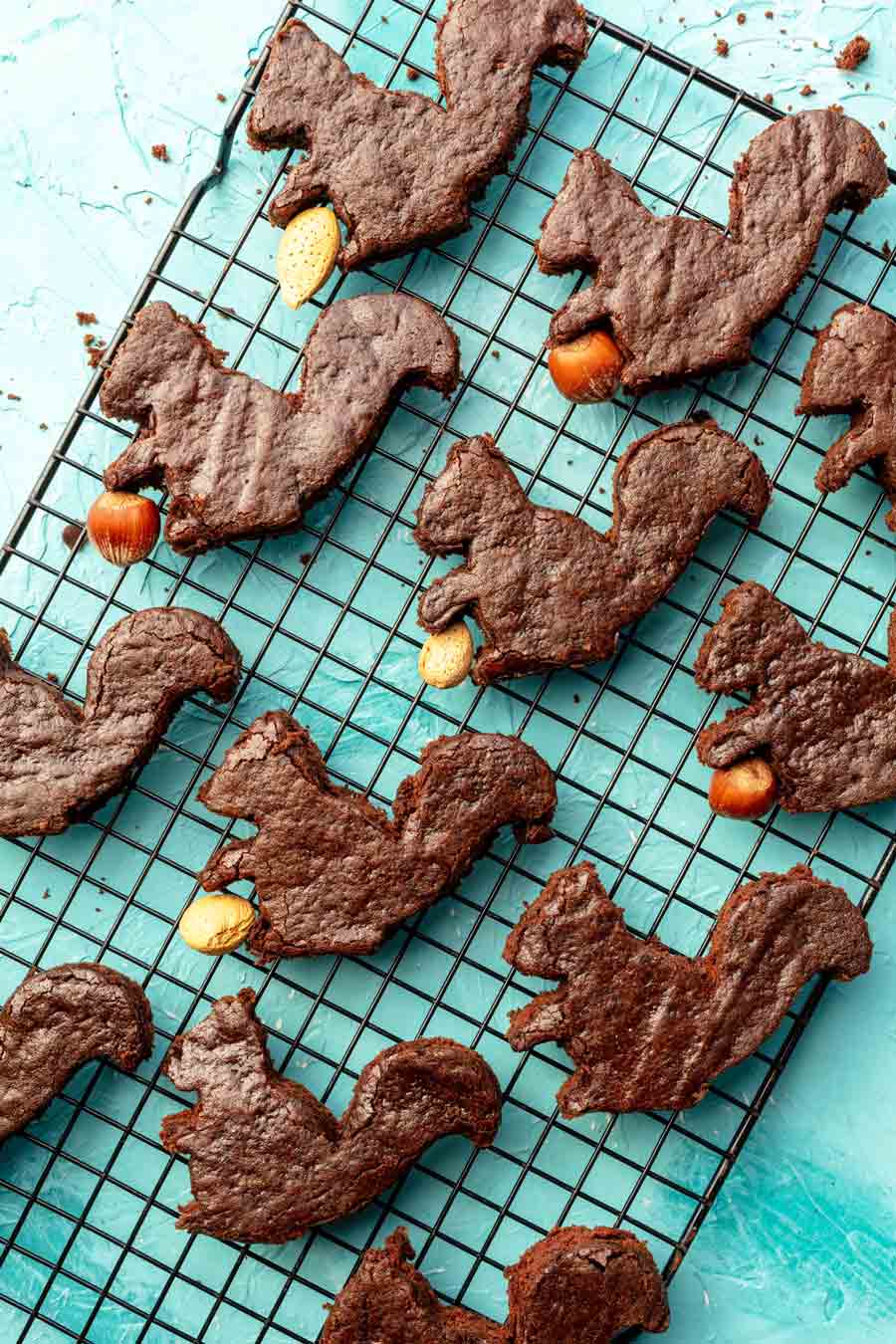 ♫ Listening to: 8:02PM by For Squirrels ♫
These brownies are so quick and easy to make that you can decide the night before that you want to bring a special treat to work the next day, and make it happen without sacrificing sleep. If you like these squirrel brownies, you might also like my ice cream batwiches and my bunny biscuits.
This recipe makes 12 adorable squirrel brownies.
Chocolate Brownie Ingredients
prep time: 15 minutes; bake time: 30 minutes; cool time: 2 hours or overnight
⅓ cup melted organic earth balance* (or any vegetable oil)
1 ⅓ cup sugar
1 cup vanilla nondairy milk
½ tablespoon apple cider vinegar
1 teaspoon vanilla extract
2 cups unbleached flour
½ cup cocoa powder
1 teaspoon baking soda
1 teaspoon baking powder
¼ teaspoon salt
Chocolate Brownie Directions
Dollhouse Shortcut
Cut them into squares or another shape if you don't have a squirrel cutter.
Preheat the oven to 350°.
Mix the wet ingredients (⅓ cup of vegetable oil, 1 ⅓ cup of sugar, 1 cup of nondairy milk, ½ tablespoon of apple cider vinegar, and the teaspoon of vanilla extract) in the bowl of a stand mixer until the sugar dissolves.
Sift the dry ingredients together in a bowl (2 cups unbleached flour, ½ cup cocoa powder , 1 teaspoon baking soda, 1 teaspoon baking powder, and ¼ teaspoon salt).
Mix the dry and wet ingredients together just until incorporated (until you no longer see any dry spots).
Transfer the batter into a parchment paper covered lasagna pan (mine was 9"x13").
Bake for 30 minutes (or until you insert a toothpick and it comes out clean).
Remove from oven and place on a cooling rack.
Remove brownies from the pan by grabbing the edges of the parchment paper and lifting them onto a cutting board, and leave there until the brownies have cooled completely.
Cut out as many shapes out of the pan of brownies as you can using your cookie cutter of choice (I used a squirrel cutter).
Trim any excess that the cutter didn't manage to get off (if you have a higher quality cookie cutter, you likely won't need to do this, but I got mine for 10¢ at a yard sale).
Stamp your shape onto the thicker parts of the brownie and then trace around the lines with a skinny knife. You only need to do this if your cookie cutter isn't tall enough. The metal cookie cutters are usually a lot better at this task.
Save the brownie scraps to make brownie parfaits, crust for an ice cream cake, cake pops, or truffles. Or you can just snack on them if you're a chocoholic like me.
Serve the squirrels to your friends.
☆☆☆☆☆☆☆☆☆☆
* I use mostly organic ingredients when I cook, but I realize that not everyone has the disposable income to purchase all ingredients organic. Therefore, I only specify organic on ingredients when buying the organic version is the only way to ensure that the item is vegan.