Vegan Oreo Cake
published on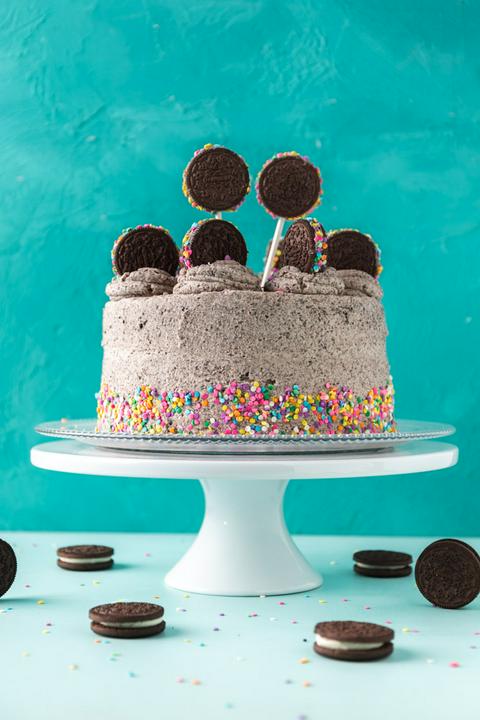 This vegan Oreo cake is a fluffy, soft, and moist chocolate cake, dazzled with chunks of Oreo cookies and layered with cookies and cream buttercream frosting. The recipe is easy to follow and can be completed within a few hours. A dairy free, egg-free cake recipe makes this the perfect cake for any celebration, and nobody will ever guess that it's vegan.
This recipe makes a 2-layer 8" or 9" round chocolate Oreo cake.
Table of Contents
(click the links below to skip to the section you're looking for)
♫ Listening to ♫
Like I Care by The Bombpops
I've been making this vegan cookies and cream cake in the form of cupcakes since I first got the cookbook called Vegan Cupcakes Take Over The World. That was back in my cupcake phase when I had a cupcake blog, and everyone bought me cupcake-themed things for every gift-giving occasion. I still love baking vegan cupcakes, but I'm glad I retired ieatcupcakes.com and started vegandollhouse.com, because it's important to eat real food too (or so they say).
This is my first time making this Oreo cake recipe as a layered cake, and I'm very pleased with how it turned out. The vegan cake pictured here was my practice cake before making the one that I'm bringing to Cakes4Kids. David and I ate almost this entire practice cake by ourselves, except for 3 slices that we shared with Caroline and some neighbors (in only 3 days! not to brag). If you want to know more about Cakes4Kids, it's an amazing organization that connects volunteer bakers with kids that normally wouldn't get a cake for their birthday (some are in the foster system, and some are just in low-income households with parents who work more than one job). This is the first cake I've ever baked for Cakes4Kids, so I wanted it to be awesome! I hope Juan liked it.
(jump to the substitutions section to see ingredient details and suggestions for substitutions)
7-9 Oreo cookies, Newman O's, or any brand of vegan sandwich cookie you like

2 cups (480ml) nondairy milk

1 tablespoon (14g) apple cider vinegar

3 cups (390g) all-purpose flour

2 teaspoons (16g) baking soda

½ teaspoon salt

2 cups (390g) raw, vegan, or organic sugar*

½ cup (45g) cocoa powder

⅔ cup (144g/160ml) safflower or sunflower oil

2 teaspoons (8g) vanilla extract
Vegan Chocolate Oreo Cake Directions
prep time: 22min | bake time: 35min
Dollhouse Shortcut
Bake the cakes up to 3 weeks ahead of time and leave them in the freezer until you're ready to assemble and decorate the cake.
Preheat the oven to 350°F (175º C).
Chop 7-9 Oreo cookies with a large knife. You want the cookie pieces to be small, but not crumbs.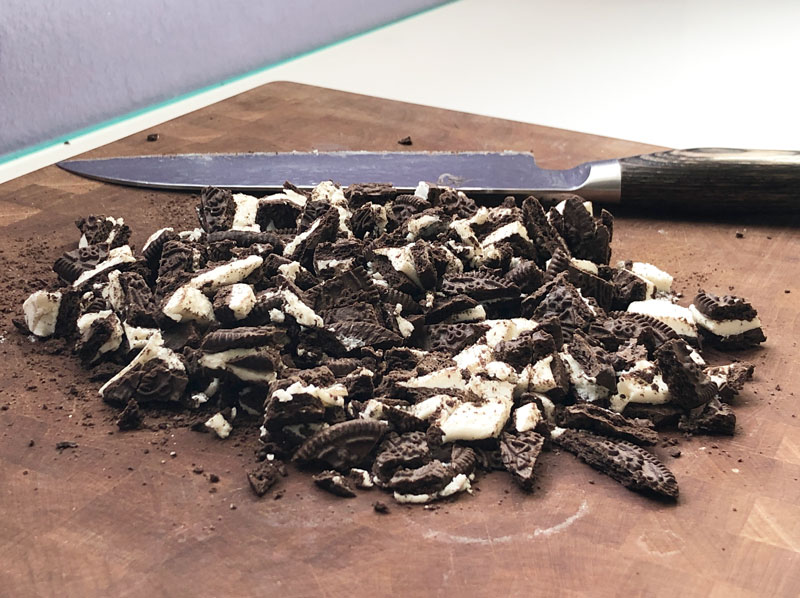 Oil both of the 8" or 9" round cake pans with whatever oil you're using in your vegan cake recipe. I usually use sunflower or safflower oil because they're both made for high heat.
Cut circles out of parchment paper that are the exact size and shape of your cake pans and set them in the bottoms of the cake pans.
Combine the 2 cups (480ml/450g) nondairy milk with 1 tablespoon (14g) apple cider vinegar and set aside to let it turn into vegan buttermilk. If you use soymilk, I recommend buying organic or non-GMO. The whole foods store brand (365) is quite inexpensive.
Measure or weigh the dry ingredients into a separate bowl: 3 cups (390g) flour, 2 teaspoons (16g) baking soda, ½ teaspoon salt, 2 cups (390g) sugar, and ½ cup (45g) cocoa powder and whisk it all together. If the nondairy milk I use is sweetened, I reduce the sugar measurement by 2 tablespoons.
Add 2 teaspoons (8g) vanilla extract and ⅔ cup (144g/160ml) oil to the vegan buttermilk you made.
Mix the wet ingredients into the dry ingredients and mix them only until you can't see any flour, but don't keep mixing beyond that point. If you're using a stand mixer for this step, use the lowest speed and only mix for 15 seconds, stop and scrape the sides with a baking spatula. Mix for another 15 seconds, at the most.
Add the chopped cookies and fold them in with a silicone spatula (folding just means gently mixing).
Pour the batter into the 9" or 8" round cake pans trying to divide the batter as evenly as possible in each pan.
Bake the vegan chocolate cakes on the same rack on the oven (the one that's most in the middle of the oven) for 34-38 minutes, depending on your oven. The cakes are done when a toothpick inserted in the center of each comes out clean.
Remove the cakes from the oven and set them on a cooling rack (or just on your stove if it's not over the oven and not being used). After a few minutes, I often flip the cake pans upside down on the cooling rack, so that as they cool, the cakes will naturally fall out of the pans onto the cooling rack.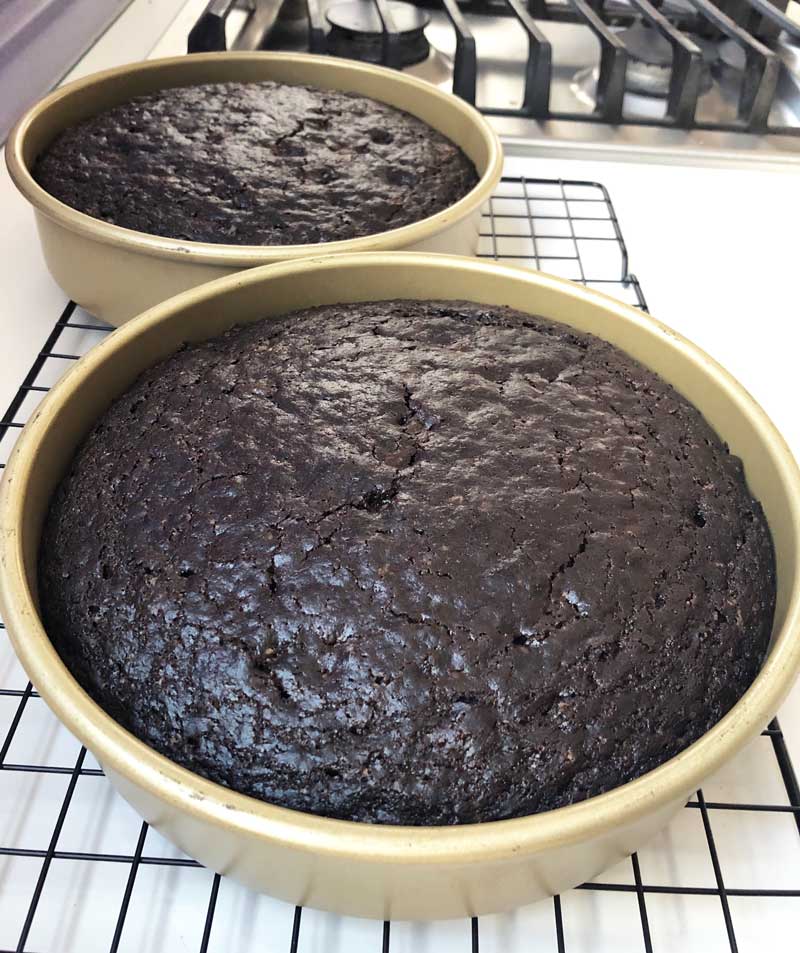 Cool the cakes completely for 2-3 hours, until when you touch them, they no longer feel warm.
Remove cooled cakes from pans (if they haven't fallen out on their own) by shimmying a silicone spatula around the edges of the cake pans.
Wrap each vegan chocolate cake in cling wrap and leave them in the fridge or freezer if you plan to make the frosting and the decorations on a different day. If they'll be in the freezer for more than a couple of days, place the cakes into a ziplock freezer bag after wrapping them in plastic wrap.
Cocoa Powder
$20.75 from Amazon
8" Round Cake Pans
$18.30 from Amazon
Silicone Spatula
$7.99 from Amazon
Dollhouse Tip
Leave all the ingredients for the Oreo frosting out at room temperature for a half hour before starting the frosting for optimal results.
1 cup (176g) vegan butter or margarine*

1 cup (192g) palm shortening

5-6 cups (600-720g) organic powdered sugar*

1 tablespoon (12g) vanilla extract

up to 2 tablespoons nondairy milk, as needed for consistency

12-18 Oreos, Newman O's, or other vegan sandwich cookies
Vegan Oreo Buttercream Frosting Directions
prep time: 30min
Whisk 1 tablespoon (12g) vanilla, 1 cup (176g) vegan butter or margarine, and 1 cup (192g) spectrum sustainable organic palm shortening until it's light and fluffy, using a stand mixer or a handheld electric mixer with the whisk attachment on medium speed. It might be possible to do this by hand if you have a lot of upper body strength and time, but I don't recommend it, unless you really have no other choice. I'd rather borrow a mixer from a neighbor who may have covid than try to make frosting without one. With an electric mixer, this step takes 3-5 minutes. By hand, it could take 20 minutes.
Stop the mixer after a couple minutes and use a silicone spatula to scrape the sides and bottom of the mixer bowl. Mix again.
Process 12-18 cookies in the food processor using the S blade, until they're just crumbs. Alternatively, you can put the cookies in a ziplock freezer bag, and use a rolling pin to smash them if you don't have a food processor (or just don't like washing it, which I totally understand because doing dishes is my nemesis). Try to get the crumbs as fine as possible so they don't clog the tip of the piping bag later. Set the crumbs aside for now.
Sift in 6 cups (720g) powdered sugar, a cup at a time, mixing thoroughly and scraping the bowl with the silicone spatula between each added cup.
Add up to 2 tablespoons of nondairy milk, little by little, mixing in between each addition, until the frosting is a creamy and spreadable consistency.
Before the next step, you can remove a bit of the frosting in case you need to pipe any detailed designs later and just need plain white frosting or want to color it.
Add the Oreo crumbs, and mix them in with a silicone spatula (NOT a stand mixer or a handheld electric mixer). This will ensure that the frosting stays white, speckled with black, instead of getting too muddy/gray/brown.
Fill a piping bag with the Oreo frosting.
Stand Mixer
$449.95 from Amazon
Spectrum Sustainable Organic Palm Shortening
$17.99 from Amazon
Silicone Spatula
$7.99 from Amazon
assembling the cake: 20min | decorating the cake: 20-30min
Level your cakes if they aren't flat on top. Do this by using a long bread knife and slicing any parts off the top that are keeping the top of the cake from being flat.
Pipe or dollop a small dot of frosting onto the center of one of your 10" cake boards and set the first cake on top of it, centering it in the center of the cake board.
Pipe frosting in a swirl all over the top of the bottom cake layer using a cake decorating turntable if you have one. Start at the center and work your way out to the outer edge. In lieu of a piping bag, you can also just spread the frosting onto the bottom layer with your spatula of choice. Smooth it out using an offset spatula if you have one. Smoothing it out is optional.
Set the second cake on top, trying to line it up perfectly with the bottom layer.
Pipe frosting in a swirl all over the top of the cake while spinning your cake decorating turntable (if you have one).
Smooth out the top of the cake using an offset spatula or a bench scraper/chopper while spinning your cake decorating turntable (if you have one).
Pipe frosting around the perimeter (the sides) of the cake while spinning your cake decorating turntable if you have one. Alternatively, you can just use a butter knife or offset spatula to spread the frosting on the sides of the cake.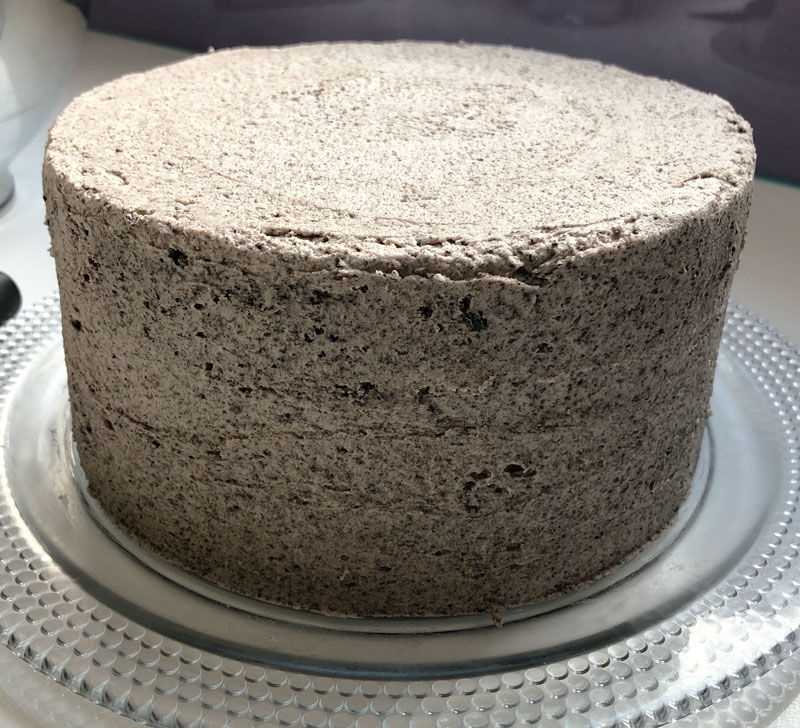 Press vegan sprinkles on the bottom of the sides of the cake. If you don't have any vegan sprinkles, you can use more Oreo crumbs for this step.
Pipe swirls of Oreo frosting on the top of the cake (optional).
Sprinkle vegan sprinkles on the top of the cake.
Top the cake with extra Oreos. I added a ring of frosting to the outer edge of some, rolled them in vegan sprinkles, and stuck a couple on lollipop sticks for extra decoration.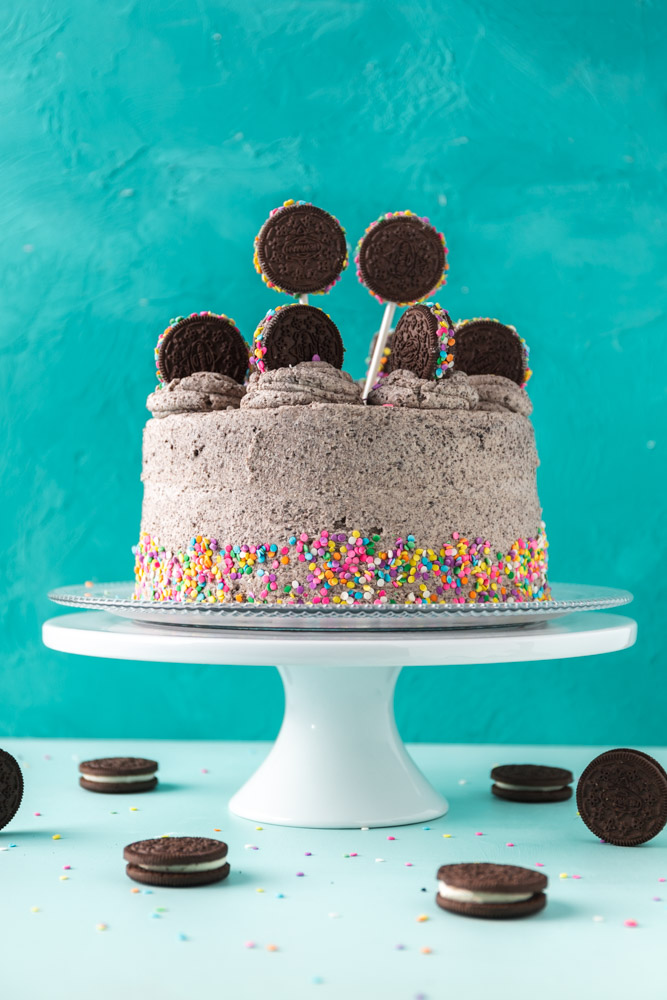 When I decorated this for Cakes4Kids, I couldn't do all the tall piping and lollipop sticks because it wouldn't fit in the cake box, so instead, I saved some plain vanilla frosting before adding the cookie crumbs to the rest, piped small designs that didn't add height to the cake, and added vegan sprinkles. I also cut 8 cookies in half to decorate the bottom perimeter of the cake with a scalloped border of cookies (cut side down).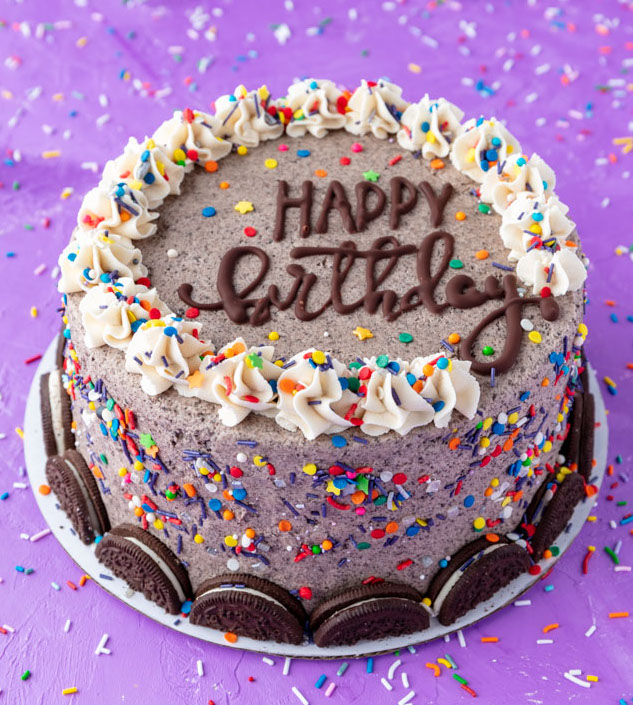 Can I make this Oreo cake gluten free?
Yes! Just use a gluten-free flour blend in place of the all-purpose flour, and replace the Oreos with a gluten-free sandwich cookie (Newman's Own makes one).
Can I make the frosting with less sugar?
Sure. Replace the 6 cups of powdered sugar with 5 cups of powdered sugar, and omit the nondairy milk so it stays thick enough to pipe.
Can I make this Oreo cake recipe into Oreo cupcakes?
Sure! This recipe will make around 24 cupcakes. Fill the cupcake papers ⅔ of the way full, and bake them for 18 minutes.
Layered cakes give me anxiety. Can I make this as a one-layer cake?
I wish I could convince you that this cake is easy to make, but it can also be easily baked as a sheet cake. Just pour the batter into an oiled lasagna pan and if the toothpick doesn't come out dry after the initial baking time, bake it for 5 additional minutes. Then decorate it however you like. If you do this, you can probably make a half batch of the frosting recipe.
Can I use 6-inch cake pans if they're all I have?
You sure can! Divide the batter into three 6" round cake pans instead of dividing the batter equally into two 9" or 8" round cake pans and set your timer for 30 minutes for your first toothpick test.
Are Oreo cookies really vegan?
I actually use Newman O's which are an organic version of Oreos that I love and eat almost every day when I don't have cake in the house. Most vegans feel comfortable eating Oreos, but if you're on the stricter side like I am, grab some Newman O's instead. I promise you'll love them.
How do I store this Oreo cake?
I usually make my cakes in advance since they often take a whole day or more to make and decorate. Here's a little cheat sheet for cakes that are fully covered in buttercream frosting.
1 day in advance: you can store the (uncut) cake in the fridge or on the counter uncovered, because the frosting acts as a barrier to protect the cake from drying out
up to 1 week in advance: you can store the (uncut) cake in the fridge uncovered or in a cake carrier
up to 3 months in advance: freeze the (uncut) cake uncovered until it hardens to the touch and then wrap it completely in cling wrap to keep it from drying out or taking on any weird freezer smells. Move it from the freezer to the fridge a day before you want to serve it, but don't remove the cling wrap until 15 minutes before you're ready to serve it.
leftover cake: I store my cut cake in a cake dome on the counter for up to a week. You can also keep it in any tupperware that is large enough to fit it, either on the counter or in the fridge for up to 1 week. If you don't plan to eat the leftover cake within a week, you can cut it into individual slices and wrap those slices in cling wrap before placing them in a freezer ziplock bag and storing them in the freezer for up to 3 months.
Parchment Paper: I know parchment paper isn't an ingredient, but I wanted to add a substitution for it. If you don't have parchment paper, just oil the bottom and sides of both cake pans. The purpose of the parchment paper is just to help the cakes come out of the cake pans easier. Also, some parchment paper isn't vegan, so make sure you buy the kind I link to here.
Oil: I recommend safflower, sunflower, avocado, or coconut oil for baking cakes. These oils are good for high heat, which helps you avoid transfats. However, you can use any other oil such as vegetable oil, canola oil, grapeseed oil, etc. People even make cakes with olive oil, but I don't recommend it.
Nondairy Milk: If you don't have 2 cups (480ml) of nondairy milk, you can substitute any amount with water, coffee, nondairy creamer, or coconut water. You can also mix and match different nondairy milks. I do this a lot when my macadamia milk only has a little bit left at the bottom and I use it up, and then I open a new container of almond or soymilk. You can even use chocolate oat milk! I've done that before.
Sugar: In the cake recipe, you can use any number of vegan sugars: brown sugar, sucanat, coconut sugar, raw sugar, organic sugar, or demerara. If you're not sure if your sugar is vegan, you can contact the company and ask. Or just avoid conventional white sugar or granulated sugar, and you should be ok.
Vanilla Extract: If you don't have vanilla extract, you can omit it, but the cake will taste much better if you include it. Make sure you use 100% pure vanilla extract or flavor. If the ingredients don't specifically say vanilla bean, then it may not be vegan. Vanilla flavoring is often made from the anal glands of beavers. Who TF came up with this idea? Good question. Probably the same people who discovered gelatin.
Flour: I used an unbleached organic all-purpose flour for this recipe. If you avoid gluten, or if you have friends or family who are gluten free, replace the all-purpose flour with a gluten-free flour blend.
Vinegar: If you don't have 1 tablespoon (15g) apple cider vinegar, replace it with a tablespoon (15g) lemon juice, lime juice, or white vinegar. You just need some sort of acid to interact with the alkalinity of the baking soda to make the cake rise.
Vegan Shortening: If you don't have access to vegan shortening, add another cup of vegan butter or margarine, making a total of 2 cups (450g). My favorite is the organic whipped Earth Balance, but if you avoid soy, you can buy the soy-free Earth Balance. If you do this, your frosting will be less stable at room temperature, so you should keep it in the fridge instead of on the counter, if your house is warm.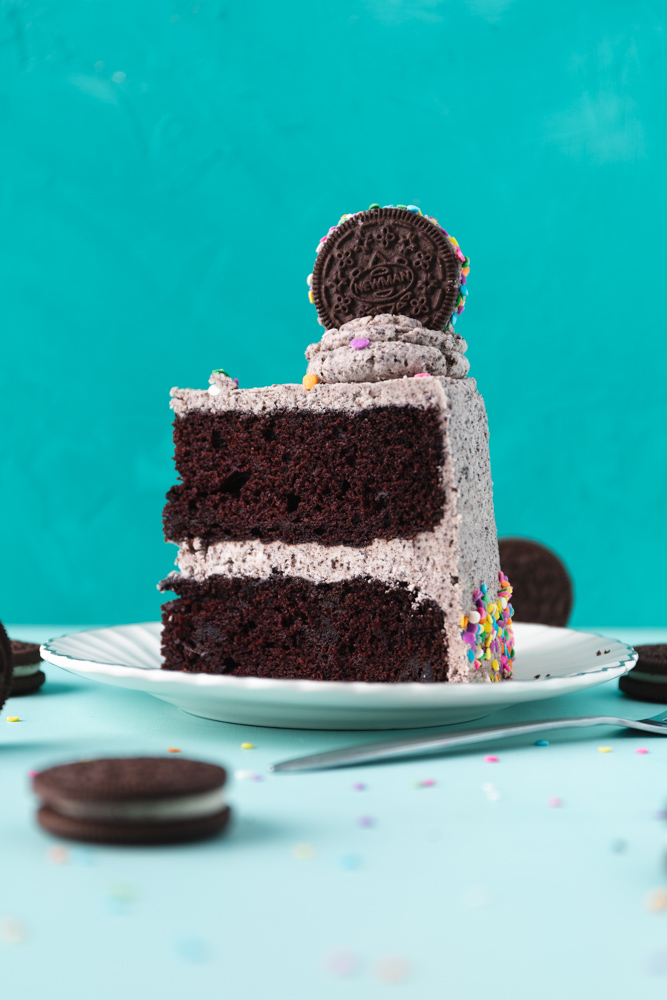 Here's a video of making and decorating this oreo cake.
If you like this oreo chocolate cake recipe, you might also like this chocolate cake and this chocolate cake.
If you like to decorate cakes in unique ways, you might also like my graduation cake, my ding dong cake, and my marble cake.
If you make this vegan oreo cake recipe, snap a pic, post to instagram, and tag me @vegandollhouse. I love to see your creations! You can also message me through instagram or email me if you have any questions about the recipe.
☆☆☆☆☆☆☆☆☆☆
* I use mostly organic ingredients when I cook, but I realize that not everyone has the disposable income to purchase all organic ingredients. Therefore, I only specify organic on the ingredients that really matter - when buying the organic (or non-GMO) version is the only way to ensure that the item is vegan.
☆☆☆☆☆☆☆☆☆☆