German Chocolate Cake (Vegan)
published on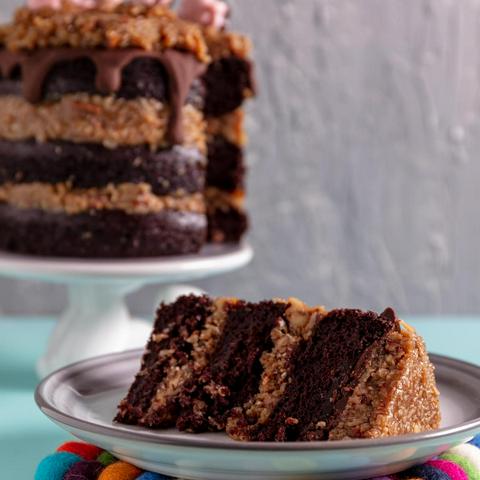 This multi-layered vegan german chocolate cake is a moist chocolate cake with a decadent gooey caramel coconut pecan walnut filling and a chocolate ganache drip. It's inspired by the vegan german chocolate cake from Black China Bakery in Santa Cruz, because they use a chocolate ganache instead of chocolate buttercream, and I just adore it! The recipe gives clear instructions and shortcuts so you can make this for an upcoming Christmas or Birthday celebration. Even if you don't have a special occasion, you should still make it on a rainy weekend to reward yourself for surviving a rough week.
This recipe makes a 2-layer 8-9" or a 3-layer 6" german chocolate cake.
Table of Contents
(click the links below to skip to the section you're looking for)
♫ Listening to ♫
Favourite Ex by Maisie Peters
I read a lot of vegan german chocolate cake recipes and a lot of non-vegan ones while thinking about what I wanted this cake to become. The recipe that inspired this vegan german chocolate cake recipe the most was Sally's Baking Addiction's chocolate cake. Their suggestion of incorporating yogurt to make a super moist chocolate cake is brilliant. If you asked 5 people how to make a vegan german chocolate cake recipe with frosting, you might get 5 different answers, so keep in mind that this is just my take on it. But my take is dairy-free, eggless, and cruelty free, so at least you'll know that you can enjoy this without any guilt.
1 ¾ cups (240g) all-purpose unbleached flour

¾ cup (55g) cocoa powder

1 ½ cups (330g) vegan sugar

1 ½ teaspoons (10g) baking soda

1 ½ teaspoons (8g) baking powder

¼ teaspoon (1g) salt

½ cup (120ml/105g) sunflower or safflower oil

¾ cup (180g) vegan yogurt

1 cup (240ml/235g) soymilk

1 tablespoons (14g) apple cider vinegar

2 teaspoons (8g) vanilla extract

½ cup (120ml/118g) hot coffee
Vegan Chocolate Cake Directions
prep time: 15 min | baking time: 30 min
Dollhouse Shortcut
Make the cakes up to 3 weeks ahead of time, wrap them in cling wrap, and store them in freezer bags in the freezer until the day you want to assemble the cake.
Preheat the oven to 350°F (175°C).
Oil two 8 or 9 inch round cake pans if you're making a 2-layer cake. Oil three 6 inch round cake pans if you're making a 3-layer cake.
Cut out pieces of parchment paper that are the size and shape of your cake pans, put them in the bottom of your cake pans, and then oil the top of the parchment paper. Parchment paper on the bottom of cake pans just helps the cake come out of the pans, but you can make this cake (and all my cakes) without parchment paper too.
Sift the dry ingredients into a large bowl: 1 ¾ cups (240g) flour, ¾ cup (55g) cocoa powder (I use this cocoa powder because it's fair trade), 1 ½ cups (330g) sugar, 1 ½ teaspoons (10g) baking soda, 1 ½ teaspoons (8g) baking powder, and ¼ teaspoon (1g) salt. Set aside.
Whisk the wet ingredients either by hand or with a stand mixer fitted with a whisk attachment (or a handheld electric mixer): ½ cup (120ml/105g) oil, ¾ cup (180g) vegan yogurt, 1 cup (240ml/235g) soymilk, 1 tablespoons (14g) apple cider vinegar, 2 teaspoons (8g) vanilla extract, and ½ cup (120ml/118g) hot coffee.
Pour the wet ingredients into the dry ingredients, and mix until you no longer see any dry ingredients, but don't continue mixing after that point. You want to move quickly because as soon as wet meets dry, the chemical reaction of the vinegar and baking soda are starting to work their magic, and you want that magic to happen in the oven, not on your kitchen counter.
Divide the batter evenly between your 2 or 3 cake pans.
Place all of your cake pans on the same rack in the oven so that they will all bake at the same temperature. I know this sounds weird, but our ovens are actually different temperatures in different spots.
Bake for 29-30 minutes for an 8" or 9" cake. Bake for 30-35 minutes for a 6" cake. Baking times vary depending on different ovens, so I always set my timer for the lowest baking time, and then check the cake with a toothpick. If the toothpick doesn't come out clean after poking the middle of the cakes, then I bake them a few more minutes, and continue.
Remove the cakes from the oven as soon as the toothpick test comes out clean, and set them on a cooling rack.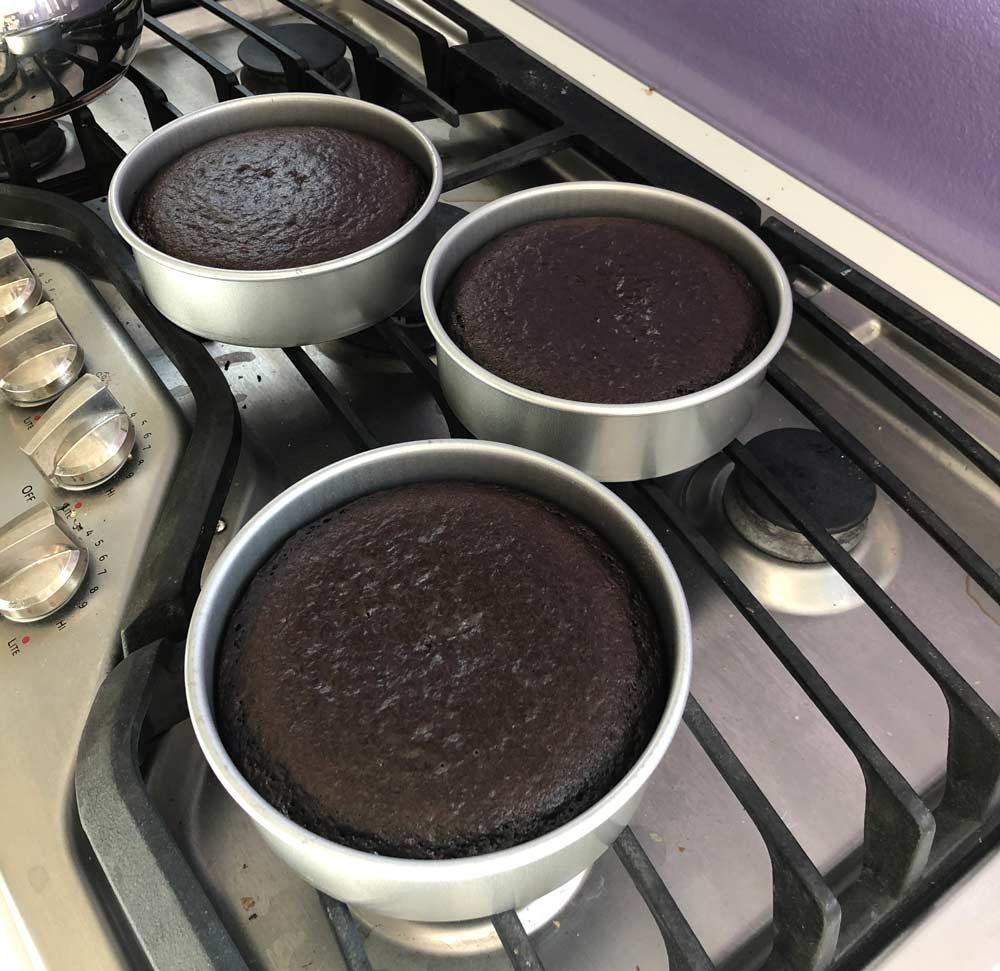 Cool the cakes for 15 minutes before flipping them upside down on the cooling racks. You can start on the frosting while you wait for the cakes to cool completely.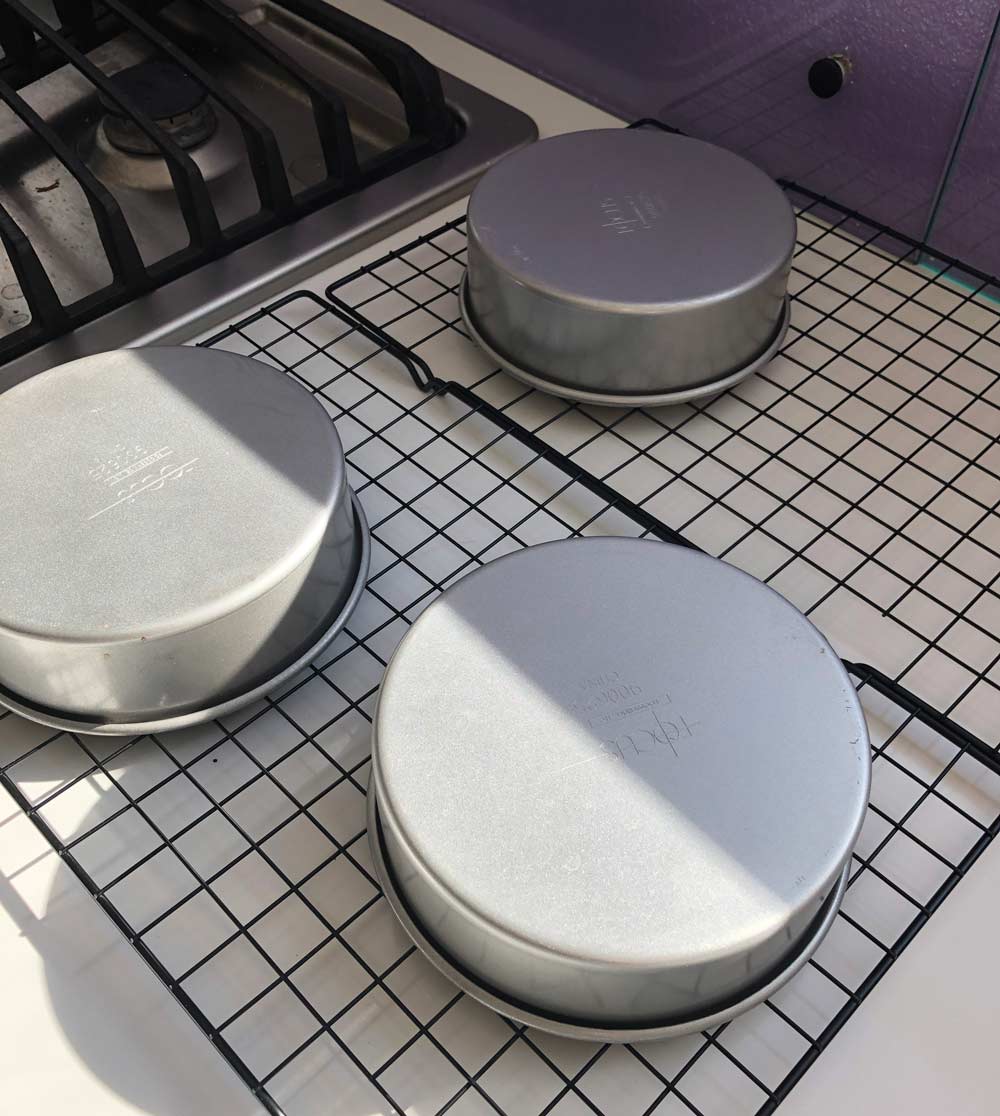 Stand Mixer
$349.95 from Amazon
Cocoa Powder
$16.98 from Amazon
6" Round Cake Pans
$12.00 from Amazon
Dollhouse Shortcut
This recipe is easier if you skip toasting the nuts. However, if you want the best vegan german chocolate frosting, spend the extra time to toast the pecans or walnuts.
½ cup (120g) vegan butter or margarine

1 cup (300g) vegan sugar

1 tablespoon molasses

3 tablespoons organic cornstarch

1 can (11.5oz; 340ml) vegan evaporated milk

1 teaspoon (8g) pure vanilla extract

2 cups shredded coconut

1 cup (125g) toasted and chopped pecans or walnuts (I used half pecans and half walnuts)
How To Make Vegan German Chocolate Cake Frosting and Filling
prep time: 5 min | cooking time: 25 min
Whisk together a little bit of the evaporated milk and 3 tablespoons of cornstarch. Set aside.
Add the remaining evaporated milk to a medium saucepan along with the following ingredients: ½ cup (120g) vegan butter, 1 cup (300g) sugar, and 1 tablespoon molasses.
Heat the mixture over medium-high heat until it boils, and then reduce the heat slightly. While you wait for it to boil is a good time to toast your nuts if you haven't already. I toasted mine for 8 minutes at 300°F.
Add the cornstarch liquid you made before.
Whisk continuously until the mixture thickens and gets gooey like caramel. This usually takes about 5 minutes for me.
Remove from heat.
Stir in 1 teaspoon vanilla, 2 cups shredded coconut, and 1 cup (125g) chopped nuts. If all you have are coconut flakes, you can just put them in a blender or a food processor and use the pulse button to turn the coconut flakes into shredded coconut.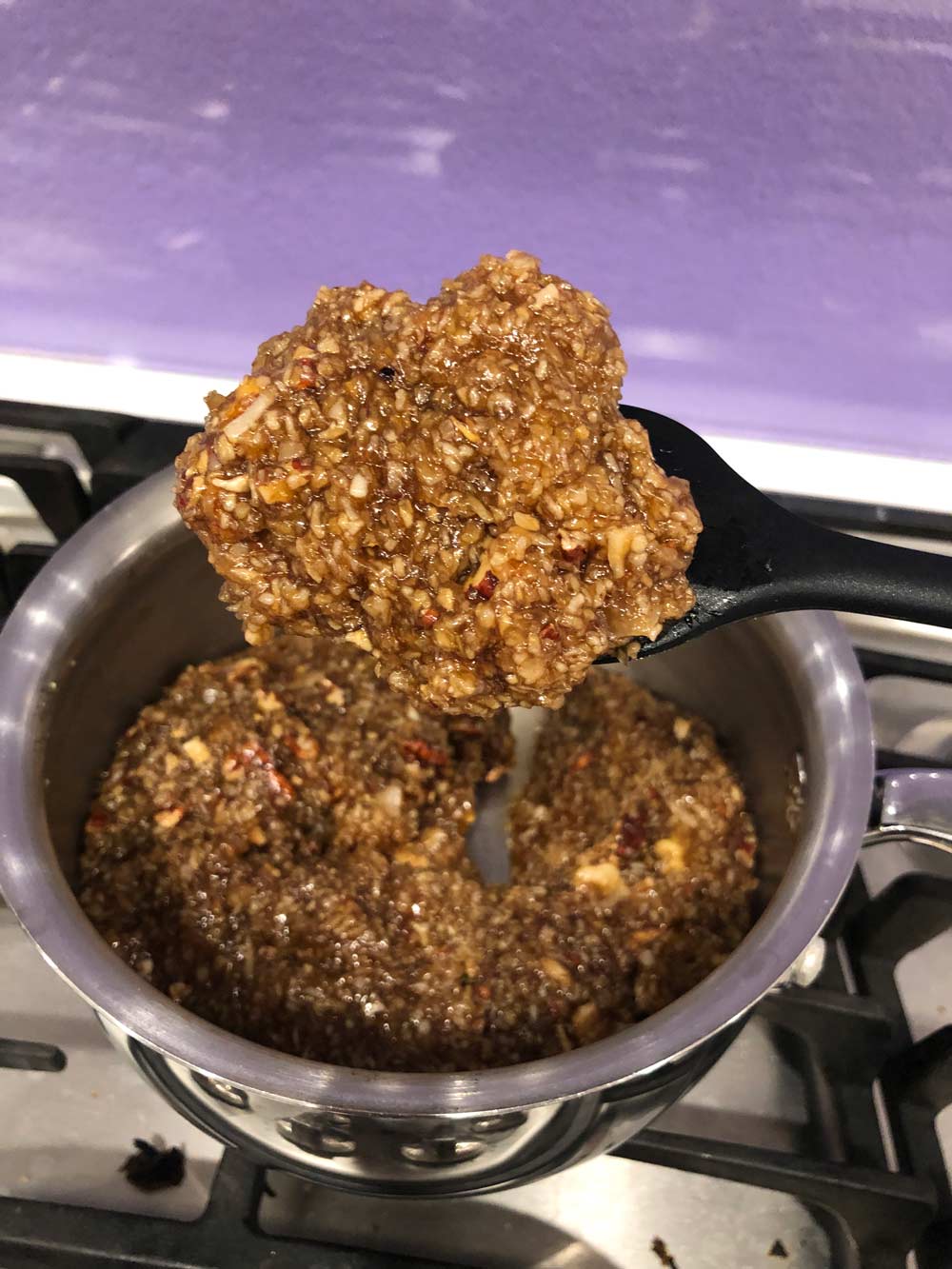 Cool completely before using it to assemble the cake. It will continue to thicken as it cools.
assembling time: 10 minutes
Cut the tops off of any cakes that have domes at the top. They need to be level and flat before layering. This is my favorite part because everything I cut off the cakes I get to eat. Don't worry about getting them perfectly even or you might just keep cutting and cutting until you have no more cake left (but a very happy tummy I presume, so I get that it's a tradeoff).
Top the bottom layer of cake with a thick layer of pecan-walnut-coconut frosting and make sure you spread it all the way to the edges of the circle. I use an offset spatula for this step, but if you don't have one, you can use a baking spatula as well. Repeat with however many cake layers you have.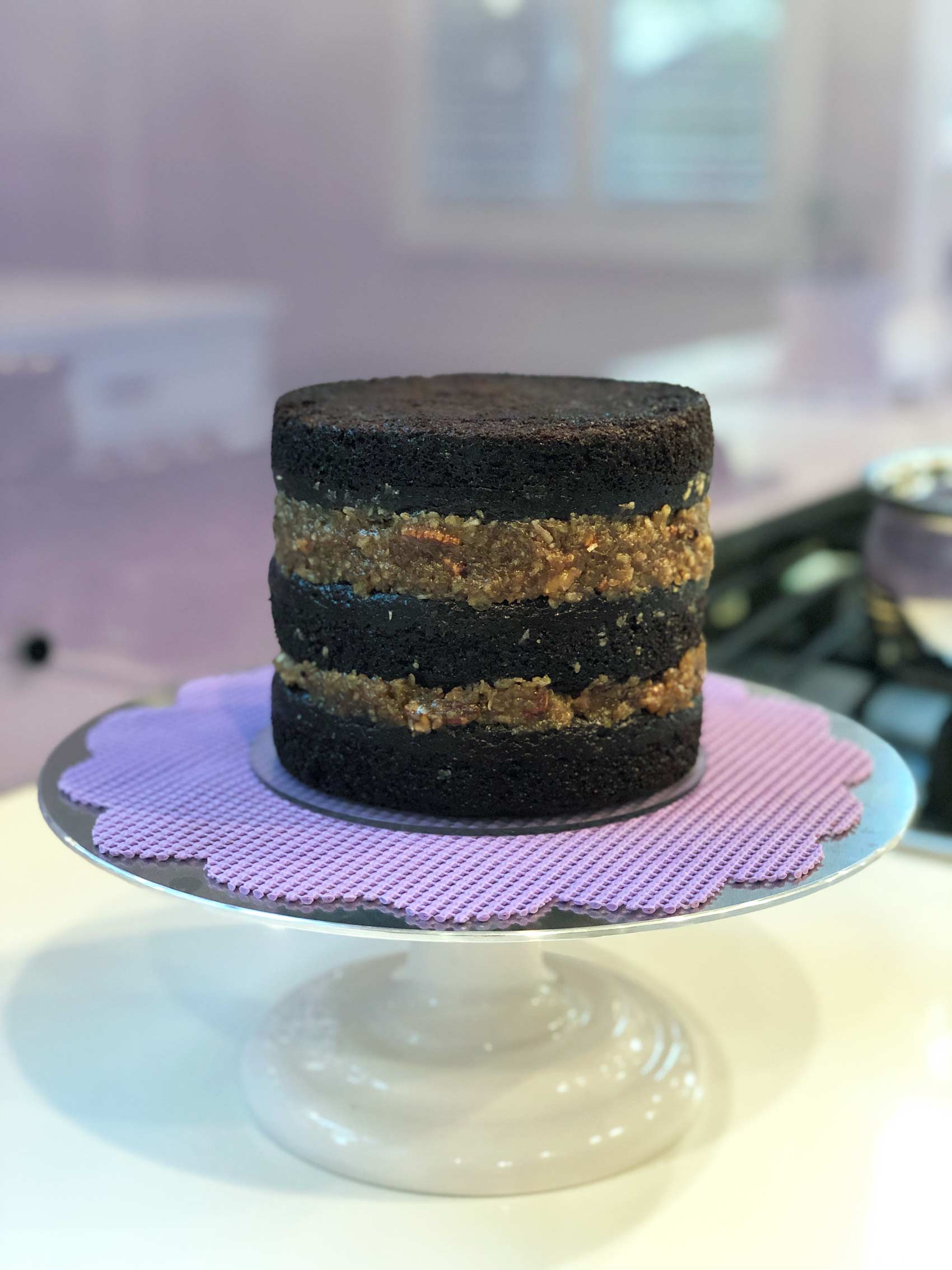 Chill in the fridge while you make the ganache.
cooking time: 10 min | cooling time: 15 min | decorating time: 5 min
1 cup (6oz / 170g) vegan chocolate chips

¼ cup (2oz / 60ml / 60g) non-dairy milk
Easy Vegan Chocolate Ganache Directions
Dollhouse Shortcut
To save time, you can make this rich chocolate ganache in the microwave in 30-second increments.
Heat ¼ cup (2oz / 60ml / 60g) non-dairy milk on the stove until it starts to simmer.
Add 1 cup (6oz / 170g) vegan chocolate chips and remove from heat, cover the pot, and swirl it around.
Wait for 5 minutes before uncovering and whisking the chocolate ganache until smooth and melted.
Cool the ganache for around 15 minutes before decorating the cake. You can test one drip to see how far it goes down the side of the cake to determine if it has cooled long enough. The cooler it gets, the slower and thicker drips you'll get. My ganache in this cake was extra thick, so I probably could have cooled mine less.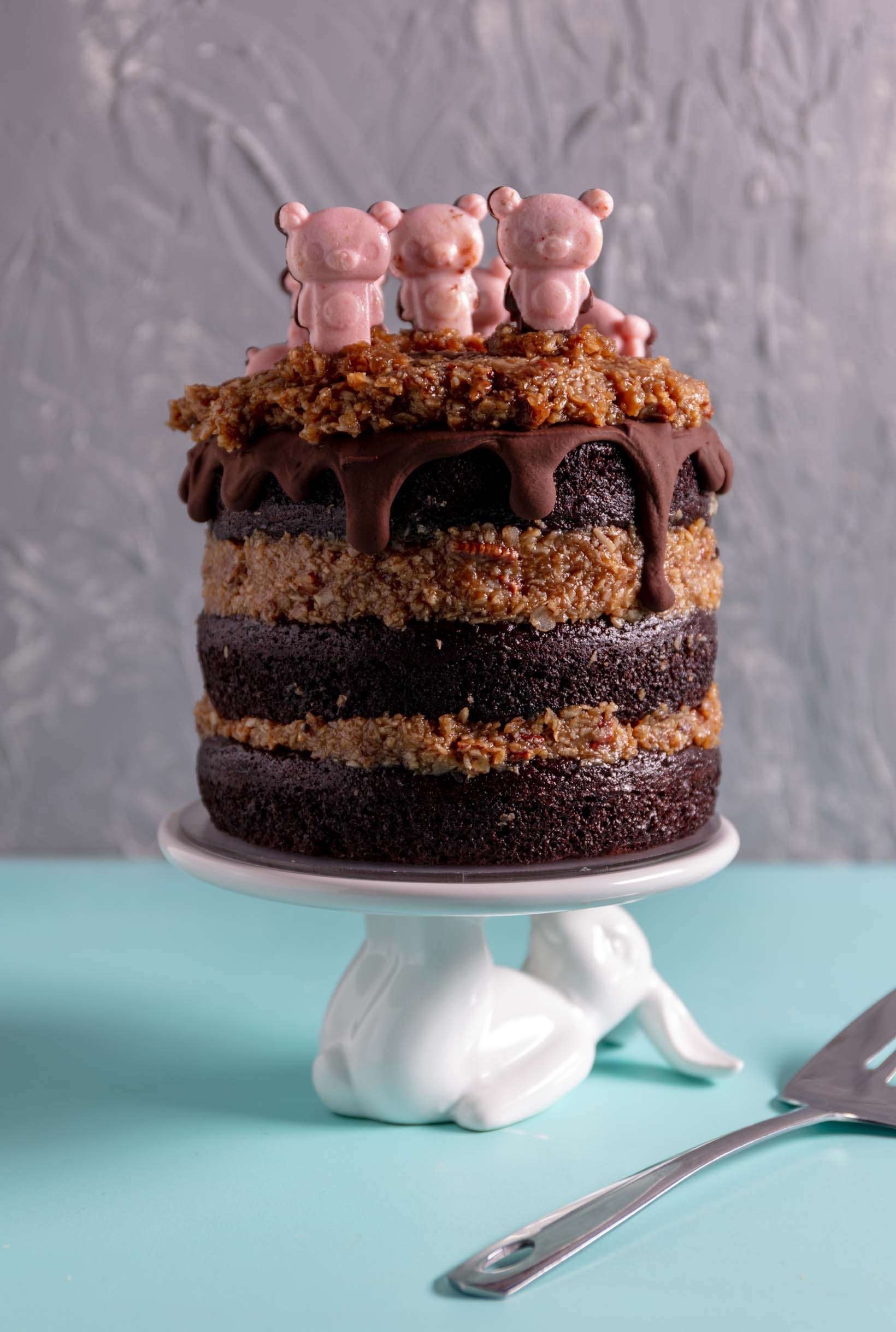 Optional: add some chocolate cuties to the top of the cake when you decorate it (like I did) if you like cute food, kawaii food, or anything from Japan.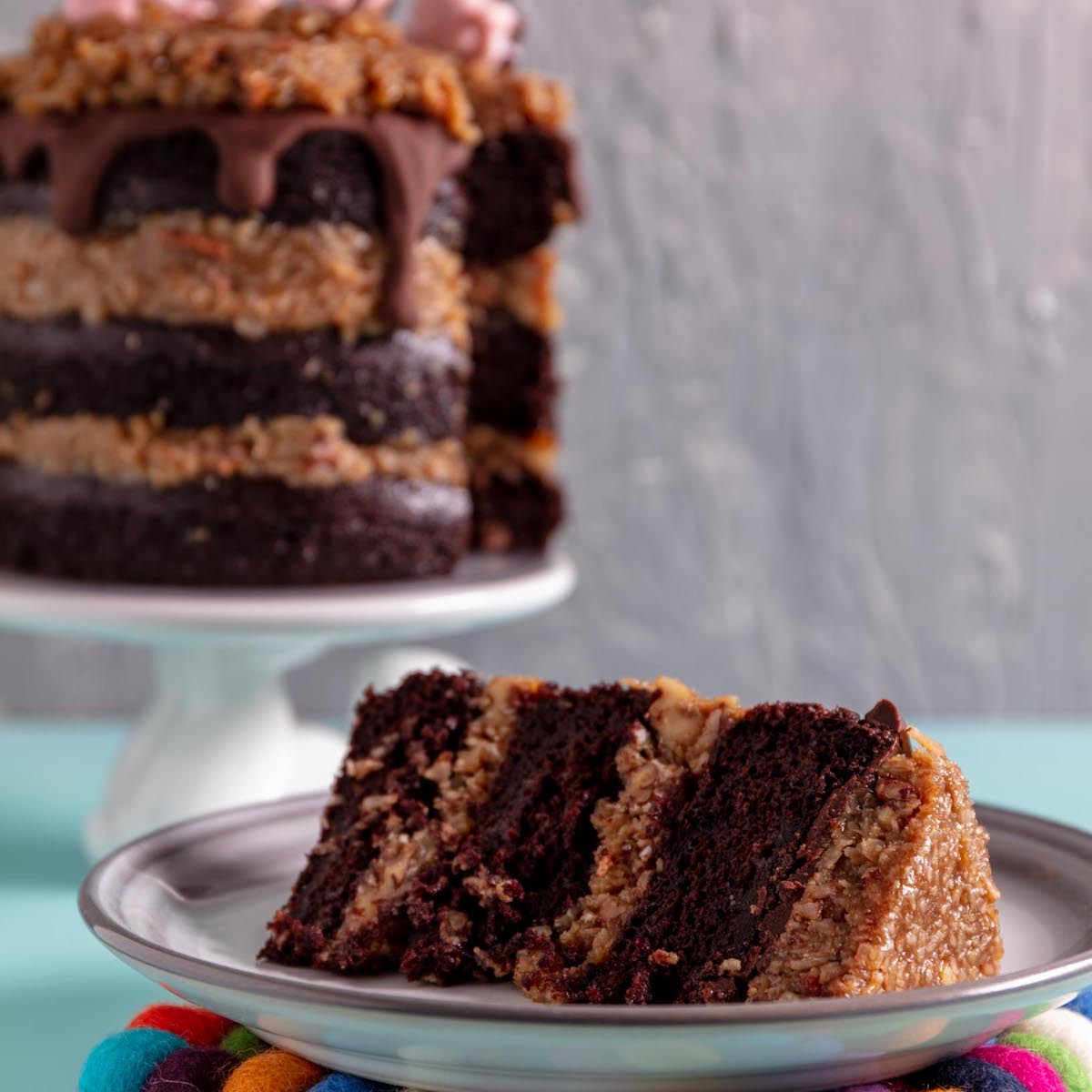 I made this cake on a livestream where I learned from one of my viewers that the origin of German Chocolate Cake wasn't in Germany like I had thought, but German is actually the last name of the person who first invented the cake in the U.S. Yeah, I was disappointed too.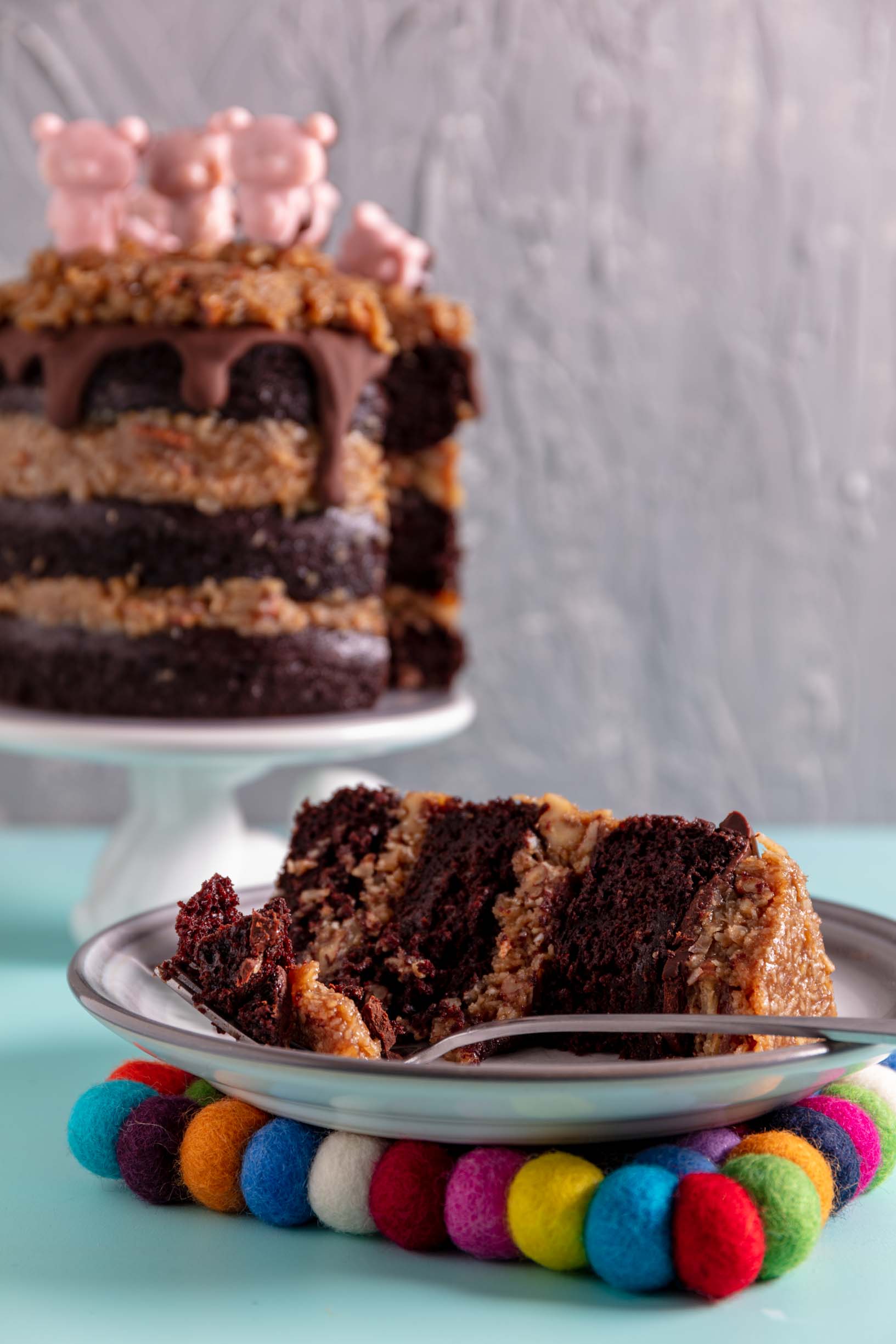 Here's an alternative way of decorating the cake using the same recipe. For this cake, I made a 2-layer 9" cake, and instead of leaving the sides of the cake bare, I covered the entire cake in chocolate ganache and skipped the chocolate drip. I used the extra cooled ganache to pipe little dollops around the perimeter.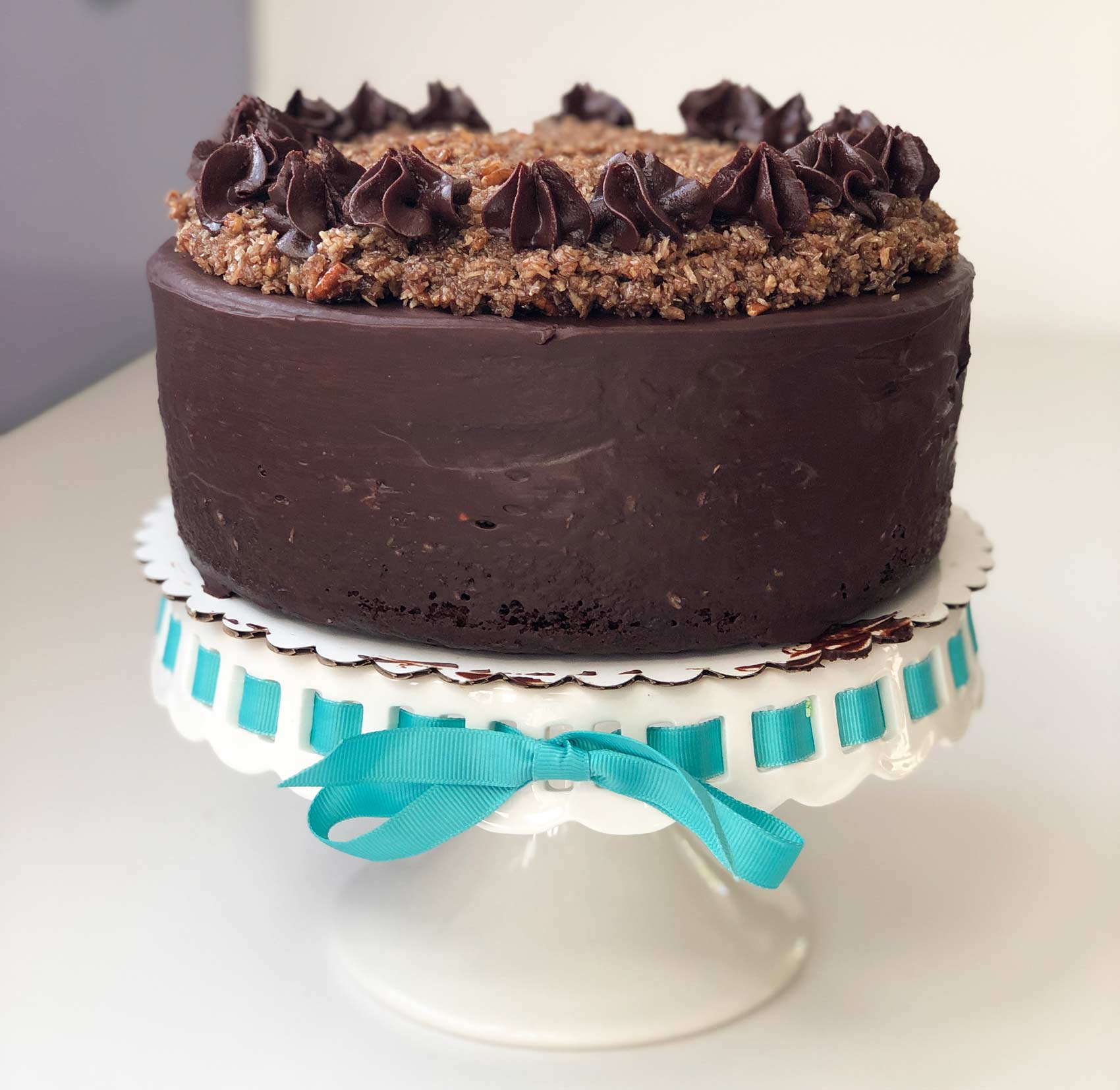 Why didn't my cakes rise?
If your cakes don't look as tall as mine, there's a chance they didn't rise properly in the oven. There can be a few explanations for this. One is that you forgot to add baking soda or didn't add enough. Baking soda also expires, so there's a chance that your baking soda is old. The other rising agent in this recipe is vinegar. Did you remember to add vinegar?
One last thing that can prohibit a cake from rising properly is if you open the oven door while it's baking. This is very important. You never want to open your oven door while you're baking, especially not in the first two-thirds of the baking time. That's why they started making ovens with windows in them, so that you can check on your cakes without opening the door.
How do I store this cake?
You know this is the best german chocolate cake because it will stay good for a week, as long as it's in a container with a lid. After the initial cutting of the cake, You basically have 2 options: store it at room temperature in a cake dome or cut the rest of the cake into slices and store them in a tupperware in the fridge.
Here's a little cheat sheet for storing this cake after you make it but before you serve it.
1 day in advance: you can store the (uncut) cake in the fridge uncovered, because the ganache coating acts as a barrier to protect the cake from drying out
up to 1 week in advance: you can store the (uncut) cake in the fridge or freezer uncovered or in a cake carrier
up to 3 months in advance: freeze the (uncut) cake until it hardens to the touch. Then wrap it completely in cling wrap to keep it from drying out or taking on any weird freezer smells. Move it from the freezer to the fridge a day before you want to serve it, but don't remove the cling wrap until 15 minutes before you're ready to serve it.
Can you freeze german chocolate cake?
If you don't plan to eat the leftover cake within a week, you can wrap the individual slices in cling wrap before placing them in a freezer ziplock bag and storing them in the freezer for up to 3 months. Or just bring it to my house. I'll teach you how to eat a 12-serving cake in 5 days or less.
I used to do this when I had vegan kids that would be invited to their classmates' birthday parties, so I could send them to the party with a slice of cake to have while the other kids ate cake. But now that there are no kids in my house to hog my cake slices, the cake never lasts long enough to see the dark of freezer.
Flour: My favorite flour to bake with is all-purpose unbleached flour. If you prefer to use whole grain flours, replace the white flour in this recipe with cake flour, wheat flour, spelt flour, or whole wheat pastry flour. It will taste healthier with some of these flours though. If you want to make this a gluten-free cake recipe, replace the flour in this recipe with your favorite gluten-free flour blend.
Cocoa Powder: I prefer to use fair-trade and organic cocoa powder, but you can use whatever you have on hand.
Sugar: For the sugar in the cake portion of the recipe, you can use any number of sugars, as long as they're vegan: brown sugar, sucanat, coconut sugar, raw sugar, organic sugar, or demerara. If you're not sure if your sugar is vegan, you can contact the company and ask, but basically, just avoid conventional white sugar or granulated sugar, and you should be ok.
Baking Soda: Keep in mind that baking soda does expire, so it works best if it's fresh/newish. If you're out of baking soda, you can replace the 1 ½ teaspoons (10g) of baking soda in this recipe with an additional 1 ½ tablespoons (27g) of baking powder.
Baking Powder: Keep in mind that baking powder does expire, so it works best if it's fresh/newish. I use non-aluminum baking powder but regular baking powder is fine too. If you're out of baking powder, you can replace the 1 ½ teaspoons (8g) of baking powder in this recipe with an additional ½ teaspoon (3g) of baking soda.
Oil: I recommend using safflower, sunflower, avocado oil, or coconut oil for baking cakes because those oils are made for high heat, which helps you avoid transfats. However, you can use any other oil such as vegetable oil, canola oil, grapeseed oil, etc. People even make cakes with olive oil, but I don't recommend it.
Nondairy Milk: If you don't have the full amount of nondairy milk that the cake part of the recipe requires, you can substitute 1:1 with water, coffee, or nondairy creamer. You can also mix and match different nondairy milks. I do this a lot when my macadamia milk only has a little bit left at the bottom and I use it up, and then I open a new container of almond milk, oat milk, coconut milk, or soymilk.
Vegan Yogurt: You can use any brand of vegan yogurt you prefer in this recipe. I personally like to make my own yogurt, because my instant pot has a yogurt setting. If you're not sure which vegan yogurts are good or bad tasting, check out my reporting of a vegan yogurt blind taste test I did.
Vinegar: If you don't have apple cider vinegar, you can replace it with lemon juice, lime juice, or white vinegar. You just need some sort of acid to interact with the alkalinity of the baking soda to make the cake rise.
Vanilla: Do not substitute imitation vanilla for the real vanilla extract. Imitation vanilla is often made from something that comes out of beaver butts. I can't make this shit up.
Coffee: I know a lot of people avoid coffee for a number of reasons, so if you're one of those people, you can replace the ½ cup (120ml/118g) hot coffee in this recipe with ½ cup (120ml/118g) hot water instead.
Vegan Butter: My favorite kind of vegan butter is the Organic Whipped Earth Balance. If you avoid soy, you can use soy-free Earth Balance.
Molasses: If you don't have molasses, you can replace the molasses and the cup of sugar in the frosting recipe with a cup of sucanat or vegan brown sugar instead.
Corn Starch: I always buy organic or non-GMO corn starch because corn is frequently genetically modified food. If you're buying GMO corn, it might not be vegan. If you don't have 3 tablespoons corn starch, you can replace it with 3 tablespoons arrowroot powder.
Vegan Evaporated Milk: If you don't have access to vegan evaporated milk, you can replace it with the same size can of vegan condensed milk.
Vegan Chocolate Chips: My favorite brand of vegan chocolate chips is Pascha. They're organic, fair-trade, and I'm fairly certain they're an all-vegan company so I feel good about supporting them.
If you like chocolate and coconut, you might also like my mounds cake.
For other 6" inch cakes, check out my rainbow cake and my chocolate caramel ombré cake.
☆☆☆☆☆☆☆☆☆☆
I use mostly organic ingredients when I cook. I realize that not everyone has the disposable income to buy only organic ingredients. Therefore, I only specify organic on the ingredients that really matter: when buying the organic (or non-GMO) version is the only way to ensure that an item is vegan.
This post links to items I used when I made this recipe. If you click on the purple Buy Now button on a product page, you will go to a website (like Amazon) where you can purchase the same product I used. Sometimes, the store you purchase from (Amazon, Etsy, etc.) will pay me for referring you. This costs you nothing extra, and I would never recommend a product that I don't use. These affiliate programs help me buy the ingredients to create these recipes for you. Read more about this in my privacy policy.
☆☆☆☆☆☆☆☆☆☆