Bat Donuts
published on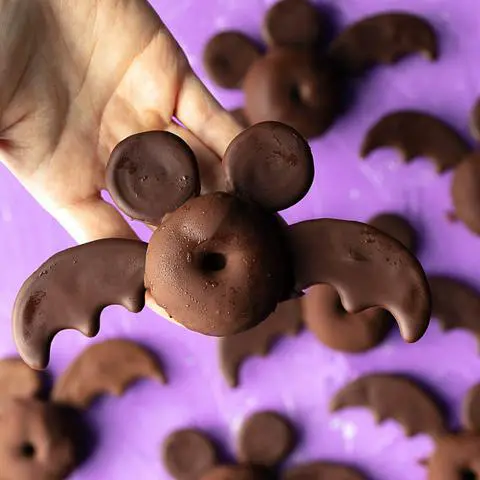 ♫ Listening to: Life is a Fear by Editors ♫
These cute halloween donuts are a bite-sized pumpkin spiced treat for any Halloween or Friday the 13th party. The chocolate frosted coating, reminiscent of your childhood, converts these baked donuts into adorable baby bats with Mickey Mouse ears. Can you imagine anything cuter on a snack table?
The idea for this recipe was inspired by one of my favorite instagram accounts: Jessica from Luxe and the Lady. She's so popular and talented that she did a collab with Disney, and made a whole variety of Mickey Mouse themed Halloween donuts a few years ago, and I've remembered them ever since. I don't know what flavors her donuts were, but there's just something about the pumpkin and chocolate combination that's so delicious.
This recipe makes 12 mini vegan halloween donuts.
Table of Contents
(click the links below to skip to the section you're looking for)
Dollhouse Shortcut
If you don't have pumpkin pie spice, use ½ teaspoon cinnamon, ¼ teaspoon nutmeg, ⅛ teaspoon cloves, and ⅛ teaspoon ginger.
⅓ cup (78ml) nondairy milk (see substitutions section at the end for milk suggestions)

½ teaspoon (2-3ml) vinegar (I used apple cider vinegar)

⅞ cup (108g) unbleached white flour

¼ teaspoon (1-2g) baking soda

½ teaspoon (3g) baking powder

2 pinches of salt

1 teaspoon pumpkin pie spice

3 tablespoons (44ml) sunflower oil

½ cup (115g) organic or vegan sugar*

⅓ can (140g) pumpkin

1 teaspoon molasses (optional)
How to Make Pumpkin Spice Donuts
prep time: 17 minutes | bake time: 9 minutes
Dollhouse Shortcut
If you don't have a piping bag, you can use a plastic produce bag from the grocery store. After you fill it, you just snip off the corner with scissors.
Combine ⅓ cup (78ml) nondairy milk and ½ teaspoon (2-3ml) vinegar, and set aside.
Preheat the oven to 350°.
Oil all 12 cubbies of a mini donut pan.
Sift the dry ingredients into a medium mixing bowl: ⅞ cup (108g) unbleached white flour, ¼ teaspoon (1-2g) baking soda, ½ teaspoon (3g) baking powder, 2 pinches of salt, and 1 teaspoon pumpkin pie spice.
Whisk the dry ingredients and set aside.
Add 3 tablespoons (44ml) sunflower oil, ½ cup (115g) sugar, ⅓ can pumpkin, and an optional teaspoon of molasses to the vegan buttermilk you made. Mix until combined. You can either use a stand mixer or you can whisk it by hand.
Combine the dry ingredients and the wet ingredients.
Mix until no dry ingredients show.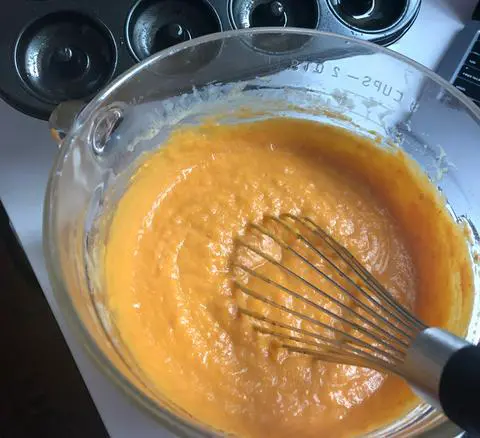 Fill a piping bag with all the pumpkin spice donut batter. Use a baking spatula to make sure you get it all. If you've never filled a piping bag, I find the easiest way is to grab a glass or a jar from your kitchen and set it on the counter. Put the piping bag into the glass or jar and fold the wide part of the cone over the edges of the glass or the jar.
Pipe the batter into the mini donut pans as evenly as possible.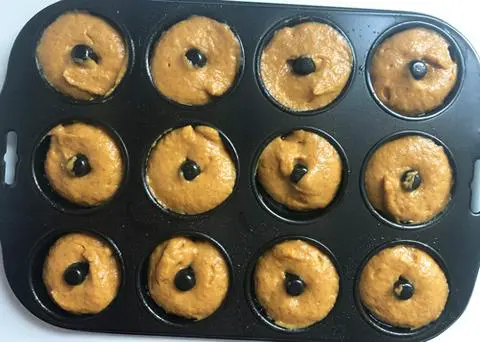 Bake for 9 minutes at 350°.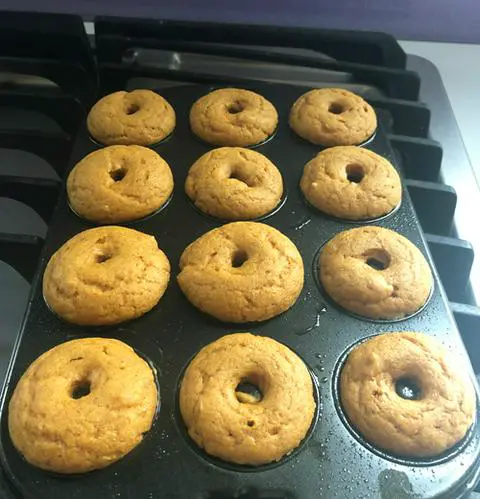 Cool the pumpkin spice donuts for 5-10 minutes on a cooling rack before taking them out of the pans.
Shimmy a small baking spatula down the sides and around the perimeter of each donut to help loosen the donuts so you can get them out of the pans.
1 bag of vegan chocolate chips

1 teaspoon coconut oil (optional)
How to Frost and Decorate your Vegan Halloween Donuts to look like bats
Frosting and decorating time: 1 hour + 10 minutes
Melt ½ cup vegan chocolate chips in the microwave. If you've never melted chocolate in the microwave, the best method is to melt it in 20 to 30 second increments, checking it and stirring it after each round.
Transfer the melted vegan chocolate to a deco pen or a piping bag fitted with a small round tip. You can even just use a ziplock baggie with a tiny hole cut in the corner.
Draw mickey mouse ears and bat wings onto parchment paper or a silicone mat with your melted chocolate. I used small silicone mats, so I needed to use 2 to fit them all. I prefer using 2 small ones over 1 large one because they can fit on a cutting board or a baking sheet so they can easily be transferred to the fridge and freezer. It takes me about 30 minutes to draw them all.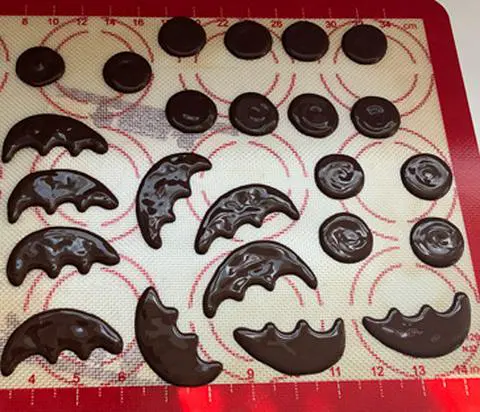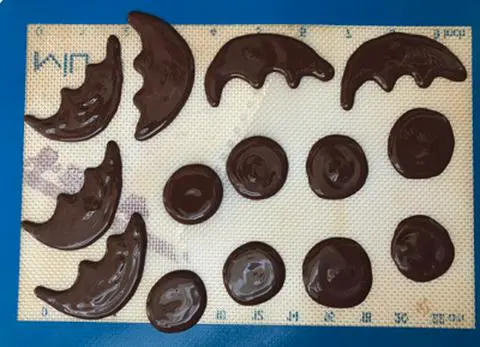 Transfer to the freezer to harden.
Melt the rest of the bag (around 1 - 1 ½ cups) of vegan chocolate chips in the microwave, using the same method described above, except this time, add a teaspoon of coconut oil. The coconut oil is optional, but it does thin the chocolate out a little bit to make it easier to coat the donuts with it.
Dip each donut, one by one, into the melted chocolate. Make sure that the entire donut gets covered. I found the easiest way to do this is to stick a chopstick through the hole of the donut and dip the donut in, spinning it around the chopstick to get it completely coated.
Place the dipped donuts back onto the silicone mat or parchment paper before you start on the next donut.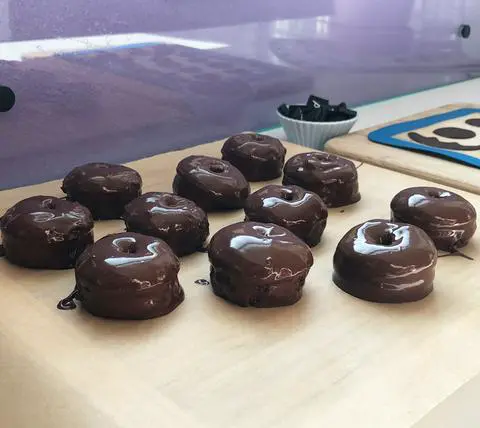 Add wings and ears to each donut once they're dipped. I used Scrabble pieces to prop up my ears, so that they would be in the middle of the Halloween donut, instead of on the bottom. (My partner doesn't like scrabble, so this is the most action these scrabble tiles have had in years.) You can use anything that's the right height: butter knives, chopstick rests, poker chips, get creative. If you use something dirty like coins, just wash them first before they touch your Halloween donuts. This process takes me about 40 minutes.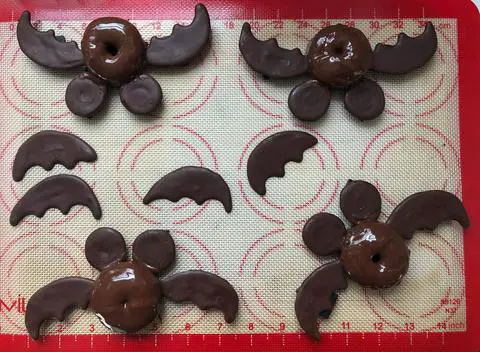 I took these cute Halloween donuts to a Halloween tea party last year, and they were a huge hit!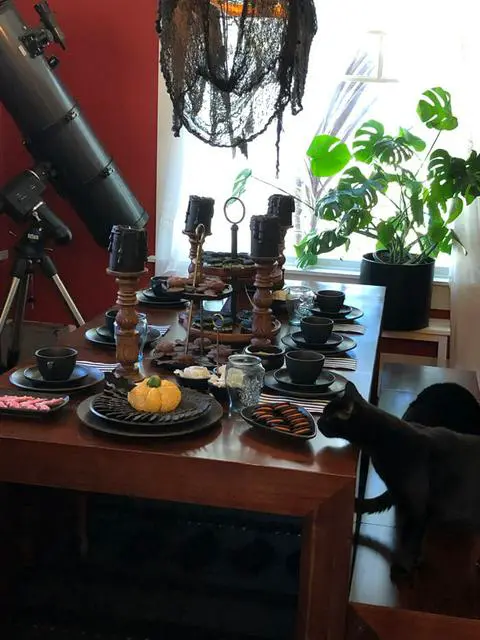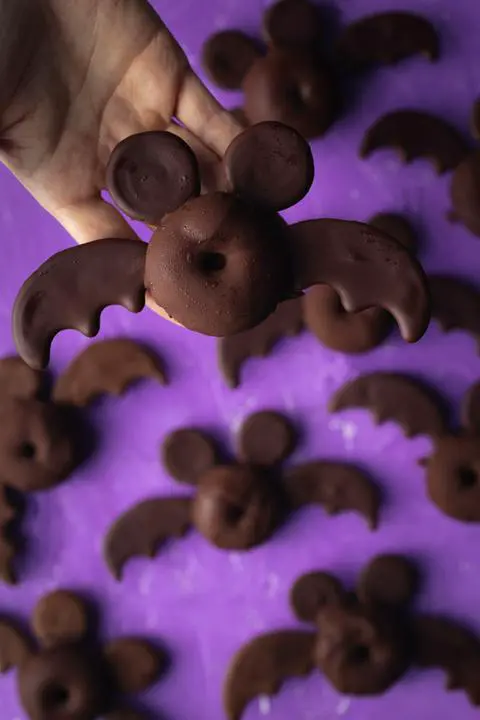 Can I use less sugar?
If you prefer less sweet desserts, you can cut the sugar back to ⅓ cup, and the recipe still comes out great.
I'm having a bat-themed party. Do you have other bat themed recipes?
Yessss! Check out my bat crackers and my ice cream batwiches.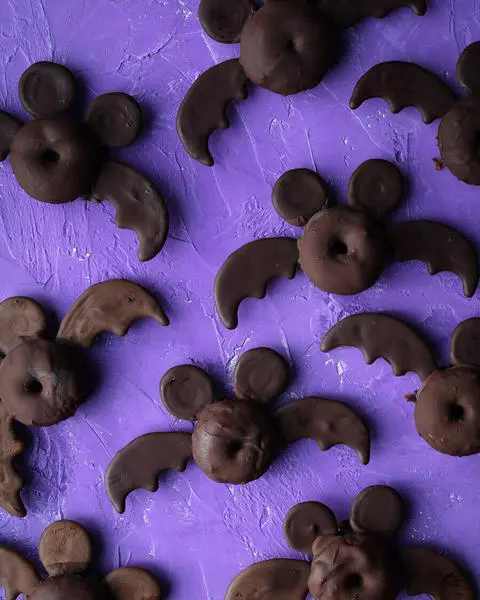 pumpkin pie spice: If you don't have a teaspoon of pumpkin pie spice, replace it with ½ teaspoon cinnamon, ¼ teaspoon nutmeg, ⅛ teaspoon cloves, and ⅛ teaspoon ginger.
oil: I recommend using safflower, sunflower, or coconut oil for baking these Halloween donuts because those oils are made for high heat, which helps you avoid transfats. However, you can use any other oil such as vegetable oil, canola oil, grapeseed oil, etc. People even use olive oil, but I don't recommend it.
vinegar: If you don't have apple cider vinegar, you can replace it with lemon or lime juice (or even white vinegar). You just need some sort of acid to interact with the alkaline baking soda to make the Halloween donuts rise.
nondairy milk: You can use any variety of non-dairy milk you want for this recipe. If you don't have the full amount of nondairy milk that this recipe requires, you can substitute any amount with water or nondairy creamer. You can also mix and match different nondairy milks. I do this a lot when my macadamia milk only has a little bit left at the bottom and I use it up, and then I open a new container of almond, oat, or soymilk.
flour: If you don't have all-purpose flour or you have some, but not enough, fear not. You can replace some or all of the flour in this Halloween donuts recipe with any combination of cake flour, wheat flour, spelt flour, or whole wheat pastry flour. It will taste healthier with some of these though.
sugar: For the sugar in the Halloween donuts recipe, you can use any number of sugars, as long as they're vegan: brown sugar, sucanat, coconut sugar, raw sugar, organic sugar, or demurara. If you're not sure if your sugar is vegan, you can contact the company and ask, but basically, just avoid conventional white sugar or granulated sugar, and you should be ok.
baking powder: Keep in mind that baking powder does expire, so it works best if it's fresh/newish.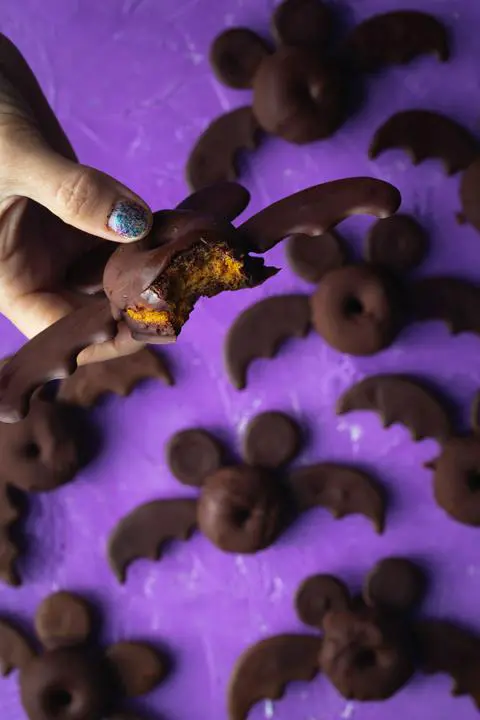 Related Recipes
If you like these pumpkin spice donuts, you might also like my coffin cake wands and my pumpkin spice birthday cake.
If you're looking for other Halloween recipes, I have an entire category of Halloween recipes.
☆☆☆☆☆☆☆☆☆☆
* I use mostly organic ingredients when I cook, but I realize that not everyone has the disposable income to purchase all organic ingredients. Therefore, I only specify organic on the ingredients that really matter - when buying the organic (or non-GMO) version is the only way to ensure that the item is vegan.
This post may contain affiliate links. Read more about them in my privacy policy.
☆☆☆☆☆☆☆☆☆☆