Vegan Pumpkin Coffin Cake
published on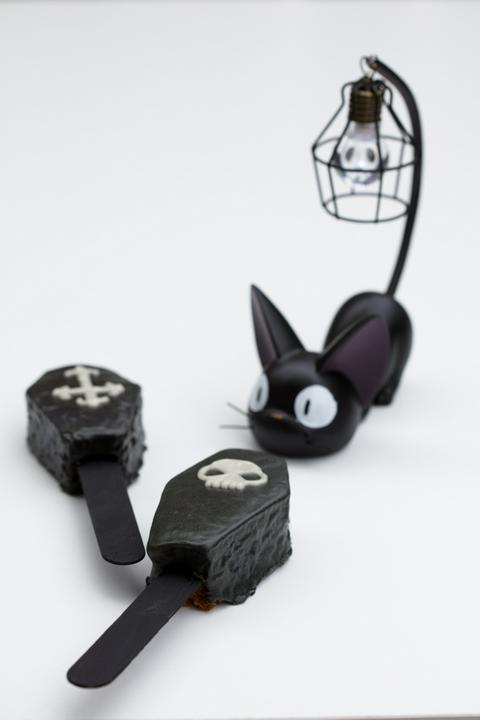 ♫ Listening to: Under Your Spell by The Birthday Massacre ♫
This recipe will make 12-16 coffin cake wands (depending on if you use a lasagna pan or 2 cake pans), and you'll get to eat all the leftover pieces after cutting the coffins out.
Vegan Pumpkin Spice Cake Ingredients
Dollhouse Shortcut
Buy the pumpkin spice bread mix from Trader Joe's instead of making it from scratch
1 cup nondairy milk
1 teaspoon vinegar (I used apple cider vinegar)
2 ½ cups organic unbleached white flour*
1 teaspoon baking soda
1 teaspoon baking powder
¼ teaspoon salt
1 tablespoon cinnamon
½ teaspoon nutmeg
½ teaspoon ginger
¼ teaspoon cloves
½ cup sunflower oil
1 ½ cups organic sugar*
1 can pumpkin
Vegan Pumpkin Spice Cake Directions
Preheat the oven to 350°. Oil a lasagna pan or 2 cake pans.
Combine vinegar and nondairy milk in the blender and let sit.
Sift together the flour, spices, soda, powder, and salt in their own bowl.
Add the oil, sugar, and pumpkin to the blender. Blend until combined.
Add the blended mixture to the dry ingredients and mix until no dry ingredients show.
Fill the pan(s) with all the batter using a spatula to smooth it out as flat as possible.
Bake for 35 minutes if you're using 2 round cake pans (or 40 minutes if you're using a lasagna pan).
Cut out as many coffins as possible using a coffin cookie cutter (only after the cake is completely cooled down).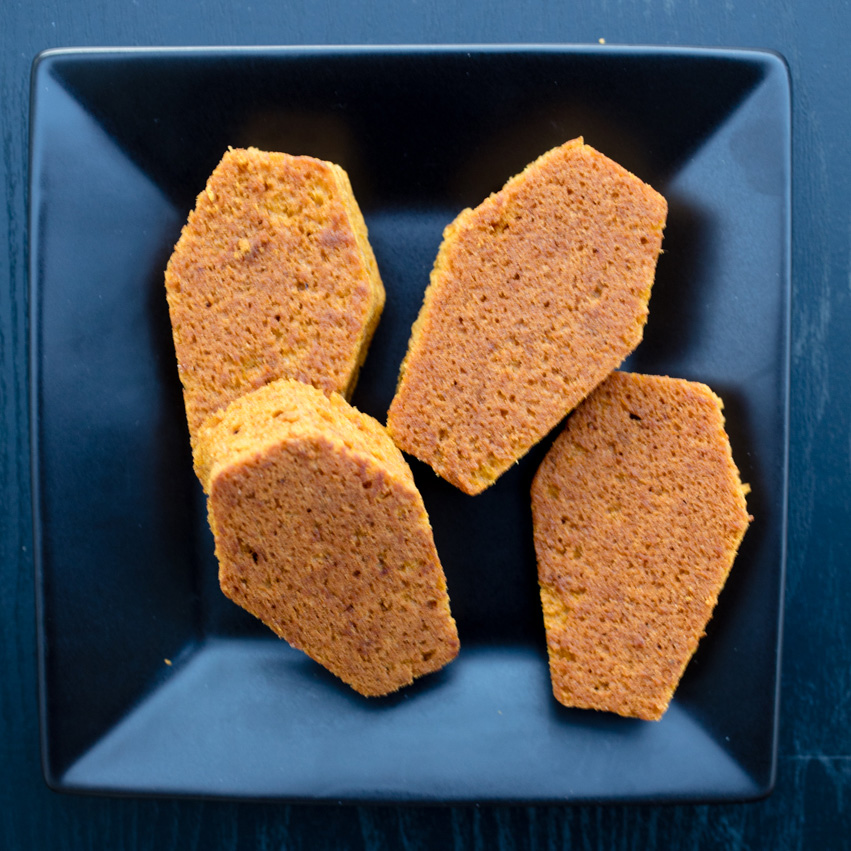 Vegan Coffin Cream Cheese Icing Ingredients
3 ounces melted coconut oil
2 ounces nondairy milk (plus more for thinning)
1 ounce lemon juice (with pulp removed)
1 teaspoon vanilla
3-4 cups sifted organic powdered sugar*
americolor black gel color (or you can substitute activated charcoal )
Vegan Coffin Cream Cheese Icing Directions
Whisk the oil, lemon juice, and 2 ounces of nondairy milk on high until well mixed.
Slowly whisk in the powdered sugar one cup at a time. Stop adding powdered sugar when the consistency is piping consistency (slightly thicker than molasses).
Fill a small squeeze bottle with icing.
Add americolor black gel color and 2 more tablespoons of nondairy milk to the rest and mix well. Add milk until the consistency is dipable (thinner than molasses). Other vegan food coloring options can be found here.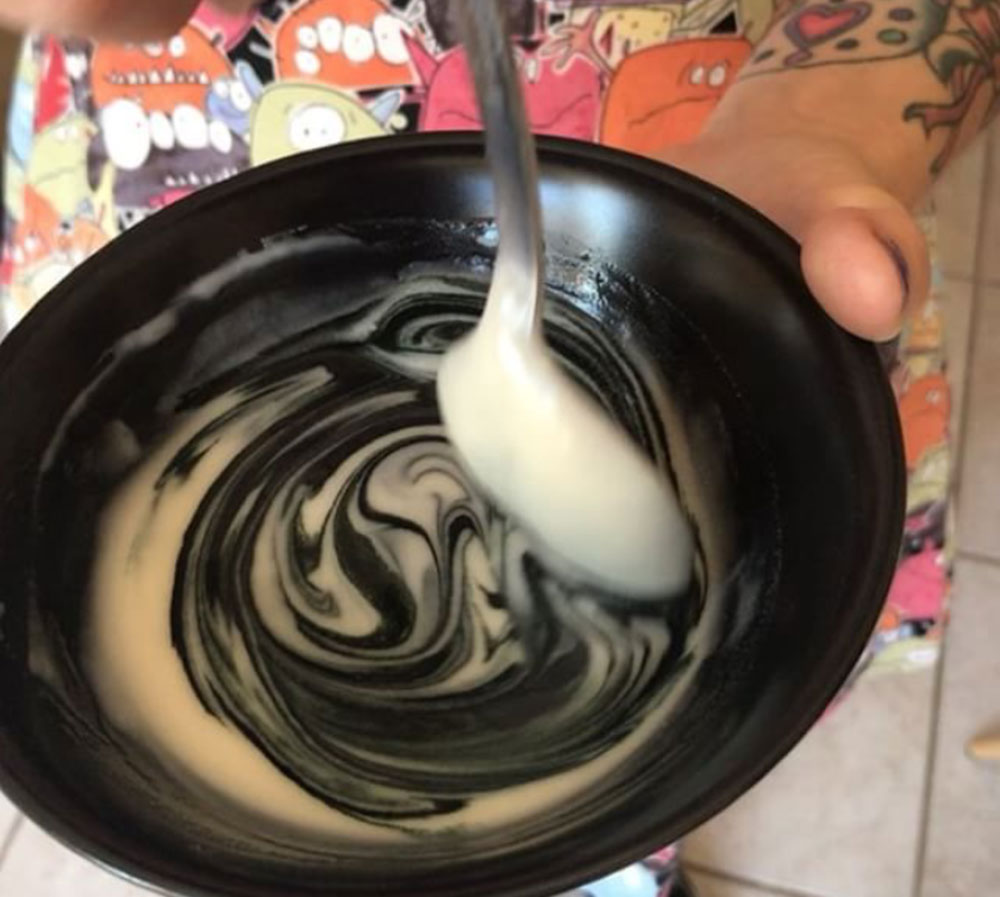 Stick a wooden popsicle stick into the narrow end of each coffin. (I painted my popsicle sticks black the night before to make them more goth.)
Cover the top and sides of each coffin wand with black icing. Let sit to dry.
Here's a video of how I cover the cake wands with black icing.
Decorate the coffin cake wands with white icing.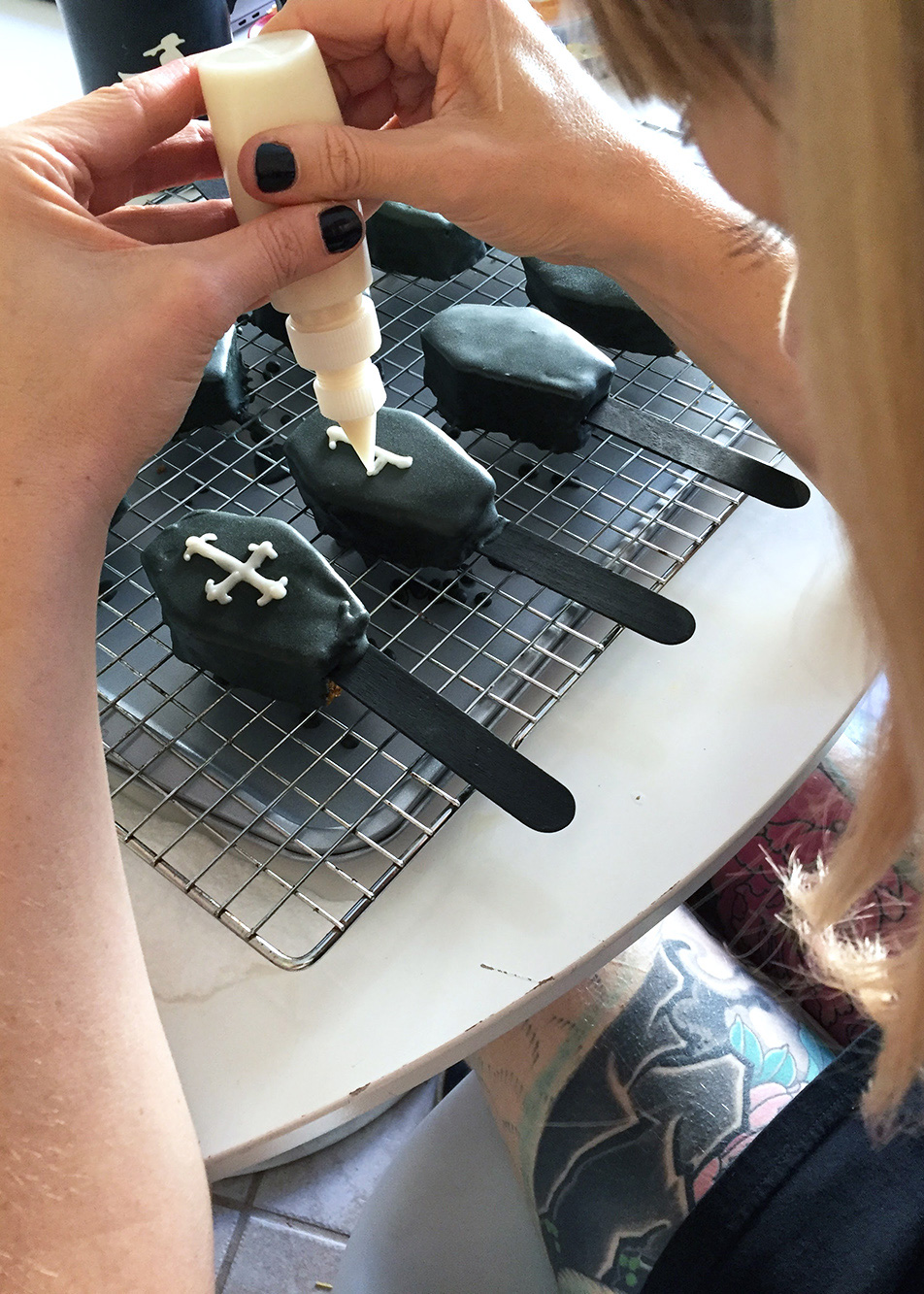 Here's a video of Jessica decorating the cake wands with white icing.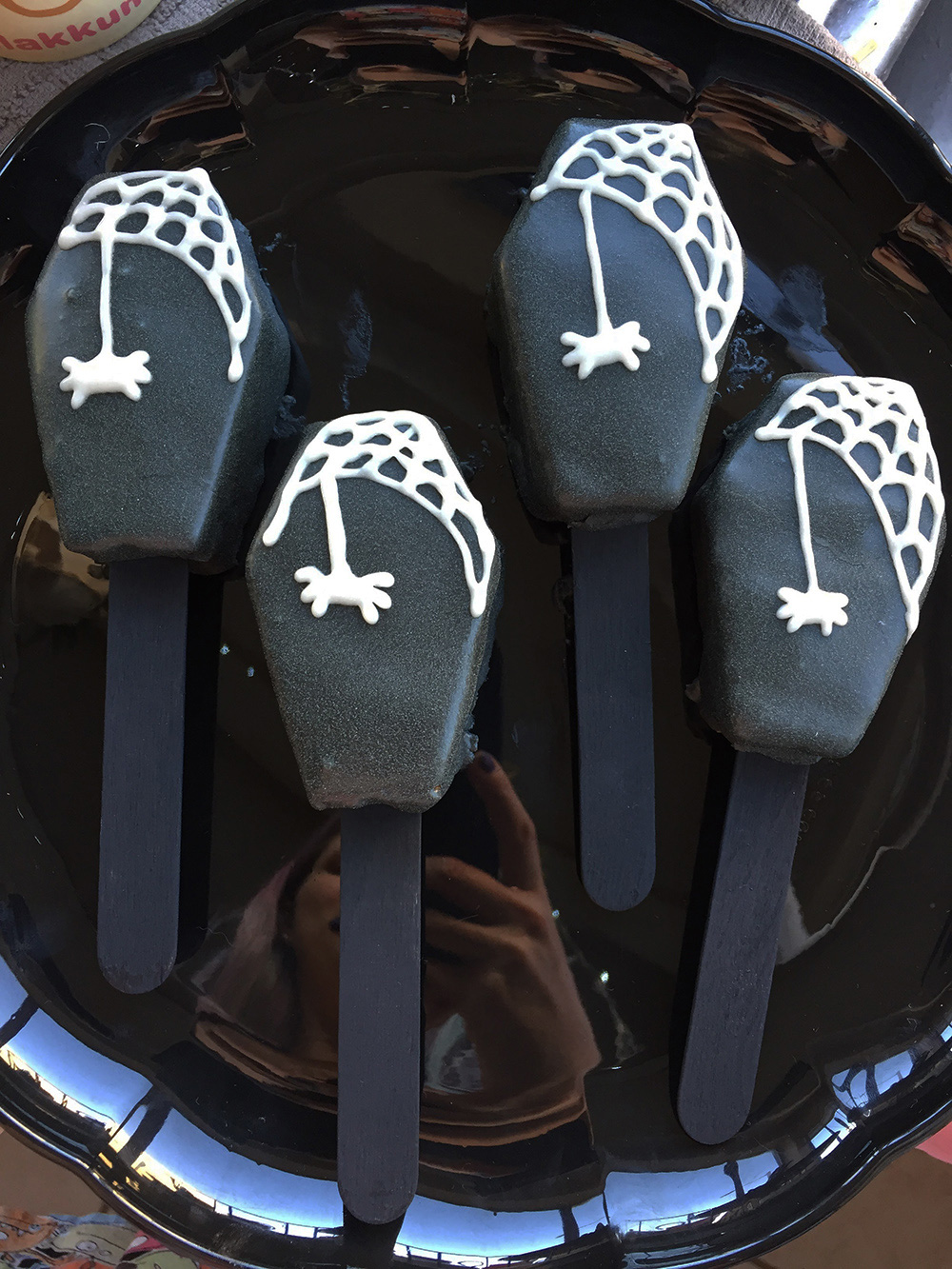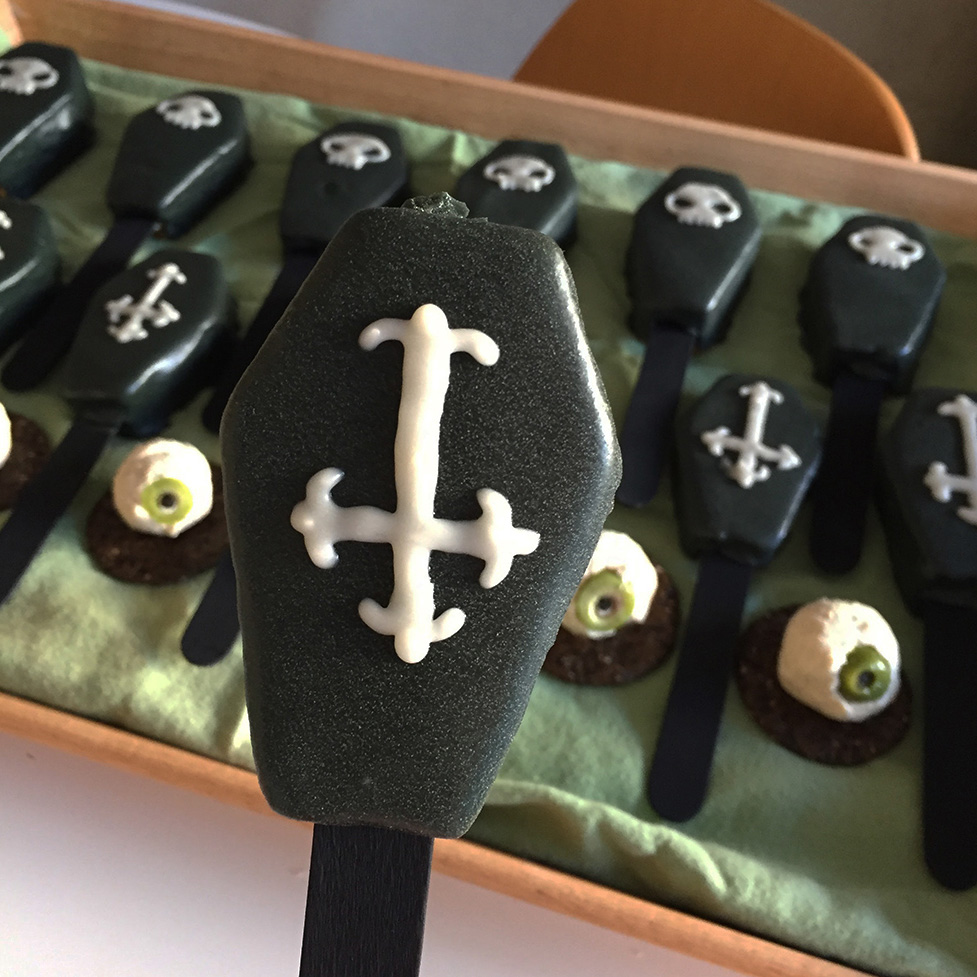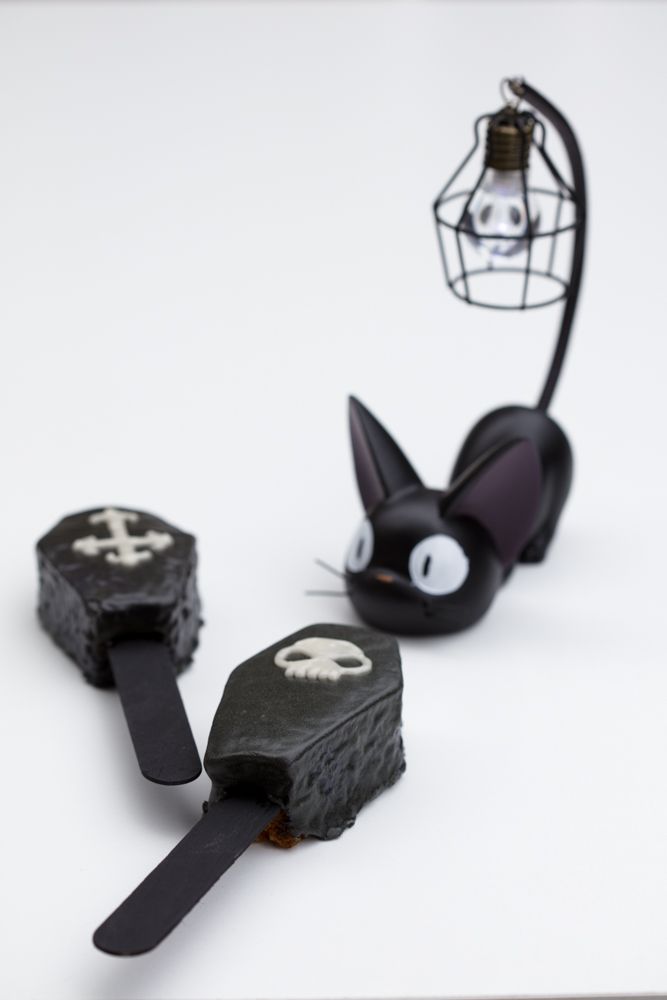 If you like these pumpkin spice coffin cake wands, you might also like my pumpkin spice bat donuts and my pumpkin spice cake. For other spooky recipes, check out my list of Spookicute Halloween Recipes.
☆☆☆☆☆☆☆☆☆☆
* I use mostly organic ingredients when I cook, but I realize that not everyone has the disposable income to purchase all organic ingredients. Therefore, I only specify organic on the ingredients that really matter - when buying the organic version is the only way to ensure that the item is vegan.