Rainbow Smash Cake
published on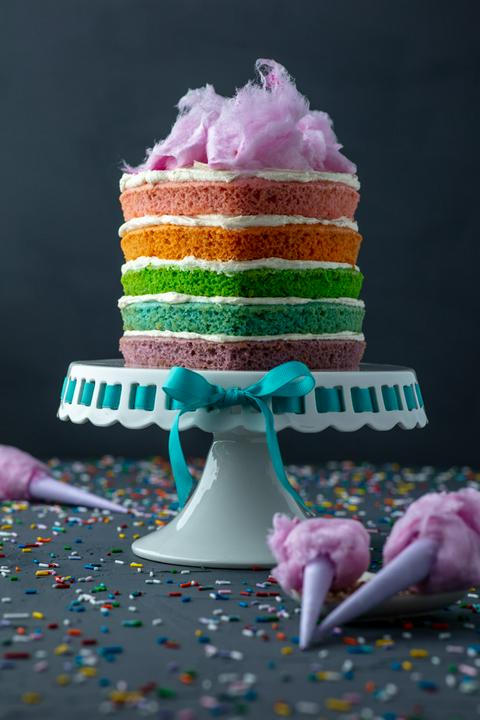 Celebrate St. Patrick's Day, pride, or birthdays with fluffy layers of bright colors and fun with this mini 6-inch vegan rainbow smash cake. Your little one can celebrate their birthday with a smash cake that's very photogenic, leveling up your photos of the event. This heart-shaped rainbow cake has 5 colorful layers of delicious vanilla cake, filled with fluffy vanilla buttercream frosting, and topped with vegan cotton candy.
Table of Contents
(click the links below to skip to the section you're looking for)
Listening to
♫ Sugar Rush by Lollypop Lane ♫
If you know anyone who might like a rainbow birthday cake, show them you care by making this and surprising them with it.
This recipe makes one 6-inch, heart-shaped, 5-layer rainbow smash cake.
5 tablespoons (~⅓ cup/75g) lemon or lime juice

2 cups (260g) all-purpose flour

¾ cup (165g) organic, vegan, or raw sugar*

1 teaspoon (6-7g) baking soda

large pinch of salt

½ cup (125ml/106g) safflower oil

1 cup (250ml/265g) nondairy milk*

2 teaspoons (8g) vanilla extract (don't use imitation vanilla, since it's often not vegan)

vegan food coloring (see below for the colors and amounts I used)
Vegan Rainbow Smash Cake Directions
Prep time: 45 minutes | Bake time: 16 minutes
Cut five parchment paper hearts and set them in the bottoms of each of the five heart pans(no oil needed).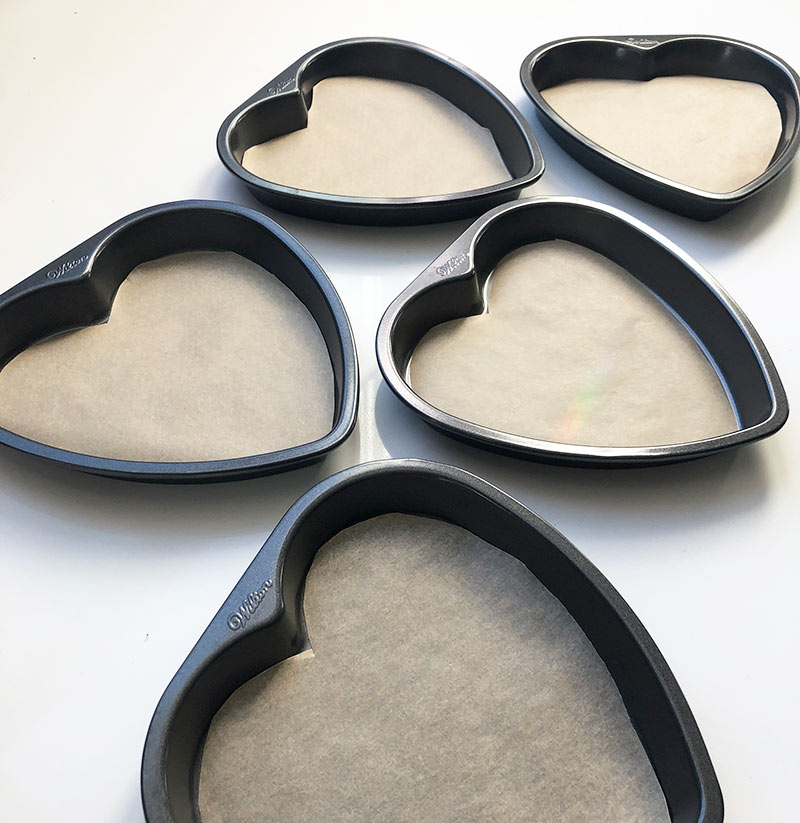 Preheat the oven to 325º.
Measure 1 tablespoon (15g) of lemon juice or lime juice into each of 5 different small dishes (5 tablespoons or around ⅓ cup total).
Sift the following dry ingredients into a bowl: 2 cups (260g) all-purpose flour, ¾ cup (165g) sugar, 1 teaspoon (6-7g) baking soda, and a large pinch of salt.
Weigh or measure all of your dry ingredients and divide by 5. Mine weighed 426 grams, so I divided the dry ingredients into 5 separate bowls with 85 grams of dry ingredients in each bowl (because 426 divided by 5 is 85).
Mix the following wet ingredients either with a stand mixer or just by hand: ½ cup (125ml/106g) safflower oil, 1 cup (250ml/265g) nondairy milk (if you buy soymilk, make sure it's organic or non-GMO), and 2 teaspoons (8g) vanilla extract (if your nondairy milk is vanilla flavored, reduce this to 1 teaspoon).
Weigh or measure all of your wet ingredients and divide by 5. Mine weighed 373 grams, so I added 75 grams into each of the 5 separate bowls with the dry ingredients in them (because 373 divided by 5 is around 75).
Color the batter at the same time that you add the wet ingredients. I have an entire webpage all about vegan food coloring in case you're interested. I used the following Wilton gel colors for this cake. When I say "dip" I'm referring to dipping a toothpick into the gel color because Wilton gel colors just come in a little container with a screw lid, not a bottle with a dropper.
Layer 1 - pink/red: 1 dip of wilton rose gel color and 1 dip of wilton pink gel color
Layer 2 - orange: 3 dips wilton orange gel color
Layer 3 - green: 3 dips of wilton green gel color
Layer 4 - blue: 2 dips of wilton royal blue gel color
Layer 5 - purple: 1 dip of wilton pink gel color and 3 dips of wilton purple gel color
Add 1 tablespoon (15g) of lemon or lime juice to the bowl with the red/pink batter, mix, and transfer into the first heart pan, using a small silicone baking spatula to make sure you get every last bit of batter.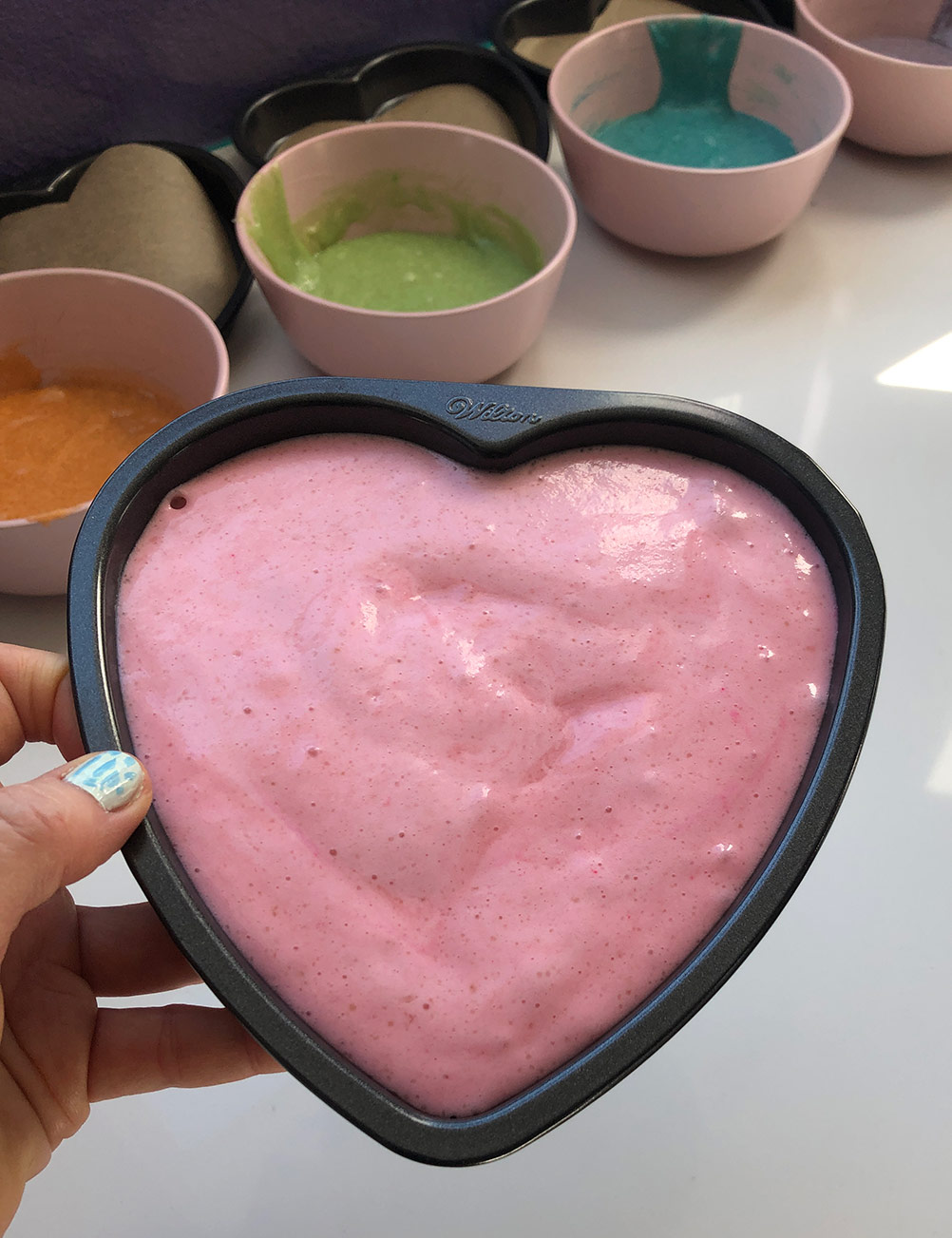 Repeat with each color of batter until all 5 cake pans are ready to go into the oven.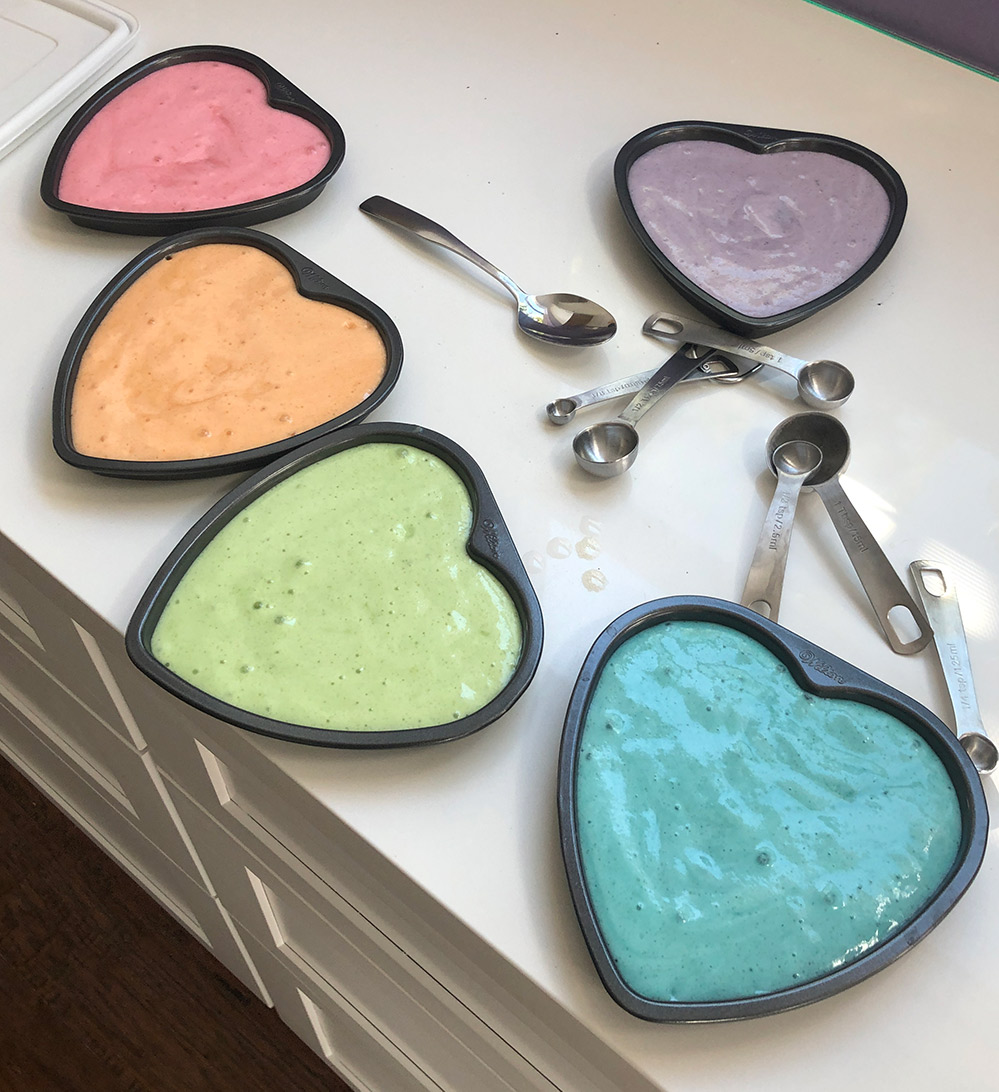 Set all the pans on the same rack in the oven (the rack that's most in the middle). This will help them all bake at the same rate.
Bake at 325º for 16-18 minutes. I baked mine for 16 minutes, but my oven runs hot. You'll know they're done when you stick a toothpick in the center of them, and it comes out clean.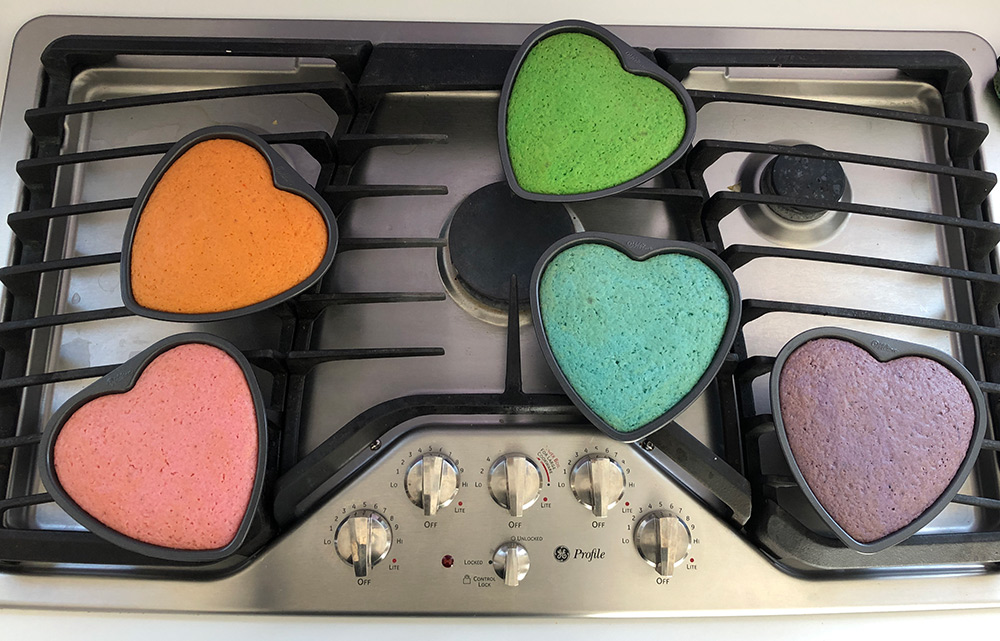 Cool on cooling racks for 5 minutes before flipping them upside down on the cooling racks to cool completely.
Parchment Paper
$5.49 from Amazon
Silicone Spatula
$7.99 from Amazon
6" Heart Cake Pans
order from Amazon
⅓ cup (60g) vegan butter or margarine (I use organic whipped earth balance)*

⅓ cup (64g) organic palm shortening*

1 teaspoon (4g) vanilla extract

1 ½ cups (180g) organic powdered sugar*

1 teaspoon nondairy milk, room temp (I used oat milk)
Vegan Vanilla Cloud Frosting Directions
Prep time: 20 minutes
Whisk 1 teaspoon (4g) vanilla, ⅓ cup (60g) vegan butter or margarine, and ⅓ cup (64g) Spectrum organic and sustainable palm shortening until it's light and fluffy, using a stand mixer or a handheld electric mixer with the whisk attachment on medium speed. It might be possible to do this by hand if you have a lot of upper body strength and time. With an electric mixer, this step takes 3-5 minutes. By hand, it could take 20 minutes.
Stop the mixer after a couple minutes and use a baking spatula to scrape the sides and bottom of the mixer bowl. Mix again.
Sift in 1 ½ cups (180g) organic powdered sugar, half at a time, mixing thoroughly and scraping the bowl with the baking spatula after each addition.
Add 1 teaspoon of nondairy milk, if needed, to get the frosting to be a creamy and spreadable consistency.
Stand Mixer
$349.95 from Amazon
Silicone Spatula
$7.99 from Amazon
Spectrum Sustainable Organic Palm Shortening
$27.38 from Amazon
assembling the cake: 15min
Smear a little bit of frosting onto the cake plate, cake board, or cake stand you plan to assemble your rainbow cake on.
Place the purple layer first. If your cakes didn't fall out of the cake pans on their own, they might need a little help. Just shimmy a baking spatula along the sides of the entire cake, and then turn the cake pan upside down and the cake should fall out. Remove the parchment paper and throw it away.
Spread buttercream frosting on the purple layer.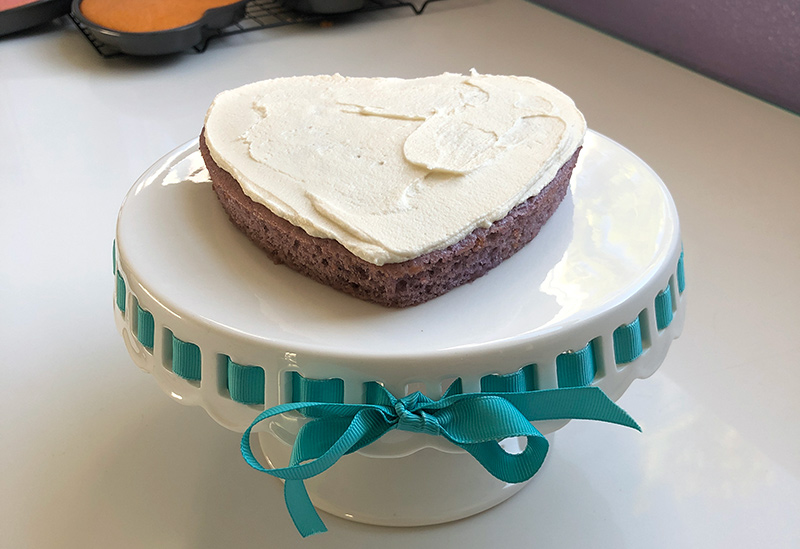 Add the blue layer next. Continue this with all of the layers of the rainbow.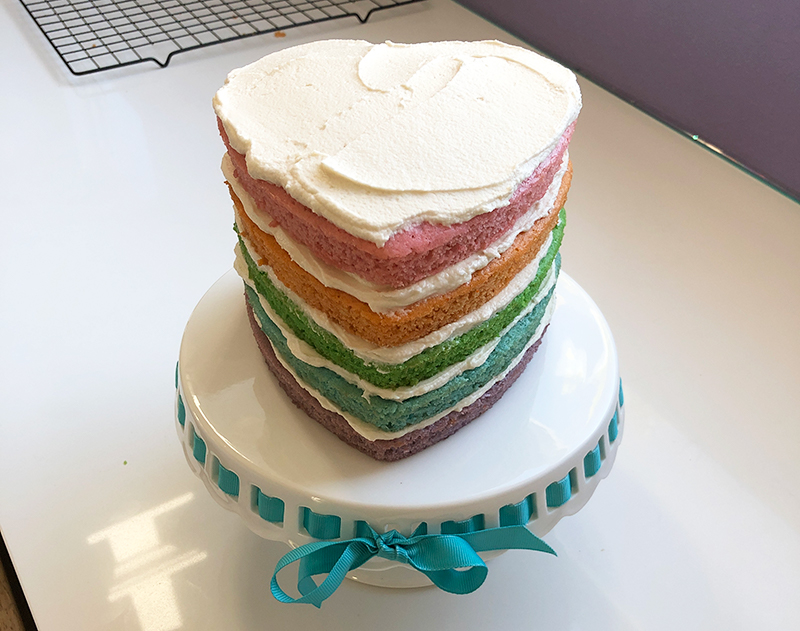 Top with vegan cotton candy right before serving. You don't want to add cotton candy too early or it will start to dissolve. I used Maud Borup Unicorn Dream Cotton Candy because it's sold at Whole Foods and is organic and vegan.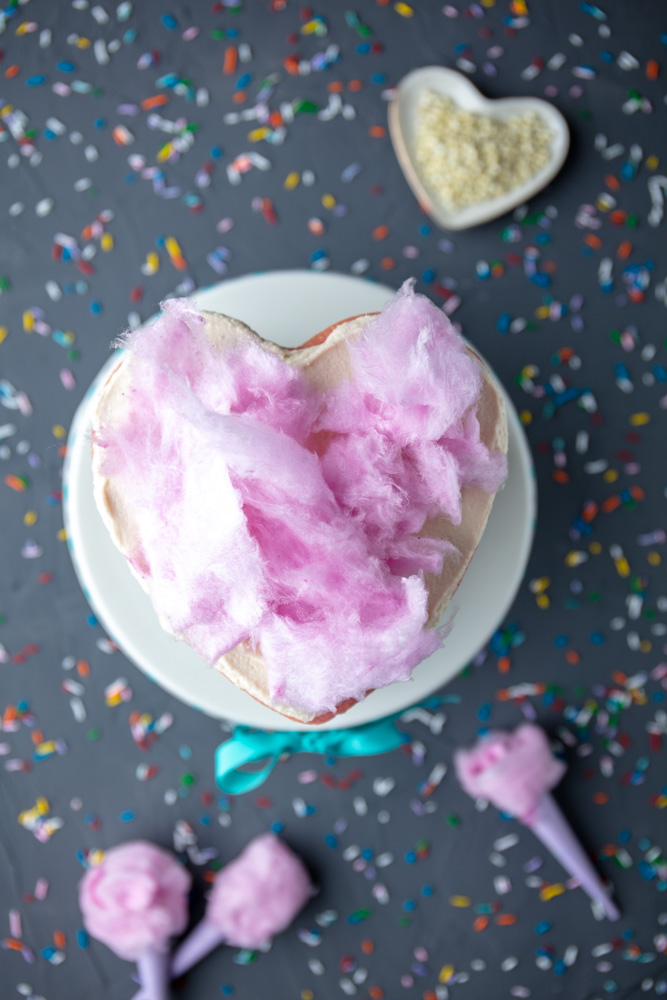 If you make this rainbow cake, snap a pic, post to instagram, and tag me @vegandollhouse. I love to see your creations! You can also message me through instagram or email me if you have any questions about the recipe.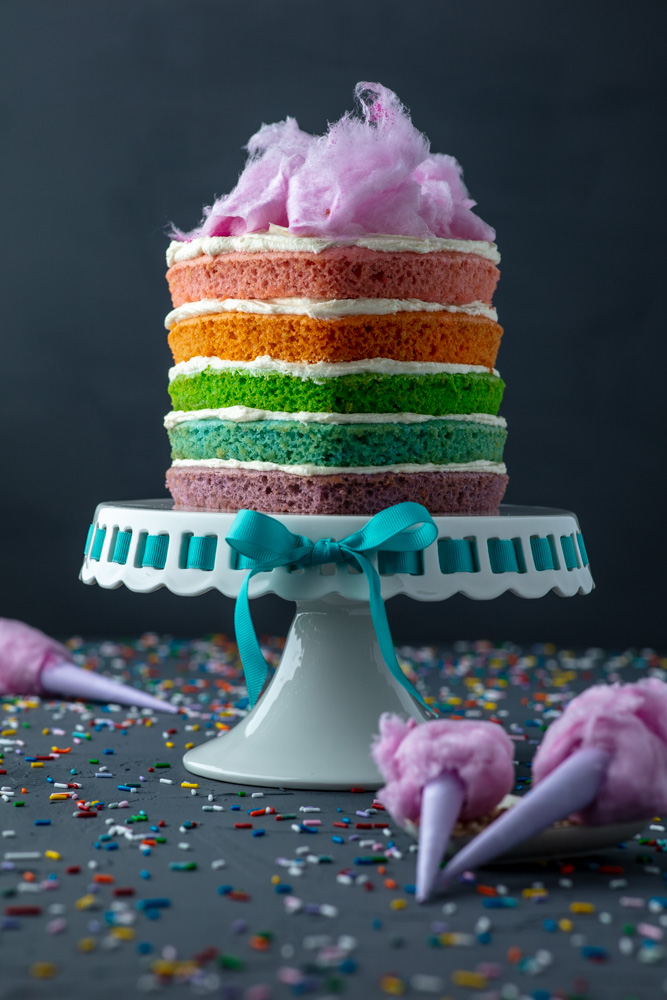 Tip 1: Use room temperature ingredients
Whenever you make cakes, if you have time to leave the ingredients out on the counter for a bit before you start the recipe, your results will be better.
Tip 2: Don't overmix at the end
The moment you add the lemon juice to the batter, the chemical reaction that makes cakes rise begins. You want to work quickly once this process begins so that they're doing the rising while they're in the oven baking.
Can I make this vegan rainbow cake with less sugar?
This rainbow cake already has less sugar than most cakes, but if the nondairy milk you are using is sweetened, you can reduce the amount of sugar you use by that same amount. You do have to do some math, which may not make you happy to hear, but I'll give you an example, which will hopefully make it easier.
This rainbow cake recipe calls for 1 cup of nondairy milk. My oat milk says that a serving is 1 cup and has 7 grams of sugar in it. So, I can reduce the sugar from 165 grams to 158 grams. You're of course also welcome to just experiment and use less sugar and see how you like the results. If you reduce the amount of sugar in the recipe, you don't have to make any changes to the other measurements. If you want to reduce the sugar in the frosting recipe, replace the 1 ½ cups of powdered sugar with 1 ⅓ cups of powdered sugar, and omit the nondairy milk so it stays thick enough to decorate with. Or you can use coconut whipped cream in place of the buttercream, which has substantially less sugar.
Can I make this rainbow cake gluten free?
Yes! Just use a gluten-free flour blend in place of the all-purpose flour.
I don't have 6" heart pans. Can I make this cake in other pans?
You can make this rainbow smash cake with any 4-6" pans you have, as long as you have 5 of them. If you have fewer than 5, you'll have to wait until the first cakes are done cooling, so plan accordingly to make sure you have enough time. Since 4" pans will make taller cake layers, you may need to bake them a little bit longer. Check them after 15 minutes, and then every 3 minutes thereafter just to be safe.
How do I store this rainbow cake?
Here's a cheat sheet for storing cakes that are assembled and decorated.
Oil: I recommend using safflower, sunflower, or coconut oil for baking cakes because those oils are made for high heat, which helps you avoid transfats. However, you can use any other oil such as vegetable oil, canola oil, grapeseed oil, etc. People even make cakes with olive oil, but I don't recommend it.
Lemon Juice: If you don't have lemon or lime juice, you can replace it with apple cider vinegar (or even white vinegar). You just need some sort of acid to interact with the baking soda to make the cake rise.
Shortening: If you don't have access to Spectrum organic and sustainable palm shortening (or any vegan shortening), you can replace it with additional vegan butter or margarine. My favorite is the organic whipped Earth Balance, but if you avoid soy, you can buy the soy-free Earth Balance. If you do this, your frosting will be less stable at room temperature, so you should keep it in the fridge instead of on the counter, if your house is warm.
Nondairy Milk: If you don't have the full amount of nondairy milk that this recipe requires, you can substitute any amount with water, nondairy creamer, or coconut water. You can also mix and match different nondairy milks. I do this a lot when my macadamia milk only has a little bit left at the bottom and I use it up, and then I open a new container of almond, oat, or soymilk*.
If you like rainbow recipes, check out my rainbow category.
☆☆☆☆☆☆☆☆☆☆
* I use mostly organic ingredients when I cook, but I realize that not everyone has the disposable income to purchase all organic ingredients. Therefore, I only specify organic on the ingredients that really matter - when buying the organic (or non-GMO) version is the only way to ensure that the item is vegan.
☆☆☆☆☆☆☆☆☆☆