Funfetti Pancakes
published on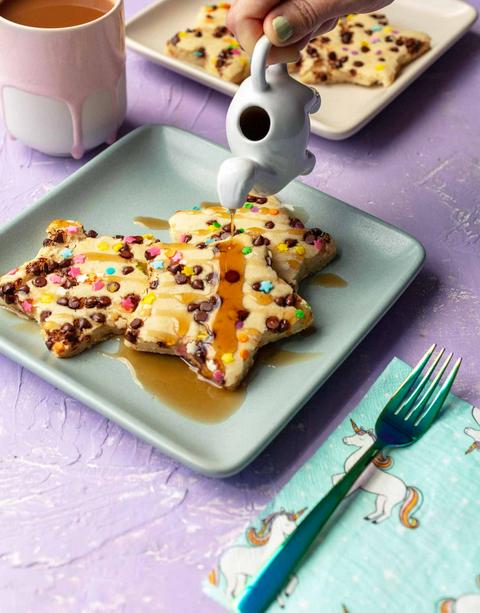 ♫ Listening to: San Diego by Hinds ♫
These vegan sheet pan pancakes are a quick and easy way to make pancakes for 8-10 people and have them all be ready at the same time. If you've ever hosted a brunch at your house, then you know what it's like to be standing over the stove for an hour making pancakes for a large group.
Once I had a vegan dinner brunch potluck at my house, and I was in the kitchen making pancakes while everyone else was in the living room sitting around the dining room table (all my houses in the SF bay area were quite small so often the dining area was in the living room). So, I have an iSi whipped cream maker that I bought a long time ago when there weren't many options for vegan store-bought whipped cream. And you can't have pancakes without whipped cream, right? So my iSi was out on the table, along with other pancake toppings. I guess Kimmy had never used the iSi whipped cream maker before and when she went to squirt whipped cream onto her pancakes, she underestimated its power, and the whipped cream ricocheted off her pancakes and sprayed all over Jessie and her mom. It sounded hilarious, but I missed the whole thing because I was stuck in the kitchen making pancakes. If I had this recipe back then, I wouldn't have missed the great whipped cream incident of 2017.
So, if you don't want to miss the friend circle event of the decade, destined to be talked about for the rest of everyone's lives, then I highly recommend this oven pancake recipe for all of your future brunch gatherings. They're easy to make and they can be made oil-free if you avoid oil. These also make a great breakfast on the go if you cut them into steak fries shapes and bring a tupperware of syrup to dip them into.
If you prefer waffles over pancakes, check out my mounds waffles recipe.
This recipe makes 8-10 servings of vegan chocolate chip funfetti pancakes.
Vegan Funfetti Sheet Pan Pancakes Ingredients
3 cups (420g) all-purpose flour (I used unbleached organic flour)

3 tablespoons (36g) baking powder (I used non-aluminum)

3 tablespoons (45g) vegan, raw, or organic sugar*

⅛ teaspoon salt

3 cups (680ml) nondairy milk (or water - I used half soymilk and half water)

½ cup (85g) mini chocolate chips (I use fair-trade)

vegan sprinkles (I used pastel quins and stars)
Vegan Funfetti Sheet Pan Pancakes Directions
Preheat the oven to 425º F (220º C).
Sift the following ingredients: 3 cups (420g) flour, 3 tablespoons (36g) baking powder, 3 tablespoons (45g) sugar, and ⅛ teaspoon pink sea salt into a bowl, and whisk.
Add the 3 cups (680ml) of liquid (any combination of nondairy milk and/or water), and whisk again until you can no longer see any dry ingredients.
Coat a baking sheet using whatever vegetable oil you have (I used sunflower oil). The size of the baking sheet I used is 17" x 11" x 1". If you avoid oil, line the bottom of the baking sheet with parchment paper instead.
Pour the pancake batter onto the pan, tilting the pan a bit if needed to get the batter even.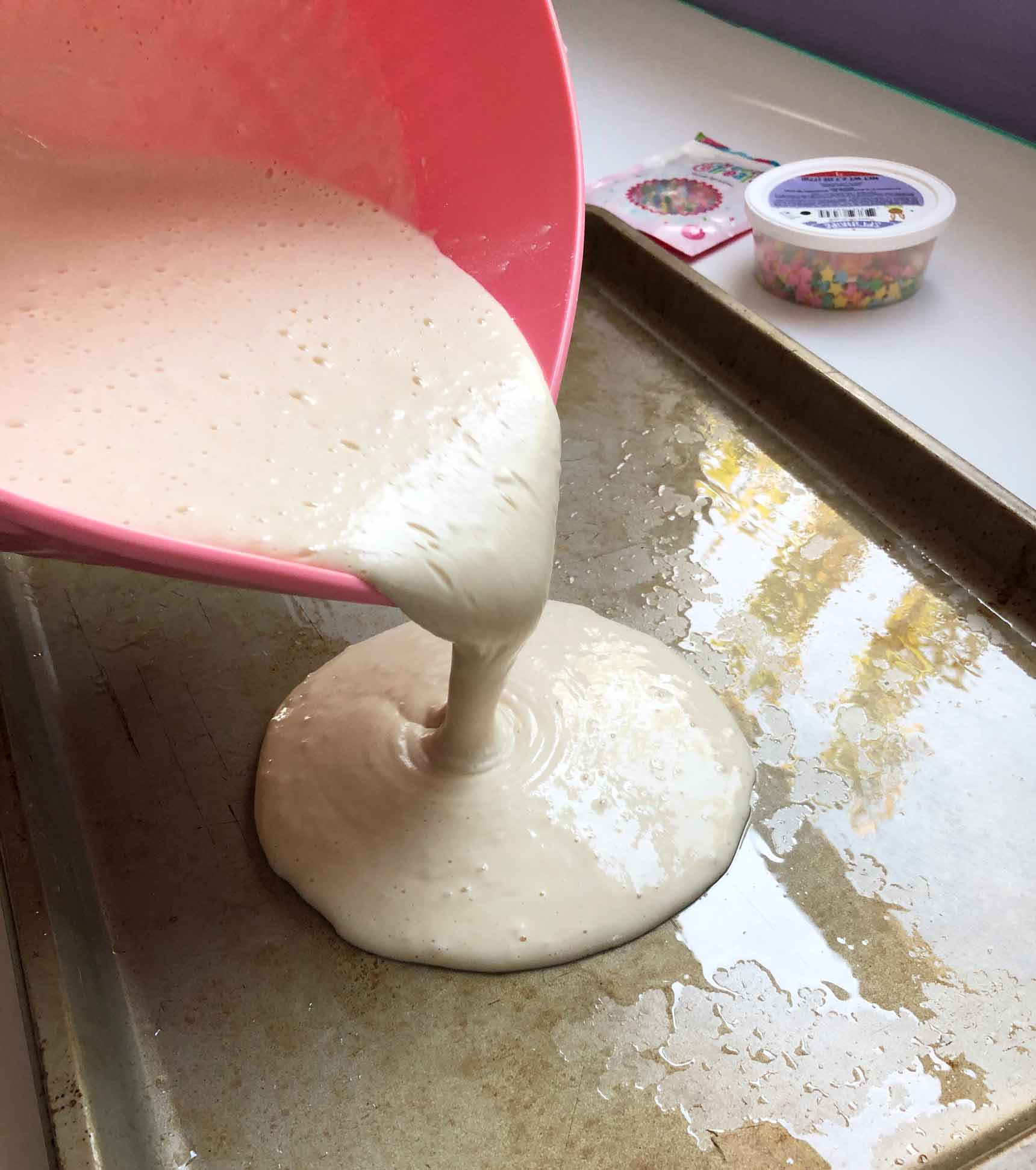 Sprinkle ½ cup (85g) of mini vegan chocolate chips all over the top of the pancake batter.
Sprinkle vegan sprinkles evenly all over the top of the pancake batter. I used pastel quins and stars.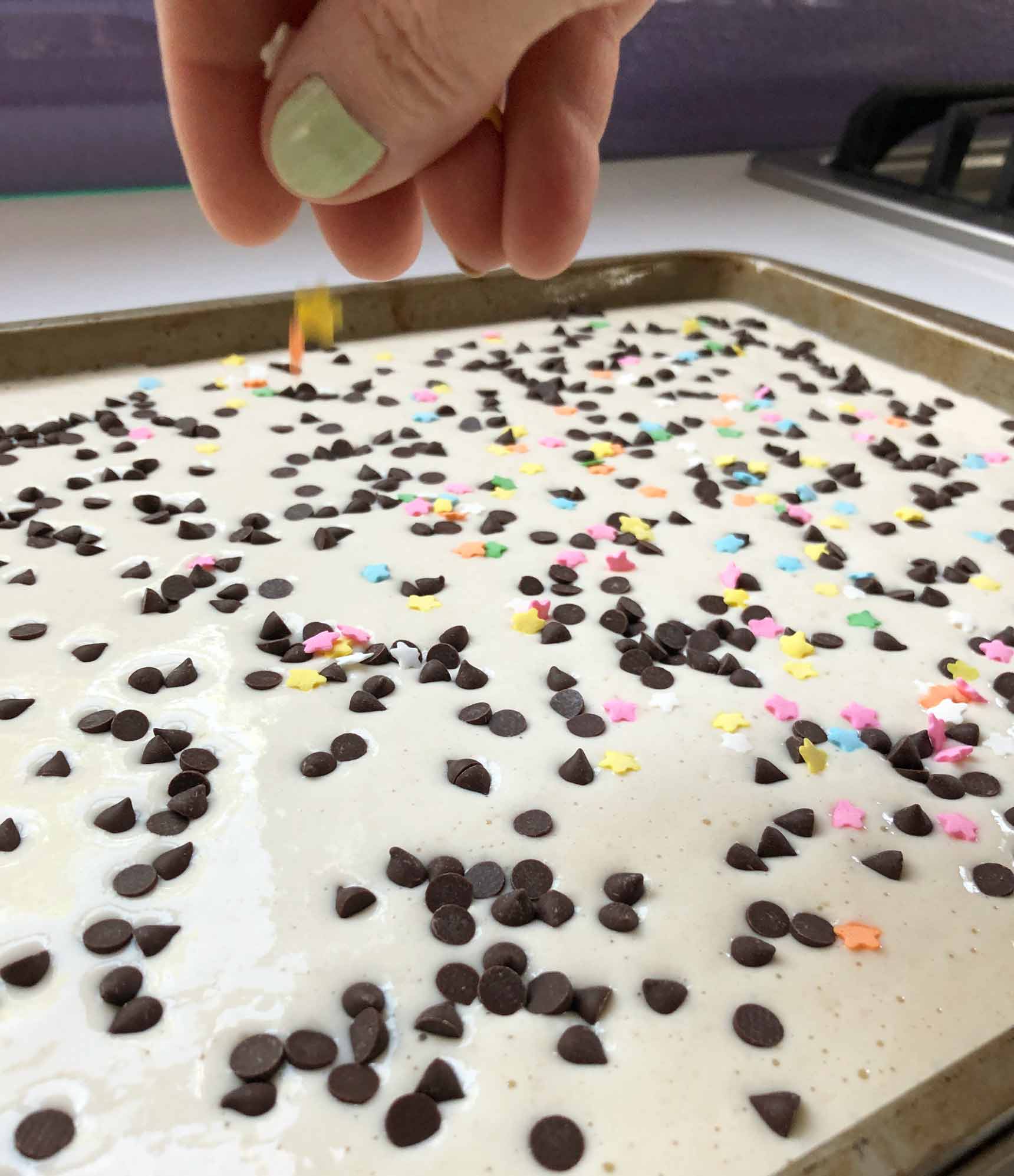 Optional: If you prefer pancakes with fruit, now is the time to scatter thinly sliced fruit slices around the top.
Bake at 425º F (220º C) for 15 minutes.
Remove from the oven and let cool for a few minutes before cutting.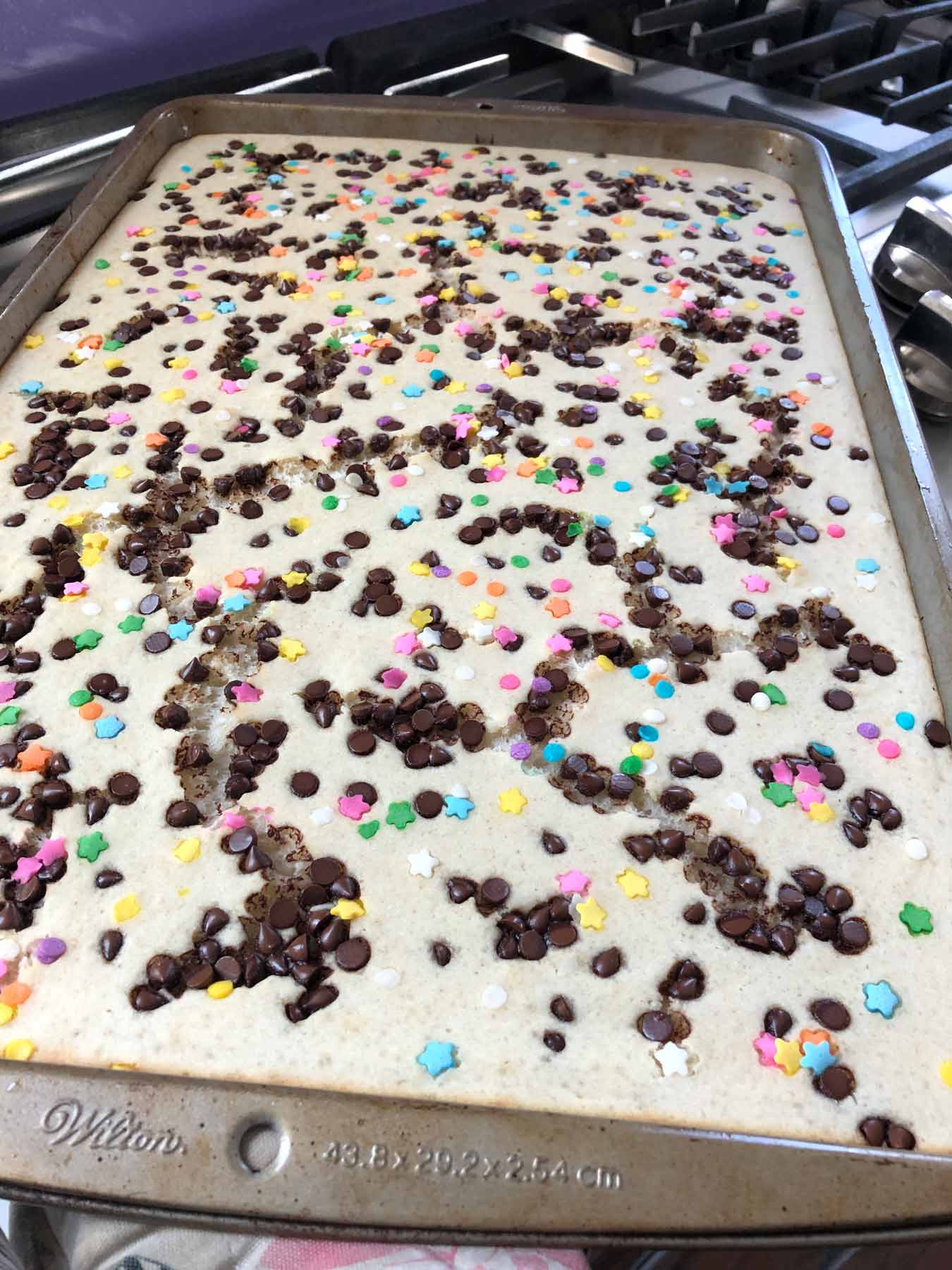 Cut into cute shapes using a cookie cutter or just cut squares.
Serve immediately, or return to the oven at 200º F (95º C) to keep warm until ready to serve.
Wrap and freeze any leftovers to reheat later.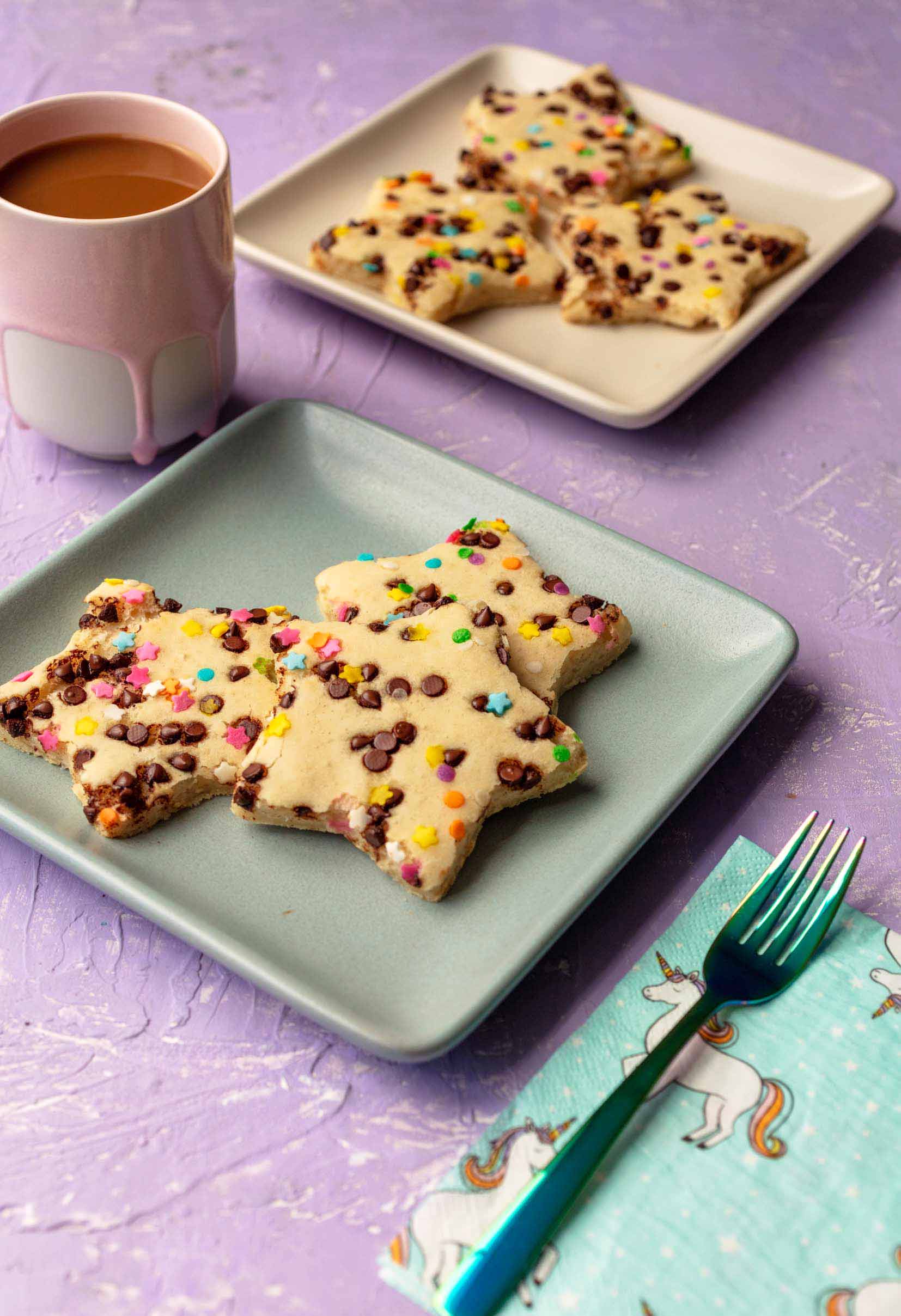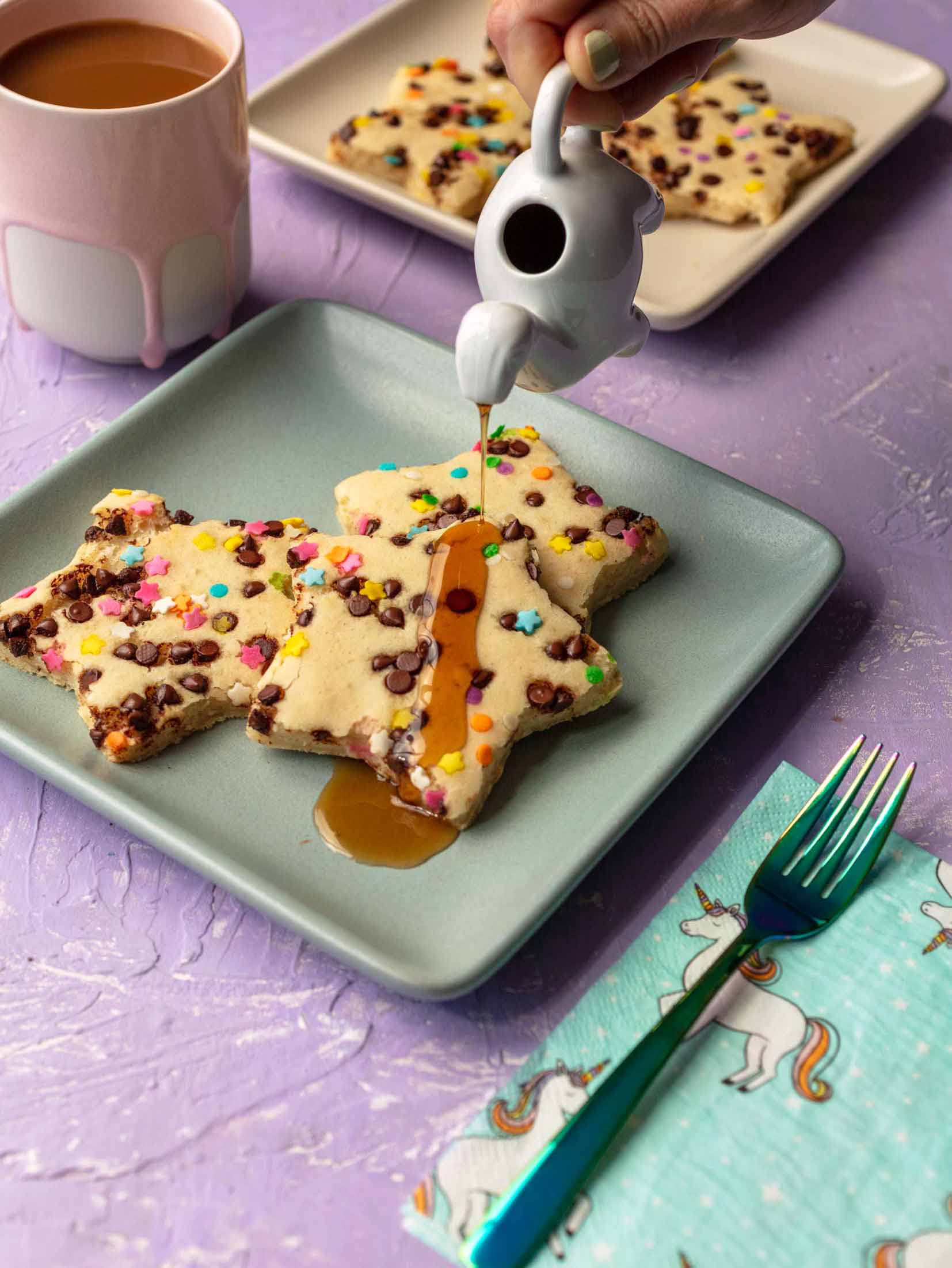 If you like my dinosaur creamer that I used for my syrup in these pictures and want one for yourself, click on the dinosaur creamer link to buy one (using my amazon affiliate links throughout this website supports me to continue making cute recipes for you).
☆☆☆☆☆☆☆☆☆☆
* I use mostly organic ingredients when I cook, but I realize that not everyone has the disposable income to purchase all organic ingredients. Therefore, I only specify organic on the ingredients that really matter - when buying the organic version is the only way to ensure that the item is vegan.