Eggnog Snow Globe Cupcakes
published on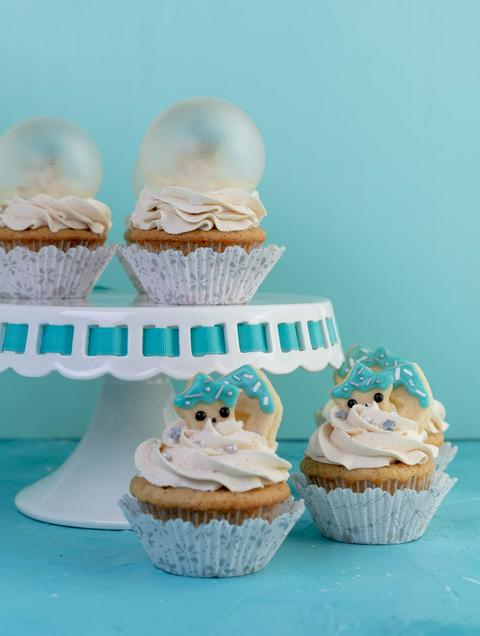 ♫ Listening to: Major Tom by Peter Schilling ♫
I've been wanting to make snow globe cupcakes for 2 or 3 years, but the holiday months are always so busy that I never have time. Well, thanks pandemic for granting me days off work but an inability to plan events with friends. I was scrolling through instagram and saw Icing On Top's post and was re-inspired to make them again! The isomalt I use for my glass domes is vegan, cruelty-free, and non-GMO.
If you like baking cute kawaii christmas recipes that are vegan, you might also like my mini wreath cakes and my nightmare before christmas reindeer cookies.
This recipe makes 8 vegan snow globe cupcakes.
Vegan Eggnog Cupcake Ingredients
⅔ cup vegan eggnog (I like the so delicious coconut nog)

2 teaspoons apple cider vinegar (or white vinegar)

⅔ cup + ½ cup (140 grams) organic unbleached flour

½ teaspoon baking soda

½ teaspoon baking powder

1 teaspoon nutmeg

2 pinches of salt (I use a fine grain pink sea salt)

4 tablespoons sunflower oil (I use sunflower for health reasons, but you can use any vegetable oil)

6 tablespoons organic or raw sugar*

1 teaspoon vanilla extract
Vegan Eggnog Cupcake Directions
Dollhouse Shortcut
Save time by either starting with store bought cupcakes and skipping to the decorating steps or by skipping the decorating steps and just making vegan eggnog cupcakes.
Preheat the oven to 350°.
Line a cupcake pan with 8 paper liners.
Whisk the 2 teaspoons apple cider vinegar into the ⅔ cup vegan eggnog and set aside.
Sift and whisk the dry ingredients together in a bowl: ⅔ cup + ½ cup flour, ½ teaspoon baking soda, ½ teaspoon baking powder, 1 teaspoon nutmeg, and 2 pinches of salt.
Combine the wet ingredients (eggnog mixture, 4 tablespoons oil, 6 tablespoons sugar, and 1 teaspoon vanilla extract) together in the bowl of the stand mixer if you have one (if you don't have one, just grab the largest bowl you have (ideally one with high sides).
Mix wet ingredients until you no longer hear the sugar scraping on the bottom of the bowl (about 3-4 minutes on high).
Add the dry ingredients to the mixing bowl and mix just until incorporated.
Scrape the sides and bottom of the mixing bowl with a silicone spatula and mix again for a few seconds.
Fill the cupcake cubbies with an equal amount of batter in each one. Mine ended up being around ¾ of the way full.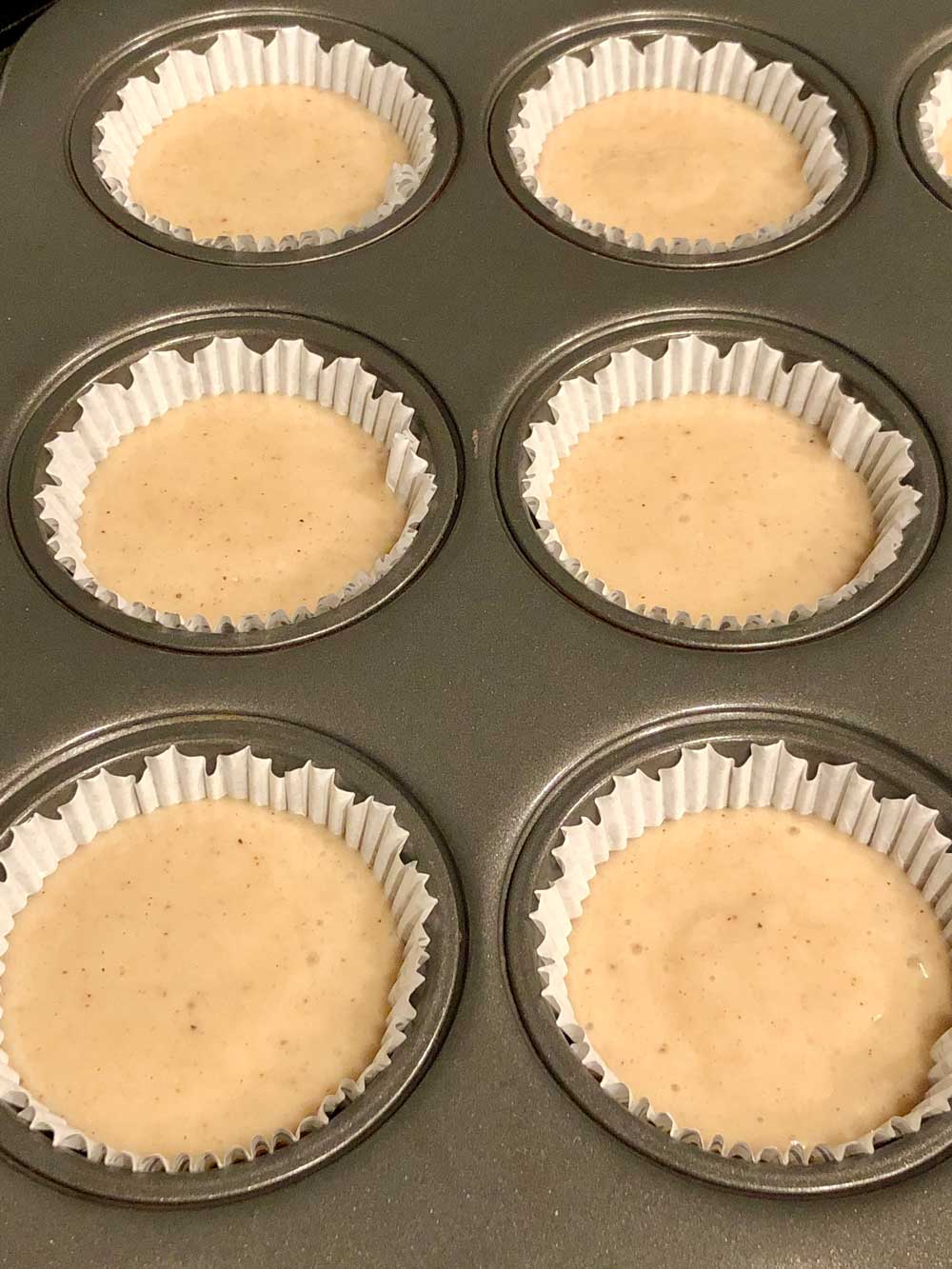 Bake for 18 minutes.
Set the cupcake pan on a cooling rack for at least 15 minutes before removing them from the pan.
Vegan Eggnog Buttercream Frosting Ingredients
⅓ cup vegan butter or margarine (I like the organic whipped earth balance)*

⅓ cup organic palm shortening*

1 ½ teaspoons vanilla extract

1-2 teaspoons vegan eggnog (as needed for consistency)

1 ⅔ cups organic powdered sugar*

½ teaspoon nutmeg
Vegan Eggnog Buttercream Frosting Directions
Dollhouse Shortcut
If you don't have a piping bag, just use a butter knife to spread the frosting generously on top of the cupcakes.
Gather all of your ingredients on the counter before you start. This will give your vegan butter some time to warm up to room temp before you start.
Measure 1 ½ teaspoons vanilla extract, ⅓ cup earth balance, and ⅓ cup spectrum sustainable organic palm shortening into the bowl of the stand mixer and mix on high speed until it's fluffy (this usually takes around 3-5 minutes). You can use a handheld electric mixer if you don't have a stand mixer.
Sift 1 ⅔ cups organic powdered sugar and ½ teaspoon nutmeg into the mixing bowl.
Mix on high for a couple of minutes.
Add vegan eggnog, ½ teaspoon at a time, mixing in between each addition, until the frosting is a smooth consistency.
Fill a piping bag fitted with your favorite tip. I used a Wilton star tip 1M because it's my favorite one, but you could use a Wilton large round tip 1A if you want it to look more like actual snow.
Pipe the eggnog frosting on top of each cupcake.
Top the cupcakes with vegan sprinkles. I used Natural Sprinkles brand clear and blue sugar, Hardcore Sprinkles brand peppermint sprinkles, and Baking Time Club brand silver star sprinkles.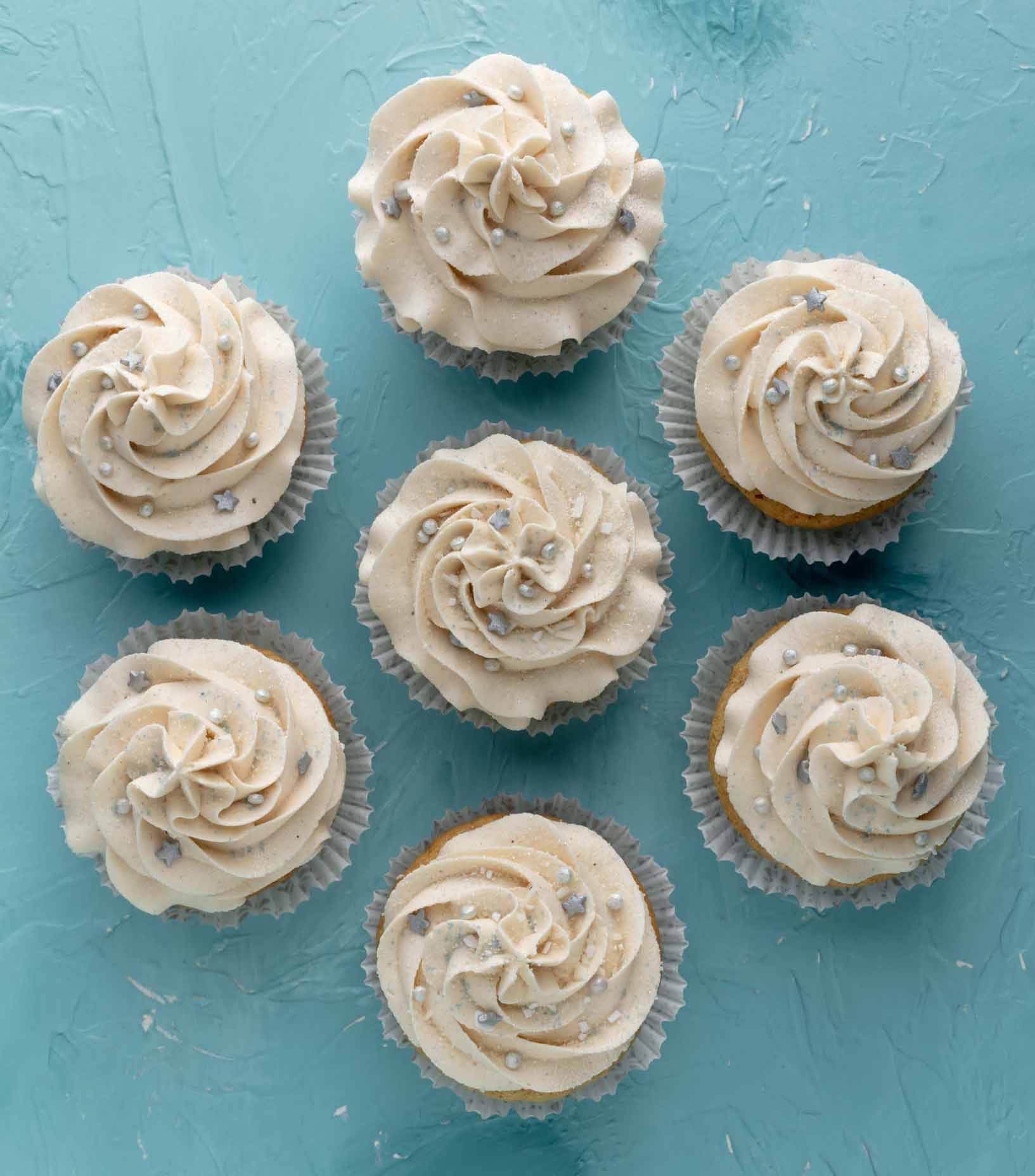 Vegan Snow Globe Ingredients
Vegan Snow Globe Directions
Measure 1 ½ tablespoons of isomalt into a microwave safe container, preferably with a pouring spout on it.
Melt the isomalt in a microwave using a 50% power level for 2 minutes and 30 seconds.
Cover the surface where you're working with a rolling mat to protect your table or countertops.
Pour the melted isomalt into one of the cubbies of a spherical silicone mold and turn the mold around and around making sure the isomalt covers all of the inside of the mold with a minimum of a double coat. Be careful not to let the isomalt touch your skin since it's super hot and can burn you.
Turn the spherical silicone mold upside down and set it on top of the container with your melted isomalt so the extra can drip into the container.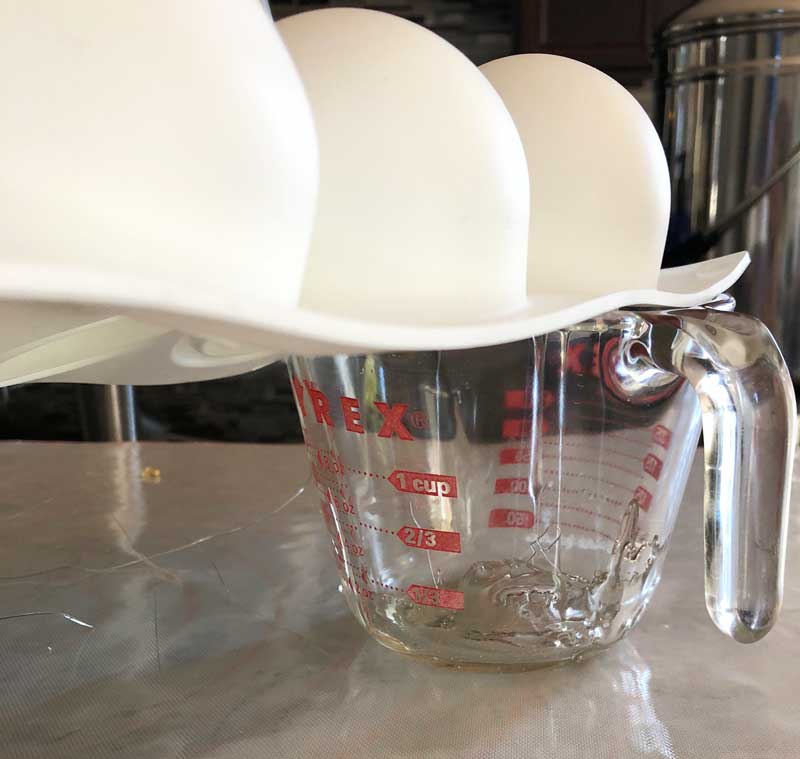 Turn it over again and remove any sugar strands.
Set the mold upside down on the rolling mat and leave it alone until it's no longer warm to the touch. For me, this took about 15 minutes for each one, so I cleaned the kitchen and made other food in between while I waited.
Remove the snow globe from the mold super carefully. I spent up to 5 minutes on each one when I first started getting the hang of it. I didn't have any shatter, but isomalt shatters really easily, so take your time on this step.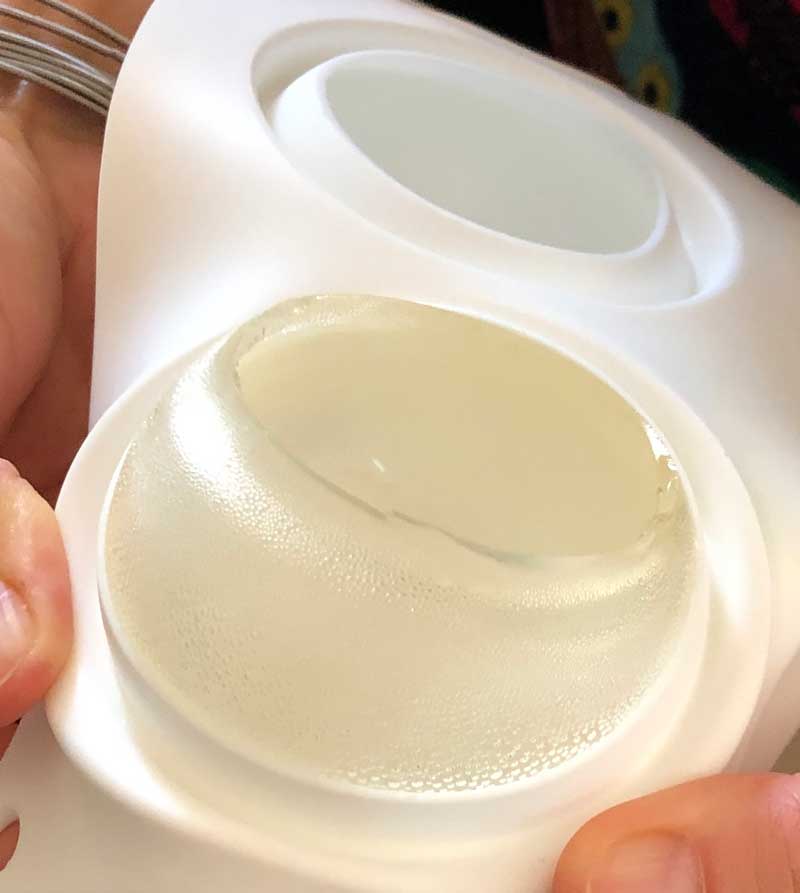 Repeat the steps 7 more times until you have 8 snow globes. You can only make one at a time unfortunately, so have some other activities planned during your waiting time.
Becky from Icing on Top has this really good video tutorial for how to make these.
Vegan Eggnog Snow Globe Cupcake Assembly
Top your cupcakes with whatever you want to go inside the snow globes. I made a third of a batch of my sugar cookies and icing to make little stars and houses to go inside my snow globes. I recommend making really tiny cookies because my houses were too big. I followed the recipe precisely, but I only baked the stars for 5 minutes.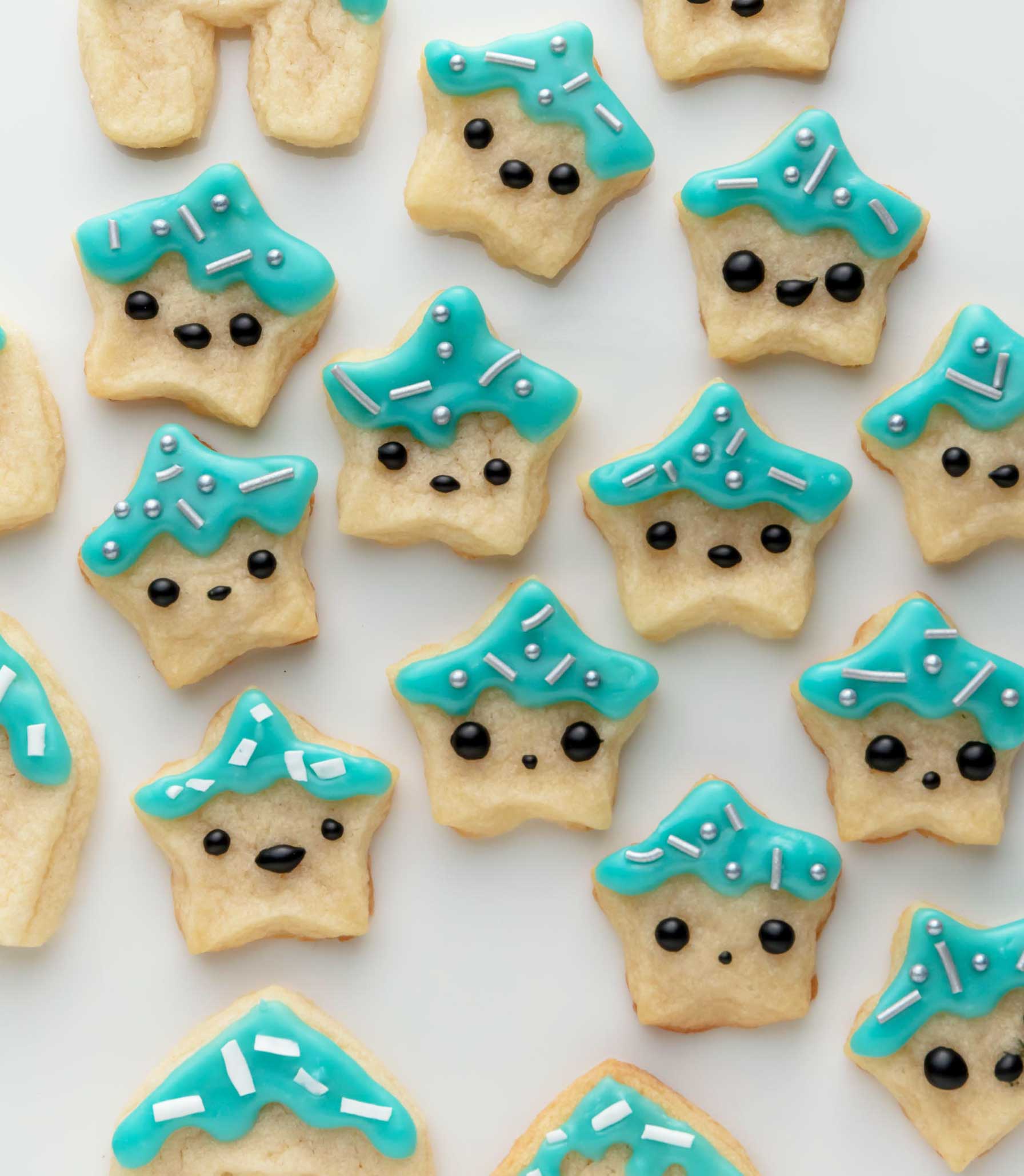 Place your snowglobes over your decoration on top of each cupcake.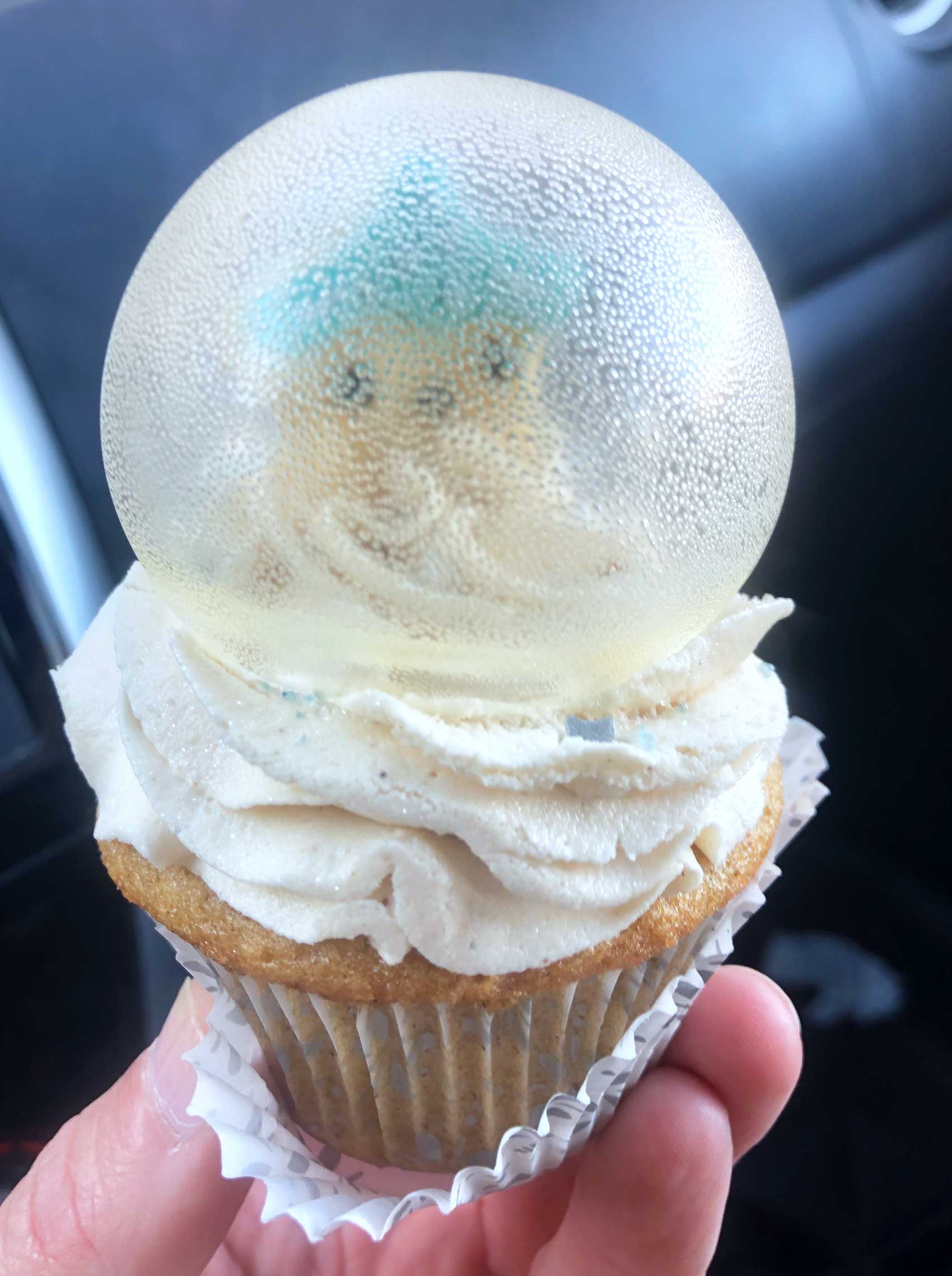 ☆☆☆☆☆☆☆☆☆☆
* I use mostly organic ingredients when I cook, but I realize that not everyone has the disposable income to purchase all organic ingredients. Therefore, I only specify organic on the ingredients that really matter - when buying the organic version is the only way to ensure that the item is vegan.