Nightmare Before Christmas Cookies
published on
♫ Listening to: Xmas has been X'ed by NOFX ♫
If you've glanced through any other holiday recipes on this website, you might have noticed a common theme…Christmas isn't exactly my favorite holiday. It might even be my least favorite. However, Nightmare Before Christmas is one of my favorite movies (go figure, right?). Last December, we went to see the San Francisco Symphony perform the entire soundtrack from Nightmare Before Christmas live while you watch the movie. It was an experience that I highly recommend to anyone who lives near a big city. During that performance, I knew I had to make these cookies. And they're as delicious as they are cute.
This recipe makes 20 nightmare before christmas skeleton reindeer cookies.
Vegan Chocolate Cutout Cookie Ingredients
2 cups organic unbleached or whole wheat pastry flour*

½ cup dutch cocoa powder

1 tablespoons organic cornstarch* or arrowroot powder

¼ teaspoon sea salt

1 tablespoon non-aluminum baking powder

½ cup vegan butter or margarine (if you avoid soy, buy the soy-free earth balance; otherwise buy the organic whipped earth balance)*

½ cup organic spectrum palm shortening*

1 cup organic sugar*

2 teaspoons vanilla extract

¼ cup nondairy milk
Vegan Chocolate Cutout Cookie Directions
Dollhouse Shortcut
If you make the cookie dough the night before you want to bake and decorate the cookies, then you'll feel less rushed.
Mix the dry ingredients together in a bowl: 2 cups flour, ½ cup dutch cocoa powder , 1 tablespoon arrowroot powder or cornstarch, ¼ teaspoon salt, and 1 tablespoon baking powder.
Mix the ½ cup vegan butter, ½ cup spectrum sustainable organic palm shortening , and 1 cup sugar together on a fast speed using a stand mixer or a handheld electric mixer for like 5 minutes. Turn to low.
Add the ¼ cup nondairy milk and 2 teaspoons vanilla while mixing.
Sift in half of the dry ingredients and mix until incorporated. Sift and mix in the rest.
Divide the dough in half and wrap each half in plastic wrap to chill for 3-4 hours.
Preheat the oven to 350° once the dough is done chilling.
Line two baking sheets with parchment paper and remove one dough ball from fridge.
Place the dough between 2 pieces of parchment paper to roll it out.
Roll as thinly as possible.
Remove the top piece of parchment paper and cut out as many shapes as you can, dipping your reindeer cookie cutter into dutch cocoa powder when needed to keep it from sticking.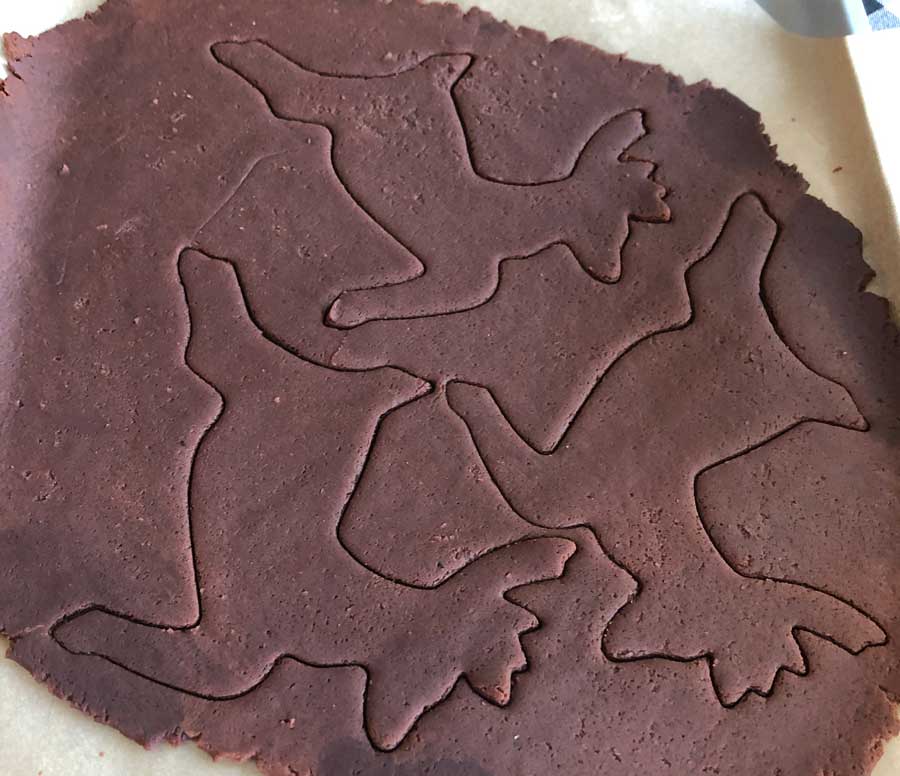 Trade the dough remnants with the ball that's in the fridge. Keep cutting until the cookie sheets are full of cut outs.
Bake for 8 minutes.
Cool on trays for 5 minutes. Transfer cookies to cooling rack.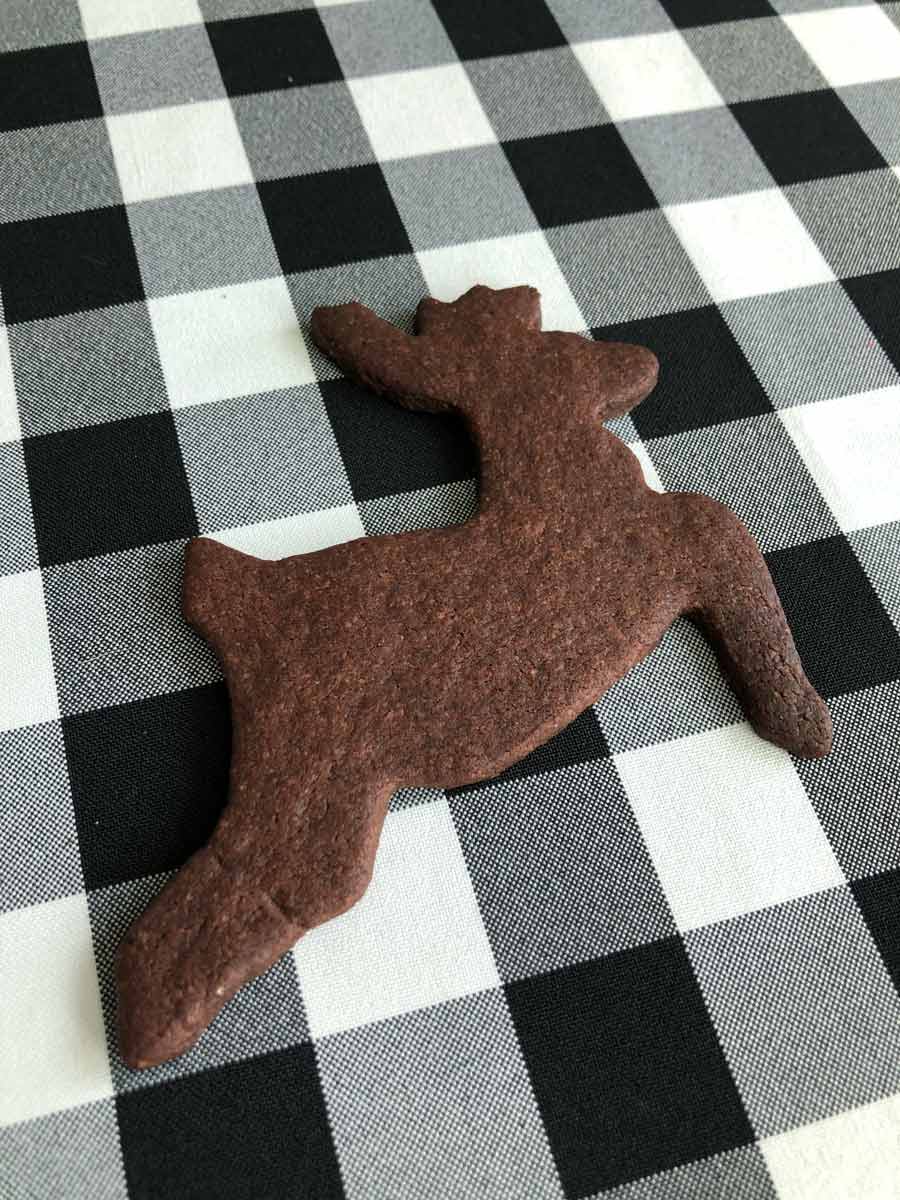 Vegan Reindeer Skeleton Cookie Icing Ingredients
1 cup organic powdered sugar, sifted*

1 tablespoon nondairy milk

1 tablespoon organic light corn syrup*
Vegan Reindeer Skeleton Cookie Icing Directions
Dollhouse Shortcut
You can make this icing the night before you want to decorate to save time. As long as it's in a piping bag or squeeze bottle, it won't dry out.
Sift the cup of powdered sugar into the bowl of a stand mixer (or you can use a handheld mixer).
Add half of the tablespoon of nondairy milk and the entire tablespoon of corn syrup and mix using the stand mixer with the whisk attachment.
Mix on a low speed to start with (unless you like the look of yourself covered in powdered sugar), and increase speed as the ingredients start to combine. Scrape the sides and bottom with a silicone spatula and then mix again.
Add the rest of the nondairy milk little by little, mixing constantly, until you get a consistency that's thin enough to pipe, but not too thin that it will spread.
Transfer the icing to a squeeze bottle with a narrow opening at the top (or to a piping bag fitted with a Wilton small round tip 1 ).
Draw the skeleton details onto the cookies, and let them dry for around 5 hours before trying to stack them.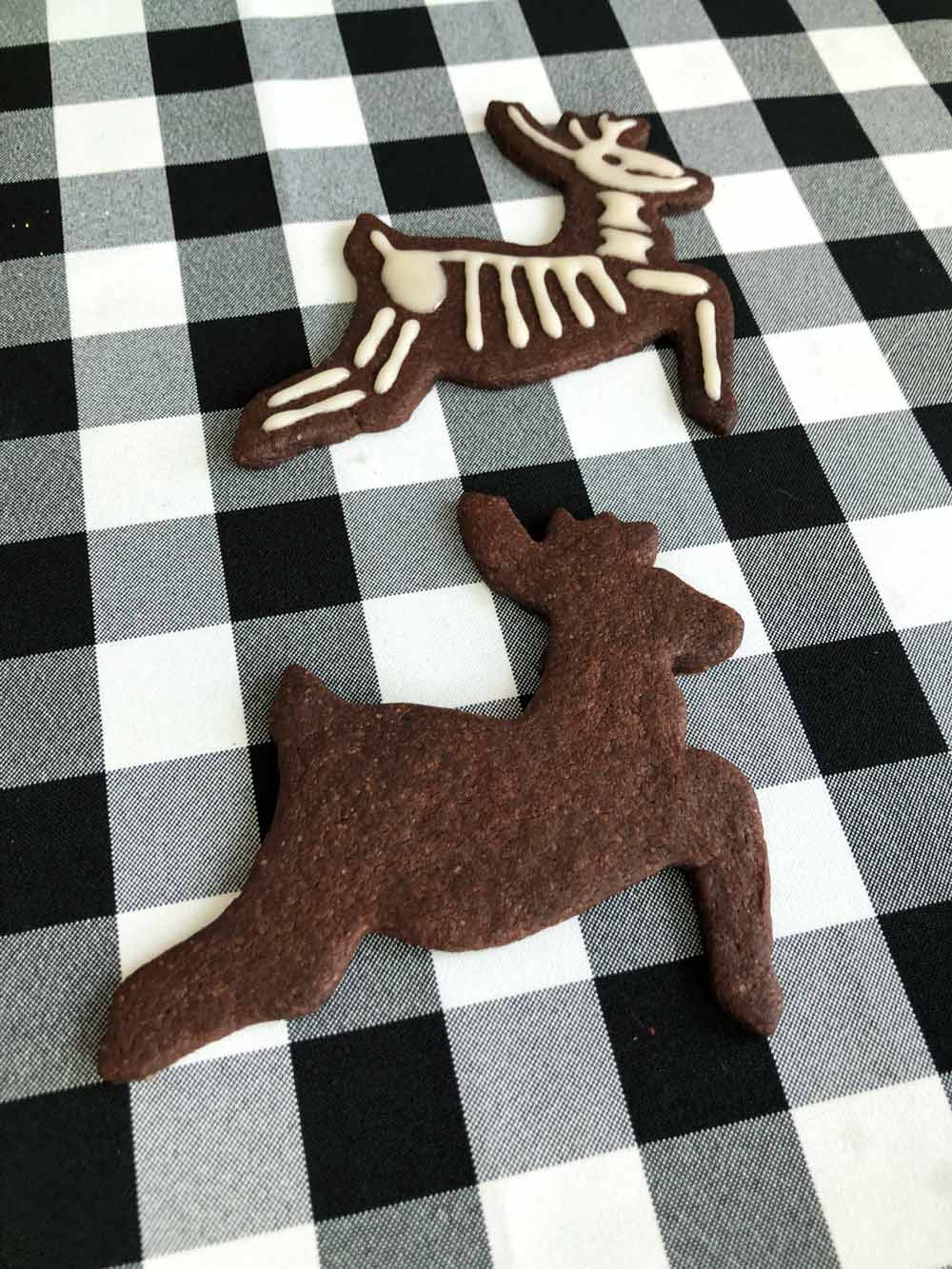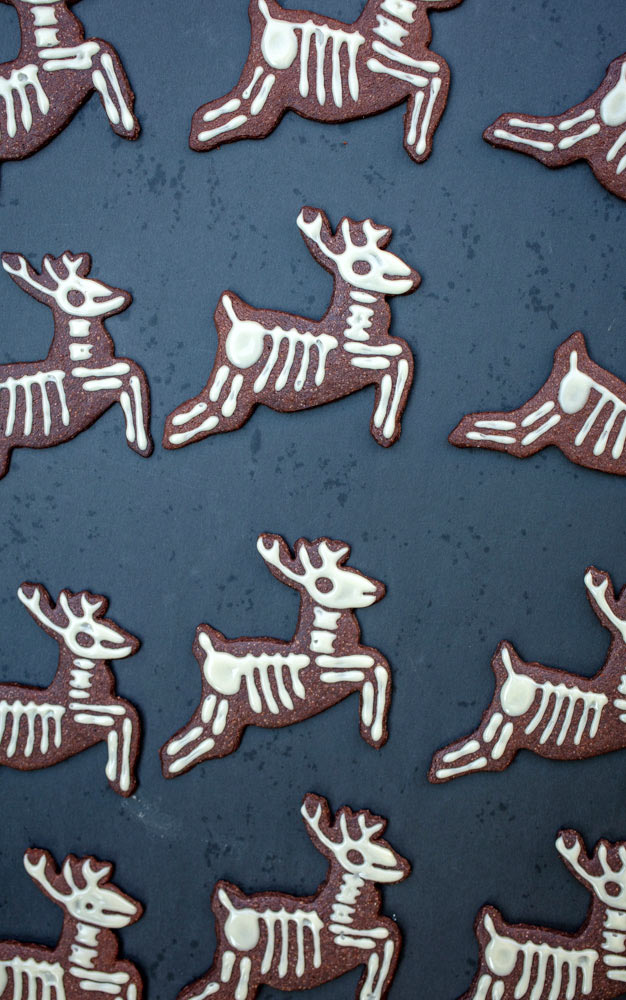 Here's a video of me decorating them.
This recipe is a mashup of my devil's food cookies and my unicorn cookies.
If you like Nightmare Before Christmas as much as I do, you might also like my frogs breath soup and my snake & spider stew.
If you want these cookies to look more black and less brown, use the cookie dough recipe from my black cocoa cookie recipe.
☆☆☆☆☆☆☆☆☆☆
* I use mostly organic ingredients when I cook, but I realize that not everyone has the disposable income to purchase all organic ingredients. Therefore, I only specify organic on the ingredients that really matter - when buying the organic version is the only way to ensure that the item is vegan.