Ube Steamed Buns
published on , modified on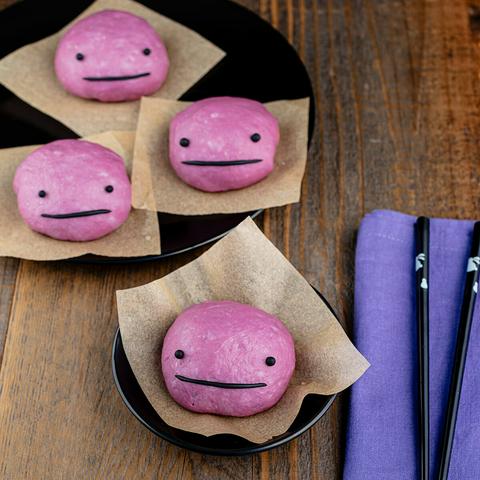 These organic vegan ube steamed buns are made without a bamboo steamer. The bao buns recipe offers different filling options, including BBQ jackfruit or lentils. This recipe has instructions for making traditional purple steamed buns. Or you can make cute steamed buns that look like the Pokémon ditto. They're colored using purple yam (ube), and are sometimes called mantao.
This recipe makes around 12 vegetarian steamed buns, depending on how big you want them to be.
Table of Contents
(click the links below to skip to the section you're looking for)
♫ Listening to ♫
PONPONPON by Kyary Pamyu Pamyu
Is it weird that I've never actually had a steamed bun? I remember there was a place in Philly that all my friends talked about back in the day that had vegan pork buns. I modeled these after the memory of someone else talking about those. Haha. And of course, I spend wayyy too much time playing Pokémon Go, so I tried to make them look like ditto.
A nice thing about this recipe is that you don't need any special ingredients like ube halaya, ube extracts, or condensed milk. It's quite easy, especially if you use packaged filling (or no filling).
(jump to the substitutions section to see ingredient details and suggestions for substitutions)
¾ cup mashed ube (start with 1 large or 2 small purple yams)

1 teaspoon yeast

1 tablespoon vegan sugar

½ cup unsweetened almond milk (heated to 100-110 degrees)

1 ¾ cups unbleached all-purpose flour

1 tablespoon safflower oil

extra flour for dusting rolling surface
How to Make Ube Steamed Buns
Steam the purple yams until you can easily stick a fork into the bigger one.
Cut parchment paper into 12 small squares while you're waiting for the ube to steam. The parchment paper squares should be a minimum of 3" on each side.
Measure 1 ¾ cups flour and 1 tablespoon safflower oil into a mixing bowl while you wait for the purple yams to steam.
Peel and mash the steamed purple yams once they're cool enough to touch.
Measure the mashed yams so that you have ¾ cup when it's packed in tightly.
Mix 1 teaspoon yeast, 1 tablespoon sugar, and ½ cup warm unsweetened nondairy milk (100-110º) in bowl. Let sit for 5 minutes. I use a digital thermometer to heat my nondairy to somewhere between 100 and 110 degrees Fahrenheit (38-43ºC).
Add the mashed yams and the yeasty milk to the mixing bowl with the flour and oil. Knead for 10 minutes. I use my kitchenaid fitted with the dough hook for this because I'm too out of shape to knead dough without getting winded, haha.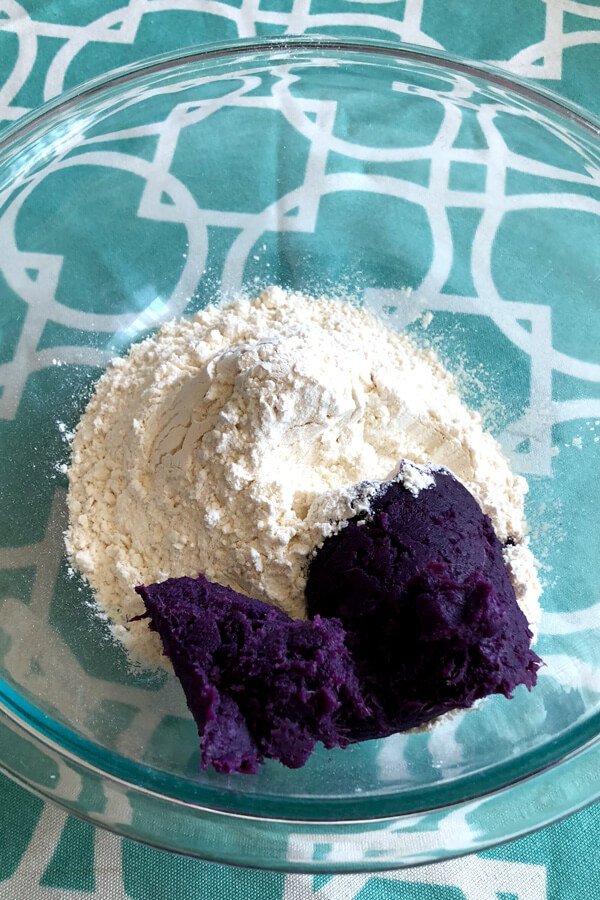 Roll dough into a ball and place into a lightly oiled bowl. Cover bowl with a towel or cling wrap and set in a warm place for an hour to rise.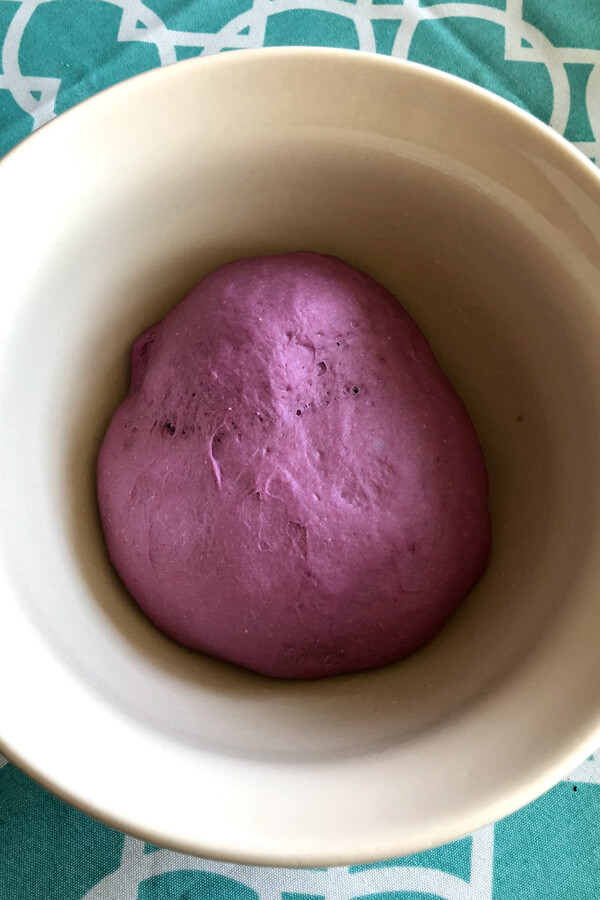 Remove a small piece of dough, around the size of a rubber bouncy ball. Knead it with activated charcoal until it turns completely black. If you don't want your ube steamed buns to look like ditto, you can skip this step.
Flatten the remaining dough into a disc on a floured surface.
Cut it into 12 wedges like you're cutting a pie. Roll each of the 12 pieces into a ball, so you're left with 12 balls.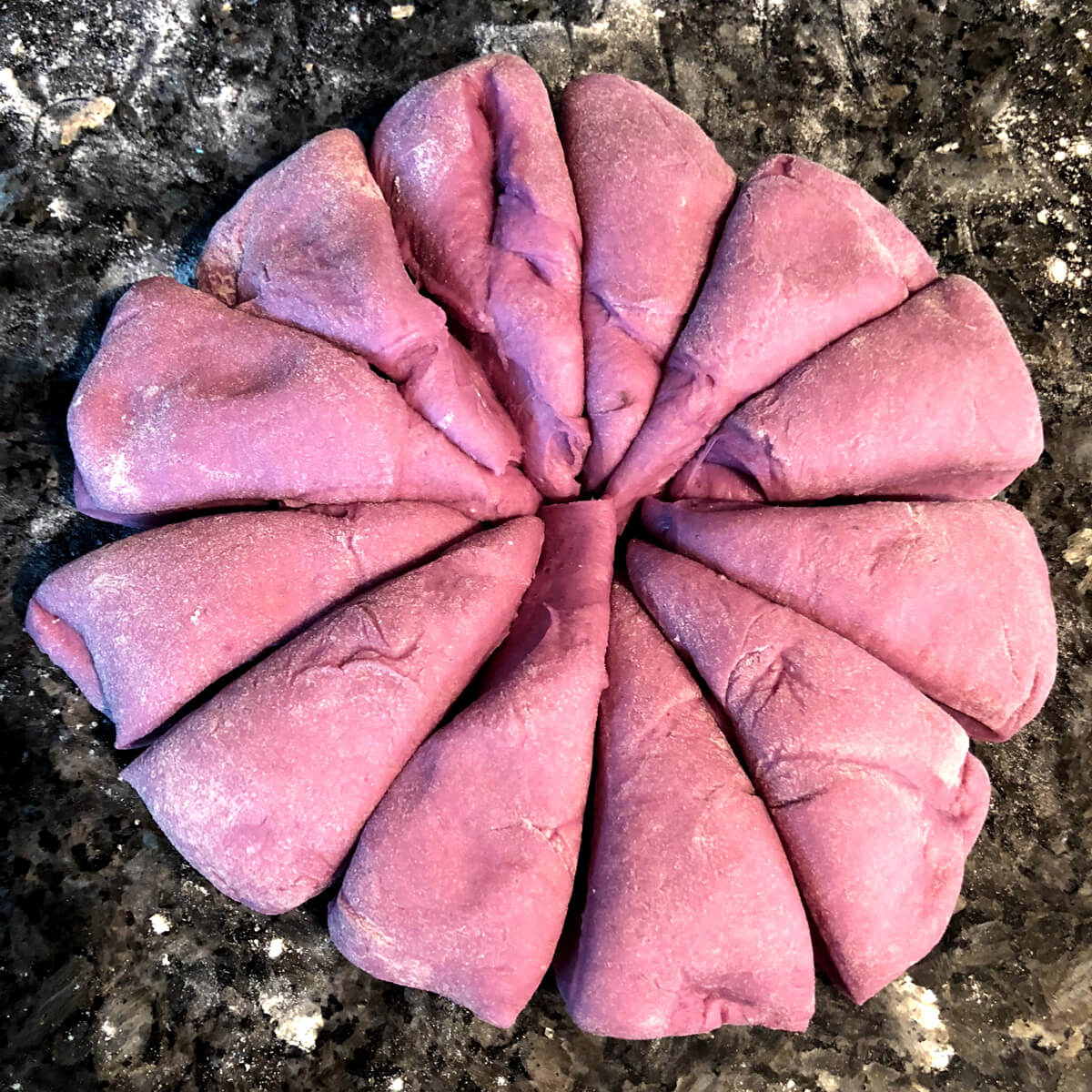 Fill each dough ball tucking the pinched part of the dough under the bottom and then set onto a small square of parchment paper. For easy vegan steamed buns, fill them with BBQ jackfruit that you can buy packaged at the store. If you like to cook, fill them with my lentil sloppy joe filling.
Cover all the buns with cling wrap.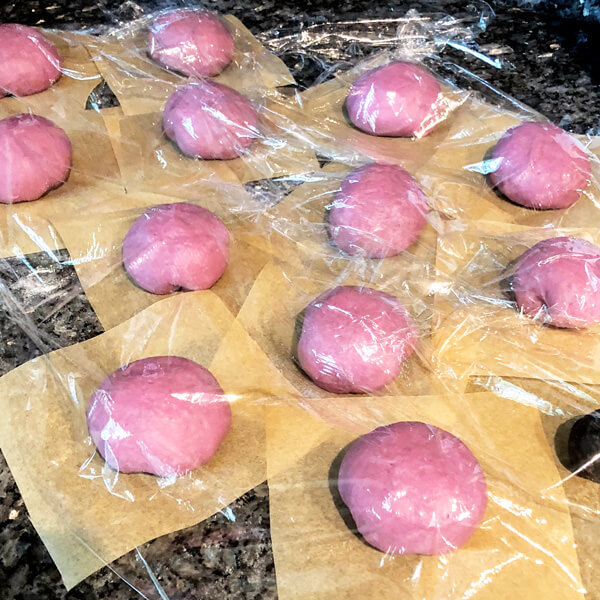 Shape the black dough into 24 tiny balls for the eyes and 12 short snakes for the mouths.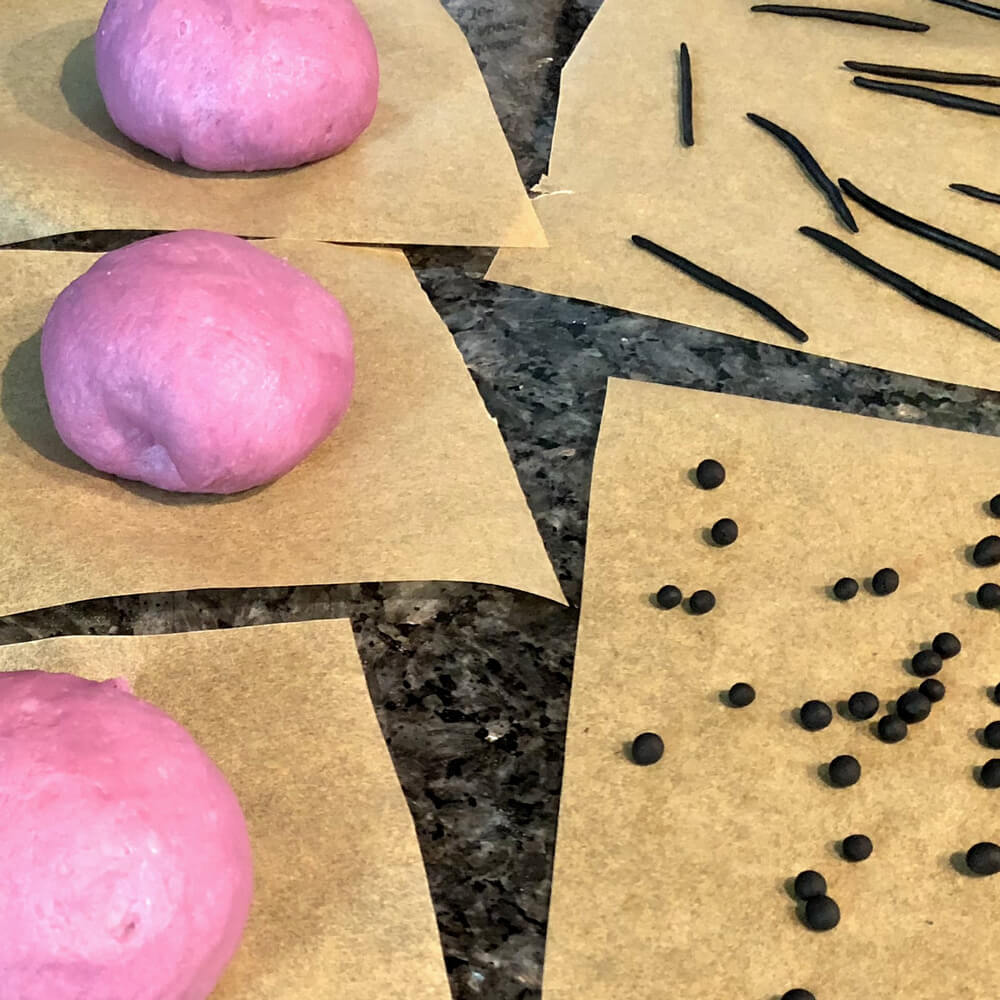 Glue each facial feature onto the buns, using water to get them to stick.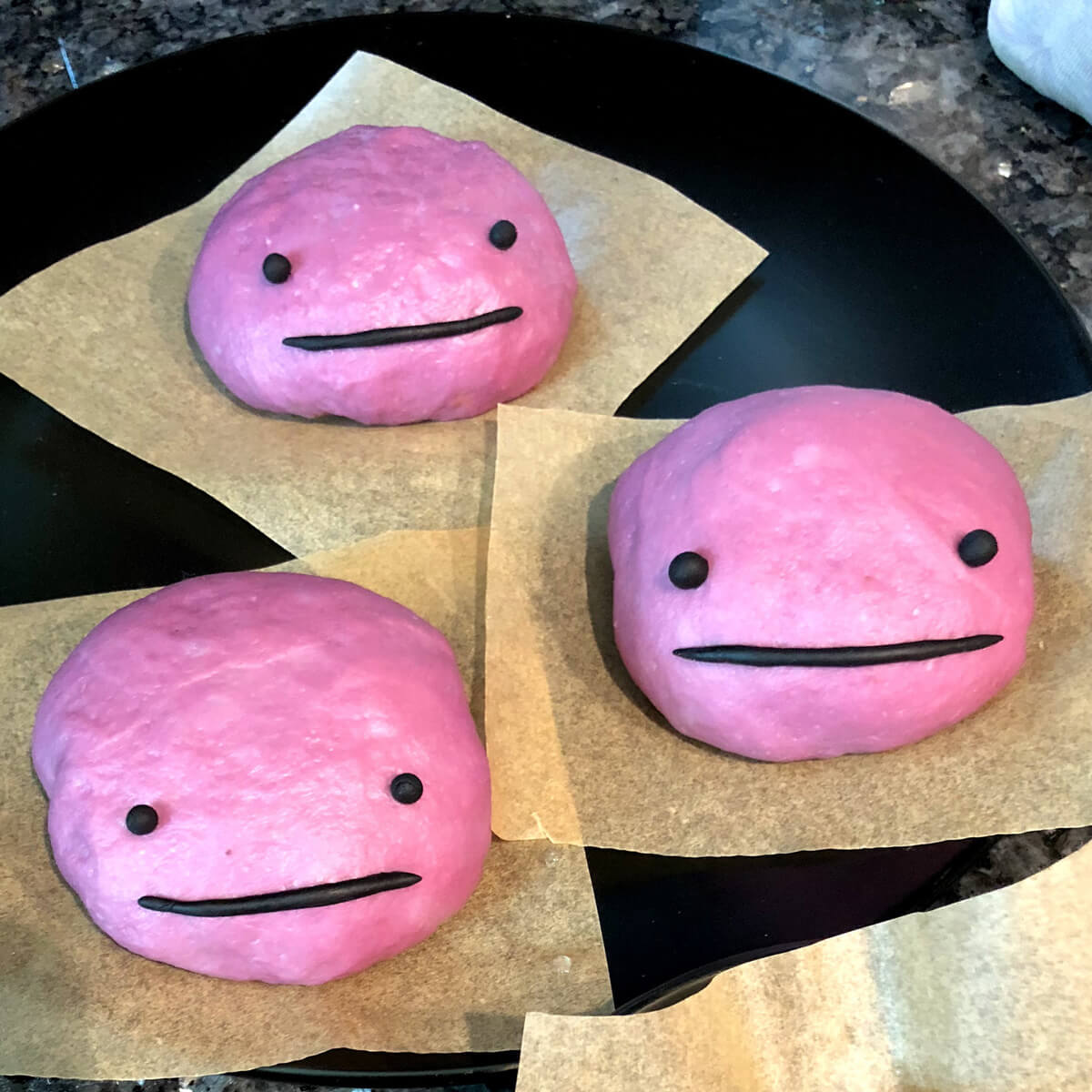 Place 4 of the buns into the steamer by picking up their parchment paper squares and setting them in there. Put the lid on.
Steam the buns over rapidly boiling water for 15 minutes. Turn off the heat and crack the lid and let them sit for another 10 minutes.
Remove the lid and leave them for another 5 minutes before removing them from the steamer.
Repeat with the other 8 cute vegan buns. I never got a picture of them after I steamed them, but here's what they looked like before steaming them.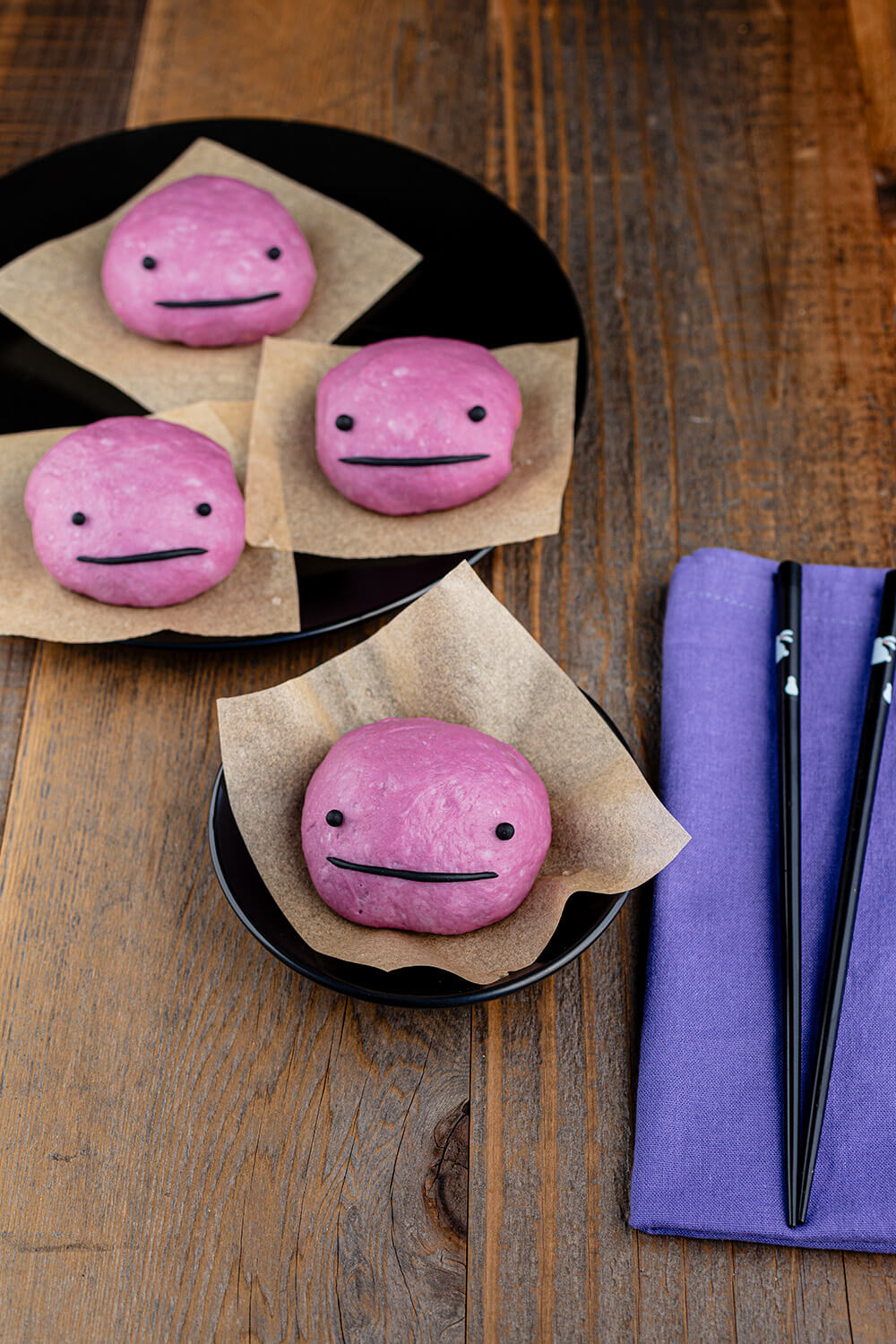 Can you freeze ube steamed buns?
Ube steamed buns can be frozen for up to 3 months.
After removing them from the freezer, resteam them for 10 minutes before serving. When you resteam them, place a lettuce leaf or a piece of parchment paper on the bottom of the steamer to keep them from sticking.
Oil: I recommend using safflower, avocado, or sunflower because those oils are made for heat, which helps you avoid transfats. However, you can use any other oil such as vegetable oil, canola oil, grapeseed oil, olive oil, etc.
Flour: I've only made this recipe with unbleached, organic, all-purpose flour, so I can't vouch for any other kind. If you're gluten-free and you try this recipe with your favorite gluten-free flour blend, can you let me know how it worked out?
Nondairy Milk: You can use any variety or brand of nondairy milk in this recipe. I like the brand Milkadamia. Oatly is also good. But those can be pricey, so feel free to just buy the generic brand at your local grocery store if you want to save money. If you buy soymilk, make sure it's non-GMO or organic. If you're a strict vegan, you probably avoid GMO foods since they can contain fish genes.
Sugar: For the sugar in this recipe, you can use any number of sugars, as long as they're vegan. Brown sugar, sucanat, coconut sugar, raw sugar, organic sugar, and demerara are all fine. If you're unsure if your sugar is vegan, you can contact the company and ask. Or just avoid conventional white sugar or granulated sugar, and you should be ok.
Yeast: I use active yeast in all my recipes because that's what I keep in the house. If all you have is instant yeast, replace the tablespoon of active yeast with 2 teaspoons of instant yeast. You can also omit the sugar and skip the step where you activate the yeast in the sugar and warm milk for 5 minutes.
If you like pokemon recipes, you might also like my snorlax cake and my pokeball pizza waffles.
If you like ube, you might also like my ube crackers that I used to make this vegan charcuterie chalet.
Comments or Questions?
If you make this recipe, snap a pic, post to instagram, and tag me @vegandollhouse. I love to see your creations! You can also message me through instagram or email me if you have any questions about the recipe.
☆☆☆☆☆☆☆☆☆☆
* I use mostly organic ingredients when I cook. I realize that not everyone has the disposable income to buy only organic ingredients. So, I only specify organic on the ingredients that matter: when buying the organic (or non-GMO) version is the only way to ensure that an item is vegan.
This post links to items I used when I made this recipe. If you click on the purple Buy Now button on a product page, you will go to a website (like Amazon) where you can buy the same product I used. Sometimes, the store you purchase from (Amazon, Etsy, etc.) will pay me for referring you. This costs you nothing extra, and I would never recommend a product that I don't use. These affiliate programs help me buy the ingredients to create these recipes for you. Read more about this in my privacy policy.
☆☆☆☆☆☆☆☆☆☆