Kale Pesto Pâté
published on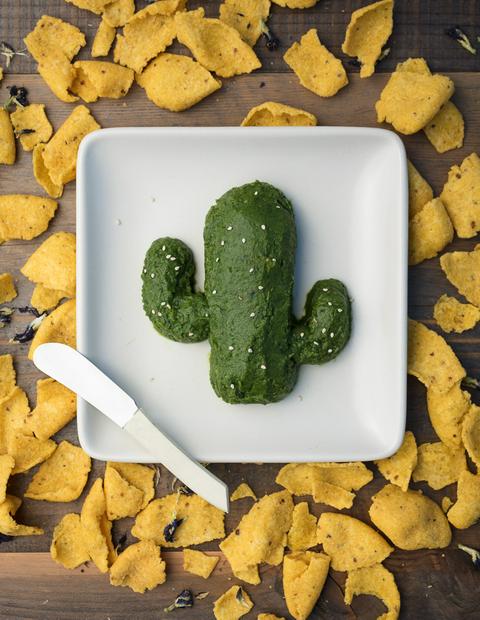 ♫ Listening to: Party in the Dark by Mogwai ♫
Has it really been FOUR YEARS since I posted a pâté recipe??? Where are my priorities?! Well, let's not go dwelling on the past, and instead, let's talk about the present. And this present is in the shape of the cactus emoji. If you'd have asked me 4 years ago if there were a cactus emoji, I wouldn't have been able to tell you. But now that all my friends are obsessed with succulents, I'm using that cacti emoji on the regular.
If you are anti-succulents or anti-plants-that-prick-you, you can always just serve this gluten-free, oil-free pâté in a bowl or on a plate and save yourself some time. However, if you like making your food look like emojis, shape this pâté into a cactus! And then check out my party popper emoji sushi and my sparkle heart emoji cake!
If you like this recipe, you might also like this other pâté or this amazing sauce. Or if you're not a fan of pâté, you can use this as a sauce for pasta. This recipe takes 30 minutes to make and 15 minutes to shape into a cactus.
Kale Pesto Pâté Ingredients
Dollhouse Shortcut
Use a can of navy beans instead of cooking your own.
2 cups cooked and rinsed navy or great white northern beans
1 bunch of basil
3 leaves of washed and chopped dino kale (dino kale is the darker green one with flatter leaves)
1 teaspoons salt (you can use less if you are planning to serve this with something that's already salty)
¼ teaspoon pepper
1 medium clove of garlic, minced (or sub ¼ teaspoon garlic powder if you don't have any fresh)
Kale Pesto Pâté Directions
Measure 2 cups of navy beans into the blender. If you're using canned beans, rinse them well before adding to the blender.
Remove each basil leaf from the stem, and discard the stems. Wash the leaves and add to the blender. (This should measure 1 loosely packed cup.)
Add the kale, salt, pepper, and garlic to the blender.
Blend those ingredients by just using the pulse button about 30-40 times to get the blender to combine everything.
Blend on a constant speed once everything is incorporated, stopping the blender occasionally to scrape the sides with a silicone spatula. You want to keep blending until it's smooth.
Add water only if it won't pulse or blend without it (I have only tested this recipe in a blendtec blender, so some blenders may need a little bit of liquid to get the ingredients moving). If you do need to add liquid, BE CAREFUL to only add water 1 teaspoon at a time so you don't make the pâté too thin.
Transfer to a plastic bag or disposable piping bag and chill for a few minutes while you clean up and choose your plate or platter of choice. If you're not making a cactus emoji, skip this step and just transfer the pâté to your preferred serving vessel.
Cut a large hole, and pipe onto a serving platter in the shape of a cactus (optional, but recommended). Smooth out as needed. Here's a video of me piping the cactus shape.
Serve with bread, crackers, chips, pretzels, or veggies.
If you want this to be for dinner, simply mix it in with pasta. And if you are looking for soft foods to eat after dental surgery, eat it with a spoon.
For other dips and sandwich spreads, check out my sobrasada and my sauerkraut hummus.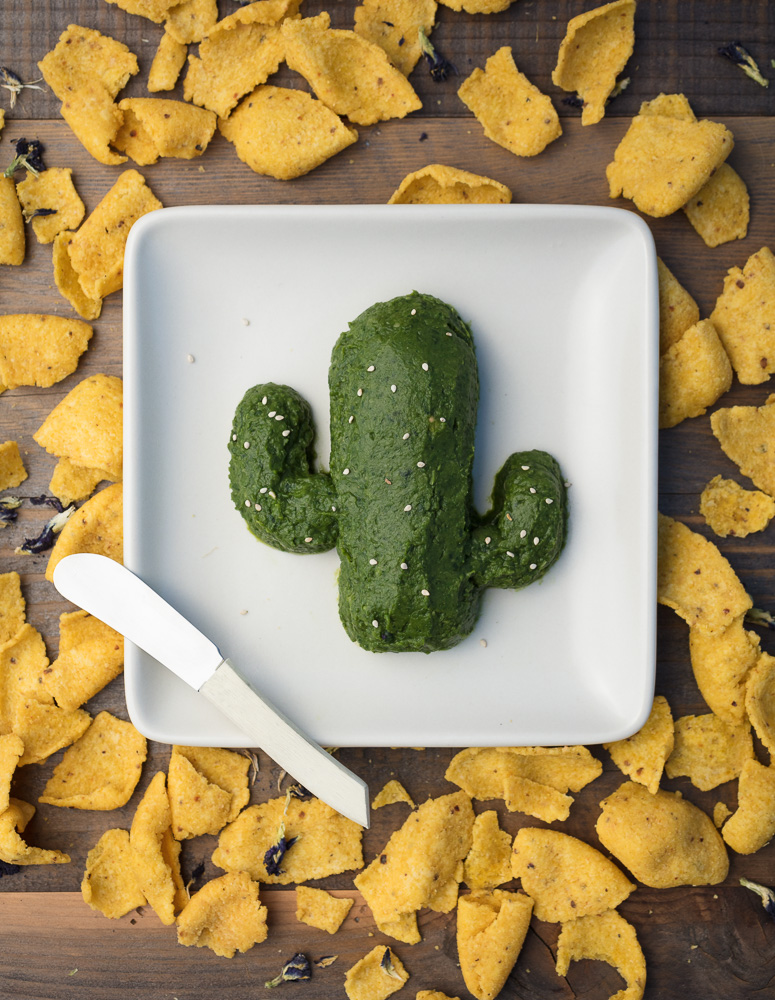 ☆☆☆☆☆☆☆☆☆☆