Vegan Copycat B-Wing Salad
published on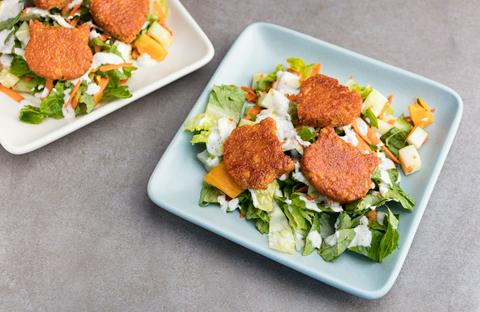 ♫ Listening to: Something About Us by Anoraak ♫
This recipe includes a slightly modified version of Boneless BBQ Buffalo Wings recipe in the Great Vegan BBQ without a grill cookbook by Linda & Alex Meyer. This is the second recipe I've made from this cookbook, and even though I modified both recipes, they both still turned out really yummy! If you're looking for some new recipes in your life that you don't have to read off your laptop while you're in the kitchen, I recommend picking up this book. And if you get it soon, it's UNDER $10 for 75 recipes!!!! That's like 13¢ per recipe! Are you kidding me?!
If the title of this recipe confused you, that might mean that you've never been to Veggie Grill. Veggie Grill is an all-vegan restaurant that's similar to Native Foods in that it's a vegan chain with a menu offering a variety of salads, burgers, bowls, wraps, etc. One of their most popular salads is the B-Wing salad. It's basically just a salad with ranch dressing and their buffalo wings on top. This recipe mimics that salad, except I made my buffalo sauce less spicy because I'm a spice wuss. If you like cutely shaped tofu, you might also like my tofu stars in this galaxy sushi bowl recipe.
This recipe makes around 20 buffalo wings, depending on how big you make them.
Vegan Copycat B-Wing Salad Ingredients
Dollhouse Shortcut
Purchase vegan ranch dressing from the store if you don't want to make it.
2 tablespoons ground flax seeds mixed with ¼ cup water

10 ounces of organic extra firm tofu (I use the high protein one)*

1 ¼ cups bread crumbs (this is the only ingredient I haven't been able to find organic, unfortunately)

½ cup BBQ sauce

½ teaspoon salt

½ cup melted vegan butter or margarine (I like the organic whipped earth balance)*

¼ cup sriracha (Sprouts store sells an organic one)

1 bowl of green salad

vegan ranch dressing
Vegan Copycat B-Wing Salad Directions
Mix the flax and water and let sit.
Add the tofu, bread crumbs, BBQ sauce, and salt to the food processor.
Add the flax goop to the food processor and process until everything is mixed.
Heat the oven to 350°.
Line a large baking sheet with parchment paper.
Form the processed ingredients into shapes and set on the parchment paper until all the batter is used up. I used a small cat and heart cookie cutter to make mine.
Bake for 30 minutes.
Mix melted vegan butter with sriracha to make buffalo sauce.
Remove from oven after 30 minutes and cover each piece with buffalo sauce.
Serve atop salad with my vegan ranch dressing.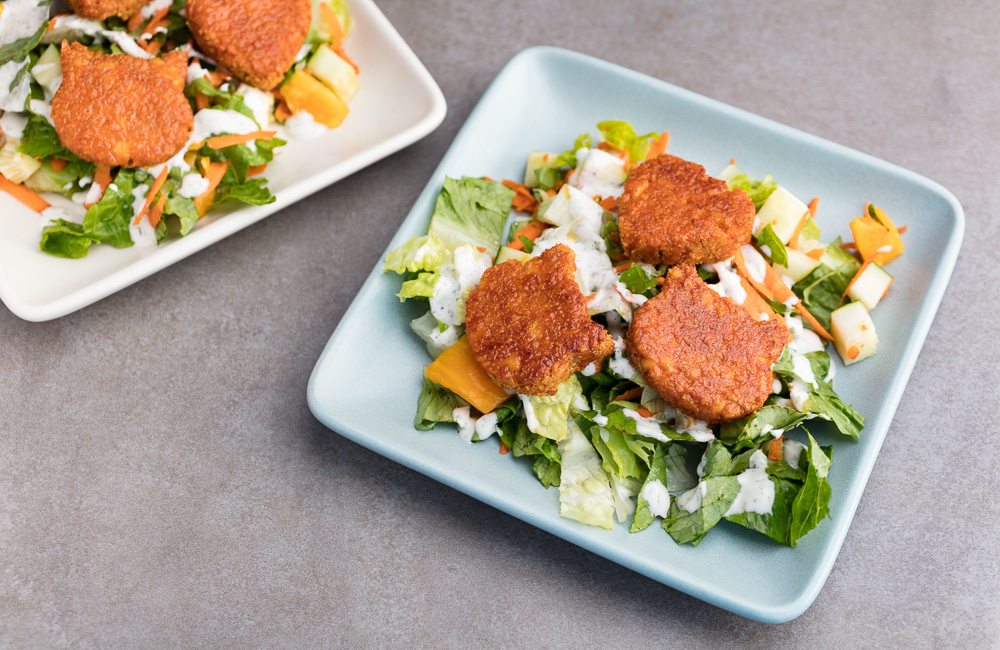 ☆☆☆☆☆☆☆☆☆☆
* I use mostly organic ingredients when I cook, but I realize that not everyone has the disposable income to purchase all organic ingredients. Therefore, I only specify organic on the ingredients that really matter - when buying the organic version is the only way to ensure that the item is vegan.