Peanut Butter Cup^2cakes
published on
♫ Listening to: Psychic City by Yacht ♫
Vegan Gluten-free Chocolate Cupcake Ingredients
1 ⅔ c coconut-almond milk
1 T apple cider vinegar
½ c sunflower or coconut oil
1 ¼ c organic evaporated cane juice
1 T vanilla extract
¼ t almond extract
½ c tapioca flour
3 T ground flax seeds (I use a coffee grinder)
½ c almond flour
½ c rice flour
½ c quinoa flour
⅓ c fava-chickpea flour
½ c cocoa powder
½ T baking powder
1 t baking soda
Vegan Gluten-free Chocolate Cupcake Directions
Preheat the oven to 350°.
Mix all the wet ingredients together (including sugar).
Sift the dry ingredients together.
Add the dry ingredients to the wet, mixing well.
Fill the cupcake papers 80% full. This should make around 15 cupcakes (12 to take to the party and 3 to keep for yourself–oink oink).
Bake the cupcake for 21-24 minutes or until you insert a toothpick into the center and it comes out clean.
Peanut Butter filling/frosting Ingredients
½ cup vegan butter or margarine (if you avoid soy, get the soy-free earth balance; otherwise, get the organic earth balance)*
½ cup spectrum palm shortening*
½ cup peanut butter
2 tablespoons molasses
⅛ cup non-dairy milk (you may not need it all, but have it ready, just in case)
1 tablespoon vanilla extract
3 cups organic powdered sugar*
Peanut Butter filling/frosting Directions
Whisk the spectrum sustainable organic palm shortening , vegan butter, peanut butter, molasses, and vanilla together using a stand mixer or a handheld electric mixer.
Sift in powdered sugar one cup at a time.
Pipe icing into the center of the cupcakes as well as on top of the cupcakes.
Garnish with drizzled chocolate sauce and bite-sized peanut butter cups*.
*Peanut Butter cups are super easy to make if you have silicone molds, vegan chocolate chips , and peanut butter. Or you can follow this recipe I have for making them. Here's what they looked like when they came out of the freezer.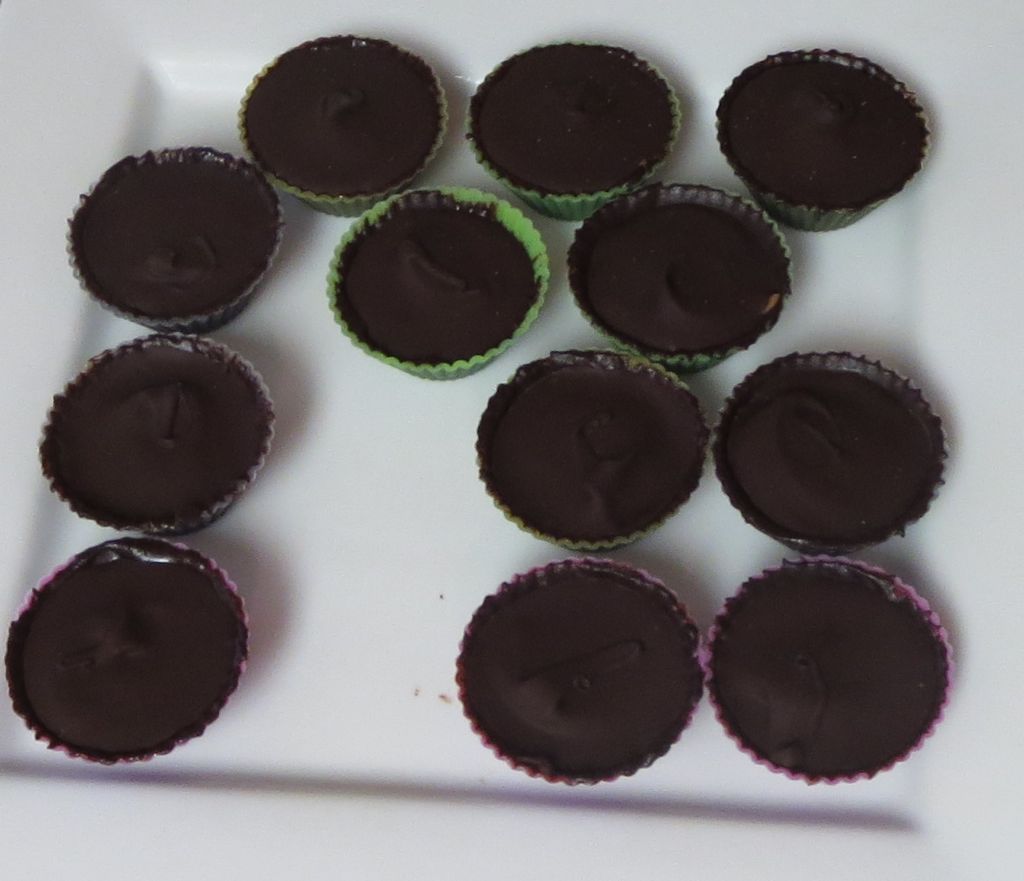 If you like peanut butter and chocolate together, check out my vegan chocolate peanut butter cups, my vegan chocolate peanut butter cupcakes, my peanut butter chocolate pretzels, and my peanut butter chocolate cake.
☆☆☆☆☆☆☆☆☆☆
* I use mostly organic ingredients when I cook, but I realize that not everyone has the disposable income to purchase all organic ingredients. Therefore, I only specify organic on the ingredients that really matter - when buying the organic version is the only way to ensure that the item is vegan.