Vegan Mint Chocolate Shake
published on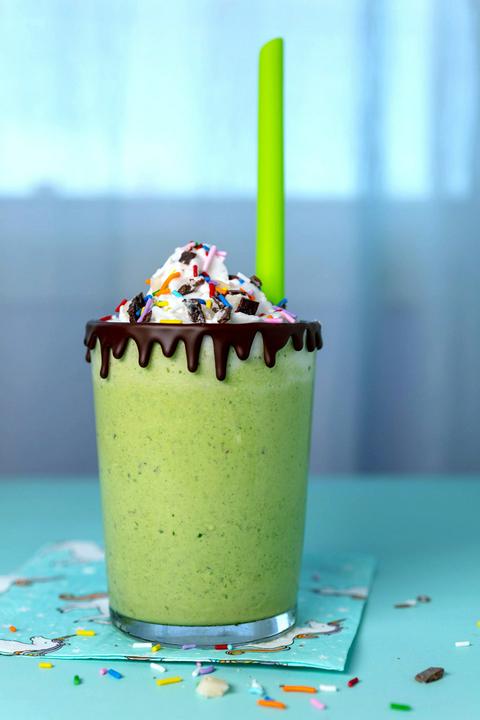 ♫ Listening to: Pristine by Snail Mail ♫
When Zen and Izzy were little, we had green smoothies for breakfast every day. Every. Single. Day. I feel like I never want another smoothie as long as I live after all those years of that same breakfast. It was just such an easy way to make sure they were getting all their nutrition. As vegan parents, do we feel like we have to make sure our kids are healthier than omni kids so that people don't blame veganism for why our child acts up in school or has eczema (totally made up examples and not at all real things that I experienced as a parent, haha).
My experience making green smoothies is how I know that adding spinach leaves to anything you make in the blender will color it green without affecting the flavor much at all. For instance, I use spinach to color these mini key lime pies. If you're allergic to spinach or just don't care for it because you didn't grow up watching popeye cartoons, you can check out my list of vegan food coloring to find an alternative.
This recipe makes 1 vegan mint chocolate milkshake and takes around 10 minutes, not counting the time to chill your glass.
Penguin Coat Ingredients
⅓ cup chocolate chips

1 tablespoon coconut oil
Penguin Coat Directions
Dollhouse Shortcut
Chill your glass in the freezer for at least an hour before you want your shake.
Melt ⅓ cup vegan chocolate chips and 1 tablespoon coconut oil in the microwave for 30 seconds and stir it. If it's not completely smooth yet, put it back into the microwave for 30 more seconds, and then stir again.
Remove your chilled and frosty glass from the freezer.
Drizzle chocolate drips around the outside of the shake glass using a spoon or a squeeze bottle. You'll still have penguin coat leftover that you can use to make chocolate milk, hot cocoa, or pour over ice cream like that magic shell stuff from the 1980s.
Freeze the glass with chocolate drips until you're ready to pour your shake into it.
Vegan Mint Chocolate Milkshake Ingredients
1 pint vegan vanilla ice cream (I used NadaMoo)

1 Amy's Minty Candy Bar

¼ - ⅓ cup of non-dairy milk (just enough to get the blender to work)

1 teaspoon of mint flavor (or sub 2 tablespoons of mint leaves)

1 packed cup of spinach leaves

vegan whipped cream (optional)

rainbow sprinkles (optional)
Vegan Mint Chocolate Shake Directions
Dollhouse Shortcut
If you don't have any fresh spinach, you can color this shake with spirulina or green food coloring.
Chop one of the Amy's Minty candy bars into tiny enough pieces that they can fit through a boba straw.
Blend 1 pint vegan vanilla ice cream, 1 cup of spinach, 1 teaspoon of mint flavor (or 2 tablespoons of mint leaves), and ¼ - ⅓ cup of non-dairy milk. You only want to use just enough to get the blender to do its thing. Too much will make the shake too thin. Also, make sure you don't overblend, because that can thin out your shake too. You want it just blended enough so there aren't lumps of ice cream.
Pour the mint milkshake into your chilled glass.
Add your pieces of Amy's Minty candy bars to the top and stir them in. You can save a few to decorate the top like I did if you want.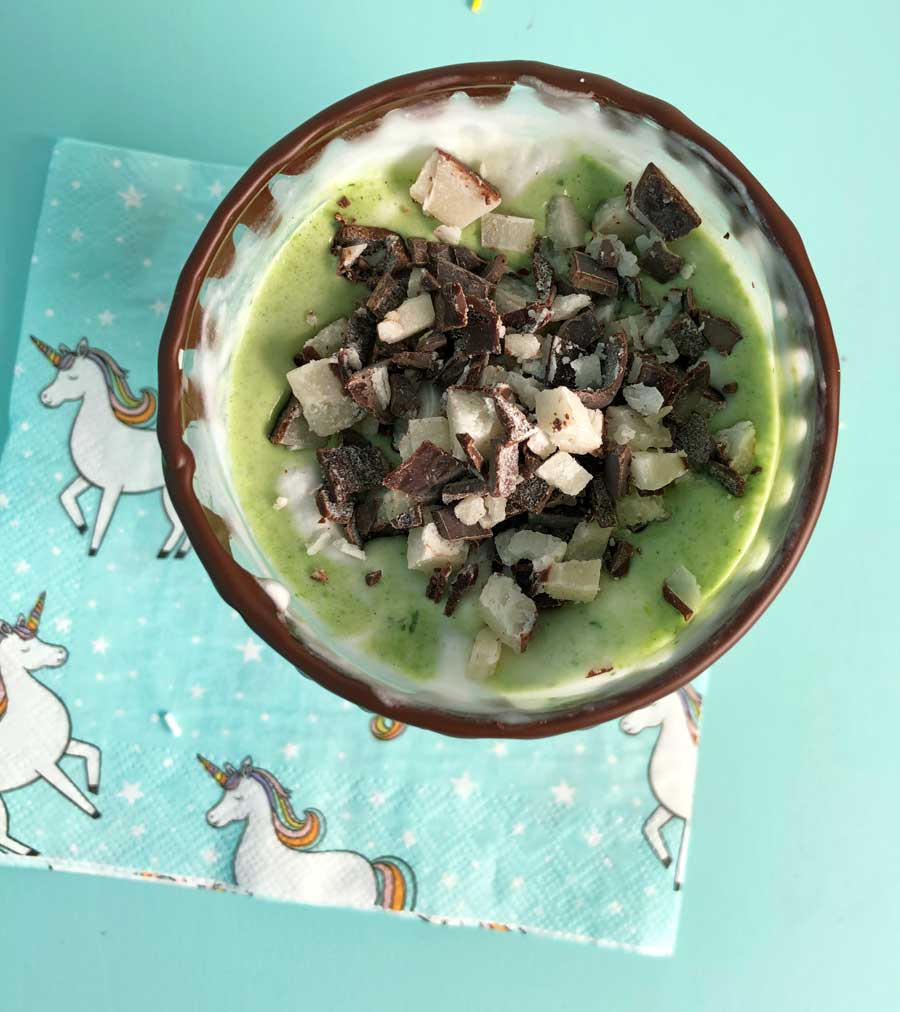 Top with whipped cream (optional).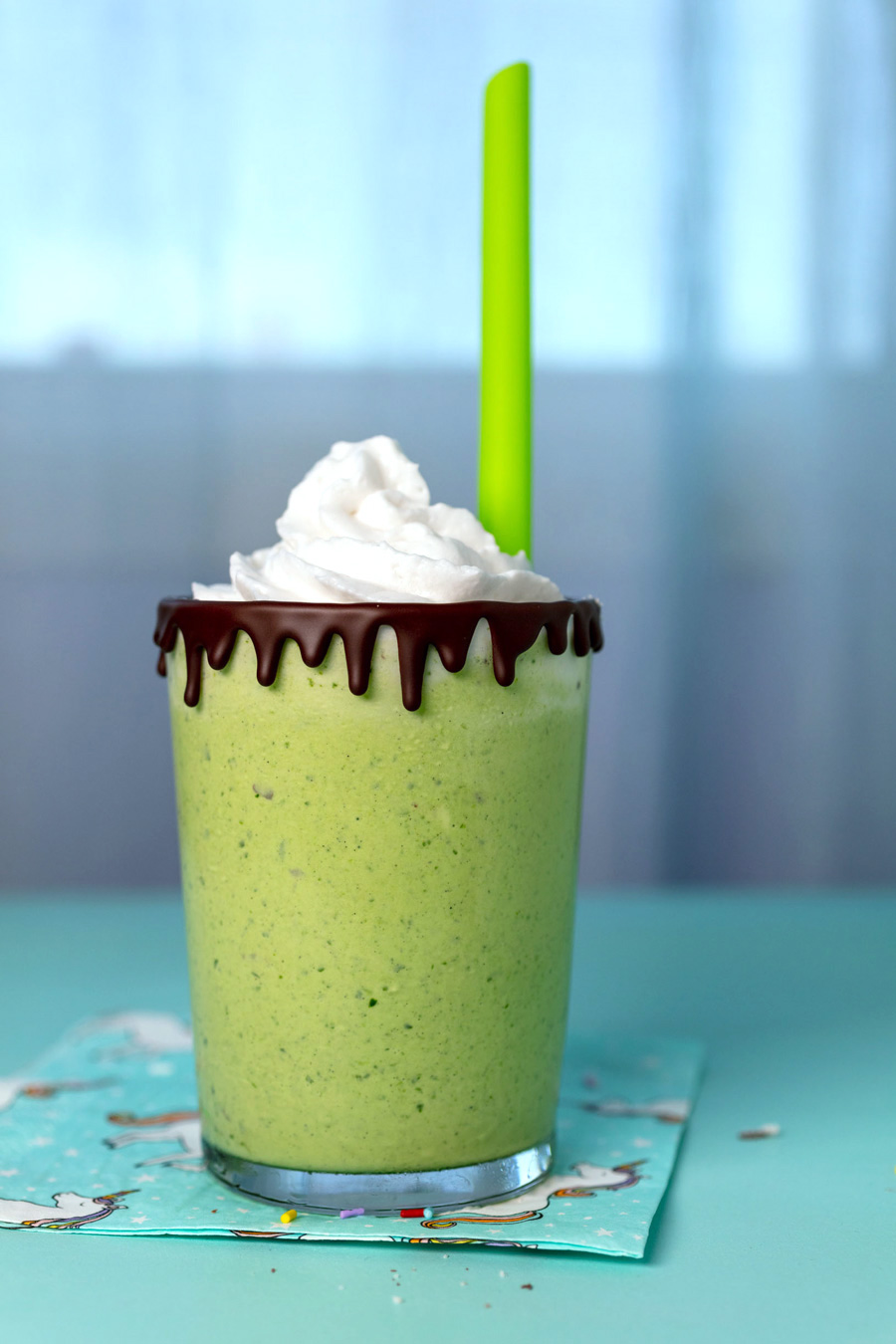 Add vegan sprinkles (optional) and remaining pieces of Amy's Minty candy bars .
Serve shake with a boba straw or a long-handled spoon.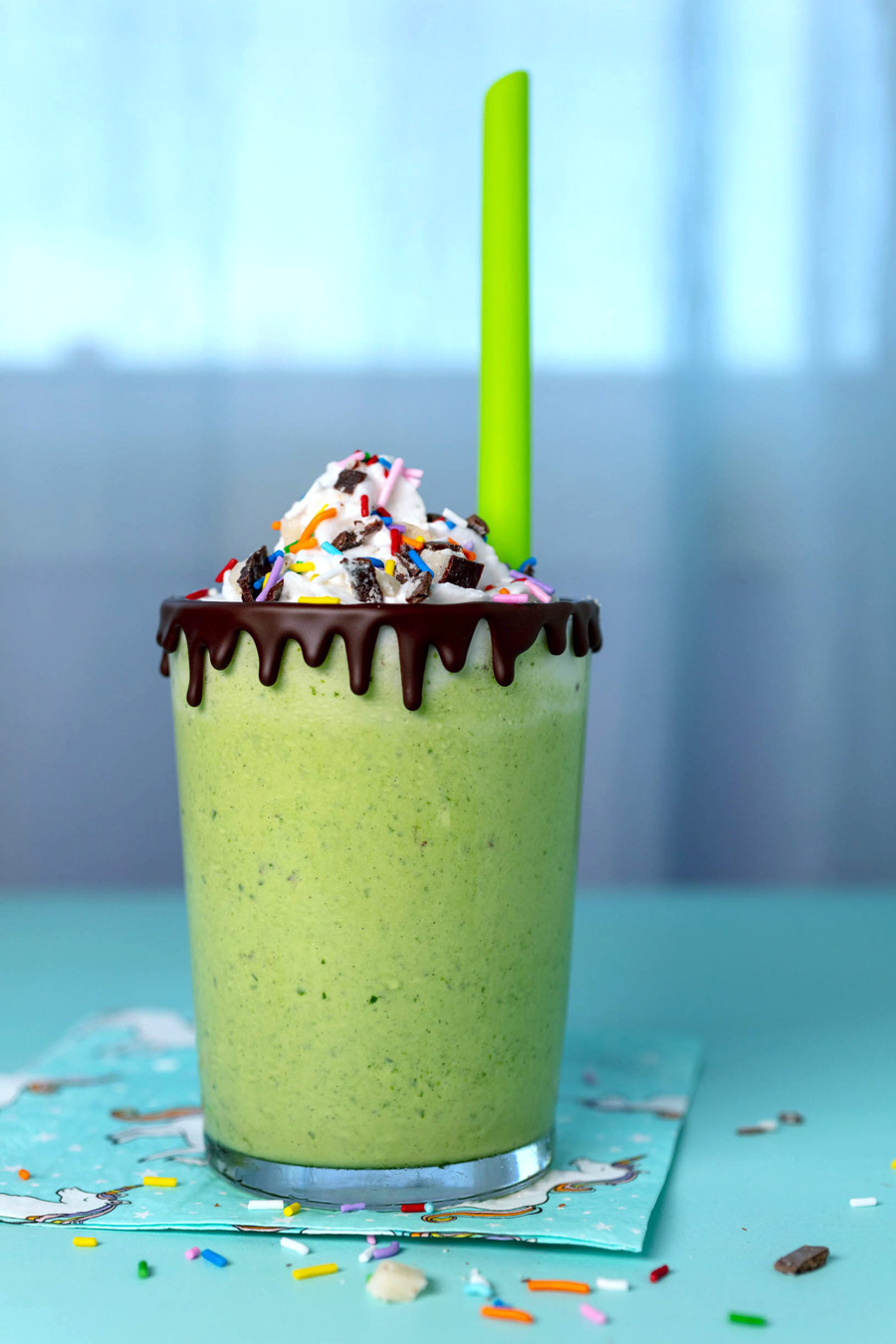 If you like vegan milkshakes, you might also want to check out my chocolate shake recipe.
If you're looking for other St Patrick's Day foods, check out my rainbow cake.
☆☆☆☆☆☆☆☆☆☆
This milkshake post was made possible thanks to the support of Amy's Kitchen. All content and opinions are unbiased and entirely my own. For more recipes using Amy's products, sign up for their newsletter. To get (very infrequent, sorry haha) updates from Vegan Dollhouse, sign up for my newsletter.