Vegan Tuna Casserole
published on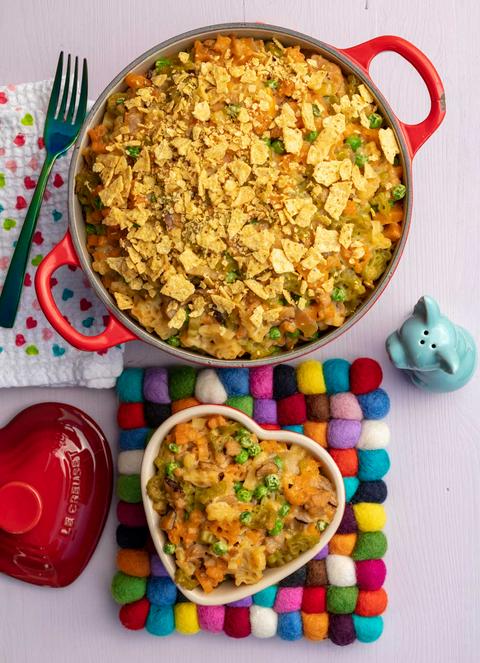 ♫ Listening to: Two Lips by Choir Boy ♫
My mom made me tuna casserole when I was growing up, and it was one of my favorite meals. This is my healthy(ish) vegan version of that casserole. It's still one of my favorite meals, and now it's healthier and cruelty free. I think this recipe would be mom-approved.
This recipe makes 1 large lasagna pan of casserole or lots of mini casseroles if you prefer tiny cute things.
Table of Contents
(click the links to skip to the section you're looking for)
Dollhouse Shortcut
If you don't have an onion, you can instead add 1 teaspoon of onion powder when you add the garlic powder.
1 onion, finely diced
2-3 tablespoons of olive oil (if you avoid oil, replace this with water)
1 pound of mushrooms, washed and sliced
¼ cup unbleached flour
1 ½ cups filtered water, boiling
½ cup nutritional yeast
1 teaspoon garlic powder
1 teaspoon pepper
2 teaspoons pink sea salt
2 tablespoons organic tamari or soy sauce*
1-2 cups grated vegan cheese (optional, but I used 1 ½ cups of violife cheddar)
16 ounces pasta*
1 bag (1 pound) of frozen peas
1 package of vegan tuna, shredded (I like the one made by Layonna Vegetarian the best because it doesn't taste fishy. I've also used chickpeas in the place of tuna.)
breadcrumbs or an alternative to bread crumbs (see substitutions section below for alternatives)
prep time: 15 minutes | cook time: 45 minutes | total time: 1 hour
Boil a large pot of water. You'll add the pasta as soon as it starts to boil, but while you wait for that, you can start on the cheesy mushroom gravy sauce.
Heat 1-2 cups of water in a kettle. You'll use this for the cheese sauce gravy combo.
Dice half of the mushrooms finely.
Sauté the finely diced onion and mushrooms in a saucepan with olive oil with the lid on over medium heat for around 10 minutes. If you avoid oil, replace it with water.
Blend ¼ cup unbleached flour with 1 ½ cups filtered boiling water and 2 tablespoons of tamari (or soy sauce / nama shoyu).
Whisk the blended mixture into the sauteéd mushrooms and onion until you have a thick sauce consistency (this can take up to 10 minutes, but usually just a few).
Add the remaining dry ingredients: ½ cup nutritional yeast (vegans call this nooch for short), 1 teaspoon garlic powder, 2 teaspoons pink sea salt (or any salt), and 1 teaspoon pepper. Continue whisking.
Add the grated vegan cheese, handful by handful, whisking until smooth in between each addition. Turn heat off once the sauce is smooth(ish). This step is optional so skip it if you don't care for processed vegan cheese or use homemade cheese.
Heat the oven to 350°. By now, the pasta water has probably started boiling.
Add the pasta to the boiling water, and boil for the amount of time on the package directions.
Stir the pasta after 1 minute to make sure it isn't sticking to the bottom of the pot.
Scoop the pasta from the boiling water and dump it into a colander in the sink, using a slotted spoon. If you're using long noodles, like fettuccine, you should use tongs instead of a slotted spoon.
Return the pot to the stove over high heat, add the frozen peas, and bring to a boil again.
Boil peas for 4-5 minutes.
Drain the peas by pouring the contents of the pot into the colander that's been holding the pasta.
Transfer the pasta and peas back into the empty pot.
Add the sliced mushrooms and stir.
Add the mushroom onion cheese sauce to the pasta, and mix thoroughly. This gravy-like sauce takes the place of the can of mushroom soup plus the can of milk plus the cheese that my mom's recipe traditionally called for.
Add the tuna to the pot and mix thoroughly. (If your tuna didn't come shredded, you'll have to shred it in the food processor before adding it to the pasta.)
At this point, you can stop and serve the pasta if you're too hungry to wait any longer. But if you want it to taste like my mommy's tuna casserole, you have to go the extra step.
Transfer to a lasagna pan or other oven safe dishes. I made a cute tiny heart one for me and a bigger one for everyone else.
Top your tuna noodle casserole with bread crumbs, chip crumbs, cracker crumbs, fried onions, or whatever casserole topping you have lying around. This bread crumbs step is optional, or you can replace it by adding extra grated vegan cheese to the top.
Bake in the oven at 350° for 15-20 minutes.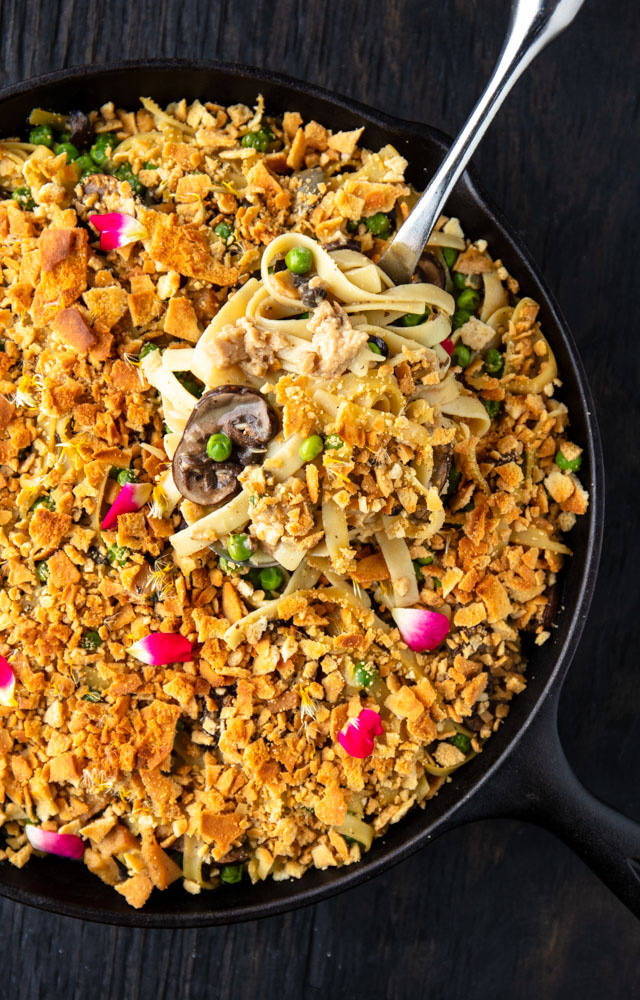 What is vegan tuna?
Vegan tuna is usually made of some combination of bean protein. It's healthier for you, better for the environment, and better for the fishies and their families if you eat vegan tuna. Some brands of vegan tuna include Layonna's, Sophie's, Good Catch Foods, and Gardein.
Where can I buy vegan tuna?
I buy my vegan tuna from all sorts of places: grocery stores, health food stores, and online stores. Sophie's makes both canned tuna and frozen fish products. Good Catch Food tuna is shelf stable, but it comes in a pouch. So, if you don't find vegan tuna in one area of your store, don't give up looking.
instead of on the stove? Sure! When I'm short on time, I use the ingredients from this tuna casserole recipe, but I follow the instructions for my hamburger helper recipe. Then just transfer the contents from your instant pot liner into your lasagna pan or casserole dish and follow the bread crumbs instructions from this recipe.
How do I make a gluten free and dairy free tuna casserole?
This recipe is already dairy free and it can be gluten free if you use ¼ cup of organic cornstarch in place of the ¼ cup of flour and replace the pasta with a gluten-free pasta, such as chickpea pasta. Make sure the vegan tuna you buy is also gluten-free, like the Good Catch Foods tuna.
Your recipe just calls for pasta. Can I use egg noodles?
No! Egg noodles are made with eggs, and trust me, you don't want to contribute to the egg industry. I personally like my vegan casserole with shells, bowtie, and rotini pasta, but if you want a more authentic experience, try buying fettuccine noodles and breaking them before using them.
Is this recipe good for meal prep? Can you freeze vegan tuna casserole?
Yes! It makes a large amount of food: probably around 12 servings. It freezes and defrosts well, and it reheats easily in a microwave, air fryer, toaster oven, or oven.
Instead of buying breadcrumbs, I usually save the crumbs from the bottom of the bag of chips and pretzels to use as my breadcrumbs. You can also make your own bread crumbs by toasting bread and then putting it in the food processor.
If you want a cheesier vegan tuna casserole, skip the breadcrumbs on the top, and instead, pour some Miyoko's liquid vegan mozzarella over the top during the last 10 minutes of baking and crank the heat to 500º.
If you avoid soy, you can use chickpeas that you've mashed or pulsed in the food processor in place of vegan tuna. Since chickpeas are dryer than vegan packaged tuna, you may want to add a bit more oil or vegan butter if you make this substitution.
If you don't have an onion, you can add 1 teaspoon of onion powder when you add the garlic powder instead of dicing and sautéing the onion.
If you avoid oil or saturated fat in general, you can sauté the onion in water instead of oil.
If you have almond milk or other non-dairy milk that's about to expire, you can replace any amount of the 1 1/2 cups of water in this recipe with dairy free milk.
For an extra boost of flavor, you can use vegetable broth in place of the water.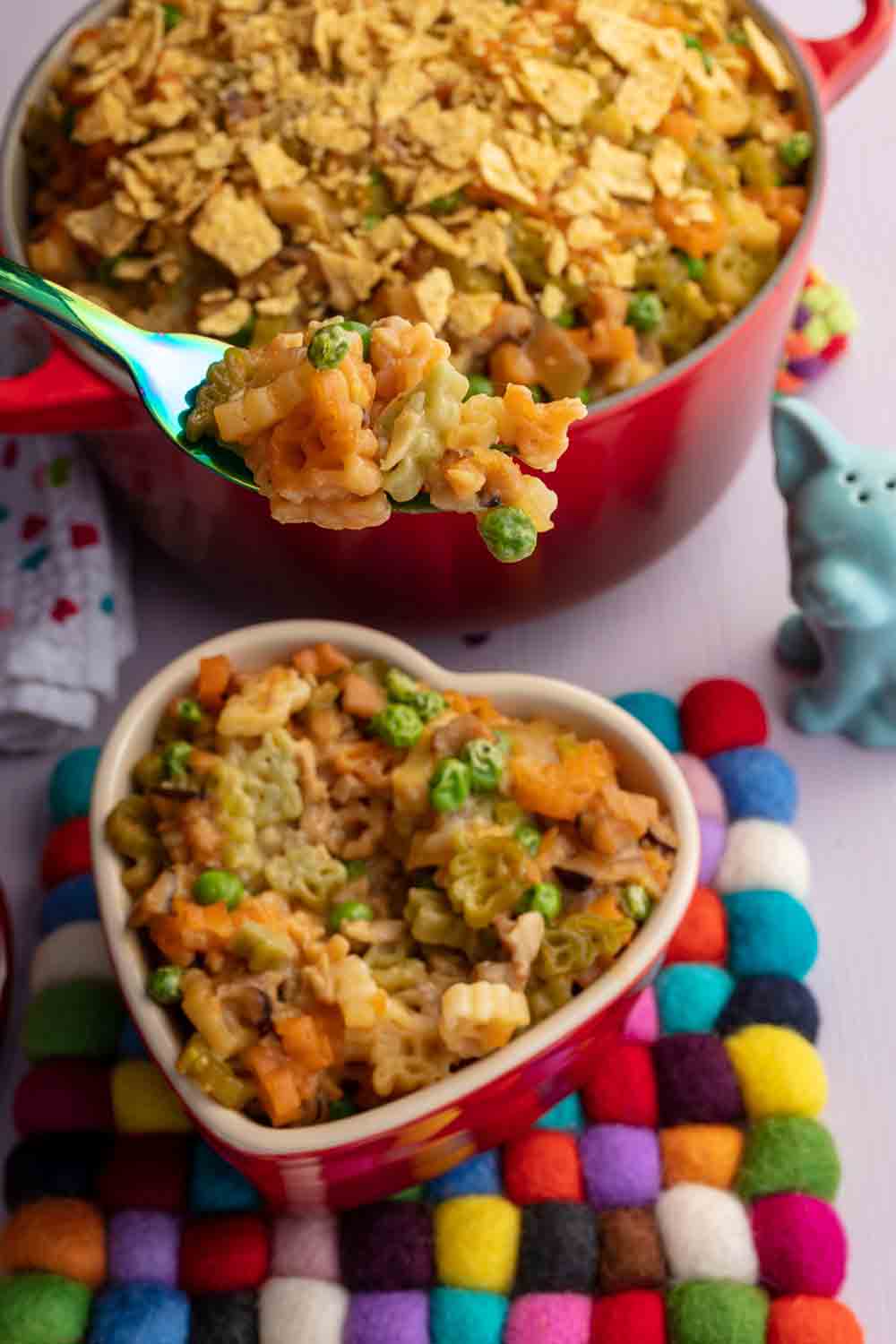 If you like comfort food, you might also like this vegan thanksgiving dinner cake.
This post was originally published on October 20, 2019. I updated it in summer 2022 to add the FAQ and updated the photos.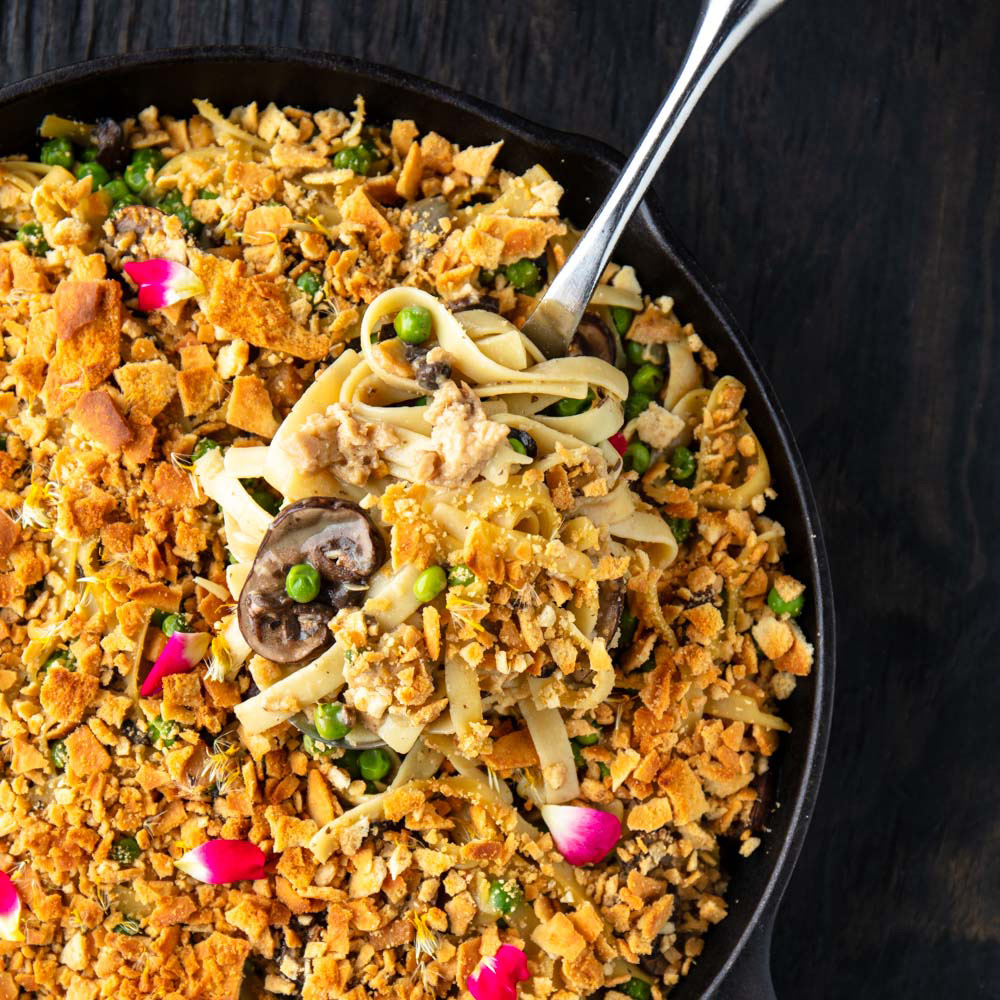 ☆☆☆☆☆☆☆☆☆☆
* Whenever you see colored pasta in stores, make sure it's colored with vegetables before you buy it. Some pasta is colored with squid ink! Poor little squid.
I use mostly organic ingredients when I cook, but I realize that not everyone has the disposable income to purchase all organic ingredients. Therefore, I only specify organic on the ingredients that really matter - when buying the organic version is the only way to ensure that the item is vegan.