Vegan Moose Tracks Ice Cream
published on
♫ Listening to: Shadow by Wild Nothing ♫
Let's face it. I have zero expertise on what moose tracks ice cream is, except that I think it has a cute name. Born and raised in California with brief stints in Hawaii and Florida, I have definitely never seen a moose or their tracks. Luckily, the internet told me that moose tracks ice cream is vanilla ice cream with fudge swirl and peanut butter cups. I'm in! This recipe makes over a quart of ice cream, so invite someone over to share it with. You can also use it to fill my frozen cookie dough cups.
Vegan Moose Tracks Ice Cream Ingredients
1 ½ cups nondairy milk (I used almond milk)
1 can organic coconut milk (Whole Foods 365 brand is fairly cheap)
¾ cup raw sugar
3 tablespoons arrowroot powder (or sub organic cornstarch)
1 tablespoon vanilla extract
1 cup of vegan fudge
½ of a batch of vegan chocolate peanut butter cups
Vegan Moose Tracks Ice Cream Directions
Dollhouse Shortcut
Purchase vegan vanilla ice cream from the store and skip to the fudge step in the recipe.
Whisk the arrowroot powder with ¼ c almond milk. Add 1 tablespoon vanilla. Whisk again. Set aside.
Stir the sugar, remaining nondairy milk, and coconut milk in a saucepan over medium heat.
Once the ingredients in the saucepan start to boil, remove from heat and whisk in the arrowroot powder mixture.
Leave on counter covered until it cools to room temperature.
Chill in the refrigerator for 4 hours or overnight.
Make your chocolate peanut butter cups 2 hours before and make your vegan fudge sauce an hour before your ice cream is ready to churn.
Follow these instructions to make your chocolate peanut butter cups.
Follow these instructions to make your fudge swirl sauce.
Pour the chilled vanilla ice cream into an ice cream maker and start churning immediately.
Churn the vanilla ice cream until it's thick.
Swirl in the fudge and add the peanut butter cups when the ice cream is done churning.
Serve immediately if you like soft serve style ice cream or transfer the ice cream from the ice cream maker into a quart-sized tupperware and freeze for up to 3 weeks.
Top with biscoff sauce or hot fudge (optional, of course).
Hint: An alternative if you don't have an ice cream maker is to pour the ice cream mixture into a bowl and rest that bowl inside a bigger bowl that's filled with ice. You'll need to constantly stir it with a spatula, and you'll likely have to restock your ice as it melts, but it works well enough. If you're willing to purchase an ice cream maker on amazon, click on the link in this post (and it helps support this website), or you can usually find used ones at thrift stores for under $10.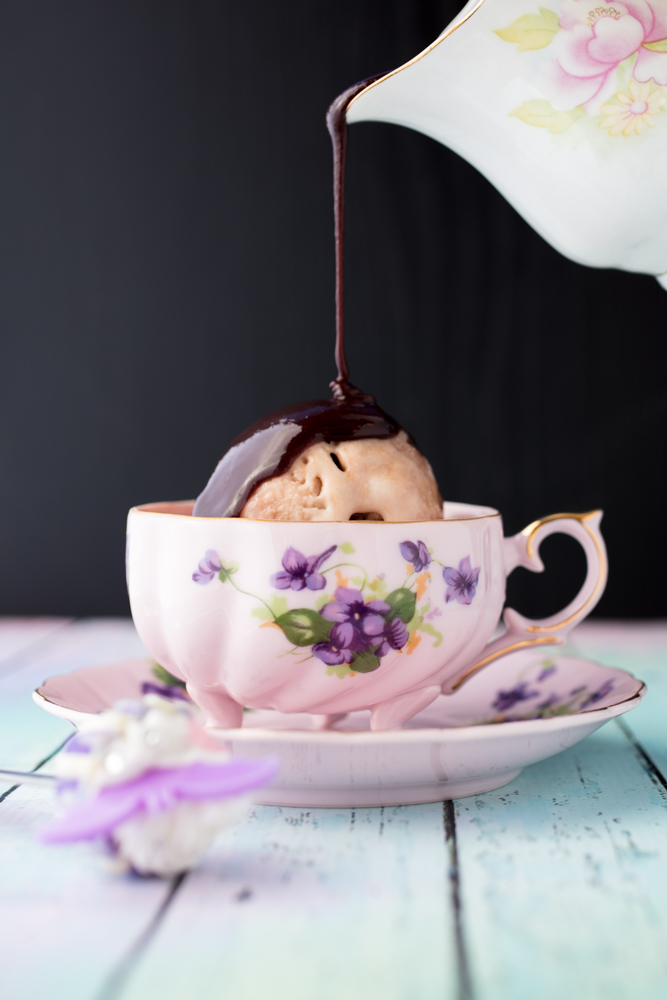 ☆☆☆☆☆☆☆☆☆☆