Lemony Snicket Cupcakes
published on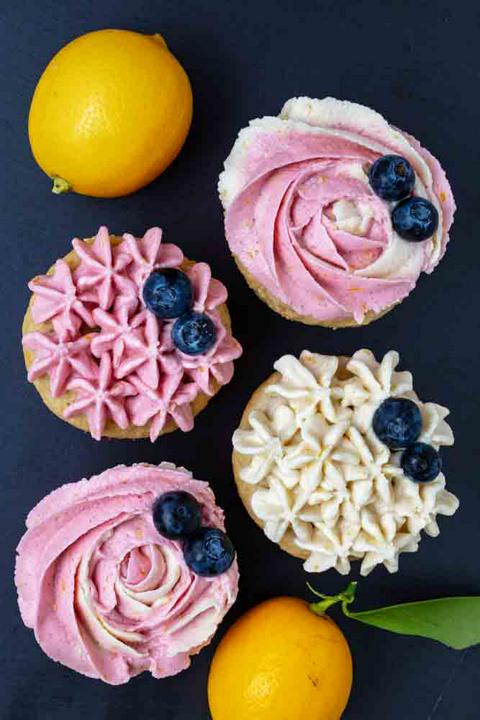 ♫ Listening to: I'd Rather Dance With You by Kings of Convenience ♫
This recipe makes 12 lemon cupcakes with hibiscus lemonade frosting.
Lemon Cupcake Ingredients
2 organic lemons
~ a third of a cup of nondairy milk (it depends on the size of your lemons)
¼ cup sunflower oil
2 teaspoons vanilla extract
¾ cup raw sugar (if you're skipping frosting, you can use 1 cup of sugar to make them sweeter)
2 cups unbleached white flour
1 teaspoon baking soda
1 ½ teaspoons baking powder
1 teaspoon organic cornstarch or tapioca flour
a few pinches of salt
Lemon Cupcake Directions
Line a cupcake pan with paper liners.
Wash your organic lemons.
Peel just the yellow part of the peel off your organic lemons using a vegetable peeler (or a knife, if you don't have one). Put those yellow peels into your blender.
Peel (or cut) the rest of the peel off the lemons and compost them.
Remove the seeds from your organic lemons and compost them.
Put the rest of the lemons into the blender.
Preheat the oven to 325°.
Blend lemons on high for a few seconds.
Add nondairy milk until the liquid equals 1 cup.
Add the oil, vanilla, and sugar to the lemons and milk, and blend for 20-30 seconds, until no chunks remain.
Sift the flour, soda, powder, starch, and salt into a large bowl.
Add the blended ingredients to the dry ingredients and stir until there are no dry spots.
Scoop the batter into the cupcake liners, using a silicone spatula to get all of it.
Bake for 21 minutes.
Remove from the oven and leave on a cooling rack for 10-15 minutes before removing cupcakes from the pan and setting onto the cooling rack.

Hibiscus Lemonade Frosting Ingredients
¼ cup vegan butter or margarine (if you avoid soy, buy the soy-free earth balance; otherwise buy the organic whipped earth balance)*
½ cup organic palm shortening*
1 lemon
1 teaspoon vanilla extract
2 - 2 ½ cups organic powdered sugar*
¼ teaspoon hibiscus powder
24 blueberries for garnish (optional)
Hibiscus Lemonade Frosting Directions
Whisk the spectrum sustainable organic palm shortening and margarine for 1 minute using a stand mixer or a handheld electric mixer.
Sift in half of the powdered sugar, mixing for 2 minutes after.
Add the vanilla and continue to mix for 1 more minute.
Add the juice and zest from the lemon and continue to mix for 1 more minute. (The zest is optional, as it does tend to make yellow speckles in your frosting.)
Sift in the remaining powdered sugar, mixing for 2 minutes after.
Transfer half of the icing to another bowl.
Mix the hibiscus powder with a tiny bit of water to form a paste.
Add the hibiscus paste to the frosting that's left, and continue to mix for 2 more minutes.
Fill a disposable piping bag or reusable piping bag (or you can just use baggies with a hole cut out of the corner) with the pink frosting and another with the white frosting.
Place those piping bags inside of a large piping bag fitted with your tip of choice. I used my Wilton star tip 1M .
Pipe onto cooled cupcakes.
Garnish with blueberries (optional).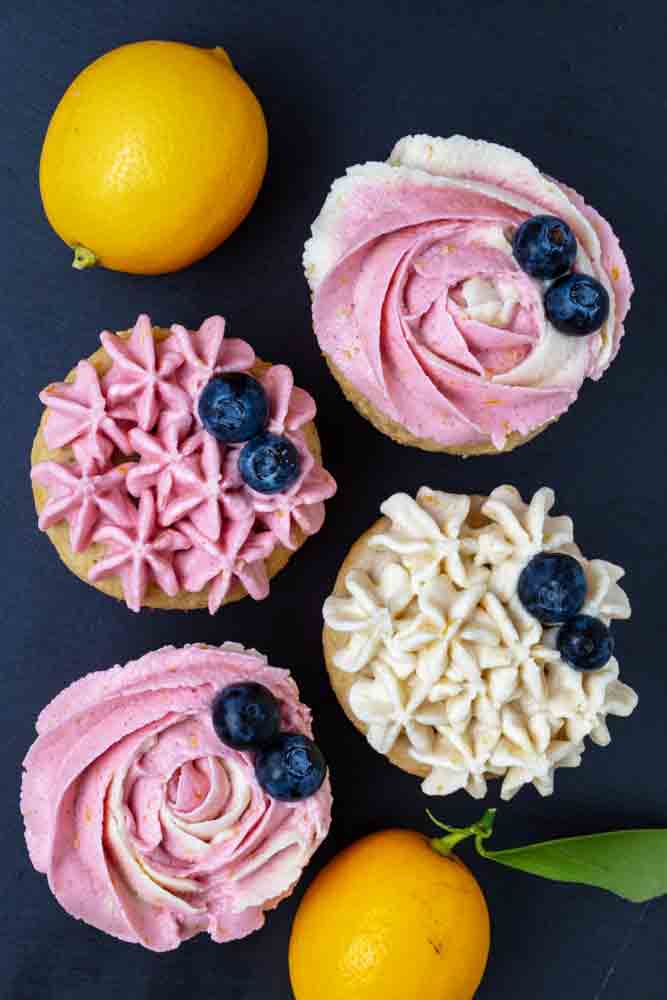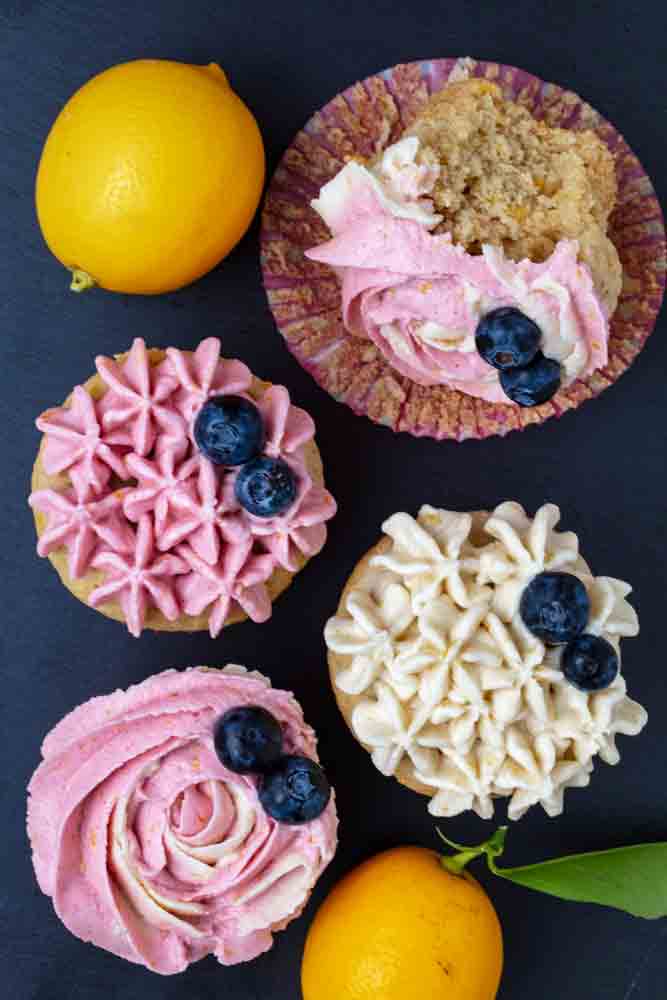 If you like lemon desserts, you might also like my lemon blueberry cake, my funfetti lemonade cake, my strawberry lemonade cake, and my lemon blueberry cookies.
☆☆☆☆☆☆☆☆☆☆
* I use mostly organic ingredients when I cook. I realize that not everyone has the disposable income to buy only organic ingredients. So, I only specify organic on the ingredients that matter: when buying the organic (or non-GMO) version is the only way to ensure that an item is vegan.
This post links to items I used when I made this recipe. If you click on the purple Buy Now button on a product page, you will go to a website (like Amazon) where you can buy the same product I used. Sometimes, the store you purchase from (Amazon, Etsy, etc.) will pay me for referring you. This costs you nothing extra, and I would never recommend a product that I don't use. These affiliate programs help me buy the ingredients to create these recipes for you. Read more about this in my privacy policy.
☆☆☆☆☆☆☆☆☆☆