Nutella Pie
published on , modified on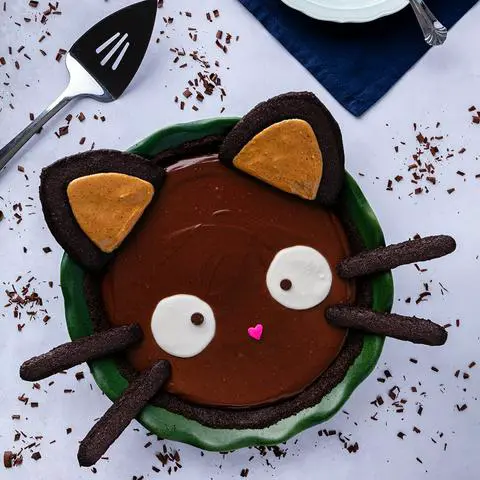 This nutella pie is a fun and easy alternative to vegan chocolate cream pie. Since it requires no baking, you can buy a premade vegan crust, and this pie can be the easiest dessert you make all year. Or you can go the extra step and decorate it to look like Sanrio's chococat.
This recipe makes 1 no-bake nutella pie (12-16 slices).
Table of Contents
(click the links below to skip to the section you're looking for)
♫ Listening to ♫
I Knew You Before by Dustin Kensrue
I've been making this pie for the majority of my vegan life, and it never fails to disappoint. If you're not into baking, you can make this for a friendsgiving or a potluck, and people will LOVE it. They're never know how easy it was, because it tastes rich and decadent.
(jump to the substitutions section to see ingredient details and suggestions for substitutions)
Dollhouse Shortcut
To save time, buy a premade vegan cookie crust, like the chocolate gluten-free Mi-del one.
13 oz (365g) Newman O's

¼ cup (44g) vegan butter, melted
How to Make Chocolate Cookie Pie Crust for the Nutella Pie
prep time: 10 min
Crush 13 oz (365g) Newman O's into crumbs using any number of methods. I used a food processor. Some people use a ziplock bag and a rolling pin. It took me 4-5 cycles of 10 seconds each in my food processor before there were not more chunks of cookie and it was all processed into fine crumbs.
Drizzle ¼ cup (44g) melted vegan butter into the top hole of the food processor while it's running. (If you don't have a food processor, just mix with your hands.)
Press the chocolate cookie crust mixture into the bottom of your pie pan. If you have extra, you can press it up the sides of the pan too. I used a rather large pie pan, so my crust only went halfway up the sides.
Chill the crust while you make the filling.
(jump to the substitutions section to see ingredient details and suggestions for substitutions)
12 oz (340g) organic silken tofu

½ cup (110g) vegan or organic sugar

⅓ cup (80g) non dairy milk

⅔ cup (185g) chocolate hazelnut butter

1 cup (6oz/170g) vegan chocolate chips
How to Make the Filling for the Vegan Nutella Pie
prep time: 10min
Dollhouse Shortcut
Use the microwave to melt the chocolate, to save time. Microwave in two 30-second increments, stirring after each.
Blend the following: 12 oz (340g) organic silken tofu, ⅔ cup (185g) vegan nutella, and ½ cup (110g) vegan sugar until it's smooth and creamy.
Melt 1 cup (6oz/170g) vegan chocolate chips and ⅓ cup (80g) nondairy milk in a small saucepan on low heat, stirring until smooth.
Add the melted vegan chocolate chips to the blender, scrape the sides with a spatula, and blend again until it's smooth and creamy.
Pour the blended ingredients into the pie crust, using a spatula to scrape every last little bit out of the blender.
Chill the pie in the freezer for 30-60 minutes or in the fridge for 2-3 hours.
Ears: I used my black cocoa cookies recipe to make chococat's ears and whiskers. For the ears, I spread peanut butter on them. Hazelnut butter would have been even better, but I didn't have any.
Eyes: I used whipped cream with a chocolate chip pupil for chococat's eyes.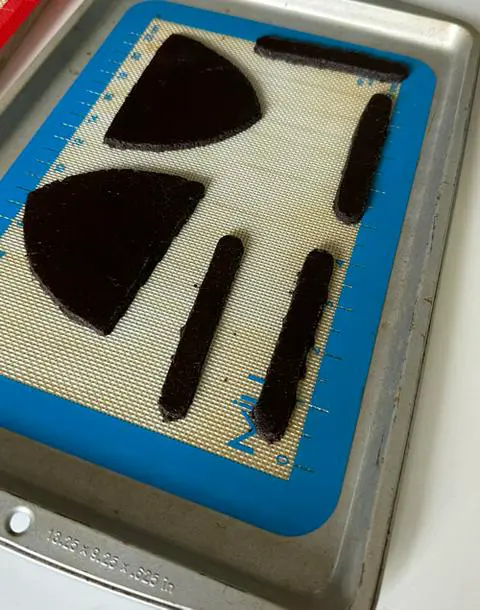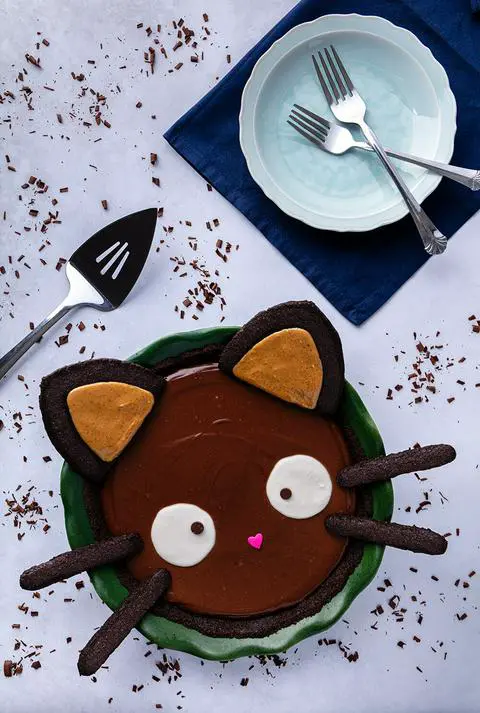 Can I make nutella pie with graham cracker crust instead of chocolate cookie crust?
To make a graham crackers crust, crush 2 sleeves (266g) of vegan graham crackers (nabisco makes an accidentally vegan one that comes in an all red box) using the food processor until they are fine crumbs. Then drizzle the melted butter into the hole while the crumbs are processing. Press the mixture into the bottom of the pie pan and up the sides.
Is nutella pie gluten-free?
The cookie crust is the only ingredient keeping this nutella pie from being gluten-free. If you replace the cookies in the crust with gluten-free cookies, then this will be a gluten-free nutella pie recipe. Alternatively, you can make a crustless pie, like I did with these mini crustless nutella pies.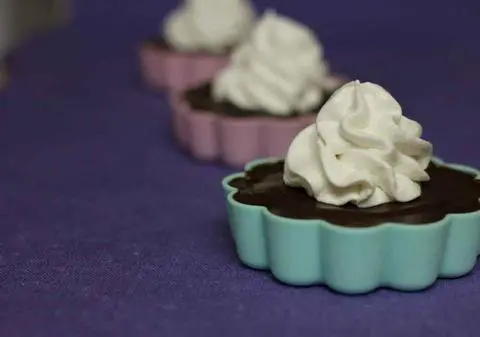 Shouldn't nutella pie have whipped cream?
Instead of decorating your nutella pie to look like chococat, you can top the entire pie with vegan whipped cream and chocolate shavings like a traditional chocolate cream pie. To do this, you can either buy vegan whipped cream from the store, or if you have a resusable whipped cream canister, whisk together the coconut cream from a can of chilled coconut milk, ¼ cup organic powdered sugar, and 2 teaspoons vanilla extract. Pour it into the whipped cream canister. Add a nitrous cartridge, and chill it for 30-60 minutes before piping onto your pie.
When making the chocolate cookie crust, do I put the entire pack of cookies in the food processor, or do i take each one apart and remove the cream filling?
Just process the entire package of Newman O's for the crust recipe.
Vegan Butter: My favorite vegan butter is organic whipped Earth Balance. If you avoid soy, Earth Balance makes a soy-free version you can buy. You can also use coconut oil in place of the vegan butter.
Sugar: For the sugar in this recipe, you can use any number of sugars, as long as they're vegan: brown sugar, sucanat, coconut sugar, raw sugar, organic sugar, evaporated cane juice, or demurara. If you're not sure if your sugar is vegan, you can contact the company and ask, but basically, just avoid conventional white sugar or granulated sugar, and you should be ok. You can also replace the sugar in this recipe with agave syrup, agave powder, maple syrup, date syrup, or date sugar.
Nondairy Milk: For the ⅓ cup nondairy milk, you can use any kind of plant-based milk. I used chocolate oatly milk because that's what I had in my fridge, and because you can never have too much chocolate. If you have access to hazelnut milk, that would be a fun addition. Otherwise, just buy the cheapest vegan milk you can find. If you use soymilk, I recommend buying organic or non-GMO to make sure it's vegan.
Silken Tofu: I buy the organic shelf stable silken tofu, and it comes in packages that are 12 oz (340g). I know there are other kinds of silken tofu you can buy that come in bigger packages, so if you're using those, try to only use the amount the recipe calls for.
Chocolate Chips: For the 1 cup (6oz/170g) of vegan chocolate chips in this recipe, you can substitute any vegan chocolate. I like to use fair trade and organic chocolate, but I know that can get pricey. If you're trying to save money, Trader Joe's sells cheap vegan semi-sweet chocolate chips. Guittard makes less expensive fair trade vegan chocolate chips that are sold in a lot of grocery stores.
Vegan Nutella: For the ⅔ cup chocolate hazelnut butter in this recipe, I used Justin's chocolate hazelnut butter because it tastes just like nutella. Other brands make vegan nutella too, such as Endangered Species, Nutiva, and Artisana. I know these products can be kind of expensive, so if you can find hazelnut butter for cheaper, you could always make your own.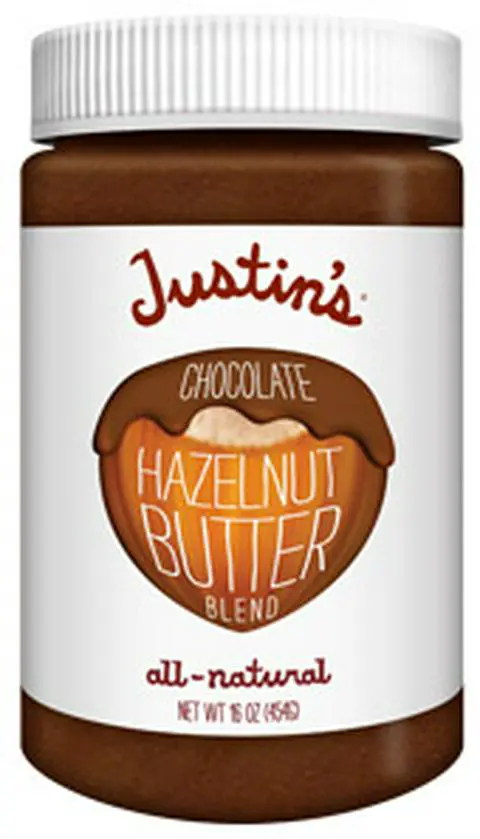 Servings: 16
Calories: 231
Total Fat: 12.4g
Saturated Fat: 3.5g
Cholesterol: 0mg
Sodium: 132mg
Total Carbohydrate: 29.2g
Dietary Fiber: 1.9g
Total Sugars: 19.2g
Protein: 4.8g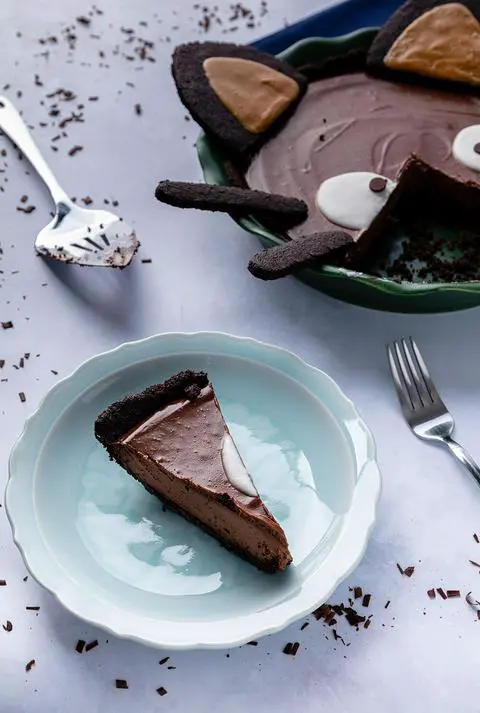 If you make this recipe, snap a pic, post to instagram, and tag me @vegandollhouse. I love to see your creations!
Please message me (instagram or email) if you have any questions or feedback about the recipe.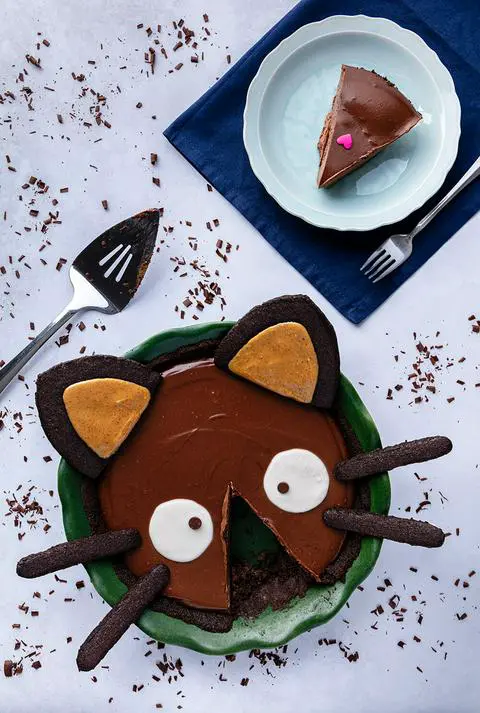 If you like nutella pie, here are a couple of other nutella-flavored desserts you should check out.
This mini gluten-free nutella cake uses a mousse-like frosting that is very similar to the filling in this pie.
This vegan nutella cake is 2-layer 8-inch round birthday cake with a filling between the 2 cake layers that resembles the filling in this pie recipe.
☆☆☆☆☆☆☆☆☆☆
* I use mostly organic ingredients when I cook. I realize that not everyone has the disposable income to buy only organic ingredients. So, I only specify organic on the ingredients that matter: when buying the organic (or non-GMO) version is the only way to ensure that an item is vegan.
This post links to items I used when I made this recipe. If you click on the purple Buy Now button on a product page, you will go to a website (like Amazon) where you can buy the same product I used. Sometimes, the store you purchase from (Amazon, Etsy, etc.) will pay me for referring you. This costs you nothing extra, and I would never recommend a product that I don't use. These affiliate programs help me buy the ingredients to create these recipes for you. Read more about this in my privacy policy.
☆☆☆☆☆☆☆☆☆☆