Vegan Pot Pie
published on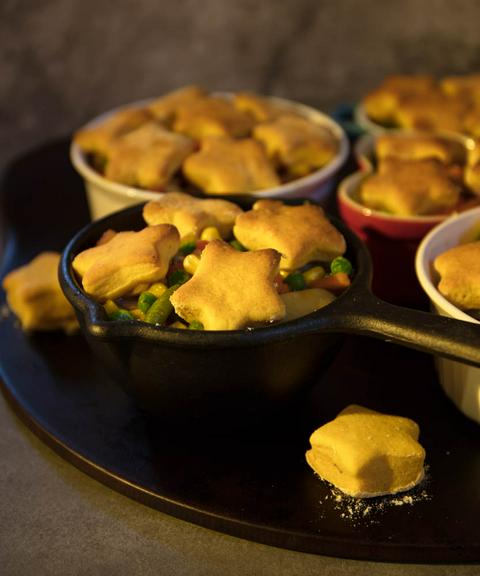 ♫ Listening to: Love Rhymes With Hideous Car Wreck by The Blood Brothers ♫
This is a great dinner to make when you couldn't bring yourself to trek through the rainy Sunday morning to go to Farmer's Market. Who would possibly let a little rain stop them from their weekly market trip to acquire fresh veggies? ::looks over left shoulder, looks over right shoulder, shrugs::
This recipe takes approximately one hour of prep time followed by 15 minutes baking time. It serves 4-5 (depending on appetites) and possibly tastes even better as leftovers.
Pot Pie Filling Ingredients
Dollhouse Shortcut
Purchase a 3-pound package of organic mixed frozen veggies that include carrots, corn, and peas to replace the fresh carrots, frozen peas, and frozen corn.
1 onion, diced
2-3 tablespoons olive oil
2-3 cloves garlic, minced
2 large potatoes, cut into small cubes (~ one pound)
4 large carrots, cut into small chunks (~ one pound)
1 bag organic frozen corn
1 bag frozen peas
1 package mock meat, chopped (optional, but organic seitan and beyond meat chicken breast both work well in this recipe)
6-8 cups veggie broth
Pot Pie Filling Directions
Sauté the onion in olive oil over medium heat until soft.
Add the minced garlic, potatoes, carrots, and mock meat (mock meat is optional: you can either omit it or replace it with cooked and well-rinsed kidney or navy beans).
Add enough broth until veggies are covered. Turn to high until it boils.
Boil on medium heat until potatoes and carrots are soft. This should take around 5-10 minutes, depending on how small you cut your veggies. While this is boiling, you can start preparing the biscuit dough.
Add the frozen veggies to broth once potatoes and carrots are soft. Stir and remove from heat.
Ladle the mixture into casserole dishes or other oven safe dishes.
Biscuit Ingredients
2 cups unbleacher all-purpose flour
¼ cup nooch
1 tablespoons baking powder
1 teaspoon salt
¼ cup organic earth balance (or sub organic butter-flavored Spectrum shortening or any other vegan butter)*
¾ cup water
Biscuit Directions
Preheat the oven to 400°.
Combine the dry ingredients in a bowl: 2 cups flour, ¼ cup nutritional yeast (aka nooch), 1 tablespoons baking powder, and 1 teaspoon pink sea salt (or any salt).
Knead the vegan butter in little by little using a stand mixer if you have one.
Add the water slowly until the dough starts to form a ball.
Roll the dough on a floured surface with a rolling pin and cut out shapes, or just use your hands to flatten and shape the dough.
Place the dough shapes on top of the pot pies and bake for 15 minutes or until golden brown on top.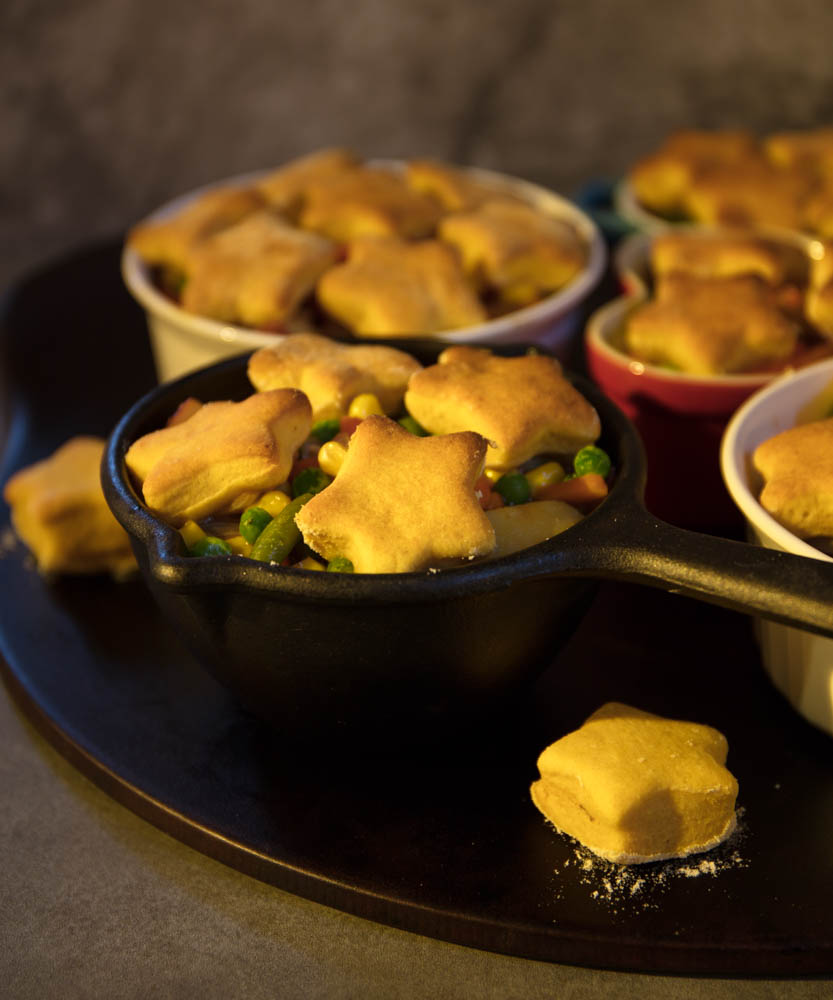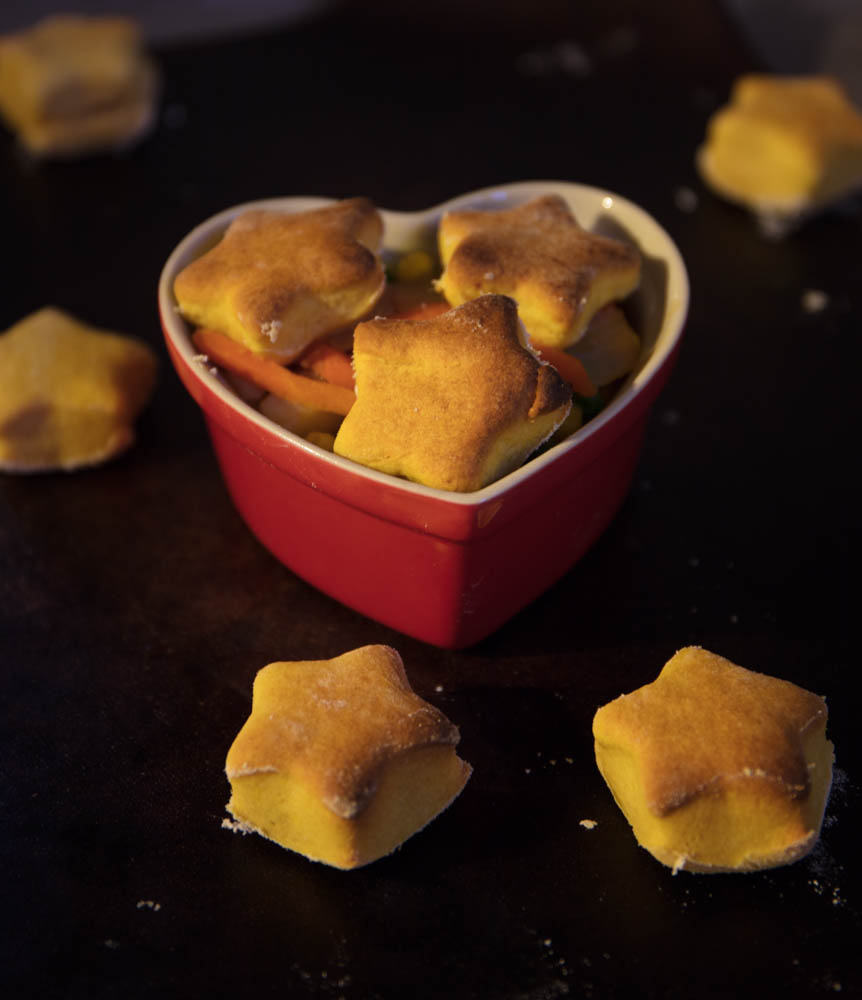 ☆☆☆☆☆☆☆☆☆☆