Vegan Sweet Potato Dinner Rolls
published on
♫ Listening to: Killing Moon by Echo & the Bunnymen ♫
These sweet potato bunny biscuits are actually made with yams (tell me the difference between a yam and a sweet potato, I dare you). They have the consistency of a dinner roll, but bunny biscuits sounds cuter, doesn't it? You can make them into any cute / kawaii shape you like by using different shaped cookie cutters, or you can just make them into traditional dinner roll-shaped rolls.
This easy dinner roll recipe doesn't require any yeast, kneading, or rising. The rolls come out fluffy and buttery with a boost of nutrition. These are great for holidays like easter, thanksgiving, or christmas, but are easy to make for an everyday dinner too.
See the FAQ section below for my preferred brands and substitutions.
This recipe makes around 8 sweet potato dinner rolls (depending on shape and size).
Vegan Sweet Potato Dinner Rolls Ingredients
2 cups (260g) unbleached all-purpose or pastry flour (the organic kind is sold in bulk at Whole Foods)

2 tablespoons (30g) baking powder (sift it if it has lumps in it)

¼ cup (15g) nooch

2 teaspoons (11g) salt

¼ cup (44g) cold vegan butter or margarine*

1 ¼ cup (310g) cold mashed sweet potatoes or yams (see FAQ section below for more info)

1 ½ tablespoons (22g) unsweetened unflavored nondairy milk
How to Make Sweet Potato Dinner Rolls
Prep time: 15 minutes; Bake time: 15 minutes
Dollhouse Shortcut
You can make these sweet potato rolls up to a month ahead of time and freeze them after they bake. The day before you want to serve them, set them on the counter to defrost, and then warm them up in a 300°F oven for 10 minutes right before you eat.
Preheat oven to 400°F.
Whisk 2 cups (260g) flour, 2 tablespoons (30g) baking powder, ¼ cup (15g) nutritional yeast (if you don't have this, you can replace it with more flour), and 2 teaspoons (11g) pink sea salt (or kosher salt) in a large bowl or a food processor.
Add ¼ cup (44g) cold vegan butter or margarine and mix it into the dry ingredients by either mashing it with the back of a fork or in your food processor fitted with the S blade.
Add 1 ¼ cup (310g) cold mashed potato, and 1 ½ tablespoons (22g) cold nondairy milk.
Mix until you can no longer see any individual ingredients. You can do this by hand, with a stand mixer fitted with the dough hook, or in a food processor with the S blade.
Roll or flatten the dough with your hands to ~ ¾ - 1 inch thickness on a lightly floured work surface, adding flour if it sticks to the your hands, the rolling pin, or the surface you're doing this on (with an emphasis on lightly because you don't want to add too much flour).
Cut out the sweet potato rolls, using your cookie cutter of choice. I've made hearts, stars, cats, and bunnies with this recipe, and all have come out perfectly. Alternatively, you can roll them into ball shapes.
Layer your scraps instead just balling them up, before you reroll your dough to cut out more shapes. This will help your biscuits be flakier.
Bake the rolls in a preheated 400°F oven on baking stones or greased baking sheets for 15 minutes.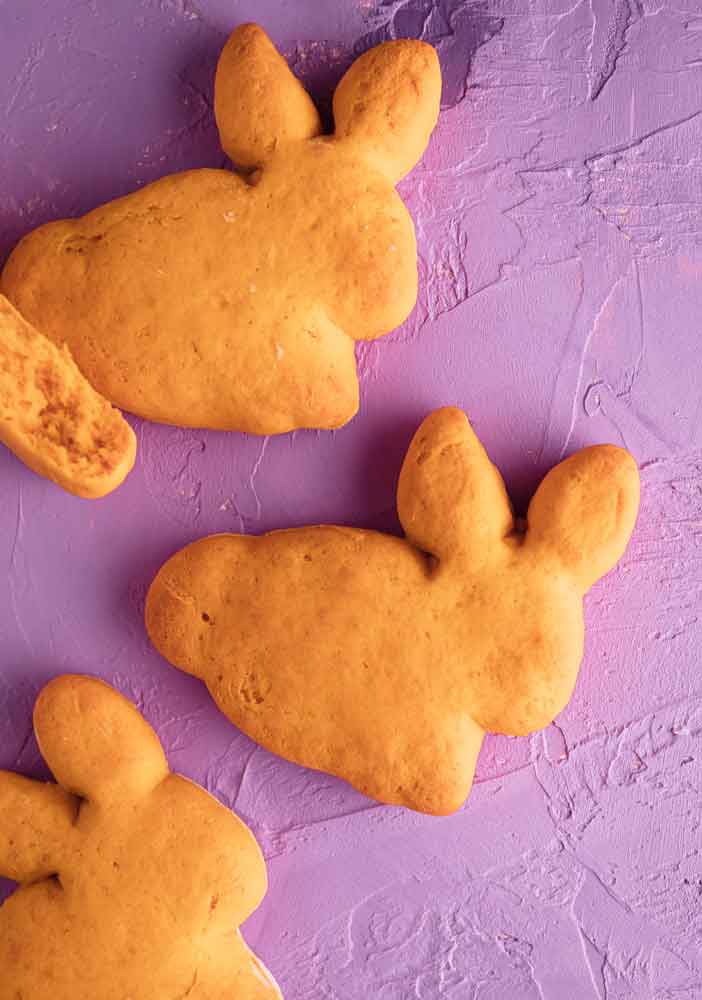 Tip 1: Use chilled ingredients
Whenever you make biscuits, scones, or rolls, if you use chilled ingredients, the result will be a flakier pastry.
Tip 2: Don't overmix
I bet you didn't think there was such a thing as too much mixing (aka, too much love) but there is. So mix until all the ingredients come together, and then halt. If this were a recipe for yeasted rolls, then mixing is encouraged, but with baking powder, it's not the case.
How do I make the mashed sweet potato?
There are 2 ways to make sweet potato pureé.
Wash 2 sweet potatoes or yams and cut them into large chunks.
Peel 2 sweet potatoes or yams and cut them into large chunks.
In both methods, you boil them in water on the stove until you can poke them with a fork, and it goes through easily. Then you drain the water by pouring it all into a colander in the sink. Leave them to cool down for a bit if you still need to peel the skins off. The skins should come off super easily now that they're cooked. (I usually feed them to my doggo.)
Then just mash the potatoes with a potato masher, transfer to a container, and stick them in the fridge to cool down more quickly.
Can I cook these rolls in an air fryer instead of the oven?
You can, but you may not be able to fit them all in your air fryer at the same time. Assuming you're okay with air frying them in batches, line the bottom of your air fryer basket with parchment paper, reduce the heat to 350º, and check them after 10 minutes.
Can I use wheat flour or bread flour instead?
Absolutely! This recipe actually comes out really well when you use bread flour, but most people don't have bread flour in their pantry, so I try to make my recipes easy for everyone. If you have bread flour (or wheat flour), just replace the 2 cups of flour in this recipe with 2 cups of wheat flour or bread flour.
What kind of vegan butter or margarine should I use?
My favorite vegan butter is the organic whipped Earth Balance, but if you avoid soy, you can buy the soy-free Earth Balance.
What is the best dairy-free milk to use in this recipe?
You can use any plant milk you prefer, and you can also mix and match different nondairy milks. Macadamia, almond, oat, or soymilk are all good options, but the important thing to remember is to use an unflavored, unsweetened vegan milk.
Are sweet potato rolls healthy?
Sweet potato rolls are healthier than other dinner rolls because sweet potatoes and yams are a very healthy food. One of the main reasons why is Vitamin A. When I first went vegan in 1999, I read a book by Dr. Michael Klaper that said vegans should eat foods with vitamin A 3 times a week. It's mainly only found in orange veggies, so squash and some root veggies.
What do you serve sweet potato rolls with?
These rolls would be a perfect accompaniment to my vegan thanksgiving dinner cake. Leftover sweet potato rolls also make excellent leftover thanksgiving sandwiches.
They're also a good side to serve with my panera veggie soup and my zucchini soup.
If you like bunny-shaped food recipes, check out these bunny shaped cookies and this vegan ham.
☆☆☆☆☆☆☆☆☆☆
* I use mostly organic ingredients when I cook, but I realize that not everyone has the disposable income to purchase all organic ingredients. Therefore, I only specify organic on the ingredients that really matter - when buying the organic version is the only way to ensure that the item is vegan.