Vegan Rainbow Bagels
published on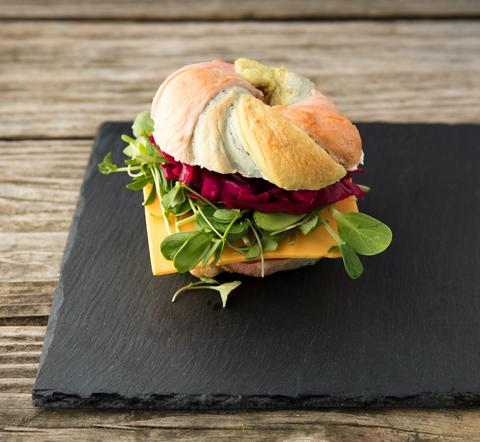 ♫ Listening to: Do What You Want by Bad Religion ♫
I was SO EXCITED to try the rainbow bagels when I was in NYC, and even more excited that they had 8 flavors of tofu cream cheese. While the picture of that bagel was my most popular instagram post to date, the bagel itself tasted like it was made out of play-dough. I vowed at that moment that I would make a tastier version of the rainbow bagel at home, but then months went by, and I never did it. Luckily, this weekend is pride weekend, so now I have a perfect reason to celebrate by making rainbow bagels.
I wanted mine to be all-natural, so I used a natural food coloring that does fade quite a lot when you cook it. If you want a more vibrant color, you can use another brand of food coloring. Check out my list of vegan food coloring and my recipe for pink bagels for ideas.
This recipe makes approximately 8 bagels (depending on the size you make them).
Vegan Rainbow Bagel Ingredients
1 ¼ cups filtered water heated to 110º
2 teaspoons yeast
1 ½ tablespoons raw sugar
3 ½ cups unbleached flour
½ tablespoon sea salt
3 packets of Color Kitchen natural food coloring (1 blue, 1 pink, 1 yellow)
Vegan Rainbow Bagel Directions
Add the yeast and sugar to ½ of the warm water. Set aside for 5 minutes.
Mix the flour and salt together in a large bowl (I used a stand mixer fitted with a whisk attachment). Make a hole in the center of the flour.
Pour the yeast mixture into the hole in the flour and add an additional ½ cup of the warm water.
Mix the dough using the dough hook (or your hands if you don't have a stand mixer ).
Add the last ¼ cup of warm water slowly while the dough is mixing.
Knead the dough on a floured board (or using a stand mixer fitted with a dough hook) for 10 minutes. If it gets too sticky, add additional flour, 1 tablespoon at a time.
Transfer the dough to a large oiled bowl and cover with a kitchen towel. Let rise for 1 hour. If your house is colder than 80º, you may need to turn your oven on and set the bowl on the stove. I just set the bowl on top of my clothes dryer while it was running.
Make the food coloring according to the directions on the package while you wait for the dough to rise.
Punch the dough down after an hour and let sit for 10 minutes.
Divide the dough into equal pieces–as many as colors as you want in your final product. You can make as many colors as you'd like by combining the 3 colors you mixed.
Mix the coloring into the dough until it's well-blended, adding flour as needed to keep it from sticking to your hands.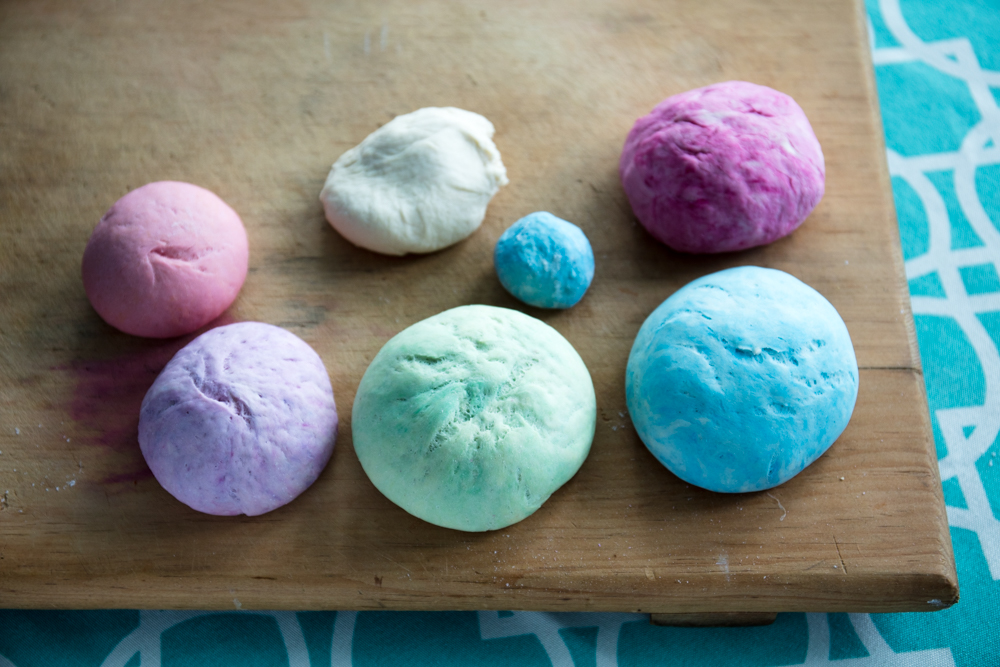 Roll each colored dough into a long snake, and then cut into 8 equal pieces.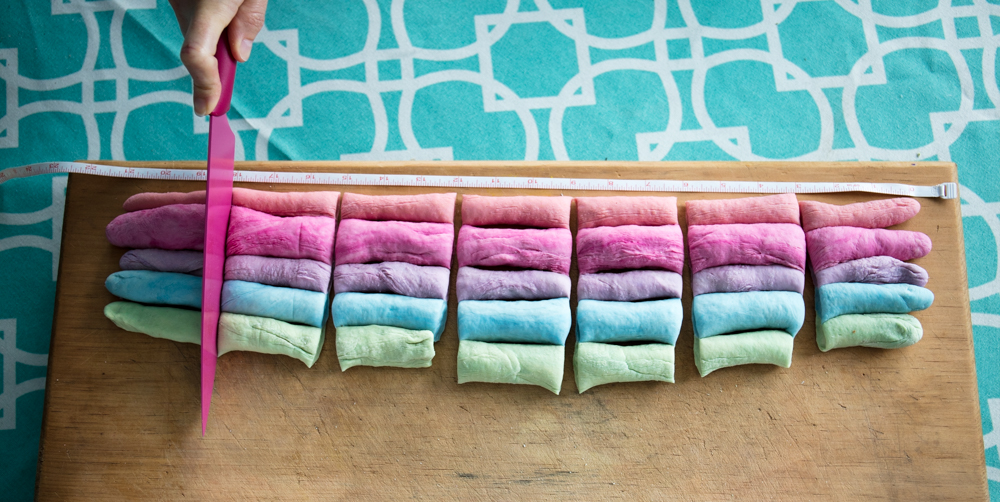 Twist together snakes of each color until the colors are spiraled, and then form a ball. Use your fingers to poke a hole in the center of the ball, forming the dough into a bagel shape. Set on a baking stone or baking sheet and repeat with remaining bagels.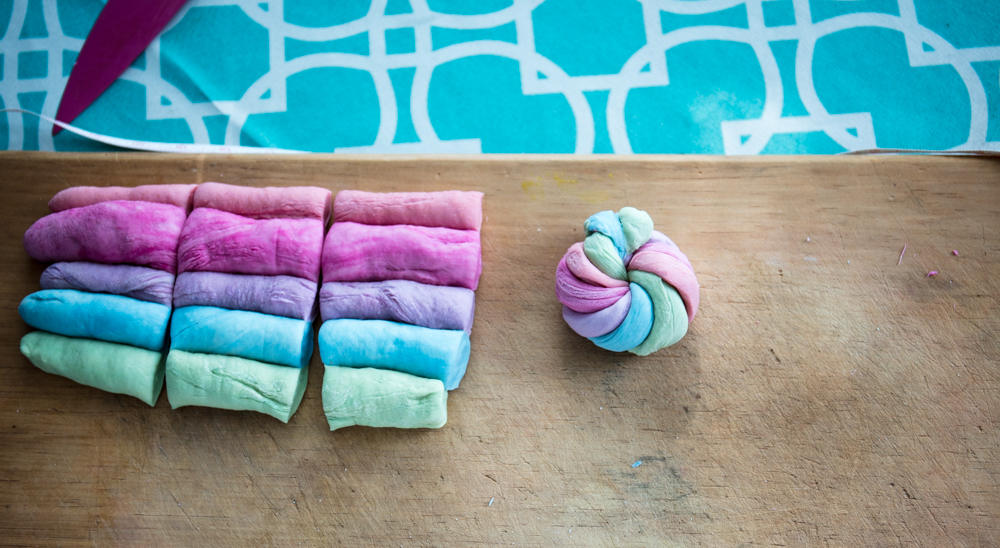 Cover the bagels with a damp kitchen towel and set aside for 10 minutes.
Heat your oven to 425º, and bring a large pot of water to boil.
Place as many bagels as can comfortably fit into the pot without overlapping and boil for 1-2 minutes on each side. (I use tongs to flip them.)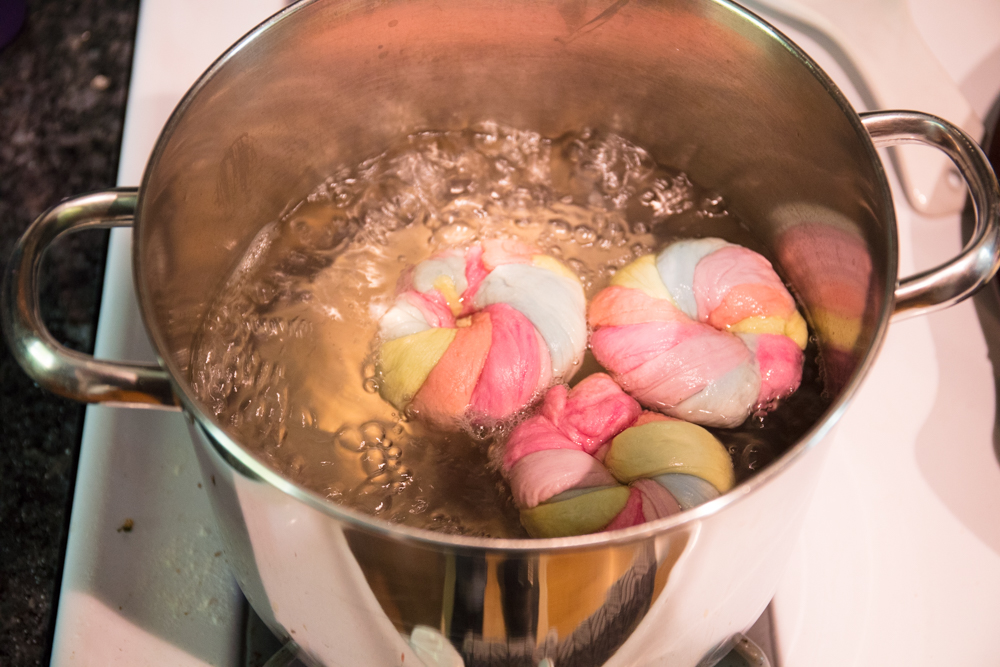 Bake the boiled bagels for 20 minutes.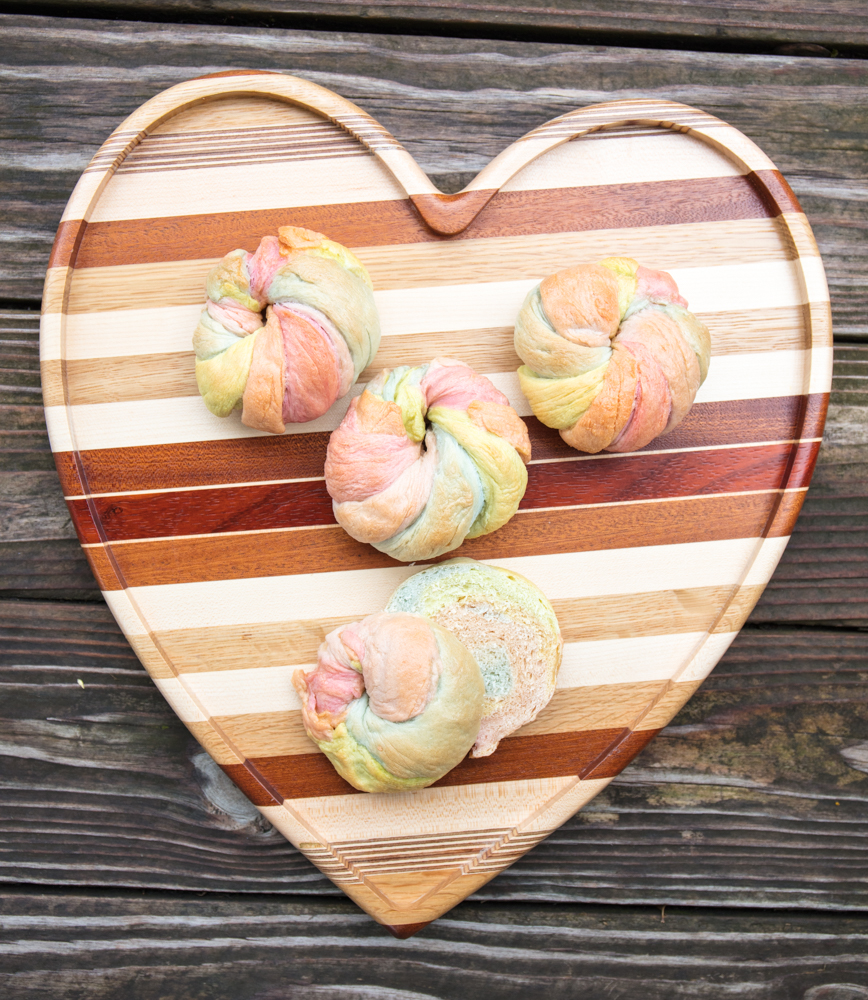 Serve with kite hill or homemade vegan cream cheese.