Sweet Potato Tots (Air Fryer and Stovetop)
published on , modified on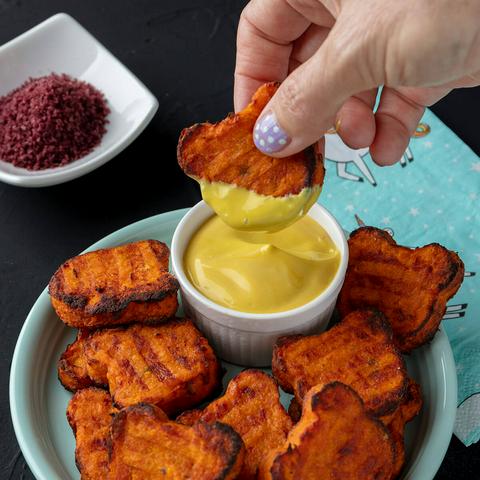 This allergen-free recipe for sweet potato tots requires only 5 ingredients. The outside is crispy while the inside is soft and fluffy. Bear shaped sweet potato tater tots are a healthy, gluten-free side for any age. These teddy tots can be prepared in advance, frozen, and cooked in the air fryer right before eating.
This recipe makes around 13 sweet potato tots, depending on their size.
Table of Contents
(click the links below to skip to the section you're looking for)
♫ Listening to ♫
Speed by Samiam
I feel like I remember someone telling me once that if you could only eat one food for the rest of your life, you should choose sweet potatoes. They supposedly have the widest range of nutrients of any food. I'm not sure if it's true, but I do know that as vegans, we're supposed to eat yellow or orange vegetables 2 to 3 times a week.
(jump to the substitutions section to see ingredient details and suggestions for substitutions)
Dollhouse Shortcut
If making sweet potato tots from scratch isn't your thing, buy Alexia sweet potato tots or whole foods sweet potato puffs and skip to the air fryer or stovetop instructions.
1 pound (450g) sweet potatoes (around 2-4, depending on their size)

½ teaspoon (4g) sea salt

½ teaspoon (1g) onion granules

½ teaspoon (1g) garlic powder

2 tablespoons (10g) of mashed potato flakes

¼ teaspoon paprika (optional)

¼ teaspoon cumin (optional)

¼ teaspoon oregano (optional)

sunflower oil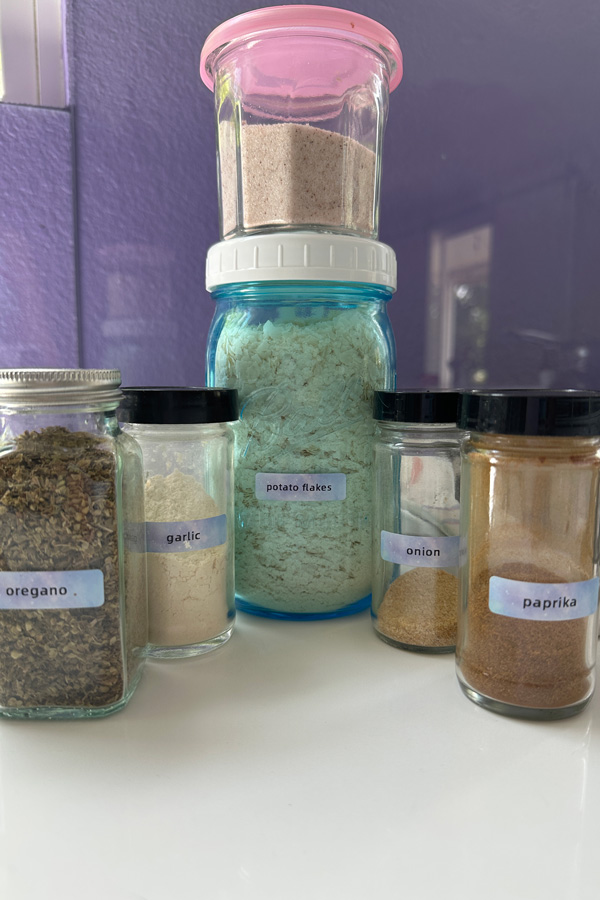 How to Make Vegan Sweet Potato Tots
prep time: 30 min | wait time: 10-20 min
Peel a pound (450g) of sweet potatoes.
Chop the peeled sweet potatoes into approximately 1" pieces. Peeling and chopping takes me about 5 minutes.
Cover the sweet potatoes in a medium-sized pot with water.
Boil on high for 5-10 minutes. It takes my water about 10 minutes before it starts to boil. Once the water starts to boil, I set my timer for 5 minutes.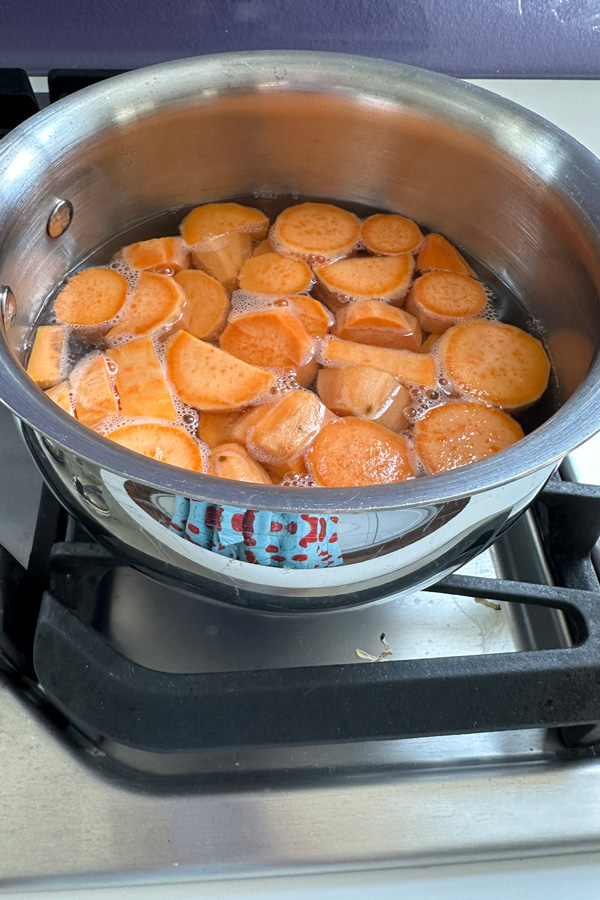 Measure and/or weigh the following spices into a small bowl while you wait for the water to boil: ½ teaspoon (4g) sea salt, ½ teaspoon (1g) onion granules, ½ teaspoon (1g) garlic powder, 2 tablespoons (10g) of mashed potato flakes, ¼ teaspoon paprika (optional), ¼ teaspoon cumin (optional), and ¼ teaspoon oregano (optional).
Test for doneness when the timer goes off. I poke the largest chunk of sweet potato with a fork. If the fork slides in with no resistance, then I know they're done. If it doesn't, I set my timer for another 5 minutes.
Drain the sweet potatoes in a colander in the sink once they're cooked through. I clear out the sink while they're boiling so the boiling water doesn't break any glassware. I don't know what the chances are of this happening, but once I cracked a pyrex pan with boiling water, and ever since then, I've been very cautious.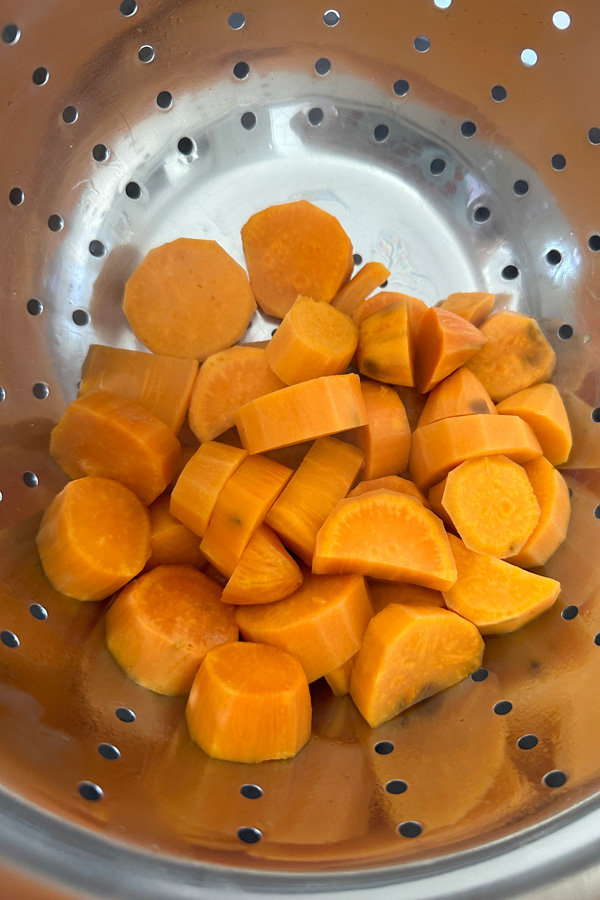 Return the cooked and drained sweet potatoes to the pot.
Add the rest of the ingredients (the spices you measured out already).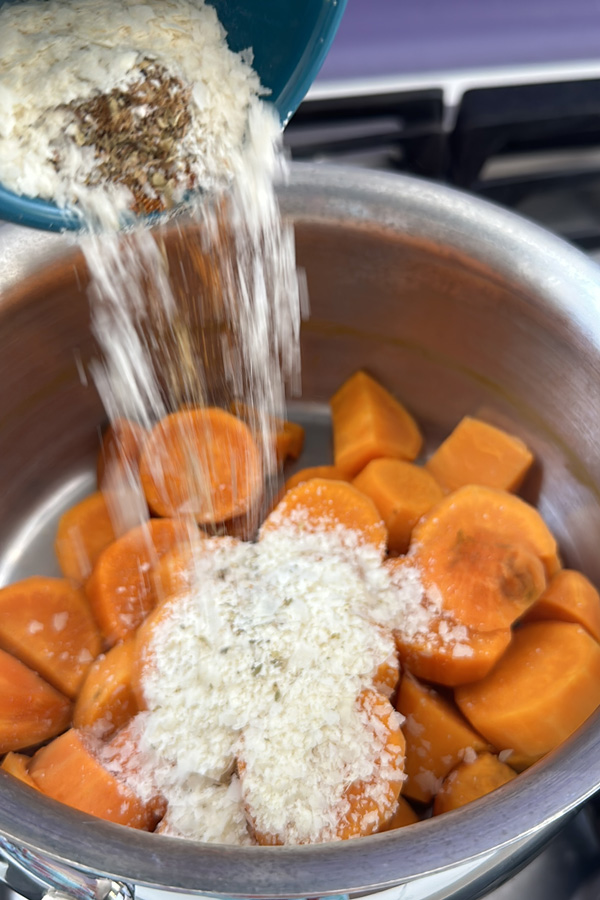 Mash it all with a potato masher. Up until this point, I've spent about 30 minutes.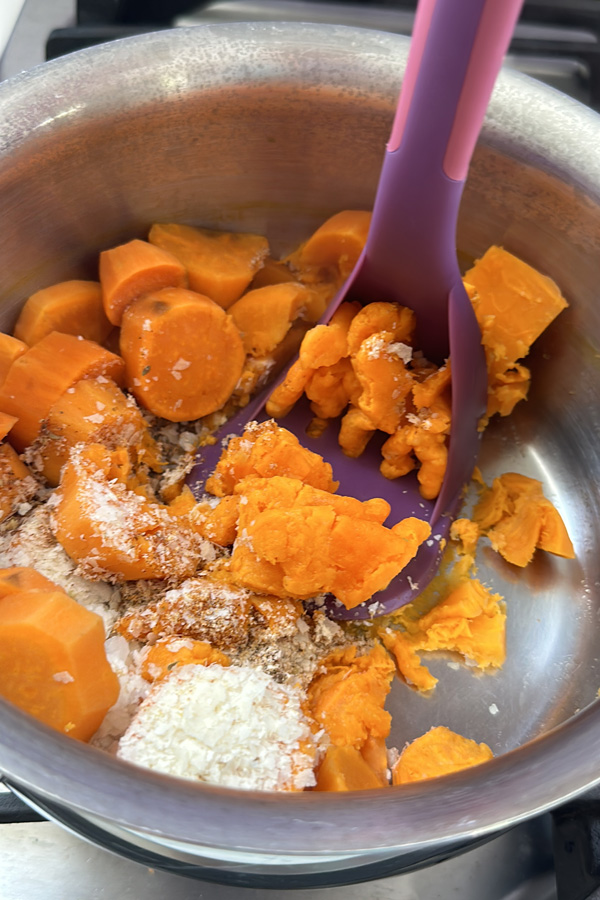 Line a baking sheet with parchment paper and set your bento mold of your choosing onto the parchment. I chose a bear shape that I got from Daiso.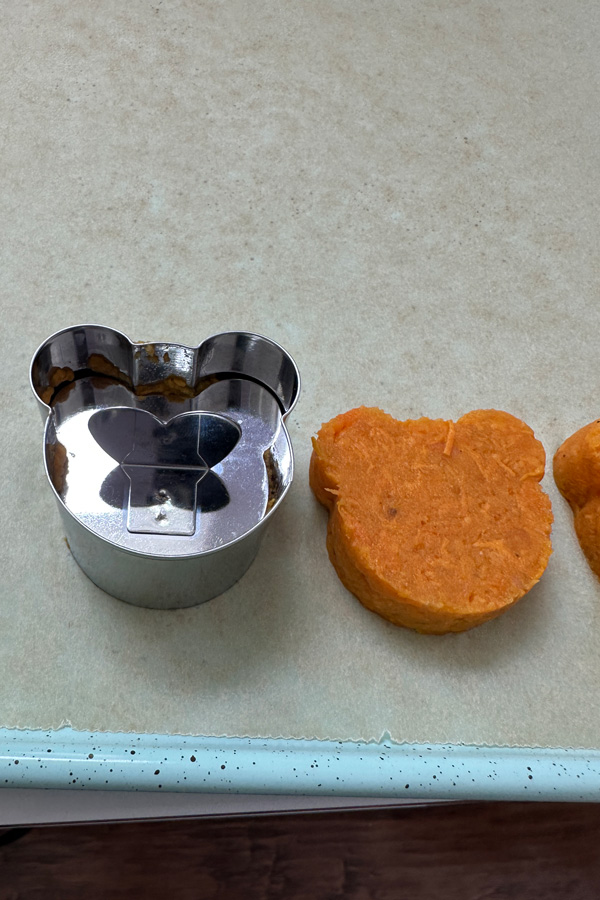 Press the sweet potato mixture into the mold, and repeat with all of the sweet potato mixture. I ended up making 13 bears, and it took me about 8 minutes.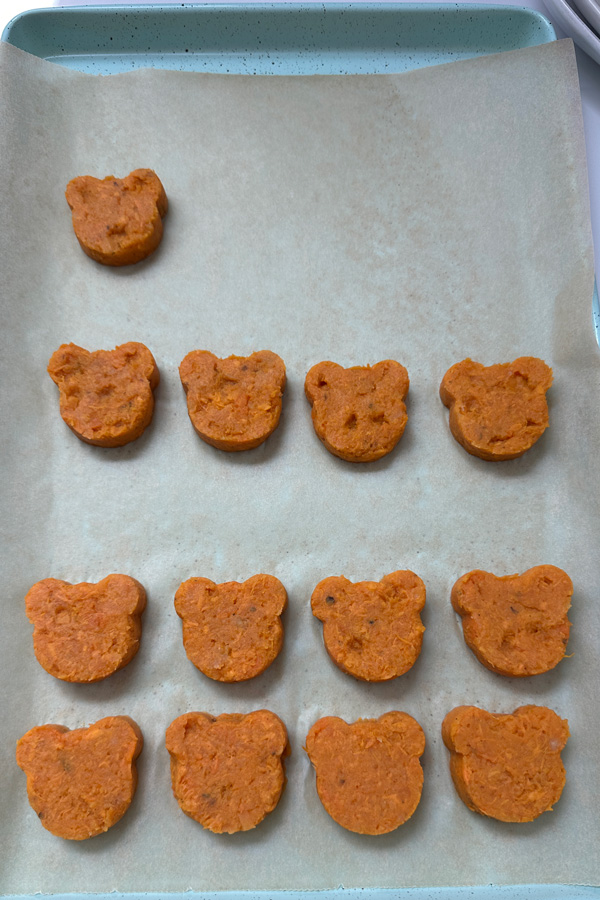 Freeze the sweet potato tot shapes by placing the entire baking sheet into the freezer for 10-20 minutes. The amount of time you freeze them depends on how full your freezer is. Mine is VERY full right now, so mine need 20 minutes. I've made these before when my freezer had more air flow, and they only needed 10 minutes. You have to make a judgement call, but if you check them after 10 minutes, and they still feel like mashed potatoes, then they need longer. The purpose of freezing is to keep them from falling apart when you fry or air fry them.
cook time: 15-30 min (depending on the size of your air fryer)
Preheat the air fryer at 400ºF (200ºC) while you remove the tots from the freezer.
Remove the tots from the freezer.
Spray the tots with oil using an oil sprayer.
Spray the bottom of the air fryer basket with oil using an oil sprayer. See the substitutions section for types of oil you can use.
Set as many tots as will fit into the air fryer without stacking them.
Airfry for 10 minutes at 400ºF (200ºC).
Flip the sweet potato tots using a plastic or silicone spatula. (Never use metal utensils in your air fryer because you don't want to chip the nonstick coating.)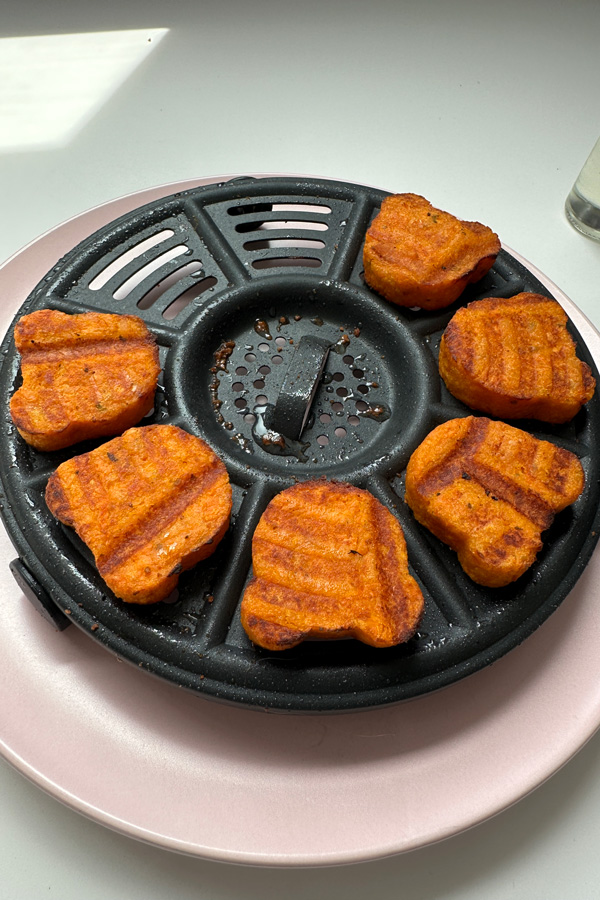 Airfry for 5 more minutes, but this time, reduce the heat to 375ºF (190ºC). If your air fryer is small, like mine, you'll have to do them in 2 batches.
Serve with your favorite dipping sauce.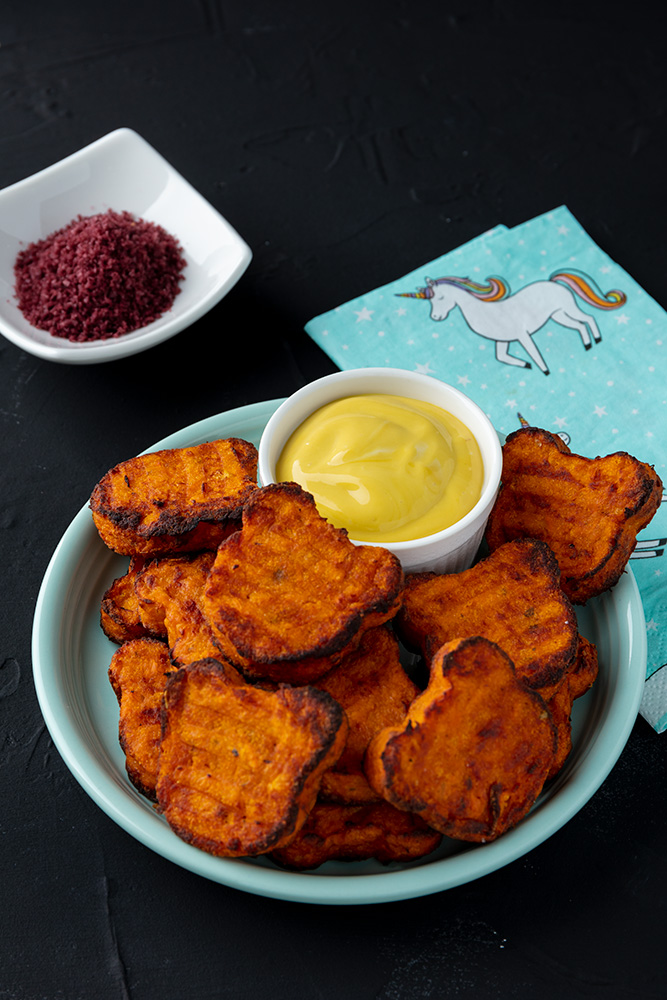 Heat any vegetable, flower, or coconut oil either in a deep fryer or on the stove to 350º.
Remove the tots from the freezer.
Place the teddy tots gently into the oil, as soon as it's hot.
Fry for 5 minutes. If they aren't completely submerged in the oil, you'll need to flip them after 2 minutes and 30 seconds.
Remove from the oil and place onto a baking sheet covered in paper towels. I normally use kitchen towels and rags for everything because I don't like to waste paper, but when working with oil, never use your kitchen towels or rags. The oil stays in them and they'll lose their absorbency.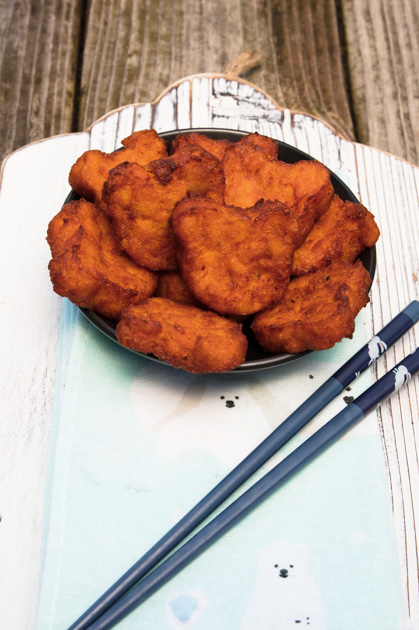 Is this recipe for whole30 sweet potato tots?
Sweet potato tots are allowable on a whole30 diet.
Can I double this sweet potato tot recipe?
To make 2 dozen tots, simply double the recipe. The time it takes to make the mixture won't be affected, but it will take you longer to cook the tots.
Can I reheat sweet potato tots?
Sweet Potato Tots are best if you eat them right when they're ready. However, if you don't, I highly recommend reheating them in the toaster oven or the air fryer to crisp them back up. They tend to get mushy after they sit in the fridge overnight, so they'll never be as good as they were on the first day.
Can I make these on food prep day?
If you food prep on weekends, leave the sweet potato tots in the freezer until you want to have them for dinner. Then remove only the number you want to have for dinner that night, and pop them into the air fryer.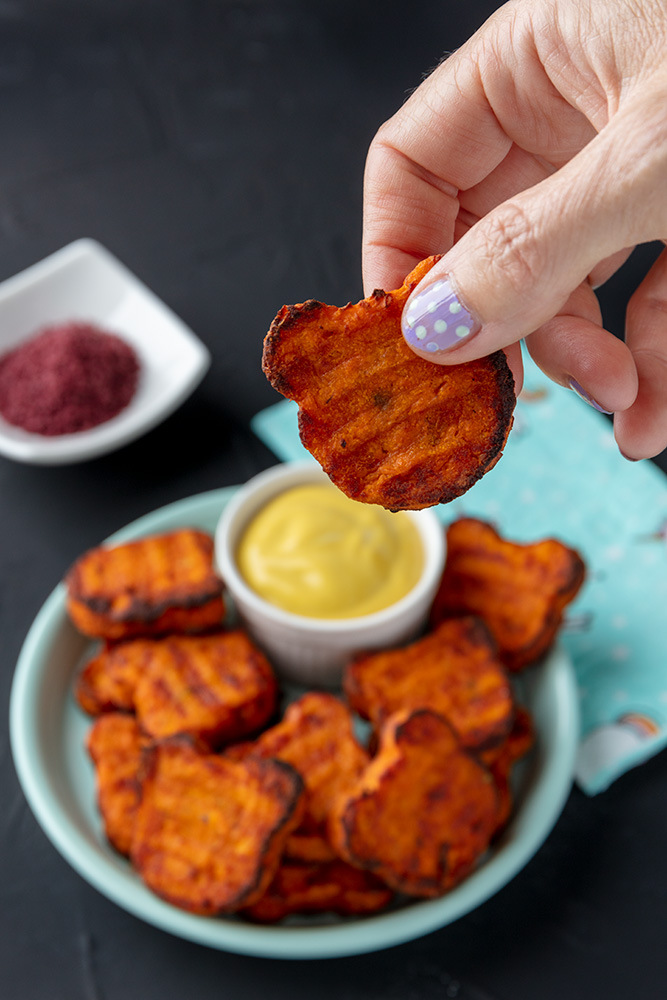 Oil: I recommend using safflower, sunflower, or coconut oil because those oils are made for high heat, which helps you avoid transfats. However, you can use any other oil such as vegetable oil, canola oil, grapeseed oil, olive oil, etc.
Sweet Potatoes: You can replace the sweet potatoes in this recipe with purple sweet potatoes, white potatoes, or yams. You can also add other veggies, such as cauliflower to make sweet potato cauliflower tots. If you do that, you'll just want to increase the amount of mashed potato flakes you use to absorb the extra moisture.
Spices: All of the spices in this recipe are just suggestions. Feel free to create your own unique flavors. If you plan to share these with your dog (see pic below of my dog asking for one), omit the garlic powder and onion granules.
Mashed Potato Flakes: If you don't have mashed potato flakes, you can replace them with flour or corn starch. If you do use corn starch, make sure it's organic or non-GMO. If you want these to remain gluten-free, use corn starch instead of flour.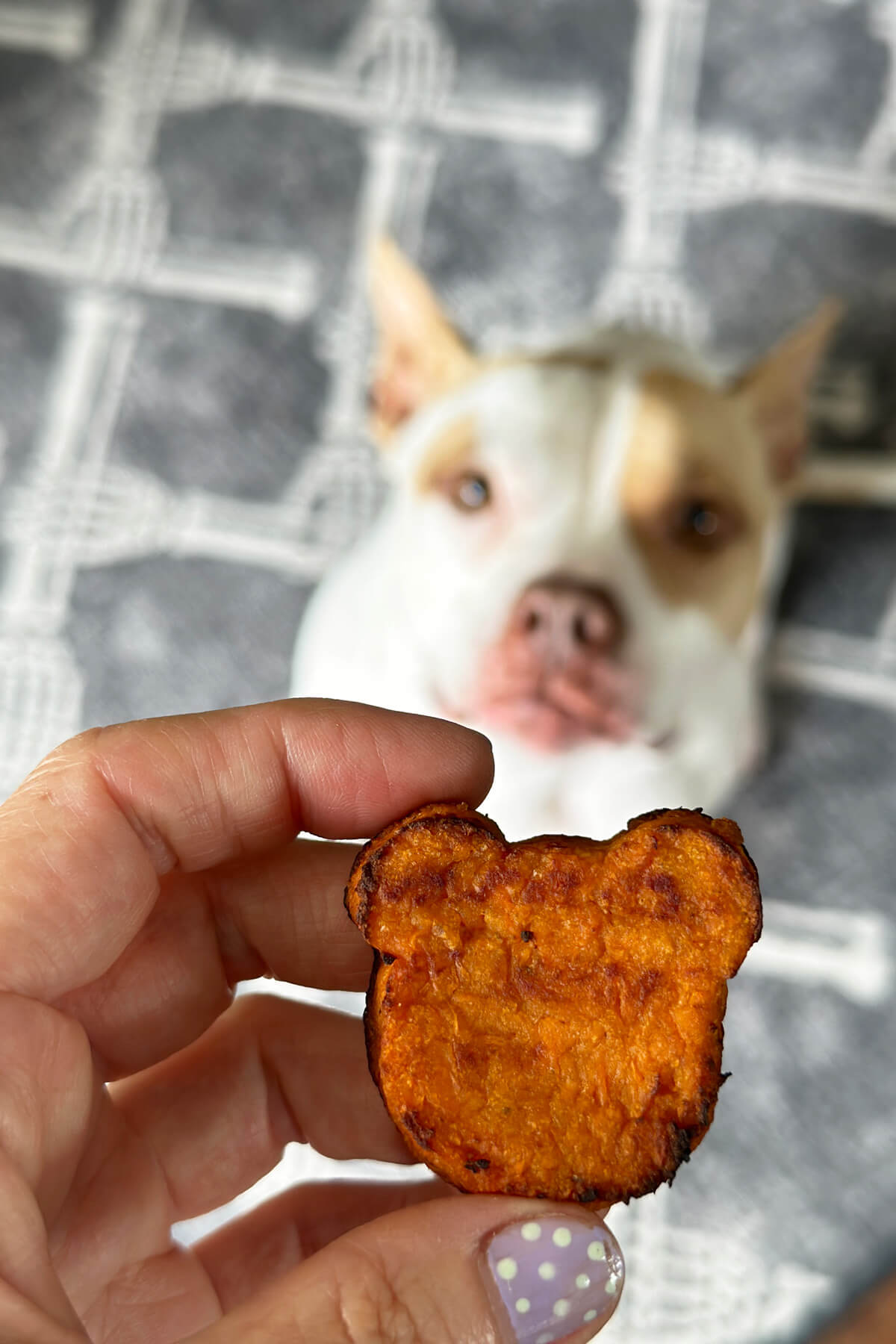 Other Bear-Shaped Foods
If you like bear shaped foods, you might also like cauliflower bear bites and cinnamon roll bears.
Other Air Fryer Recipes
For other air fryer recipes, check these out.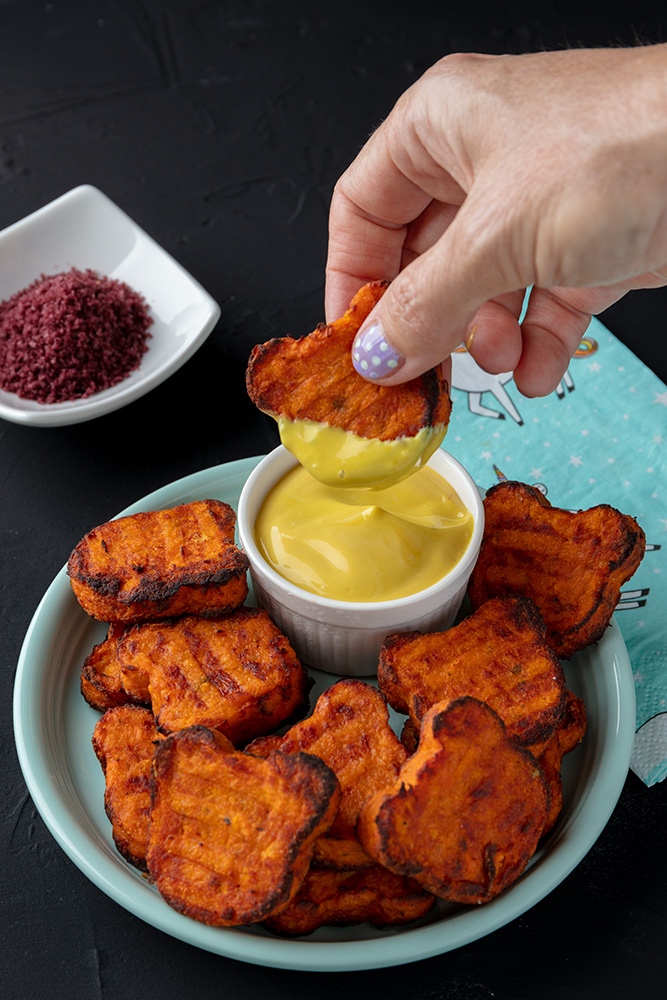 Here's a short video of me making a teddy tot.
Calories 33
Total Fat 1g
Saturated Fat 0.1g
Cholesterol 0mg
Sodium 150mg
Total Carbohydrate 6g
Dietary Fiber 1g
Total Sugars 1g
Protein .5g
Vitamin C .8mg
Calcium 9mg
Potassium 96mg
Vitamin A 201mcg
Comments or Questions?
If you make this tater tot recipe, snap a pic, post to instagram, and tag me @vegandollhouse. I love to see your creations! You can also message me through instagram or email me if you have any questions about the recipe.
☆☆☆☆☆☆☆☆☆☆
* I use mostly organic ingredients when I cook. I realize that not everyone has the disposable income to buy only organic ingredients. So, I only specify organic on the ingredients that matter: when buying the organic (or non-GMO) version is the only way to ensure that an item is vegan.
This post links to items I used when I made this recipe. If you click on the purple Buy Now button on a product page, you will go to a website (like Amazon) where you can buy the same product I used. Sometimes, the store you purchase from (Amazon, Etsy, etc.) will pay me for referring you. This costs you nothing extra, and I would never recommend a product that I don't use. These affiliate programs help me buy the ingredients to create these recipes for you. Read more about this in my privacy policy.
☆☆☆☆☆☆☆☆☆☆
I wrote this recipe in 2017. I updated this recipe in 2023. Below is a photo that was in the original post.