Galaxy Smoothie Bowl
published on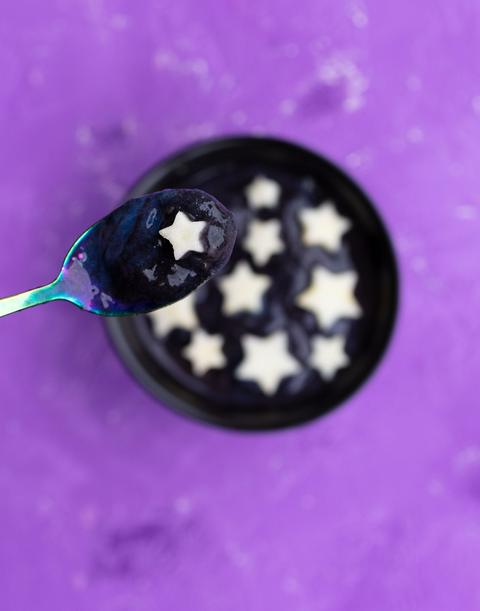 ♫ Listening to: Stars Above Us by Saint Etienne ♫
I never really got into the smoothie bowl craze. I used to make smoothies for breakfast every morning when the kids were little because it's a great way to sneak all sorts of healthy stuff into kids without them knowing. (Now, they probably just survive on french fries on popcorn.) I never understood why anyone needed to have a smoothie bowl when they could just have a smoothie. It's like a trick. Here's a nice bowl of something delicious that you can eat and chew…siiiike…it's just a smoothie in a bowl. Have I become a smoothie bowl convert?
Not exactly. I'm actually making this acai smoothie bowl because I'm doing an acai experiment. The results of the trial (which lasted the span of two months) is posted on my blog for the world to see. If you like smoothies, you might also like my easter smoothie recipe.
This recipe makes 1 acai smoothie bowl.
Acai Smoothie Bowl Ingredients
2 apple slices

5 frozen bananas

¼ cup frozen cherries

1 teaspoon acai powder

¼ teaspoon activated charcoal

½ teaspoon blue spirulina
Acai Smoothie Bowl Directions
Dollhouse Shortcut
Freeze your fruit 24 hours before you want to use it so it's thoroughly frozen.
Slice 2 slices of apple, and cut stars out of those apples to decorate the top of the smoothie bowl.
Blend 5 frozen bananas (each banana should be cut into 4 pieces if they weren't already broken into pieces before freezing) until they're smooth. For me, to get this smooth, I had to stop the blender to add a teaspoon of oatmilk and used a silicone spatula to scrape the sides of the blender before blending again. You can just use a teaspoon of water or juice if you don't have any nondairy milk lying around.
Spoon around a third to a half of the banana smoothie into your smoothie bowl. Add half a teaspoon of blue spirulina and mix until the color is evenly blue.
Add ¼ cup of frozen cherries and 1 teaspoon of acai berry powder to the blender and blend until smooth. You can also sub frozen berries for the cherries if you prefer.
Spoon around half of the blender smoothie into your smoothie bowl to the side of the blue smoothie.
Add ¼ teaspoon of activated charcoal and blend again.
Spread the remaining smoothie from the blender across the top of the blue and purple smoothie in your smoothie bowl. You can use the back of a spoon to smooth it out.
Swirl the colors around so that black is the primary color, but there are hints of the other colors peeking through.
Top with fruit stars if you'd like.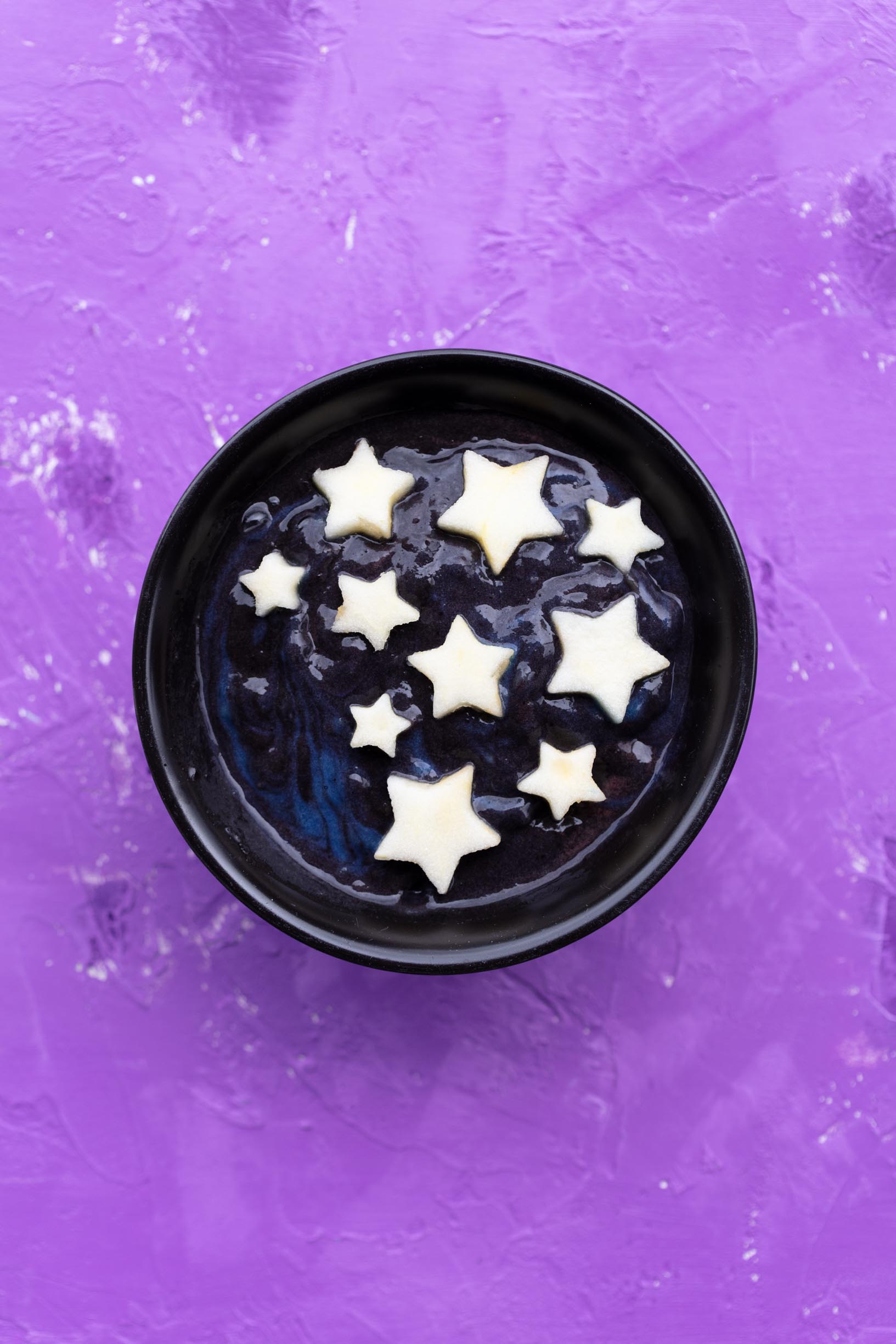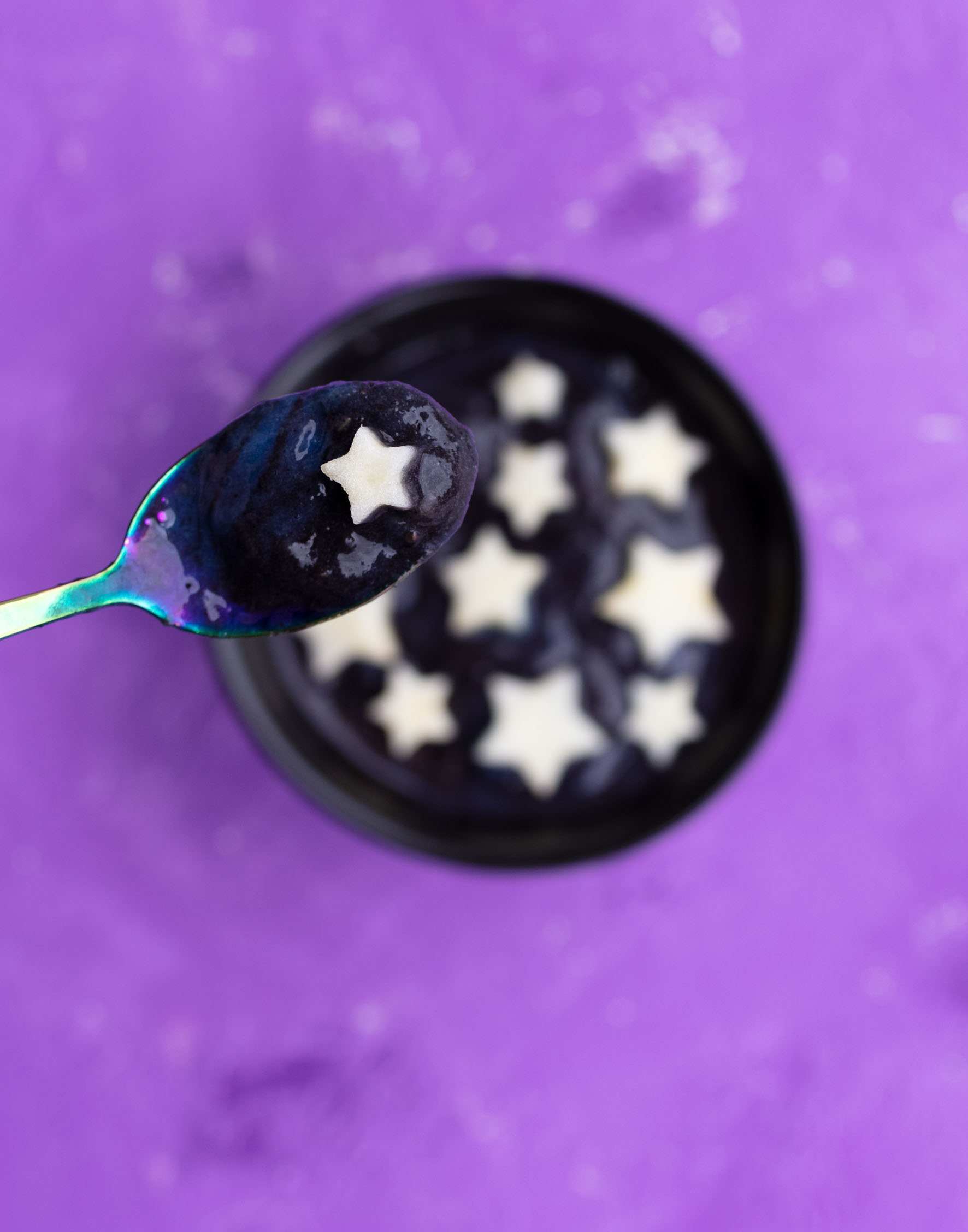 ☆☆☆☆☆☆☆☆☆☆