Vegan Valentine's Chocolate
published on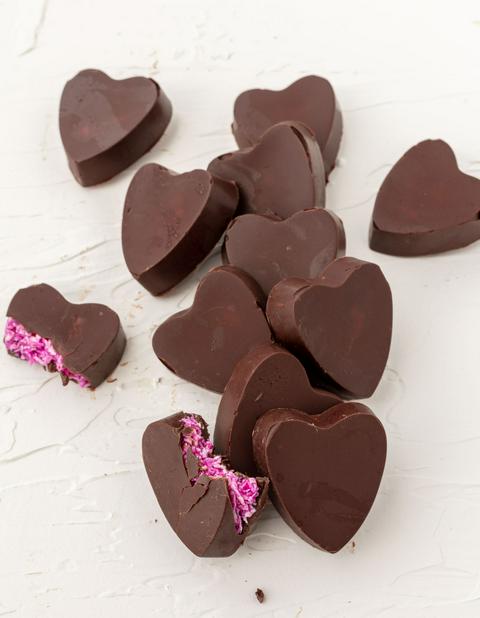 ♫ Listening to: Duct Tape My Heart by Freezepop ♫
There are quite a few companies that make vegan mounds / vegan bounty bars (Ocho, Amy's, and Sunspire), but they are NOT cheap. And they're not pink inside. And they're not heart shaped. So, that's 3 good reasons to make your own. Homemade mounds are probably healthier than the store-bought ones too!
Mounds were my favorite candy bar in my muggle days (pre-vegan). Then after becoming vegan, I was obsessed with those chocolate coconut clusters they had in the bulk bins at the health food stores. I hope this is a safe space for me to admit that I have a weakness for chocolate and coconut. If you like the chocolate and coconut combination even an inkling of how much I do, check out my mounds cake and my mounds waffles.
This recipe makes around 24 mounds / bounty chocolate candies, depending on the size of your mold.
Heart-Shaped Mounds Candy Bar Ingredients
1 tablespoon pink pitaya powder

⅓ cup agave

1 ½ cups unsweetened shredded coconut

2 cups chocolate chips (a 12 ounce bag)
Heart-Shaped Mounds Candy Bar Directions
Total time: 40 minutes
Dollhouse Shortcut
To save time, you can skip the heart molds, and layer the chocolate and coconut mixture in a brownie pan lined with parchment paper. Then after chilling, just cut them into squares.
Temper the vegan chocolate chips by pouring 1 ½ cups of the vegan chocolate chips into the top of a double boiler (or into a dry metal bowl resting over a pot of boiling water).
Heat over medium-low heat on the stove until the chocolate is 120º. If you don't have a thermometer, just heat it until the chocolate is melted and hot to the touch. Remove from heat.
Add the remaining ½ cup of vegan chocolate chips to the hot melted chocolate, and stir it in until it melts.
Cover the bottom and sides of each cubby of heart-shaped silicone mold with chocolate.
Freeze the heart-shaped silicone mold while you make the filling.
Mix the agave and pink pitaya powder in a medium bowl. My pitaya is always lumpy because of the moisture content. If yours is too, just turn it back to a powder using a mortar and pestle or a coffee grinder. If you don't have pink pitaya, check my list of vegan food coloring to see what your other options. Or you can just have white centers too. They're still just as delicious.
Add coconut and mix until it all sticks together and the pink color is fairly even.
Press the coconut mixture into the molds lined with frozen chocolate, so that the coconut almost reaches the top of the molds, but not completely. Try to smooth the tops as flat as possible, while making sure there are no air pockets.
Top each cubby with the remaining melted chocolate.
Chill in the fridge for 2 hours, in the freezer for a half hour, or leave on the counter at room temperature for 5 hours to allow the chocolate to set.
Pop each one out of the molds, but only once you're sure they've completely solidified.
Wrap individually with colored foil if you want to give them as gifts, or just plop a bunch of them into a jar and store them in the fridge for when you want to eat them.
These should stay good for up to 2 weeks in the fridge, but who are we kidding? These have never lasted that long around me. If you want to make ahead of time, they should keep well in the freezer for a few months.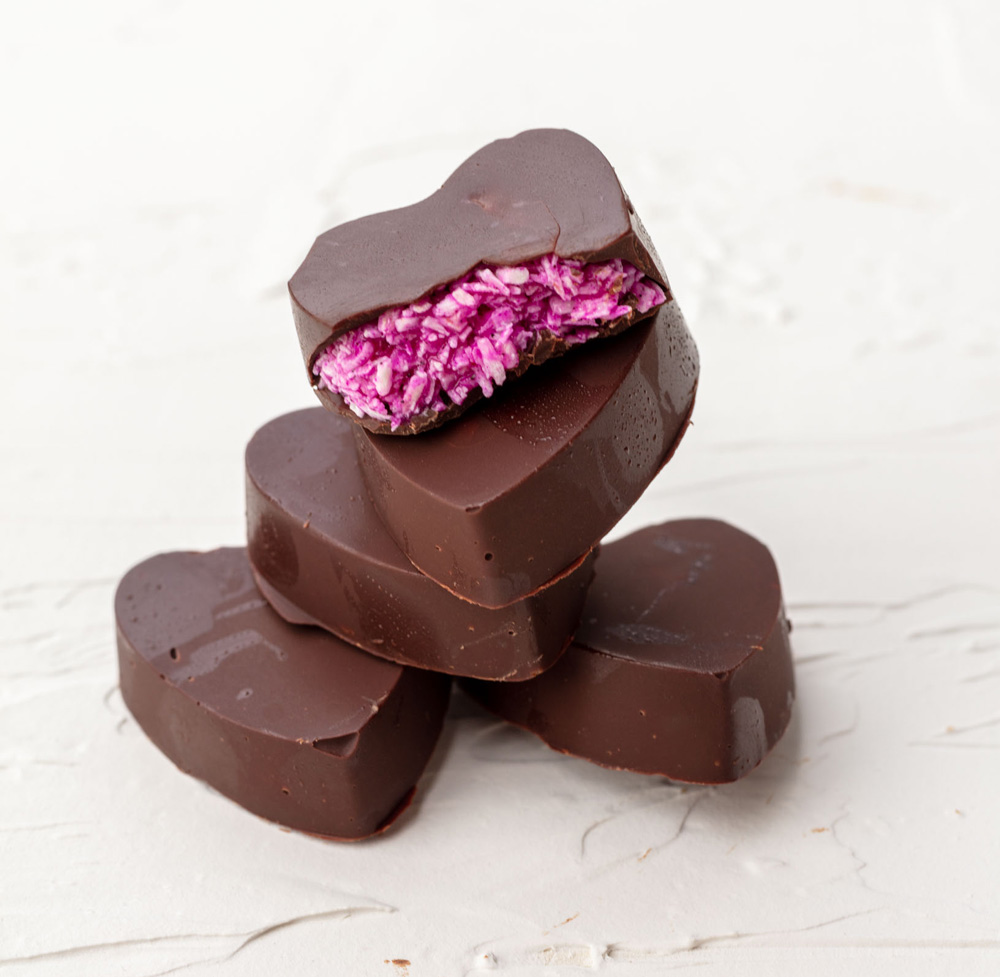 ☆☆☆☆☆☆☆☆☆☆