Pumpkin Pie Cookie Recipe
published on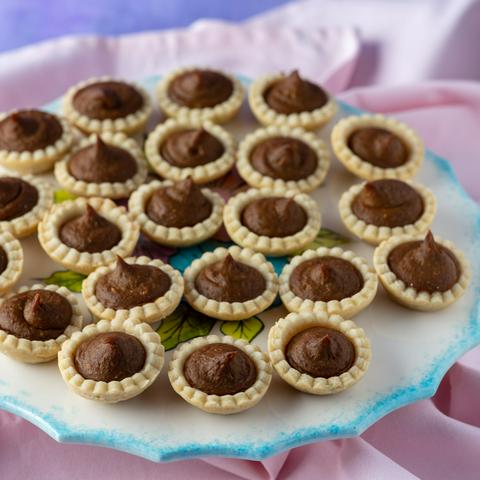 ♫ Listening to: Clouds by BØRNS ♫
These pumpkin pie cookies have a flaky and sweet shortcrust pastry base and a pumpkin pie filling. They're basically just bite-sized vegan pumpkin pies. These would be excellent hors d'oeuvres for a party or potluck, but cute enough to serve at vegan high tea.
Table of Contents
(click the links below to skip to the section you're looking for)
This recipe will make 48 mini pumpkin pie cookies (using 2 mini muffin pans).
2 ¼ cups (290g) unbleached flour

½ teaspoon (3g) salt

3 tablespoons (45g) organic powdered sugar*

¾ cup (165g) refined coconut oil

¼ - ½ cup ice water (I usually only need ¼ cup)
Pumpkin Pie Cookie Crust Directions
prep time: 40 minutes | chill time: 10-20 minutes
Dollhouse Shortcut
The most efficient use of time if you're in a hurry is to make the crust first and pop the pan into the fridge. Then, make the filling second. Then, prebake the crusts while you wait for the filling to cool. Then, fill the crusts and do the final bake.
Combine 2 ¼ cups (290g) flour, ½ teaspoon (3g) salt, and 3 tablespoons (45g) powdered sugar in the food processor and pulse to mix. You can do this by hand with a whisk if you don't have a food processor.
Add ¾ cup (165g) coconut oil and process. If you're mixing by hand, use a fork for for this step.
Drizzle ¼ - ½ cup ice water in slowly while processing. You basically want to only add the exact amount you need and no more, so that's why you add it slowly, a tablespoon at a time. You're looking for the dough to start forming a single ball. The moment you see that happening, stop adding ice water (see the picture below to know when I stopped adding water). If you're not using a food processor, use your hands to mix. When I use coconut oil, I usually only need ¼ cup of ice water.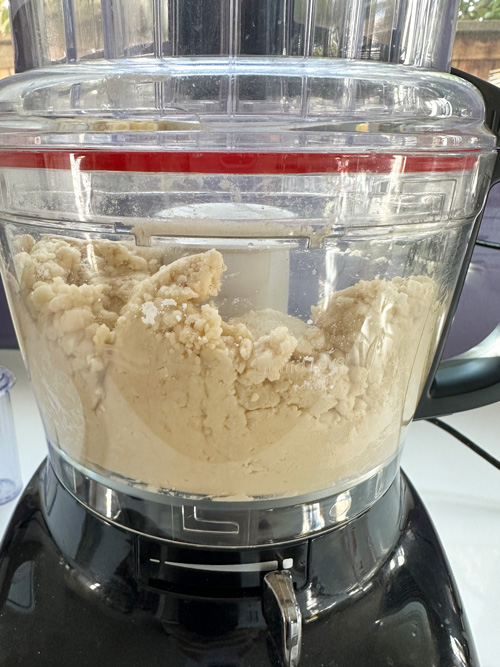 Wrap the dough in a clean produce bag or cling wrap and chill in the fridge or freezer for a few minutes.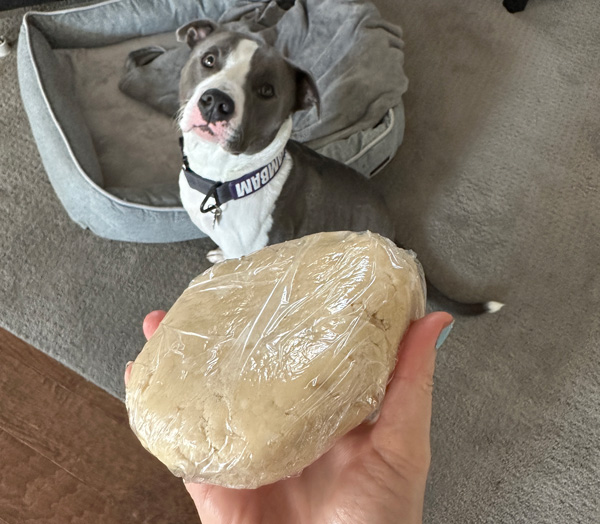 These steps up until now should have taken you around 10 minutes. While you wait for the dough to chill, you can wash your food processor since you won't be needing it again. You can also get out your rolling pin and your rolling mat if you have one. If your rolling pin has a way to adjust the thickness, choose 4mm or 1/6" or thinner. You can also get out your mini muffin pans.
Coat the insides of the mini muffin pan cubbies with coconut oil (or any vegetarian cooking oil). If you have an oil sprayer, use that to save time.
Remove your shortcrust pastry dough from the fridge, unwrap it, and break off half. Wrap the half you're not using yet, and return it to the fridge to stay cold. You'll repeat this every time you roll out dough.
Roll half of the dough as thin as possible without it breaking. I rolled mine to 4mm or 1/6". If your dough sticks to the rolling mat or whatever surface you're rolling your dough on (or your rolling pin), you can lightly dust some flour on your surfaces to keep it from sticking. I needed to do this with mine. I recommend using a rolling mat instead of the counter, because it makes it a lot easier to transfer the little dough circles to the mini muffin pan.
Cut the dough into circles, flowers, or whatever shape cutter you have. I used a scalloped circle from my biscuit cutter set. The size is used was the 2 ¼ inch (58mm) circle (it's the turquoise one from my set).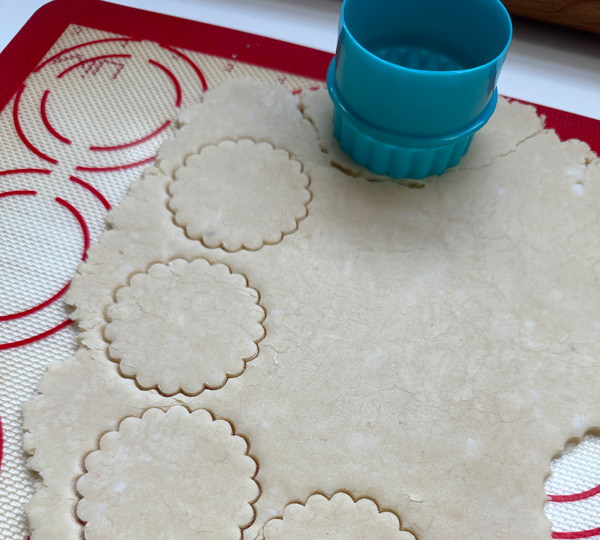 Place the dough circles into the mini muffin pan cubbies, pressing them down into the holes slightly, so that the edges of the cookie pie crust come up to just below the edges of the muffin pan cubby. If you're having trouble tapping them into their cubbies without them breaking, you can use something to help you. The difficulty really depends on the depth of your muffin pan cubbies (I know, it's weird, but all mini muffin pans are not created equal). One method is to wrap a pestle (from a mortar and pestle set) in cling wrap and use that.
Take the chilled dough from the fridge and use that to repeat the steps. Replace the dough you removed from the fridge with the scraps you removed from cutting out the last batch of cookies. It takes me about 5 minutes to roll out the dough, cut out 10 pie crust circles, and place them into their cubbies.
Chill each muffin pan in the fridge as you finish filling it with pie crust cookie dough, and leave the muffin pans in the fridge until you're ready to prebake the cookie crusts. It took me about 25 minutes to make 48 crusts. I only had a tiny ball of dough left that I didn't use, so I just tossed it. You can always roll it out and cut out teeny shapes to top your cookies with before you bake them the second time.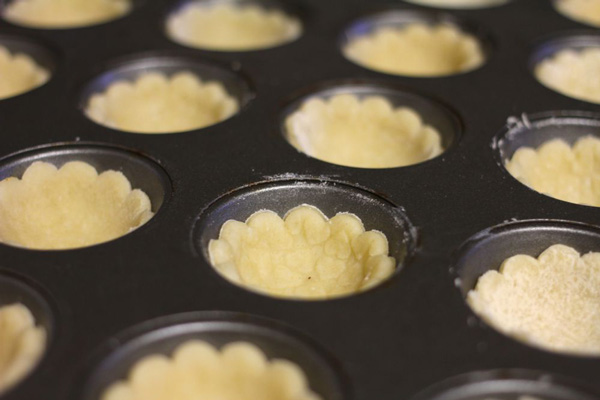 Dollhouse Shortcut
Substitute 2 teaspoons (6g) of pumpkin pie spice for the following spices: 1 teaspoons cinnamon, ½ teaspoon ginger, ¼ teaspoon nutmeg, and ¼ teaspoon cloves.
⅔ cup (100g) sucanat (or any vegan sweetener)

1 ½ cups (350g) organic soymilk (or sub any nondairy milk)*

5 tablespoons (50g) organic cornstarch*

1 (15oz/425g) can pumpkin

½ tablespoon (6g) pure vanilla extract

1 teaspoon cinnamon

¼ teaspoon nutmeg

½ teaspoon ginger

¼ teaspoon (1g) salt

⅛ teaspoon cloves
Pumpkin Pie Cookie Filling Directions
prep time: 25-30 min | bake time: 20 minutes
Preheat the oven to 350°F(175°C). As soon as you hear your oven beep that it's preheated, you can bake the crusts for 10 minutes at 350°F(175°C).
Whisk 1 ½ cups (350g) soymilk, 5 tablespoons (50g) cornstarch, and ⅔ cup (100g) sucanat together in a small-medium-sized saucepan.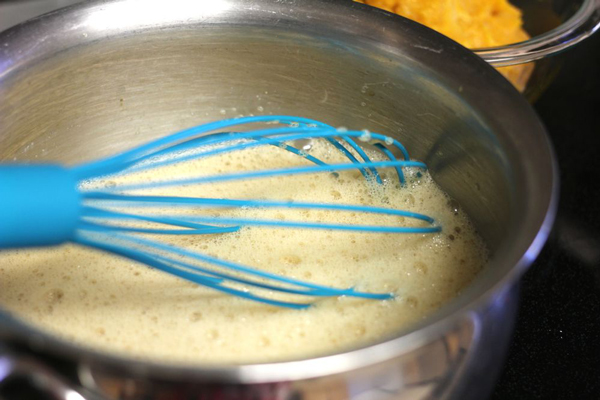 Heat the saucepan over low-medium heat, whisking continuously until thick.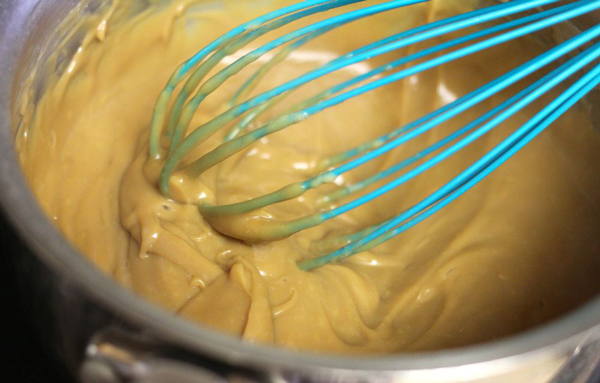 Remove the saucepan from heat and turn off the stove.
Add the contents of 1 (15oz/425g) can of pumpkin puree, ½ tablespoon (6g) vanilla, and all the following spices to the saucepan: 1 teaspoon cinnamon, ½ teaspoon ginger, ¼ teaspoon nutmeg, ¼ teaspoon (1g) salt, and ⅛ teaspoon cloves.
Whisk well. This filling usually takes me about 20 minutes to make.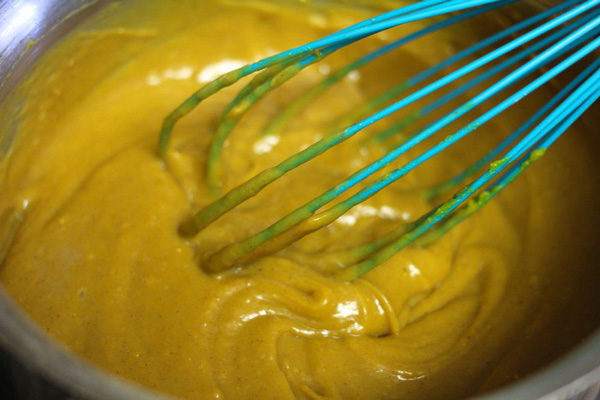 Set the warm mixture aside to cool. I usually prebake the pie crusts while the filling cools.
Prebake the crusts for 10 minutes at 350°F(175°C) once the oven is heated. If it's not yet heated at this point, it will be any minute now. Try to get both muffin pans on the same rack if you can. This will help them bake more evenly, in an ideal world.
While the pie crust cookies bake, you can transfer the pumpkin pie filling to a piping bag or produce bag or ziplock bag or whatever you have, if you plan to pipe the filling into the crusts. My large piping bag with the wide mouth hole chose today to die, so I said some kind words and buried it in the trash. So, I'm using a produce bag for these.
Pipe or spoon the filling into the prebaked pie crusts, being careful not to overfill. The benefit to piping the filling with a bag, over spooning the filling, is that it's much faster (it also looks prettier).
Bake the mini pies for 10 minutes at 350°F(175°C).
Cool the pies on cooling racks on the counter.
Transfer the mini pumpkin pie bites to air-tight containers, but do not stack them. Another option is to leave them in the muffin pans and just cover them in cling wrap. To remove them from the muffin pans, take a mini spatula or a plastic spoon and press gently on one side of the crust. This should push that side down, pushing the opposite side up, and then you can grab it and take it out. I'll post a video below showing how I take mine out, in case that's helpful. I will warn you that because this pumpkin pie cookie crust is so flaky, these are very delicate, and you might break a couple removing them from the pan. Or your partner might drop one on the floor and then call the 5 second rule and then eat it. There are so many things that can go wrong, but I would recommend that you plan for 10-20% of them to not make it to the party.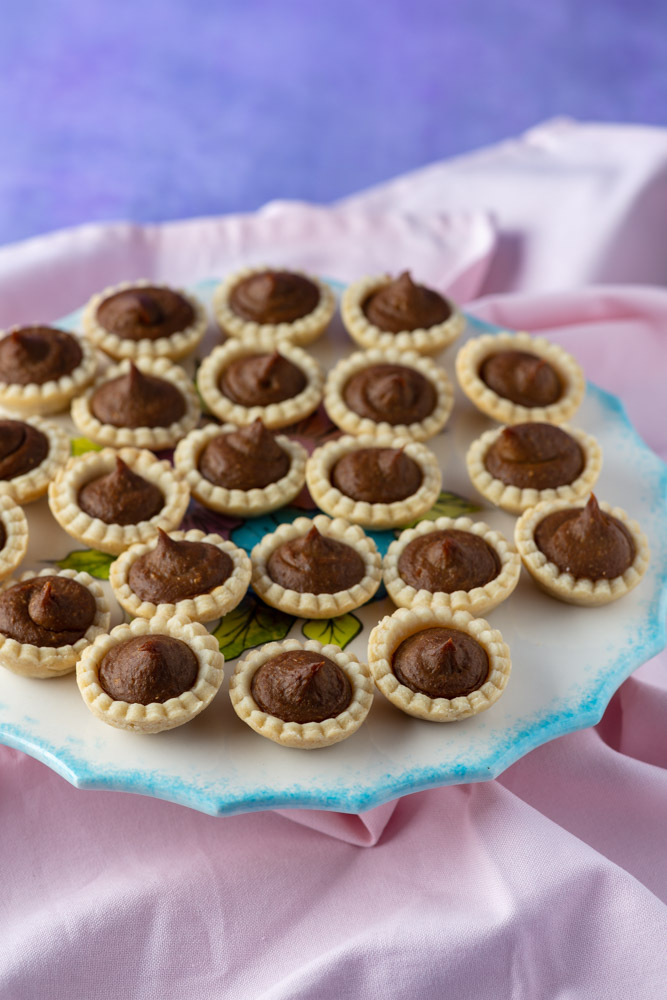 Chill the pumpkin pie cookies in the fridge overnight or until you're ready to serve them.
Serve the pumpkin pie cookies plain or topped with vegan whipped cream (optional).
Here is what they look like when you spoon the filling in, rather than piping it.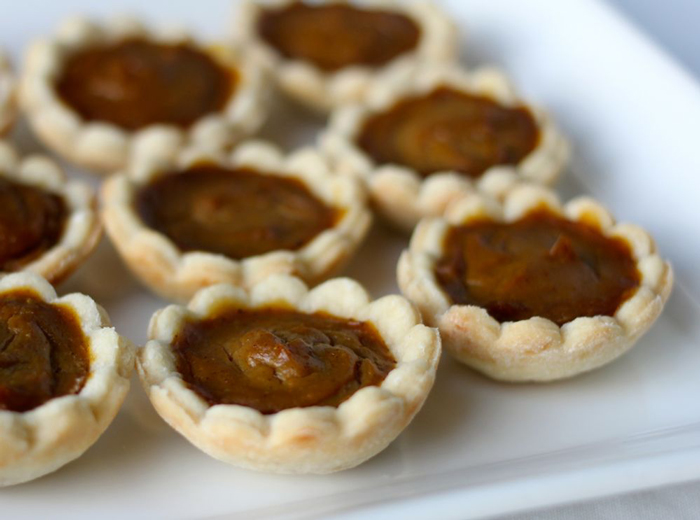 Can I make these pumpkin pie cookies gluten free?
Yep. Just use a gluten-free flour blend in place of the all-purpose flour in the shortcrust.
How do I store these pumpkin pie cookies?
You can place them in one level in an air-tight tupperware and leave them in the fridge until you're ready to serve them. I would not add vegan whipped cream until you're ready to serve them. The reason I say to only store them in one level is because if you stack them, they could get messy and less cute, but if you don't mind that, stack away. You can also try setting a piece of parchment paper between the layers of cookies.
Can I make these pumpkin pie cookies with less sugar?
Sure! Try reducing the amount of sugar or sucanat in the pumpkin pie filling part of the recipe from ⅔ cup to ½ cup.
Does the coconut oil have to be refined? I can only find unrefined.
It's not necessary to use refined coconut oil, but if you or anyone eating your cookies has an aversion to the flavor of coconut, they may taste the coconut if you use unrefined coconut oil. Refined coconut oil is basically flavorless. I list some alternatives to using coconut oil in this recipe in the substitutions section below.
Coconut Oil: If you don't have access to refined coconut oil, you can replace it with an equal amount of vegan butter or margarine, or vegan spectrum palm shortening. My favorite vegan butter is the organic whipped Earth Balance, but if you avoid soy, you can buy the soy-free Earth Balance.
Soymilk: If you don't have the full amount of soymilk that this recipe requires, or if you avoid soy, you can substitute any amount with another type of nondairy milk or even water, nondairy creamer, or coconut water. You can also mix and match different nondairy milks. I do this a lot when my macadamia milk only has a little bit left at the bottom and I use it up, and then I open a new container of almond, oat, or soymilk.
Flour: If you don't have all-purpose unbleached flour or you have some, but not enough, fear not. You can replace some or all of the flour in this recipe with any combination of cake flour, wheat flour, spelt flour, or whole wheat pastry flour. It will taste healthier with some of these though. You can even use a gluten-free flour blend if you want these cookies to be gluten free.
Sucanat: For the sweetener in the pumpkin pie filling part of the recipe, you can use any number of sugars, as long as they're vegan: brown sugar, sucanat, coconut sugar, raw sugar, organic sugar, or demurara. If you're not sure if your sugar is vegan, you can contact the company and ask, but basically, just avoid conventional white sugar or granulated sugar, and you should be ok. I will say that sucanat does make the color of your mini pumpkin pie filling a darker color than if you use vegan or organic sugar.
Vanilla: Do not substitute imitation vanilla for the real vanilla extract in this recipe. Imitation vanilla is often made from something that comes out of beaver butts. (I can't make this shit up.)
Spices: You can use 2 teaspoons of pumpkin pie spice in place of the following spices in the pumpkin pie filling part of this recipe: 1 teaspoons cinnamon, ½ teaspoon ginger, ¼ teaspoon nutmeg, and ¼ teaspoon cloves.
If you like these pumpkin pie cookies, you might also like my crustless pumpkin pie and my mini lemon tarts.
I originally published this recipe in November 2015, and I'm updating it in December 2022. The updates included a recipe remake, adding a table of contents, adding a frequently asked questions section, adding a substitutions section, and taking some new pictures. Below are some of the older pictures that were replaced.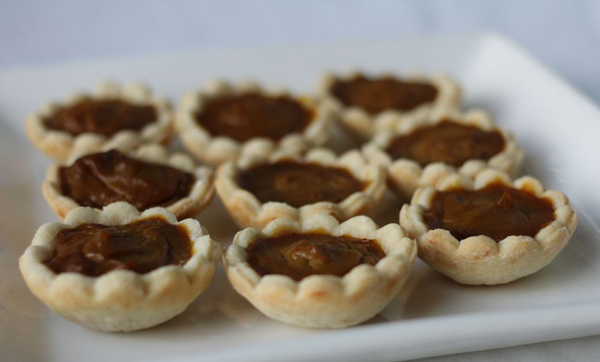 Here are some of my dolls enjoying their doll-sized pie.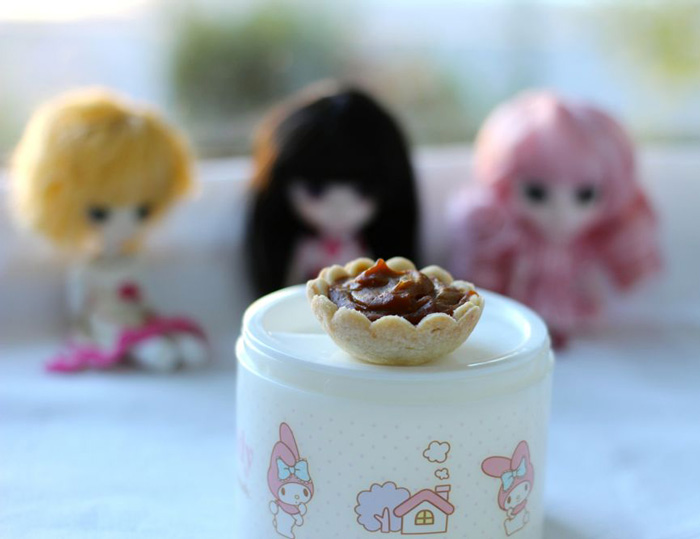 ☆☆☆☆☆☆☆☆☆☆
* I use mostly organic ingredients when I cook, but I realize that not everyone has the disposable income to purchase all organic ingredients. Therefore, I only specify organic on the ingredients that really matter: when buying the organic version is the only way to ensure that the item is vegan.