Pumpkin Pie (Crustless)
published on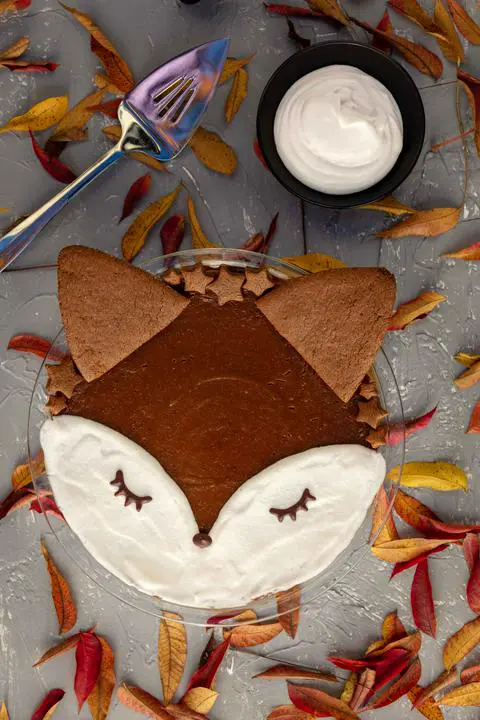 ♫ Listening to: Lint of a Masterpiece by Air Devi ♫
I've never been a fan of pie crust. It's not sweet enough to be delicious, so for me, it just seems like the crust on pizza: the stuff you're forced to eat, but all you really want is more of the other part. That's when I had the idea to make a pumpkin pie crustless. If you think that idea is terrible, you might prefer this pumpkin pie recipe. For another pumpkin recipe, check this out.
This vegan crustless pumpkin pie is gluten-free, dairy-free, eggless, high in iron, and low in fat and sugar, so you can indulge in this any time of year (not just in the fall or on holidays). It has more iron and vitamin A than most desserts without sacrificing flavor, so I can feel good about having an extra large slice. It only takes 20 minutes of prep time, unless you want to follow the instructions to make it look like a fox (which I highly recommend, because it's cute af). I made these foxes for my Thanksgiving family gathering and they all loved it and said it was soooo cute.
This recipe makes 2 vegan gluten free pumpkin pies.
Gluten-free Crustless Pumpkin Pie Ingredients
Dollhouse Tip
See the tips below for substitutions.
2 cups (425g) organic or vegan sugar*

3 cans pumpkin

2 cups (1 pint/500g/473ml) nondairy coffee creamer*

½ cup (53g) organic cornstarch*

1 tablespoon (8g) cinnamon

1 teaspoon (3g) nutmeg

1 teaspoon (2g) ginger

¼ teaspoon cloves

½ teaspoon (3g) salt
Gluten-free Crustless Pumpkin Pie Directions
prep time: 20 min | bake time: 55 min
Dollhouse Shortcut
You can substitute pumpkin pie spice for all the spices in this recipe. See the tip below for measurements.
Preheat the oven to 350°.
Measure the following ingredients into the blendtec blender jar: 2 cups (425g) sugar, 1 can (430g) pumpkin, 2 cups (1 pint/500g/473ml) nondairy creamer, ½ cup (53g) organic cornstarch, 1 tablespoon (8g) cinnamon, 1 teaspoon (3g) nutmeg, 1 teaspoon (2g) ginger, ¼ teaspoon cloves, and ½ teaspoon (3g) pink sea salt (or whatever salt you have).
Whisk the blended mixture with the contents of the other 2 cans of pumpkin in a large bowl.
Pour the filling into 2 pie pans. I use a silicone spatula to get every last bit of filling out of the bowl.
Place the pie pans in the oven on the same rack, if possible.
Bake pies for 50-60 minutes (my oven runs hot so I only baked mine for 50 minutes, but I recommend 55 minutes for a precise oven).
Turn off the oven when the timer goes off, and open the oven door slightly. Set the timer for 10 minutes. Leaving them in the open oven for an extra 10 minutes helps them cool without cracking too much. If your pies get little cracks, that's ok. It just helps your pumpkin pie look homemade.
Remove the pies from the oven when the second timer goes off.
Cool the pies on cooling racks on the counter.
Chill the pies in the fridge overnight as soon as they have cooled completely to room temperature.
Slice and serve once chilled overnight. These vegan and gluten free pumpkin pies will stay good in the fridge for up to a week, and can be frozen and defrosted if you make them in advance or if you have too many leftovers.
Pink Sea Salt
$14.99 from Amazon
Silicone Spatula
$7.99 from Amazon
Blendtec Blender
$419.95 from Amazon
Kawaii Pie Decorations
You can always skip the decorating and simply serve your pie with a side of vegan whip. But if you like cute food, read on to make your pumpkin pies look like kawaii pie foxes.
cookie dough (for the ears)

vegan whipped cream

2 tablespoons (26g) vegan chocolate chips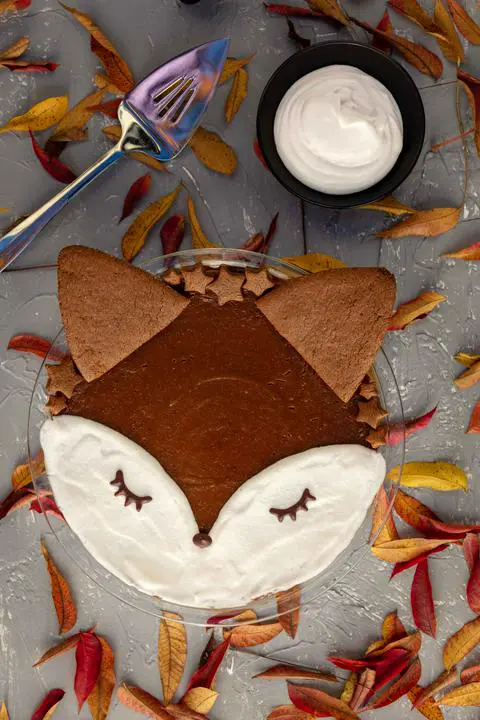 Ears
prep time: 10 minutes | bake time: 12-14 minutes
Cut 4 fox ears out of any cookie dough. Making the template for the ear, rolling the dough, and cutting out 5 ears with some accompanying mini stars took me 10 minutes. I usually always make extra of everything in case there's a kitchen accident (it's called an accident so we don't have to blame me for making mistakes). I used a half a batch of this gluten-free gingerbread cookie dough recipe. I replaced the egg with egg replacer, replaced the butter with earth balance, and added an additional 2 tablespoons of water. You can cut stars or other shapes out of remaining dough if you want to decorate your pies with more cookie pieces. I used the other half of the cookie dough to make cookies, but you can just freeze it if you don't have time to bake it. I preheated the oven while my ears and mini stars were chilling in the fridge, and once the oven was heated, I baked the ears using their instructions, but I baked the mini stars for only 4 minutes.
Eyes and Noses
10 minutes
Melt 2 tablespoons (26g) vegan chocolate chips either on the stove on low or in the microwave. If your microwave doesn't have a melt button, don't heat them more than 15 seconds at a time, or they might burn.
Stir the melted vegan chocolate chips until it's smooth.
Transfer it to a Lékué deco pen or a piping bag fitted with a Wilton small round tip 1 (if you don't have either of those, you can try just using a toothpick to dip and draw like in the olden days).
Draw 4 eyes and 2 noses onto parchment paper with melted chocolate. You can draw more with any extra chocolate you have in case there are casualties.
Transfer the parchment paper with eyes and noses on it to the fridge or freezer to harden.
Kawaii Fox Face
5 minutes
Spread vegan whipped cream using a butter knife or spatula. You can make your own whip using this recipe or you can buy it from the store. I like the Whole Foods 365 brand plant-based whipped topping because it's cheap and comes in a tub so it's easy to spread.
Place the ears, eyes, and noses. Add mini stars or other little shapes you cut out from the scraps of dough.
Chill uncovered until the whipped cream hardens to the touch. Then remove the pies from the fridge and cover them with cling wrap before returning them to the fridge until you're ready to serve.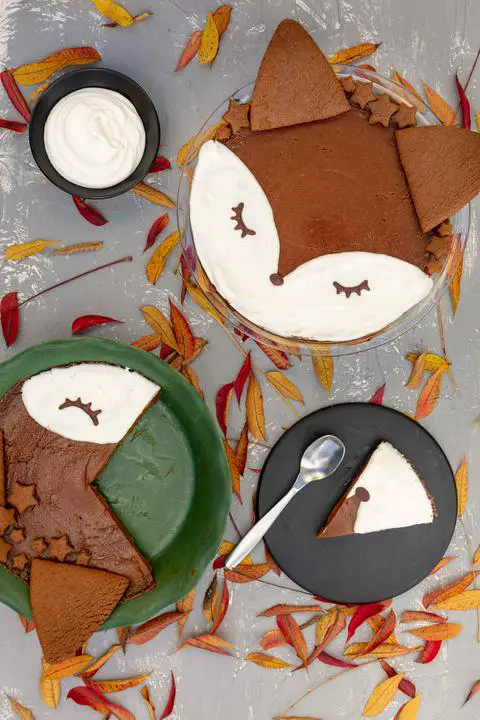 Serve at your next holiday gathering, but make sure you let everyone take pictures of your cute foxes before you slice them.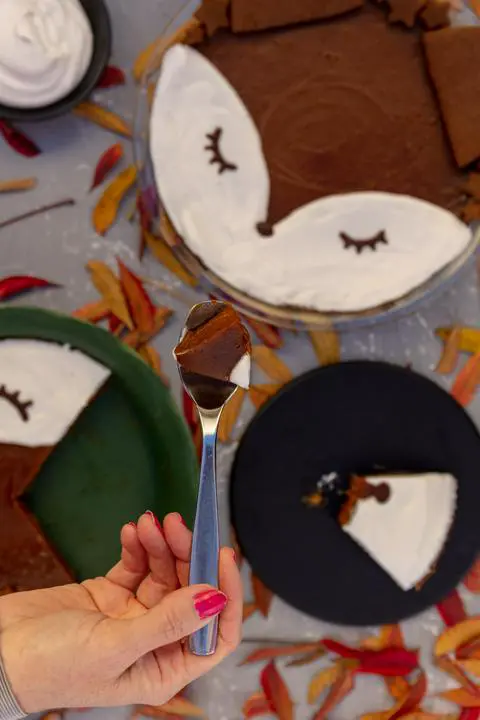 Tips and Substitutions
Tip for How Much Pumpkin Pie Spice to Substitute for Individual Spices
Do you ever wonder how much pumpkin pie spice to use?
In general, you can substitute a 1:1 ratio of pumpkin pie spice for other spices. This recipe calls for almost 2 tablespoons of spices, so you can substitute 2 tablespoons of pumpkin pie spice.
Tip for How to Make the Pumpkin Pie Dairy Free
The only dairy that's usually in pumpkin pie is the evaporated or condensed milk. This recipe calls for nondairy coffee creamer, but there are other dairy-free alternatives you can use instead.
canned coconut milk
vegan eggnog (I like the coconut nog that so delicious makes)
vegan evaporated milk (Sprouts stores carry this)
vegan condensed milk (Sprouts stores carry this)
Tip for How to Make this Pumpkin Pie without Cornstarch
I know some people have a corn allergy, so here are substitutions for the cornstarch in this recipe.
arrowroot powder (I've used this with success)
tapioca flour or tapioca starch (I haven't used this but have heard that others have)
Does Pumpkin Pie Freeze Well?
Can I freeze my homemade pumpkin pie?
You can easily make this pie recipe a month in advance of when you want to serve it and freeze it. This assumes you have freezer space, which I never do, so if you do, just send me your address so I can send some of my freezer items to your house to stay.
How do I freeze my pumpkin pie?
Once your pie is completely cooled and chilled and decorated, wrap it well with cling wrap before popping it into your freezer that magically has enough free space. Or if you're like me, you might need to play some freezer tetris first and force your family members to eat some tater tots and vegan chicken nuggets to make room.
How do I thaw my frozen pumpkin pie?
Take your pie out of the freezer the night before you want to serve it. Remove the plastic wrap from the pie and place the pie into the fridge. It should be thawed and ready to serve after 8 hours in the fridge.
If you like this pumpkin pie, you might also like my pumpkin pie cookies.
If you make this recipe, snap a pic, post to instagram, and tag me @vegandollhouse. I love to see your creations! You can also message me through instagram or email me if you have any questions or feedback about the recipe.
☆☆☆☆☆☆☆☆☆☆
* I use mostly organic ingredients when I cook. I realize that not everyone has the disposable income to buy only organic ingredients. So, I only specify organic on the ingredients that matter: when buying the organic (or non-GMO) version is the only way to ensure that an item is vegan.
This post links to items I used when I made this recipe. If you click on the purple Buy Now button on a product page, you will go to a website (like Amazon) where you can buy the same product I used. Sometimes, the store you purchase from (Amazon, Etsy, etc.) will pay me for referring you. This costs you nothing extra, and I would never recommend a product that I don't use. These affiliate programs help me buy the ingredients to create these recipes for you. Read more about this in my privacy policy.
☆☆☆☆☆☆☆☆☆☆