Vegan Strawberry Ice Cream Popsicles
published on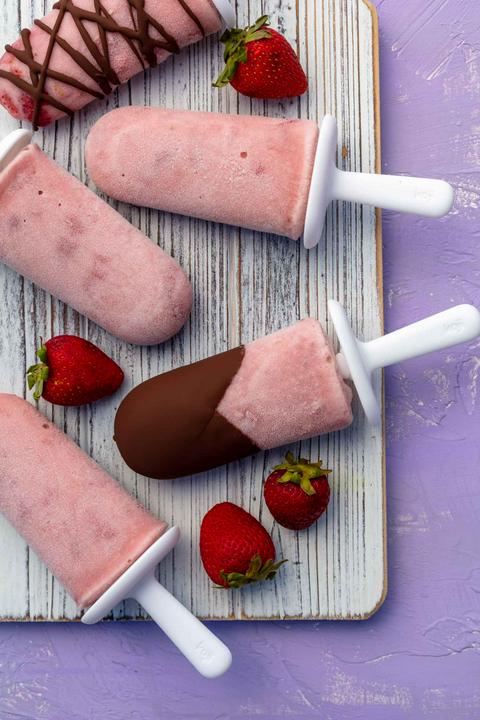 These fresh strawberry vegan ice cream popsicles are decadent, creamy, and delicious. They have a coconut and macadamia base with chunks of fresh strawberries throughout, making them a refreshing treat for any occasion. Making your own ice cream and popsicles is easy, inexpensive, and so much yummier that you'll never want store bought frozen treats again. This recipe is for all ages.
This recipe makes 10 popsicles plus a pint of strawberry ice cream.
Table of Contents
(click the links below to skip to the section you're looking for)
♫ Listening to ♫
Since Yesterday by Strawberry Switchblade
You probably think I'm this recipe genius, coming up with all these great ideas on my own, but I need to admit something. A bunch of my recipe ideas come from friends! I have some very creative and brilliant friends. These strawberry ice cream popsicles are no exception. Jessica had some creamy pink popsicles on one of her pinterest boards, and I already know she's a strawberry fan because of the birthday where she requested strawberry shortcake and the birthday where she requested strawberry lemonade cake.
While I was testing this recipe, I asked Josipa and Jennifer if strawberry ice cream should be creamy or have chunks of strawberries in it. They both emphatically agreed that strawberry chunks were a requirement, so voila. You have my friends to thank for this deliciousness. Some of the comments I got from the recipients of these popsicles included the following:
"This is the best popsicle I've ever had."
"Do I taste coconut?"
"I love the chunks of strawberries."
"May I have the recipe? They were really good!!!"
So, I obviously had to post the recipe after all that cheering me on. Since posting this recipe, I also used this recipe to make a strawberry ice cream cake.
Dollhouse Shortcut
If you don't have 2 days to plan ahead, you can buy 2 pints of vegan vanilla ice cream and just add the strawberries before spooning it into the popsicle molds.
1 pound of strawberries (washed, destemmed, and chopped)

2 teaspoons lemon juice

1 cup organic or raw sugar*

1 ½ cups non-dairy milk (I used macadamia milk)

1 can coconut milk (not reduced-fat)

2 ½ tablespoons arrowroot powder

2 teaspoons vanilla extract
Strawberry Ice Cream Popsicle Directions
prep time: 20 minutes | wait time: 6 hours or overnight | churn time: 30 minutes | popsicle freeze time: 4 hours
Dollhouse Shortcut
Make this recipe up to 3 weeks in advance.
Mix chopped strawberries, 1 cup of sugar, and 2 teaspoons of lemon juice in a large bowl. Set aside while you do the next steps so the strawberries can marinate, soften, and get juicy.
Whisk ¼ cup of non-dairy milk with 2 ½ tablespoons of arrowroot powder and set aside.
Heat a can of coconut milk and 1 ¼ cups of non-dairy milk in a medium pot over medium-low heat until it starts to boil.
Mash the strawberries with a fork until you don't see any large strawberry pieces.
Add the strawberry mixture to the pot and whisk it.
Remove the pot from the heat when it starts to bubble.
Whisk the arrowroot mixture and vanilla extract into the pot.
Cover the pot and let it cool to room temperature. It usually takes a couple hours to be cool enough to place into the fridge.
Chill in the fridge (once it's cooled to room temp) for 4 hours or overnight.
Pour the chilled ice cream mixture into an ice cream maker and churn. There is an alternative way to make this for people who don't have an ice cream maker and don't want to buy one. Just put it in the freezer, and stir it every half hour, but it does take longer this way. You can also probably pick up an inexpensive Donvier used for under $15.
Spoon the churned ice cream into popsicle molds. I used Koji popsicle molds that I found at Target, but if I had the chance to buy new ones, I'd get these cute unicorn popsicle molds from amazon.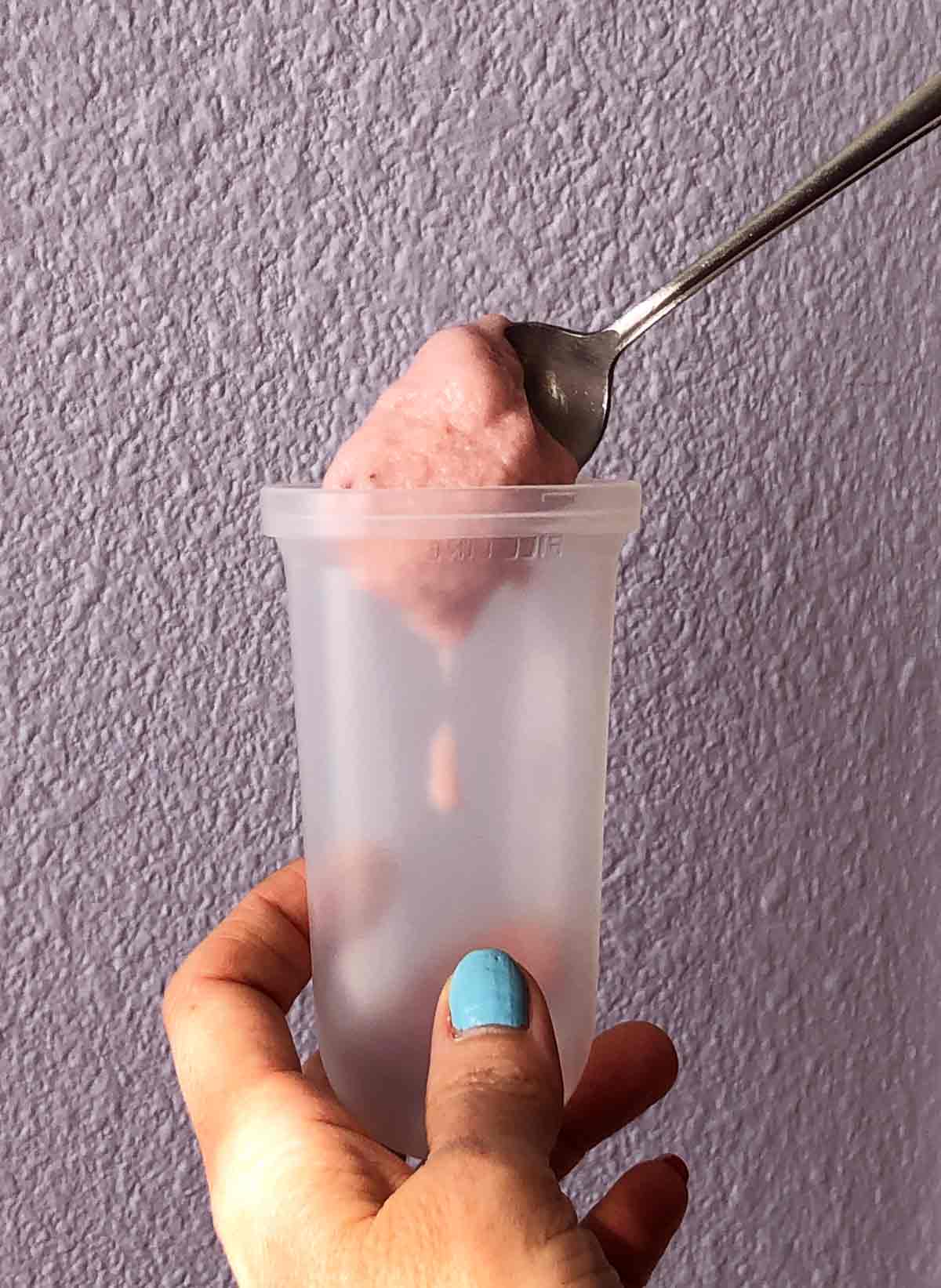 Swirl your spoon around inside the mold to try to remove air bubbles. You can make as many popsicles as you'd like or just transfer the ice cream into tupperware and skip the popsicles altogether.
Freeze for around 4 hours or more.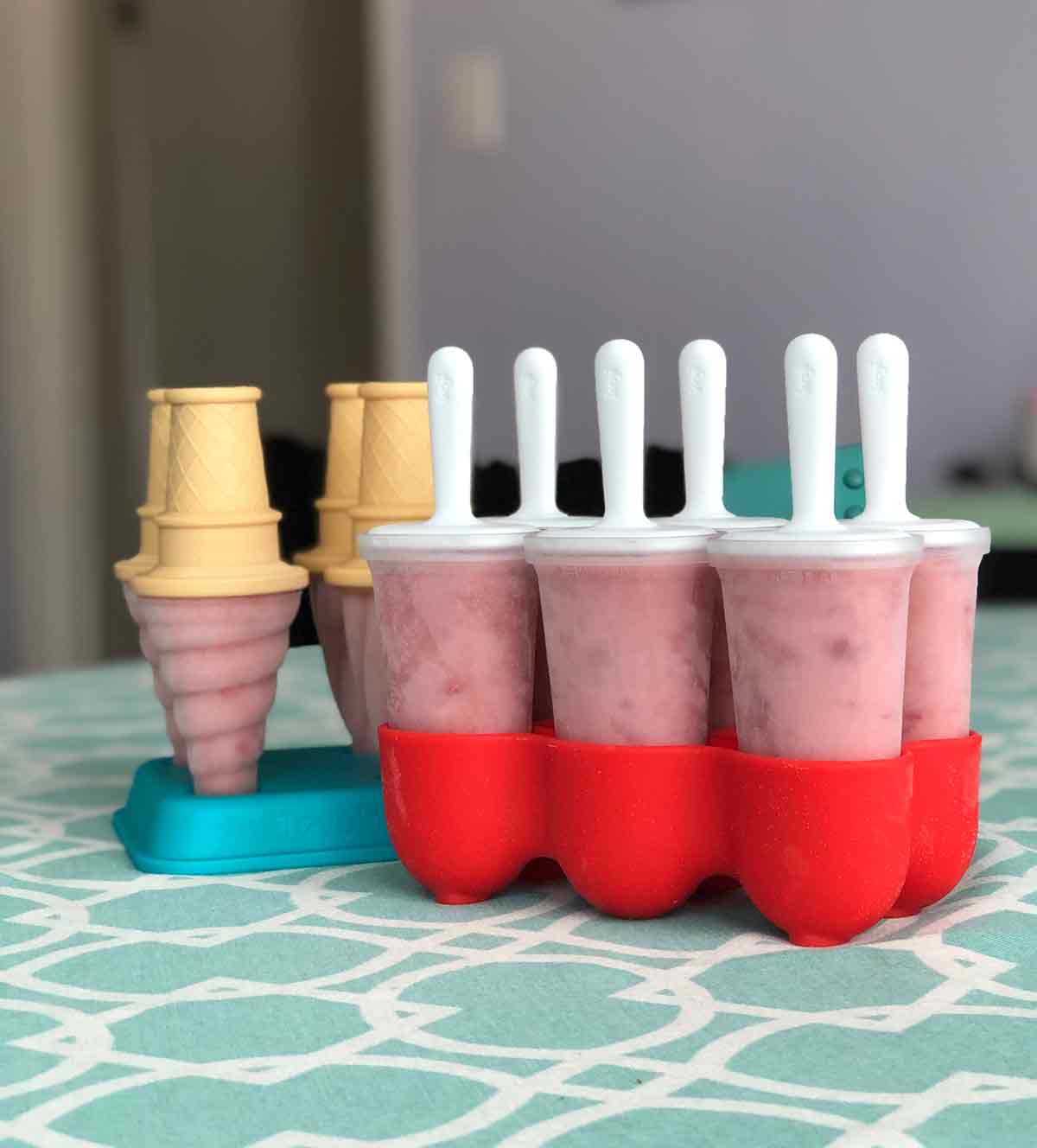 ⅔ cup chocolate chips

2 tablespoons coconut oil
How to Make Vegan Magic Shell / Penguin Coat
Dollhouse Shortcut
Skip the penguin coat entirely if you prefer your strawberry ice cream to be unadulterated.
Melt ⅔ cup vegan chocolate chips and 2 tablespoons coconut oil in the microwave for 30 seconds and stir it. If it's not completely smooth yet, put it back into the microwave for 30 more seconds, and then stir again.
Remove your strawberry popsicles from the freezer and remove them each from the molds if you haven't already. I did this by dipping each one in a tupperware of warm water for about 10 seconds while I wiggled the stick in a circle motion to try to loosen the popsicles from the sides of the mold.
Set the popsicles on a parchment paper lined cutting board or baking sheet after removing them from the molds.
Optional: Drizzle chocolate penguin coat on some of the popsicles using a spoon or a squeeze bottle or just dip the popsicles into the chocolate and set them back onto the parchment paper to return to the freezer. If you still have penguin coat left over after all the popsicles are made, you can use it to make chocolate milk or hot cocoa or add it to a milkshake.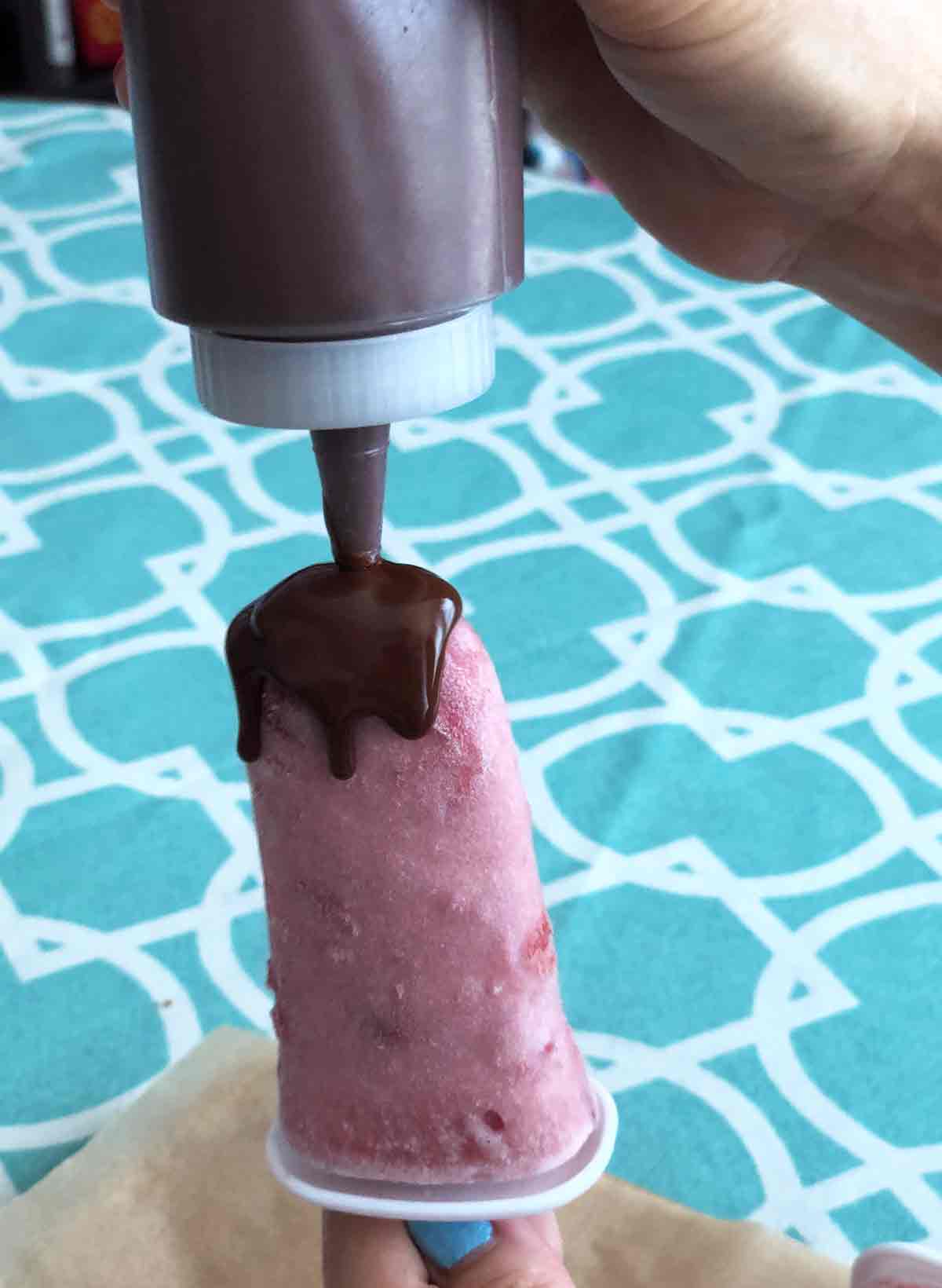 Freeze the popsicles until you're ready to serve them.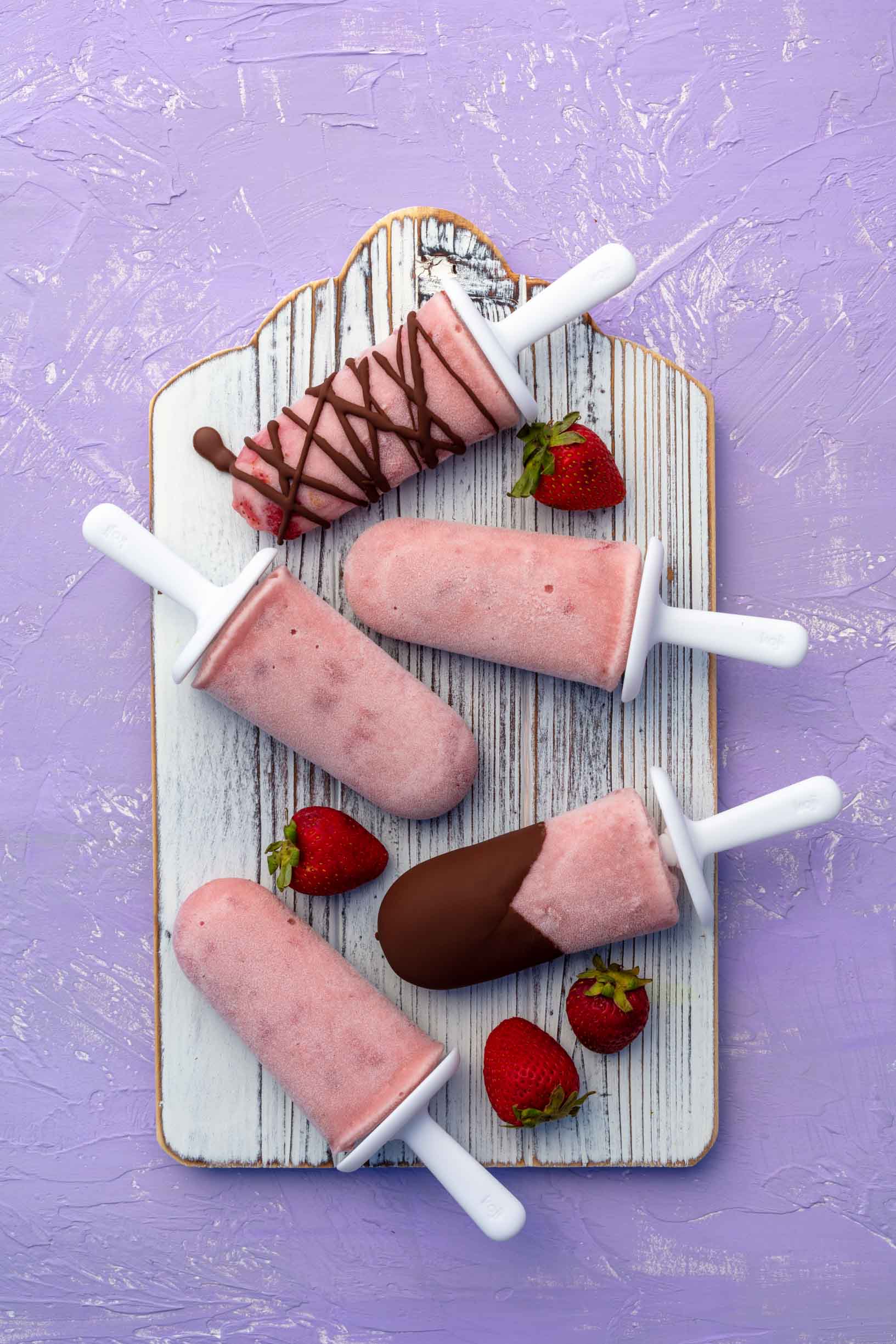 If you like strawberry, you might like my strawberry cheesecake cookies, my strawberry shortcake parfaits, and my strawberry ice cream cake.
☆☆☆☆☆☆☆☆☆☆
* I use mostly organic ingredients when I cook, but I realize that not everyone has the disposable income to purchase all organic ingredients. Therefore, I only specify organic on the ingredients that really matter - when buying the organic version is the only way to ensure that the item is vegan.