Strawberry Cheesecake Cookies
published on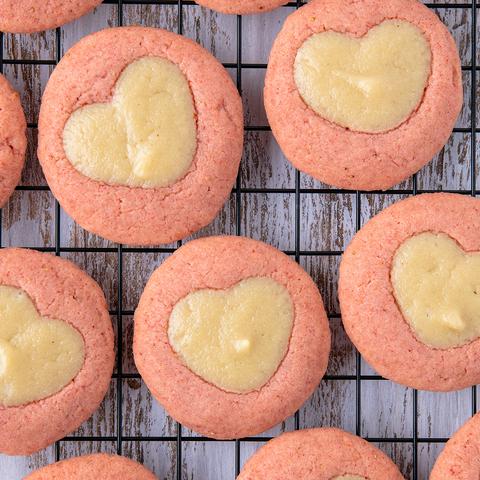 Strawberry cheesecake cookies are a fun and delicious version of a thumbprint cookie recipe. Pink strawberry-flavored cookies have a heart shaped vegan cheesecake center, making them extra cute for any occasion.
Table of Contents
(click the links below to skip to the section you're looking for)
♫ Listening to ♫
Finger In Your Eye by YACHT
I made this recipe three times before it was perfect. I ate the first batch all by myself, nomnom. I froze the second and third batches to take to a vegan tea party picnic my friends are hosting in April (it's called the Spring Covenstead). Isn't it nice to have a recipe that takes under an hour and be cute and delicious? I hope you like them as much as I do.
This recipe makes 12 Strawberry Cheesecake Cookies.
(jump to the substitutions section to see ingredient details and suggestions for substitutions)
½ cup (110g) earth balance

½ cup (60g) organic powdered sugar

2 tablespoons (30g) water

½ teaspoon (2g) vanilla extract

pink food coloring (optional)

1 cup (130g) flour

2 tablespoons (15g) freeze-dried strawberry powder

2 tablespoons (15g) organic cornstarch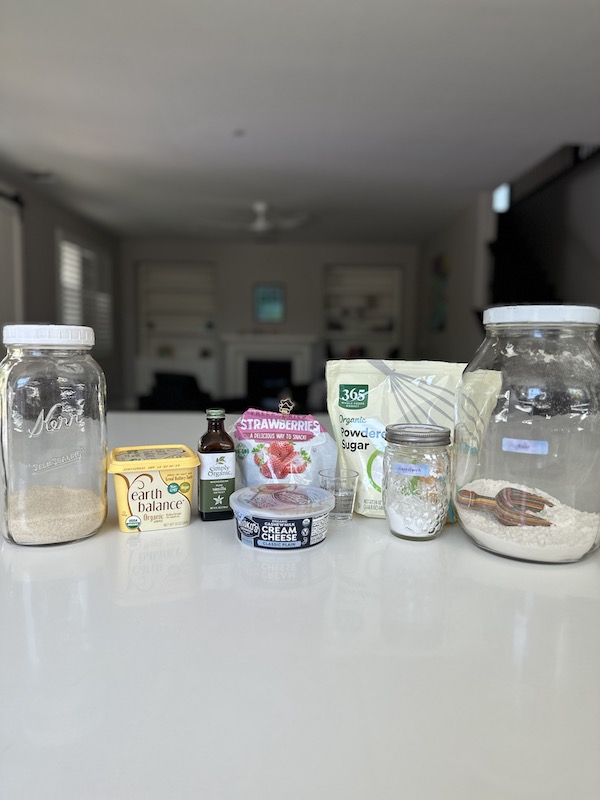 How to make Vegan Strawberry Cheesecake Cookies
prep time: 20 min
Preheat the oven to 350°F (175°C) if you think you might forget later, but I usually wait until my cookie batter is ready before I start preheating my oven.
Mix ½ cup (110g) earth balance and ½ cup (60g) organic powdered sugar on a fast speed using an electric or stand mixer. Mix it until it's light and fluffy, which takes a few minutes, so you can measure your other ingredients while you wait.
Measure or weigh the dry ingredients together in a bowl: 1 cup (130g) flour, 2 tablespoons (15g) freeze-dried strawberry powder, and 2 tablespoons (15g) cornstarch (use organic or non-GMO cornstarch if possible). If your freeze-dried strawberries aren't a powder, turn them into powder by grinding ⅓ - ½ cup freeze dried strawberries in a coffee or spice grinder.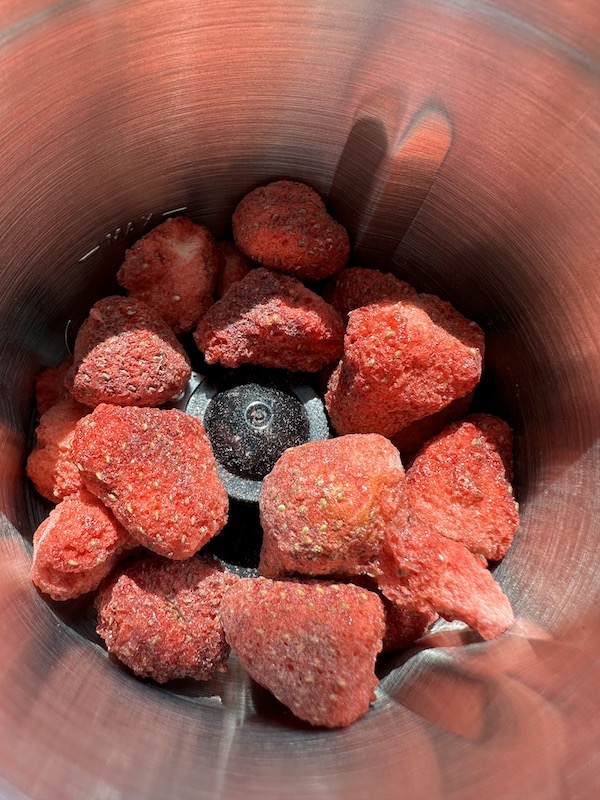 Add 1 drop of optional pink vegan food coloring to 2 tablespoons (30g) water. I've tried making these without any food coloring, and the pink from the strawberry powder is too subtle.
Add the colored water (or plain water if you decided not to add pink food coloring) and ½ teaspoon (2g) vanilla extract to the bowl with the fluff. Also add the dry ingredients to the mixing bowl.
Mix until it's incorporated.
Preheat the oven to 350°F (175°C) if you haven't yet. I like to wait until now to start preheating to save energy.
Line a baking sheet with parchment paper.
Roll the dough into 12 same-sized balls (or as close as you can get them). If I need them to be perfect for an event, I weigh my dough and divide that number by 12 to get an idea of how much dough to use for each cookie. But if I'm making these for fun, I just eyeball it.
Press a heart shape in the middle of each cookie dough ball, as soon as you've rolled it into a ball. It's easiest to make the fingerprint after each ball is rolled, rather than rolling all 12 balls and then making all the thumbprints at once. (I know it doesn't sound easier, but if you don't want your cookies to have little cracks on the edges, trust me.)
The method I use for my thumbprint was inspired by Catherine's heart thumbprint cookies. I used my index finger (or is it called the pointer finger?) and make 2 diagonal indentations (like the letter V). Then I kind of press down a little more where the heart is supposed to come to a point at the bottom. Watch my 30-second video below to see how I did it. It took me about 8 minutes to prepare all 12 cookies.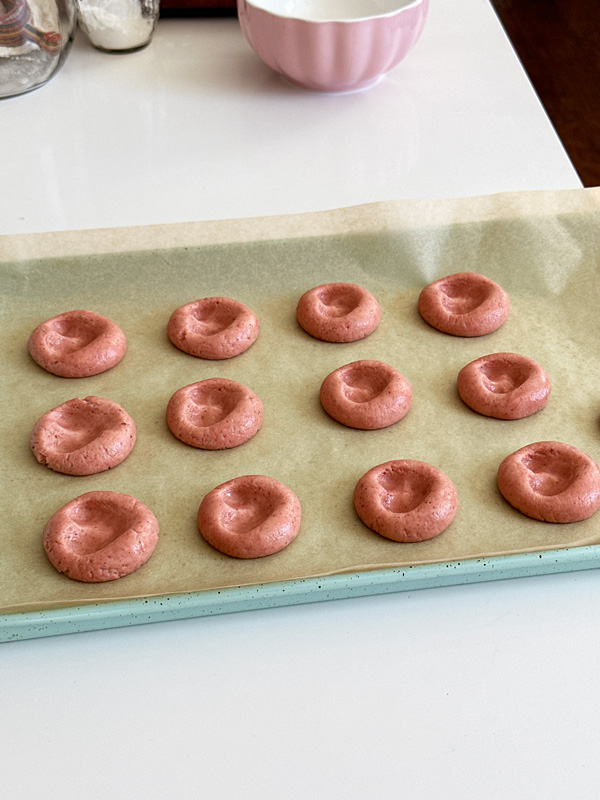 Freeze the tray of unbaked cookies while you prepare the filling.
Stand Mixer
$449.95 from Amazon
Silicone Spatula
$7.99 from Amazon
Piping Bag
$7.00 from Amazon
½ teaspoon (2g) vanilla extract

½ cup (110g) cream cheese

2 ½ tablespoons (45g) vegan sugar
How to make Cheesecake Cookie Filling
prep time: 8 min | bake time: 10 min
Dollhouse Shortcut
If you don't have a piping bag, you can use a spoon or a ziplock bag to fill the cookies with the cheesecake filling.
Mix ½ teaspoon (2g) vanilla extract, ½ cup (110g) vegan cream cheese, and 2 ½ tablespoons (45g) sugar for 2-3 minutes using a stand mixer or a handheld electric mixer. If you don't have a mixer, you can also mix by hand, but that may take closer to 5 minutes.
Transfer the cheesecake filling to a piping bag fitted with Wilton Tip 1A.
Remove the tray of cookies from the freezer.
Fill the thumbprint indentation you made in each cookie with the cheesecake filling.
Bake for 10-12 minutes. My oven runs hot, so I only baked mine for 10 minutes.
Remove the baking tray from the oven.
Cool the cookies on the tray for a few minutes before removing them.
Transfer the cookies to a cooling rack.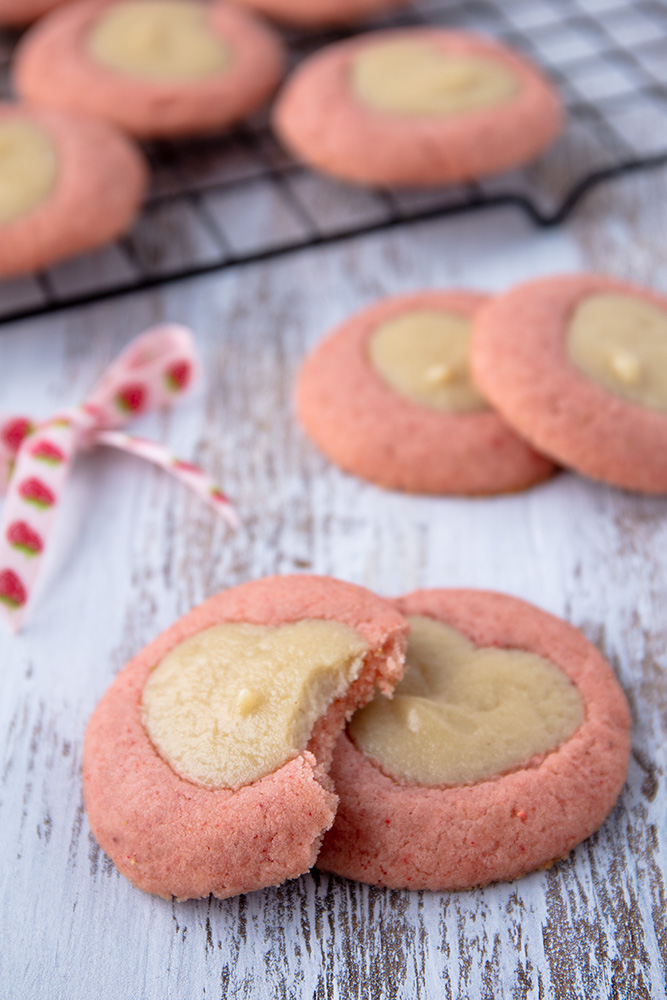 Here's a short 30-second video of how I made these strawberry cheesecake thumbprint cookies.
If you make this strawberry cheesecake cookie recipe, snap a pic, post to instagram, and tag me @vegandollhouse. I love to see your creations! You can also message me through instagram or email me if you have any questions about the recipe.
How long do strawberry cheesecake cookies stay fresh?
Strawberry cheesecake cookies will stay fresh for up to a week, but they taste best when consumed within the first 3 days. Because these are vegan, you don't have to worry as much about leaving them out at room temperature either.
If you want them to stay fresh longer, wait for them to cool completely, place them in an airtight container, and store them in the fridge. If you do this, you can extend their shelf life to 2 weeks.
Can I freeze strawberry cheesecake cookies?
Freezing strawberry cheesecake cookies is a great way to make them last for up to 3 months. I recommend a two-step process. First, freeze the cookies on a baking tray for 2 hours. Then, transfer them to a ziplock freezer bag or other airtight container before returning them to the freezer.
I do this when I'm preparing for a party or an event, so that I can be stress-free on the days leading up to the event.
How many calories are in a strawberry cheesecake cookie?
Each of these strawberry cheesecake cookies is 127 calories.
Are strawberry cheesecake cookies gluten-free?
Strawberry cheesecake cookies can easily be converted to gluten-free by replacing the flour in this recipe with a gluten-free flour blend.
Butter: I like organic whipped Earth Balance the best, so I usually bake with that, but these cookies should turn out well with any type of vegan butter or vegan margarine that you prefer. If you avoid soy, Earth Balance makes a soy-free one.
Sugar: If you can't find organic or vegan powdered sugar where you shop, you can use a blender to blend vegan, organic, or raw sugar to make your own. Just be careful of conventional granulated sugar, because it's sometimes not vegan.
Flour: If you avoid gluten, or if you have friends or family who are gluten free, you can easily substitute the all-purpose flour with a gluten-free flour blend to make these cookies gluten free.
Cornstarch: I highly recommend buying organic or non-GMO cornstarch since corn is a commonly genetically modified ingredient, making it less likely to be vegan. You can also replace the 2 tablespoons of cornstarch in this recipe with equal parts potato starch or arrowroot.
Vanilla Extract: Make sure your vanilla extract is pure vanilla extract and not artificial vanilla flavoring. Imitation vanilla is often not vegan, because it's made from beaver butts. I can't make this shit up. If you want to get creative, substitute the vanilla extract with another flavor or extract. Just make sure it's vegan!
Food Coloring: If you try to color these with just freeze dried strawberries, they will be a very faint light pink. I tried this my first time, and I thought they were too pale, so the second time I added pink vegan food coloring. If you use powdered food coloring, mix it in with the dry ingredients. If you use liquid or gel, mix it in with the water. See my list of vegan food coloring for brands to trust.
Vegan Cream Cheese: I've tried this recipe with different kinds of vegan cream cheese including So Delicious, Trader Joe's, and Miyoko's. Miyoko's cream cheese works the best, and So Delicious is the worst. If you have good results with another brand of vegan cream cheese, please let me know so I can update this recipe to let others know too.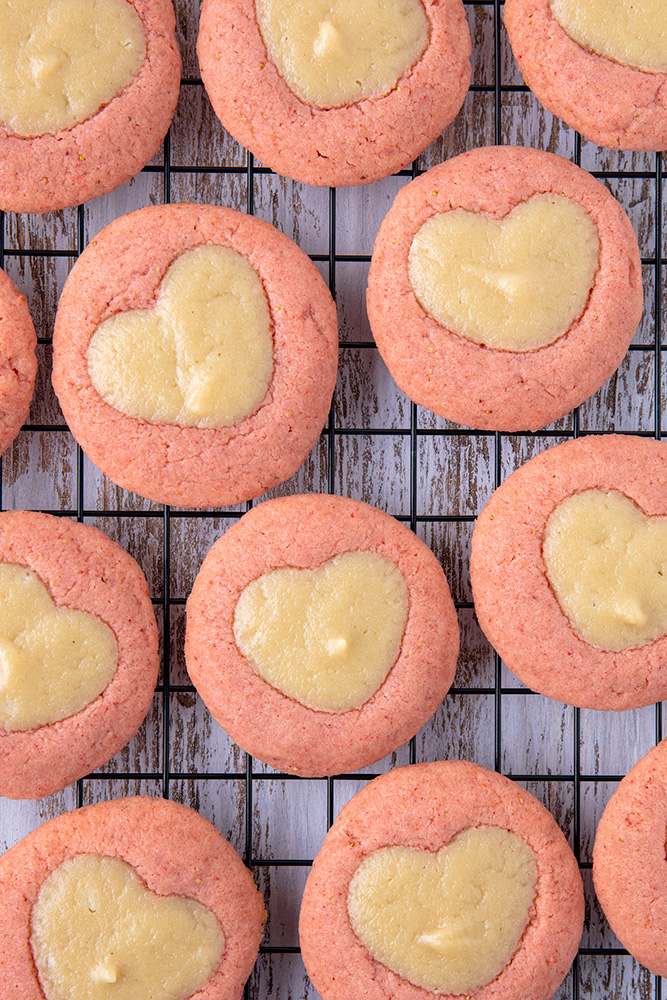 If you like strawberry flavored desserts, you might also like my strawberry ice cream and my strawberry lemonade cake.
☆☆☆☆☆☆☆☆☆☆
* I use mostly organic ingredients when I cook. I realize that not everyone has the disposable income to buy only organic ingredients. So, I only specify organic on the ingredients that matter: when buying the organic (or non-GMO) version is the only way to ensure that an item is vegan.
This post links to items I used when I made this recipe. If you click on the purple Buy Now button on a product page, you will go to a website (like Amazon) where you can buy the same product I used. Sometimes, the store you purchase from (Amazon, Etsy, etc.) will pay me for referring you. This costs you nothing extra, and I would never recommend a product that I don't use. These affiliate programs help me buy the ingredients to create these recipes for you. Read more about this in my privacy policy.
☆☆☆☆☆☆☆☆☆☆