Stuffed Bunny Tail Pretzel Bites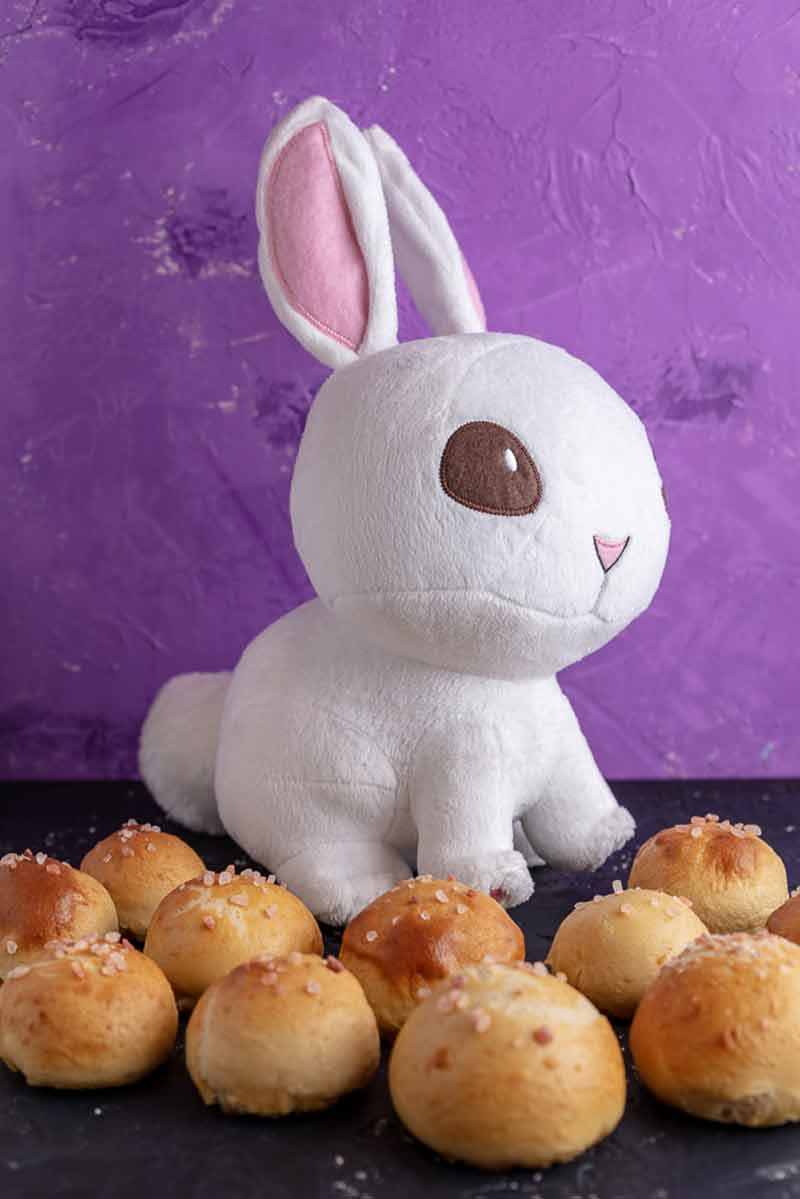 ♫ Listening to: It's Not Just Me by Let's Eat Grandma ♫
I was inspired to make these when I saw that Peaceful Provisions posted stuffed pretzels on their instagram this morning. I've never made pretzels before so I veganized a recipe from sally's baking addiction, and stuffed them with my homemade bacon and violife cheddar cheese. This recipe is so easy and quick! Since it's almost easter, I decided they look like bunny tails. Don't they? I mean now that I said it? Miso the cute kawaii bunny is modeling them just to help make my case.
This recipe makes approximately 16 pretzel bite bunny tails (depending on the size you make them).
Vegan Pretzel Dough Ingredients
1 ½ cups filtered water heated to 110-115º
1 packet or 2 teaspoons of yeast
1 ½ tablespoons raw sugar or sucanat
½ tablespoon sea salt
1 tablespoon olive oil
1 tablespoon nutritional yeast
4 cups unbleached flour
¼ - ½ cup baking soda
4 strips of vegan bacon cut into small pieces
½ package of grated vegan cheddar cheese (I used violife cheddar)
sea salt crystals (I use pink salt, because it has more nutrients in it.)
Vegan Pretzel Dough Directions
total time: less than an hour
Whisk the yeast, sugar, and warm water.
Add the salt, oil, and nutritional yeast.
Add the flour, 1 cup at a time, mixing in between each addition (I used a dough hook fitted in the stand mixer ).
Mix the dough using the dough hook (or your hands if you don't have a stand mixer ) for 2-3 minutes. If the dough gets too sticky, add more flour, 1 tablespoon at a time.
Transfer the dough to a large oiled bowl and cover with a kitchen towel. Let rise for 15-20 minutes. If your house is colder than 80º, you may need to set the bowl on the stove while your oven heats up. I've also set the bowl on top of my clothes dryer while it was running.
Heat your oven to 400º, and bring a large pot of water to boil.
Add some baking soda to the water…like a quarter to a half cup.
Divide the dough into 16 equal pieces–or as many bunny tails as you want to make, adding flour as needed to keep it from sticking to your hands.
Roll each piece into a ball and then flatten with your hands until you have a thin flat circle.
Fill the center of the circle with vegan bacon and cheese.
Seal the ends together in the center by pinching them together.
Set them on a baking sheet lined with parchment paper with the pinched side down.
Boil 2-3 pretzel bites at a time, by placing them into the pot and boiling for 15-20 seconds. I used a slotted spatula to dip them and retrieve them from the boiling water. A slotted spoon works too, if you have one. When they come out of the bath, set them back on the parchment paper lined baking sheets.
Sprinkle with sea salt as soon as they come out of the bath.
Bake the boiled pretzels for 10-12 minutes, depending how brown you like your bunny tails. I baked some for 10 minutes and some for 12, so you can see the difference when you look at the picture. Both taste equally delicious in my opinion.
Cool on baking sheet for a few minutes before eating.