Vegan Pink Heart Spinach Ravioli
published on , modified on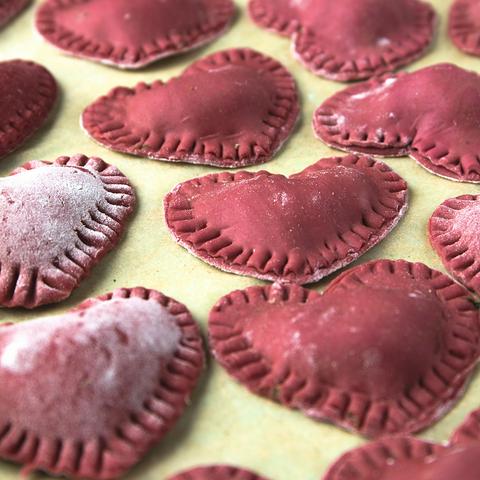 ♫ Listening to: Dead Hearts by Stars ♫
This vegan spinach ravioli uses beetroot to color it naturally pink. Use a cookie cutter to make them heart shaped too!
Table of Contents
(click the links below to skip to the section you're looking for)
Whenever I go out to eat, I try to order something that I don't usually make at home. Oftentimes, that ends up being ravioli or lasagna. I rarely make ravioli because they take so long to make, and to be honest, do they really taste that much better than spaghetti casserole or baked ziti? They're certainly not cuter. Until now.
For my first ever attempt at making ravioli, I couldn't make your traditional square ravioli. I obviously had to make heart shaped ravioli. And then I took them to a valentine's / galentine's tea party. That made the 3 hours I spent on these worth it. I recommend making them for a special occasion, not an everyday dinner. Unless you're unemployed. Then you should make them all the time!
This recipe makes 42 spinach-filled ravioli.
4 cups (520g) organic unbleached all-purpose white flour*

1 ½ tablespoons (15g) beetroot powder

1 ¼ cups (280g) warm water (around 100 degrees)

1 ½ teaspoons (8g) salt (I buy fine grain pink sea salt)

1 tablespoon (14g) olive oil
Vegan Ravioli Dough Directions
make dough: 10 min
Sift 4 cups (520g) flour and 1 ½ tablespoons (15g) beetroot powder into a medium-large bowl. I use my stand mixer to knead my dough, so I sift mine straight into the bowl of the stand mixer. If you still have lumps of beetroot powder in the bottom of the sifter, use the back of a spoon or your hand to mash them through. If it's a really big lump, you can pretend you're grating cheese and rub the beetroot rock against the sifter as if it were a grater.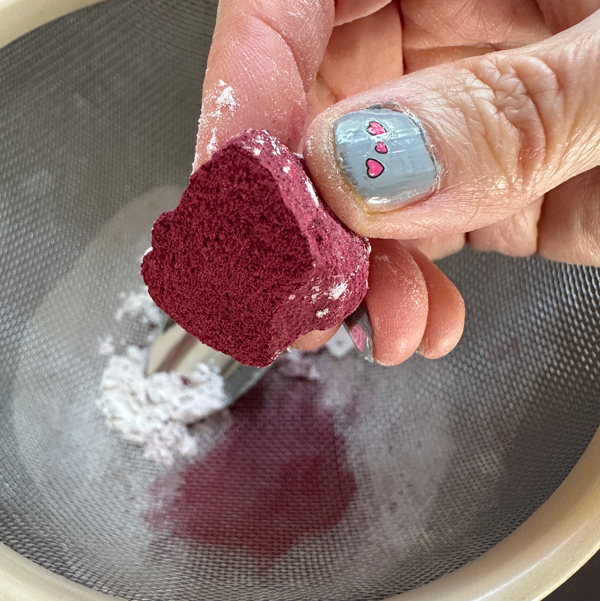 Whisk the dry ingredients.
Add 1 tablespoon (14g) oil, 1 ½ teaspoons (8g) salt, and 1 ¼ cups (280g) warm water to the bowl with the flour and beetroot powder.
Attach the bowl to your stand mixer fitted with a dough hook if you have one. If you don't, you'll have to mix it by hand with a strong spoon that won't break. You can also mix the dough with your hands, but be prepared to get dough under your fingernails (or if you have vegan gloves, you can wear them).
Mix the dough for 3-6 minutes until it's not sticking to the sides of the bowl anymore.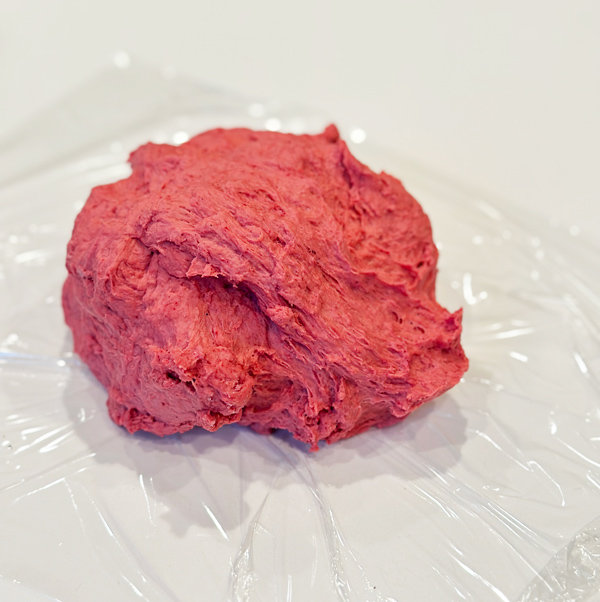 Wrap the dough in cling wrap and let it rest for 20-30 minutes while you make your filling.
Dollhouse Shortcut
Substitute Kite Hill ricotta for all the ingredients except mushrooms to save time.
12 ounces (340g) of organic silken tofu (I used Mori-Nu)*

8 ounces (226g) mushrooms, washed and sliced (optional)

8 ounces (226g) fresh spinach

½ teaspoon (4g) sea salt

½ teaspoon (2g) garlic powder

½ teaspoon (2g) lemon juice

2 tablespoons (8g) nutritional yeast

2 tablespoons (6g) mashed potato flakes (optional)
Vegan Spinach Ravioli Filling Directions
sauté veggies: 15 min | mix and transfer filling: 4 min
Sauté the sliced mushrooms and the raw spinach in 1-2 tablespoons of olive oil (or water if you avoid oil) until all the liquid has cooked out. You want it to be as dry as possible before adding it to the tofu.
Add the remaining filling ingredients to the food processor while you wait for the veggies to sauté: a 12-ounce (340g) package organic Mori-Nu silken tofu, ½ teaspoon (4g) salt, ½ teaspoon (2g) garlic powder, ½ teaspoon (2g) lemon juice, and 2 tablespoons (8g) nutritional yeast.
Add the sautéed veggies to the food processor only when they're as dry as possible. If they still have moisture in them, you can wrap them in a tea towel, and wring out the excess liquid over the sink.
Press the pulse button about 15 times, or until everything looks mixed. Open the food processor, scrape the sides with a baking spatula, put the lid back on, and press the pulse button 5-10 more times.
Transfer the filling to a bowl or container that has a lid. If it seems thinner than the ricotta consistency we're going for, add up to 2 tablespoons (6g) of mashed potato flakes to absorb any excess liquid.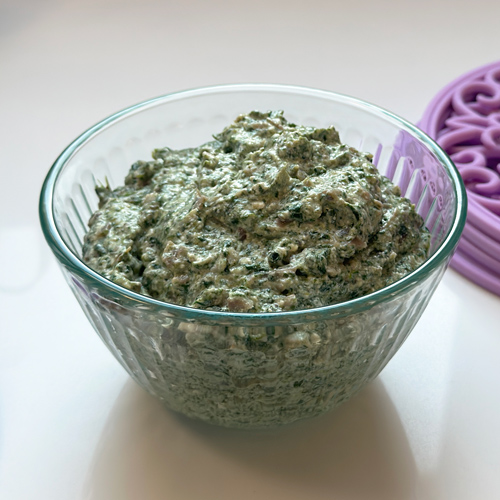 Cover the filling and set it in the fridge until you're ready to use it.
prep time: 1 hour and 40 minutes | cook time: 15 minutes
Dollhouse Shortcut
Make square ravioli and use a ravioli cutter to save time.
Roll the vegan ravioli dough as thinly and as evenly as you can without ripping it. Add extra flour to keep it from sticking to the rolling pin or the rolling mat. If you have a pasta roller, it makes this process way easier and more consistent. I use a pasta roller that attaches to my kitchenaid stand mixer. But, before my stepmom got it for me, I used to roll my ravioli dough by hand with a standard rolling pin.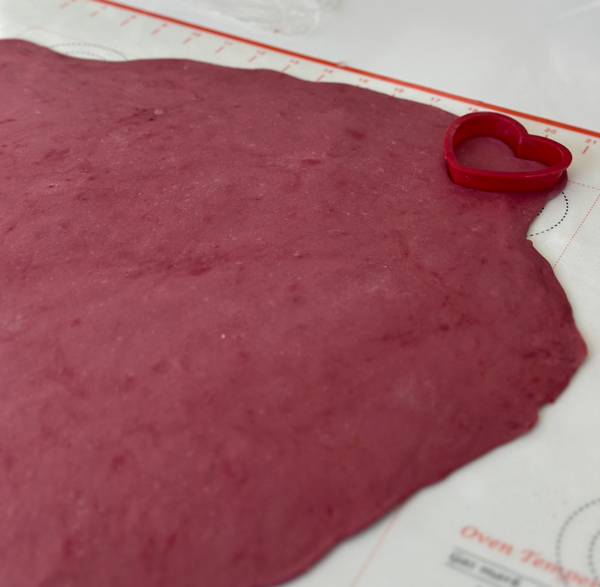 Lay the sheets of dough on your lightly-floured rolling mat. If you don't have a rolling mat, you can roll the dough right on your counter. Just make sure to dust it with flour first (and probably during as well).
Remove the filling you made earlier from the fridge and remove the lid.
Scoop a small spoonful of filling onto the dough leaving 1-2 inches between each scoop. Do this to half the dough.
Fold the remaining ravioli dough over the scoops of filling (like you're tucking them in and reading them a bedtime story).
Cut out heart shapes around each lump of filling with the third biggest size from this set of heart-shaped cookie cutters. If you aren't into hearts, you can use any shape cookie cutter you have.
Crimp around the edges of each ravioli with a fork to make sure they're all sealed. This fork sealing method works great, and I didn't have any of my 42 raviolis come open when I boiled them.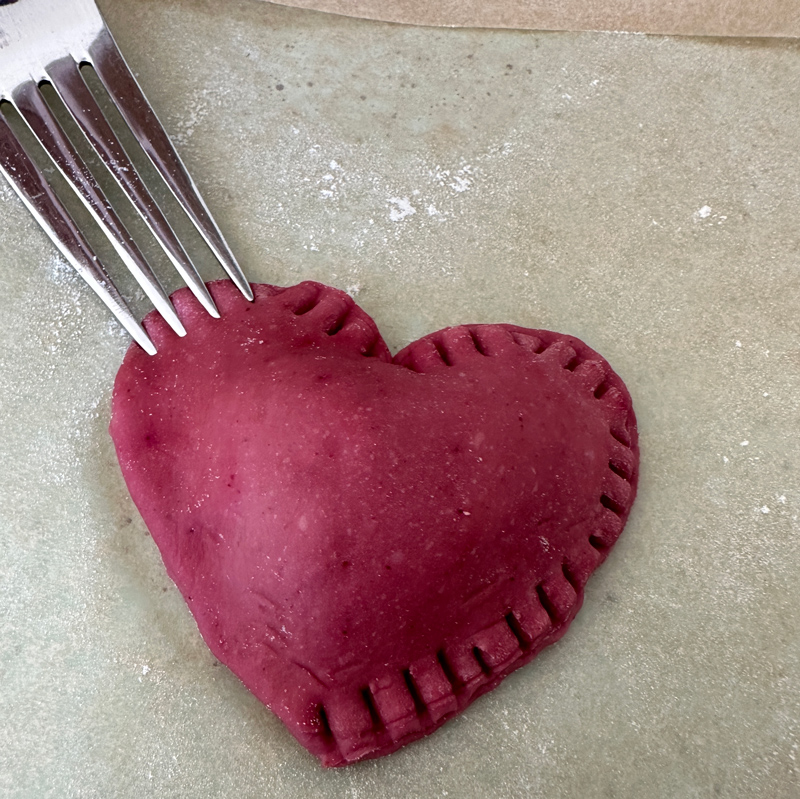 Set each individual ravioli on either a silicone mat dusted with flour or a piece of parchment paper dusted with flour. If you have neither, you can just dust your counter or a cookie sheet or other tray with flour. The important thing is to never stack your ravioli. They will try to stick to each other like teenagers in love, and when you try to separate them, they may tear.
Repeat these steps with the remaining dough. When you're about halfway through (when you have about 20 raviolis made), you can start to prepare your cooking water.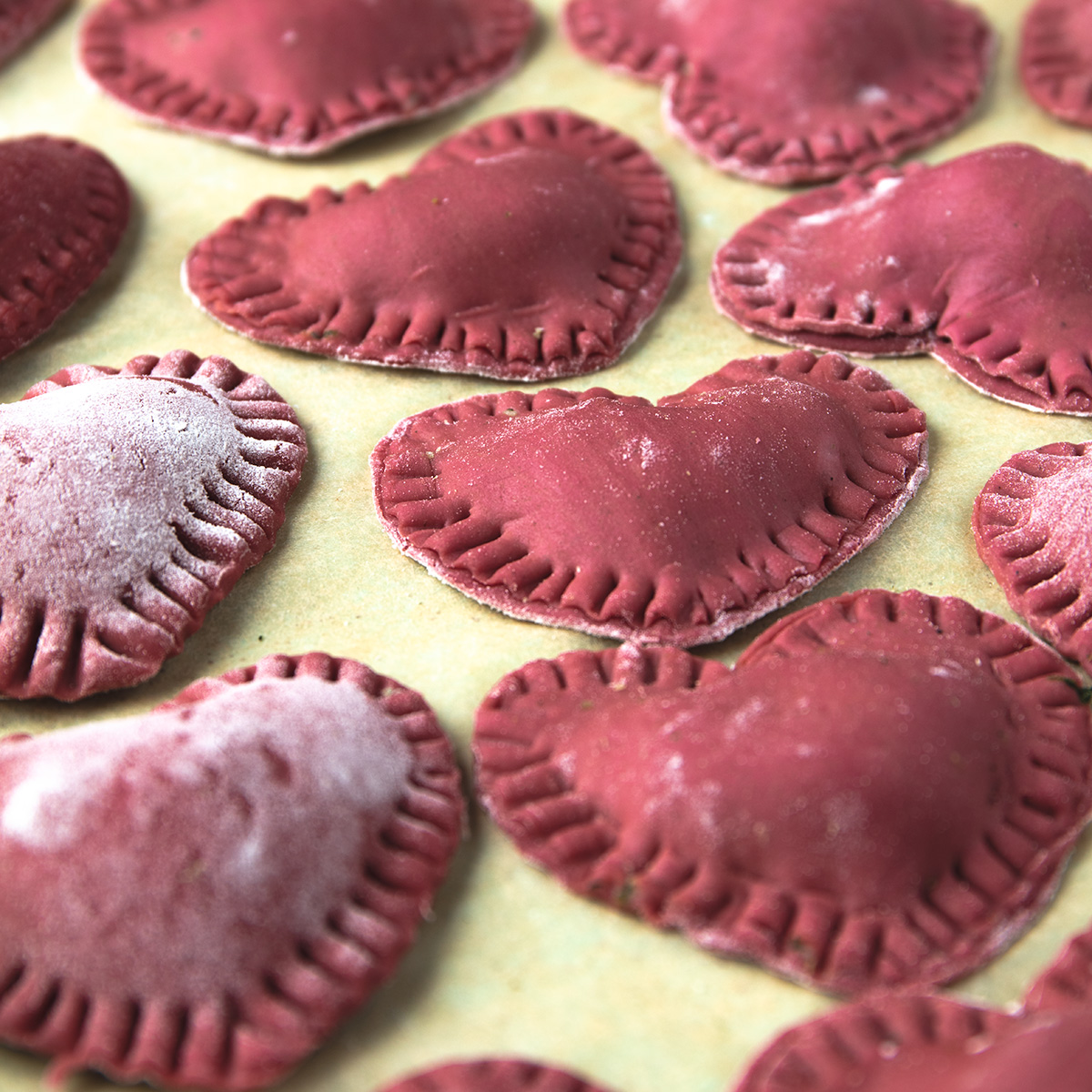 Fill a large pot half full of water, and put it on high heat. While you're waiting for it to start boiling, you can finish making your raviolis.
Reuse the scraps from cutting out the hearts by balling it up together and re-rolling it all out.
Boil only 6-7 raviolis together at the same time, to make sure they don't stick together while they cook. They only need to boil for 2 minutes.
Serve with sauce and grated vegan parmesan (optional).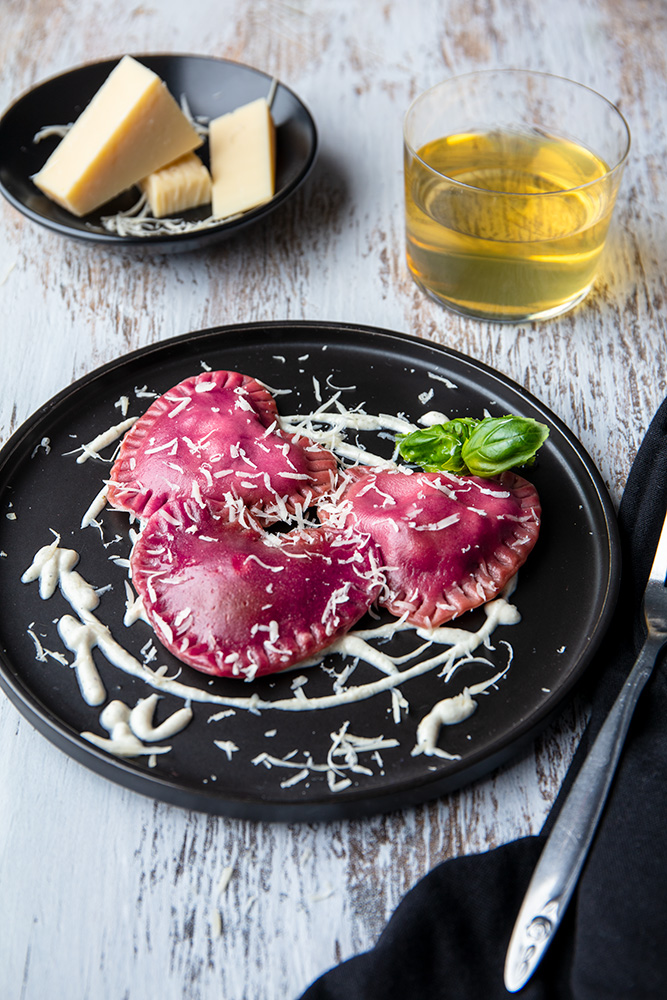 If you make this spinach ravioli recipe, snap a pic, post to instagram, and tag me @vegandollhouse. I love to see your creations! You can also message me through instagram or email me if you have any questions about the recipe.
The pink color from the beetroot powder turned redish when I cooked my ravioli. Is there a way to keep them pink?
If you prefer a bright pink color over a natural pink color for your ravioli, skip the beetroot powder, and instead, boil your ravioli in water mixed with pink food coloring. To do this, add pink food coloring to the water before you put it on the stove. Then your ravioli will come out bright pink like in the picture below.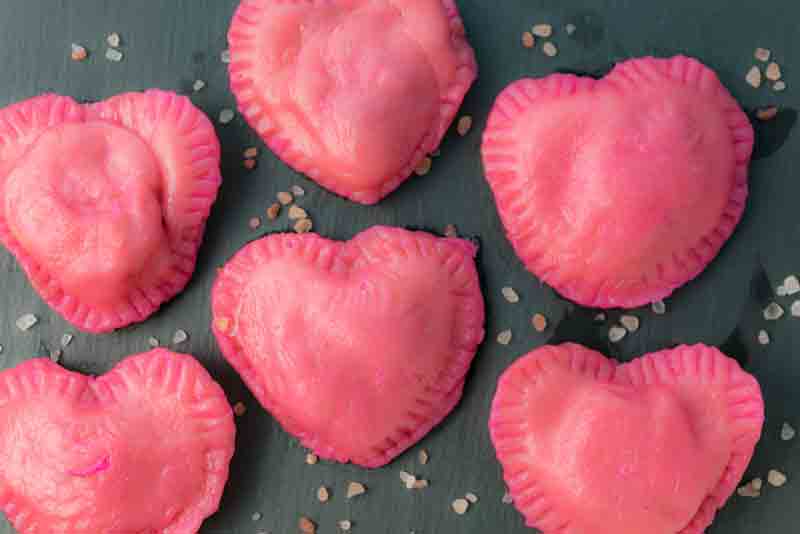 What do you serve vegan ravioli with?
Serve vegan ravioli either alone or with bread, soup, and/or salad.
Who has 2 and a half hours to make dinner? Is there a way to make this process faster?
You can shorten the amount of time it takes to make spinach ravioli from scratch in a few ways. One way is to buy kite hill packaged ricotta and frozen spinach and just use those to fill your ravioli. Another is to make square ravioli instead of heart-shaped ravioli.
To make square ravioli, you can use a ravioli cutter (the tool in the picture below) instead of a cookie cutter. It makes the process SO MUCH FASTER.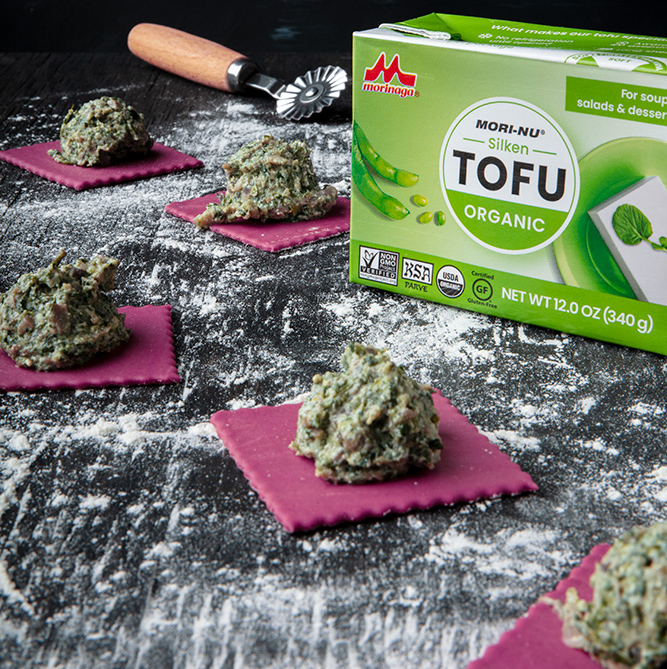 Mushrooms: If you don't have mushrooms, you can replace the sautéed mushrooms in this recipe with 2 tablespoons of dried mushroom powder. If you only have dried mushrooms, you can grind ⅓ cup of them into a powder using a food processor or a coffee grinder. You can also just omit the mushrooms from this recipe altogether.
Beetroot Powder: You can either omit the beetroot powder from this recipe or replace it with another type of vegan food coloring. Below is a picture of what they look like when you omit the coloring altogether.
Spinach: You can replace the 8 ounces (226g) of fresh spinach in this recipe with any other kind of leafy green (chard, kale, collards, etc.). I often buy the giant bag of organic power greens from Costco and those are an excellent substitution. Another option is to use 8 ounces (226g) frozen spinach. Just make sure that after you thaw it out, you squeeze every last bit of water out of it before using.
Silken Tofu: You can replace the silken tofu in this recipe with any other kind of tofu. Use a 1:1 ratio, so replace 12 ounces (340g) with 12 ounces (340g) of the tofu of your choosing.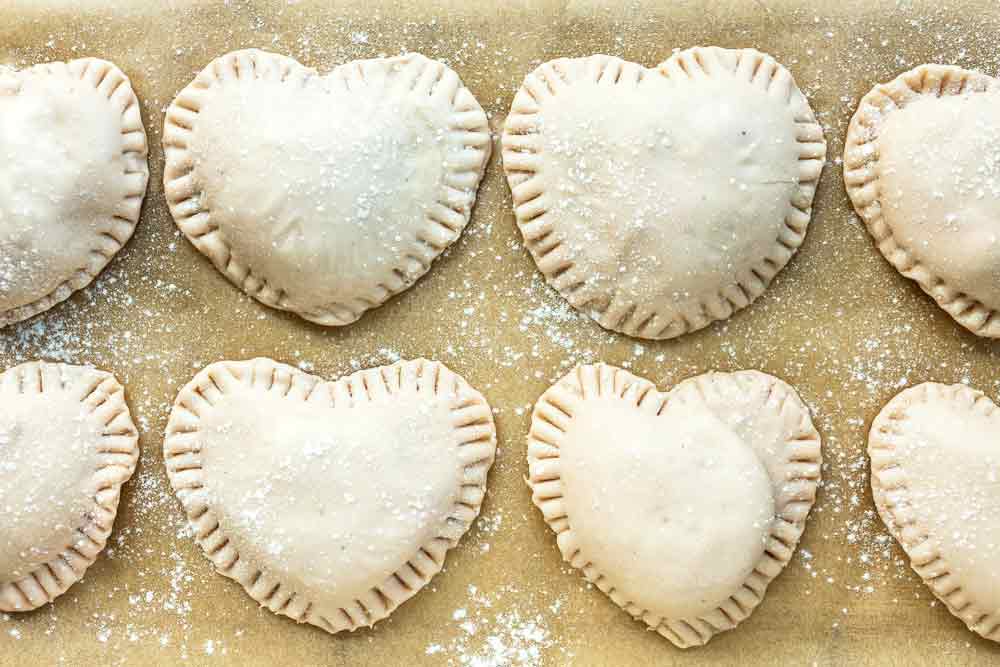 If you like heart-shaped food, check out my pizza lollipops and my pizza pockets. If you like heart ravioli, but you avoid nuts or almonds, check out my nut-free version here.
If you like pink food, you might also like my pink peppermint hot chocolate and my pink bagels.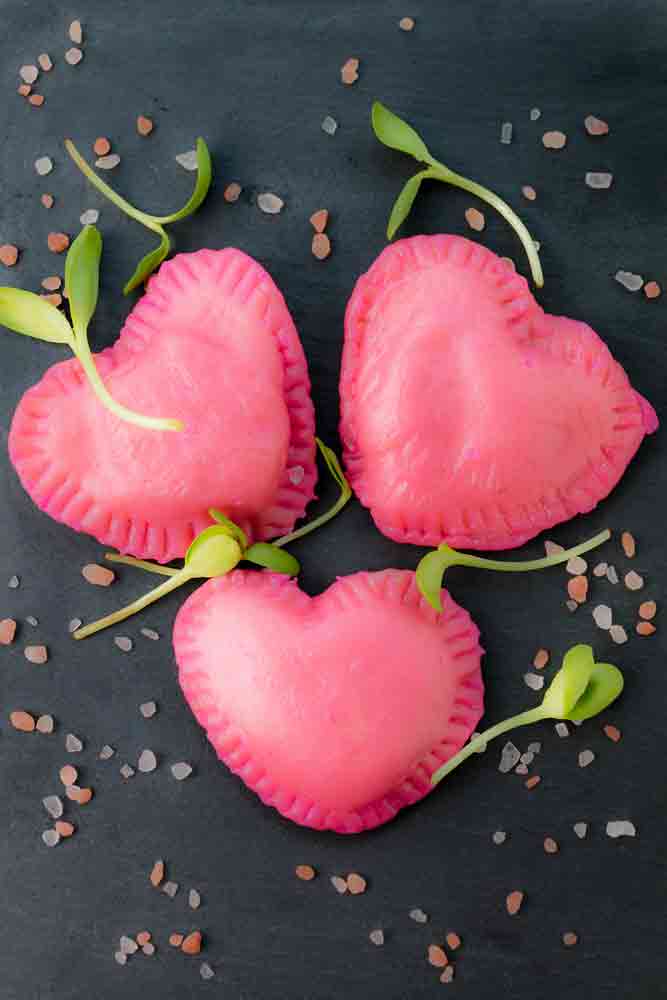 ☆☆☆☆☆☆☆☆☆☆
* I use mostly organic ingredients when I cook, but I realize that not everyone has the disposable income to purchase all organic ingredients. Therefore, I only specify organic on the ingredients that really matter - when buying the organic version is the only way to ensure that the item is vegan.