Vegan Pink Heart Ravioli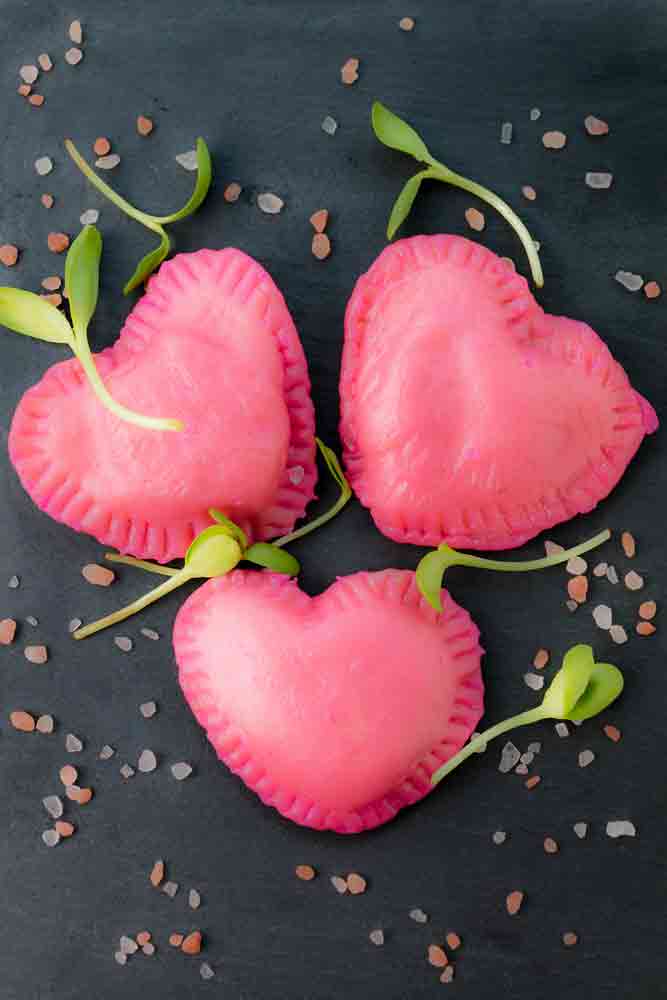 ♫ Listening to: Dead Hearts by Stars ♫
Whenever I go out to eat, I try to order something that I don't usually make at home. Oftentimes, that ends up being ravioli or lasagna. I rarely make these because they take so long to make, and to be honest, do they really taste that much better than spaghetti or baked ziti? They're certainly not cuter. Until now. For my first ever attempt at making ravioli, I couldn't make your traditional square ravioli. I obviously had to make heart shaped ravioli. And then I took them to a valentine's / galentine's tea party. That made the 3 hours I spent on these worth it. I recommend making them for a special occasion, not an everyday dinner. If you like heart-shaped food, check out my pizza lollipops and my pizza pockets. If you like heart ravioli, but you avoid nuts or almonds, check out my nut-free version here.
Vegan Ravioli Dough Ingredients
4 cups organic unbleached all-purpose white flour*
1 ¼ cups warm water (around 110-115 degrees)
1 teaspoon salt (I buy fine grain pink sea salt)
1 tablespoon olive oil
1 tablespoon beet powder (optional)
Vegan Ravioli Dough Directions
Sift the flour into a large bowl.
Optional: If you prefer a natural pink color, you can mix 1 tablespoon of beet powder in with your water before the next step. I use an immersion blender to blend the food coloring powder with the water to make sure there were no lumps of beet powder left.
Add the oil, salt, and water, and stir well. I used my stand mixer fitted with a dough hook to do all the dough mixing.
Wrap the dough in plastic wrap and let it rest for 20-30 minutes while you make your filling.
Vegan Ravioli Filling Ingredients
Dollhouse Shortcut
Substitute Kite Hill ricotta for the almonds, water, and salt to save time.
an 8 ounce package mushrooms, chopped
1 cup almonds
1 teaspoon salt
½ cup water
a few drops of wilton rose gel color (optional)
Vegan Ravioli Filling Directions
Sauté the chopped mushrooms in oil (or water if you avoid oil) until all the liquid has cooked out. Set aside.
Boil the almonds in water for 15 minutes. Rinse.
Blend the almonds, teaspoon of salt, and ½ cup water in a blendtec blender (or any blender), scraping the sides when needed, to make sure it all blends.
Mix the blended almonds with the cooked mushrooms, and that will be the filling for your ravioli. If it's too thin, you can thicken it with a tablespoon or 2 of nutritional yeast and then set it aside.
Knead dough again.
Fill a large pot half full of water, and bring to a boil while you do the next steps. If you didn't use beet powder in your dough, and you want your hearts to come out pink, add pink food coloring to the water before you boil them, then your ravioli will come out pink like mine. I have a list of vegan food coloring that will tell you which brands of food coloring are vegan.
Roll your dough as thinly and as evenly as you can without ripping it. Add additional flour to keep it from sticking to the rolling pin. If you have a pasta maker, make sheets of dough with it. I use this rolling mat , and it makes cleanup SO MUCH easier!
Scoop a small spoonful of filling onto the dough leaving a few inches in between each scoop. Do this to half the dough.
Fold the remaining dough over the scoops of filling.
Cut out heart shapes around each lump of filling with a heart-shaped cookie cutter or any shape of your choosing.
Press around the edges of each ravioli with a fork to make sure they're all sealed.
Set each ravioli on parchment paper dusted with flour. If you stack them together, they'll stick to each other and may tear when you try to separate them.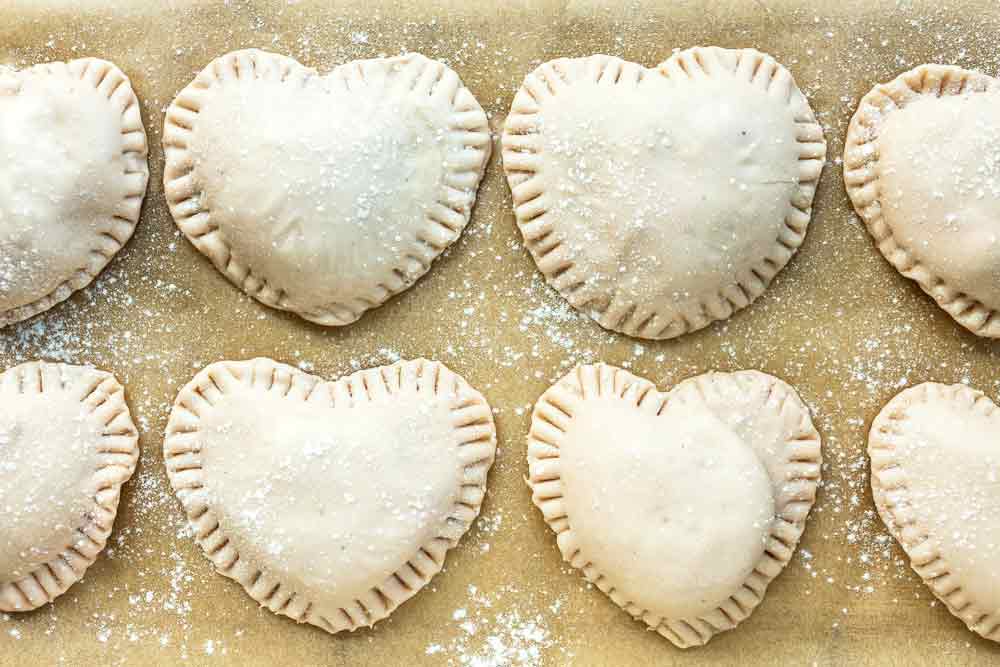 Boil only 3-4 raviolis together at a time to make sure they don't stick together while they cook. They only need to boil for 2 minutes.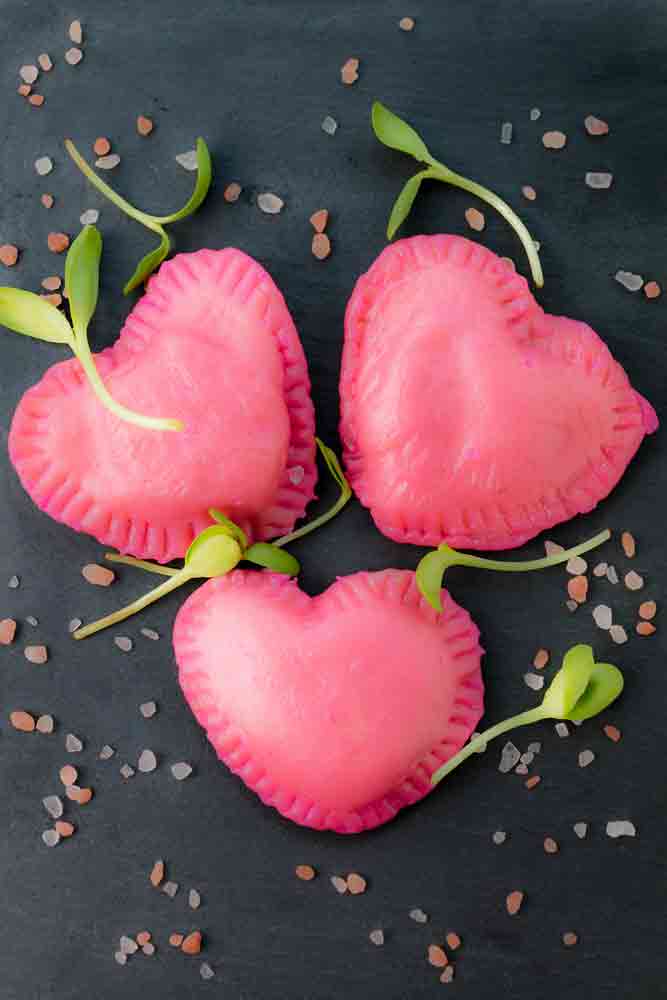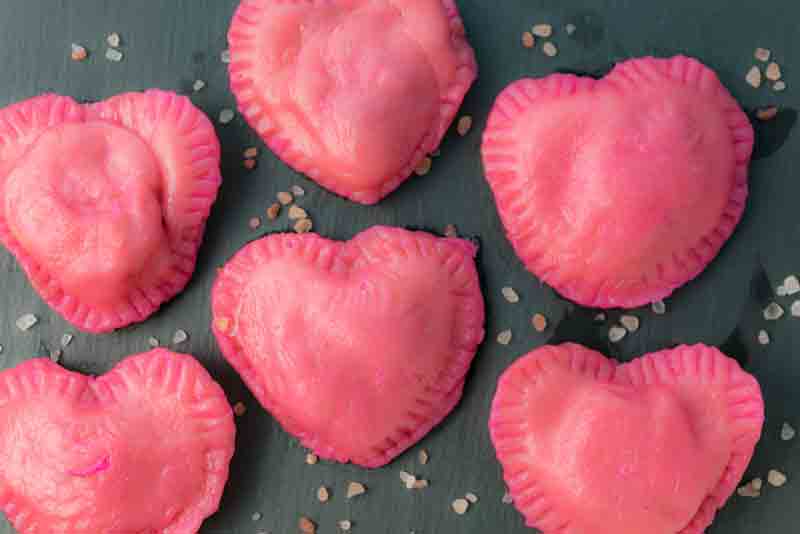 Serve with sauce, either alone or with soup or salad.
☆☆☆☆☆☆☆☆☆☆
* I use mostly organic ingredients when I cook, but I realize that not everyone has the disposable income to purchase all organic ingredients. Therefore, I only specify organic on the ingredients that really matter - when buying the organic version is the only way to ensure that the item is vegan.