Vegan Bulbasaur Zucchini Soup
published on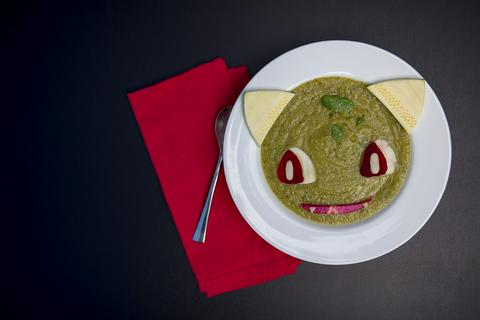 How can this vegan creamy zucchini soup be dairy free? Make it, and you'll be asking yourself the same question. With only 4 ingredients, this allergen-free soup might be the easiest way you'll find to use up some garden fresh summer zucchini.
This recipe makes 4 bowls of cream of zucchini soup.
Table of Contents
(click the links below to skip to the section you're looking for)
♫ Listening to ♫
Homecoming by Twistboy
I made this soup with zucchini at the start of summer and haven't posted it, because I honestly don't think my version of bulbasaur does their cuteness justice.
However, my parents love gluten-free vegan recipes. And they have an abundance of zucchini in their garden (oh, what a problem to have, am I right?). If there's one thing I'm not bad at, it's solving zucchini problems. So I promised to publish this for them TONIGHT. Maybe, this will even help someone else in a similar zucchini predicament. A zucchiniament. A predicchini. Oh, and it gives you an excuse to use that instant pot you bought that's taking up valuable space in your kitchen.
Dollhouse Shortcut
If you aren't into cooking, use packaged zucchini soup, and just decorate that. Or if you like cooking, but you aren't into Pokémon, skip the decorating and just serve the soup plain.
2 tablespoons olive oil

2 yellow onions, diced finely

5 pounds zucchini

2 cups vegetable broth

salt and pepper to taste
Zucchini Soup Directions
Sauté 2 diced yellow onions in olive oil, stirring frequently over low-medium heat until translucent. If you avoid oil, use water instead. If you're using an instant pot for this soup recipe, use the sauté button for this step.
Chop 5 pounds of washed zucchini. If you're making bulbasaur faces on the bowls of soup, set aside 2 zucchinis for making facial features. Compost or throw away the end pieces.
Add the chopped zucchini to the onions and continue to sauté.
Add 2 cups of veggie broth to zucchini. If you're using an instant pot, reduce the liquid you add to 1 ½ cups.
Press the soup button on the instant pot after locking the lid and sealing the vent (if your instant pot has that mode), and turn off the keep warm feature. If you're using a large pot on the stove, use high heat until it starts to boil and then reduce heat to a simmer. Simmer for 20 minutes on the stove or until the zucchini are cooked.
Cut bulbasaur's facial features while you wait (see the decor section).
Remove from heat.
Blend the sautéed ingredients with an immersion blender (or you can use a stand blender if you don't have one).
Ladle into 4 bowls.
Serve or continue with the following set of directions to decorate.
2 zucchinis

1 watermelon radish

1 beet
Bulbasaur Facial Feature Directions
Cut 2 zucchinis lengthwise to create 8 ears, 8 eyes, 8 pupils, and 8 teeth (4 from each squash).
Slice pieces of the outsides of the zucchini for the dark spots on the forehead.
Slice a beet into 8 slices for the red eyes.
Cut 4 mouths from the watermelon radish.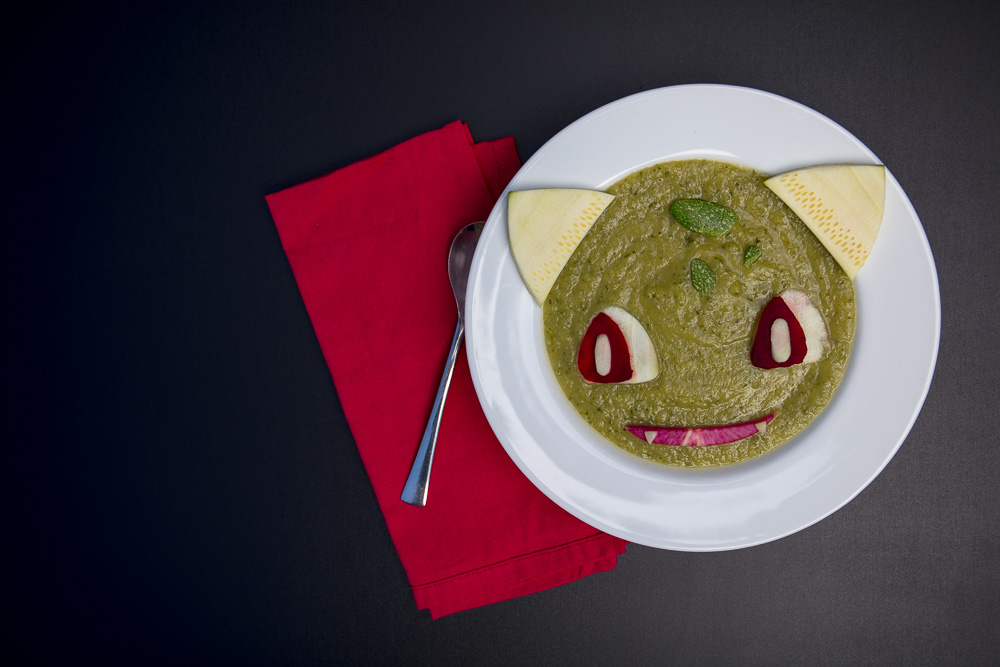 Similar Recipes
If you like easy vegan summer soups, check out my yellow summer squash soup and this tomato fennel soup by Plant Based Folk.
If you like Pokémon, check out my pikachowder, snorlax cake, and pokeball pizza waffles.
If you make this easy vegan soup recipe, snap a pic, post to instagram, and tag me @vegandollhouse. I love to see your creations! You can also message me through instagram or email me if you have any questions or feedback about the recipe.
☆☆☆☆☆☆☆☆☆☆
* I use mostly organic ingredients when I cook. I realize that not everyone has the disposable income to buy only organic ingredients. So, I only specify organic on the ingredients that matter: when buying the organic (or non-GMO) version is the only way to ensure that an item is vegan.
This post links to items I used when I made this recipe. If you click on the purple Buy Now button on a product page, you will go to a website (like Amazon) where you can buy the same product I used. Sometimes, the store you purchase from (Amazon, Etsy, etc.) will pay me for referring you. This costs you nothing extra, and I would never recommend a product that I don't use. These affiliate programs help me buy the ingredients to create these recipes for you. Read more about this in my privacy policy.
☆☆☆☆☆☆☆☆☆☆