Vegan Pikachu Summer Squash Soup
published on
♫ Listening to: Drag by Day Wave ♫
This recipe for yellow squash soup is the perfect summer soup. And if you have anyone in your life who likes cute food, you can follow my instructions to decorate it to look like pikachu soup.
After posting this pikachu soup on instagram, missnataliebones eloquently coined the term pikachowder to describe it.
Organic summer crookneck squash is the main ingredient, and at farmer's market, I can find it as inexpensive as 70¢/pound on a good week. This probably isn't the best timing for me to write up this recipe, since summer is technically over in many parts of the world, but if you live in California, you still have a good month left to make this. If you like pokemon, check out my pokeball cupcakes, snorlax cake, and pokeball pizza waffles.
This recipe makes 4 bowls of soup.
Table of Contents
(click the links below to skip to the section you're looking for)
Dollhouse Shortcut
If you aren't into cooking or don't have access to a stove, use packaged golden beet or butternut squash soup, and just decorate that.
2 tablespoons olive oil (if you avoid oil, use water instead)

2 yellow onions, diced finely

5 pounds crookneck yellow squash (~1 standard-sized produce bag full)

2 cups vegetable broth (reduce the liquid by half a cup if you're using an instant pot to make your soup)

salt and pepper to taste
Sauté the diced onion in olive oil, stirring frequently over low-medium heat until translucent. If you're using an instant pot for this recipe, use the sauté button for this step.
Chop the washed squash (all except for 2-3 reserved for facial features if you're making pikachu faces on the bowls of soup).
Add the squash to the onions and continue to sauté.
Add 2 cups of veggie broth, salt, and pepper to the squash.
Press the soup button on the instant pot after locking the lid and sealing the vent (if your instant pot has that mode), and turn off the keep warm feature. If you're using a large pot on the stove, use high heat until it starts to boil and then reduce heat to a simmer. Simmer for 20 minutes on the stove or until the squash is cooked.
Cut your facial features while you wait (see next set of directions).
Remove from heat.
Blend the sautéed ingredients with an immersion blender (you can use a stand blender if you don't have one).
Ladle into 4 bowls.
Serve or continue with the following set of directions to decorate.
3 crookneck summer squash
4 olives (I used organic kalamata olives)
4 organic cherry tomatoes
1 sheet nori
How to Decorate Pikachu Soup
Cut 2 of the squash lengthwise to create 8 ears (4 from each squash).
Shape the ears by trimming them to match the ones in my picture.
Cut 1 of the squash into as many thin circles as the squash will allow. You'll need 2 evenly-sized circles for each pikachu (for the eyes).
Cut the same size circles from nori (to place on the squash circles eventually).
Punch a hole into each nori circle using a paper hole punch.
Cut 4 mouths out of nori.
Cut some nori to go on the tip of each ear.
Cut the 4 cherry tomatoes and 4 olives in half.
Here's a video showing the decor process.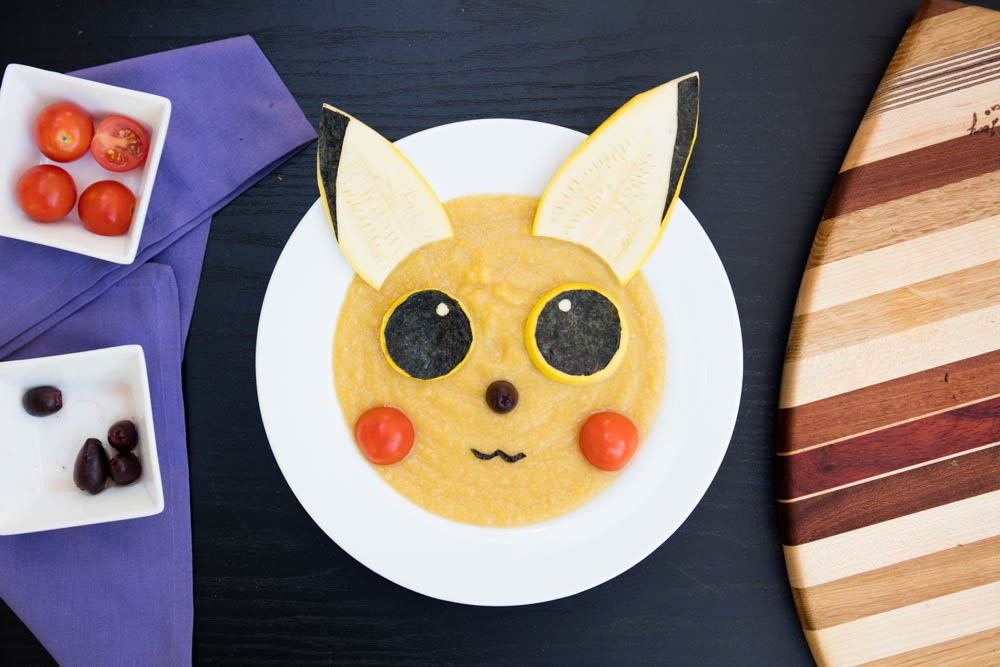 ☆☆☆☆☆☆☆☆☆☆