Spiced Butternut Squash Ice Cream
published on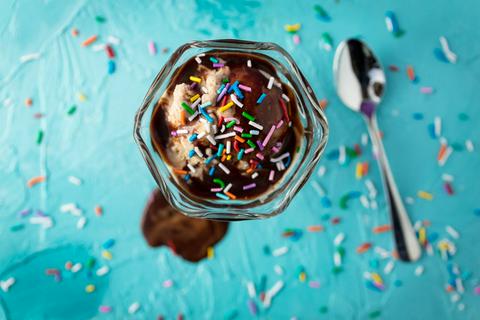 ♫ Listening to: The Way We Are by Kate Boy ♫
I rarely ever mention this on my website, but I buy primarily organic food. If there's an organic option for something, I'll always spend more for organic than the conventional version (except avocados, because everyone draws a line somewhere, and apparently, I draw mine at paying $3 for an avocado). This is one of the reasons I love Amy's products and drive-thru restaurant. The only thing that could make me love them more is if they were an all-vegan company, instead of just vegetarian. Oh, and opening a drive-thru in the southbay. (Seriously though, there's more traffic on my street from food delivery than actual people who live here. An Amy's drive-thru would make a killing.)
This super easy-to-make vegan spiced butternut squash ice cream is made with Amy's low-sodium butternut squash soup, so you can make it year round and not just when winter squash is in season. I can't really decipher a flavor difference between this and pumpkin spice ice cream. I drizzled mine with chocolate nougat ganache made from Amy's Dreamy candy bars , because as you may know if you've read other recipes I've written, I'm a firm believer that dessert isn't dessert unless it includes chocolate in some form. For another recipe using Amy's Butternut Soup, check out my butternut scones recipe.
This recipe makes 3 pints of vegan ice cream, so bring it to a friendsgiving or thanksgiving gathering, or invite people over for an ice cream party.
Vegan Spiced Butternut Squash Ice Cream Ingredients
Dollhouse Tip
For a creamier ice cream, add 3 tablespoons of arrowroot powder , and whisk over medium heat until it thickens. Then cool to room temperature before putting it into the fridge.
1 can of Amy's low-sodium butternut squash soup
2 cans of organic coconut milk (Whole Foods 365 brand is fairly cheap)
1 ¼ cup of organic coconut sugar (or sub raw sugar)
1 tablespoon vanilla extract
2 tablespoons pumpkin pie spice (or sub 1 tablespoon cinnamon, ½ tablespoon ginger, ½ teaspoon cloves, and ½ teaspoon nutmeg)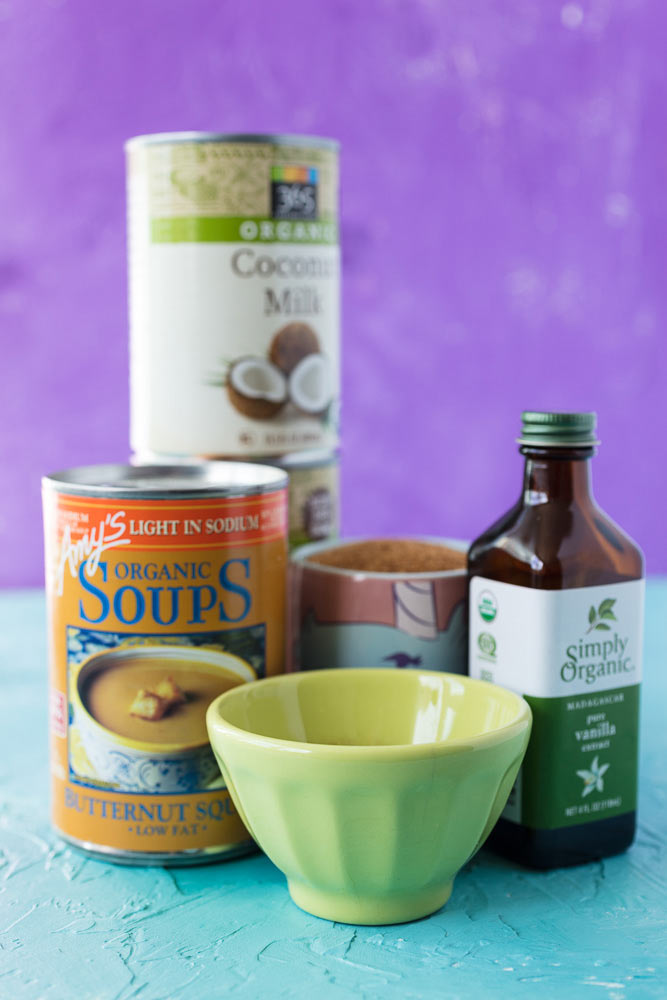 Vegan Spiced Butternut Squash Ice Cream Directions
Prep time: 15 minutes; Chill time: 12 hours
Whisk all the ingredients together until the sugar is dissolved.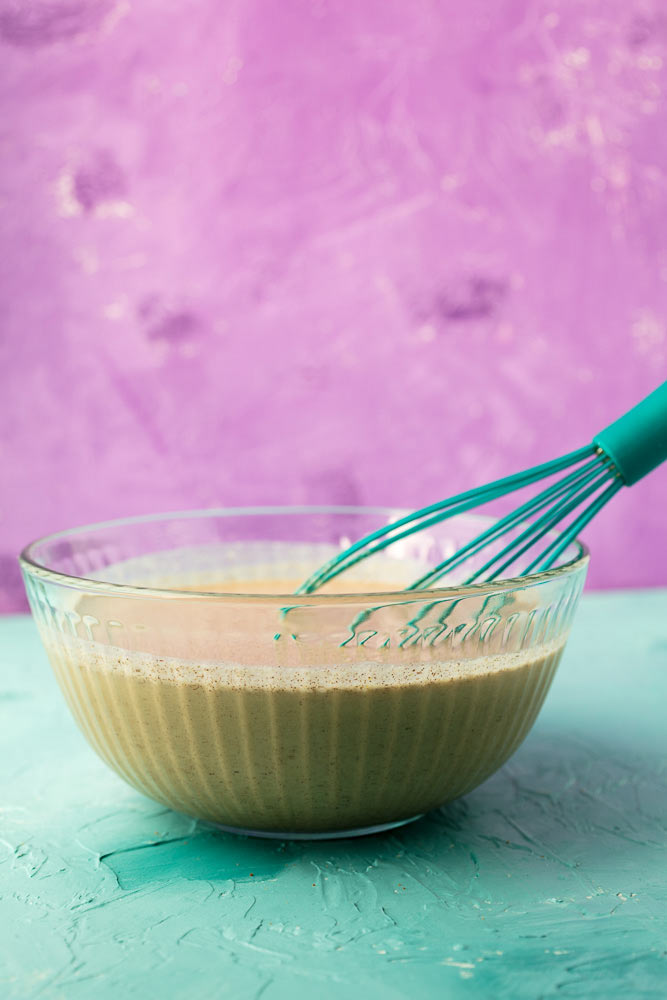 Chill in the refrigerator for at least 2 hours.
Pour the chilled ice cream into an ice cream maker that's been freezing for 24 hours.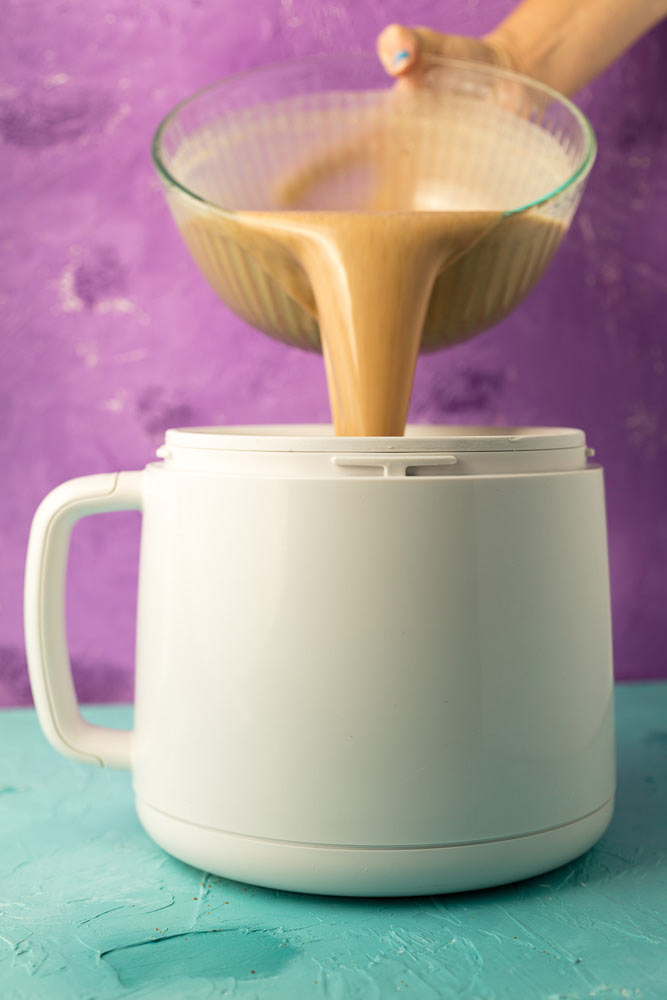 Churn the ice cream.
Transfer the ice cream from the ice cream maker into a dish with a lid, and freeze until ready to serve.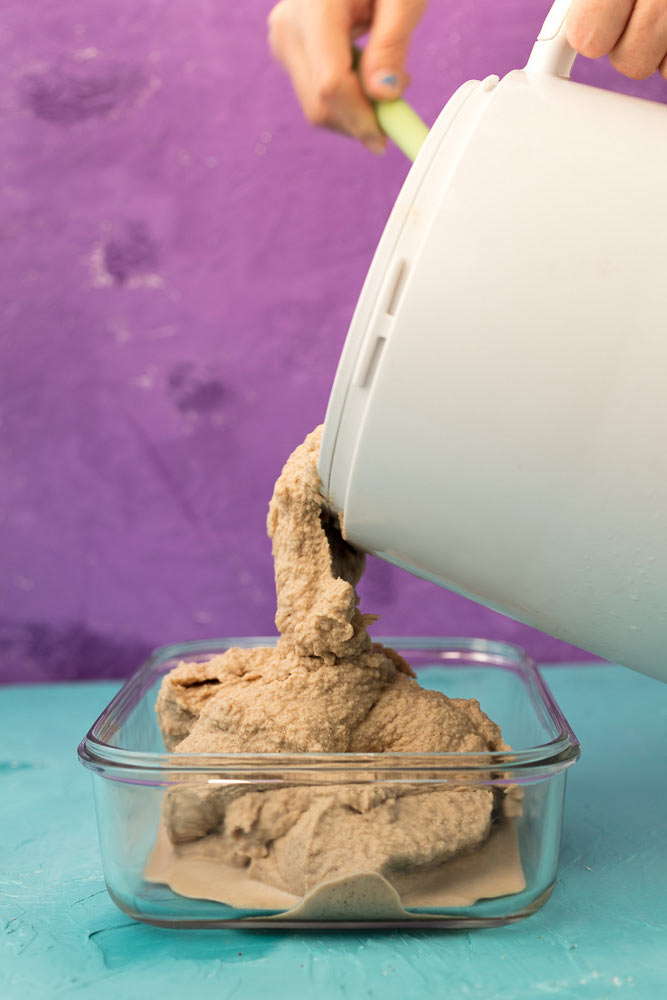 Use shallow dishes if you want to eat it sooner, because it will solidify more quickly that way. Or you can eat it as soft serve straight from the ice cream maker.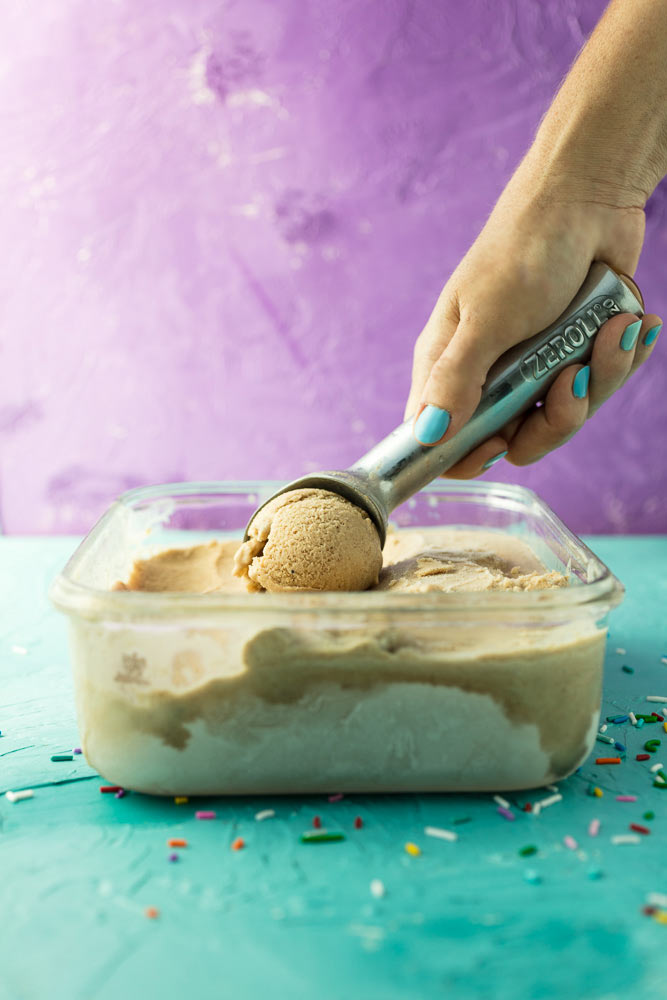 Follow these instructions to make your chocolate nougat Amy's Dreamy Candy Sauce.
Hint: An alternative if you don't have an ice cream maker is to pour the ice cream mixture into a bowl and rest that bowl inside a bigger bowl that's filled with ice. You'll need to constantly stir it with a spatula, and you'll likely have to restock your ice as it melts, but it works well enough.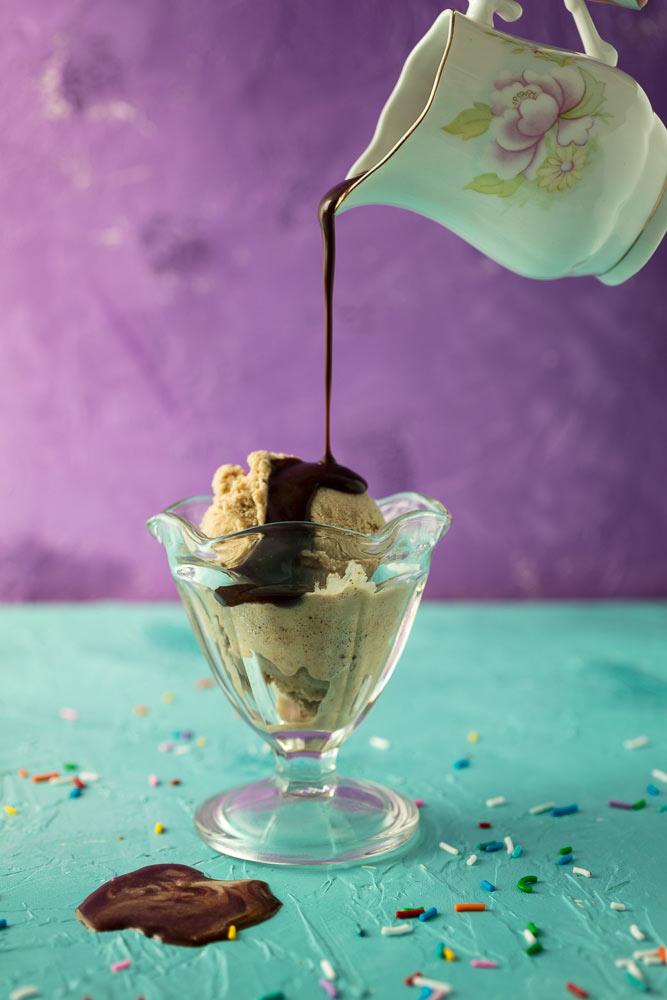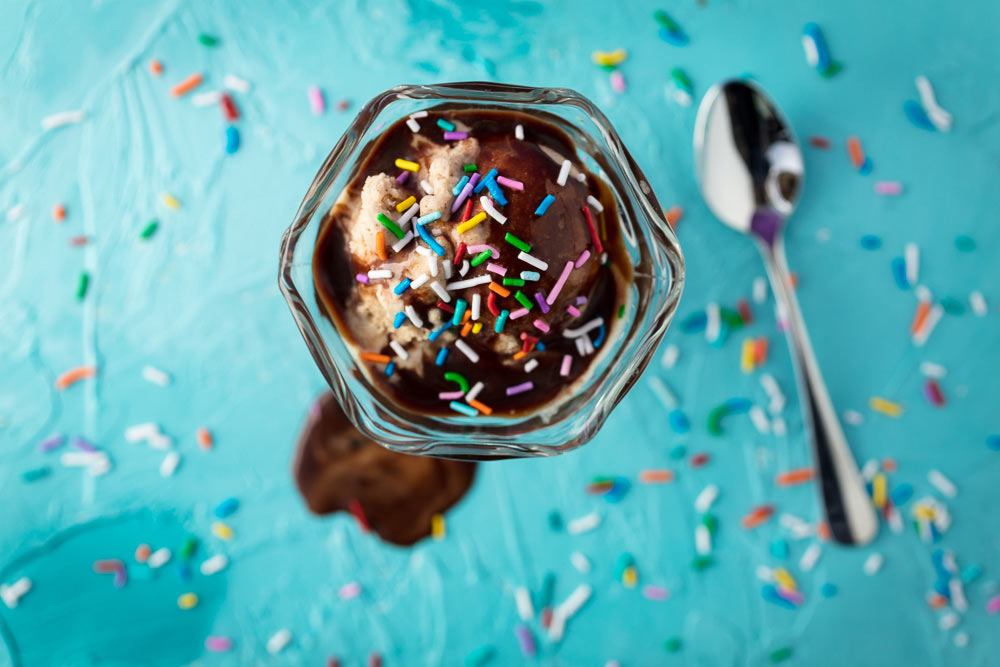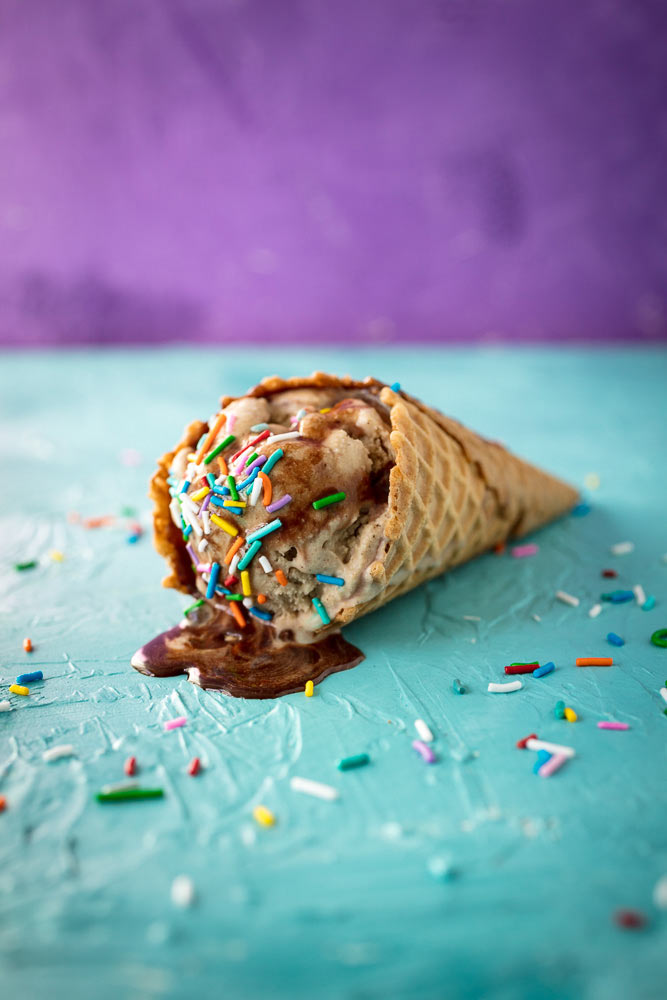 ☆☆☆☆☆☆☆☆☆☆
This post was made possible thanks to the support of Amy's Kitchen. All content and opinions are unbiased and entirely my own. For more recipes using Amy's products, sign up for their newsletter. To get updates on new VeganDollhouse recipes, sign up for my newsletter.