Savory Butternut Scones
published on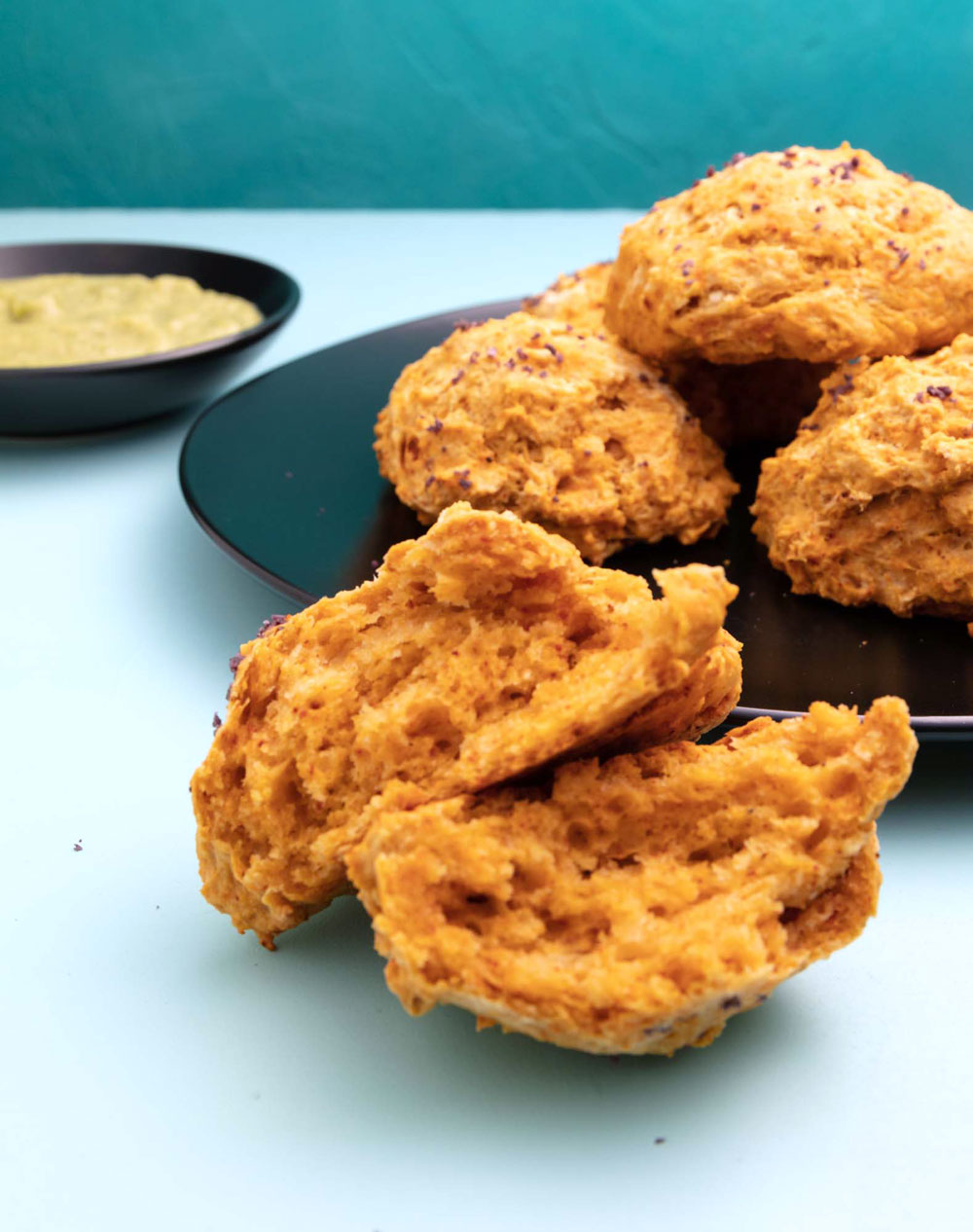 ♫ Listening to: Harvest Moon by Poolside ♫
I had never had a scone I liked until this year. I always thought they were dry and boring. But then I started baking my own and realized how delicious they can be when made fresh. I definitely prefer savory scones over sweet scones. I've made SO MANY kinds of scones this year that you'd think I'd be all sconed out. But you'd be wrong. I could continue on this scone adventure forever. Here's another savory scone recipe that uses 7 ingredients, but is even yummier.
The awesome thing about this recipe is not only that it's super quick and easy, but that you can substitute so many different ingredients to make your own fun and unique flavors. You can add vegan cheese, vegan bacon, finely diced or grated veggies, or capers. These ones are made with Amy's Butternut Squash Soup, giving them a savory autumn flavor that's perfect for the thanksgiving holiday.
This recipe makes 8 savory butternut scones.
Table of Contents
(click the links below to skip to the section you're looking for)
Dollhouse Shortcut
If you don't have season salt, substitute the following: 1 teaspoon salt, 1 teaspoon paprika, ½ teaspoon garlic powder, ½ teaspoon onion powder, ½ teaspoon sage, ½ teaspoon thyme, ½ teaspoon basil, and ½ teaspoon oregano.
2 cups organic unbleached flour, chilled
1 tablespoon non-aluminum baking powder, chilled
2 tablespoons season salt, chilled
¼ cup chilled organic vegan butter (I've used earth balance and melt brands and both worked well)
1 cup Amy's Butternut Squash Soup, chilled
Butternut Scone Directions
Dollhouse Shortcut
Add half a cup of vegan cheddar, and a quarter cup of capers or vegan bacon pieces for an extra unique scone.
Heat the oven to 400º.
Whisk together the 2 cups of flour, 1 tablespoon of baking powder, and 2 tablespoons season salt in a chilled bowl.
Add the ¼ cup vegan butter to the dry ingredients using a chilled fork to mash it in. Make sure you don't touch it with your hands because it's important to keep all the ingredients cold. Don't mix the butter in too much. You want it to have lumps like in the picture.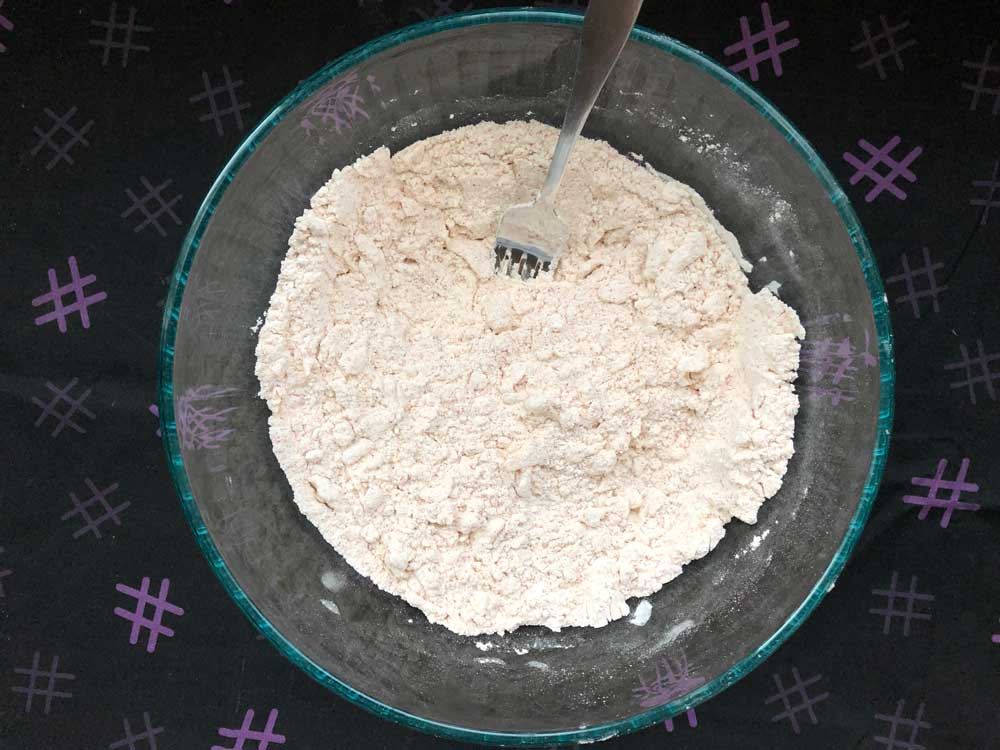 Mix 1 cup of cold Amy's Butternut Squash Soup into the dough using a silicone spatula until you no longer see any flour. Don't overmix past this point.
Divide the dough into 8 equal sized pieces, touching them as little as possible. Drop the 8 scones onto a parchment paper lined baking sheet leaving as much space between each scone as possible for them to expand.
Sprinkle the tops with sea salt. I used a fancy purple salt that my friend Lizzie gave me.
Bake at 400º for 24 minutes.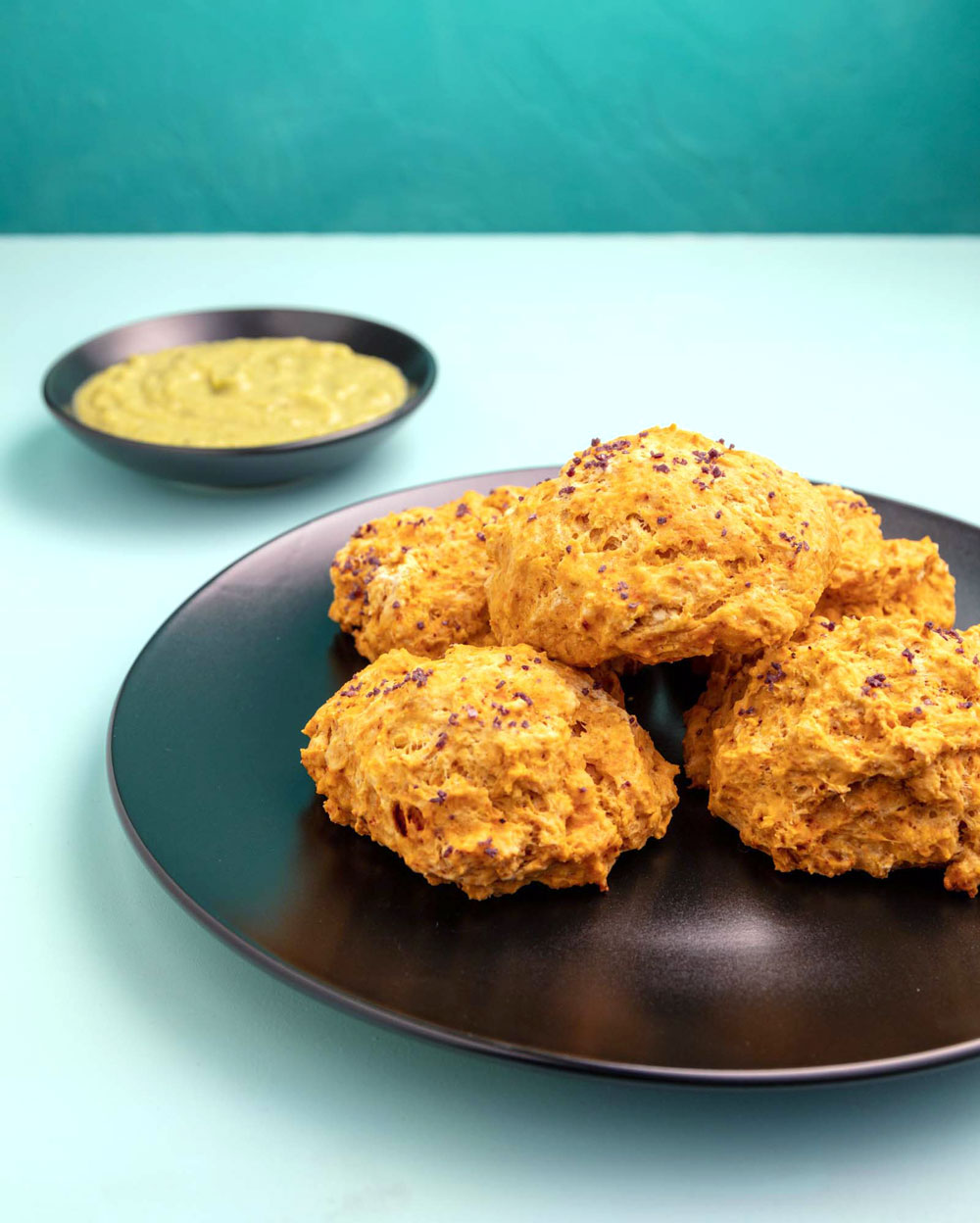 Can these vegan savory scones be made gluten-free?
Yes! One of my readers replaced the flour 1:1 in this recipe with gluten-free flour with great results.
Can I use anything else in place of the butternut squash soup?
Definitely! You can either check out my other savory scones recipe or you can replace the soup in this recipe with either a different kind of soup or even a sauce. One of my creative readers used the Trader Joe's Romesco Dip in place of the soup, and they said the scones were very popular!
Here's a video of me making these savory butternut scones.
For another recipe I've made with Amy's Butternut Squash Soup, check out my butternut ice cream recipe.
☆☆☆☆☆☆☆☆☆☆
This post was made possible thanks to the support of Amy's Kitchen. All content and opinions are unbiased and entirely my own. For more recipes using Amy's products, sign up for their newsletter. To get (very infrequent, sorry haha) updates from Vegan Dollhouse, sign up for my newsletter.