Caesar Salad Dressing Without Anchovies
published on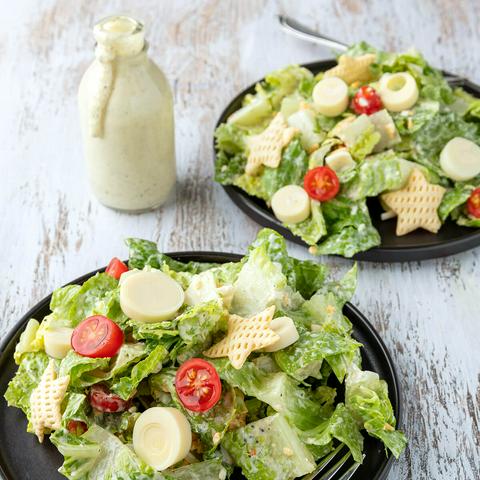 This quick and easy caesar dressing has no mayo, no eggs, no dairy, no worcestershire, and no anchovies. It's gluten free, sugar free, oil free, and high in protein and omegas. You'll be amazed at how creamy and delicious homemade caesar salad dressing can be.
This recipe makes about 1 cup of caesar salad dressing (8 servings).
Table of Contents
(click the links below to skip to the section you're looking for)
♫ Listening to ♫
The Wire by Saltwater Sun
I never used to make caesar salad at home because it didn't seem very healthy for a salad. When I have salads, I like to make them really healthy. I save my unhealthy eating for desserts, thank you very much.
I eat salad for lunch every weekday. They have baby mixed greens, sauerkraut, sesame seeds, nutritional yeast, and whatever raw veggies I have prepped that week. For me, caesar salad was like a special treat salad with that light green lettuce, croutons, and a mayo-based dressing.
But I figured out a way to make caesar salad healthier! This caesar dressing recipe is a variation on my ranch dressing recipe, and it is SO GOOD.
(jump to the substitutions section to see ingredient details and suggestions for substitutions)
1 cup hulled hemp seeds

¼ cup water

1 teaspoon garlic powder

1 teaspoon salt

½ teaspoon black pepper

4 teaspoons vegan fish sauce

4 teaspoons lemon juice

2 teaspoons mustard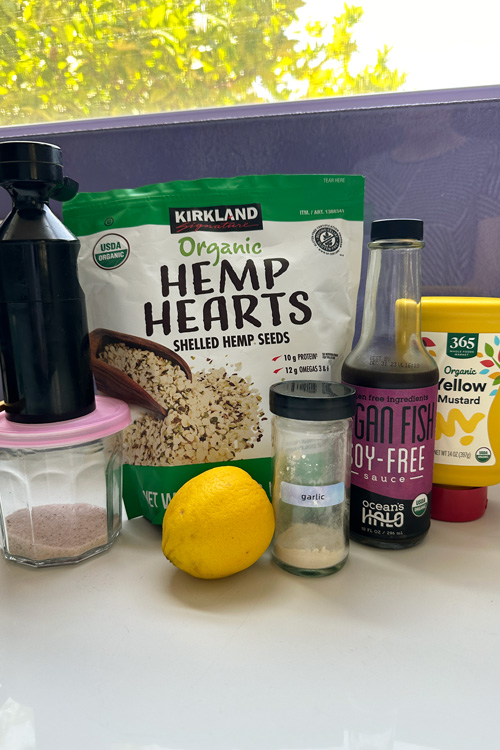 prep time: 10 min
Dollhouse Shortcut
Make the dressing ahead of time and chill it in the fridge. Since it thickens in the fridge, when you remove it, add a little water and shake it up before using it.
Measure all the ingredients into the container of a blender: 1 cup hulled hemp seeds, ¼ cup water, 1 teaspoon garlic powder, 1 teaspoon salt, ½ teaspoon black pepper, 4 teaspoons vegan fish sauce (I like Ocean's Halo), 4 teaspoons lemon juice (~ 1 lemon), and 2 teaspoons mustard. If you don't have a blender, see the substitutions section below for alternatives to using hemp seeds so you can mix the ingredients by hand for a smooth and creamy caesar dressing.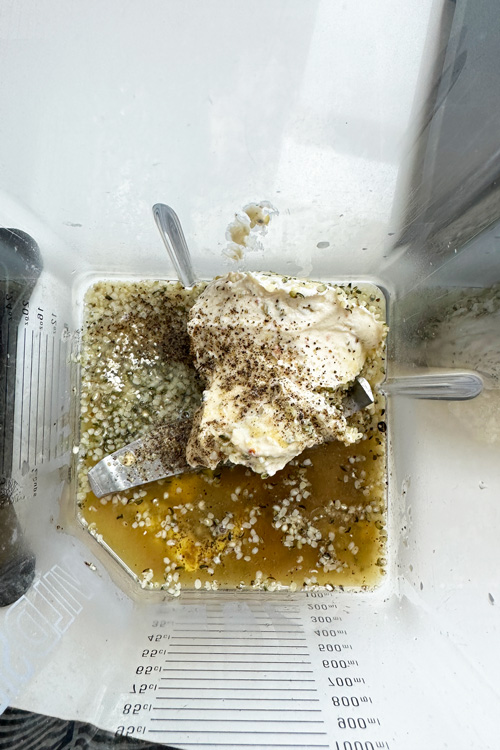 Blend the ingredients until it's completely smooth. You may need to scrape the sides of the blender with a spatula, and then blend again. If you're not using a blender, mix the ingredients in a bowl until the dressing looks completely smooth and uniform.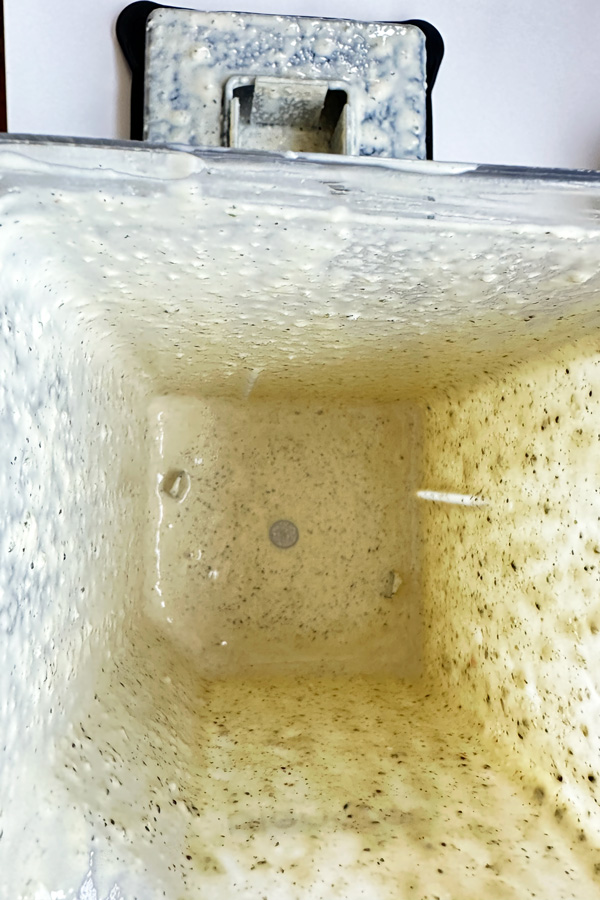 Transfer the caesar dressing to a jar with a lid to store in the fridge.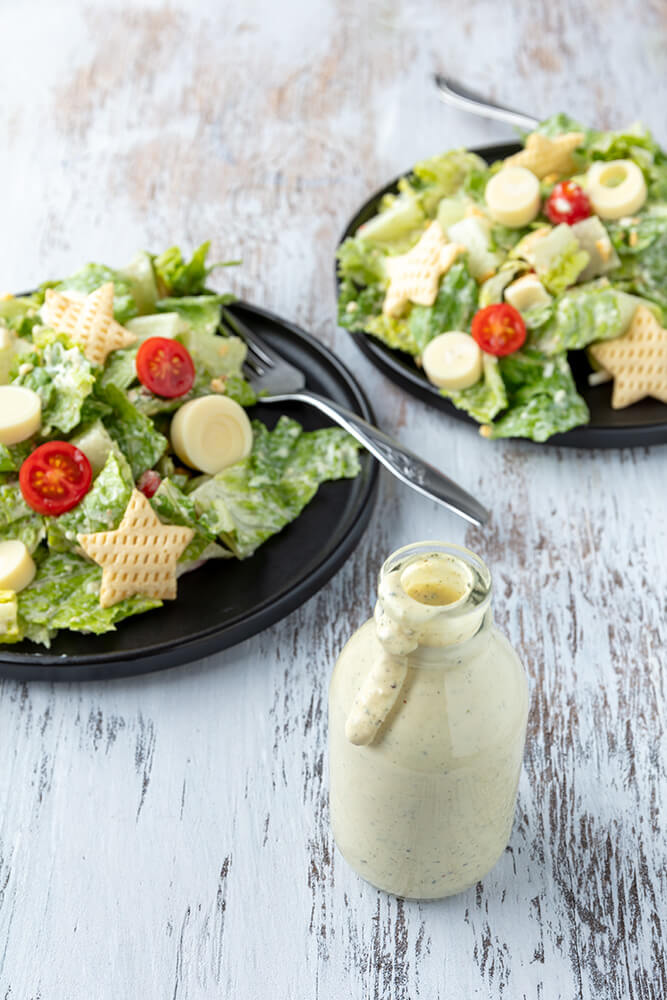 This dressing should stay good in the fridge for a week as long as you don't put it within reach of your dog's tongue.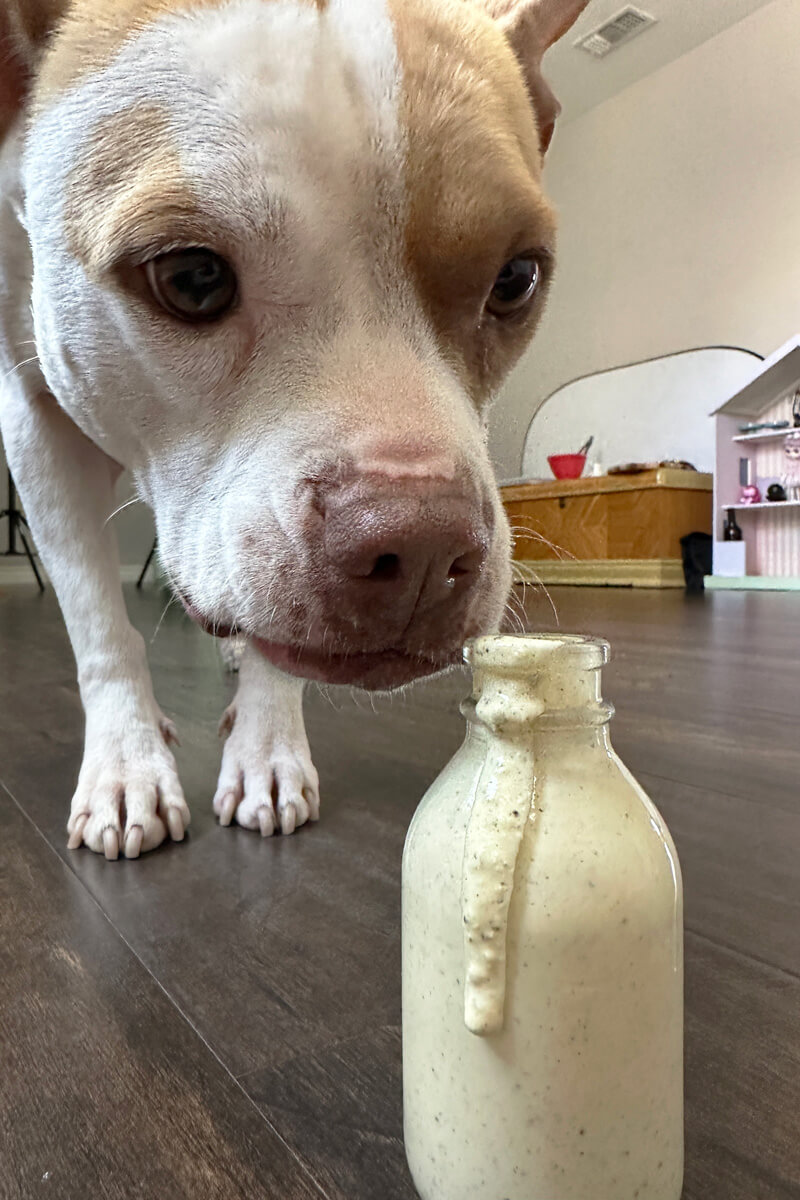 Drizzle over caesar salad or any salad and toss to coat evenly.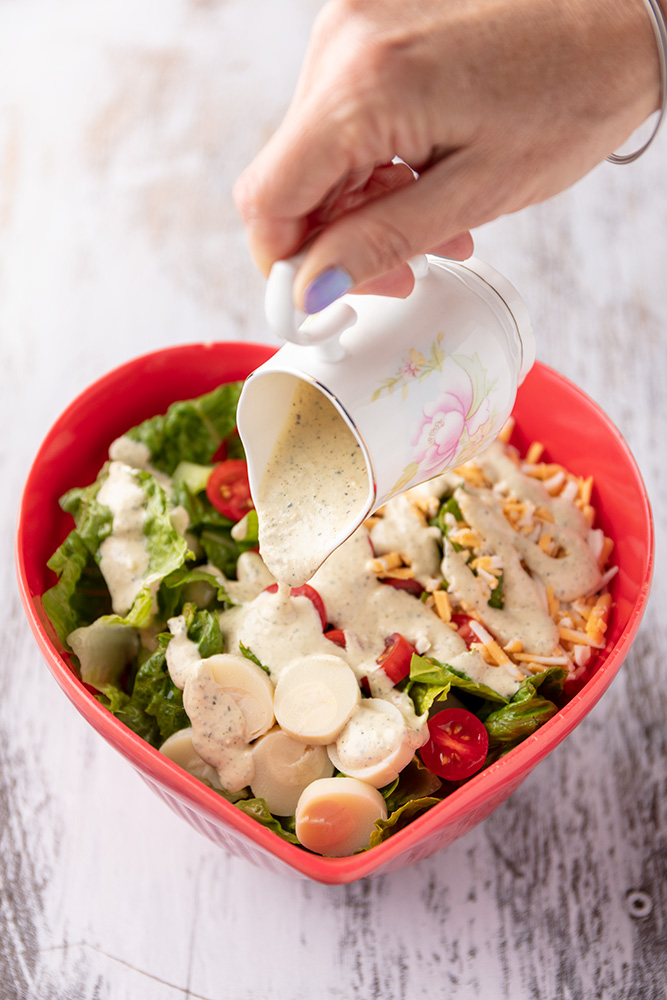 If you make this vegan gluten free recipe, snap a pic, post to instagram, and tag me @vegandollhouse. I love to see your creations! You can also message me through instagram or email me if you have any questions about the recipe.
Is this homemade caesar dressing vegan and vegetarian?
Like all the recipes on vegandollhouse.com, this recipe for caesar dressing is vegan and vegetarian. Ingredients in caesar dressing that are not vegan or vegetarian include anchovies, milk, eggs, and parmesan cheese. This recipe uses vegan fish sauce in place of anchovy paste and gets the creaminess from the hemp hearts so the dairy isn't needed.
Can you buy caesar dressing without anchovies from the store?
You can find a few brands of vegan caesar salad dressing that contain no anchovies at grocery stores. Follow Your Heart, Organicville, Cleveland Kitchen, and Field and Farmer all make bottled caesar dressing without anchovies. You may read the ingredients of a caesar dressing and think it doesn't have anchovies, but don't forget about hidden ingredients. For example, Worcestershire sauce usually contains anchovies. So, if you see Worcestershire in the ingredient list, it likely isn't vegan or vegetarian.
I personally think that bottled vegan caesar dressings taste too much like italian dressing. I prefer my caesar dressing to taste closer to ranch dressing than italian dressing, so I make my own.
How long does homemade caesar salad dressing last in the refrigerator?
Homemade caesar salad dressing will stay good in the fridge for a week.
How many calories are in caesar salad dressing?
This vegan homemade caesar dressing has 345 calories and 20 grams of protein in 2 tablespoons of dressing.
How can I make a loaded caesar salad with this caesar dressing without anchovies?
Start your caesar salad with a romaine heart chopped into large pieces. Then pick and choose what else you add to your salad, based on what you like. I've added the following with success.
organic cherry tomatoes
heart of palm
croutons
pop chips (any kind of chips make a great substitute for croutons)
capers
vegan chicken
vegan cheese
roasted broccoli
radicchio
The caesar salad in the main picture at the top has organic cherry tomatoes, heart of palm, and star-shaped popchips (they call them popstars). And of course this caesar dressing. I've also used this dressing on other salads, like the rainbow salad pictured below.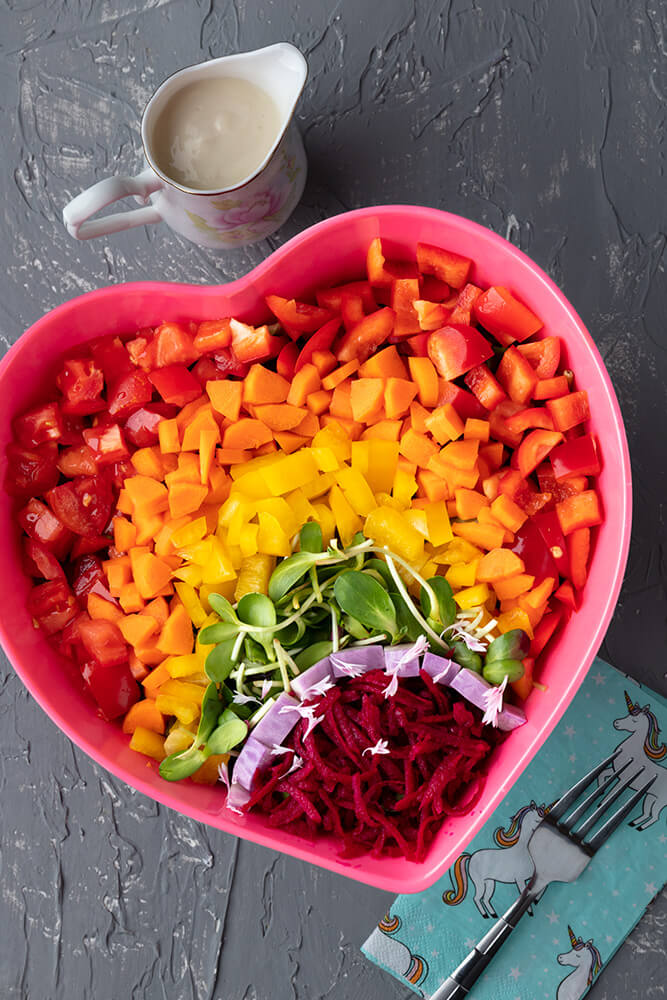 Hemp Seeds: Hemp seeds are high in protein and omegas. So, if you want this caesar dressing to be healthier and oil-free, I recommend using hulled hemp seeds (also known as hemp hearts). However, if you don't have hemp seeds, you can replace the cup of hemp seeds in this recipe with a cup of vegan mayo or cashew butter or vegan cream cheese. You can also use a cup of cashews, but I find that cashews are hard to blend smooth unless I boil them in water first. So if you want to use cashews, you should boil them in water for a couple of minutes to soften them before trying to blend them. If you don't have a blender, and you're mixing this dressing by hand, you'll definitely want to opt for cashew butter or vegan mayo. My favorite brands of vegan mayo are Follow Your Heart organic mayo and Wildwood garlic aioli. Since vegan mayo is thinner, I would omit the ¼ cup of water if you use mayo instead of hemp seeds. However, with vegan cream cheese or nut butter, you should still include the water. My favorite kind of vegan cream cheese is Kite Hill chive cream cheese, but all of the Kite Hill flavors are great.
Garlic Powder: You can replace the teaspoon of garlic powder in this recipe with a tablespoon of minced garlic. One tablespoon of minced garlic is about the equivalent of 6 small cloves of garlic.
Vegan Fish Sauce: I use Ocean's Halo brand of vegan fish sauce, but if you live near an Asian market, you should have access to other brands. You can replace vegan fish sauce with soy sauce and then add a sheet of nori or some dulse flakes to the blender.
Lemon Juice: You should be able to get 4 teaspoons of juice from 1 lemon. You can replace the lemon juice in this recipe with lime juice if that's what you have.
Mustard: Feel free to use any kind of mustard you have on hand.
Serve this caesar salad as a starter or side with any of the following italian dishes.
If you like this caesar dressing recipe, you might also like these other simple sugar free salad dressing recipes.
☆☆☆☆☆☆☆☆☆☆
* I use mostly organic ingredients when I cook. I realize that not everyone has the disposable income to buy only organic ingredients. So, I only specify organic on the ingredients that matter: when buying the organic (or non-GMO) version is the only way to ensure that an item is vegan.
This post links to items I used when I made this recipe. If you click on the purple Buy Now button on a product page, you will go to a website (like Amazon) where you can buy the same product I used. Sometimes, the store you purchase from (Amazon, Etsy, etc.) will pay me for referring you. This costs you nothing extra, and I would never recommend a product that I don't use. These affiliate programs help me buy the ingredients to create these recipes for you. Read more about this in my privacy policy.
☆☆☆☆☆☆☆☆☆☆