Vegan Mac n Cheese Donuts
published on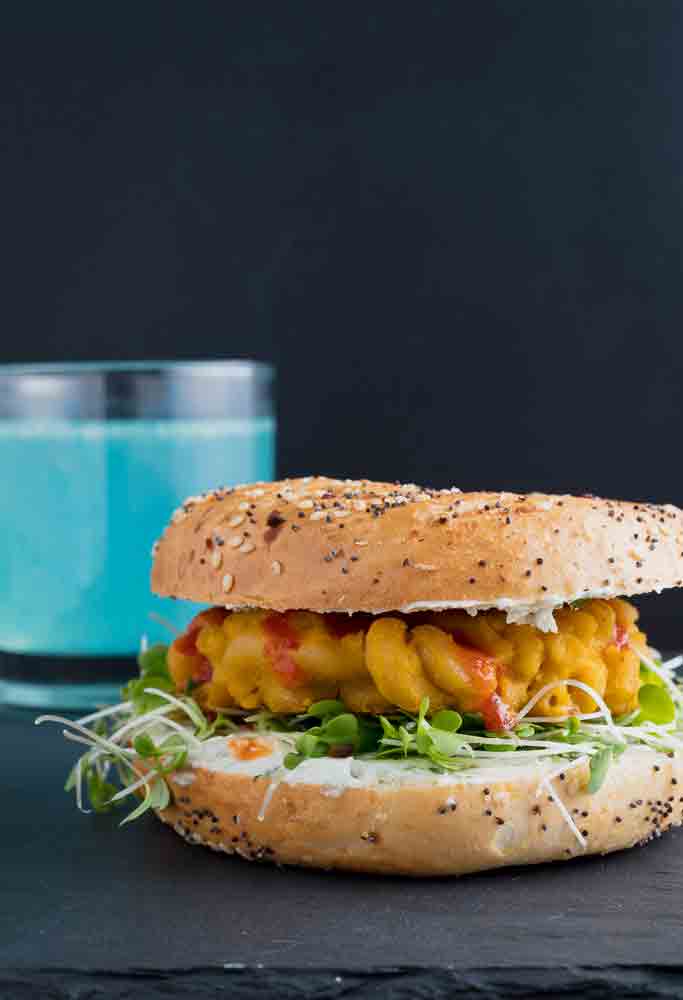 ♫ Listening to: System by Motel Raphaël ♫
Fried mac n cheese is the perfect way to eat mac n cheese as a finger food, but when it's winter, I don't use my deep fryer (it's an outdoor toy at my house). So, I had to think of a cute way to make mac n cheese be a party food for New Year's Eve.
I'm also constantly trying to find new ways to use my donut pans so they can earn their spot on the baking rack. If you like comfort food, you might also like my tuna casserole recipe.
This recipe makes 20-24 donuts, but you can also make these in cupcake pans if you don't have donut pans.
Vegan Mac n Cheese Donuts Ingredients
2 tablespoons unbleached flour
2 tablespoons arrowroot powder
a few tablespoons of vegan butter or margarine (if you avoid soy, buy the soy-free earth balance; otherwise buy the organic whipped earth balance)*
2 cups of boiling water
½ cup nooch
½ teaspoon garlic powder
½ teaspoon onion powder
½ teaspoon pepper
1 teaspoon sea salt
a few tablespoons of mashed potato flakes
8 ounces grated vegan cheese (I prefer violife or follow your heart cheddar)
16 ounces cooked pasta* (I used whole foods brand organic whole wheat elbows)
Vegan Mac n Cheese Donuts Directions
Cook the pasta according to directions on the package, if you haven't already.
Melt the vegan butter in a small saucepan over medium heat.
Whisk the flour and arrowroot powder into the melted vegan butter, making a roux. Continue whisking for a couple of minutes.
Add the boiling water slowly while whisking. Stop adding water when it's a nacho cheese sauce consistency.
Whisk in the spices, nutritional yeast (vegans call it nooch), and mashed potato flakes.
Whisk in the grated cheese, and continue whisking until the cheese has melted thoroughly.
Heat the oven to 375°.
Pour over the pasta and mix well.
At this point, you can stop and serve the mac n cheese. But for this recipe, I wanted mac n cheese donuts, so I proceeded with the following steps.
Oil the cubbies of 2 donut pans with coconut or any vegetable oil.
Spoon mac n cheese into the donut pans .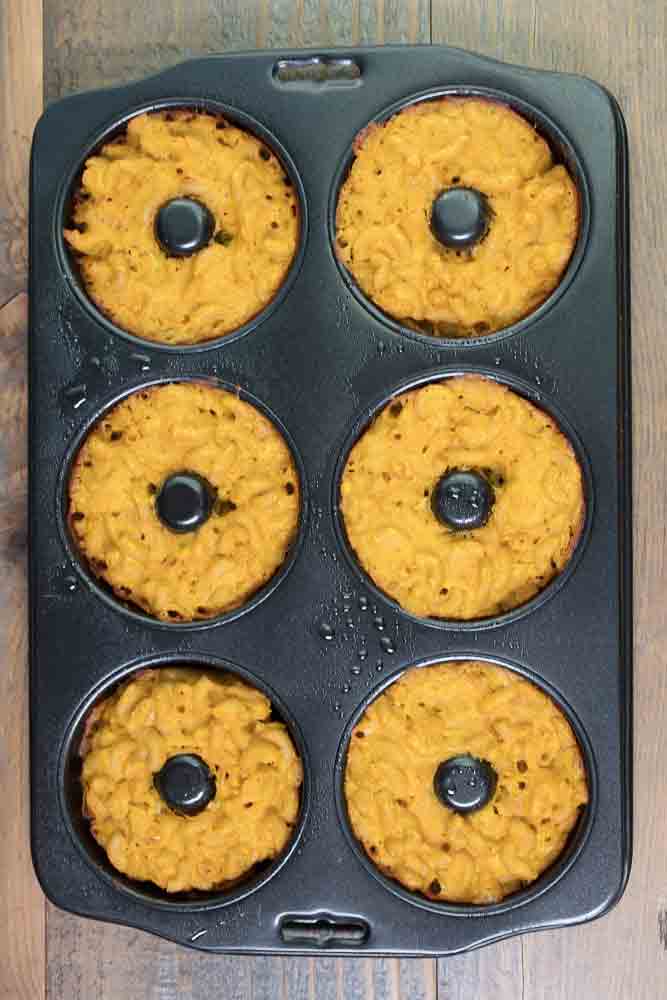 Cover with plastic wrap (optional) and chill for at least an hour (or as long as overnight, if that's easier).
Bake for 30 minutes at 375°, cool, remove from cubbies using a spatula, and serve.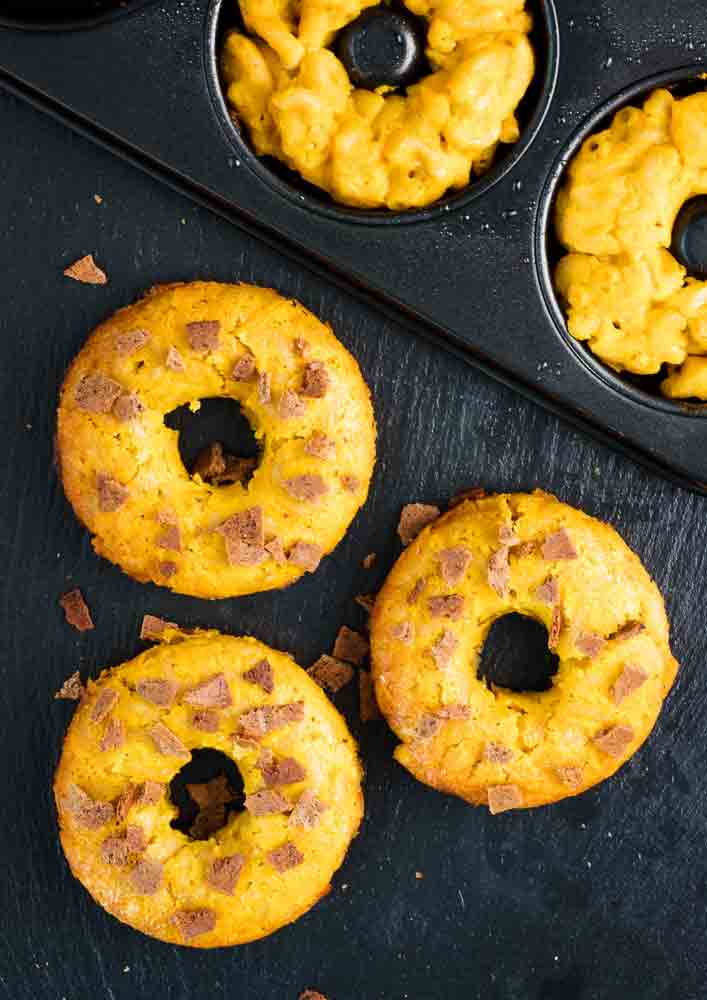 Garnish with bacon or other macaroni and cheese toppings you like.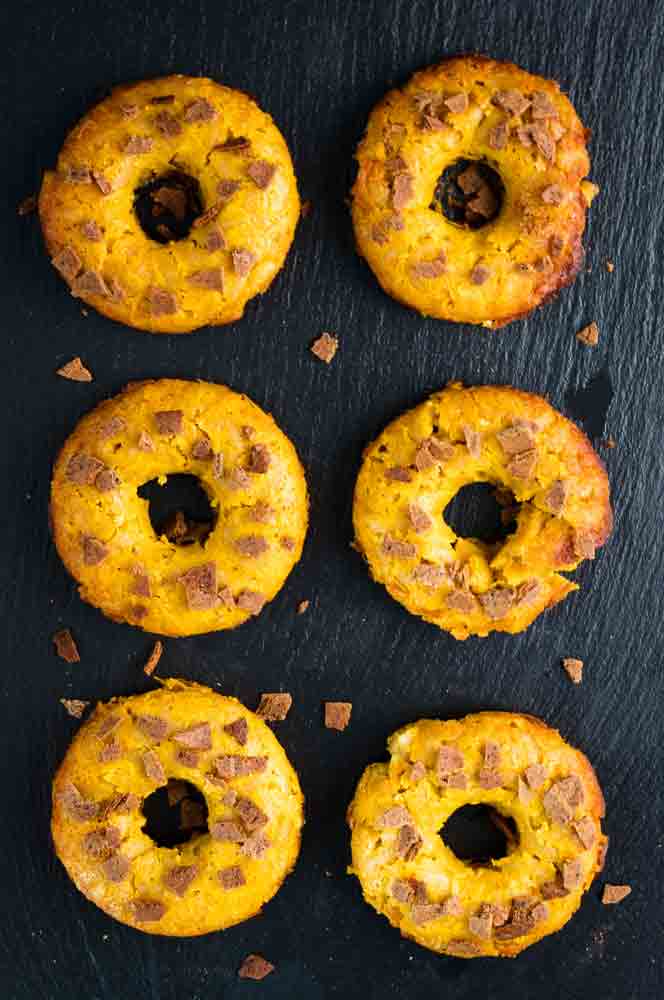 They're also the perfect shape and size to put between a bagel and make a macaroni and cheese bagel sandwich.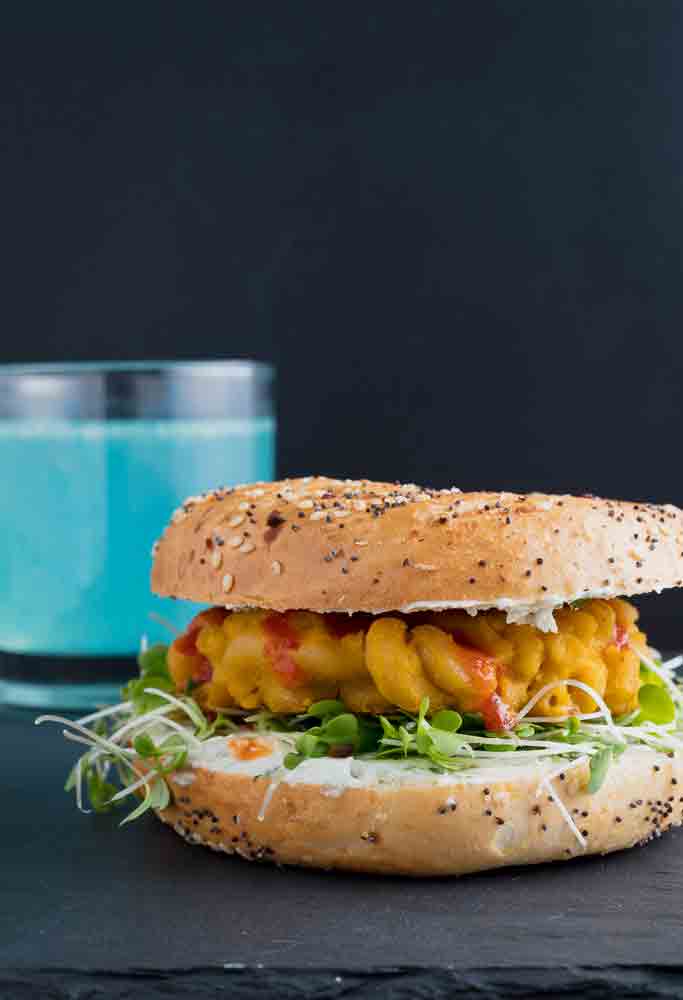 Here's a short video showing the process of making the cheese sauce, but it has a surprise ending.
☆☆☆☆☆☆☆☆☆☆
* Whenever you see colored pasta in stores, make sure it's colored with vegetables before you buy it. Some pasta is colored with squid ink! Poor little squid.
I use mostly organic ingredients when I cook, but I realize that not everyone has the disposable income to purchase all organic ingredients. Therefore, I only specify organic on the ingredients that really matter - when buying the organic version is the only way to ensure that the item is vegan.