Vegan Cookie Dough Sundae
published on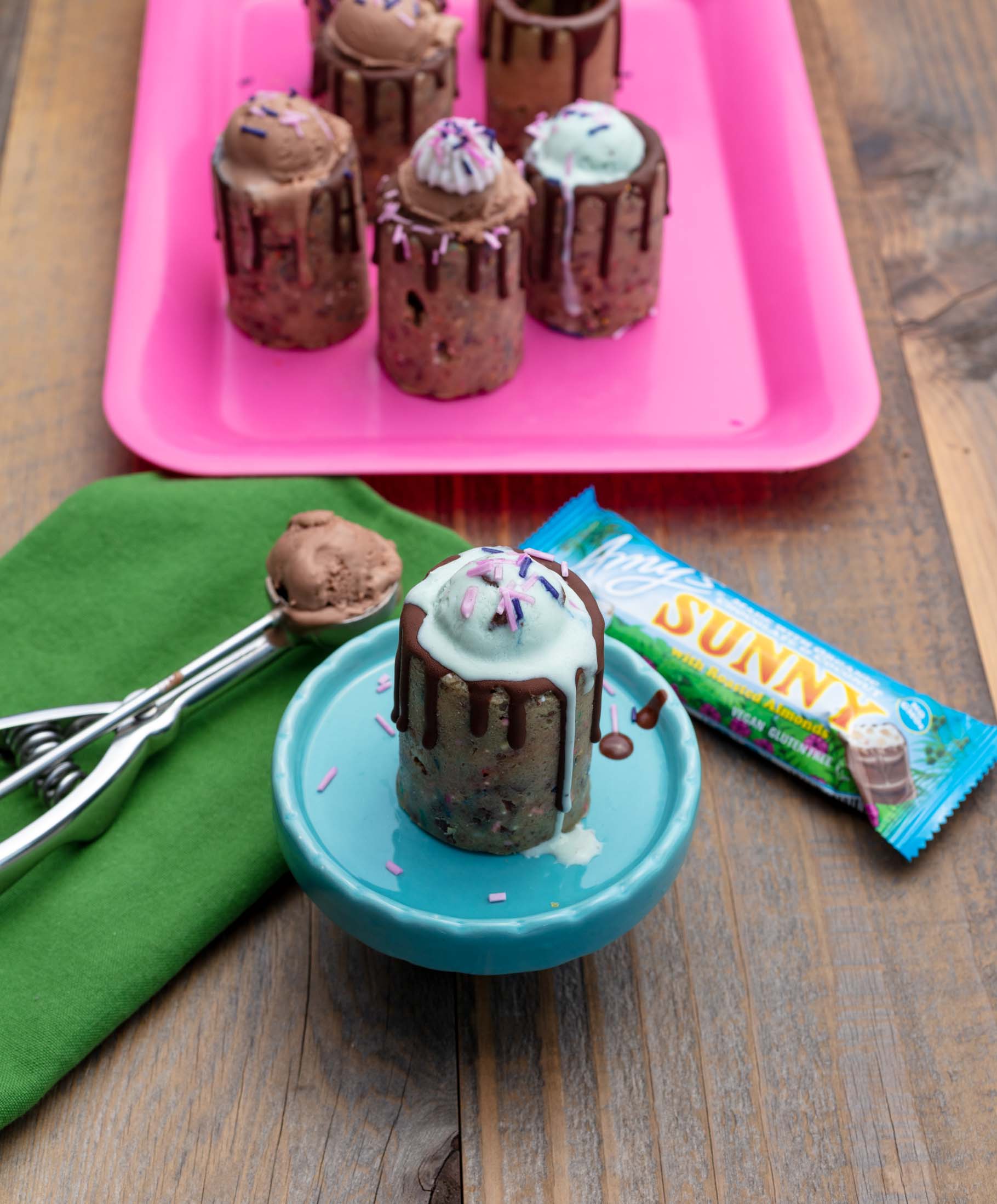 ♫ Listening to: The Remedy by Abandoned Pools ♫
When I was attending college in Orlando, Florida, there was a warehouse venue called The Edge where I used to go to shows. Near The Edge, was a coffee shop that would get crazy busy at night, but it had outdoor seating, because nights in Florida are sooooo cozy. My friend Danielle and I would always share the same thing from the menu. It was called yab yum (I almost think the coffee shop itself was also called yab yum, but I can't trust my terrible memory). So, the yab yum was essentially a ball of chilled cookie dough covered in a crunchy chocolate shell. Yes, it was delicious. And yes, these sundaes remind me of those yab yum days.
I don't often make gluten-free treats, so I was excited to discover Sweet Megan vegan, gluten-free cookie dough, which made it possible to make this treat completely gluten-free. If you're avoiding going to the store and don't have any ice cream, you can also make your own ice cream to fill this with. I recommend my moose tracks recipe. Or if you're looking for something less sweet, fill them with frozen fruit and whipped cream. Or pudding. Honestly, you could fill these with just about anything and they would still be delicious. Get creative, and then let me know what you made!
This recipe makes 8 mini cookie dough sundaes.
Cookie Dough Sundae Cups Ingredients
2 cups of your favorite cookie dough
3 tablespoons vegan sprinkles
4 Amy's Sunny Candy Bars, chopped into small pieces
1-2 tablespoons of water
vegan ice cream
penguin coat and whipped cream (optional)
Cookie Dough Sundae Cups Directions
Dollhouse Shortcut
Make these up to 3 weeks ahead of time and leave them in the freezer (either in the molds are in an airtight container) until you're ready to make your sundaes.
Mix the following ingredients together in a bowl: 2 cups cookie dough (I used 2 and a half containers of Sweet Megan cookie dough ), 3 tablespoons vegan sprinkles, 4 Amy's Sunny candy bars , and up to 2 tablespoons of water (just enough to get it into a workable consistency). I used one tablespoon, and that was plenty for me.
Press the cookie dough into all 8 cubbies of a silicone shot glass mold with your fingers, making sure that it goes all the way to the bottom. Since the molds are slightly see-through, you can just flip it upside down to see if there are any gaps where you weren't able to get the cookie dough evenly distributed. If you don't have a silicone shot glass mold and don't want to buy one, you can always line a cupcake pan with cling wrap and use that in a pinch.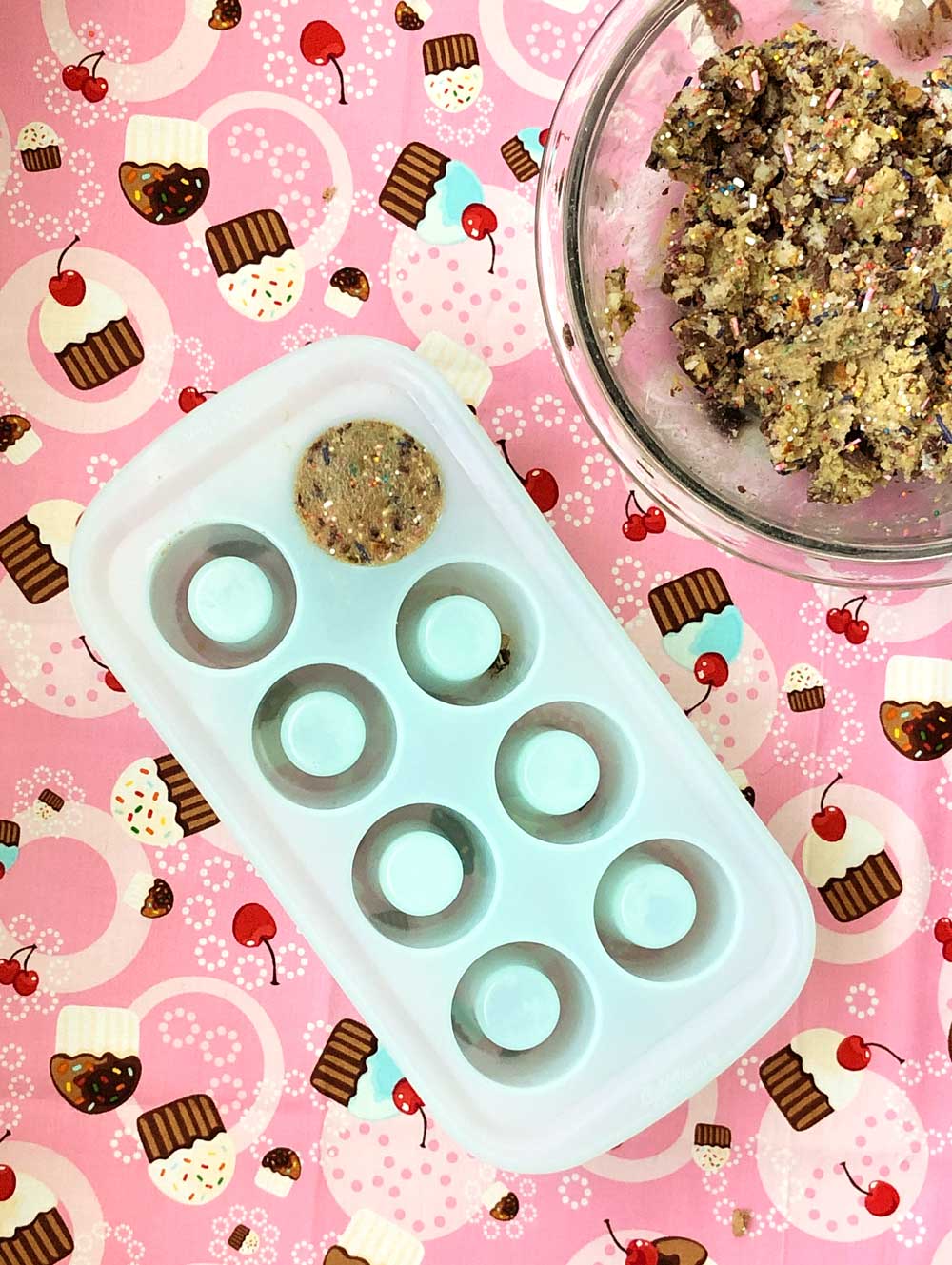 Freeze the cookie dough cups for a minimum of 2 hours.
Pop the frozen cookie dough cups out of the molds. You want to be careful doing this so they don't break. One method is to push up from the bottom with your dominant hand while you hold the rest down with the other hand. You can watch my video below to see how I did it.
Fill them with anything you like! I drizzled mine with penguin coat and used a 1.5 inch mini cookie dough scoop to fill them with Nadamoo chocolate and mint chip ice cream. I tried adding a dollop of whipped cream, but it's hard to get it to stay on if your ice cream scoops are as round as mine. And, of course, sprinkles make everything better.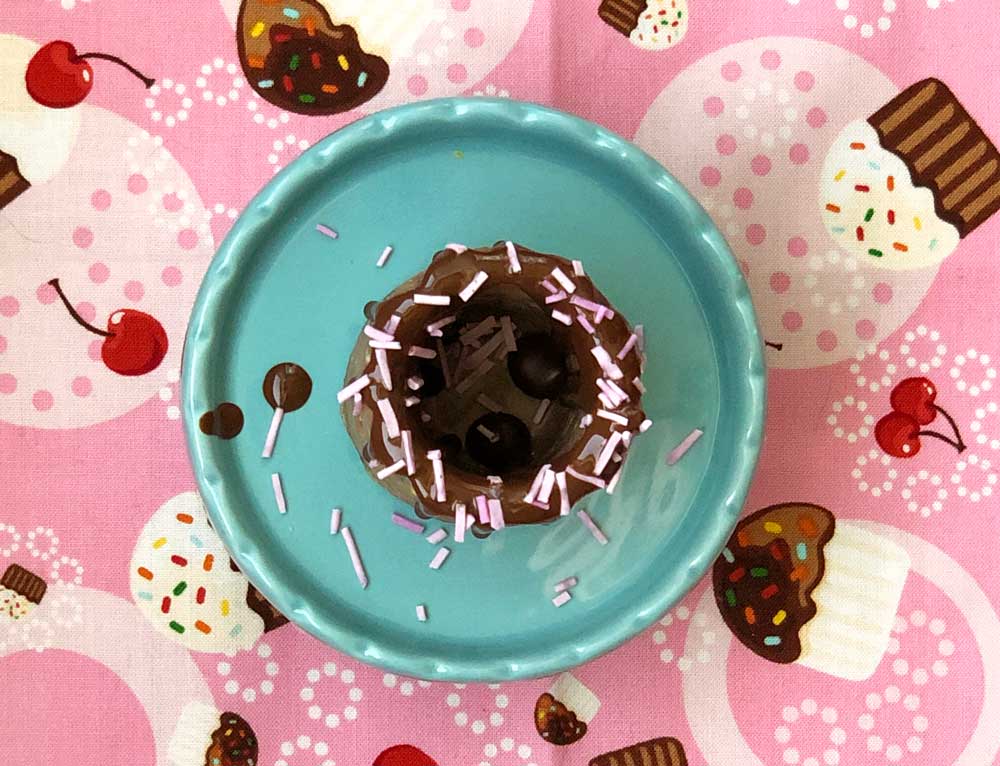 Serve immediately after filling them or store them in the freezer until you're ready to serve them.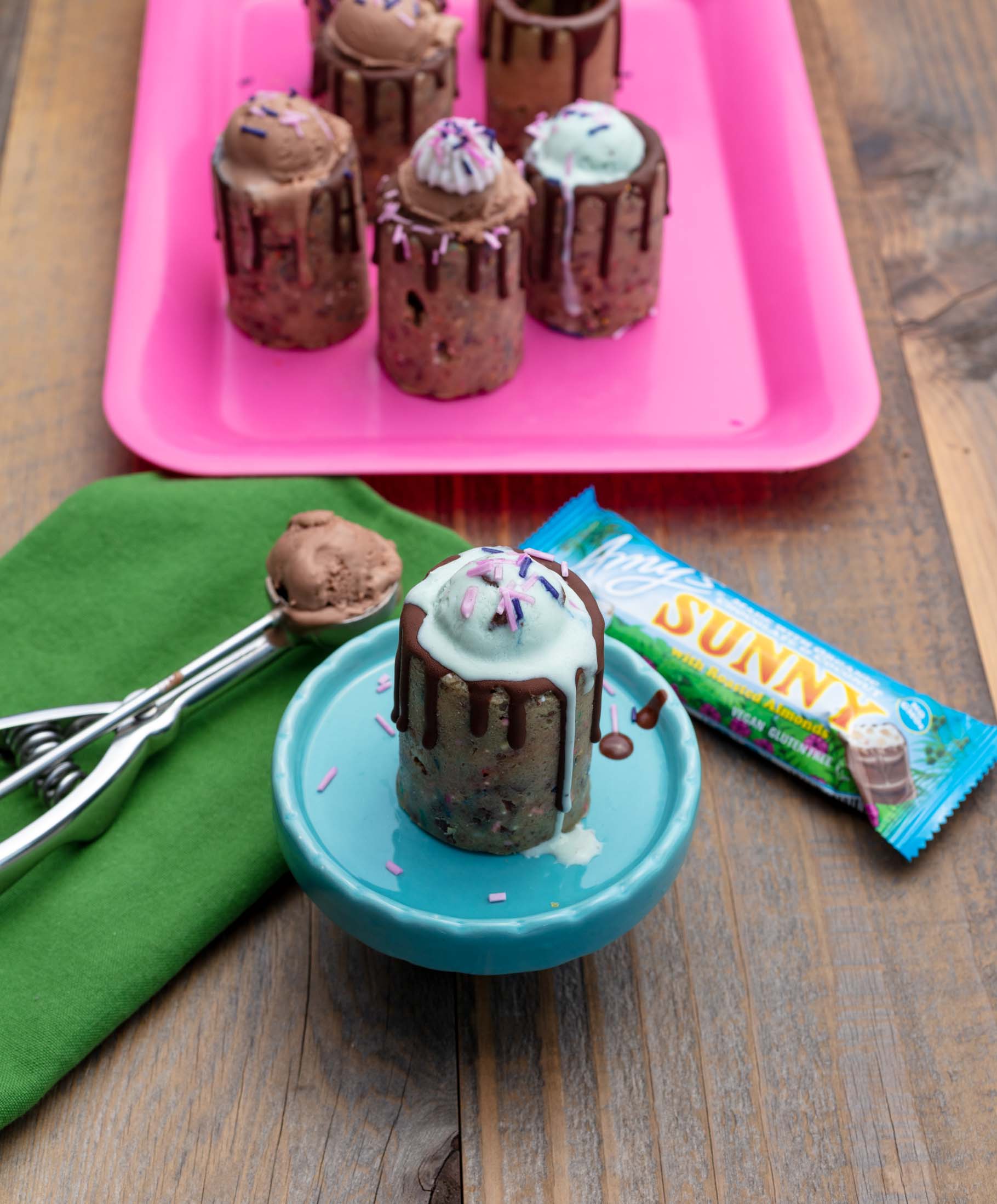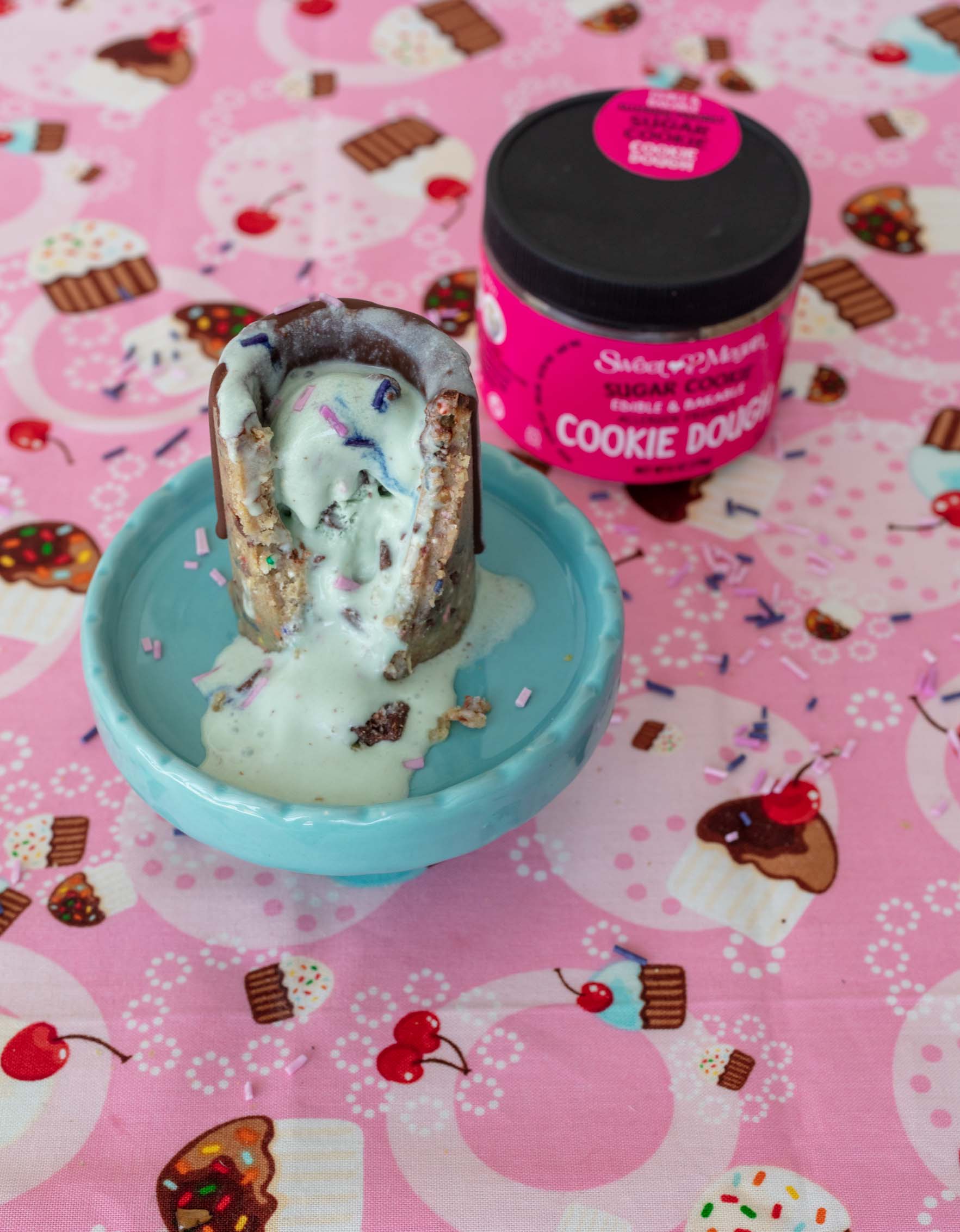 ☆☆☆☆☆☆☆☆☆☆
This post was made possible thanks to the support of Amy's Kitchen and Sweet Megan. All content and opinions are unbiased and entirely my own.
☆☆☆☆☆☆☆☆☆☆
* I use mostly organic ingredients when I cook, but I realize that not everyone has the disposable income to purchase all organic ingredients. Therefore, I only specify organic on the ingredients that really matter - when buying the organic version is the only way to ensure that the item is vegan.