Cramosas
published on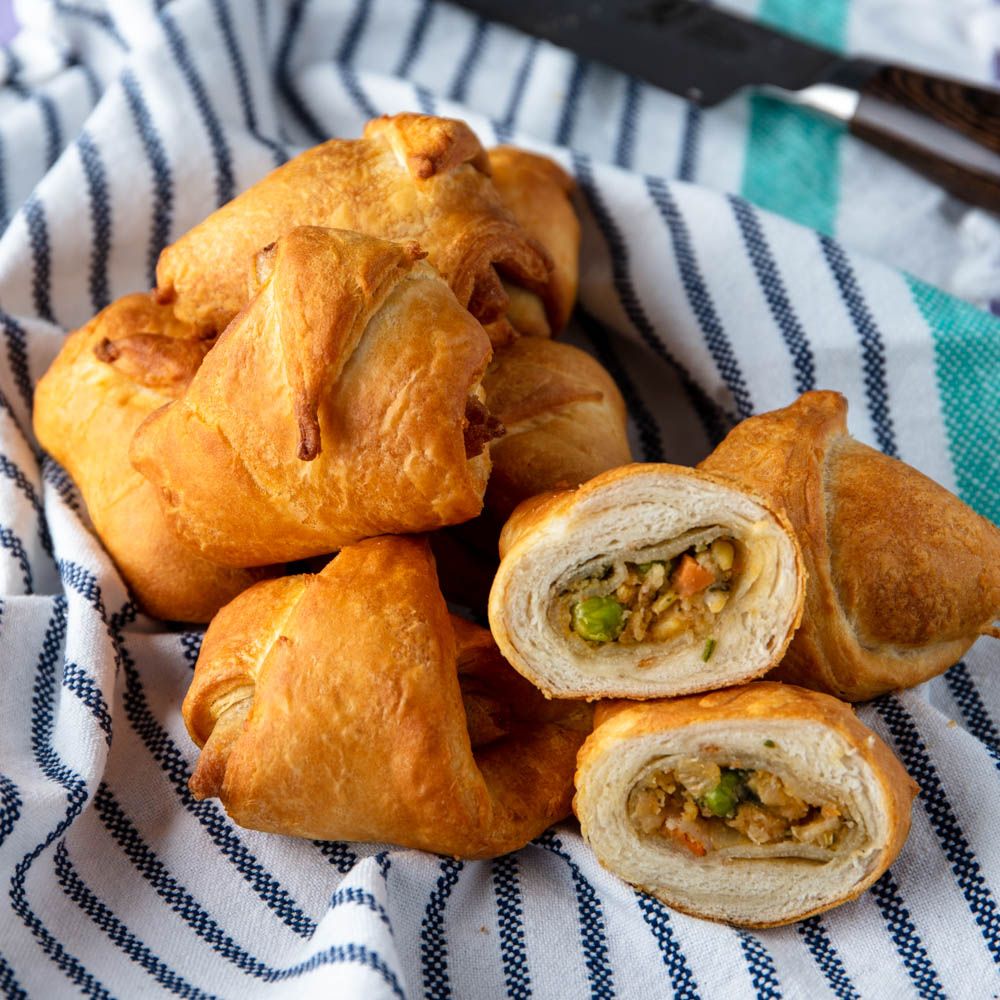 ♫ Listening to: Golden Plate by Olivera ♫
A cramosa is a samosa inside of a croissant. These mini vegan cramosas can be a snack, lunch, or dinner, but also make great appetizers, party food, and picnic food.
If you have questions about which brands of samosas and crescent rolls are vegan, see the FAQ section below.
This recipe makes 8 cramosas.
Cramosas Ingredients
vegan crescent rolls
vegan frozen samosas
Cramosas Directions
Bake or air fry the frozen samosas, following the package instructions. I bought the mini samosas from Trader Joes, so I only needed to pop mine into the air fryer for 6 minutes at 390º.
Shake the air fryer basket halfway through cooking (if you're using your oven, shake your baking tray halfway through or flip them with tongs).
Open the tube of vegan crescent rolls. To know which brands of crescent rolls are vegan, check out the FAQ section below.
Roll a cooked samosa up in one of the triangles of crescent dough.
Place each rolled cramosa into the basket of the air fryer or onto a baking stone or baking sheet. I have a smallish air fryer, so I had to make these stuffed crescent rolls in my little air fryer in 2 batches. Even if you think they'll fit in one batch, you don't want them touching when you place them in the air fryer or on the baking sheet because they expand when they cook.
Bake or air fry the cramosas. I air fried mine at 330º for 6 minutes. If you're baking them, follow the instructions on the crescent roll tube.
Serve the cramosas hot. If you don't eat them all, you can reheat these stuffed croissants in the oven, toaster oven, or air fryer later.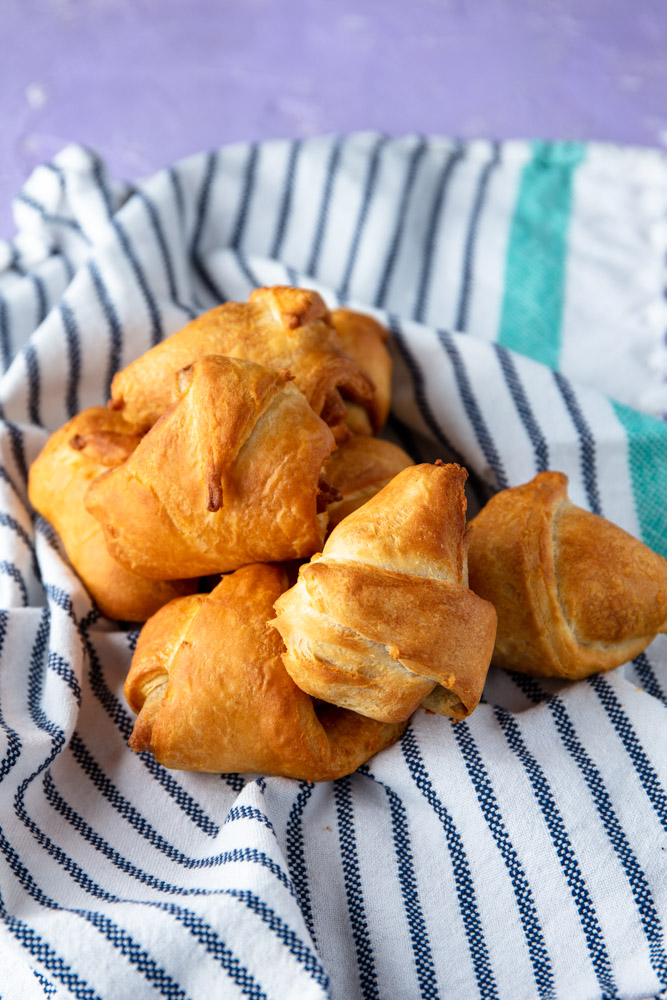 If you make this stuffed croissant recipe, snap a pic, post to instagram, and tag me @vegandollhouse. I love to see your creations! You can also message me through instagram or email me if you have any questions about the recipe.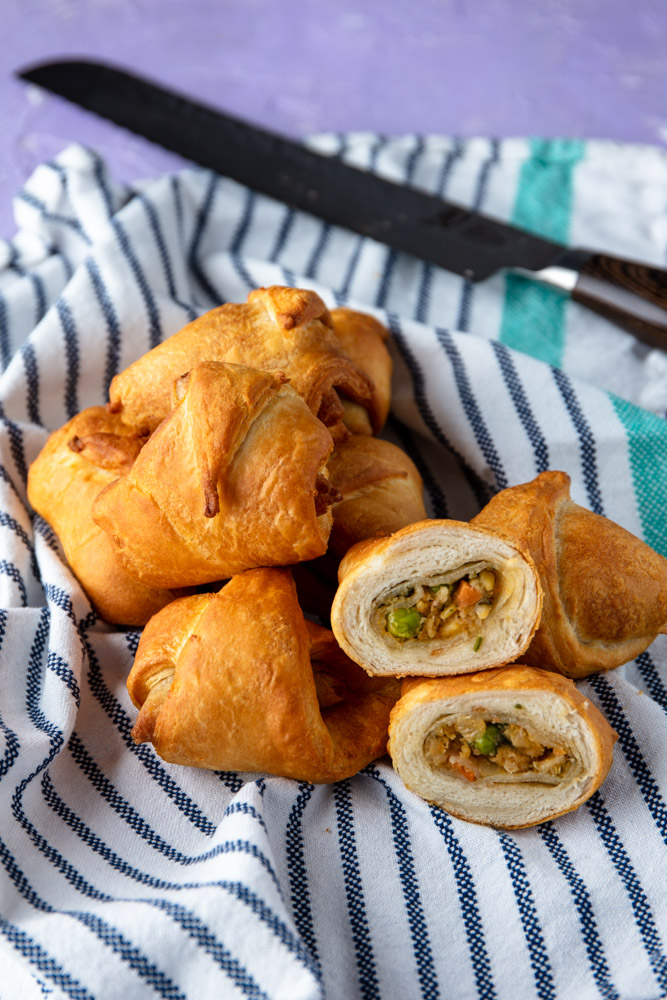 Are pillsbury crescent rolls vegan?
Yes! The original regular Pillsbury crescent rolls are vegan by default. I can't vouch for any of their specialty varieties though.
Which crescent rolls are vegan?
There are 4 brands of crescent rolls that I know are vegan. The two that are organic are made by Immaculate and Annie's. However, if you don't care about buying organic, the ones sold at Trader Joe's and Pillsbury are both vegan as well.
Can you make cramosas with normal sized samosas?
Yes! You will need to buy more crescent rolls though, because you're essentially making bigger pieces of croissant dough by joining the smaller triangles into a bigger triangle. I would buy 2 tubes of crescent rolls and join 3 triangles to wrap each full-size samosa. Also, if you're using samosas that you got from an Indian restaurant, you don't have to precook them before rolling them, so that should save you some time.
Are samosas vegan?
I bought the frozen mini samosas from Trader Joe's, and they are vegan.
Target sells mini vegan samosas called Chef Bombay Vegan Frozen Mini Vegetable Samosas.
Sukhi's Potato Samosas are also vegan.
If you're buying fresh samosas at your local Indian restaurant, they should be able to tell you if their samosas are vegan.
Here's a video of me making these cramosas in my air fryer.
If you like stuffed crescent rolls recipes, check out my green beans in a blanket recipe. For other vegan party food, check out my party food category. For other vegan appetizers, check out my hors d'oeuvres category. For other vegan picnic food, check out my picnic food category.
☆☆☆☆☆☆☆☆☆☆
This post may contain affiliate links. Read more about them in my privacy policy.