Easy Vegan No-Knead Focaccia (with Focaccia Art)
published on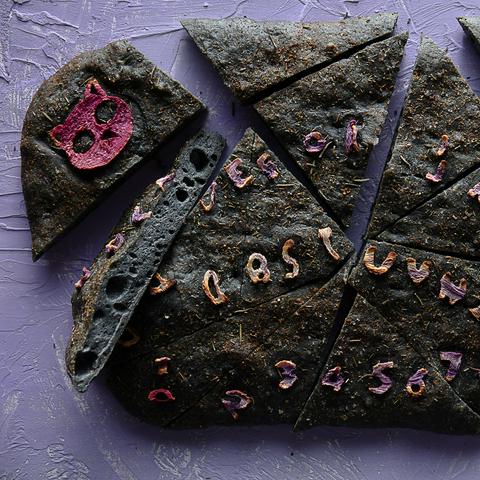 ♫ Listening to: Durdu Dünya by She Past Away ♫
This vegan focaccia bread recipe is quick and easy and requires no special kitchen tools. If you want a delicious no-knead focaccia bread that's crispy on the outside, and soft inside (and you have no interest in focaccia art), this recipe only takes 20 minutes of active prep time.
Have you been seeing focaccia art on instagram that would make your grandma's garden club proud? And then did you immediately think, how can I make mine look more like a cemetery at night or a seance with your coven of witches? Don't worry. You've come to the right place. This recipe has instructions for how to decorate focaccia bread to look like a ouija board for Halloween or Friday the 13th.
I loosely adapted this vegan focaccia recipe from the one developed by Melanie from A Virtual Vegan. Most focaccia bread recipes call for quite a lot of oil, but I found after making this recipe a few times, that you can get by with only a tablespoon of olive oil. You can, of course, use more if you like, but if you're looking for a healthier, low-oil vegan focaccia recipe, you may have just found it.
This recipe makes 12 slices of vegan focaccia bread.
Table of Contents
(click the links below to skip to the section you're looking for)
Ingredients for Vegan Focaccia Bread
½ - 1 tablespoon (5-10g) active yeast

2 teaspoons (12g) vegan, raw, or organic sugar * (only needed for the 8 hour rise)

2 cups (475mL/16oz) warm (~100°F) water

4 cups (520g) of all purpose flour or bread flour

1 teaspoon (2-3g) black charcoal

2 teaspoons (10g) sea salt
prep time to make the dough: 10 minutes | rising time: 8 hours
Activate the yeast by mixing 1 tablespoon (10g) of yeast with 2 teaspoons (12g) sugar and 2 cups (475mL/16oz/400g) warm (~100°F) water. Set aside.
Whisk the 4 cups (520g) flour, 1 teaspoon (2-3g) activated charcoal, and 2 teaspoons (10g) salt in a large bowl.
Mix the yeast water into the dry ingredients.
Mix with a baking spatula until you can't see any more flour. Don't worry if your dough looks weird and scrappy. This is normal.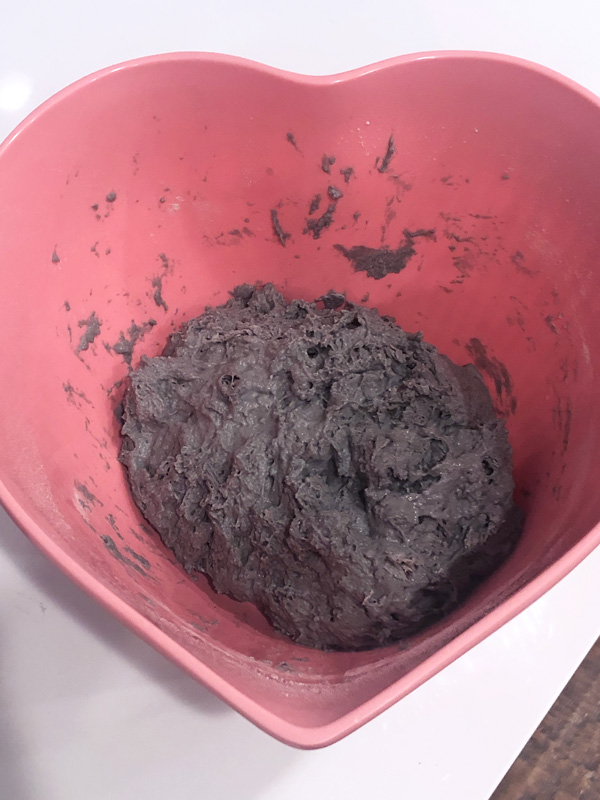 Cover the bowl and leave it on the kitchen counter for 7-9 hours.
prep time to make the dough: 5 minutes | rising time: 18-24 hours
Whisk 1 ½ teaspoons (5g) yeast, 4 cups (520g) flour, 1 teaspoon (2-3g) activated charcoal, and 2 teaspoons (10g) salt in a large bowl.
Mix 2 cups (475mL/16oz/400g) room temperature water into the dry ingredients using a baking spatula until you can't see any more flour. Don't worry if your dough looks weird and scrappy. This is normal.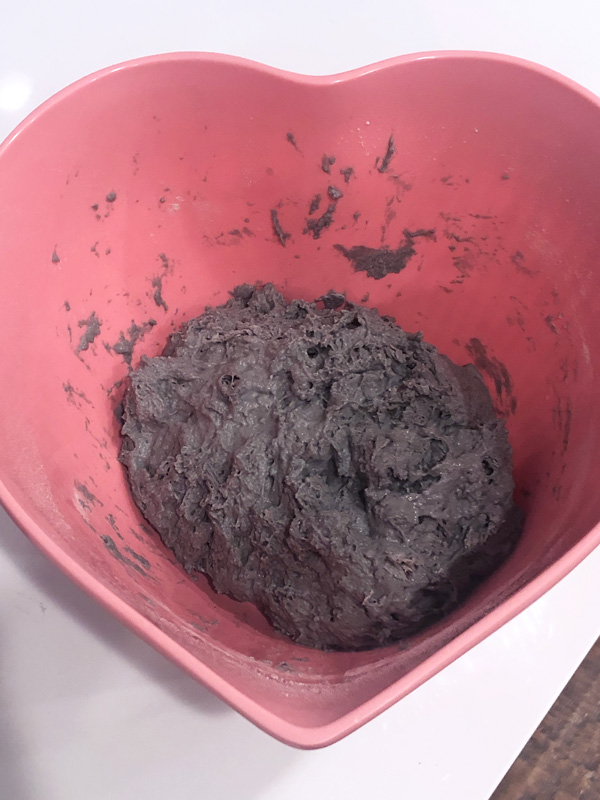 Cover the bowl and place it in the fridge for 18-24 hours.
Remove it from the fridge 2 hours before you want to decorate and bake it.
1-3 large root veggies (daikon or watermelon radishes, yams, turnips, or potatoes)

1 tablespoon (15mL) olive oil

spices (optional, but I recommend rosemary, thyme, basil, salt, garlic powder, and onion powder)
Ouija Board Focaccia Art Directions
prep time: 40 minutes | bake time: 35 minutes
Preheat the oven to 400° 20-30 minutes before the rising time is done.
Cut all your decorations that you plan to put on top of the vegan focaccia. I cut mine from purple daikon radishes and watermelon radishes, but you can use yams, potatoes, or turnips if those are easier for you to find. I used this set of mini letters and numbers.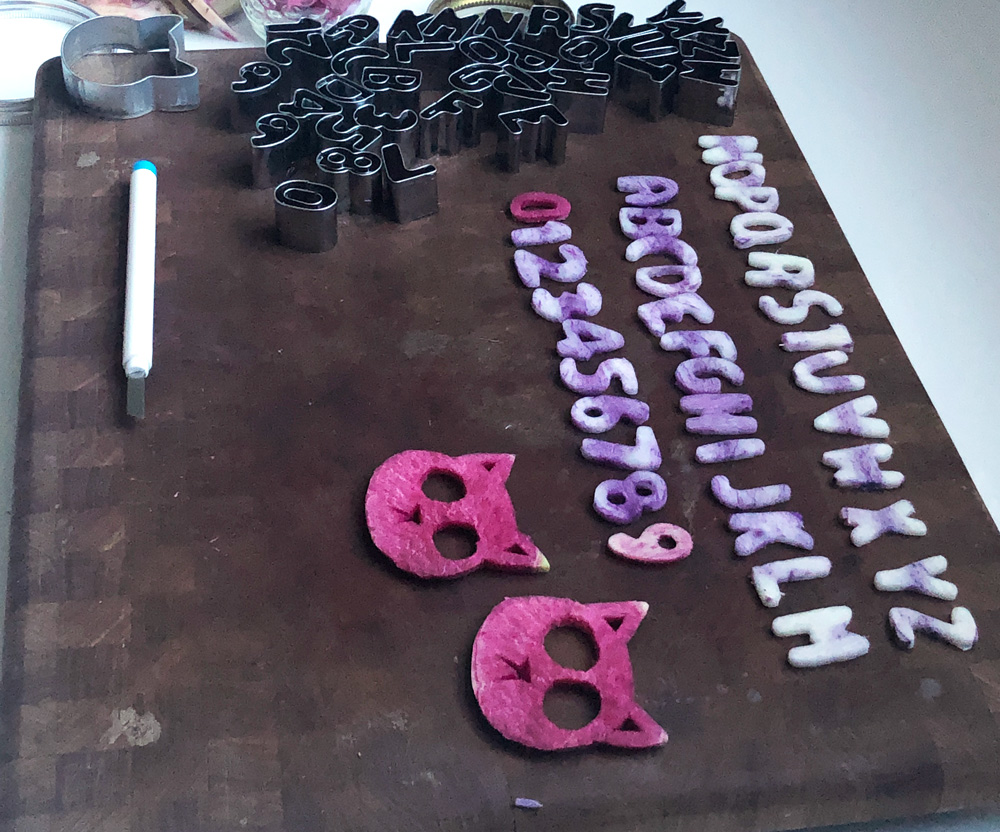 Cutting out veggies for the ouija board focaccia art took me 25 minutes. This time estimate doesn't count the time where cut myself and then had to take a pause to stop bleeding and put on a finger condom. So if you just had your knives sharpened at the farmers market this week, be super duper careful. This is mainly advice from past me to Future me, but if anyone else benefits from it, that would be great.
Line an oven-safe pan with parchment paper. It should be metal, glass, or ceramic. Avoid silicone as that doesn't hold heat. I just used a baking sheet that you would use for making cookies.
Scrape the dough out of the bowl and onto the parchment paper in the pan. I use a silicone spatula, but a spoon probably works too. It will be clingy and sticky but that is normal.
Oil your hands and use them to flatten out the focaccia dough and spread it evenly into whatever shape you want. I made mine into a rectangle so I could decorate it like a ouija board. It takes about 5 minutes to shape the dough.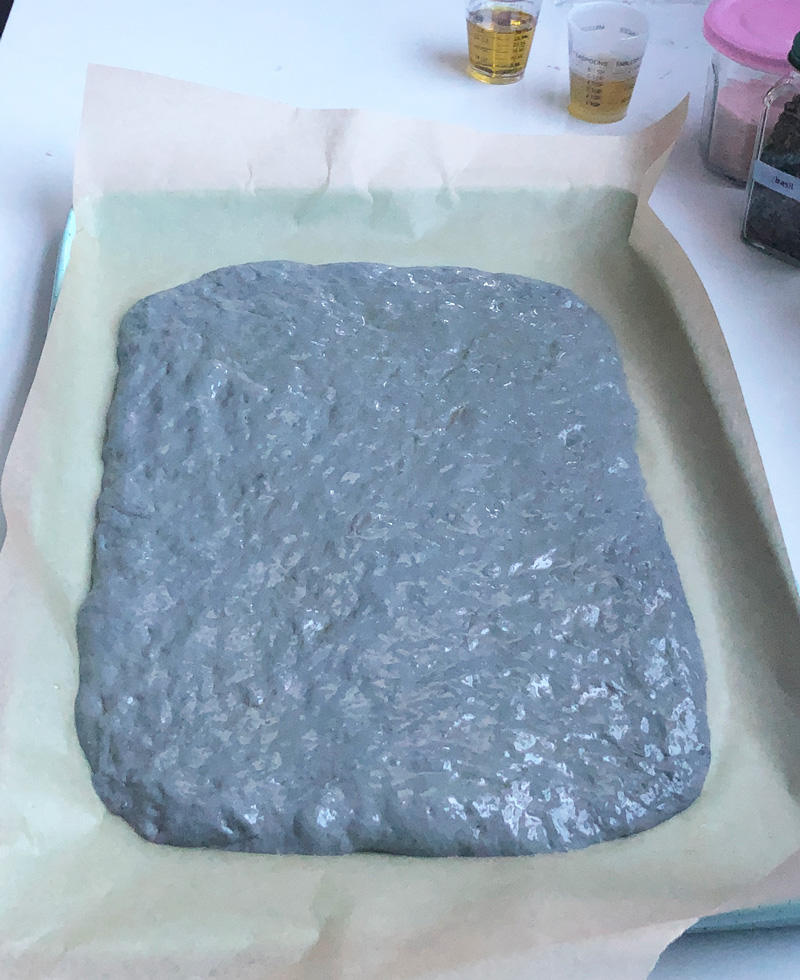 Poke dimples all over the top with oiled hands.
Drizzle the rest of the tablespoon of olive oil.
Sprinkle all your spices on the top. I used salt, rosemary, thyme, basil, garlic powder, and onion powder. It takes about 5 minutes to season the focaccia bread dough.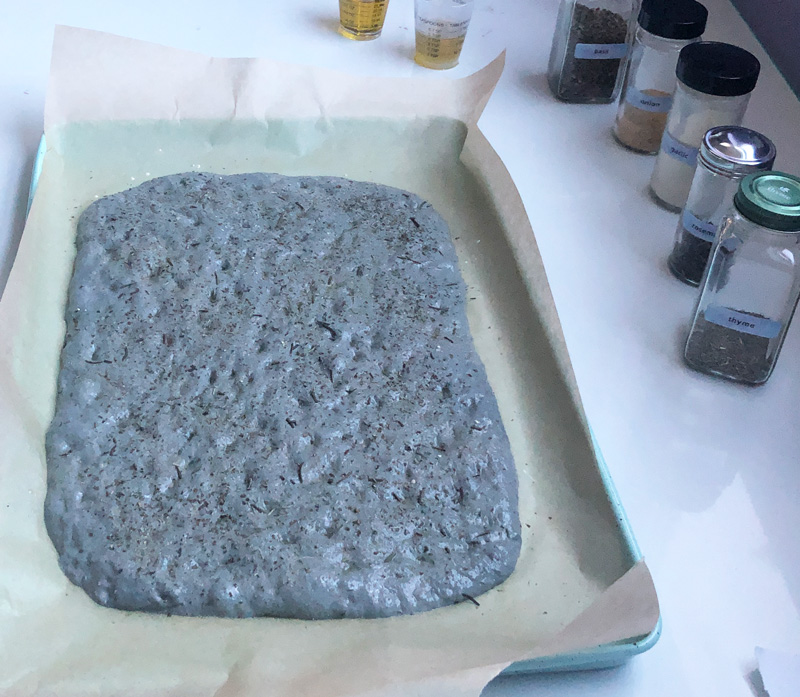 You can stop here or continue decorating with veggies to make focaccia art.
Decorate with veggies to make any picture you like. The veggies do move around a bit in the oven because the bread rises in some spots more than in others. You can tell by looking at my before and after pictures that my veggies shrank quite a bit in the oven, changing my focaccia art. My ouija board focaccia art only took me about 5 minutes. If you prefer less spooky art, you can go with something like the garden motif I use on my vegan quiche.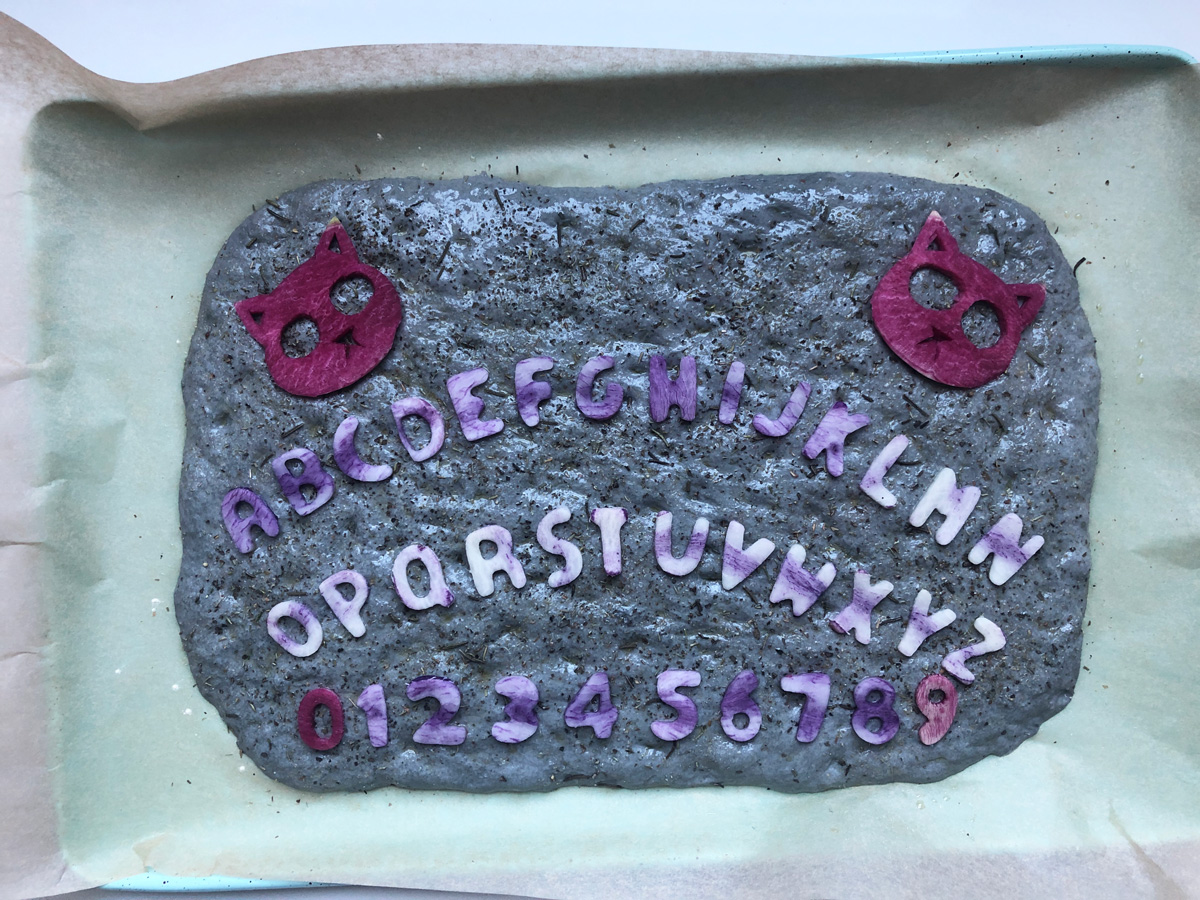 Bake at 400º for about 35-40 minutes, depending how hot your oven runs.
Remove from the oven, and use the parchment paper as handles to lift it out of the pan and transfer to a cooling rack.
Cool at room temperature for at least 15 minutes before cutting.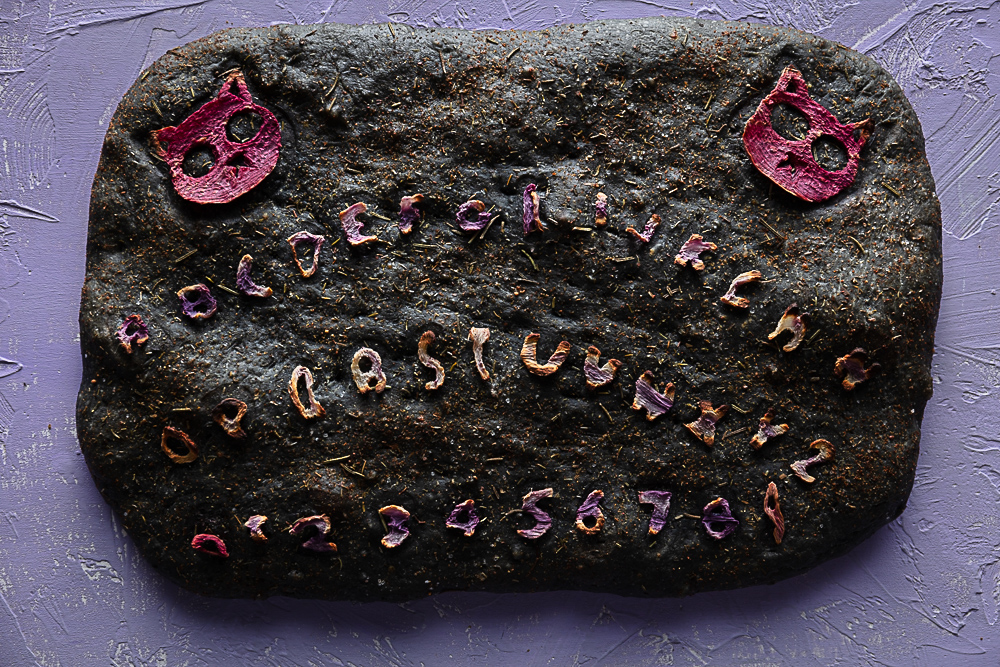 What is focaccia bread?
Focaccia bread is an Italian bread that's kind of reminiscent of Detroit-style pizza crust.
Is focaccia bread vegan?
While focaccia bread is easy to make vegan, or veganize as we vegans like to say, I notice that restaurants add parmesan cheese and other meats and cheeses to the top. So, making your own at home is really the only way to ensure you get vegan focaccia bread.
My focaccia dough is really sticky. Did I do something wrong?
Not at all! This is what you want it to look like. This vegan focaccia recipe uses what bakers refer to as a high hydration dough, which results in a focaccia that isn't too dry once it's baked.
When it's time to prepare the dough for baking, you'll oil your hands and oil your dough. This will help the dough be less sticky, because the oil makes it more manageable.
Can I make a different style of focaccia art using this recipe?
Of course! I totally get that not everyone is obsessed with Halloween. If that's you, you should use your creativity to make your Focaccia art be whatever you're passionate about. You can omit the charcoal for normal colored focaccia bread. You don't even have to use root vegetables if they're not in season or hard to find or you just don't care for them. You can use asparagus, green beans, peppers, tomatoes, edible flowers, mushrooms, you get the idea. I don't need to list every veggie.
What can I serve focaccia bread with?
I usually serve mine at parties because I live with only one other human, and focaccia bread tastes best when consumed fresh. However, if you have a family of 4 (or more), this would be a perfect accompaniment to my 10 veggie panera bread soup, my zucchini soup, my carrot soup, and my yellow summer squash soup. I've also shared this bread with my neighbors, who are always happy to lend a helping hand (or mouth).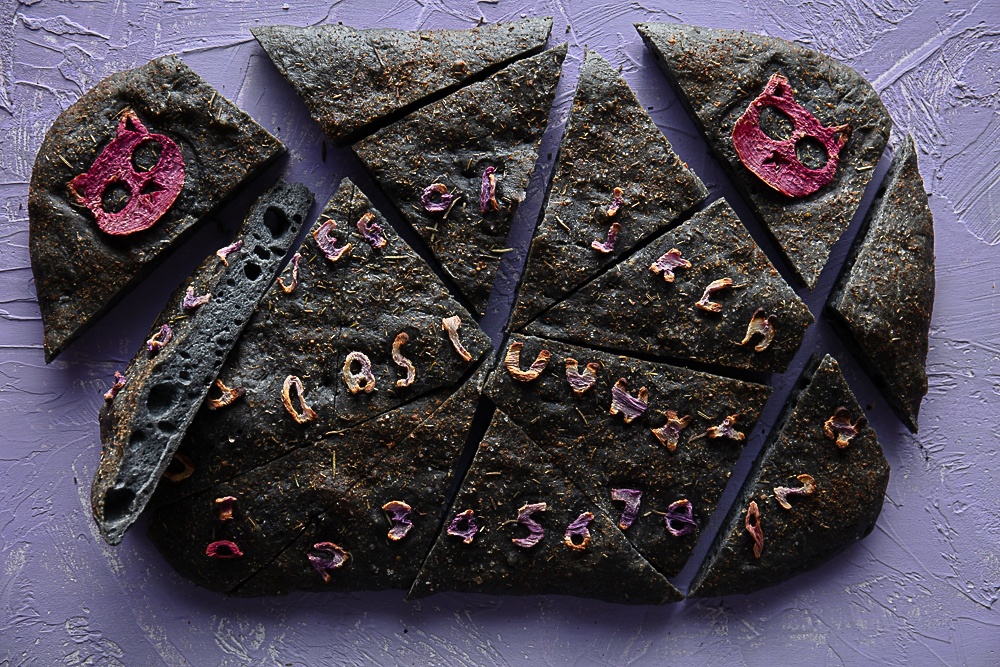 Olive oil is a yummier oil in general, but you can replace the olive oil in this recipe with safflower, sunflower, or any vegetable oil you have on hand. I'd also like to point out that the more oil you add, the more delicious this will probably be, so you can use up to ¼ cup (4 tablespoons/60mL) of oil if you so desire. I personally think it tastes good using only 1 tablespoon (15mL) of olive oil, but I'm used to eating pizza dough and bread without oil.
If you have instant yeast but you don't have active yeast, just skip the step where you activate the yeast and add the yeast straight to the flour. If you do this, you can also skip the addition of sugar, and the water doesn't have to be warm either.
If you don't have charcoal, you can omit that ingredient for a tan ouija board (most ouija boards are tan anyway) or you can sub whatever vegan black food coloring you have.
To make this gluten free, replace the flour in this recipe with your favorite gluten-free flour blend.
☆☆☆☆☆☆☆☆☆☆
* I use mostly organic ingredients when I cook, but I realize that not everyone has the disposable income to purchase all organic ingredients. Therefore, I only specify organic on the ingredients that really matter - when buying the organic version is the only way to ensure that the item is vegan.
☆☆☆☆☆☆☆☆☆☆