Olive Garden Watermelon Sangria
published on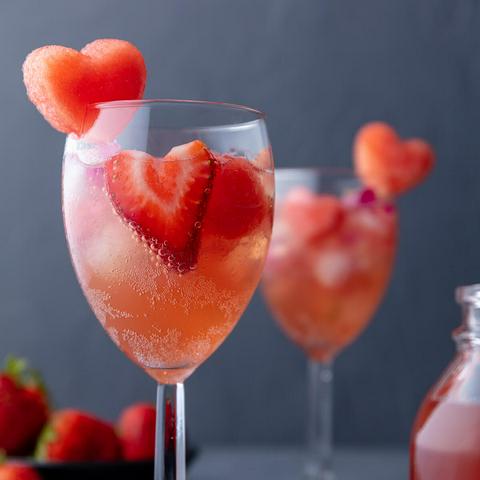 This watermelon sangria recipe is my recreation of the Olive Garden Watermelon Sangria served at the restaurant chain. While theirs is made with moscato, I chose to use a vegan rosé instead. A rosé is a perfect replacement because it's light and refreshing. The lightly sweetened, fruity drink is perfect for summertime celebrations or just brunch with friends.
This recipe makes 5 cups of sangria.
Table of Contents
(click the links below to skip to the section you're looking for)
♫ Listening to ♫
Summerland by half●alive
You might be used to a traditional sangria made with red wine and heavy winter fruits (that's what they serve in Spain and at the tapas bars in San Francisco). This watermelon sangria, inspired by the one at Olive Garden, is a lighter version that's more conducive to a summer picnic, baby shower, or backyard pool party. In addition to the Olive Garden, my recipe was also inspired by copykat's watermelon sangria.
I know you're probably thinking, why would I make DIY sangria when they sell boxed sangria nowadays. Well, one reason is because yours will be cuter with all your heart-shaped fruit garnishes. But another reason is that you can ensure that all the ingredients are vegan if you make it yourself.
(jump to the substitutions section to see ingredient details and suggestions for substitutions)
Dollhouse Shortcut
To save time, you can buy MONIN watermelon syrup instead of making it yourself. I'm pretty sure the Olive Garden sangria uses bottled syrup and doesn't make their own from scratch.
½ pound (8oz/225g) cubed seedless watermelon

½ cup (4oz/105g) vegan, raw, or organic sugar*
How to make Watermelon Syrup
prep time: 5-10 minutes | wait time: 8-24 hours
Dollhouse Shortcut
If you have a muddler, you should use that instead of my ziplock bag suggestion.
Combine ½ pound (8oz/225g) cubed seedless watermelon and ½ cup (4oz/105g) vegan sugar in a large ziplock bag.
Squish it all with your hands so that you mash up the watermelon.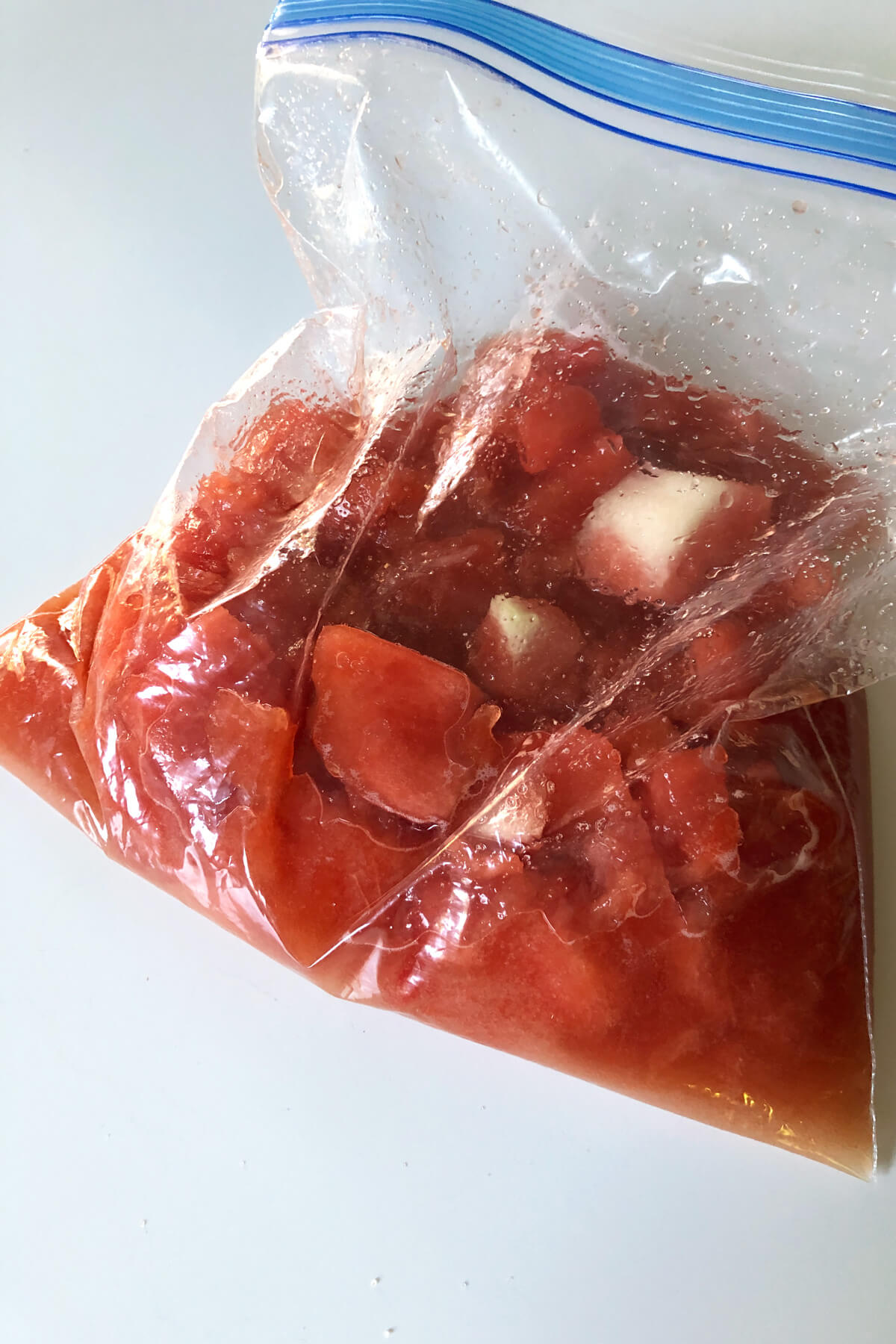 Chill it overnight, or up to 24 hours.
Pour the contents of the bag into a strainer over a container. I used a container with a spout so it would be easy for me to pour it after it strains.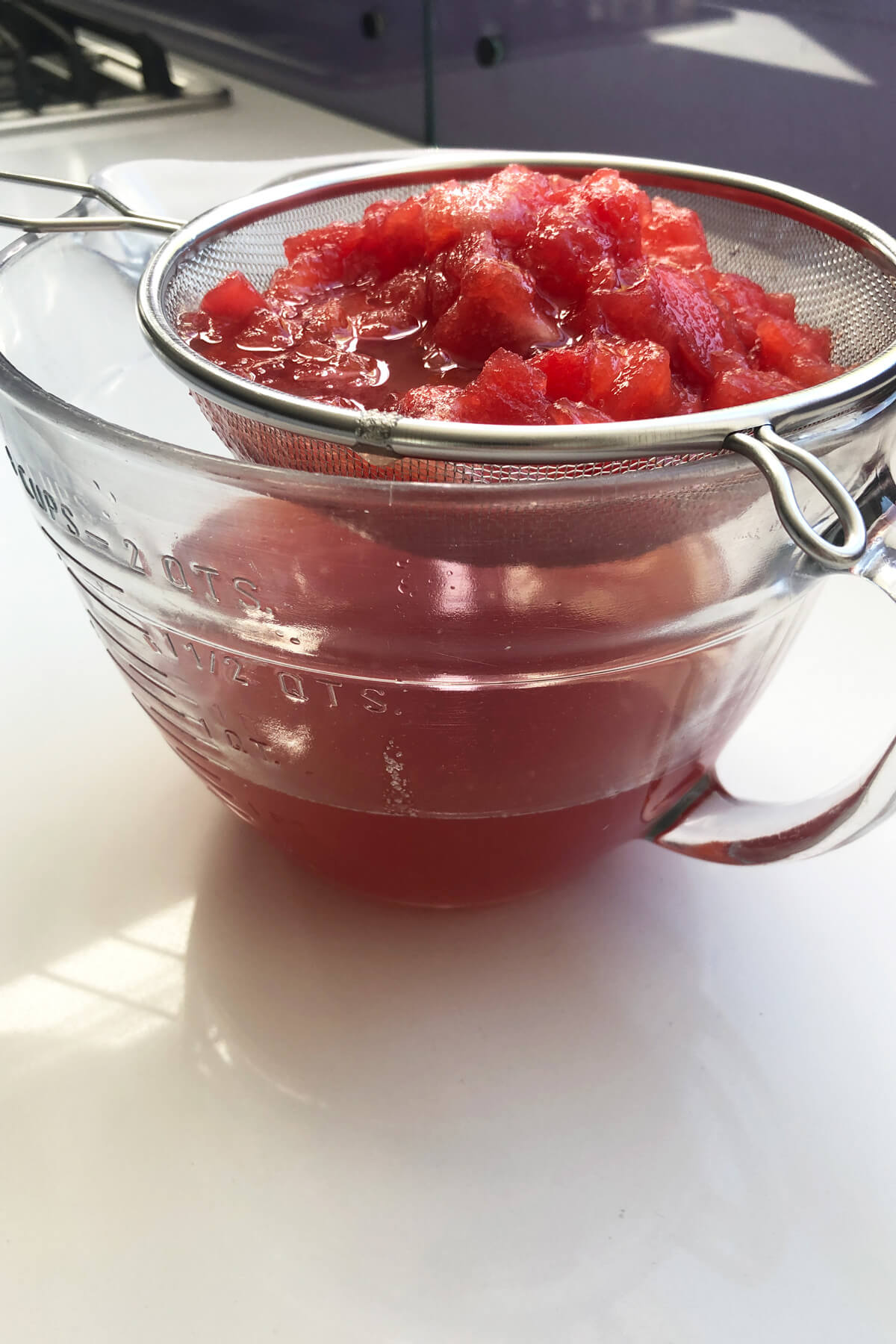 Compost or throw away the melon pieces after it's no longer draining liquid.
Pour the watermelon syrup into a glass jar and return it to the fridge until you're ready to use it. It should stay good for up to a week in the fridge.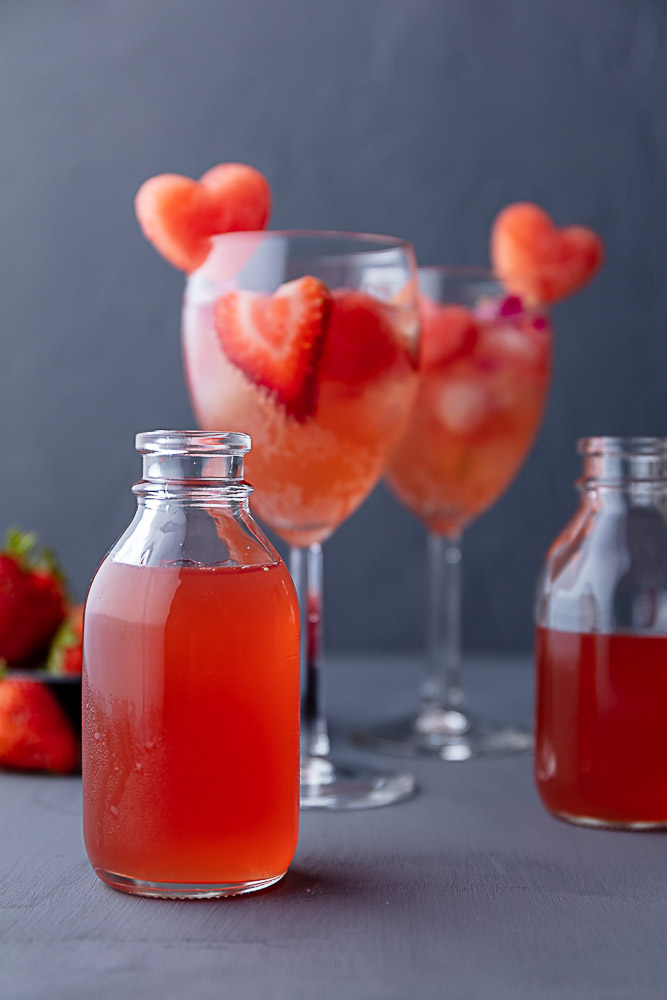 (jump to the substitutions section to see ingredient details and suggestions for substitutions)
a 750 ml bottle of vegan rosé, chilled

1 cup (8oz/225g) ginger beer, chilled

1 cup (8oz/225g) watermelon syrup, chilled

4 cups ice cubes

1 pint of strawberries, washed

the other half of a small seedless watermelon
How to make Olive Garden Watermelon Sangria
prep time: 5 minutes
Dollhouse Shortcut
Make the sangria up to 3 days ahead of time and store it in jars, bottles, or a covered pitcher in the fridge until you're ready to serve it.
Combine the following ingredients in a large pitcher: a 750 ml bottle of chilled rosé, 1 cup (8oz/225g) ginger beer, 1 cup (8oz/225g) watermelon syrup, and 4 cups of ice cubes.
Stir the watermelon sangria and place in the fridge while you prepare your fruit garnishes.
prep time: 5 minutes
Destem a pint of strawberries and then slice them. I like to slice mine so they look like hearts, but this is optional, of course.
Slice the watermelon into any shape you like. I slice mine and then use small heart-shaped cookie cutters to cut out hearts.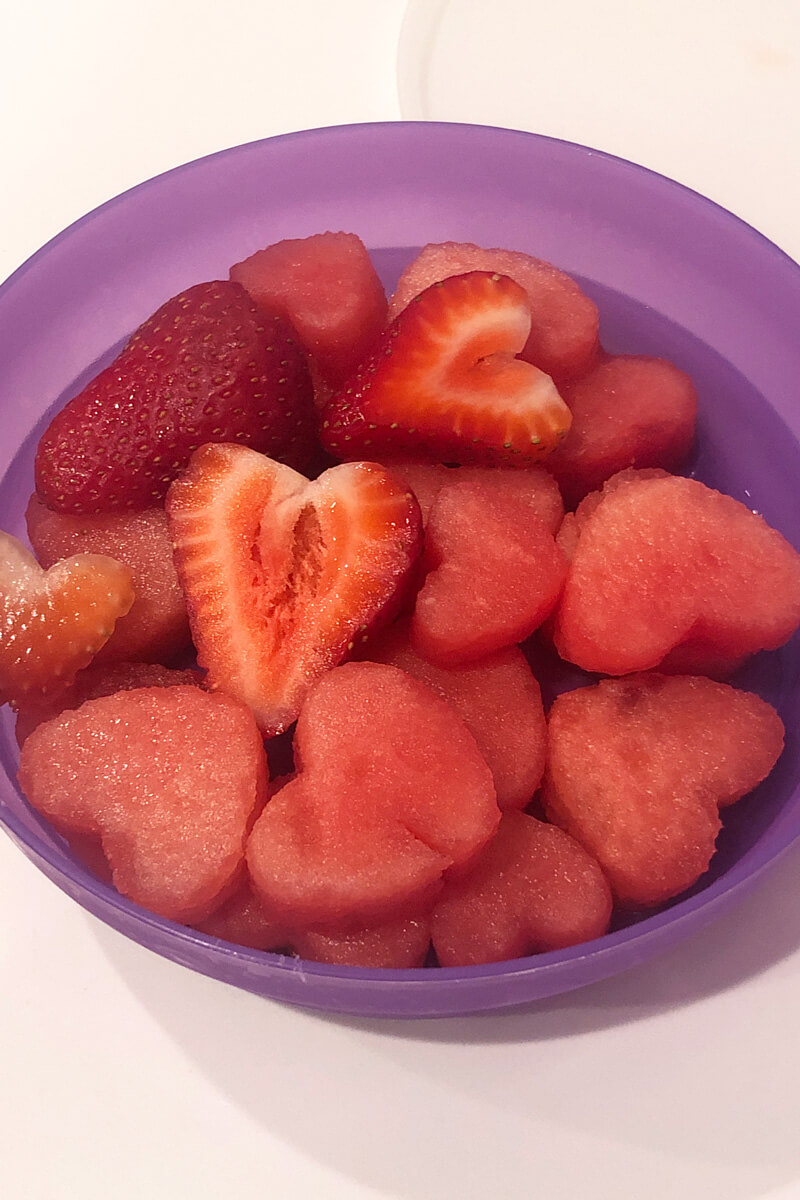 Garnish each glass with a piece of watermelon and a slice of strawberry.
Add the remaining fruit to the pitcher of watermelon sangria that's chilling in the fridge.
Fill the glasses halfway with ice.
Pour the sangria into the glasses and serve. If your guests haven't arrived yet, I recommend chilling the garnished glasses in the fridge until they arrive.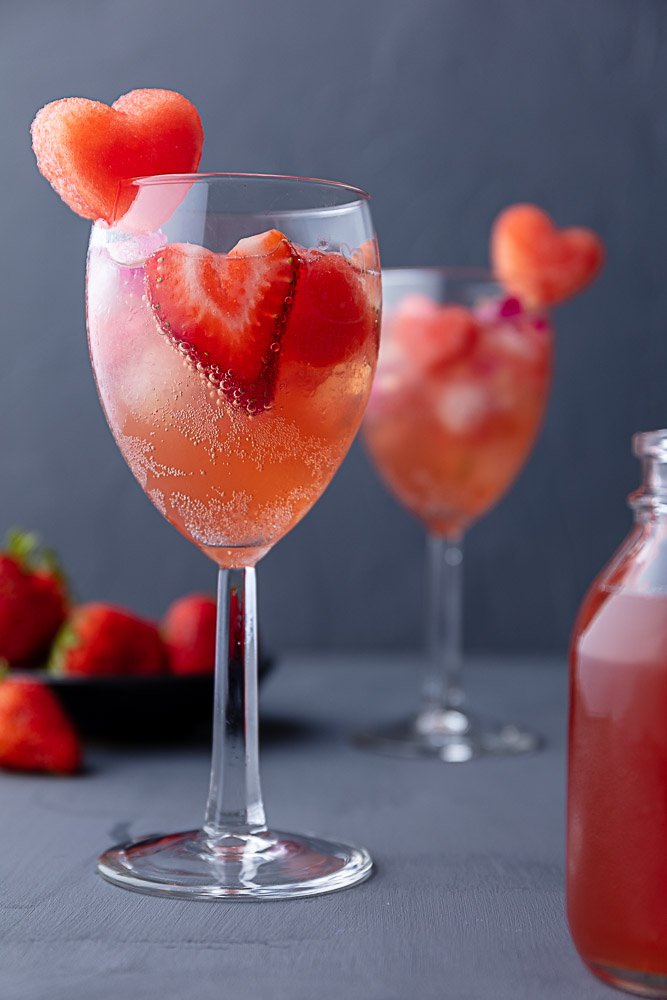 This video just shows how easy it is to make this sangria. Just mix the fruit, watermelon syrup, and a bottle of vegan wine.
If you make this watermelon sangria recipe, snap a pic, post to instagram, and tag me @vegandollhouse. I love to see your creations! You can also message me through instagram or email me if you have any questions about the recipe.
Why does this recipe use rosé instead of moscato?
I chose rosé for this recipe because it's a more refreshing and less sweet wine than moscato. With the watermelon syrup and the ginger beer, I didn't think we needed the extra sweetness from the moscato. However, if you want it to taste exactly like the Olive Garden Watermelon Moscato Sangria, replace the rosé wine in this recipe with Castello del Poggio moscato wine (I have confirmed that brand is vegan).
How can I convert this recipe into a mocktail or virgin sangria?
This recipe can be easily converted by replacing the wine in the recipe with sparkling water. In fact, my recipe makes extra watermelon syrup so that you can make mocktails with the extra.
What are the essential ingredients for making sangria?
The only ingredients you really need for sangria are wine and fruit. The rest is optional and negotiable. Experiment and create your own unique sangria and name it something cute.
Can I make sangria in advance?
You can make this watermelon sangria the day before you want to drink it. Then on the day of your get together, just garnish the glasses and serve!
How long can I keep leftover sangria in the refrigerator?
This sangria should stay good in the fridge for up to 5 days, as long as it hasn't been sitting out in the sun all day before you start chilling it in the fridge.
Watermelon: If you want this sangria to taste like the watermelon sangria from Olive Garden, you won't want to replace this ingredient. However, if you're into experimenting, you can replace the watermelon in this recipe with other melon, such as honeydew, cantaloupe, galia, or crenshaw melons and just call it a melon sangria recipe.
Sugar: You can use any number of sugars, as long as they're vegan: brown sugar, sucanat, coconut sugar, raw sugar, organic sugar, or demerara. If you're not sure if your sugar is vegan, you can contact the company and ask, but if you avoid conventional white sugar or granulated sugar, you should be ok. You can also buy watermelon syrup instead of making it yourself at home, but make sure it's vegan. The MONIN brand of watermelon syrup is vegan friendly.
Rosé: The olive garden watermelon sangria recipe calls for moscato. Moscato is a similar color to rosé, that light pink shade, but moscato is sweeter. Because this recipe already has sweetness from the watermelon syrup, I opted to go with a wine that is more common, and therefore easier to find vegan. I used the Jules Taylor OTQ Pinot Noir Rosé because I confirmed with the brand that it was vegan. If you're not sure if a brand of wine is vegan, you can always reach out to them and ask. Barnivore has a great email template you can use.
Ginger Beer: Ginger beer or ginger ale are part of the Olive Garden watermelon sangria recipe. If you want to make vegan sangria, choose a ginger beer that uses vegan sources for their sugar, such as Fever Tree ginger beer, Blue Sky ginger ale, Santa Cruz ginger ale, or Belvoir ginger beer. I wouldn't omit this ingredient because sangria and ginger ale go together like pb&j.
Strawberries: The strawberries are just for garnish, so you can replace them with any fruit you prefer. Don't get me wrong, watermelon strawberry sangria is a great flavor combo, but I bet anything you come up will be just as good.
This sangria is perfect for sipping by the pool on a sunny day or serving to friends at parties. You can mix and match different fruits and different ingredients to make it your own.
If you like this watermelon sangria recipe, you might also like my aronia berry moscow mules and my crantini mocktails.
☆☆☆☆☆☆☆☆☆☆
* I use mostly organic ingredients when I cook, but I realize that not everyone has the disposable income to purchase all organic ingredients. Therefore, I only specify organic on the ingredients that really matter - when buying the organic (or non-GMO) version is the only way to ensure that the item is vegan.
This post may contain affiliate links. This means that if you click on a link that takes you to a website (like Amazon) where you can purchase a product, I may earn money from that purchase from the affiliate partner. Read more about this in my privacy policy.
☆☆☆☆☆☆☆☆☆☆